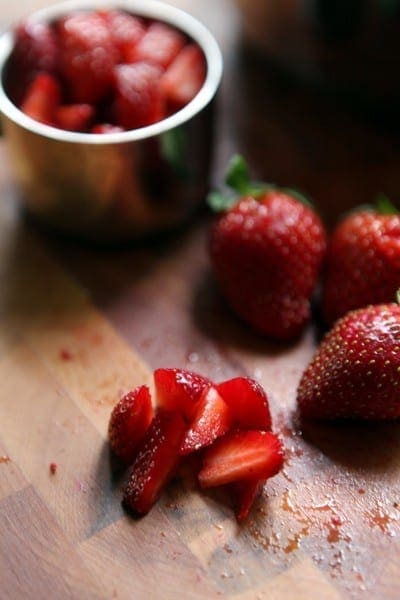 Springtime in Louisiana is one of my favorite times of the year, mostly because of the harvesting of fresh Louisiana strawberries and an abundance of my favorite beer – Abita Strawberry Harvest Lager.
A local fruit stand sells strawberries by the flat, and I found myself asking for one while checking out, something I have longed to do since they started advertising the arrival of said flats about a month ago.
"A whole one or a half flat?" the girl asked me, not even batting an eyelash at the request.
"I'll go ahead and take the full flat. I mean, why not get a flat?"
She nodded and went to grab it, waddling back toward me with a huge flat of beautiful, ripe strawberries.
… I spent an entire morning scrubbing, drying and hulling the fruit. And when I say the entire morning, I mean from about 9 to 11:30, easily. Yes, it took that long. And yes, the effort was well worth the time.
While I was scrubbing, drying, and hulling all those beautiful berries, I was brainstorming about all the things I could make with them. And the first thing that came to mind was a Strawberry Mousse.
As y'all should know by now, I'm a big dessert fan. And I wanted to make something on the lighter side with these strawberries, so this recipe was born after researching mousses.
You'll throw your strawberries into the pot, and let those strawberries hang out until they release all their juices, creating a Strawberry Soup. (Yes, that totally is a title.)
Remove the strawberries from the pan and pour into a bowl. Set the bowl aside for safe keeping.

In the saucepan, pour in the orange juice, gluten-free flour, honey and maple syrup.
Heat these over low heat until they have become thicker, then pour in the Strawberry Soup.
Once the Strawberry Soup thickens, pour everything back into the bowl and set aside.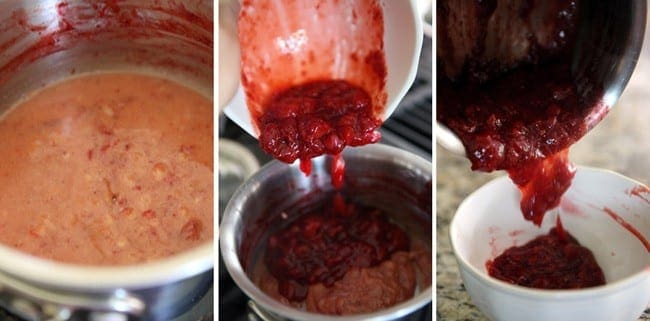 Then dollop your Greek yogurt into the strawberry mixture. Stir until those ingredients are mixed.
And then let the mousse chill out.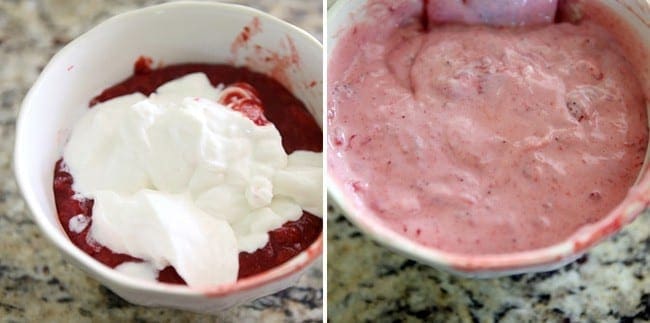 And then, once the mousse has chilled, scoop it into individual dishes, garnish with a fresh strawberry, and enjoy!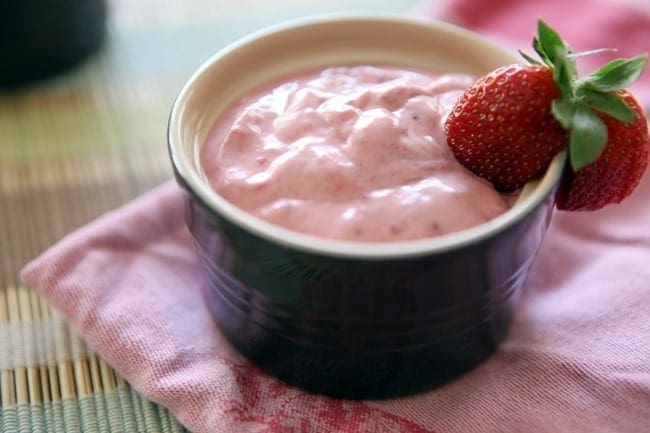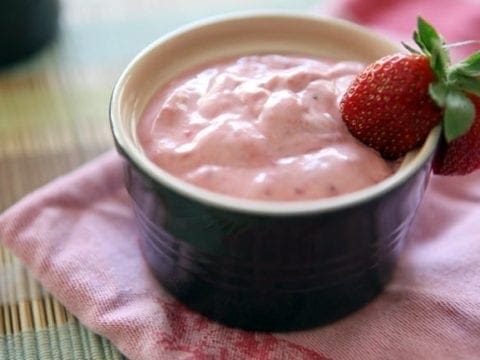 Yield:

4 servings
Strawberry Mousse
Nothing tastes better than homemade Strawberry Mousse on a warm day! Fresh strawberries, orange juice, gluten-free all-purpose flour, honey, pure maple syrup are simmered together on the stovetop until the strawberries break down and are deliciously gooey. When the temperature cools, it is mixed into vanilla Greek yogurt, chilled, then consumed cold! This light, fruity dessert is an utterly delicious spring or summertime sweet!
Ingredients
2 cups strawberries, chopped
¼ cup orange juice
1 tablespoon all-purpose flour
2 tablespoons pure maple syrup
1 cup Greek yogurt (fat free OK)
Instructions
In a small saucepan, warm the strawberries over medium heat until the berries have broken down and released their juices.
Scoop the strawberry soup out of the saucepan and into a bowl.
Over low heat, add the orange juice, gluten-free flour, honey and maple syrup.
Heat until the mixture has thickened slightly, then add the strawberries back in.
Bring to a boil, then let simmer for 5 minutes.
Pour the strawberry mixture back into the bowl, and let them come to room temperature.
When strawberries are at room temperature, scoop in the yogurt and mix until combined.
Cool until chilled, then serve with a fresh strawberry on top of each mousse!
Recommended Products
As an Amazon Associate and member of other affiliate programs, I earn from qualifying purchases.
Nutrition Information:
Yield:
4
Serving Size:
1
Amount Per Serving:
Calories:

229
Total Fat:

1g
Saturated Fat:

0g
Trans Fat:

0g
Unsaturated Fat:

0g
Cholesterol:

2mg
Sodium:

22mg
Carbohydrates:

47g
Fiber:

3g
Sugar:

18g
Protein:

9g
Nutrition facts are an estimate and not guaranteed to be accurate.
… Have you ever made a mousse before?