Cheesy, meaty Pepperoni Dip is an entertainer's dream! This easy appetizer comes together quickly for a crowd, whether you're feeding your family, hosting an at-home gameday gathering or even game night! No matter the occasion, this layered cream cheese dip is great for sharing. Makes 8 servings.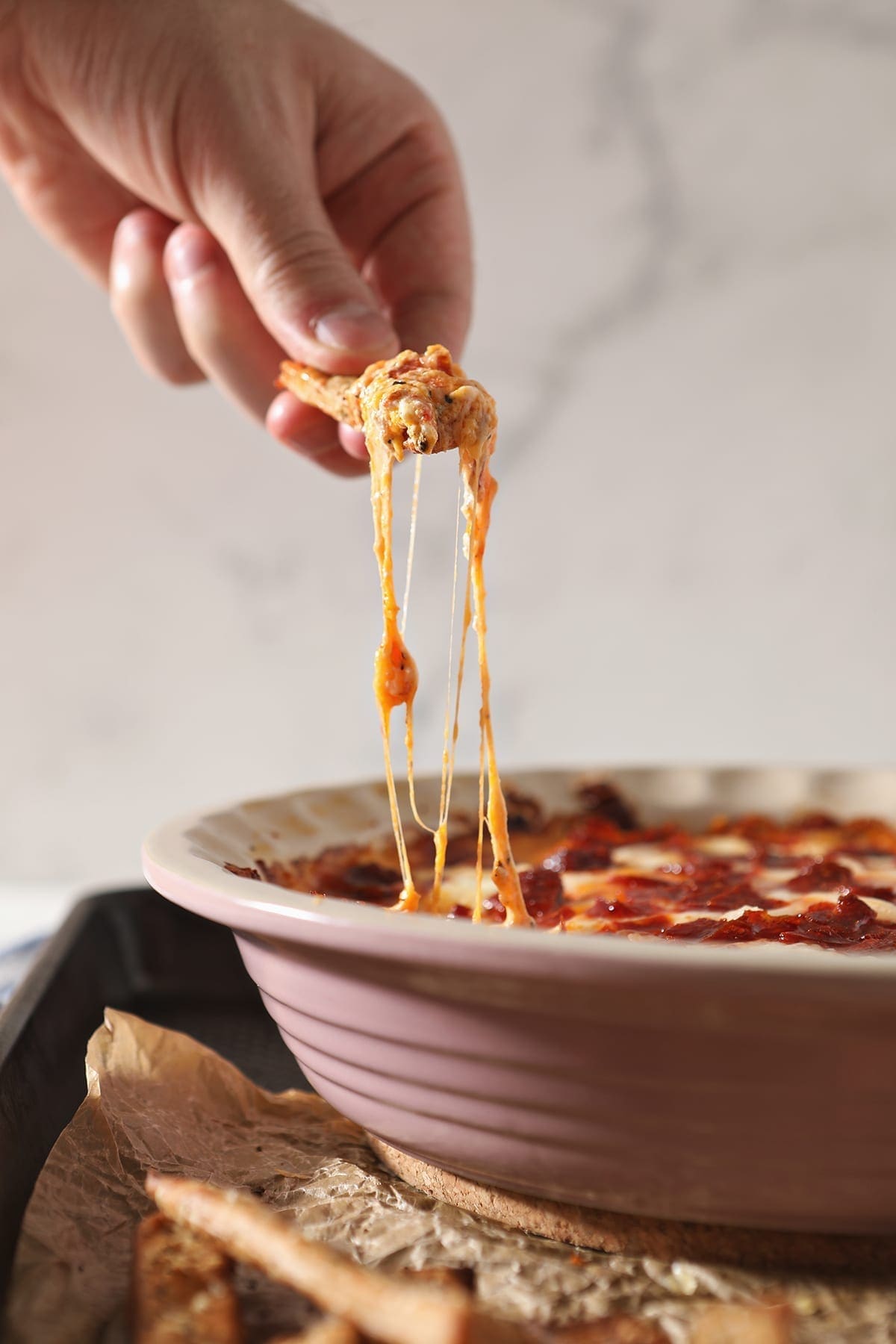 It's one of my favorite days of the quarter! It's Freaky Friday… and as always, I'm thrilled to be sharing this new dip recipe with y'all, as well as introduce you to the lady who developed it in the first place.
I've known Michele from West via Midwest for a few years now. She has taken professional cooking classes and received a Sommelier Certification so she could learn how to pair beer and wine with food for any occasion. (Umm, hi. Could we talk about how amazing this is?)
Also, she and I are both about easy entertaining and providing our readers tips and tricks to make delicious dishes to serve to their people for any kind of gathering. (We also both used to stress out over hosting and entertaining. #themoreyouknow)
Michele says, "I believe getting together over food gives us balance in our lives. You can work hard and still have time to spend together over a delicious meal." And I wholeheartedly agree.
In true Freaky Friday fashion, I had the hardest time deciding what dish I would cook from Michele's blog because, umm, I wanted to make everything.
Should I cook ribeyes on the grill? It is summer, after all, and we've been firing up the grill every weekend. Or maybe I should go in a different direction and bake up some Caramelized Onion Roast Beef Sliders? I love those flavors together! Also, I don't think it would be wrong to make her Watermelon Margarita…
She's also got a ton of air fryer recipes, which I think are awesome because I've yet to really sort out how to use my air fryer.
In the end, I chose her hot Pepperoni Pizza Dip because, well, I'm a sucker for a baked appetizer that we can share, whether we're together in person or virtually (and making the same dish to feel like we're physically together.)
More delicious dips for sharing: Black Bean Dip | Shrimp Spinach Artichoke Dip | Caramelized Onion Guacamole | Homemade Loaded Queso | Winston's Garlic Hummus | Pretzel Cheese Dip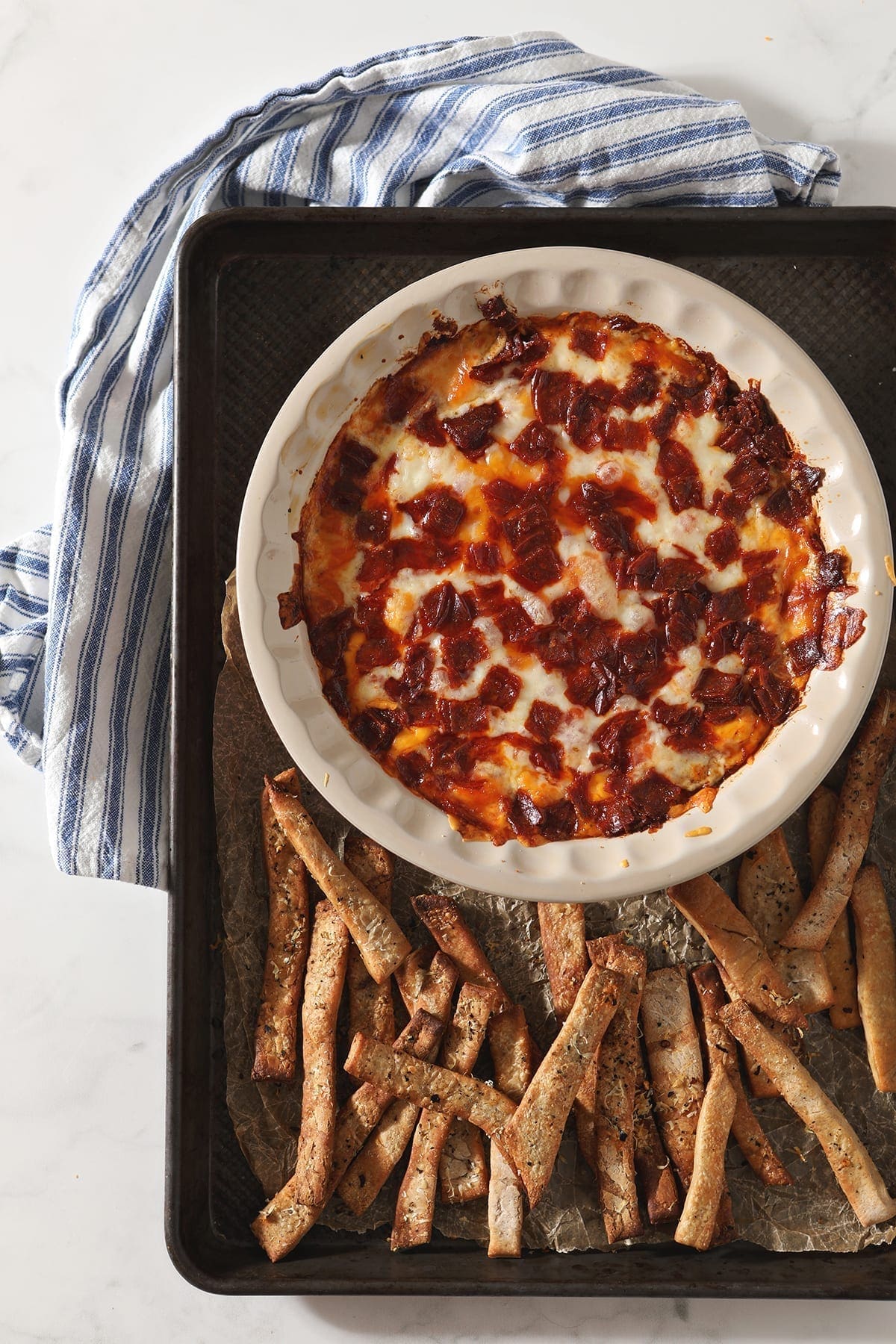 So what is Freaky Friday?
It's an old-fashioned blog hop.
A blog hop, for those of y'all who haven't been around the blogosphere for as long as I have, which is to say for-freaking-ever, is a collaboration between bloggers where everyone shares a post on the same day and we link to one another after our posts are live. 🙂
Everyone is secretly assigned another blogger, whose website we make a recipe from. We make the recipe, photograph it like it was our own, write a post about it and share it on the selected Friday in the hopes that we help YOU (yes, you, dear reader!) discover new recipes and new bloggers to follow!
For previous Freaky Friday exchanges, I've made Shortbread Brown Butter Cookies, Boozy Bacon Pretzel Peanut Butter Bars, Instant Pot Macaroni and Cheese, Cherry Bourbon Slush , Halloween Peanut Butter Chocolate White Chocolate Chip Cookies, a Valentine's Day Dessert Board and Chicken Pesto Pasta.
Take A Look At All Of Our 2020 Freaky Friday Summer Recipes:
What you'll need to make Cheesy Pepperoni Dip
Disclaimer: The links below are affiliate links. If you click through and take action, I will receive a small commission. Please refer to my disclosure page. for more information about the affiliate programs The Speckled Palate participates in.
For this dip, you'll also need some mozzarella cheese and cheddar cheese. I suggest purchasing a block of the cheddar and a ball of the mozzarella and shredding them yourself since those will melt much better than pre-shredded cheese. However, if you have the pre-shredded stuff on hand, you can make it work, too.
You can also make a pizza/marinara sauce for your dip or use the store-bought kind. I used the jarred kind to make it easier on myself and because I didn't have any marinara sauce on hand at the time we were making this recipe.
How to Make Pepperoni Pizza Dip
Prep your ingredients.
About 30 minutes before putting your dip together, remove the cream cheese from the fridge to soften it. This will make it easier to blend.
Shred the cheeses, and slice your pepperoni. Since this dip is going to be enjoyed by all, I found that chopping the pepperoni into smaller slices made it an easier way to ensure my kids could eat this dip without issue.
Put the dip together
Preheat your oven, and get your 9" pie plate out. You can also use a small Pyrex dish or a casserole if you don't have a pie plate, though I must say that the pie plate was perfectly sized. Spray it with nonstick baking spray so your dip doesn't stick (too much!) to the container.
Use a hand mixer to whip the cream cheese, sour cream, oregano and Italian seasoning together. We want the well combined and creamy because it's the bottom layer of our dip.
Spread the mixture in the bottom of the pie plate, then ladle on the pizza sauce. Spread it evenly over the mixture to create the next layer.
Next, add about half of the pepperoni pieces to create the next layer.
Combine the mozzarella and cheddar cheeses and sprinkle 'em on top of the pepperoni.
Add the remaining pepperoni pieces on top of the cheeses, and bake.
Serve the dip
When the dip is bubbly and the pepperoni are cooked, remove from the oven.
Serve with bread, chips, veggie slices or breadsticks, and enjoy immediately.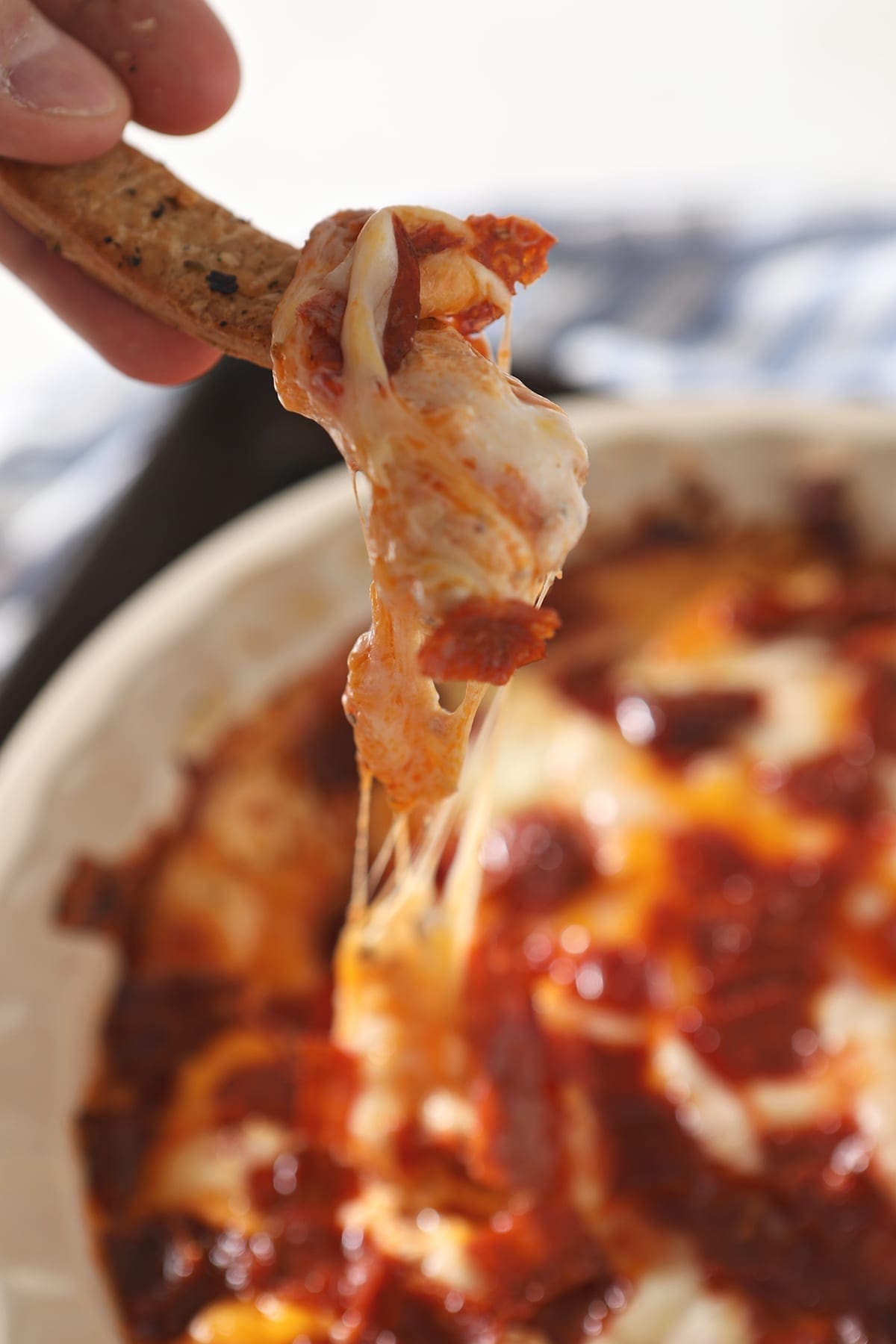 Erin's Easy Entertaining Tips
Dip always makes me think of entertaining and hosting my people in my home, and for whatever reason, pizza makes me think of gamedays spent at home cheering for our teams.
This Pepperoni Dip would be the ultimate gameday food to serve because it's incredibly simple and tastes like pizza. Who wouldn't adore that?
Here are some tips and tricks to making this recipe for hosting:
Make your dip ahead of time, and stop at the steps to bake it. Simply pop it into the refrigerator covered. Thirty minutes before guests arrive, remove it from the fridge, then bake it as directed.
Serve it with crackers, sliced bread, your favorite veggies or even bake up some pizza dough (like I did for these photos), and serve those alongside the cheesy dip.
Make variations on the recipe! While we adore the pepperoni in this pizza dip, you could add (cooked) sausage or simply a mixture of cheeses if you're feeding vegetarians.
Frequently Asked Questions
Can I make this cheesy dip ahead of time?
Yes! Mix the ingredients together, and store them in the refrigerator covered for up to two days before your event. Thirty minutes before you want to bake the dip, remove it from the fridge, then bake as directed.
Can I double this recipe?
Yes, you can! Put your math skills to good use and double the ingredients. Just make sure to use a bigger baking dish since a 9" pie plate will be too small to contain double the ingredients.
How do I reheat this dip if I have leftovers?
Depending on how much dip is left and how you're storing it, you could reheat the dip in the oven for 10-15 minutes, or until the dip is bubbly again.
We transferred ours to a smaller food storage dish for the fridge, so I reheated it in the microwave in smaller batches, and that worked well. Heat in 30 second increments until the dip is the temperature of your liking.
Can I use fresh herbs instead of dried herbs?
You could certainly use an abundance of fresh herbs instead of the dried ones listed here. Since dried herbs are more potent than fresh, plan to double the amount called for, and make sure to chop the herbs finely.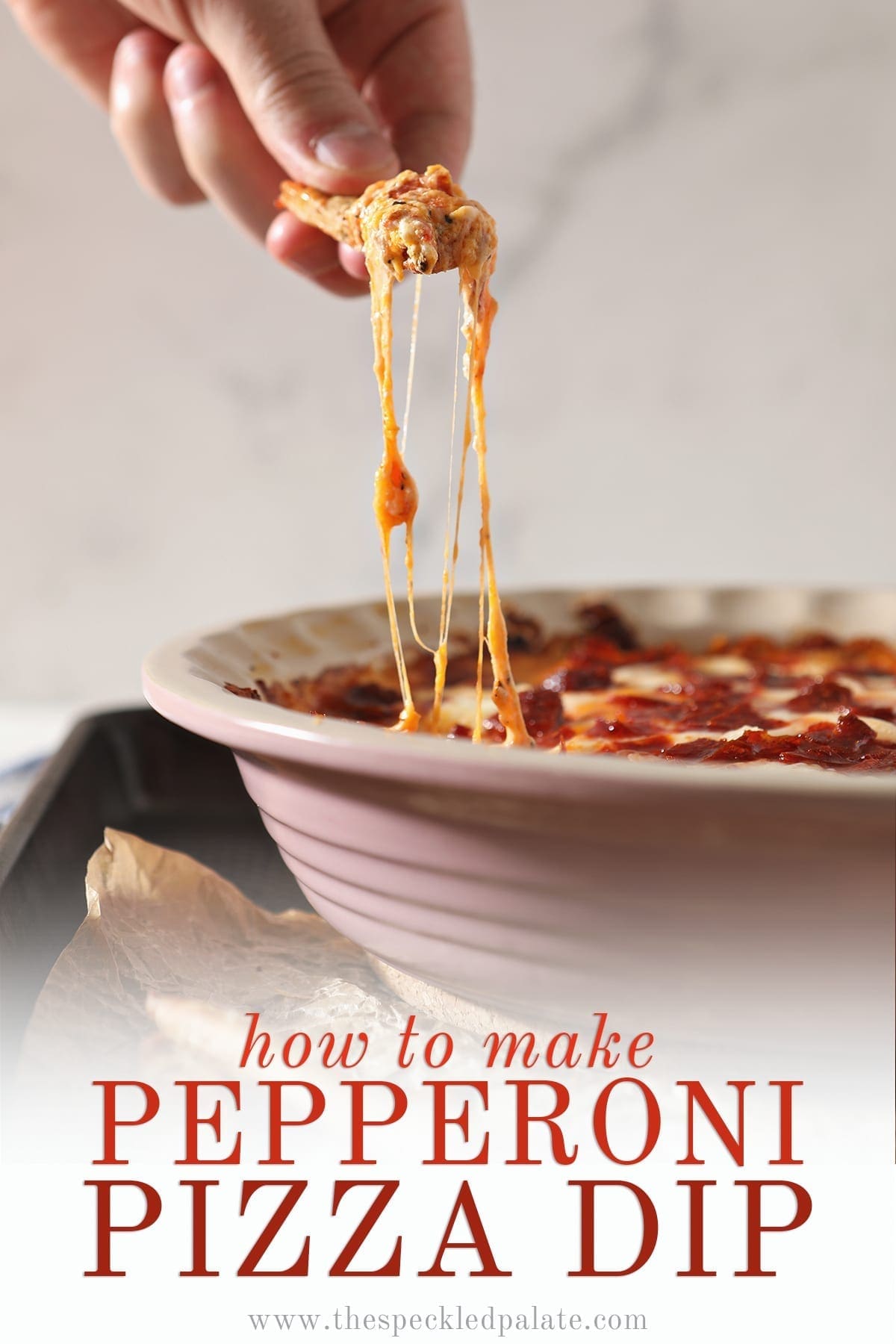 Quick tips for making Creamy, Cheesy Pepperoni Dip
For the easiest entertaining, make the dip ahead of time and store in the fridge. Thirty minutes before you want to bake it, remove from the fridge, then bake as directed.
If you have leftovers, store the remaining dip in your favorite food-safe storage container in the fridge. It'll keep for an additional week. While the layers won't be preserved, you can still reheat it in the microwave and have a delicious dip!
Not sure what to serve alongside this dip? I highly suggest pairing it with Pepperoni Pizza Rolls (to keep that pizza theme!), as well as a beer cocktail, like a Lemon Shandy or a Spicy Bloody Beer Cocktail.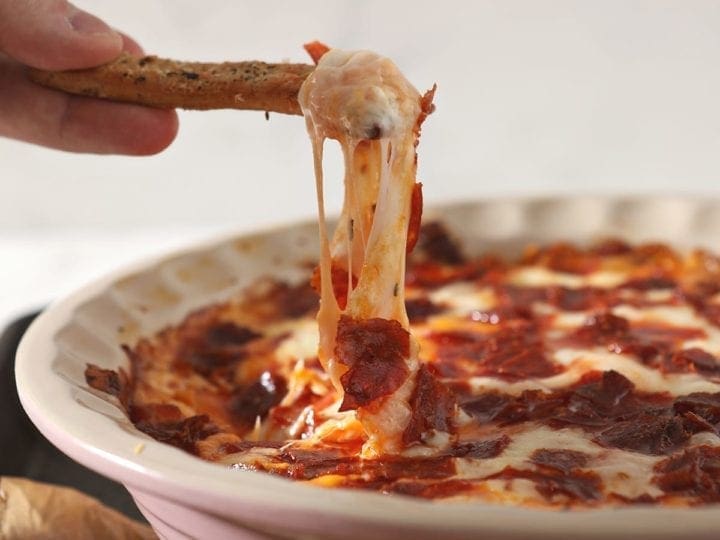 Yield:

8 servings
Cheesy Pepperoni Dip
Cheesy, meaty Pepperoni Dip is an entertainer's dream! This easy appetizer comes together quickly and feeds a crowd, whether you're feeding your family, hosting an at-home gameday gathering or even game night! No matter the occasion, this layered cream cheese dip is great for sharing.
Ingredients
8 oz. cream cheese, softened
1/3 cup sour cream
1 tablespoon Italian seasoning
1 tablespoon dried oregano
1/3 cup pizza / marinara sauce
6 oz. mozzarella cheese, grated
6 oz. cheddar cheese, grated
4 oz. pepperoni, sliced
Instructions
Soften the cream cheese for 30 minutes on the countertop for easy combining.
While the cream cheese softens, prep your ingredients. Shred the cheese, slice the pepperoni into smaller bite-sized pieces so it's easier to eat.
Preheat oven to 350°F. Get out your 9" pie plate (or your glass Pyrex dish) and spray with nonstick cooking spray. Set aside.
Using a hand mixer, whip the cream cheese, sour cream, oregano and Italian seasoning together.
Spread the cream cheese on the bottom of your pie plate using a rubber spatula.
Ladle on the pizza sauce evenly over the cream cheese, and spread.
Sprinkle about half of the pepperoni over the top of the cream cheese and sauce.
Combine the mozzarella and cheddar cheeses and sprinkle them over the pepperoni to create the next layer.
Place the remaining pepperoni pieces on the top of the cheese. You could leave some whole pepperonis on top of the dip for visual effect, but I left them off mine since our pepperoni was really large.
Bake for 20-25 minutes until cheese is bubbly, and the pepperoni is cooked.
Serve immediately with bread, chips, veggie slices or breadsticks, and enjoy.
Notes
Easy entertaining tip: You can make this dip ahead of time. Obviously, you'll want to stop before you bake it. When the dip has been layered, transfer the pie plate to the refrigerator and cover with plastic wrap. Remove it from the fridge 30 minutes before you want to bake it, then follow the instructions in the recipe card.
Recommended Products
As an Amazon Associate and member of other affiliate programs, I earn from qualifying purchases.
Nutrition Information:
Yield:
8 servings
Serving Size:
1 serving
Amount Per Serving:
Calories:

371
Total Fat:

31g
Saturated Fat:

16g
Trans Fat:

0g
Unsaturated Fat:

12g
Cholesterol:

86mg
Sodium:

694mg
Carbohydrates:

8g
Fiber:

1g
Sugar:

3g
Protein:

15g
Nutrition facts are an estimate and not guaranteed to be accurate.