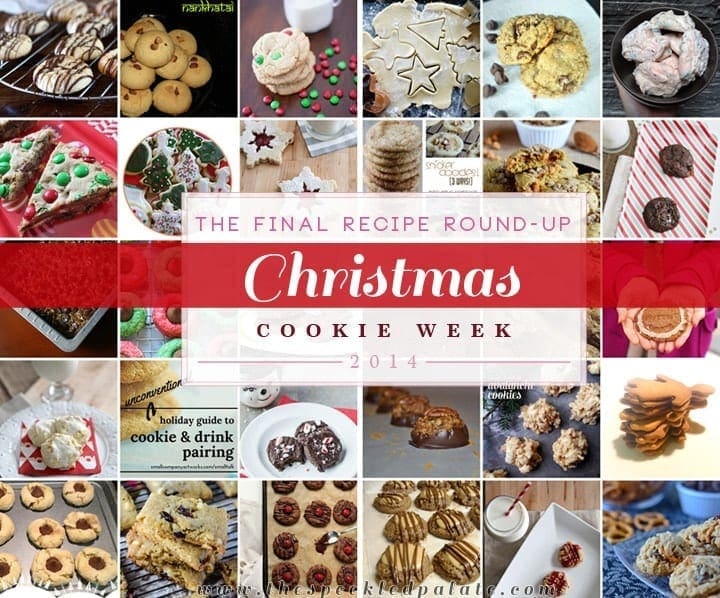 Christmas Cookie Week flew by in the blink of an eye, and I cannot believe it's already time for this year's recipe round-up.
It was an incredible week — the biggest Christmas Cookie Week to date! — and I am so pleased with the turnout. It's truly amazing to see so many bloggers coming together to all create something similar at the same time. Not to get all sappy on y'all, but my heart is full from the turnout, the stunning cookies presented and the new blogger friends made.
For those of you who are curious, here's a little breakdown of some tidbits I found interesting about this year's Christmas Cookie Week:
Thirty-four total recipes were submitted during the week by 20 total bloggers from various countries and three separate continents. (!!!)
The most popular ingredients were chocolate and peanut butter. (Is anyone really surprised?)
There were several gluten free and food allergy-friendly recipes shared, too!
… And without further ado, here are all the gorgeous recipes and the bloggers who whipped them up in celebration of Christmas Cookie Week.
Feel free to visit all of these blog friends — new and old — and leave them some love on their posts… and then bake their cookies because they ALL look delicious!
Christmas Cookie Week 2014: Final Cookie Round-Up!
It's the final day of Christmas Cookie Week 2014, and I'm sharing the Final Cookie Round-Up with ALL the lovely recipes that have been made this week!
—
What was your favorite recipe created during this year's Christmas Cookie Week? Which recipes do you want to make immediately?
Other Christmas Cookie inspiration: 28 Holiday Cookies to Bake This Year / 39 Cookies for Santa / 42 Cookies for Santa (The Sweetest Season Cookie Exchange Round-Up!) / 70+ Holiday Cookies To Bake This Season / 41 Holiday Cookie Recipes You've Gotta Bake This December / Christmas Cookie Week 2014: Final Cookie Round-Up! / TSP Christmas Cookie Week 2013 Roundup! / Christmas Cookie Week 2012 Roundup!