Pork Tenderloin Sliders with Red Wine Reduction Sauce
This shop has been compensated by Collective Bias, Inc. and its advertiser. All opinions are mine alone. #SummerToGo #CollectiveBias The following content is intended for readers who are 21 or older.
With football season kicking off this weekend, these Pork Tenderloin Sliders with Red Wine Reduction Sauce are the perfect tailgate entree! Marinate the pork overnight, then toss it on the grill at your tailgate party for a delicious sandwich! You use the Black Box Wines Merlot to make a delicious reduction to top the sliders, as well as serve it alongside to complete this on-the-go dish.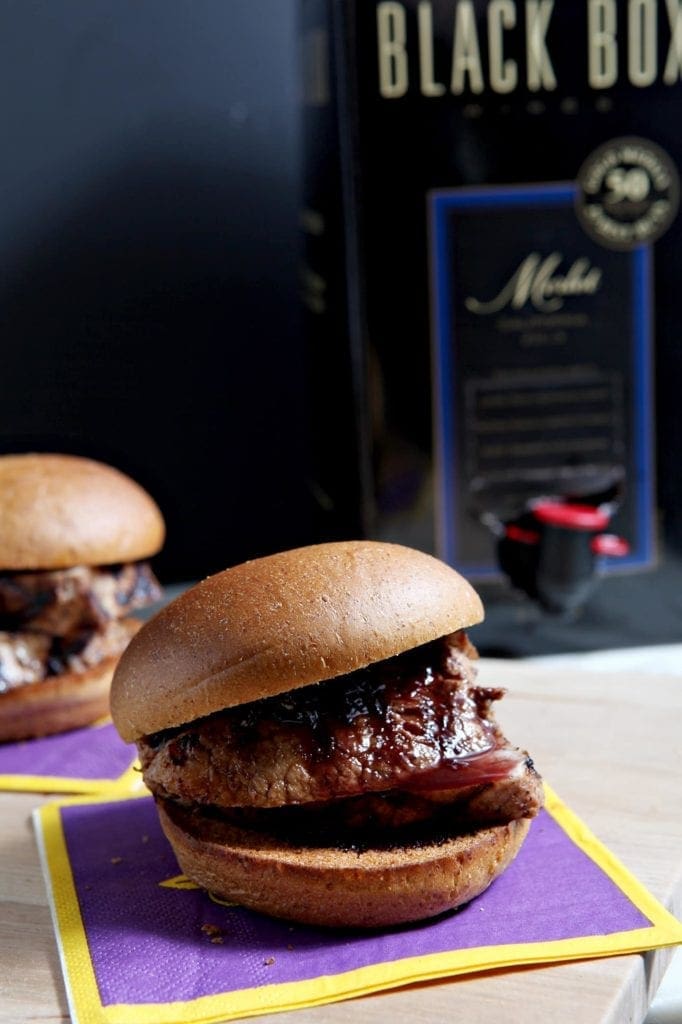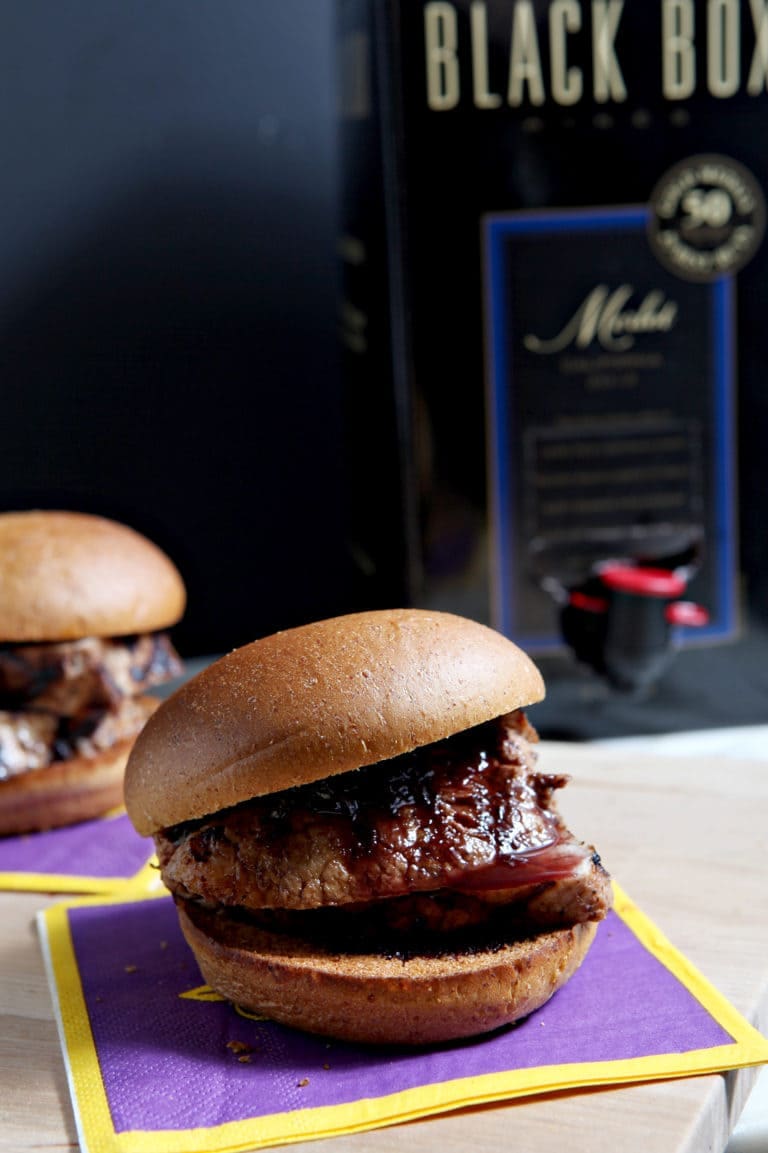 College football officially begins this weekend. I don't know about y'all, but we are stupid excited in our house.
What can I say? We're a football-loving family… always have and always will be.
And even though a lot of things have changed in the past year — we have a baby, we have no plans to attend any games so far, etc. — I'm still thrilled for the season because it means gathering with friends, sharing good food and drink, as well as enjoying the game together, whether we're on campus or at someone's home.
Here's to hoping our team has a QB this year. (Ha. Ha. But… really.)
More fan favorite slider recipes for football season: Hamburger Sliders with Bacon Cherry Compote | Shredded Applesauce Chicken Sliders with Brussels Sprouts Apple Slaw | BBQ Chicken Burger Bites with Avocado Slaw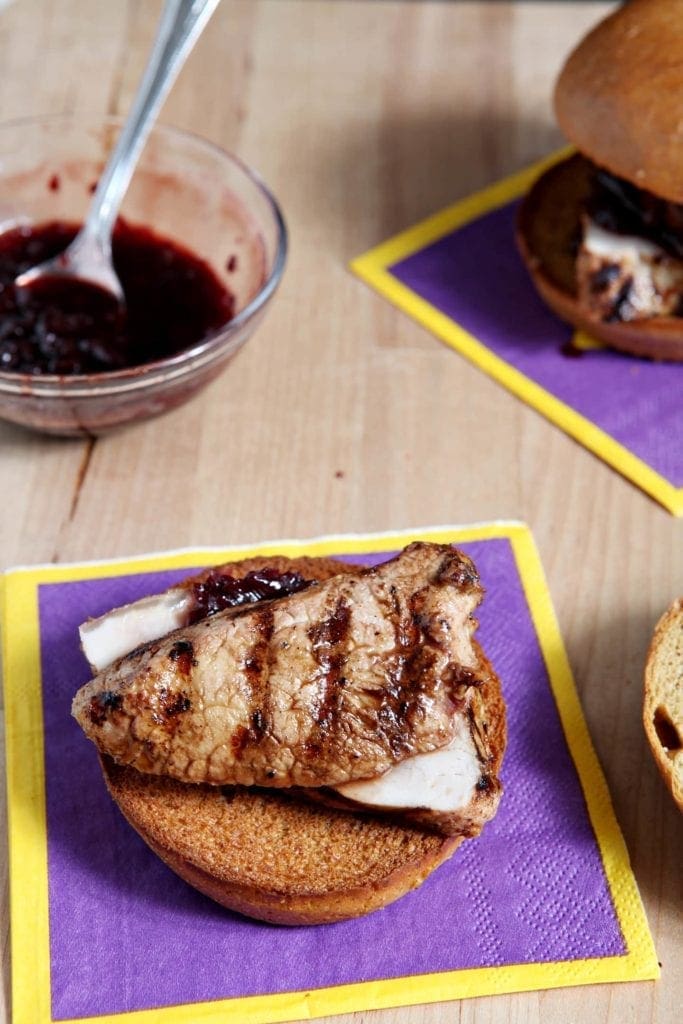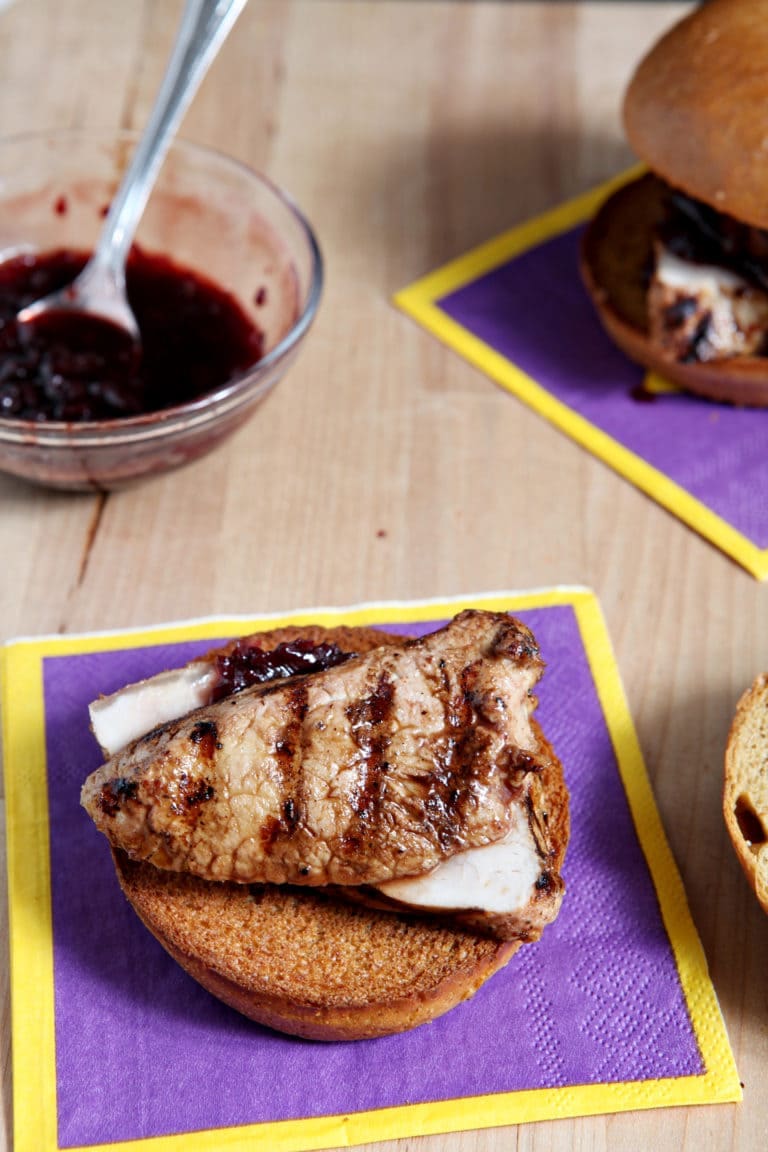 I wanted to make us a dish to kick off football season right, and what better way than to cook up a marinated pork tenderloin slider with a sweet and savory wine reduction sauce?
My family has always been big into marinating pork tenderloin — my sister's rendition is pretty awesome — but I wanted to try something different that could be cooked on the grill. It's still hot outside, so this recipe is perfect for tailgating on campus or tailgating at home.
I also wanted to use wine in my marinade. I'd never used wine in this before, but it seemed like a good idea.
(Spoiler alert: It was a grand idea. More on this in a bit!)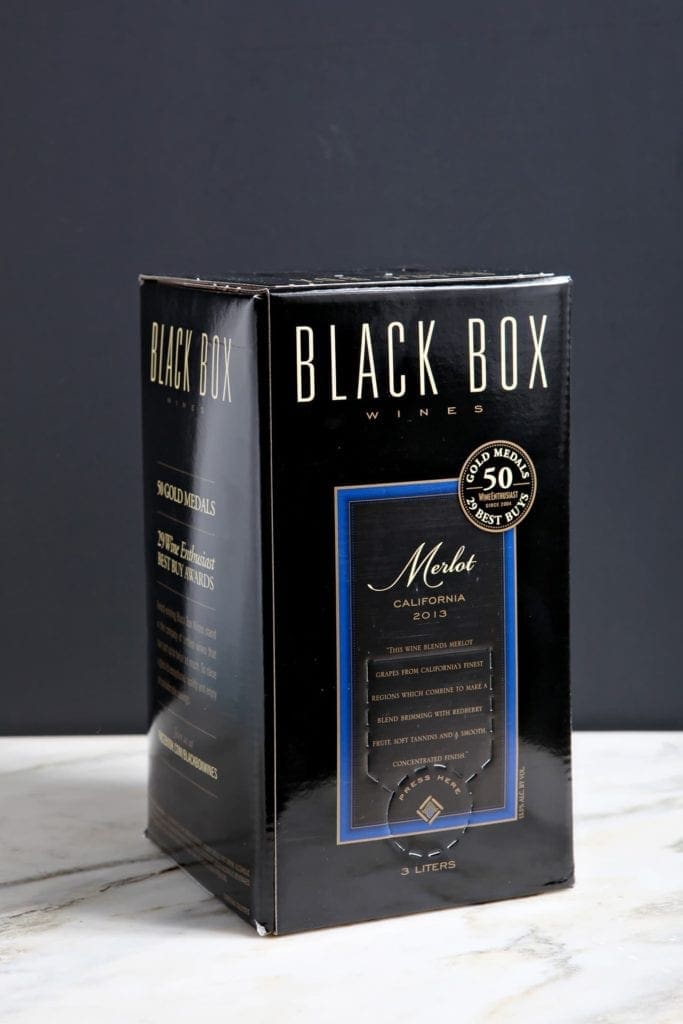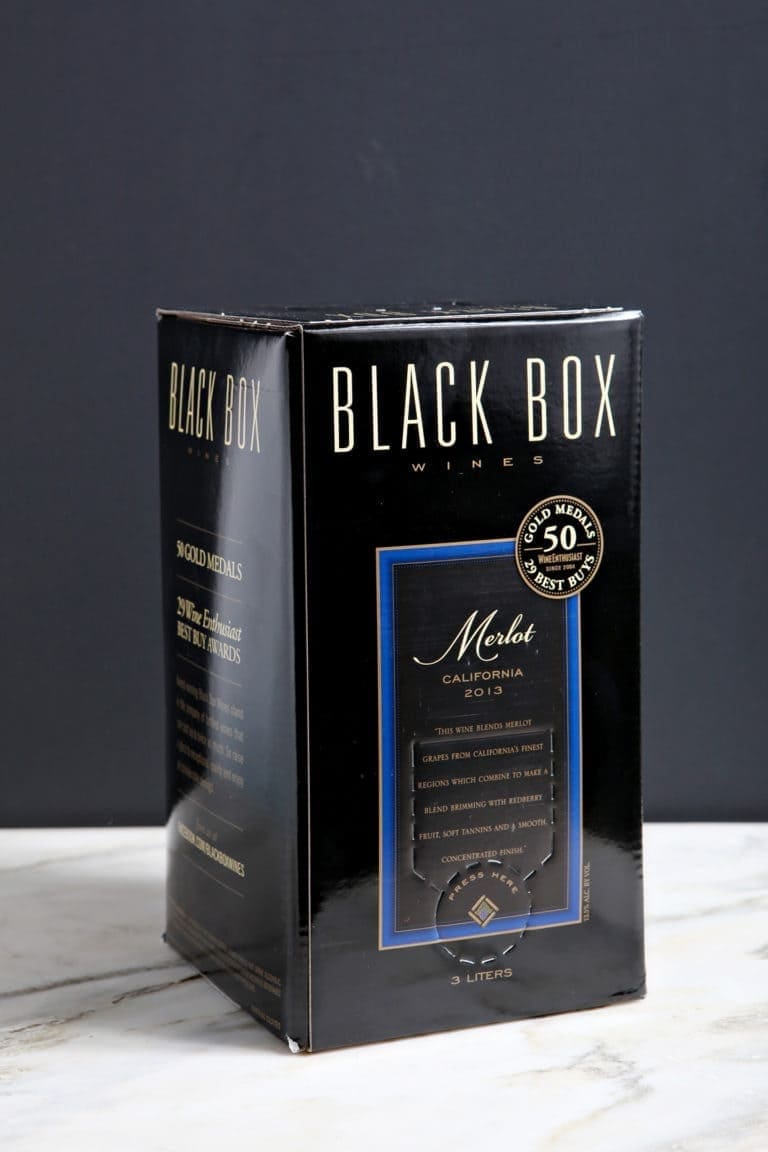 I've been a sucker for wine since I studied abroad in Italy. (How could I not after that, right?!) It's something we always have in our home, and there was one time in my life when I opened a bottle of wine using a high heel because we didn't bring a wine opener.
I may or may not have been 21 at the time and am still impressed with our dedication for getting that bottle open. We did… but we fought with the cork that bobbed around the bottle until the wine was gone.
Case in point: Wine isn't always the easiest thing to bring to a tailgate or a party because it's not the most portable alcohol. Add in the fact that you've got to mess with the bottle and the cork, and things can get messy quick.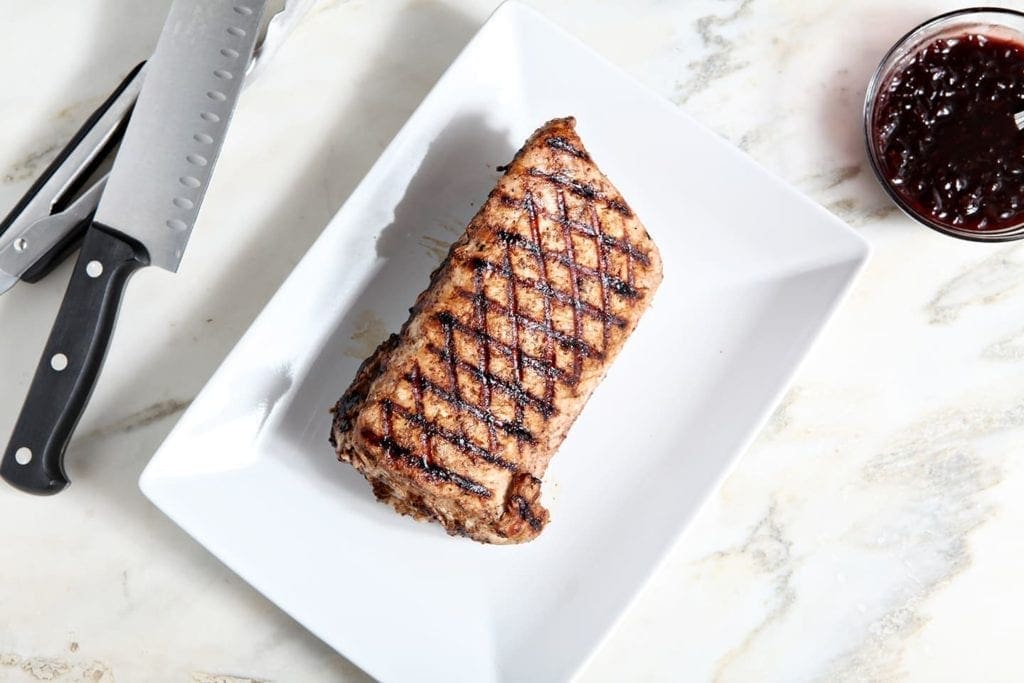 Black Box Wines is changing that, and I am so glad they are.
Black Box Wines are perfect for entertaining in your house and away. They're easily portable — you won't have to worry about glass bottles rattling or potentially breaking in the car as you head to a tailgate, nor will you have to slam part of your shoe into the cork because you forgot your bottle opener. The box is small and compact, but contains 3L of your wine of choice… which is a LOT bigger than your average bottle.
So you not only have more wine for more friends to enjoy, but it's also easier to transport. Add in the fact that it's also totally delicious, and you're set! And if you're thinking this is an average box 'o wine, you'd be thinking wrong. They're higher quality and start at a lower price point.
How do I know this?
Black Box has won more than 50 Gold Medals for its quality. Not sold yet? It's available for 40% less than comparable bottles of wine. (And you can use their handy dandy product locator to find it in a store near you!) Still on the fence? It stays fresh for up to 6 weeks! Which is a brilliant thing since I sometimes can't finish a bottle of wine before it starts tasting weird. (New mom confessions, y'all.)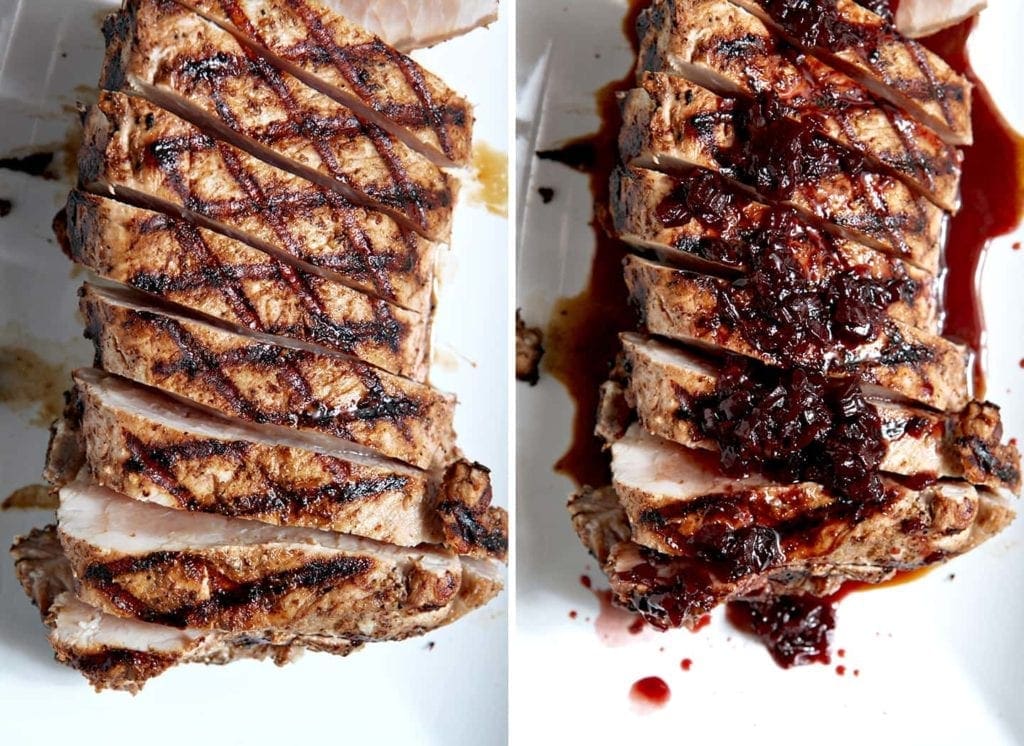 The fantastic thing about these pork tenderloin sliders? You can make 'em a few different ways.
You marinate the pork overnight, as well as make the wine reduction sauce the night before. The day of, you transport them via a cooler. When it's lunch (or dinner) time, toss the pork on the grill and get to cookin'. You can reheat the wine reduction sauce on the grill, as well.
You can also do all of the following, but cook the tenderloin on a grill pan on the stovetop if you don't have a grill.
It works both ways, which is pretty fantastic, especially if your tailgate game looks like ours does these days. (Which is to say lots of tailgating at home or friends' houses.)
And if you're feelin' fancy? You don't necessarily have to turn this pork tenderloin into sliders. You could grill it, slice it up, then serve it with veggies as a side and call it a fancy non-tailgating dinner. I know I've been doing that with the leftovers this week, and they're equally delish.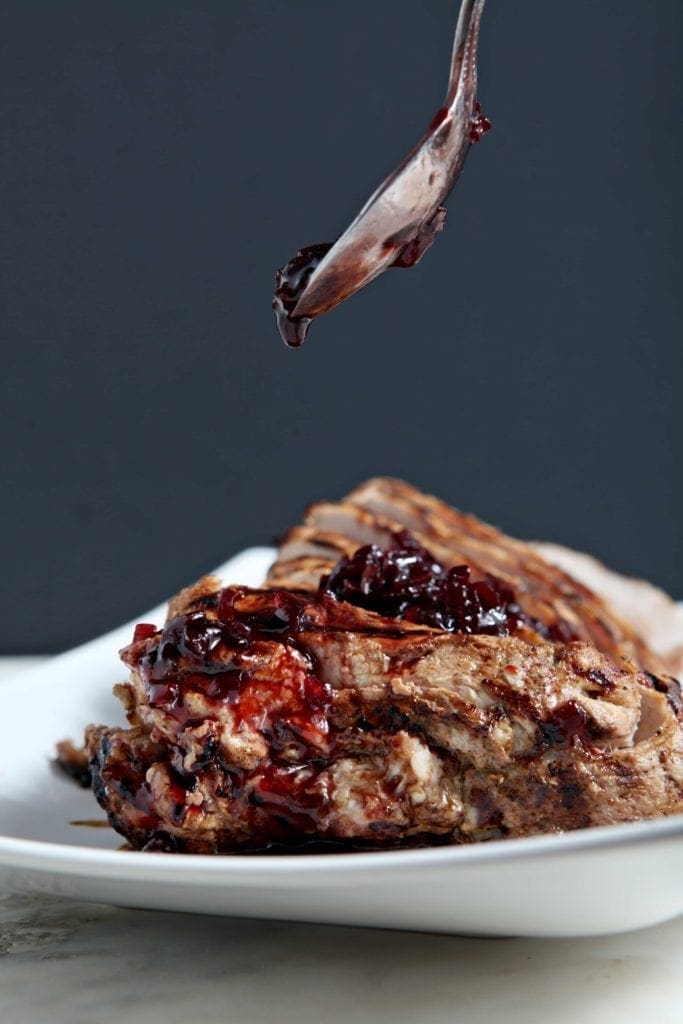 I don't know about y'all, but firing up the grill makes me think of the summer, and I'm gonna continue doing it until it gets too cold for me to be outside. Which will probably be December since I live in Texas.
But!
I guarantee y'all will find me grillin' these Pork Tenderloin Sliders with Red Wine Reduction Sauce a few times between now and then because they're darn tasty.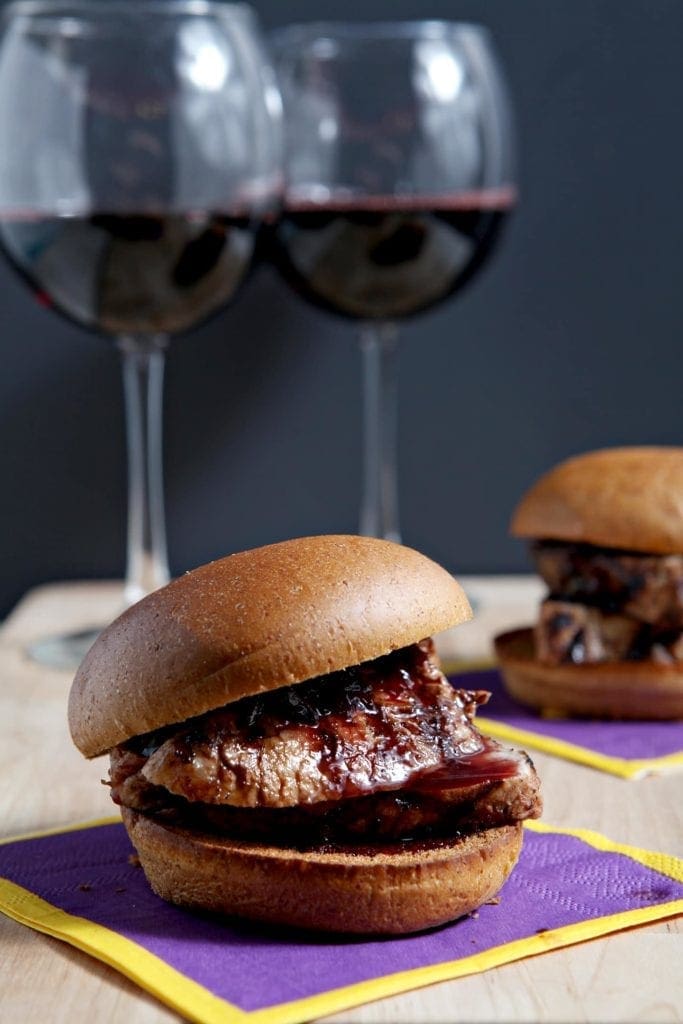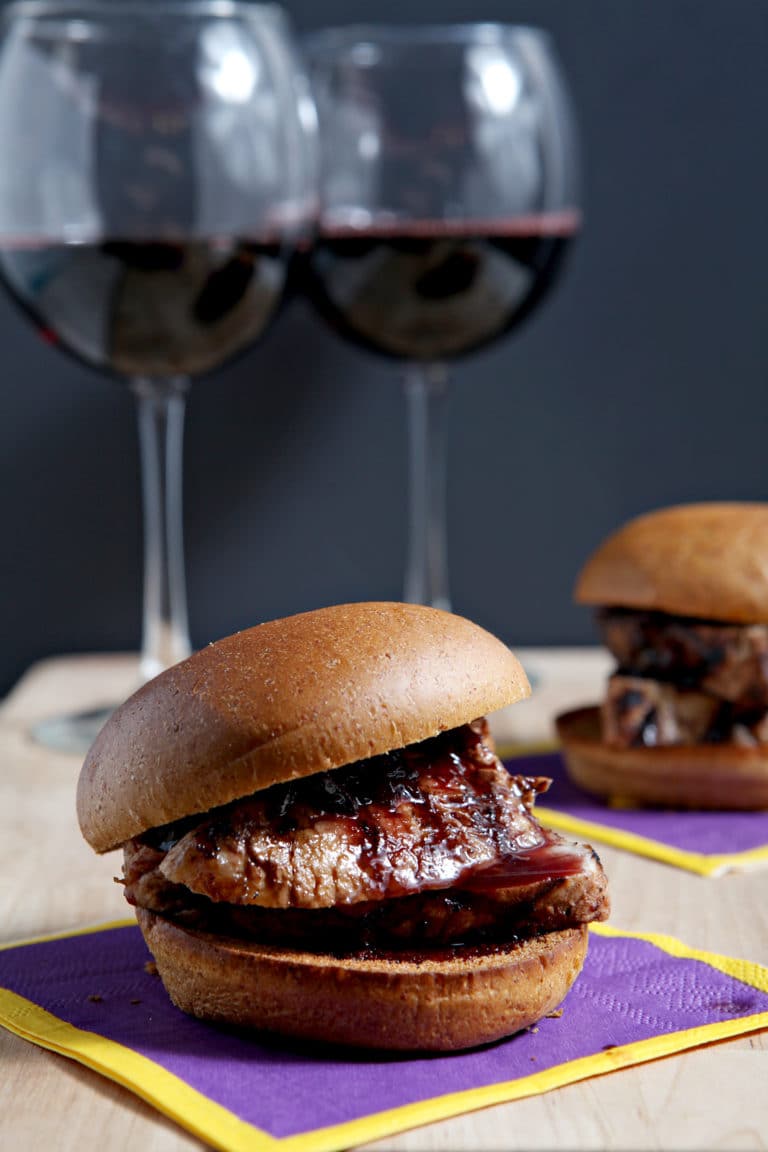 And one more added bonus… in case you were on the fence about making this recipe for your tailgate.
The sliders are even better with a glass of that Black Box Merlot that you use in the marinade and reduction. It might be a little unconventional to pair pork with red wine since it's a light meat, but I have no problems with it. It ended up being the perfect accompaniment since the wine was used a few times in this recipe.
Scroll on down to learn how I made it…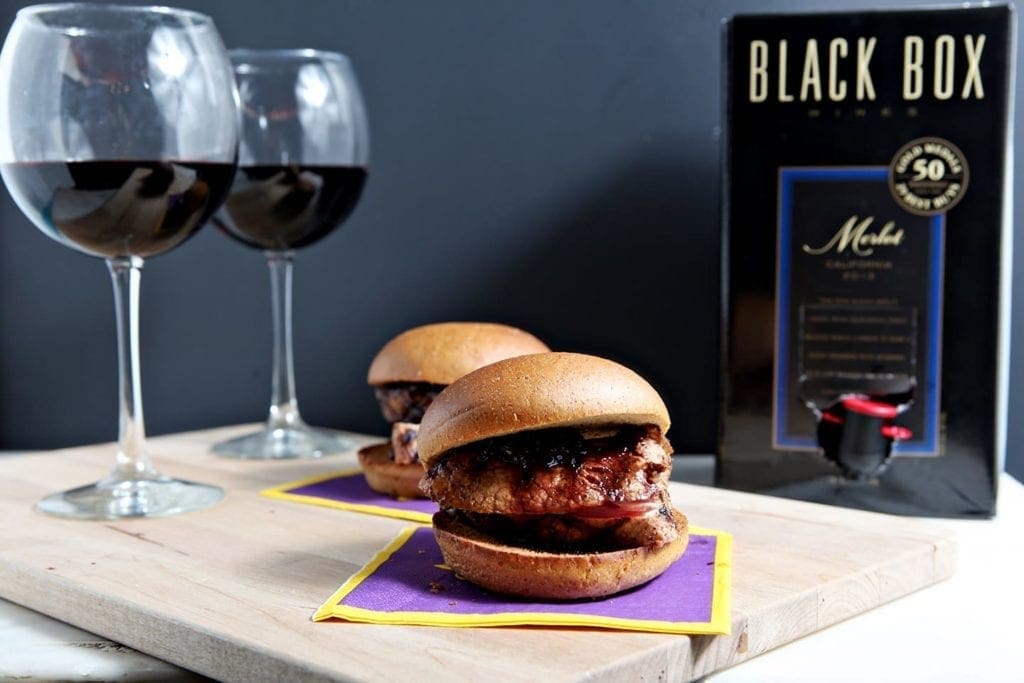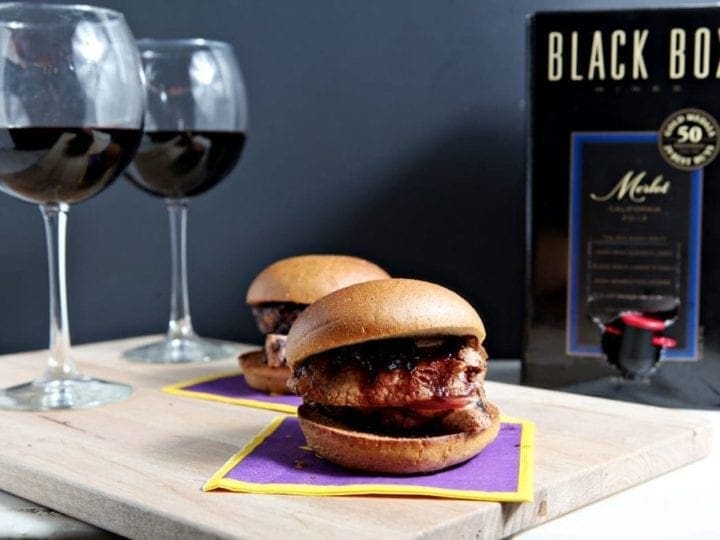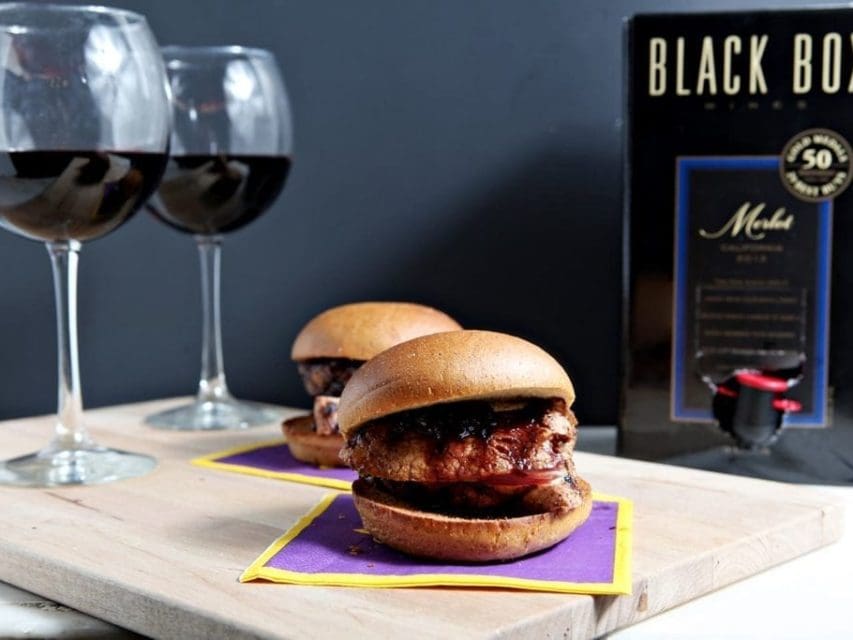 Yield:

6 servings
Pork Tenderloin Sliders with Red Wine Reduction Sauce
Total Time:
12 hours
20 minutes
With football season kicking off this weekend, these Pork Tenderloin Sliders with a Red Wine Reduction Sauce are the perfect tailgate entree! Marinate the pork overnight in Black Box Merlot and a few other ingredients, then toss it on the grill at your tailgate party for a delicious sandwich! You can use the wine to make a delicious reduction to top the sliders.
Ingredients
24 oz. pork tenderloin filet
8 whole wheat hamburger buns, toasted
Marinade
2 cups Black Box Wines Merlot
¼ cup apple cider vinegar
½ cup extra virgin olive oil
2 tablespoon grainy dijon mustard
1 tablespoon Sriracha sauce
2 teaspoons Worcestershire sauce
1 teaspoon freshly ground black pepper
1 teaspoon kosher salt
Red Wine Reduction Sauce
1 teaspoon extra virgin olive oil
1 small white onion, , finely chopped
1 cup Black Box Wines Merlot
2 tablespoons local honey
Instructions
Marinate the Pork Tenderloin
Place the pork tenderloin filet into a gallon-sized plastic bag.
Measure in the merlot, apple cider vinegar, olive oil, mustard, Sriracha, Worcestershire sauce, salt and pepper.
Close the bag and move the marinade around until the tenderloin is covered.
Marinate overnight (or for at least 6 hours.)
Make the Red Wine Reduction Sauce the night before service
In a medium-sized saucepan over medium heat, add the olive oil.
While the oil heats, chop the onion, then add to the pan. Cook until the onion is translucent.
Pour in the wine, cooking over medium heat until it has reduced by half.
Turn the heat down to medium-low, and add the honey.
Continue simmering until the sauce has thickened slightly, then remove from the heat.
Store in an airtight container overnight in the refrigerator. You will heat this up as the tenderloin cooks on the grill.
Cook the Tenderloin
If cooking on a grill, preheat the grill to 400°F. While the grill warms, reheat the reduction sauce in a saucepan.
Grill the pork over the direct heat, keeping the lid closed. Sear evenly, turning about every 5 minutes.
Grill for 15-20 minutes. The internal temperature of the tenderloin should read 145°F when fully cooked.
Remove the tenderloin from the grill when cooked through, and rest for 10 minutes.
Slice the tenderloin and serve on toasted buns, topping with the warmed reduction!
Nutrition Information:
Yield:
8 sliders
Serving Size:
1 slider
Amount Per Serving:
Calories:

559
Total Fat:

22g
Saturated Fat:

4g
Trans Fat:

0g
Unsaturated Fat:

16g
Cholesterol:

72mg
Sodium:

727mg
Carbohydrates:

35g
Fiber:

4g
Sugar:

9g
Protein:

32g
Nutrition facts are an estimate and not guaranteed to be accurate.
Do you like to tailgate with wine?
What's your favorite tailgating recipe?