Gluten Free Peppermint Brownie Cookies
Slightly sweet, chewy Peppermint Brownie Cookies are bursting with candy cane chunks. These gluten free sweets are perfect for the holidays!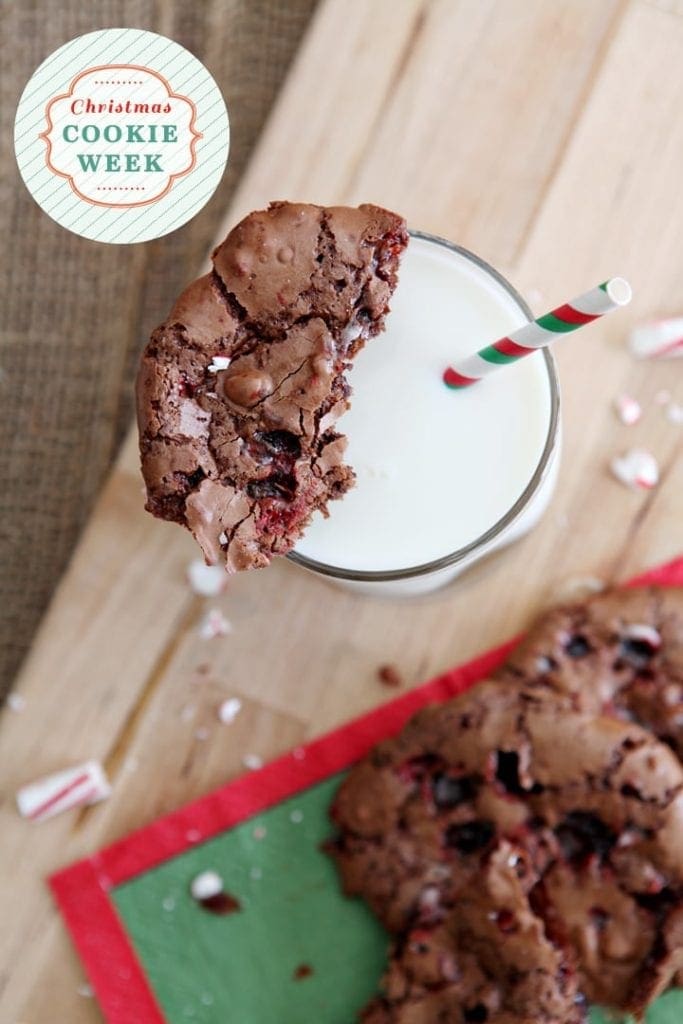 This post contains affiliate links. If you were to make a purchase through one, I would receive a small commission. For more information about the affiliate programs The Speckled Palate participates in, please refer to my disclosure page.
Today is a double whammy cookie day. Not only are we continuing with Christmas Cookie Week… but we've got a fabulous Comfort in 1 feature, too.
This month's ingredient was cocoa, so how could I not include it in Christmas Cookie Week?
Answer: I couldn't.
These cookies were born when I was thinking about brownies and how I really, really wanted a pan of them. Naturally. But since it was Christmas Cookie Week, I needed a cookie.
I also knew I wanted to make a gluten free treat for this week since several friends have cut gluten out of their diets recently, and I wanted to have a festive holiday treat to give them, too.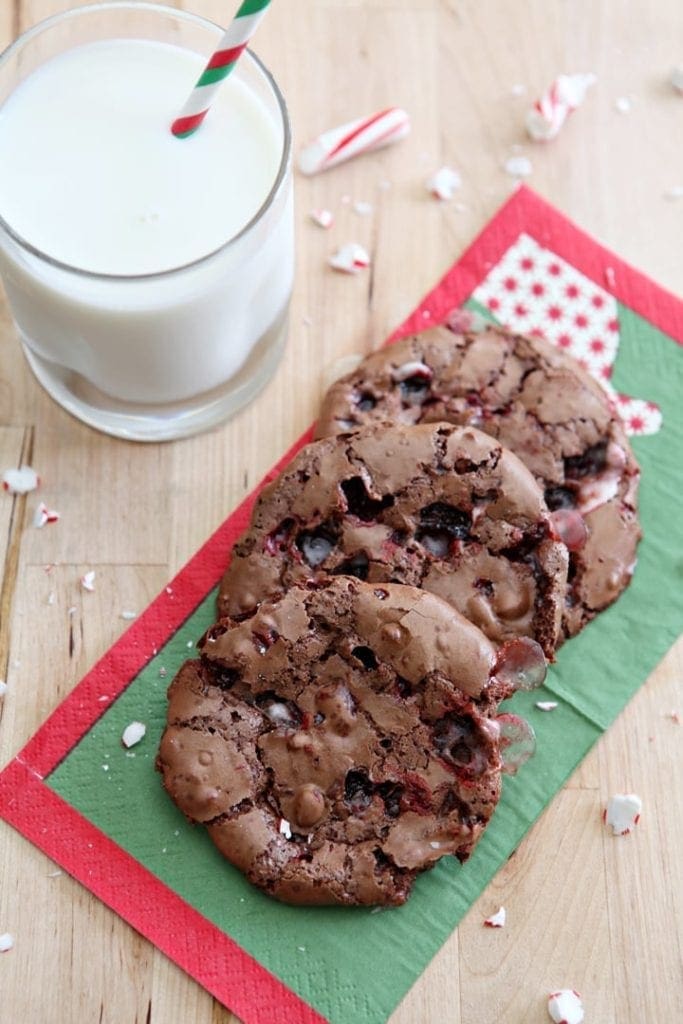 Enter these Peppermint Brownie Cookies.
They're not anything fancy, but boy, do they taste good.
Bonus points: You don't have to chill the dough, and you can bake these immediately. You can also eat them immediately, though I'd advise against that for fear you burn the roof of your mouth on a molten candy cane. Because that happened to me, and it was unpleasant.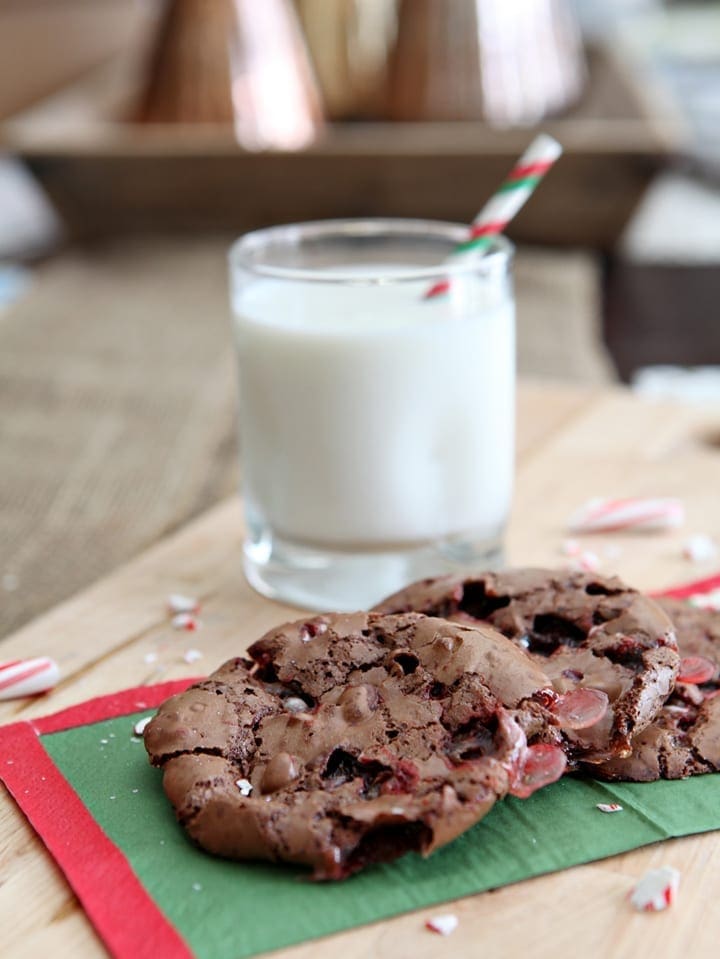 Erin's Recommended Tools/Products for Peppermint Brownie Cookies
Sound good?
GOOD!
Here's how you can make 'em: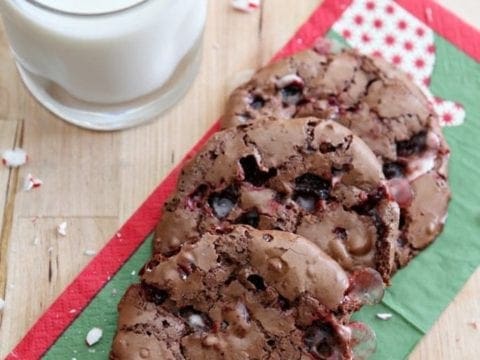 Yield:

24 cookies
Peppermint Brownie Cookies
Slightly sweet, chewy brownie cookies bursting with candy cane chunks are the perfect gluten free dessert for the holidays!
Ingredients
3 cups powdered sugar
¾ cup unsweetened cocoa powder
1 teaspoon kosher salt
2 egg whites
1 egg
1 cup candy canes, crushed (plus an additional 4 candy canes to be crushed and sprinkled on top of the cookies)
Instructions
Preheat the oven to 350°F. Line two baking sheets with parchment paper.
In a large mixing bowl, whisk together the powdered sugar, cocoa powder and salt.
Add the egg and egg whites to the dry ingredients, blending together slowly with a hand mixer.
Add the candy canes and mix into the batter by hand.
Using a 1" cookie scoop, dollop the cookies onto the prepared baking sheets. Top with crushed candy canes.
Bake for 14-16 minutes, or until the cookies have firmed up.
Let cool on a cooling rack, then enjoy with a glass of milk!
Notes
Adapted from Bon Appetit's Chocolate Brownie Cookies recipe.
Check your candy canes and powdered sugar's ingredients lists to ensure both are made without gluten and in a factory where gluten is not present.
Nutrition Information:
Yield:
24 cookies
Serving Size:
1
Amount Per Serving:
Calories:

105
Total Fat:

0g
Saturated Fat:

0g
Trans Fat:

0g
Unsaturated Fat:

0g
Cholesterol:

8mg
Sodium:

100mg
Carbohydrates:

25g
Fiber:

1g
Sugar:

19g
Protein:

1g
Nutrition facts are an estimate and not guaranteed to be accurate.

Are you a fan of the chocolate and peppermint combination?



Want to join in on this sugar, butter and baked goodness celebration? Head over to the intro post to Christmas Cookie Week 2014, and I'll see y'all back here tomorrow for another gorgeous holiday-themed sweet recipe!