Pregnancy Update: 29 Weeks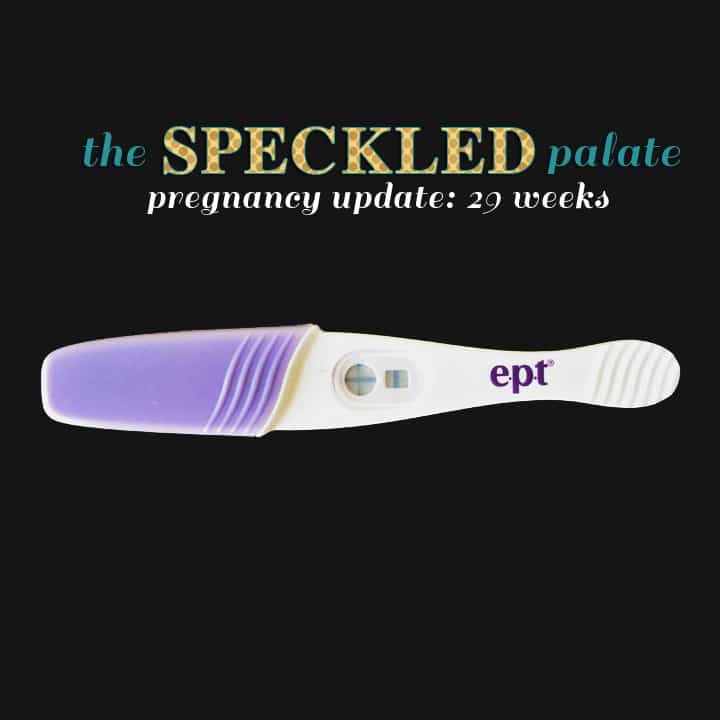 Technically, I should've posted a pregnancy update last week, but it was Christmas Cookie Week, so we're still a week off in the monthly pregnancy updates. But it's all good, and I'm not fretting much about it. (I've got bigger fish to fry, ha!)
This past month has flown by, and I can hardly believe that I am in my third trimester. We've got 11 weeks to go, and that feels like not a lot of time, especially since we've still got a ton to do!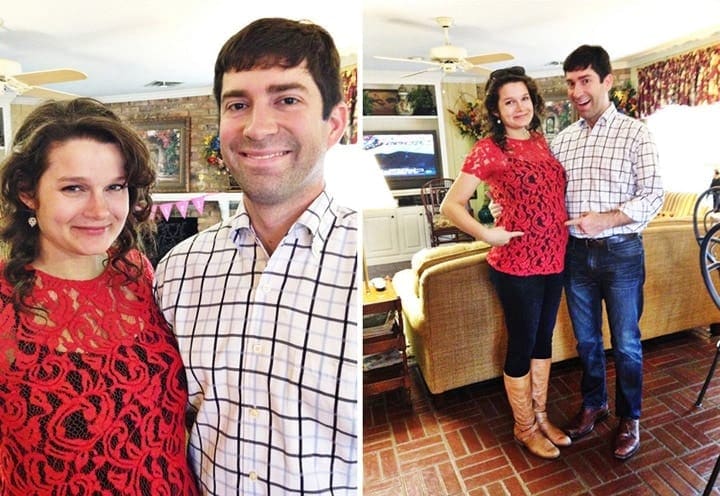 At our baby shower in Louisiana. We thought it would be a good idea to point to the belly, just in case people didn't realize there's a baby in there.
How far along? 29 weeks, 1 day.
How big is baby? Apparently, she's the size of a head of cauliflower. Which is huge. And she's still got a ways to go!
Total weight gain: ~22 lbs
Updates? The nursery has been painted! Our baby has a crib to sleep in; a carseat, a high chair and a stroller, too! She's received a ton of cute clothes and accessories, too, and we're moving right along.
Symptoms? I feel like a switch flipped at the beginning of the third trimester. I'm more tired these days. I have to sit down after being on my feet for a short(ish) period of time, something that has never been an issue before. I also get winded waaaaaaaaay more easily, and it's embarrassing to have gone from running a marathon to huffing and puffing my way up a hill in our neighborhood in the span of about eight months. Also, I've been experiencing swelling in my hands and feet some evenings and heartburn that just won't quit.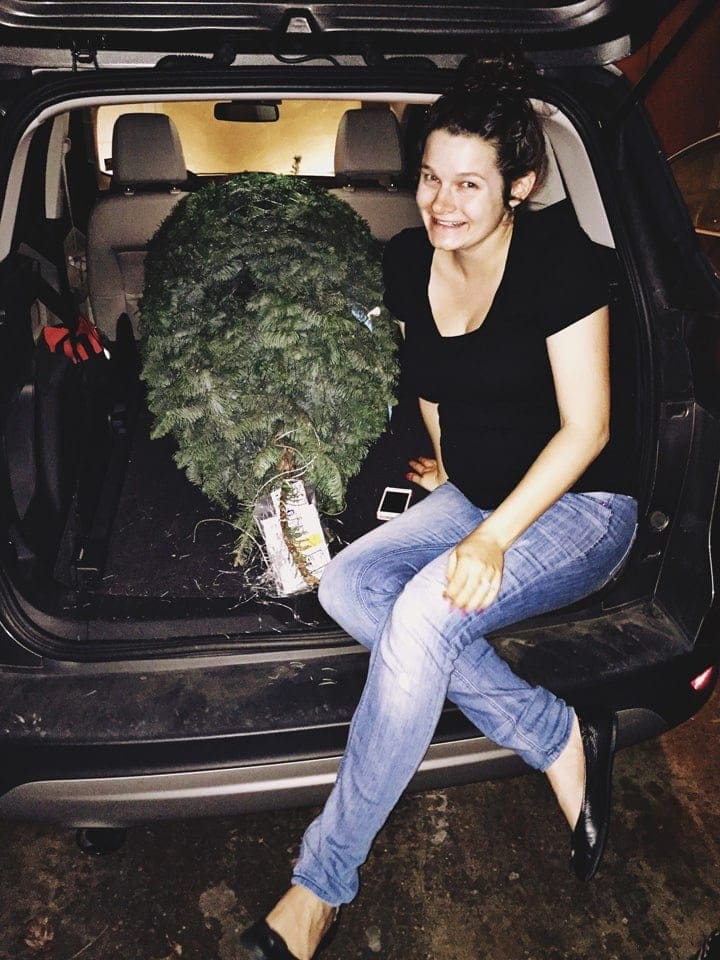 Every year when we go get our Christmas tree, it turns into a Grisowold-esque adventure. (Strapping the Christmas tree to the top of the car? Sure! Stuffing the tree in my car's trunk and hanging a red flag from it? Why not?) This year, our tree experience didn't end with a Griswold story… just a sweet one: an employee congratulated me on my pregnancy when I approached her with a question. She's the first stranger to do so, and it was lovely.
Missing… Fitting into regular people clothes and the lack of drama that entails finding new clothing for yourself because you don't have to go to a specialty store. Running. Feeling like I used to. Eating the occasional rare steak and drinking the occasional beer during a football game.
Feeling… Pretty good, all things considered.
Exercise? Lu, Lady Baby and I are still walking daily. We took some long walks this weekend, and while they both wore me out, it felt really good to get out of the house and be outdoors and appreciate the beautiful weather we've experienced.
Sleep? Off and on. I slept like a rock Saturday night after not sleeping at all Friday. I'd love to be sleeping more consistently, but as long as I'm getting some sleep, I won't complain. I feel like, if nothing else, this is my body inadvertently training me for sleepless nights up with Lady Baby.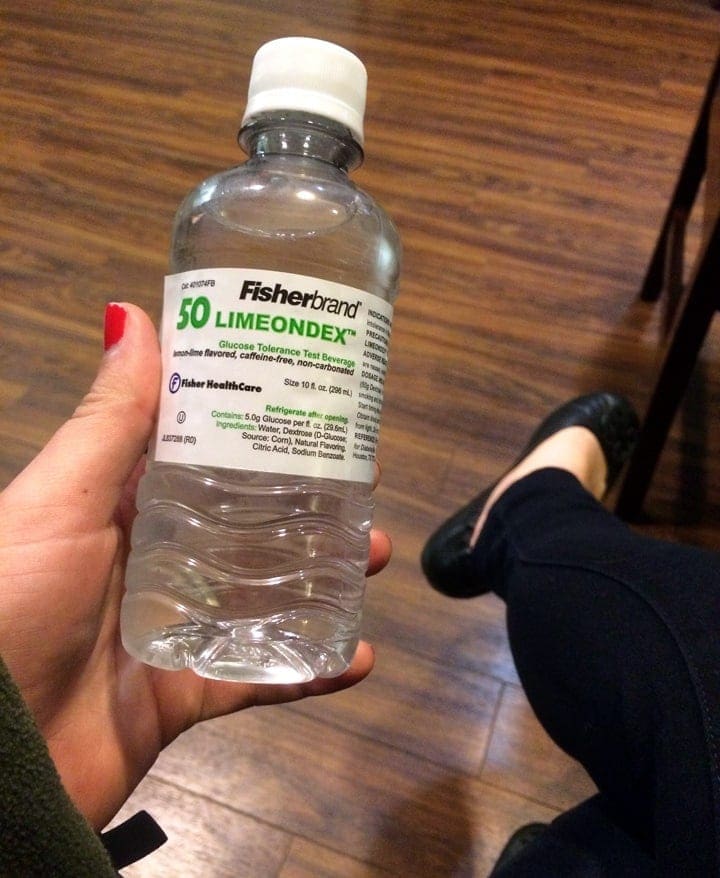 The drink I had to consume in five minutes for my glucose test. It tasted like flat Sprite, which is super weird. However, y'all will be happy to know that I passed! *happy dance*
Movement? So, so, so much. When she moves now, my entire belly moves with her, and it's surreal to watch and feel. I've been told she'll be settling into a routine in the coming weeks, and while I'm excited about that, I really love feeling her bop around at random hours of the day. She's especially active around the time we go to bed, and I love just lying there and watching/feeling her. It's incredible.
Food cravings? Sweets of any variety. Honeycrisp apples. Cheese, especially sharp cheddar.
Aversions? Eggs. Spearmint-flavored products. Smoothies of any kind. Wilt-y spinach and greens. Carrot soup. (I know this is super specific, but I made some for us this past week, and it was just disgusting to me.)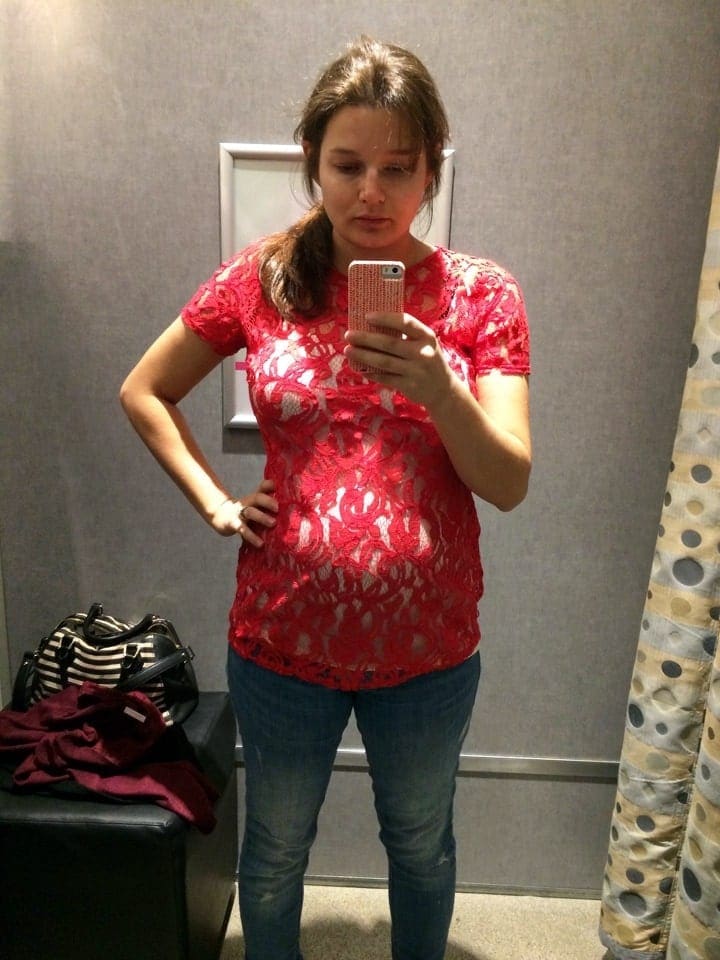 My bump looks like a basketball beneath my shirt here, and this photo makes me giggle because of that.
Anxious about… Getting everything done in time. I'm currently compiling a huge spreadsheet of all the work that needs to be done between now and when Lady Baby is due (and beyond!) for both my job and The Speckled Palate. I realize some things will fall by the wayside as I run out of time, but I have a goal to get as much completed in advance so I can settle into motherhood and figuring out our new routine without attempting to freelance and blog on top of it.
Excited about… Seeing my family and friends during Christmas. Also, is it nerdy to say learning more about what's to come? We've got a few baby-centric classes scheduled for the beginning of January, and even though they're big important waaaaaaaaay-too-grown-up classes, I am excited to learn as much as possible about what's about to go down and how we can best take care of our baby once she arrives.
What I'm loving… We spent Thanksgiving with Winston's family in Louisiana, and we had the best time. That weekend, they hosted an open house and baby shower, and my mom, dad and his wife all came down for the festivities. I also found it especially exciting to let our families feel Lady Baby as she moved, even if she gets shy when someone touches my belly. It's such an incredible thing to feel, and I have fun sharing it with the people I love.
What I'm looking forward to… Christmas in Memphis. Upcoming showers in Memphis and Dallas. Meeting our little girl.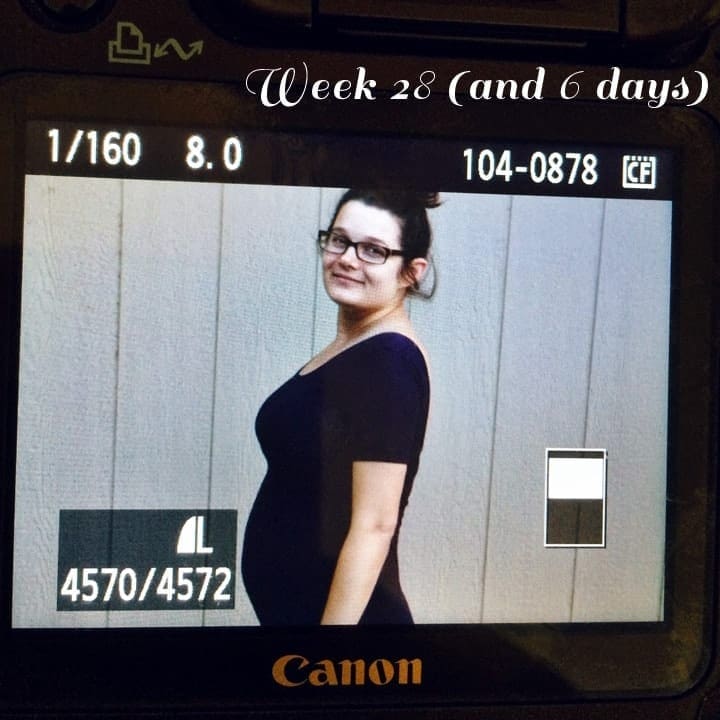 And that's all I got for y'all.
29 weeks down, and just 11 to go!
Let's do this thing!
Interested in following along? Here are all of my pregnancy updates to date: 20 weeks | 25 Weeks | 29 Weeks | 32 Weeks | 36 Weeks | 40 Weeks