Celebrate summertime with a refreshing Peach Bourbon Slush. This boozy peach cocktail, made with simple seasonal ingredients, makes for a perfect entertaining drink because the recipe can be easily doubled or tripled. Makes 4 drinks.
Love a summery, fruit-based drink? Make sure to mix up a Peach Moscow Mule, Blackberry Ginger White Wine Slush and a Strawberry Margarita this summer!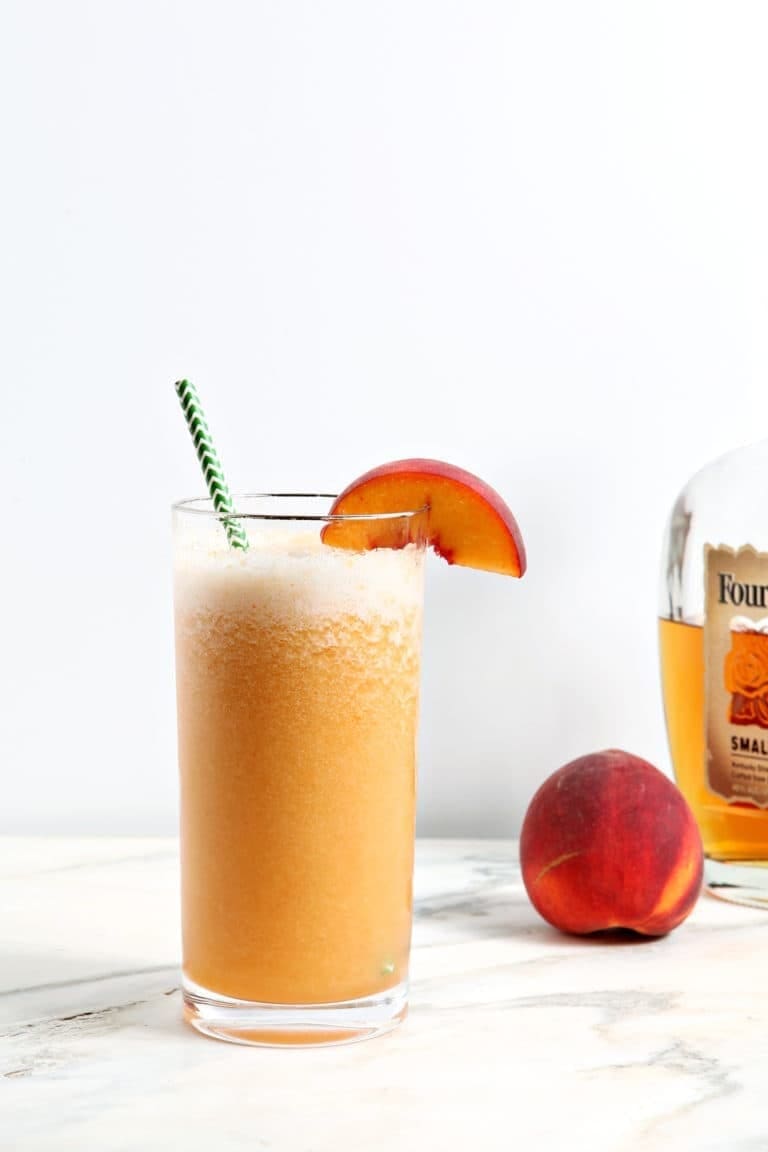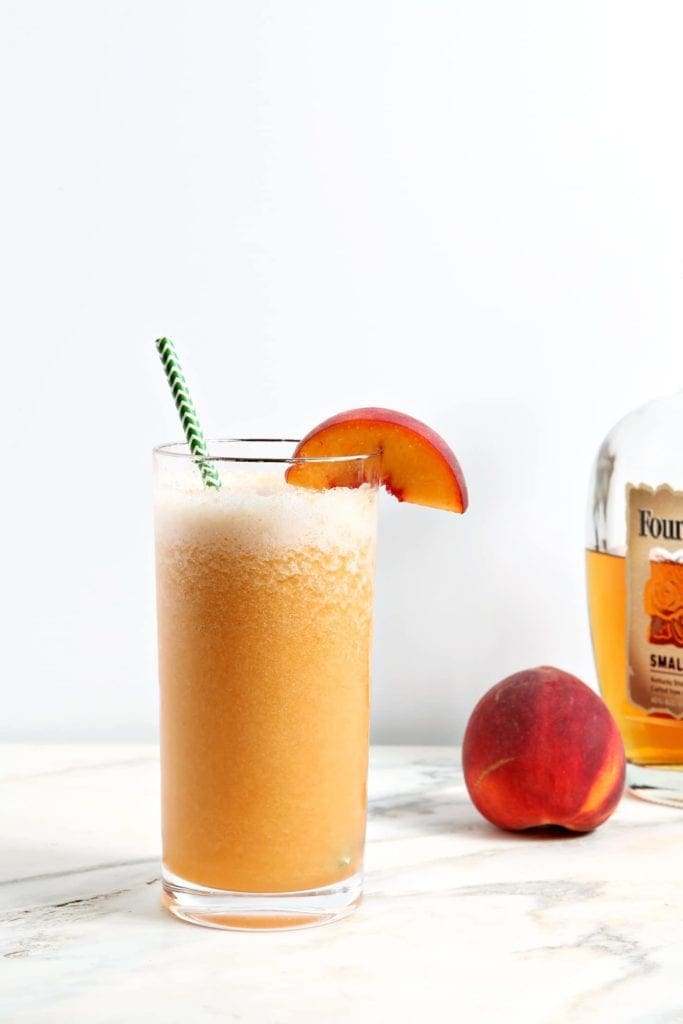 It's peach season! This is one of my favorite times during the year, even though it's close to the temperature of the sun outside.
The high temps have been in the 100's for the last two weeks or so… but when I was watching the news yesterday, I learned that the highs are only in the upper 90's for the coming week.
And do you know what I said? "Oh, that's not too bad."
Because that's how life goes here in Texas in August: You accept the heat, even though it's brutal, and you want to hide indoors until autumn arrives. Which won't be until October. Probably.
But you accept the heat, too, because it's PEACH SEASON! And peaches make everything better.
Why I love this recipe:
We have my husband to thank for this recipe.
When I was discussing what to do with the last of the peaches from our recently purchased batch, he suggested making a bourbon cocktail.
The natural sweetness of the peaches sings when paired with the bourbon, but the alcohol doesn't overpower the fruit.
And the slush? Well, bravo to Winston because it is a perfect cocktail to enjoy on a scorching summer's day.
More peach recipes we adore: Dairy Free Peach Cobbler / Blackberry Peach Hand Pies / Individual Ginger Peach Punch / Peach Julep Popsicles / Balsamic Peach Compote / Grilled Peach Bruschetta / Homemade Peach Compote / Peach Margarita
Looking for another bourbon cocktail? Check out my Bourbon Recipe Index for inspiration!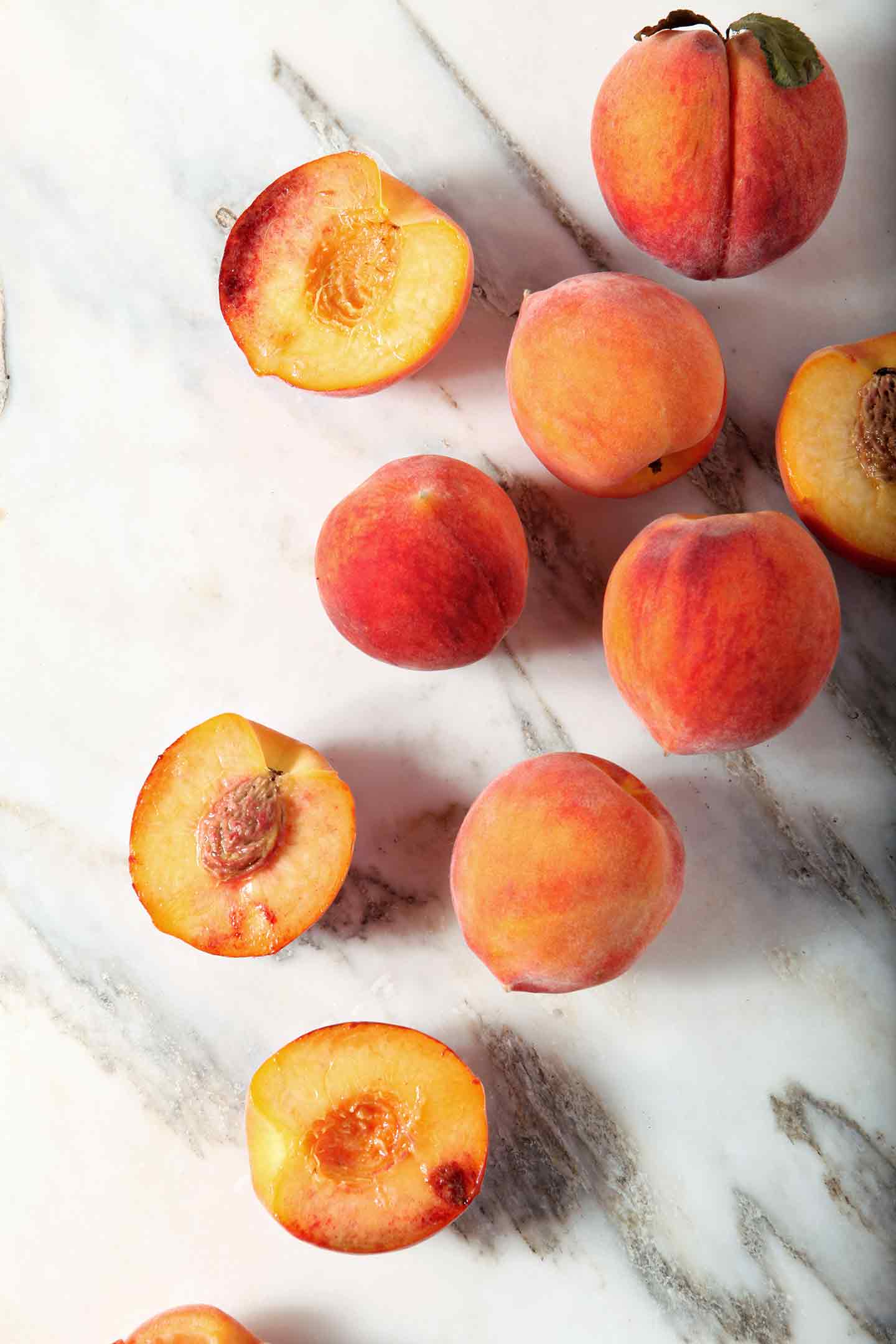 What tools do I need to make a Frozen Bourbon Slush with Peaches?
The Speckled Palate participates in affiliate programs. As an Amazon Associate, I earn a commission from qualifying purchases. Please refer to my disclosure page for more information about these affiliate programs.
In addition to these tools to make this slush drink, you'll also need some ingredients, too:
Water and granulated sugar—these serve as the base of our homemade simple syrup with peach
Peaches—if it's peach season, try to use fresh, juicy peaches! If it's not peach season, use 1 cup of frozen peaches.
Ice cubes—these get us the optimal texture for the slush!
Bourbon—I address this below in more depth, but add a bourbon that you enjoy drinking! You can also up the peach flavor by using a peach whiskey or bourbon, like Crown Royal Peach Whisky or Jim Beam Peach.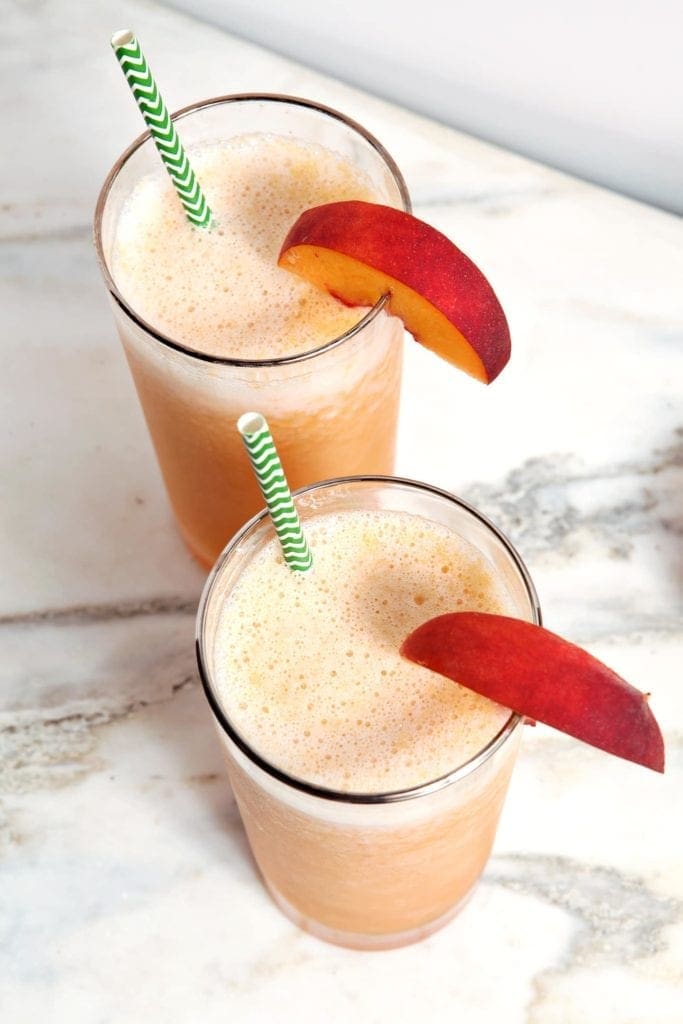 How to make Peach Simple Syrup
First and foremost, we're going to make the peach simple syrup. This is the base of our slush drink, so it's well worth the trouble—promise! (I have a whole post about How to Make Simple Syrup, but I'm going into detail here about how we add the peach flavoring.)
Combine the water, sugar and peaches in a small saucepan and bring 'em to a boil. When it begins bubbling a lot, lower the heat, and simmer for another 5 minutes. Remove from the heat, and steep for 15 minutes before refrigerating.
You can use frozen peaches in the simple syrup if you don't have fresh ones. And if you're using fresh ones, don't worry about peeling them since our drink will be blended.
How to Make a Peach Bourbon Slush
Next, we'll make this peach bourbon slush!
In the blender, pour in the peach simple syrup (with those gorgeous peach slices) along with the bourbon and ice cubes.
Blend until smooth, and serve immediately.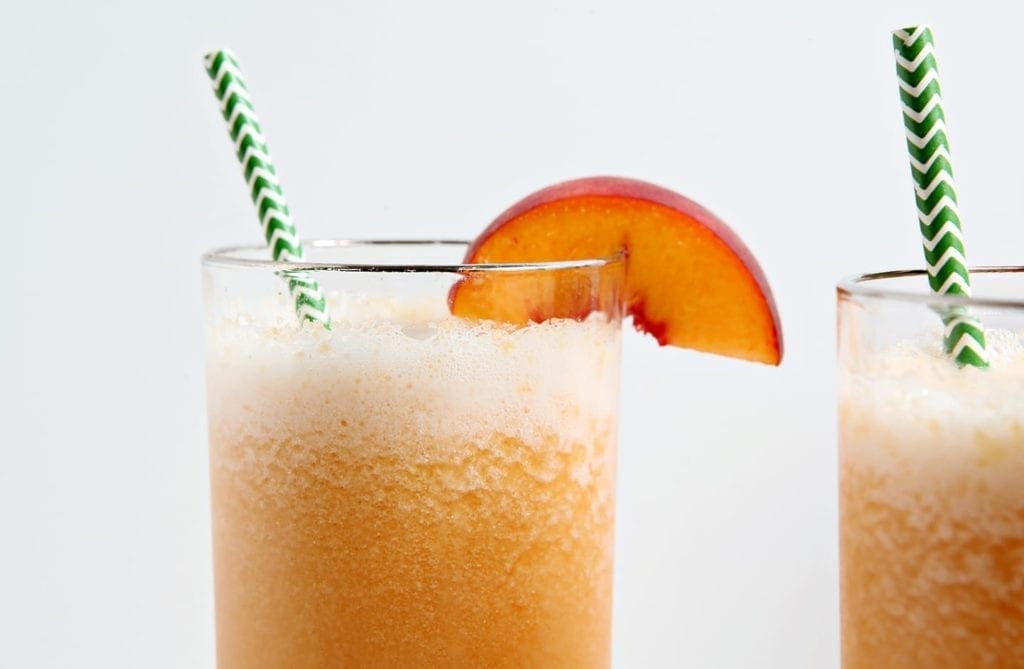 Frequently Asked Questions
What the difference between a slush and a smoothie?
Well, there isn't much of a difference! Typically, smoothies include some form of dairy (yogurt, milk, etc.) or could also be dairy free, but with a product like almond, cashew or coconut milk that adds a creamy element.

Slushes tend to involve liquids, which is why adding booze is totally acceptable!
Can I make this bourbon slush with frozen peaches?
Absolutely! Instead of the two fresh peaches, substitute 1-1.5 cups of frozen sliced peaches. They'll work beautifully in the simple syrup and blend beautifully into this drink!
Can I make a nonalcoholic Peach Slush?
I haven't tried it without the booze, but I bet it would be delicious! Who doesn't love peachy goodness that's frozen?

To do this, simply leave out the alcohol and mix the other ingredients as listed in the slush drink recipe.
What bourbon do you recommend adding to this frozen cocktail?
Please, for the love of everything good and right in this world, use a decent-tasting bourbon. It doesn't have to be anything exceedingly fancy, but you want it to taste good because you actually taste the bourbon in this peach cocktail.

If you want to amp up the peach flavor, use a peach whiskey or bourbon, like Crown Royal Peach Whisky or Jim Beam Peach.
Can I make this slush drink in advance?
Unfortunately, this is a cocktail we don't want to make in advance because it's going to begin melting immediately, which will water down the drink. Wait to blend these up until you (and your guests) are ready to enjoy it!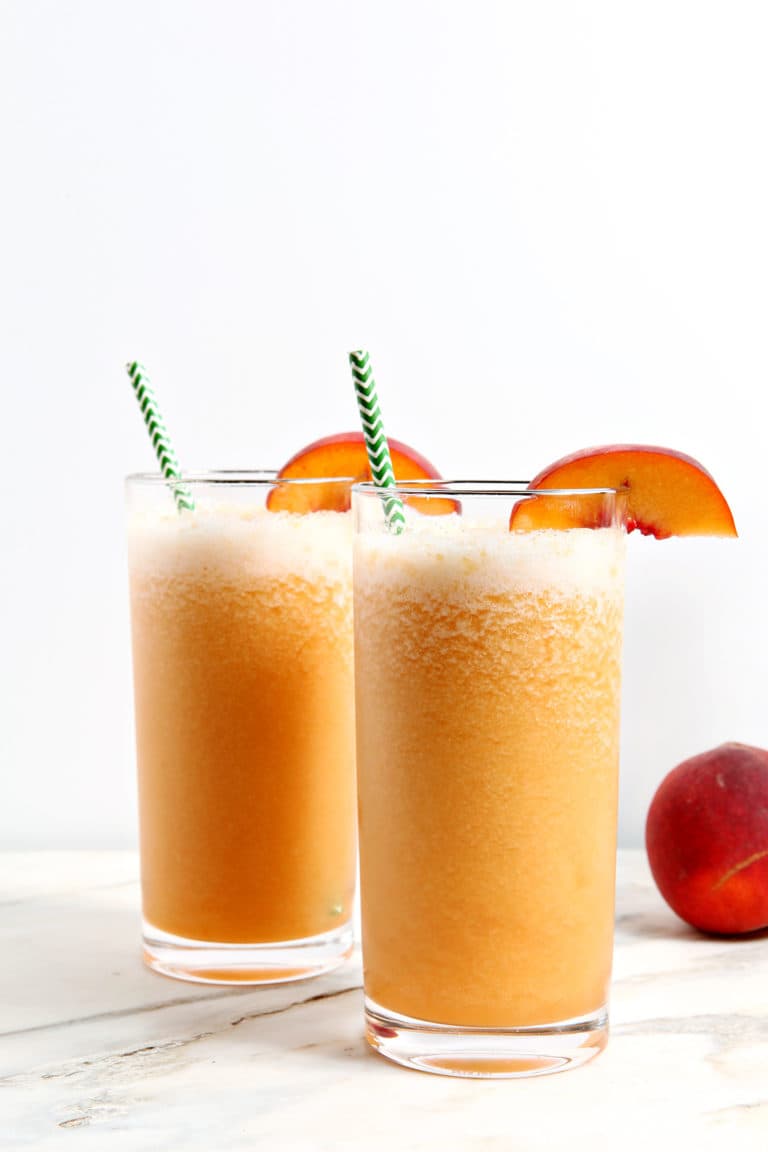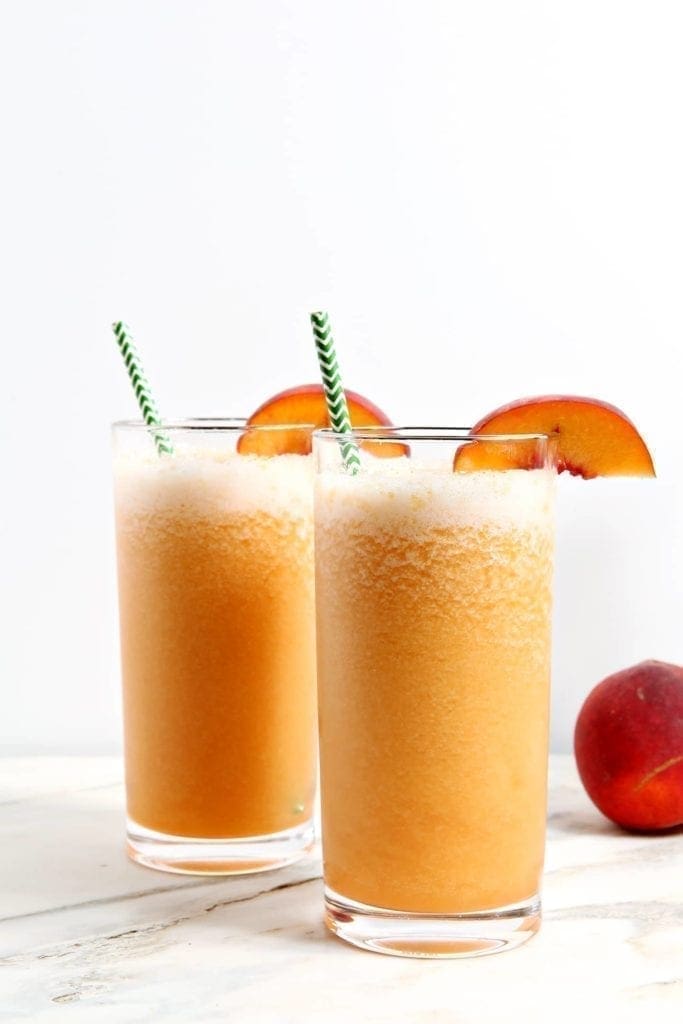 Want more boozy slushes?
Here's how we made the Bourbon Peach Slush: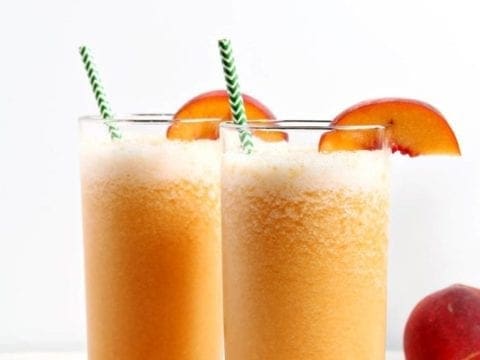 Yield:

4 drinks
Bourbon Peach Slush
Celebrate peach season with a refreshing Bourbon Peach Slush. Simple to make and easier to sip, this frozen cocktail is perfect for an end-of-summer party.
Ingredients
Peach Simple Syrup
½ cup water
½ cup granulated sugar
2 peaches, sliced
Bourbon Slush
Peach Simple Syrup, recipe above
2 cups ice cubes
½ cup bourbon
Instructions
In a small saucepan, combine the water, sugar and peaches to make the simple syrup. Bring to a boil over medium-high heat, and simmer for an additional 5 minutes.
Remove from the heat, and steep for 15 minutes, then refrigerate until use.
Pour the peach simple syrup (with the peach slices, too!), the bourbon and ice cubes into the blender.
Blend until smooth.
Serve immediately, and enjoy with a slice or two of fresh peach on the side!
Notes
No fresh peaches? No problem! Substitute 1-1.5 cups of frozen sliced peaches for the fresh peaches in this recipe to make the Peach Simple Syrup.
Recommended Products
As an Amazon Associate and member of other affiliate programs, I earn from qualifying purchases.
Nutrition Information:
Yield:
4 cocktails
Serving Size:
1 cocktail
Amount Per Serving:
Calories:

343
Total Fat:

0g
Saturated Fat:

0g
Trans Fat:

0g
Unsaturated Fat:

0g
Cholesterol:

0mg
Sodium:

4mg
Carbohydrates:

75g
Fiber:

2g
Sugar:

73g
Protein:

1g
Nutrition facts are an estimate and not guaranteed to be accurate.
The photos and recipe for this Peach Bourbon Slush cocktail recipe were originally published on August 14, 2015. The text of this blog post was updated on July 8, 2020.