How to Make a Mimosa Bar (Video Tutorial!)
Brunch at home can be so much fun and so versatile! Add a little pizzazz to your next hosting gig by offering a Choose-Your-Own-Adventure Mimosa Bar. Makes 4-8 drinks (and can easily make more if you purchase enough juice or champagne.)
Love brunching at home? Make sure to check out Brunch Salad, Cream Biscuits and White Sausage Gravy and these delicious Brunch Recipes!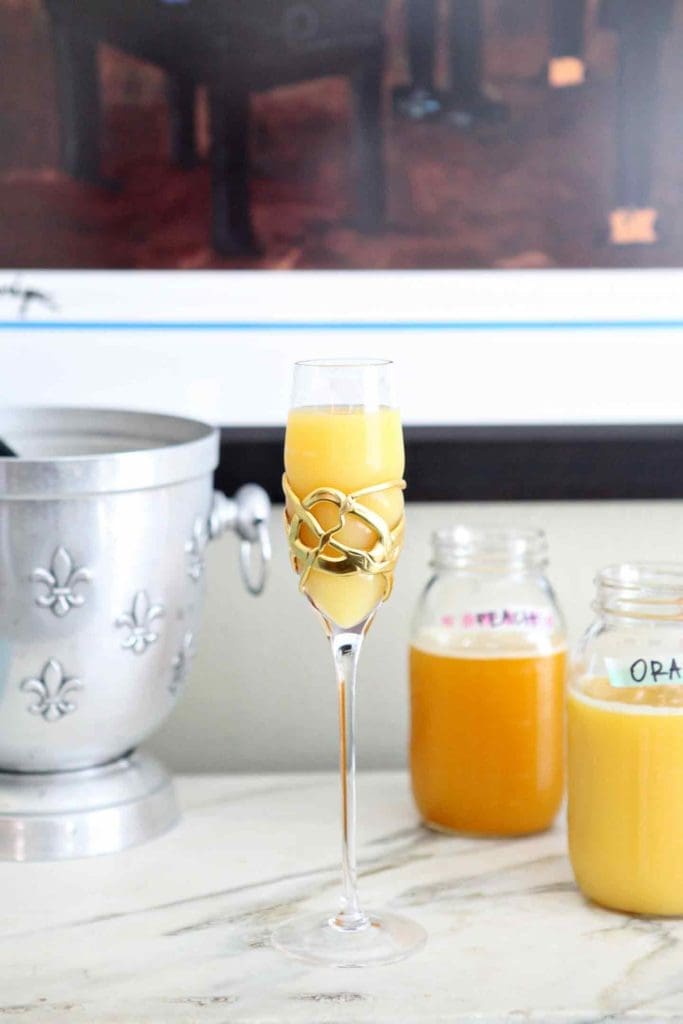 I love hosting brunch at home.
Maybe it's because I'm a homebody at heart.
Or maybe it's because we have a 3-year-old girl who loves to be a part of brunch (and brunch isn't always toddler-friendly at restaurants.)
Or maaaaaaaaaaybe it's because I love making fun food and sharing it with the people I love.
… Honestly, it's a combination of the three. And what better way to celebrate an at-home brunch than with a mimosa bar? (This was totally inspired by my friend Dixya and the awesome set up she had at her Galentine's Day brunch!)
More brunch recipe inspiration: Sweet Breakfast Crepes | Fruit-Studded Holiday Bread for Easter | Blueberry Breakfast Sausage Pancakes | Strawberry Champagne | Vegan Banana Muffins | Gluten Free Broccoli Quiche Lorraine Bites | Strawberry Cinnamon Breakfast Buns
Love brunch, but don't know where to begin? My Brunch Recipe Index is here to assist you!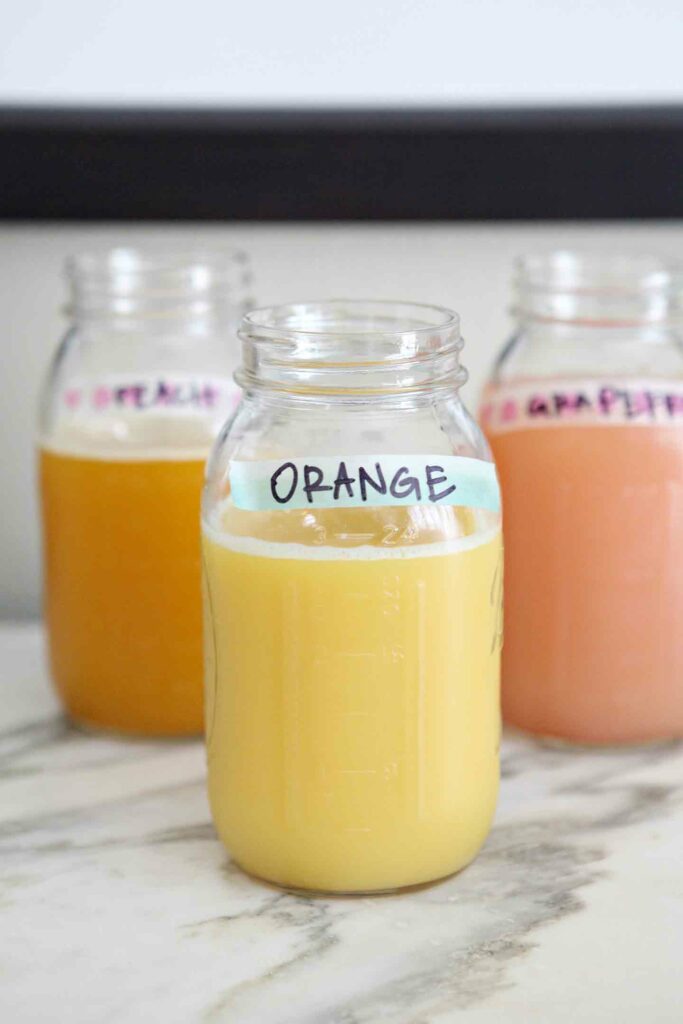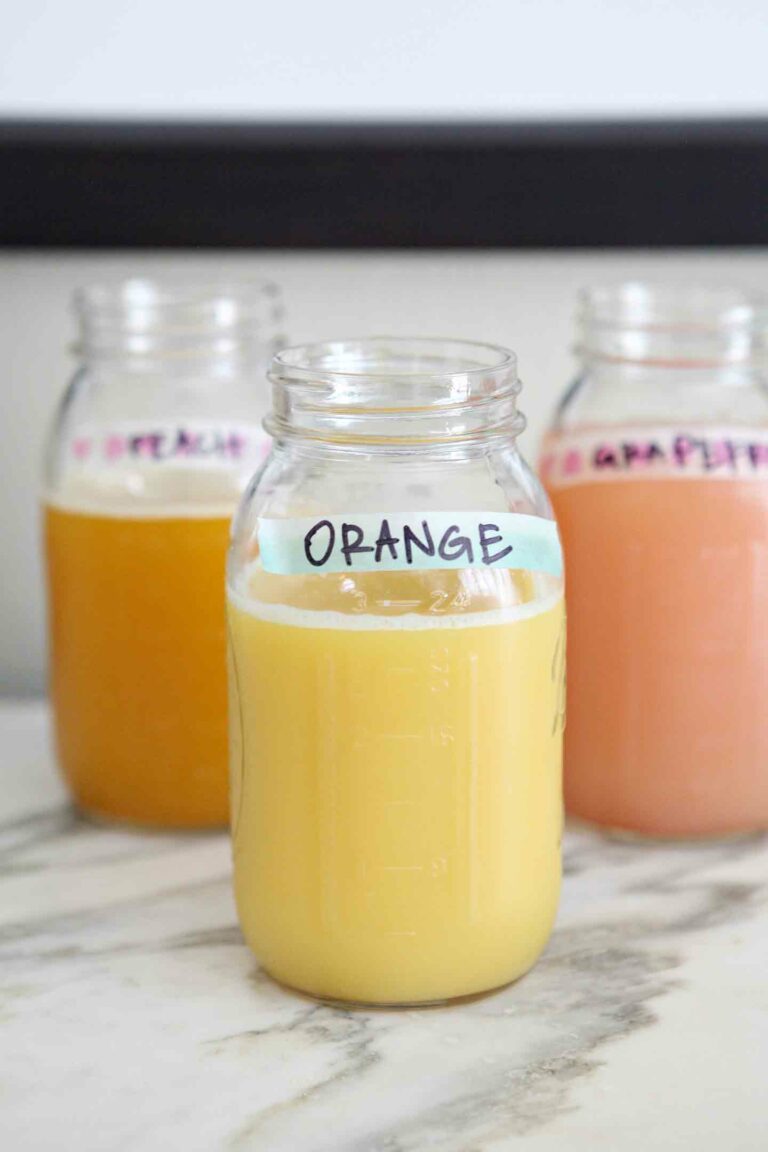 What supplies do I need to make a Mimosa Bar?
The Speckled Palate participates in affiliate programs. As an Amazon Associate, I earn a commission from qualifying purchases. Please refer to my disclosure page for more information about these affiliate programs.
Please know that you probably have something at your house that will work for a mimosa bar without needing to go out and purchase all of these supplies. (Unless, of course, you want to and have the means to!)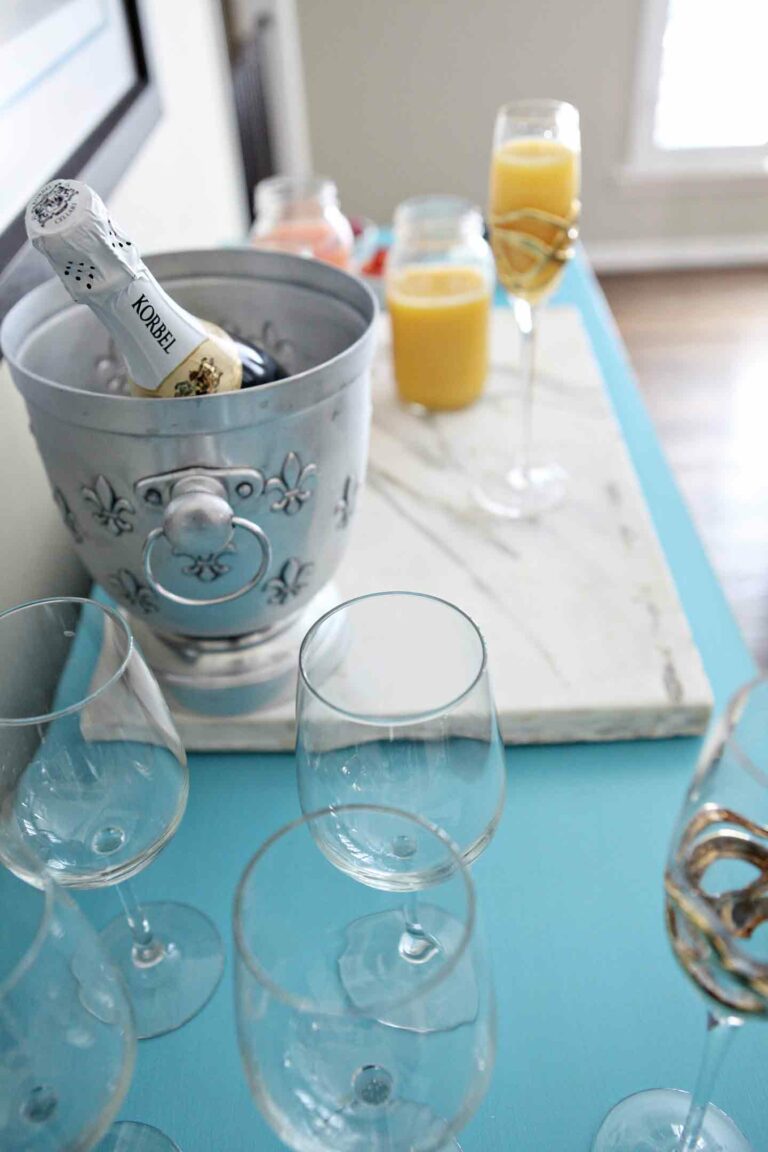 How to make a Mimosa Bar in your home for brunch
Choose a flat, stable surface to set out the bar.
In our house, we have this bright blue bar in our kitchen, and I always set the bar on it because I know it's sturdy (and won't be knocked over by children running around.)
You can make this a portion of your table or you can put it on the kitchen counter. It doesn't have to be fancy!
Set out your mason jars and champagne flutes in advance, too, to ensure you have everything you need. (This might help you feel less panicked the day of your brunch.) Label the mason jars with the washi tape so your guests can know what kind of juice you are offering.
Purchase your supplies.
I like to a variety of juices in mason jars, but you can get as many or as few as you like. Three is my ideal number, but if you think your guests will have fun mixing and matching, get as much as you'd like!
Also, get 1-2 bottles of champagne, depending on how many people you're hosting for brunch. As a general rule of thumb, each bottle of champagne has about 4 servings, depending on how big your guests' pours are. If you're hosting 8 friends, get at least two bottles, maybe three, to ensure enough champagne, assuming everyone is drinking.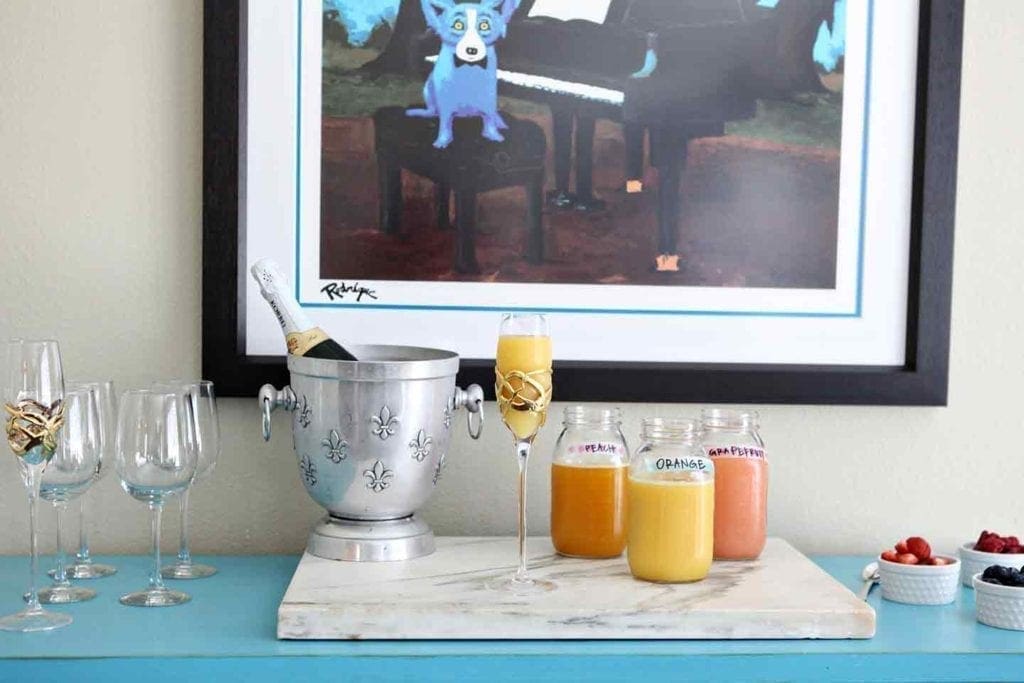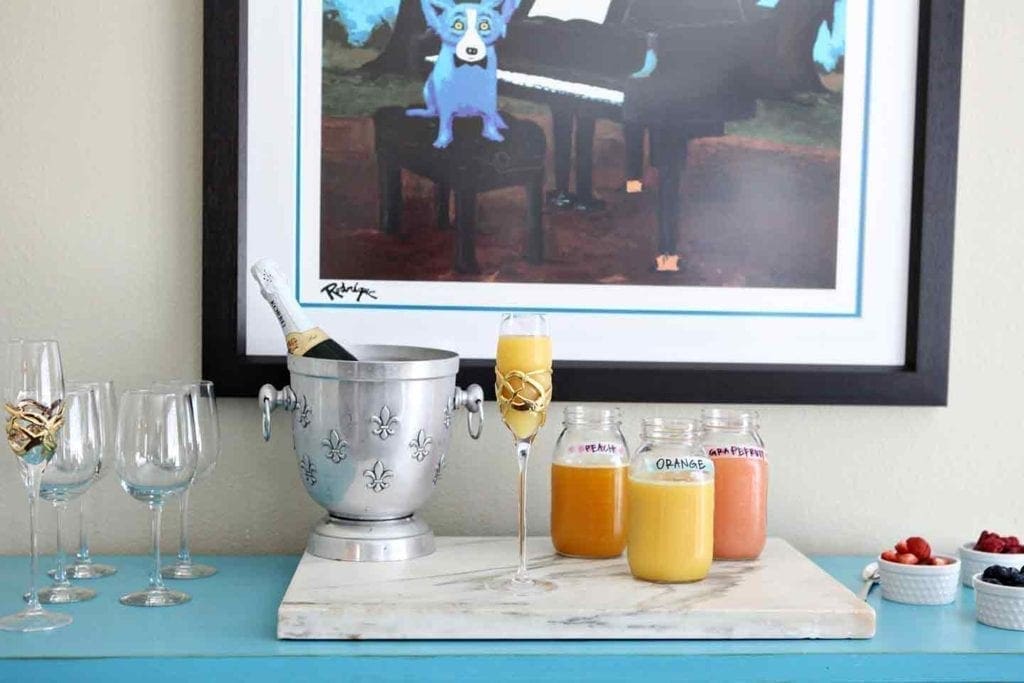 Set the mimosa bar up, and host like a pro!
On the day of, pour the juices into mason jars.
Place the champagne in a champagne bucket to keep it cold.
Place fruit in bowls or ramekins for guests to add to their mimosas.
Keep extra champagne and juice in the fridge in case you and your guests gravitate to one juice and/or drink all the champagne before brunch is over.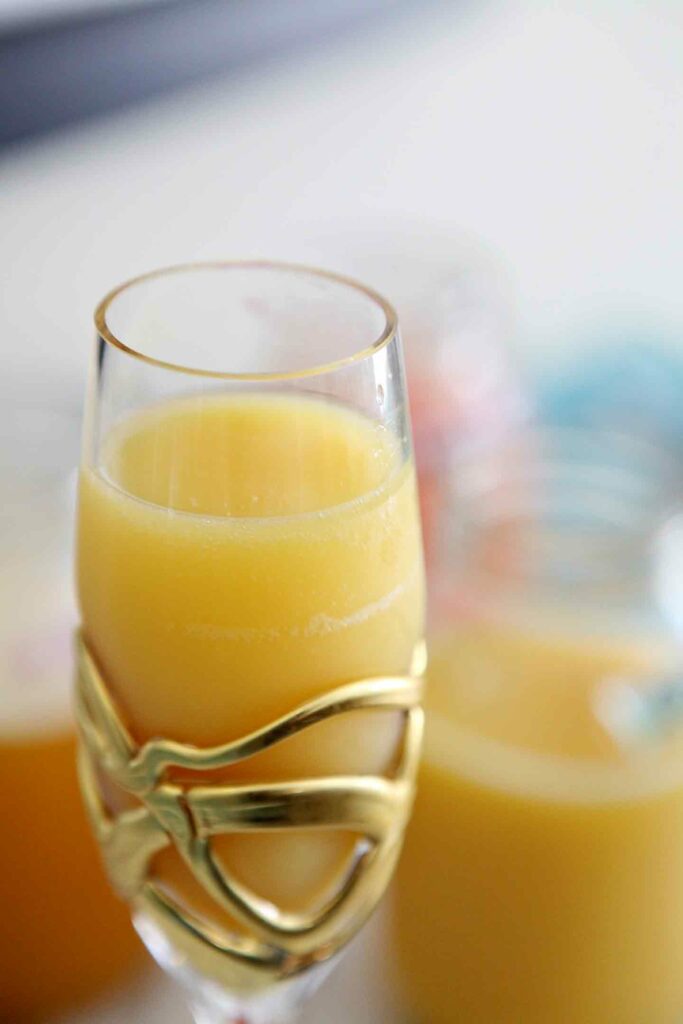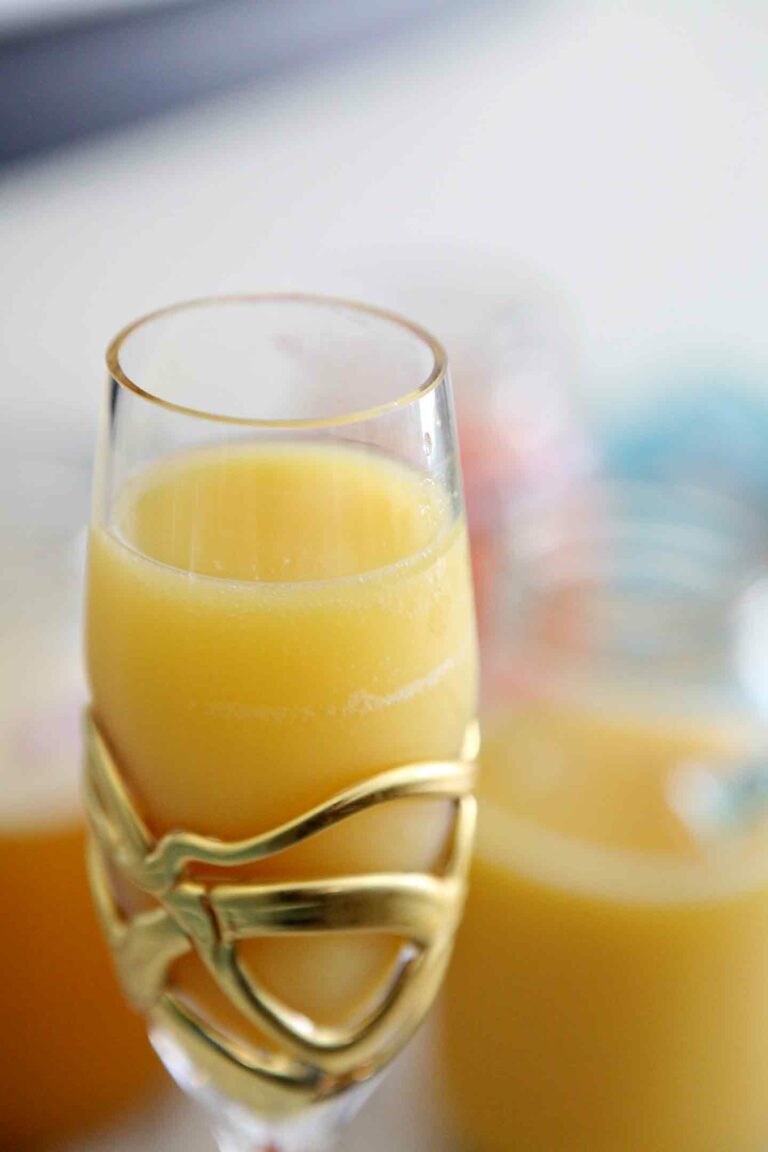 Frequently Asked Questions
What is a mimosa?
A mimosa is a cocktail that calls for equal parts orange juice and champagne.
For the sake of this mimosa bar, we're calling any drink that calls for juice and champagne a mimosa. (Yes, I'm aware that they're not technically mimosas, but please roll with me on this.)
What champagne is good for mimosas?
Whatever champagne you like to drink by itself is good for mimosas! I don't recommend going the bottom shelf route, but you certainly don't have to go fancy here. Whatever you purchase, make sure it's brut. (Brut means it's dry and not sweet. Since we're adding fruit juice to it, we don't need any extra sugars from the champagne itself.)
Whenever we host a party that involves mimosas, we'll purchase a few bottles of Korbel. We place one in the champagne bucket and one in the fridge, and whenever the first one runs out, we'll pop the second bottle and put it into rotation.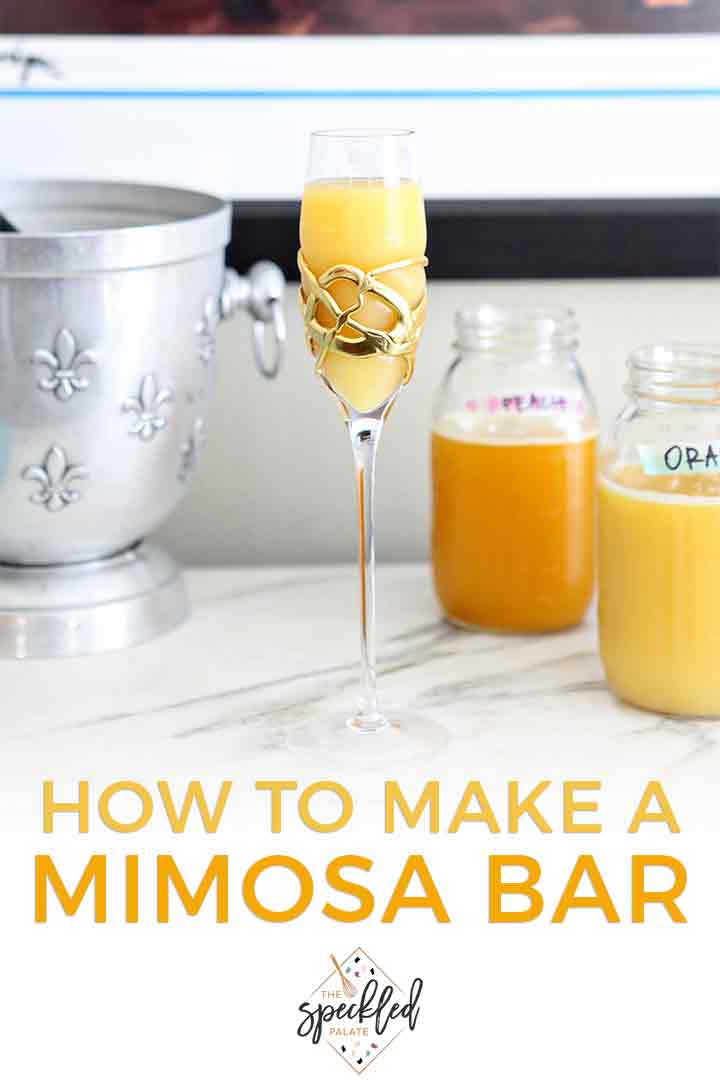 What are some good recipes that pair nicely with mimosas?
I'm glad you asked! Here are a few of my favorite brunch recipes…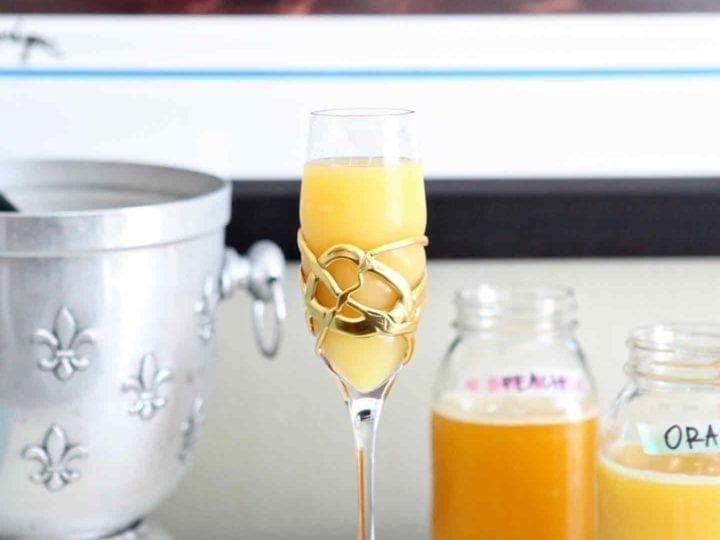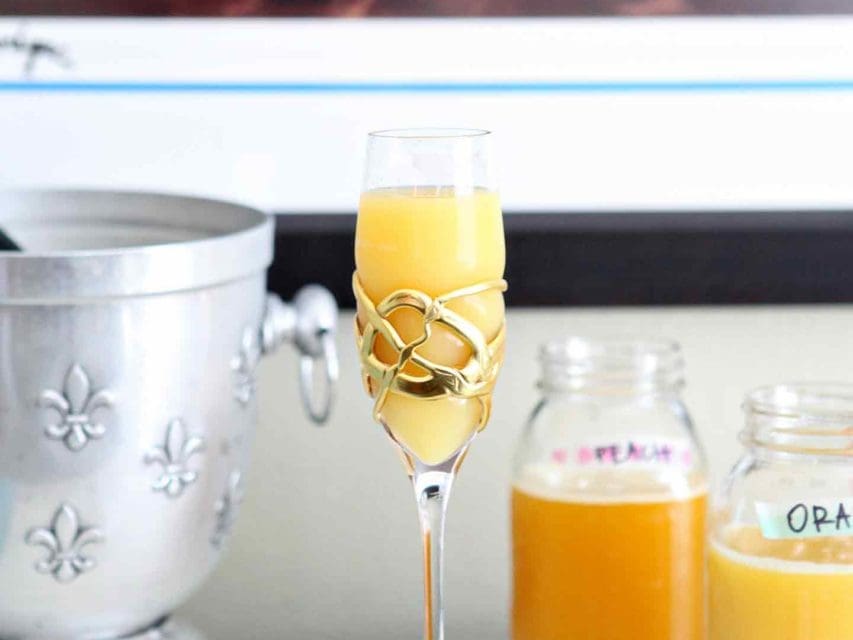 Yield:

8 mimosas
How to Make a Mimosa Bar
Brunch at home can be so much fun and so versatile! Add a little pizzazz to your next hosting gig by offering a Choose-Your-Own-Adventure Mimosa Bar. Offer several juices and fruits for guests to choose from so they can mix and match to create a mimosa straight out of their dreams. Easy to set up and even easier to enjoy, this Mimosa Bar is sure to become a mainstay at any at-home brunch you host!
Materials
Champagne
Different fruit juices
Fruits to use as garnish
Wide-mouth mason jars or other containers to hold the juice
Washi tape for labeling jars and permanent markers
Champagne Bucket
[Champagne Flutes]
[Ramekins or bowls for fruit]
Tools
Flat surface/bar to transform into a mimosa station
Instructions
Choose a flat, stable surface near where your brunch is being served to set out the bar.
Set out your favorite champagne flutes or glasses for friends to pour their mimosas into. (This can be done a day or two in advance, depending on if you feel comfortable leaving the stuff out. Since I have small children at home, I wouldn't do this step until just before my guests arrive.)
Purchase 3-4 favorite juices to be served. (I chose grapefruit, orange and peach, but the possibilities are endless! Choose what sounds good to you and what you think your guests will like.)
Using the washi tape, label the mason jars so your guests will know what juice is in which jar.
Just before your guests arrive, pour the juices into the mason jars.
Put ice in an ice bucket, and place the champagne in it.
Scoop seasonal fruit into the ramekins and display near the bar. Encourage friends to add their favorite fruit to their mimosas.
Lastly, have extra champagne and juice in the fridge in case you and your guests gravitate to one juice and/or drink all the champagne before brunch is over.
Notes
Please note that the estimated cost on this project is if you don't have anything at home that can work for this bar and if you purchase everything in the recommended products section below. You certainly don't have to purchase anything new if you don't want to and if you have something in your home that works for this.
Also note that you'll have to purchase champagne and the juices, and I didn't factor those into the cost here because the cost of these ingredients ranges the board. For me, I like a higher-quality fruit juice and a well done California bubbly that's not too fancy, but tastes good on its own. (No more Andre here for me, y'all, but you do you.)
Recommended Products
As an Amazon Associate and member of other affiliate programs, I earn from qualifying purchases.
Are you a restaurant brunch person or an at-home brunch person?