Chocolate Wafer Cookies with Mint Chocolate Ganache
Crispy chocolate cookies are topped with a decadent, dark chocolate and mint ganache to make these delightful Chocolate Wafer Cookies with a Mint Chocolate Ganache. Makes 30 cookies.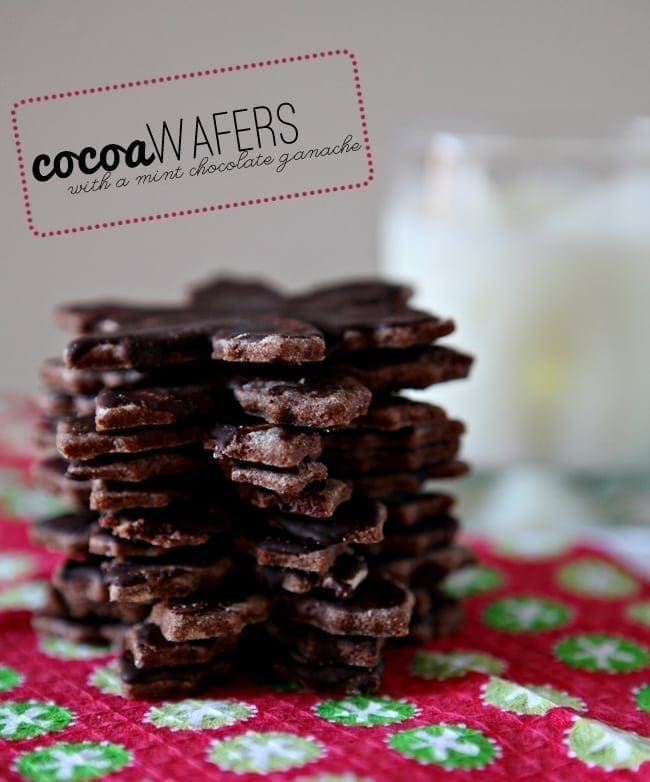 I never thought the day would come where I was admitting to this… but I'm a sucker for food-related television. The good thing is these shows are few and far between… but the bad thing is, once I get emotionally involved in a show (like Top Chef or The Next Iron Chef, for example), I'll watch a series until its completion to cheer on my favorites. This was a lot worse when I lived on my own, and I'm thankful I have pared this food programming obsession down a bit in recent years.
A few years back, a charming man named Fabio graced the Top Chef kitchens… and he was one of my absolute favorites. Not only did he prepare beautiful and delicious looking food, but he was wonderfully charismatic To top it all off, he had just moved to the U.S. from Italy. Since I studied art in Italy, I felt that instant connection, and watching him cook drove home how much I missed the cuisine of the country I fell in love with during my summer abroad.
I've followed Fabio on Twitter for a while now, and last week, he tweeted about some Christmas and holiday cookie recipes. I immediately checked them out and loved the idea of making these Cocoa Wafers for my friends and family. So I made them… and then got a little crazy and added a mint chocolate ganache to top them off.
Don't get me wrong: These cookies are fantastic on their own and don't need any kind of accoutrement topping them. I just wanted to vary it up a bit, and since I had some mint extract hanging out, I figured, 'Why not give it a shot?'
These thin, minty wafers remind me of Girl Scout cookies, and I may or may not have already taken down at least a dozen (or more!) since I baked them on Saturday…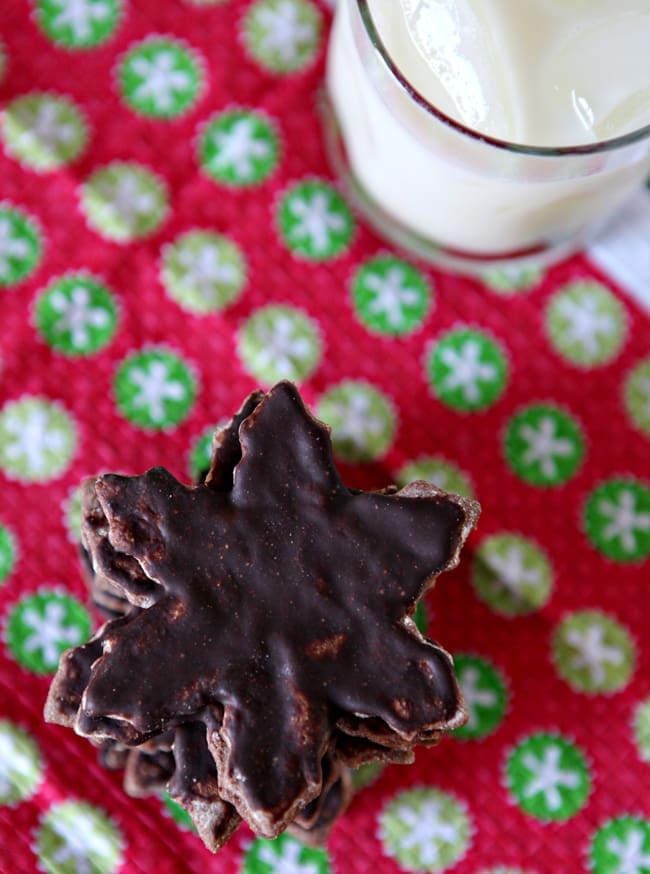 Other chocolate cookies we love: Gluten Free Almond Butter Brownie Cookies / Chocolate Chip Cookie Bars / Mississippi Mud Cookies / Peppermint Brownie Drop Cookies / Chocolate Gingerbread Biscotti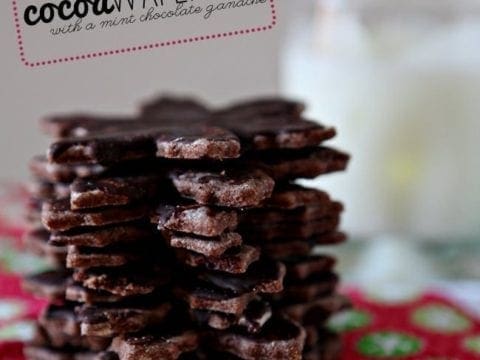 Yield:

30 cookies
Cocoa Wafers with a Mint Chocolate Ganache
Crispy chocolate cookies are topped with a decadent, dark chocolate and mint ganache to make these delightful Cocoa Wafers with a Mint Chocolate Ganache. These wafers are a perfect holiday cookie for anyone who loves the chocolate-mint combination.
Ingredients
Cocoa Wafers
1 ½ cups granulated sugar
½ cup (1 stick) unsalted butter, softened
1 egg
1 teaspoon vanilla extract
1/3 cup almond milk, (dairy milk OK, too)
1 ½ cups whole wheat pastry flour
1/3 cup unsweetened cocoa powder
½ teaspoon sea salt
¼ teaspoon baking powder
Mint Chocolate Ganache
1 cup dark chocolate chips
1 teaspoon mint extract
1/4 cup + 1 teaspoon milk
Instructions
In a large bowl, cream together the sugar and butter using a hand mixer.
Add the egg and vanilla to the mixture, beating until fluffy.
In a separate bowl, whisk together the flour, cocoa powder, salt, and baking powder.
Mix the dry ingredients into the butter mixture, stirring until incorporated.
Chill for 30 minutes. Preheat the oven to 350°F. Line two baking sheets with parchment paper or nonstick baking mats.
On a floured surface, roll out the dough into a flat sheet.
Use cookie cutters to cut the dough into whatever shape you like. (I used snowflakes, but these would be fun in a myriad of shapes!)
Place the cookies onto a parchment paper lined baking sheet, and bake for 8 minutes, or until crisp.
Set the cookies on a wire rack to cool, and while the cookies are cooling, make the ganache.
For the ganache: Melt the chocolate chips, and let them cool slightly. Transfer the melted chocolate into a food processor, then add the mint extract and milk, mixing until the ganache is combined.
Once the cookies have cooled, use a knife to spread the ganache on top of them, then enjoy!
Notes
Makes around 30 cookies, depending on the size of your cookie cutters and the thickness of the dough.
Recommended Products
As an Amazon Associate and member of other affiliate programs, I earn from qualifying purchases.
Nutrition Information:
Yield:
30 cookies
Serving Size:
1 cookie
Amount Per Serving:
Calories:

135
Total Fat:

3g
Saturated Fat:

2g
Trans Fat:

0g
Unsaturated Fat:

1g
Cholesterol:

9mg
Sodium:

55mg
Carbohydrates:

25g
Fiber:

2g
Sugar:

13g
Protein:

3g
Nutrition facts are an estimate and not guaranteed to be accurate.
Have you ever tried a recipe like this one?
What logic do you use to decide which recipe to make and which to pass by?