Today, we're making Hot Dogs with Caramelized Onions on Homemade Pretzel Buns, which are perfect for any July 4th celebration and get-together.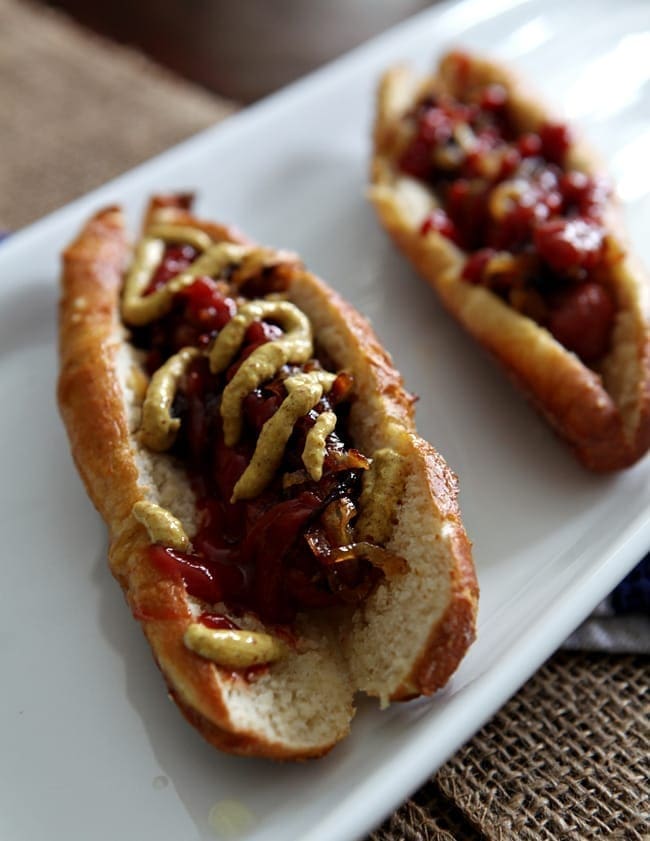 Could we talk for a second about this recipe, y'all?
I just want to put it out there that it's absolutely ridiculous… in the best possible way.
For about a month now, I've had a random craving for a hot dog. I have no idea WHY, but I needed a hot dog, so when planning out the July 4th features menu, I thought it would be fun to share one. And then as I continued brainstorming what I could do with the entree, I added caramelized onions and put the hot dog on a homemade pretzel bun because why WOULDN'T I?
It was a good decision.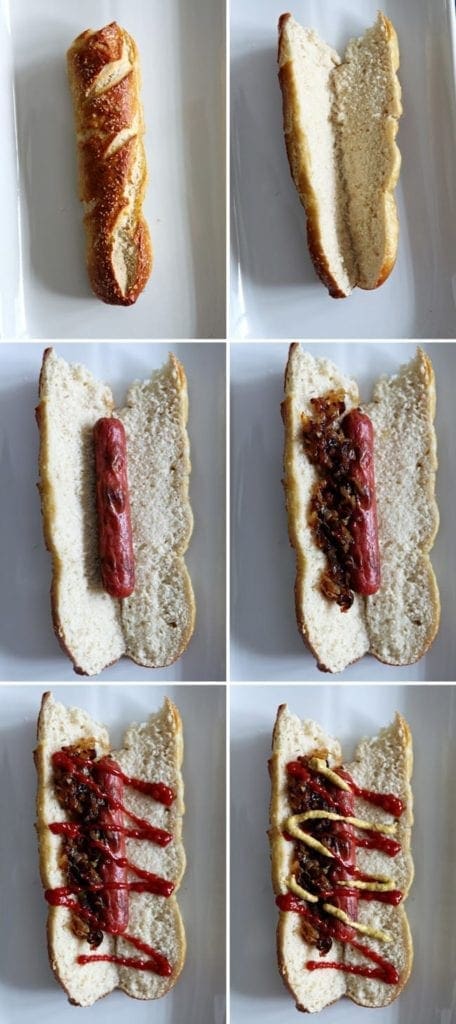 These Hot Dogs with Caramelized Onions on Homemade Pretzel Buns are really good, and you can dress them up however you see fit because, well, I know that condiments on hot dogs are a polarizing thing. I know some of you might be judging the ketchup on my hot dogs. (Chicago friends, I see y'all shaking your heads. I know.)
And you know what?
That's totally fine. If you decide to make these beauties, add whatever condiments you'd like and leave off whichever ones you dislike.
It's as simple as that.
Just know that making these Hot Dogs with Caramelized Onions on Homemade Pretzel Buns, whether they're for a July 4th celebration or simply a weekend meal, won't be a disappointment.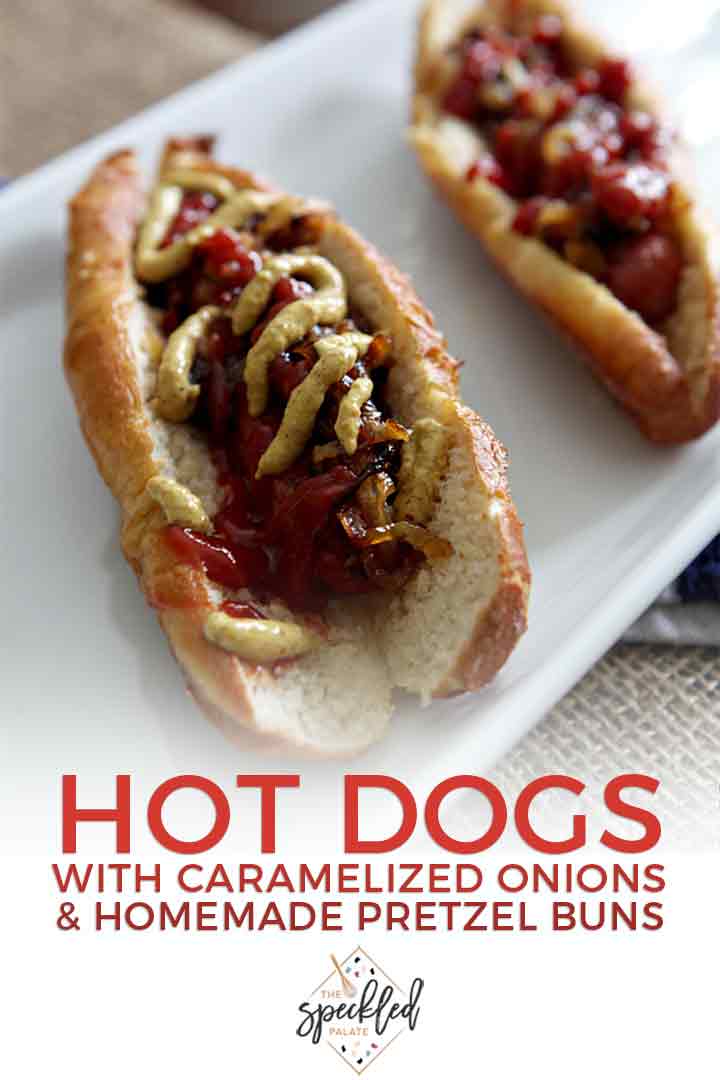 Here's how you can make your own: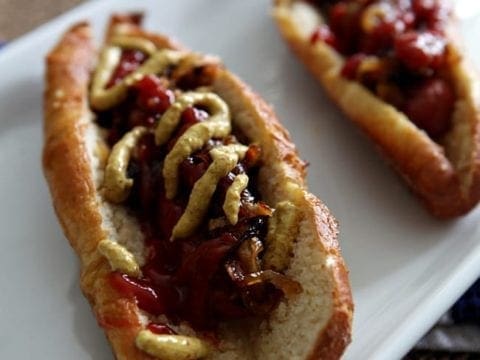 Yield:

8 hot dogs in homemade buns
Hot Dogs with Caramelized Onions and Pretzel Buns
Total Time:
1 hour
15 minutes
Today, we're making Hot Dogs with Caramelized Onions on Homemade Pretzel Buns, which are perfect for any July 4th celebration and get-together.
Ingredients
Pretzel Hot Dog Buns (adapted from BitemeMore)
1 ½ cups warm water
1 tablespoons honey
2 ¼ teaspoons dry active yeast
2 tablespoons unsalted butter, melted
4 cups unbleached all-purpose flour
1 teaspoon kosher salt
16 cups water
½ cup baking soda
1 egg, lightly beaten
Coarse salt
Caramelized Onions
3 tablespoons unsalted butter
2 ½ cups yellow onions, thinly sliced
¼ teaspoon kosher salt
Instructions
First and foremost, we'll make the buns. And we're going to use a stand mixer to do it. In the bowl of the stand mixer, combine the warm water and honey. Sprinkle the yeast on top, and let stand for 5-10 minutes.
Once the yeast has become frothy, add the butter, flour and salt to the mixture. Using the dough hook attachment, mix on low until the mixture is combined, then increase the speed to a medium intensity, beating the dough for about 5 minutes until it becomes pliable. (Do not fret if the dough is sticky! It should be tacky.)
When the dough has become pliable, transfer it from the stand mixer to a large greased bowl. Cover and let rise for 45 minutes, or until the dough has doubled in size.
While the dough is rising, cut up the onions and place them in a large skillet over medium-low heat, simmering. Allow them this entire time to simmer, as they'll cook as you continue with the buns and be done once the buns are out of the oven.
When the dough has doubled in size, turn it out onto a floured surface, and cut into 8 6" logs. (You can make them smaller, too, as they will expand as they cook... mine turned out a bit too large.) Shape them, then let them rest for 10 minutes.
Preheat the oven to 350°F.
In a large pot over high heat, bring 16 cups of water to a boil, and add the baking soda.
Line a large baking sheet with parchment paper.
When the water is boiling, and the buns have rested for 10 minutes, add one bun at a time to the boiling water, and cook for 30 seconds.
Remove the bun from the water using a slotted spoon, and place on the prepared baking sheet. Repeat this process with the remaining buns.
Cut 3-4 shallow diagonals into each bun with a sharp knife, brush with the egg and sprinkle coarse salt over the buns.
Transfer the buns to the oven, cooking for 15-20 minutes or until golden brown and crisp.
While the buns are baking, cook the hot dogs to the manufacturer's instructions.
When the buns are golden brown and crisp, remove from the oven. Allow a few minutes to cool before cutting into them and adding the hot dog, caramelized onions and the condiments of your choosing.
Enjoy warm!
Notes
If you don't use all the pretzel buns in one sitting, store in an airtight container in the refrigerator.
Nutrition Information:
Yield:
8 hot dogs in homemade buns
Serving Size:
1
Amount Per Serving:
Calories:

497
Total Fat:

23g
Saturated Fat:

10g
Trans Fat:

0g
Unsaturated Fat:

10g
Cholesterol:

70mg
Sodium:

4622mg
Carbohydrates:

59g
Fiber:

3g
Sugar:

6g
Protein:

14g
Nutrition facts are an estimate and not guaranteed to be accurate.
What are you cooking next week for the Fourth?