Slow Cooker Pork Tenderloin
Slightly sweet and spicy, this Slow Cooker Balsamic Pork Tenderloin recipe cooks all day for a melt-in-your-mouth protein. Paired with your favorite veggies, this pork makes an easy and delicious meal. Makes 4-6 servings.
Looking for an easy side dish to pair with this pork recipe? Be sure to check out my Roasted Lemon Brussels Sprouts, Pine Nut Green Beans and this Parmesan Broccoli.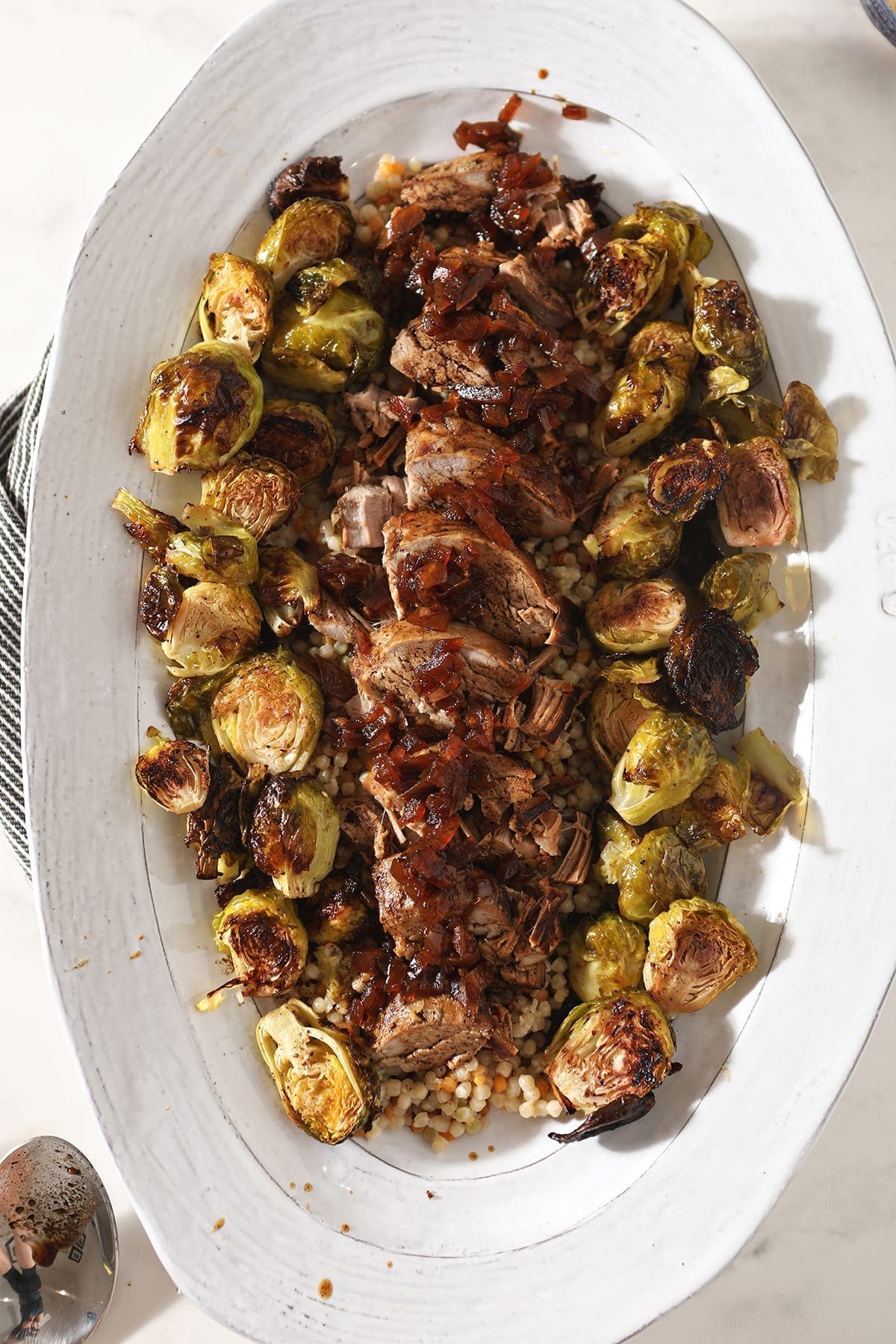 Slow cooker meals have become a staple in our house recently.
While I've owned a slow cooker for years and years, it's been getting a work out because it makes my life so much easier.
All I've got to do is remember to have meat thawed in the morning and to throw everything together before letting is cook low and slow all day.
Then come the evening, I put together a side dish of some sort—whether it's steaming fresh veggies, boiling something frozen or even opening a can—and serving it on one plate for the whole fam.
And when you've got a protein like this Slow Cooker Pork Tenderloin, you don't need much extra to have a delicious and super simple meal on your hands.
Other easy dinner recipes that we adore these days: Classic Ground Beef Tacos | Slow Cooker Tortellini Soup | Spicy Sausage Turkey Tomato Sauce | Mustard Chicken | Slow Cooker Pot Roast
Looking for more dinnertime inspiration? Check out my Entree Recipe Index.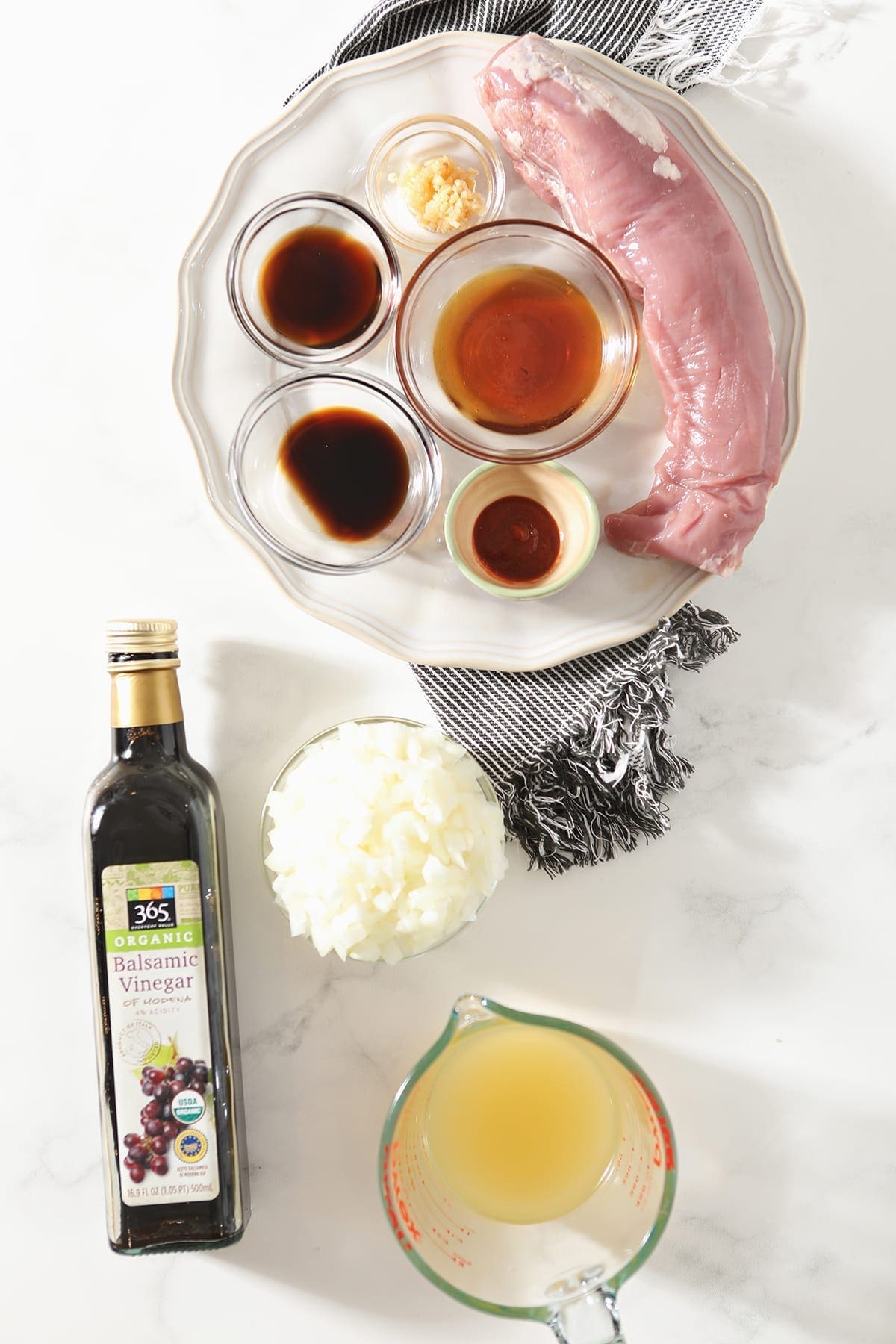 What you'll need to make Slow Cooker Pork Tenderloin
The Speckled Palate participates in affiliate programs. As an Amazon Associate, I earn a commission from qualifying purchases. Please refer to my disclosure page for more information about these affiliate programs.
For the record, I think a slow cooker or a crock pot works better for this recipe than the Instant Pot using the slow cooker setting, but it can be done, so don't let that discourage you!
In addition to these tools, you'll need a few ingredients, too:
Pork tenderloin—We love a pork tenderloin for this slow cooker recipe because it's lean and soaks up all the flavor from the cooking liquids. However, you could use a pork loin in place of it if you don't have a pork tenderloin.
Chicken stock—Unsalted, if possible. You could also swap it with vegetable or pork stock, too.
Balsamic vinegar—There's no replacement here, so please make sure you've got enough.
Worcestershire sauce—Worcestershire sauce is a building block that adds a ton of umami (along with the soy sauce below.) There's no real substitute for it, either.
Soy sauce—If you're gluten free, use tamari instead.
Honey—I like to use honey in the marinade because it really balances out the acidity of the vinegar. However, you can use the same amount of brown sugar if you don't have honey.
Sriracha sauce—If you don't have sriracha sauce, you could use your favorite hot sauce in its place. Use the same amount, as we just want a kiss of heat in this recipe.
Garlic cloves—
Onion—We just need a singular small onion, and it can be white or yellow. I don't recommend using a purple or red onion for this slow cooker pork recipe.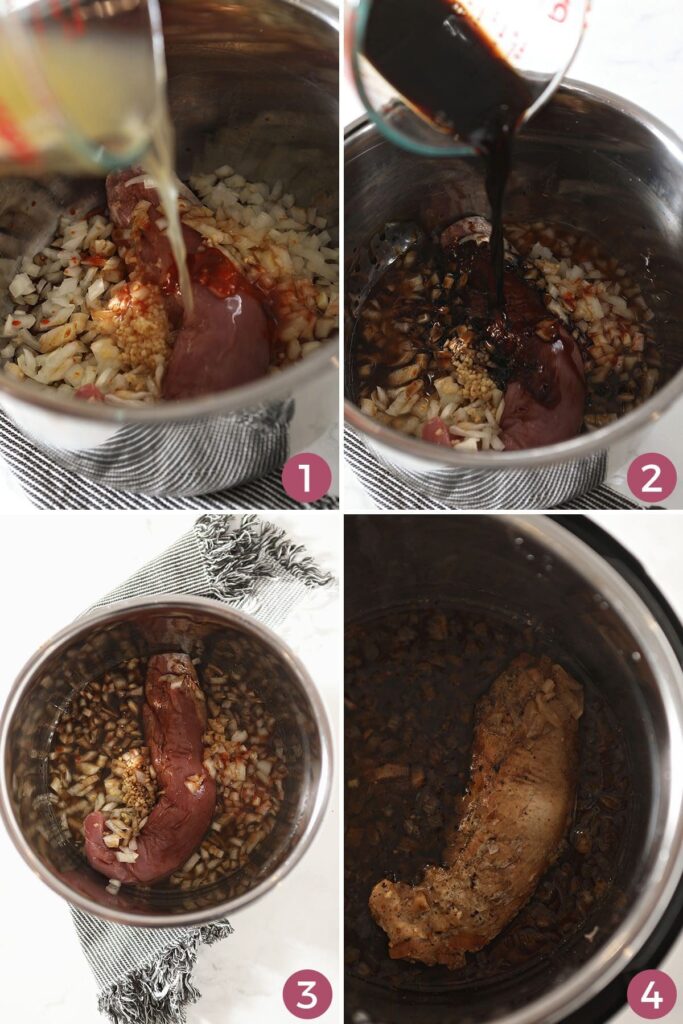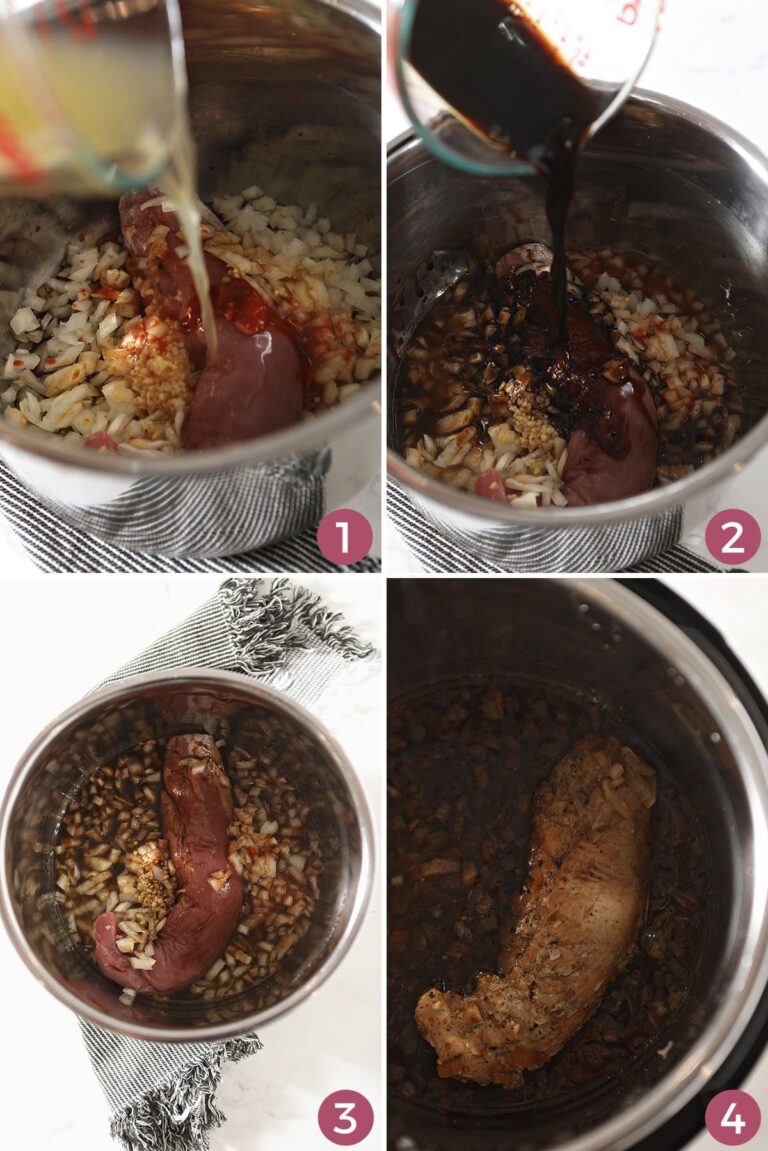 How to make a Slow Cooker Pork Tenderloin
In the bowl of your slow cooker, combine the chicken stock, balsamic vinegar, Worcestershire sauce, soy sauce, honey and Sriracha sauce. Using a whisk or a wooden spoon, stir those ingredients together until smooth.
Place the pork tenderloin on top of the mixture.
Chop the onion and garlic, and throw those into the slow cooker, too.
Cover and cook on the low setting for 7(ish) hours. (If you're cooking on the high setting, it'll require 3-4 hours instead. Also, if you're using the Instant Pot, make sure that it's at the highest setting for slow cooking, as the temperatures do not translate between a traditional slow cooker and the Instant Pot.)
When fall-apart tender, remove the pork tenderloin from the slow cooker.
Serve warm with the additional juices from the pan, and enjoy with your favorite sides.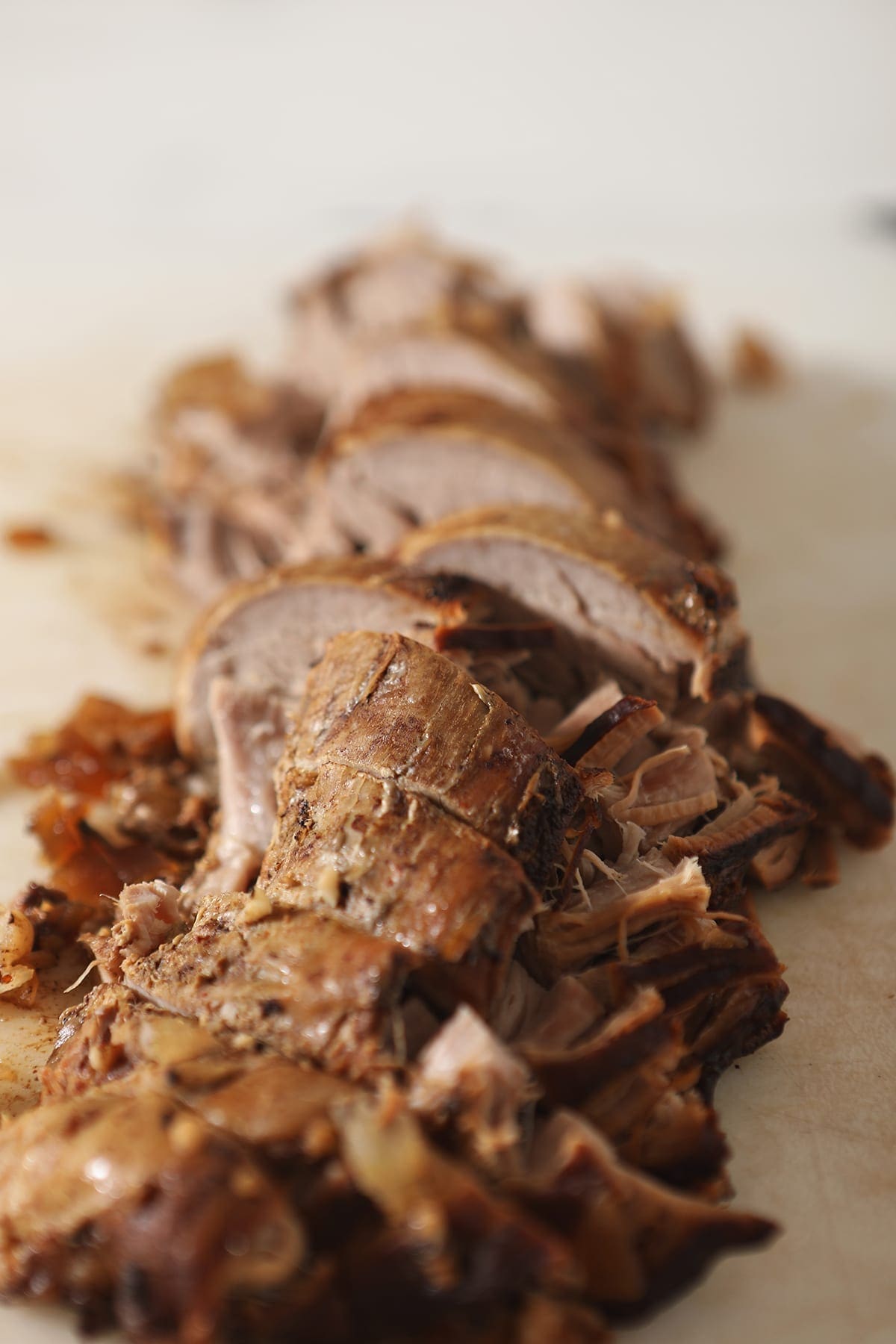 Erin's Easy Entertaining Tips and Tricks
Slow cooker recipes are fantastic for weeknight entertaining because they take the heavy lifting off you completely.
Much like an easy dinner, this slow cooker pork tenderloin recipe is perfect to share with friends.
Here are some of my suggestions for making this goodness to share:
Double or triple the recipe. Our family of four devoured this pork tenderloin slow cooker recipe in one sitting.
If you're rushed for time in the morning, whisk together the sauce ingredients and store them in the fridge the night before. Throw those with the pork tenderloin, onion and garlic into the slow cooker in the morning.
Prepare a make-ahead side dish, like Mashed Potato Casserole or Spinach Madeline, so that the only thing you have to do before friends arrive is pop that into the oven to heat.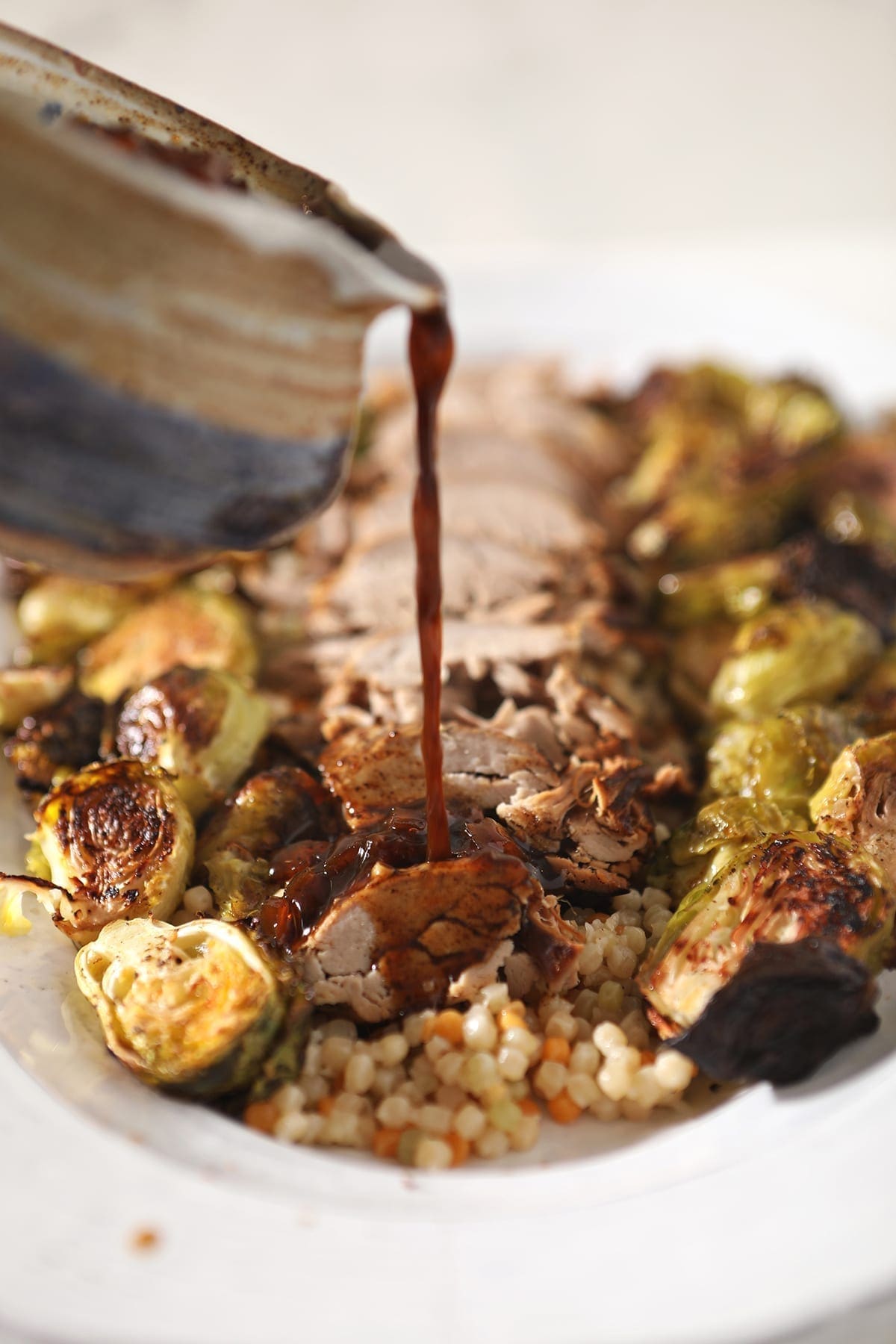 Frequently Asked Questions
Oh no! I forgot to defrost my meat. Can I still make this slow cooker pork with frozen meat?
Yes, you can, but expect to cook it for 1-2 hours longer for the meat to be as tender as possible.
Can you use a different cut of meat?
Yes! We've made this recipe with a pork loin, too, instead of the tenderloin, and it works beautifully.

You could also use a pork shoulder or butt, though that will require a longer cook time. Since those cuts of meat are also fattier, you're going to change the composition of this recipe by using them.
Can I cook it on high for a shorter amount of time?
Yes. If you cook this pork tenderloin on the high in your slow cooker, expect to cook it 3-4 hours instead of the 7(ish) as stated for the low setting.
Can I cook this in the slow cooker setting on my Instant Pot?
Yes, you can. However, keep in mind that the Instant Pot slow cooker setting is different than that of classic slow cookers.

Make sure that you have your Instant Pot on the highest slow cooker setting because the temperatures differ. Also make sure you're using a slow cooker lid on the Instant Pot instead of the traditional lid, as the meat will be more tender.
How long will this meat last in the fridge?
Ours has kept for 4-5 days before when stored in glass food storage containers. Normally, it doesn't last that long.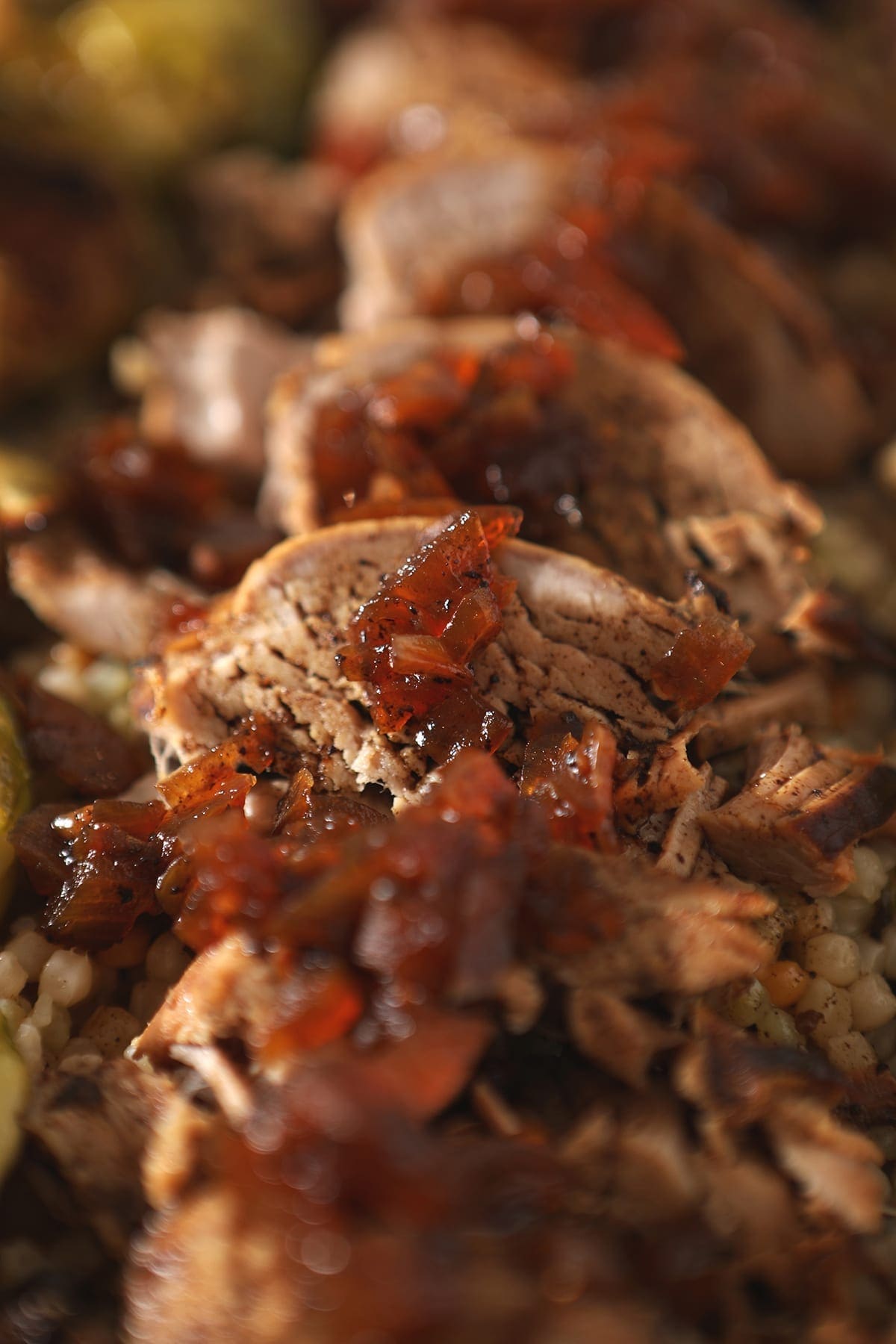 What can I pair with this slow cooker pork tenderloin for an awesome meal?
Here's how I made this pork tenderloin in the crock pot and how you can make it at home, too: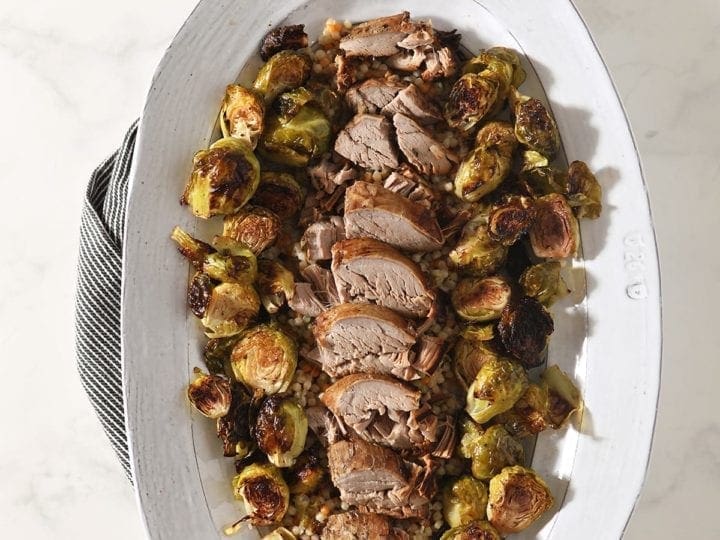 Yield:

4
Slow Cooker Balsamic Pork Tenderloin
Total Time:
7 hours
10 minutes
Slightly sweet and spicy pork tenderloin, cooked on low in the slow cooker all day for a fall apart, melt-in-your-mouth entree.
Ingredients
1 ¼ lb. pork tenderloin
½ cup chicken stock
¼ cup balsamic vinegar
1 tablespoon Worcestershire sauce
1 tablespoon soy sauce
2 tablespoons honey
½ tablespoon Sriracha sauce
2 garlic cloves, minced
1 small onion, chopped
Instructions
In the bowl of your slow cooker, combine the chicken stock, balsamic vinegar, Worcestershire sauce, soy sauce, honey and Sriracha sauce. Whisk together until smooth.
Add the pork tenderloin in the mixture, then top with the onion and garlic.
Cover and cook on LOW for 7 to 7.5 hours.
Remove the tenderloin from the slow cooker, and serve warm, topping with additional juices.
Recommended Products
As an Amazon Associate and member of other affiliate programs, I earn from qualifying purchases.
Nutrition Information:
Yield:
4
Serving Size:
1 serving
Amount Per Serving:
Calories:

282
Total Fat:

6g
Saturated Fat:

2g
Trans Fat:

0g
Unsaturated Fat:

3g
Cholesterol:

104mg
Sodium:

441mg
Carbohydrates:

16g
Fiber:

0g
Sugar:

13g
Protein:

38g
Nutrition facts are an estimate and not guaranteed to be accurate.