Cranberry Orange Ginger Biscotti
This post is sponsored by Imperial Sugar, Dixie Crystals and Bob's Red Mill. I received free product as a part of The Sweetest Season Cookie Exchange. As always, all opinions, thoughts and recipes are my own.
Perfectly crunchy cookies are chock full of cranberries, orange and ginger goodness to make these beautiful Cranberry Orange Ginger Biscotti. This biscotti is the perfect cookie for anyone who prefers non-chocolate cookies.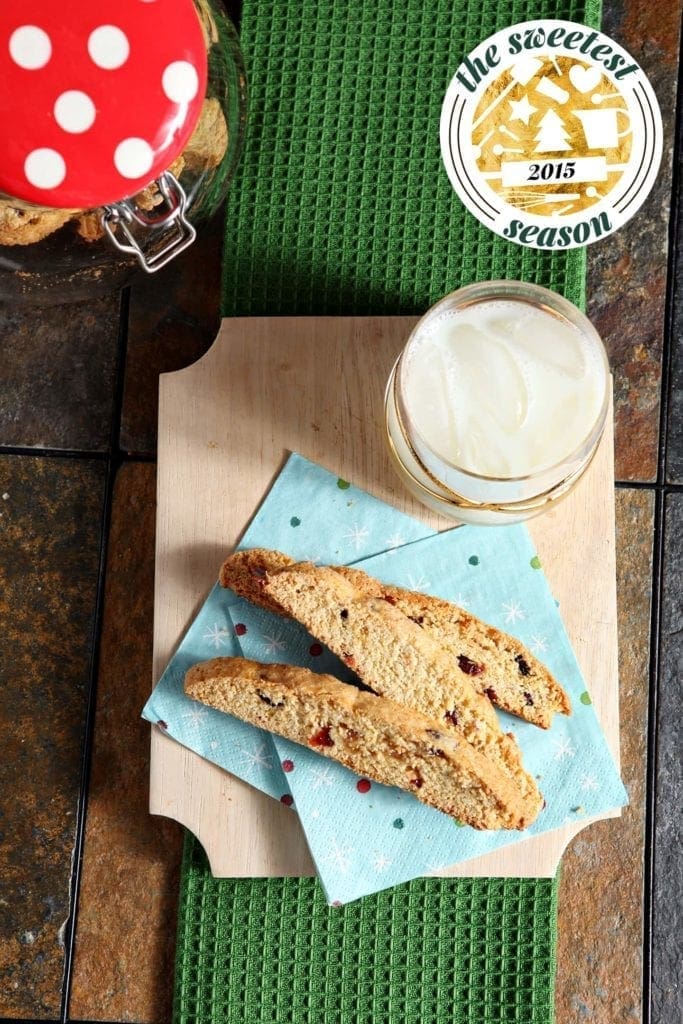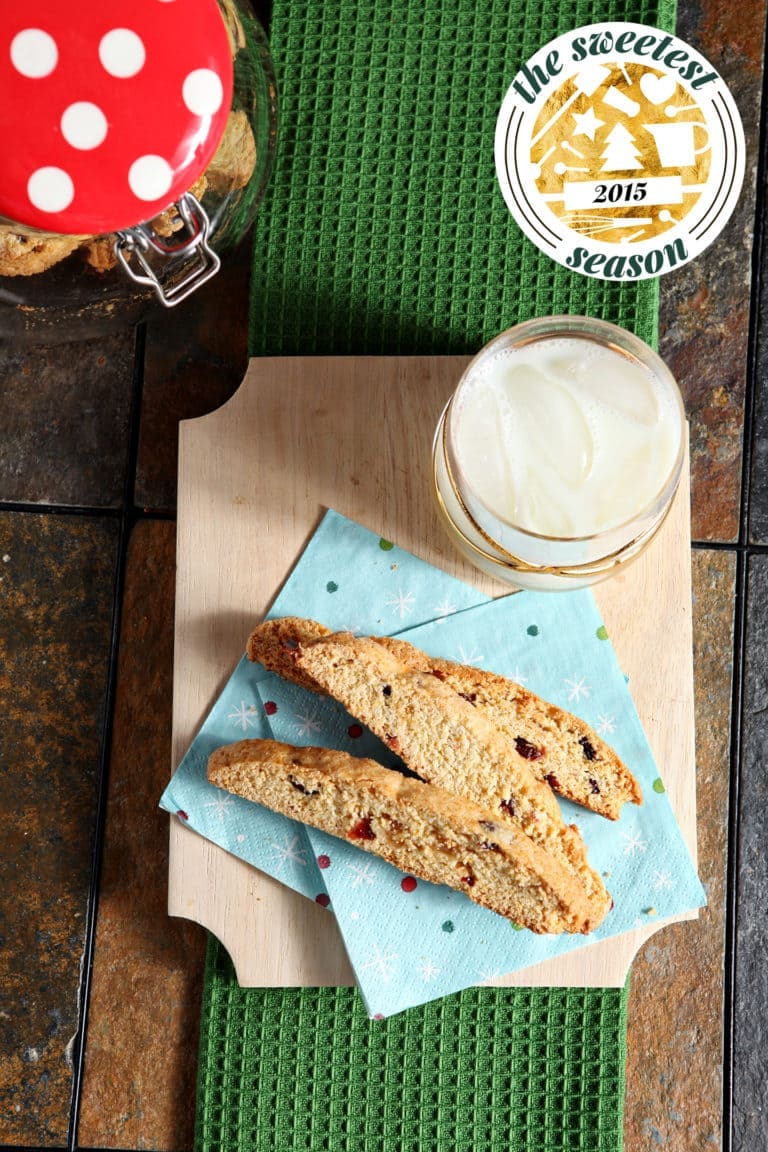 This is kind of embarrassing to admit… but I didn't try biscotti until I was in my late 20's.
I'd seen them at coffee shops and little dessert places for years. They were on my radar. The thing was, I had other sweets I wanted to eat more, which meant I never gave biscotti a go.
And the first biscotti I actually ate? It was a savory recipe… and I only tried it because I was photographing it on assignment, and our food writer wanted me to give it a go.
Obviously, I enjoyed it and proceeded to pair the fantastic cornbread biscotti with my sweet potato soup, as my food writer had done on that assignment.
But I didn't try sweet biscotti until last December.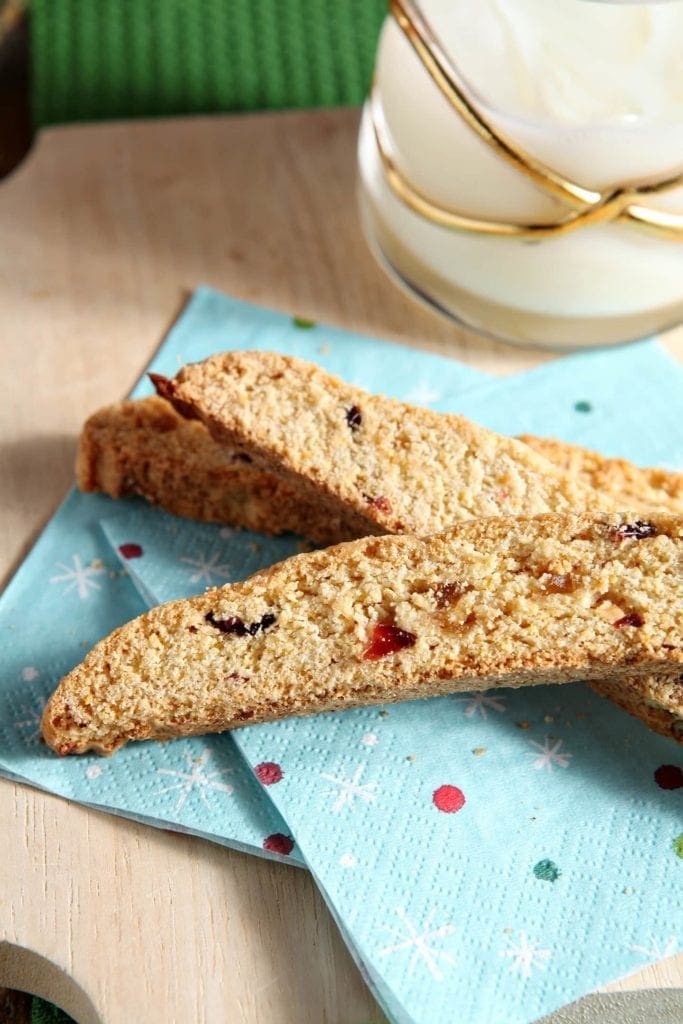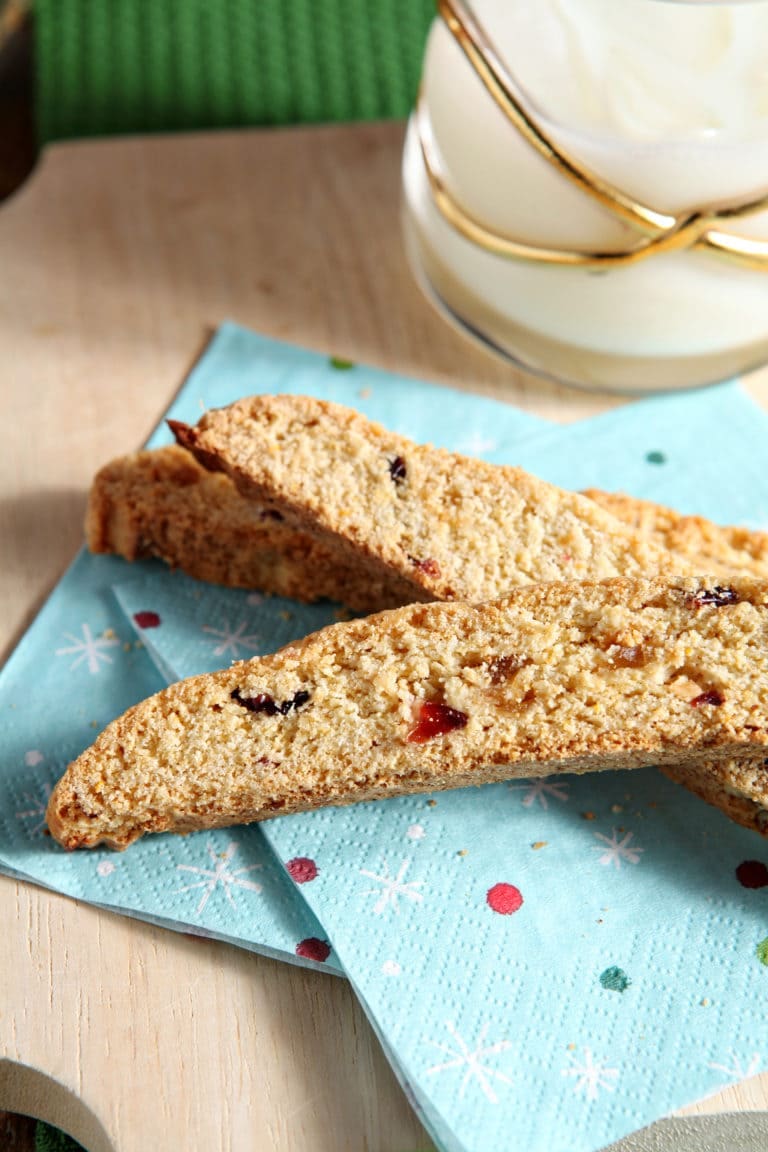 The contributors of My Cooking Spot and I did a cookie swap last Christmas, and Erica sent me several different kinds of sweets! Included in the package were her Chocolate Chip Bronados, Snickerdoodles Three Ways… and some tropical biscotti that was so delicious that I barely shared any with Winston.
In my defense, I was really pregnant and had an out of control sweet tooth.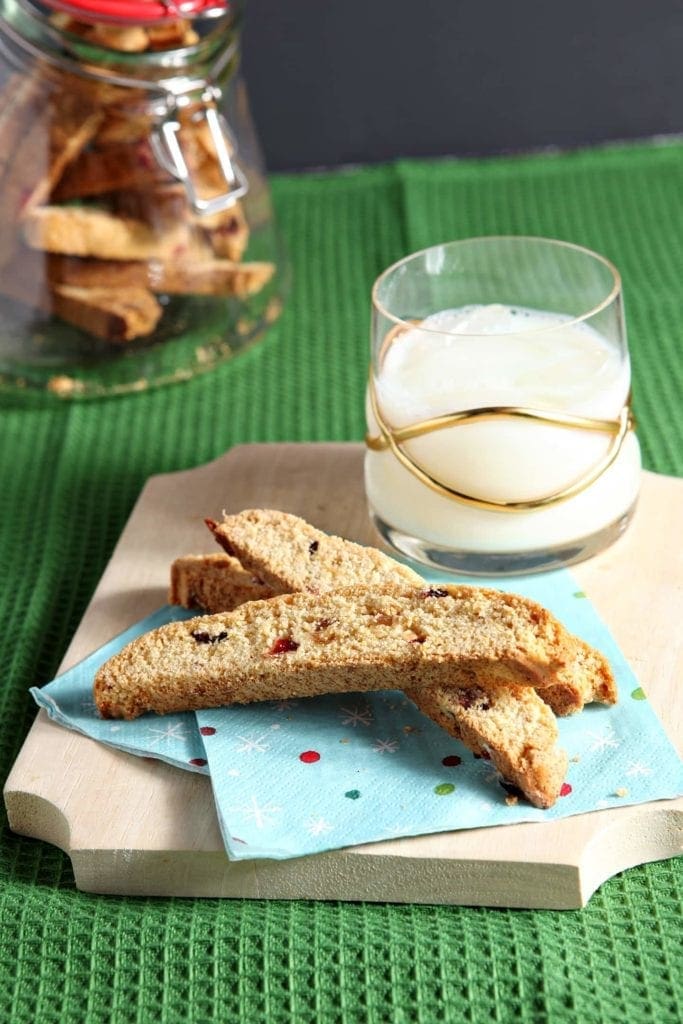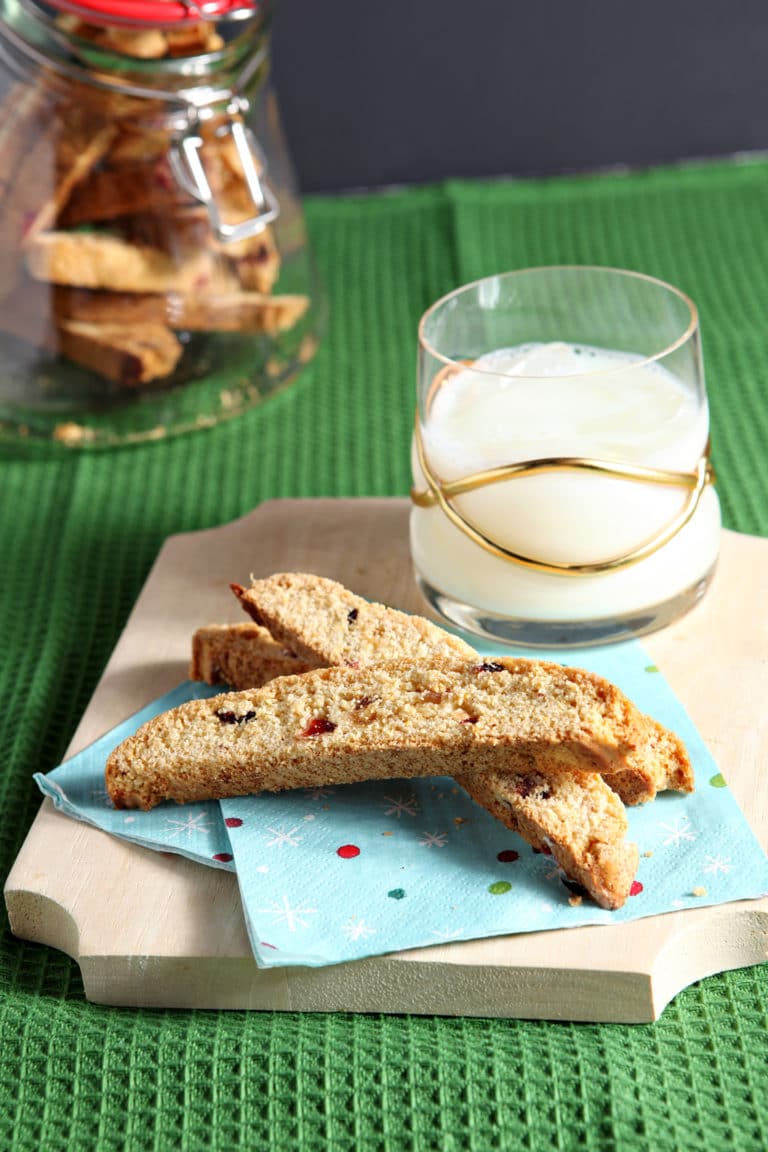 So when I sat down to think about this year's The Sweetest Season recipes, I knew I wanted to include an American-style biscotti in my offerings. It would be simple and delicious, and the biscotti would utilize classic holiday flavors.
As the brainstorming continued, I decided that cranberry and orange sounded perfect… but then I thought that adding ginger would add a bit of spunk to the biscotti, which would no doubt be delightful on their own. After all, I was going for something above and beyond.
So I baked them up one chilly evening.
And–surprise, surprise!–they're perfect, just like I envisioned they would be.
They also happen to me the first cookie my daughter has ever eaten because she reached her hand in the cookie jar to grasp a biscotti between her tiny fingers and promptly stuck it in her mouth before we could stop her. So Lady Baby got in on the biscotti goodness, too, and she wholeheartedly approved.
If you're looking to make a cookie recipe that sings of holiday flavors that isn't chock full of chocolate, this biscotti is for you.


Here's how you make it: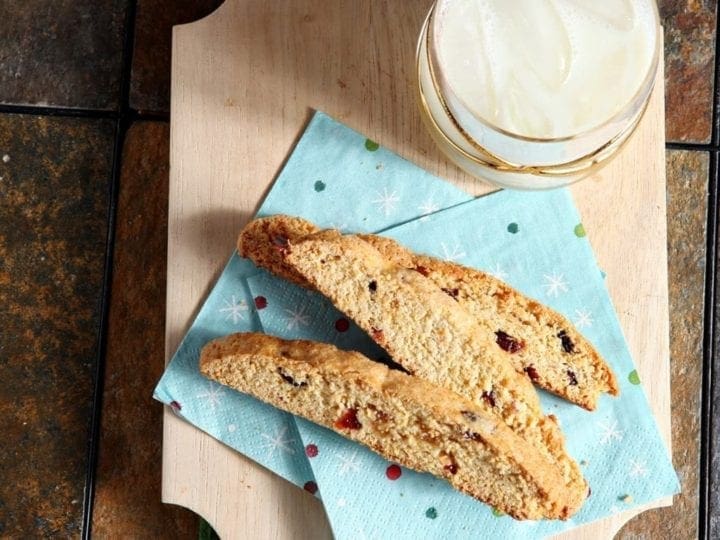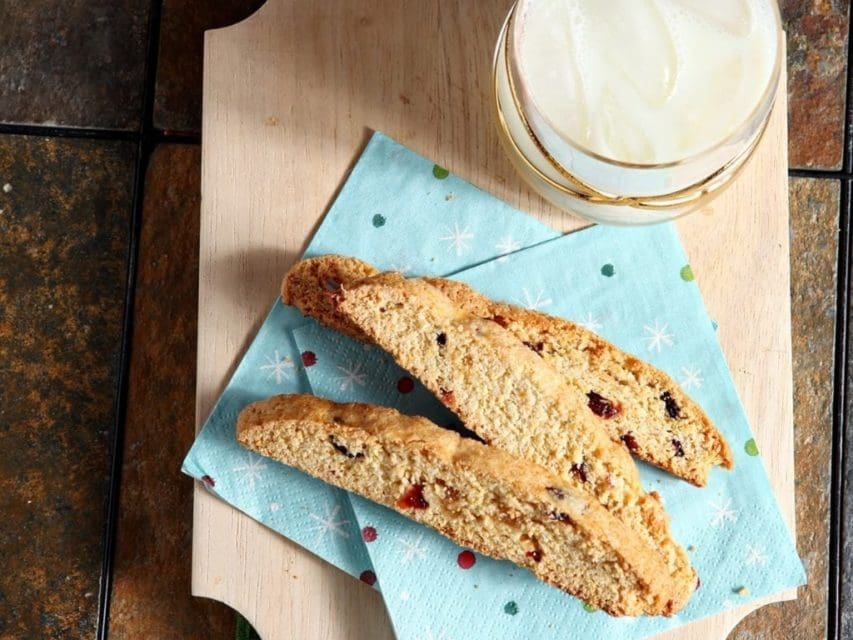 Yield:

24 biscotti
Cranberry Orange Ginger Biscotti
Total Time:
1 hour
5 minutes
Perfectly crunchy cookies are chock full of cranberries, orange and ginger goodness to make these beautiful Cranberry Orange Ginger Biscotti. This biscotti is the perfect cookie recipe for any non-chocolate lover.
Ingredients
6 tablespoons unsalted butter, softened
2/3 cup granulated sugar
2 eggs, at room temperature
1 tablespoon pure vanilla extract
Zest of 1 orange
2 cups unbleached all-purpose flour
1 ½ teaspoons baking powder
¾ teaspoon ground ginger
½ teaspoon kosher salt
1/3 cup dried cranberries
1/3 cup fresh cranberries
2 tablespoons crystalized ginger
1 egg, for egg wash
1 tablespoon raw sugar
Instructions
Preheat the oven to 350°F. Line a large baking sheet with parchment paper, and set aside.
In a large glass bowl, cream the butter and sugar together until smooth using a hand mixer (or a stand mixer.)
Break the eggs, and add them to the butter/sugar mixture with the vanilla extract and orange zest. Beat until smooth.
Add the flour, baking powder, ground ginger and salt, then mix at a low speed until the dough is smooth. It will be slightly sticky, but not overly so.
Using a hand spatula, gently fold in the cranberries and crystallized ginger.
Transfer the dough to the prepared baking sheet. You may either divide it in half to make two shorter logs or make one longer and wider log, patting it down until the dough is in a rough rectangular shape and about ¾" tall.
Brush the top of the log(s) with the egg wash, then sprinkle with the raw sugar.
Bake the dough for 25 minutes, then remove from the oven, and let cool for 5-10 minutes.
While the biscotti cools, reduce the oven's temperature to 325°F.
Using a serrated knife, cut the biscotti logs into ½" to ¾" slices.
Set the biscotti slices on their sides, and arrange on the baking sheet for the second baking.
Return the cookies to the oven, and bake for an additional 25-30 minutes, or until the biscotti have turned a beautiful golden brown color.
The exterior of the cookies should be pretty crispy, but they should break apart easily, so transfer them to a cooling rack with care. (The cookies will firm up as they cool, too, but they should not become too hard.)
Enjoy when cool with a glass of milk or your favorite holiday beverage.
Nutrition Information:
Yield:
24 biscotti
Serving Size:
1 biscotti
Amount Per Serving:
Calories:

111
Total Fat:

4g
Saturated Fat:

2g
Trans Fat:

0g
Unsaturated Fat:

1g
Cholesterol:

39mg
Sodium:

87mg
Carbohydrates:

17g
Fiber:

1g
Sugar:

8g
Protein:

2g
Nutrition facts are an estimate and not guaranteed to be accurate.
Have you ever tried biscotti?
Want to join in on this celebration of butter, sugar, flour and holiday ingredients? We'll be baking and sharing our new cookie recipes until Saturday! Head on over to The Sweetest Season landing page to get the details, and I'll see y'all back here tomorrow for another new cookie!