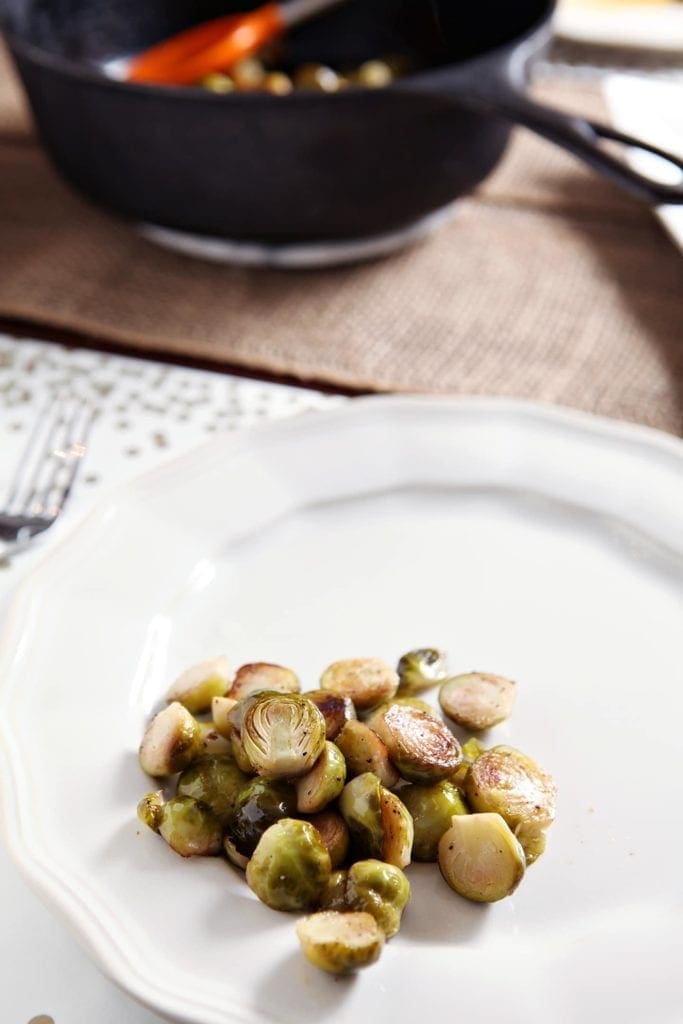 One of my childhood best friend's fathers referred to Brussels sprouts as "monkey brains."
Obviously, this was horrifying to me.
And because of this statement… and the clear disgusting association with Brussels sprouts… I didn't try them until I was nearly 26.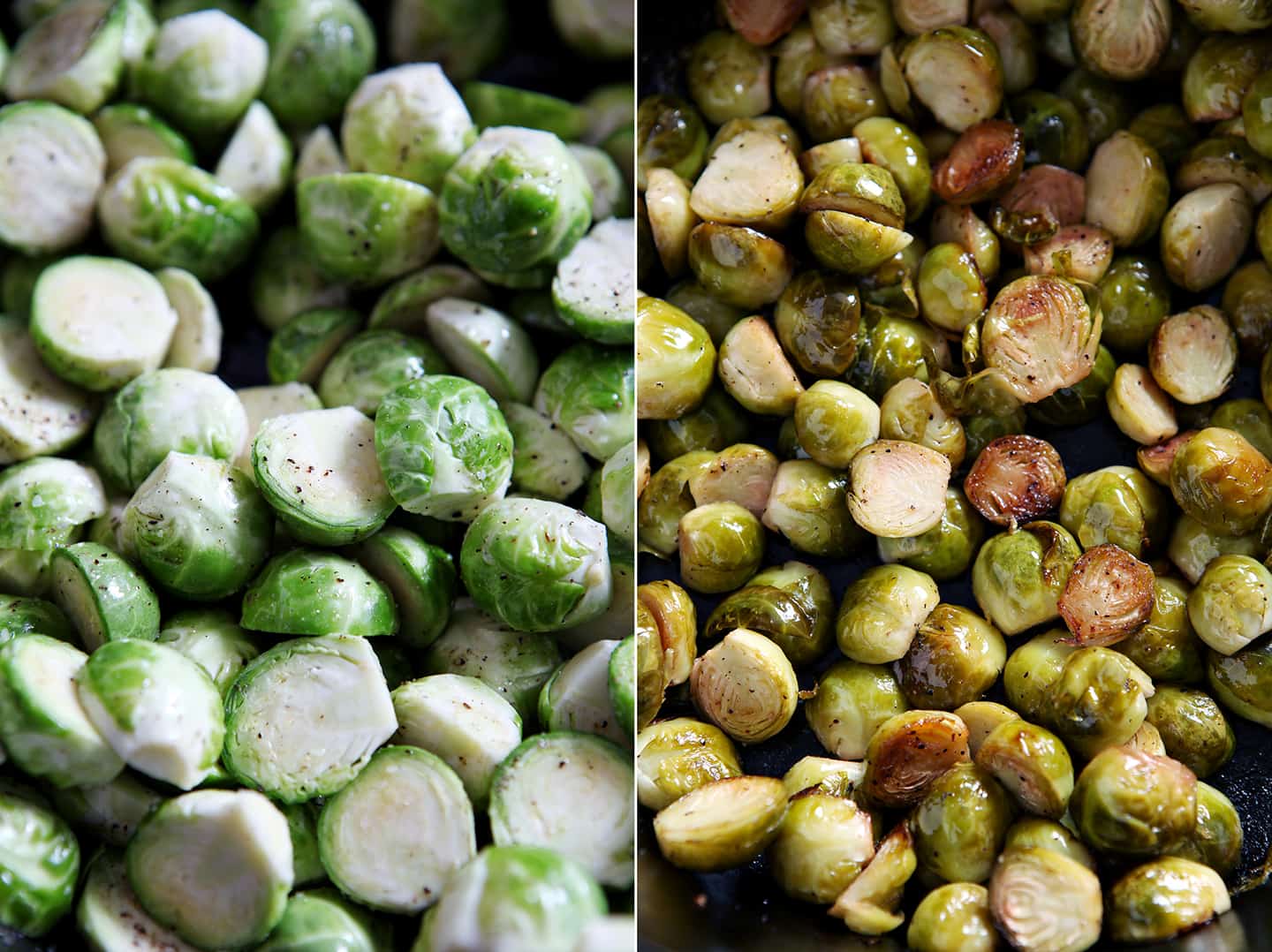 I know it sounds strange, but I remember the night I first tried them like it was yesterday. Winston and I were out to a romantic dinner in Nashville, a treat for us, and we were trying a little place called the Firefly Grille.
I waffled over a few dishes before placing my order, but ultimately decided upon the salmon special. The only potentially bad thing about it was it came with Brussels sprouts… and I was pretty sure I wasn't going to like them.
Our dishes came out shortly after I explained my trepidation to Winston, who somehow didn't make fun of me to my face, and we started eating.
And the Brussels sprouts were fantastic!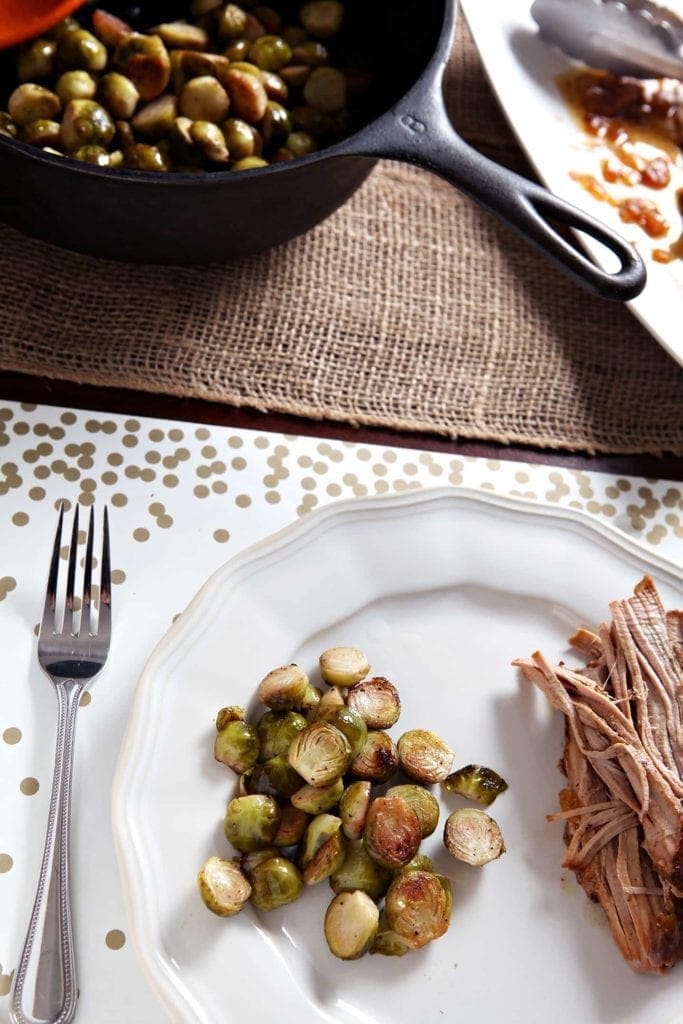 I've been a Brussels sprouts fan ever since, and I absolutely adore making them at home. Not only are they super simple to throw together, but the pack a major punch of flavor and can be changed up easily! While I normally add bacon or pancetta to my Brussels sprouts, we didn't have that ingredient lying around one weeknight, so I added lemon juice instead… and it made these veggies so bright!
Here's how I made these Lemon Roasted Brussels Sprouts: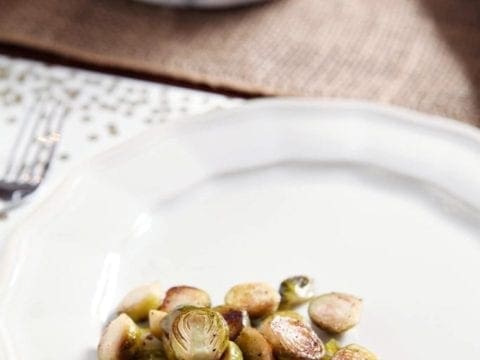 Yield:

2 large servings
Lemon Roasted Brussels Sprouts
Brussels sprouts taken to a new level with simple ingredients: olive oil, lemon juice, salt and pepper. This weeknight side dish is incredibly easy and delicious!
Ingredients
1 lb. Brussels sprouts, trimmed and halved
2 tablespoons extra virgin olive oil
2 tablespoons lemon juice, freshly squeezed
¾ teaspoon kosher salt
¼ teaspoon freshly ground black pepper
Instructions
Preheat the oven to 350°F. Place a cast iron skillet inside the oven as it preheats, then remove once the oven has reached the correct temperature.
Toss the trimmed and halved Brussels sprouts into the heated cast iron skillet with the olive oil, lemon juice, salt and pepper.
Place the skillet in the oven, and bake for about 20 minutes.
Turn the heat up to 400°F, and bake for an additional 10-20 minutes, or until the Brussels sprouts are crispy on the outside and cooked through on the inside.
Serve warm as a side dish!
Nutrition Information:
Yield:
2
Serving Size:
1 serving
Amount Per Serving:
Calories:

204
Total Fat:

15g
Saturated Fat:

2g
Trans Fat:

0g
Unsaturated Fat:

12g
Cholesterol:

0mg
Sodium:

845mg
Carbohydrates:

17g
Fiber:

6g
Sugar:

4g
Protein:

6g
Nutrition facts are an estimate and not guaranteed to be accurate.
Do you have any experiences like I did with Brussels sprouts?
Do you like Brussels sprouts?