Roasted Broccoli with Lemon and Garlic
Garlicky Roasted Broccoli with Lemon is light, tasty and super easy to make! This recipe is on the table in 30 minutes or less. Makes 2 servings, but can easily be doubled or tripled.
Looking for a dish to pair this delicious broccoli recipe with? Check out Cranberry Chicken Thighs, Leigh's Everything-but-the-Kitchen-Sink Pork Tenderloin and Broiled Steak.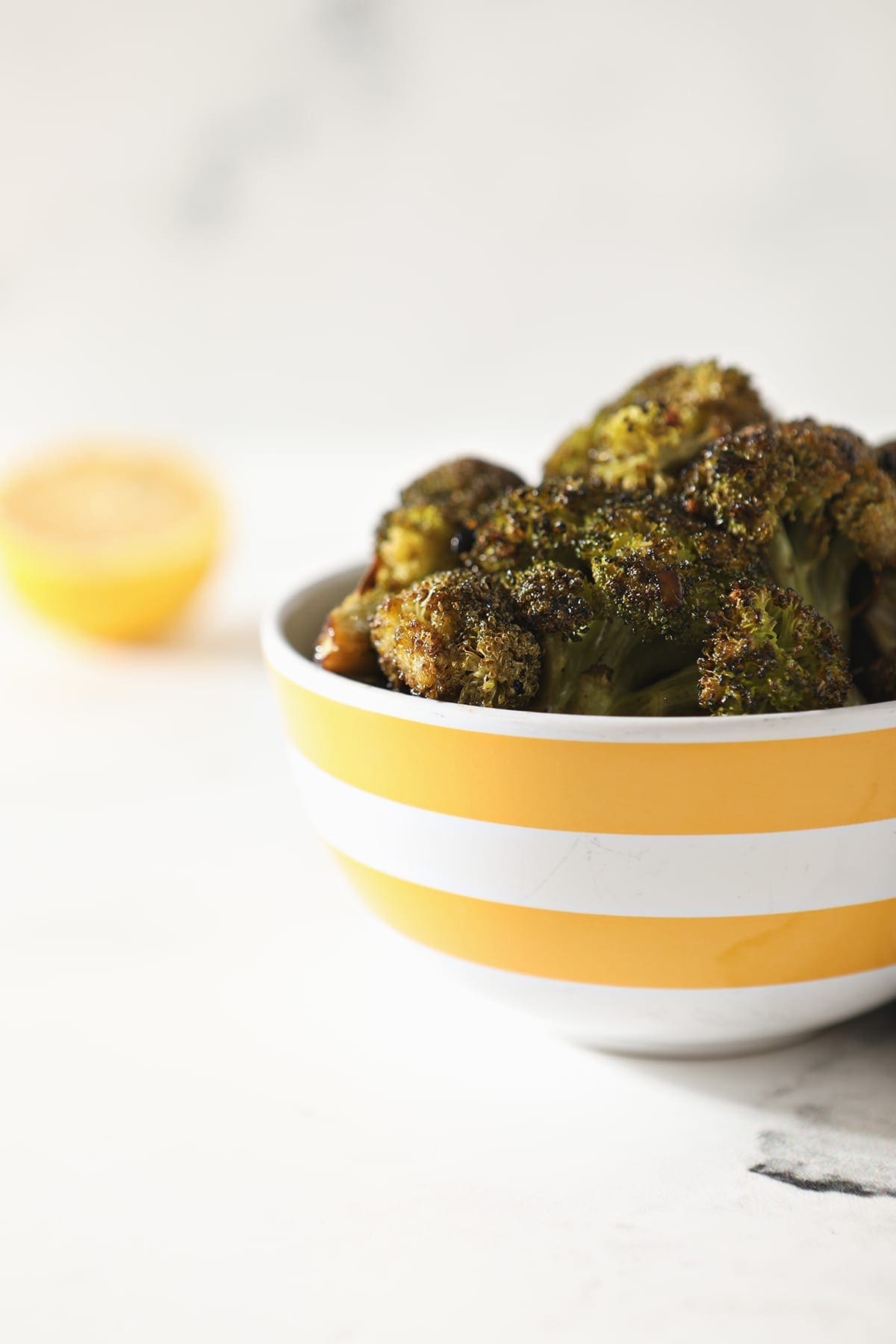 This recipe originally appeared at My Cooking Spot, where I was a contributor, on April 13, 2015. The post was republished on The Speckled Palate with new photos and words in November 2020.
Could we take a second to be real, y'all? Having a baby is hard.
(You can go ahead and roll your eyes, but it's true. After all, they don't call it labor for nothin'.)
And recovering from having a baby? A bit more of a challenge than I envisioned.
To be fair, I was more focused on the whole giving birth aspect when I was pregnant with my first in 2015, so I didn't think much about what came next, other than I would have my sweet baby girl in my arms.
Obviously, I made it through having babies in both 2015 and 2018, but neither was easy. In fact, the adjustment in the first months afterward was always hard.
Why I love this recipe:
This Roasted Broccoli with Lemon recipe was easy enough for me to make and serve after having a baby… which is saying something.
It's simple, but flavorful, and it pairs with a lot of dishes. (Hello, Mustard Chicken and Cast Iron Ribeye, I see you.)
This broccoli recipe has pops of acid from the lemon and additional flavor from the garlic. Obviously, I adore it and suggest you give it a try, too.
Other easy roasted side dish recipes: Roasted Lemon Brussels Sprouts | Roasted Green Beans | Roasted Fennel Orange Salad | Oven Roasted Tomatoes with Parmesan and Herbs
Need more side dish inspiration? Head on over to my Side Dish Recipe Index for some ideas!
What you need to make Roasted Broccoli
The Speckled Palate participates in affiliate programs. As an Amazon Associate, I earn a commission from qualifying purchases. Please refer to my disclosure page for more information about these affiliate programs.
In addition to the tools above, you're going to need some ingredients, as well.
1 head of broccoli (though you can easily do 2-3 heads if you're feeding more people)
Fresh garlic
Lemon juice—freshly squeezed from a lemon in your kitchen or from a bottle from the refrigerated portion of your grocery
Olive oil—your favorite brand!
Salt and pepper
How to make Roasted Broccoli with Lemon and Garlic
First and foremost, preheat your oven to 425°F. Use a nonstick baking spray to spritz a small baking dish with cooking spray, too, and set that aside.
Chop the broccoli florets into bite-sized piece, and place them in the baking dish.
In a small bowl, combine the lemon juice, olive oil, minced garlic, salt and pepper. Stir until combined, then pour over the broccoli.
Transfer the dish to the oven, and bake uncovered for 15-20 minutes, or until the broccoli is fork tender.
Serve warm, and enjoy.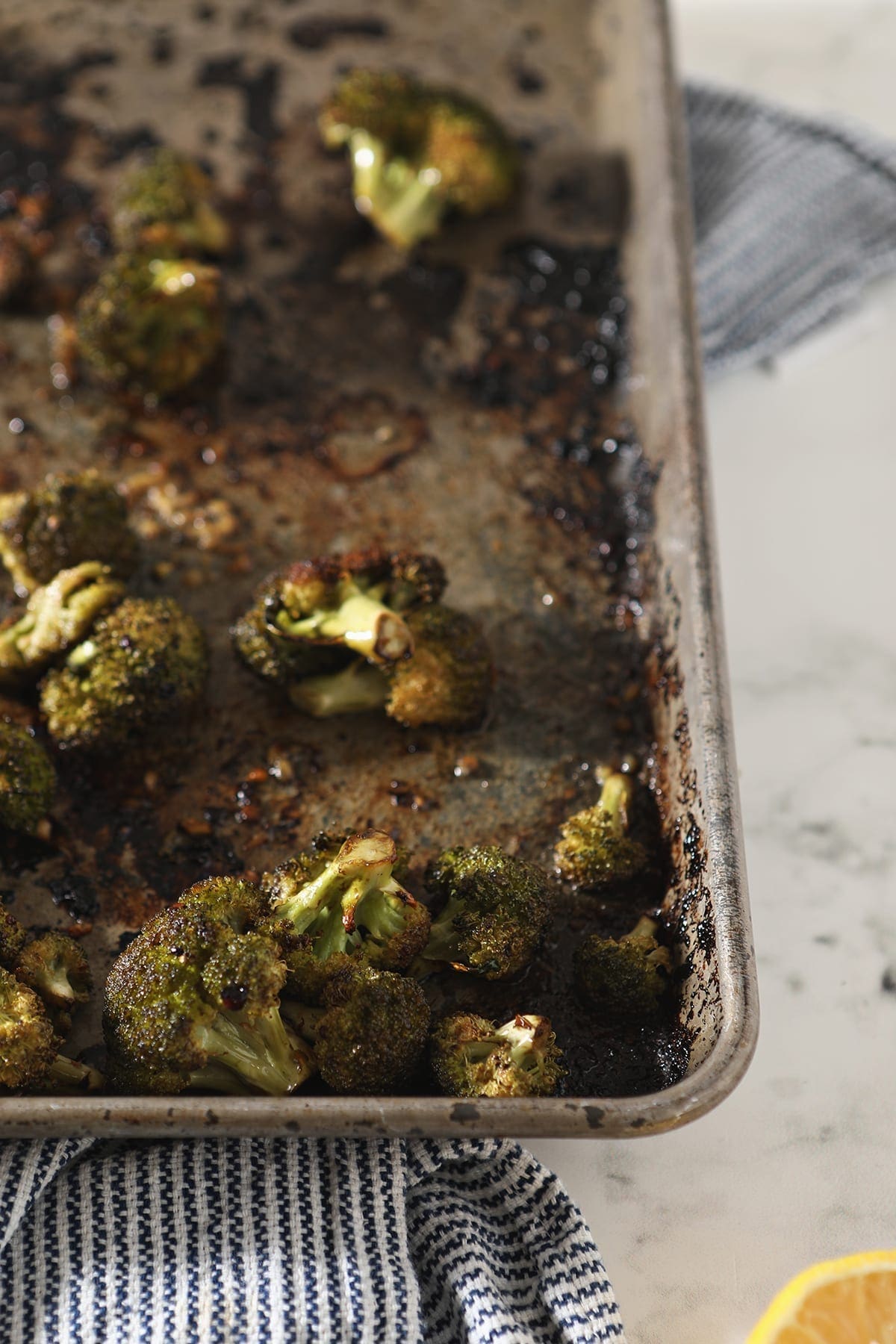 Frequently Asked Questions
Can I purchase pre-cut broccoli?
If that makes it easier for you, absolutely! Do whatever is easiest and best.
Can I use frozen broccoli in this recipe?
I'm sure you can, though I've never used it for this recipe before. I'd suggest defrosting the broccoli and draining any additional liquid that comes out of it before tossing it in the lemony vinaigrette and roasting it for fear that it might become soggy in the oven.
Can I make this side dish for the holidays?
I think this Roasted Broccoli with Lemon and Garlic would be a fabulous holiday side dish because it's incredibly simple, can be doubled (or tripled!) and because it's pretty hands-off.
What can I serve as the main dish with this roasted broccoli recipe?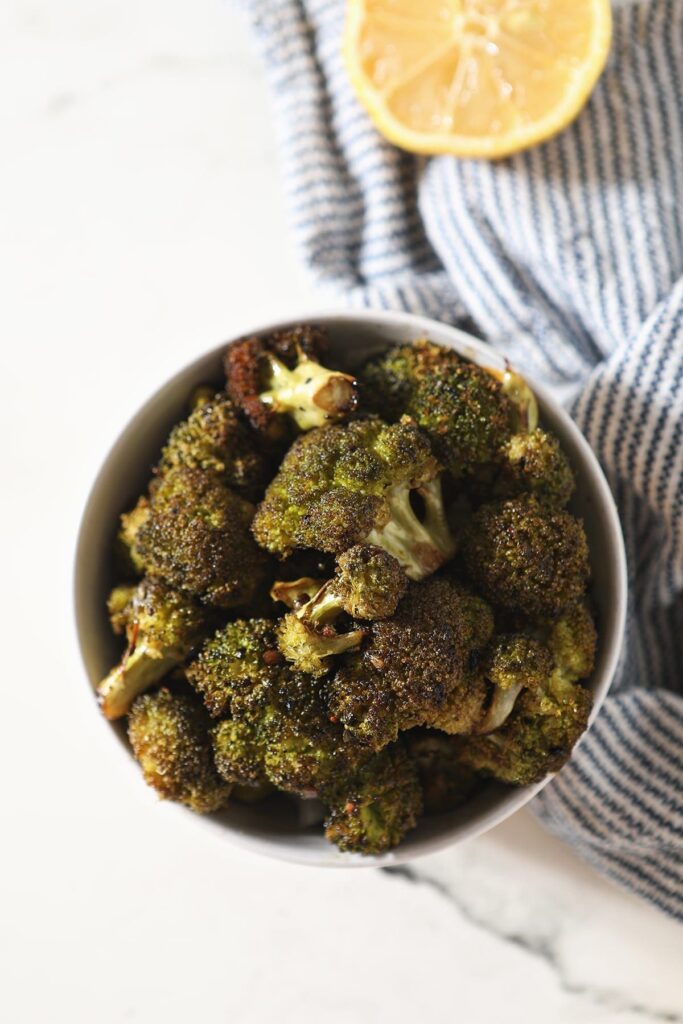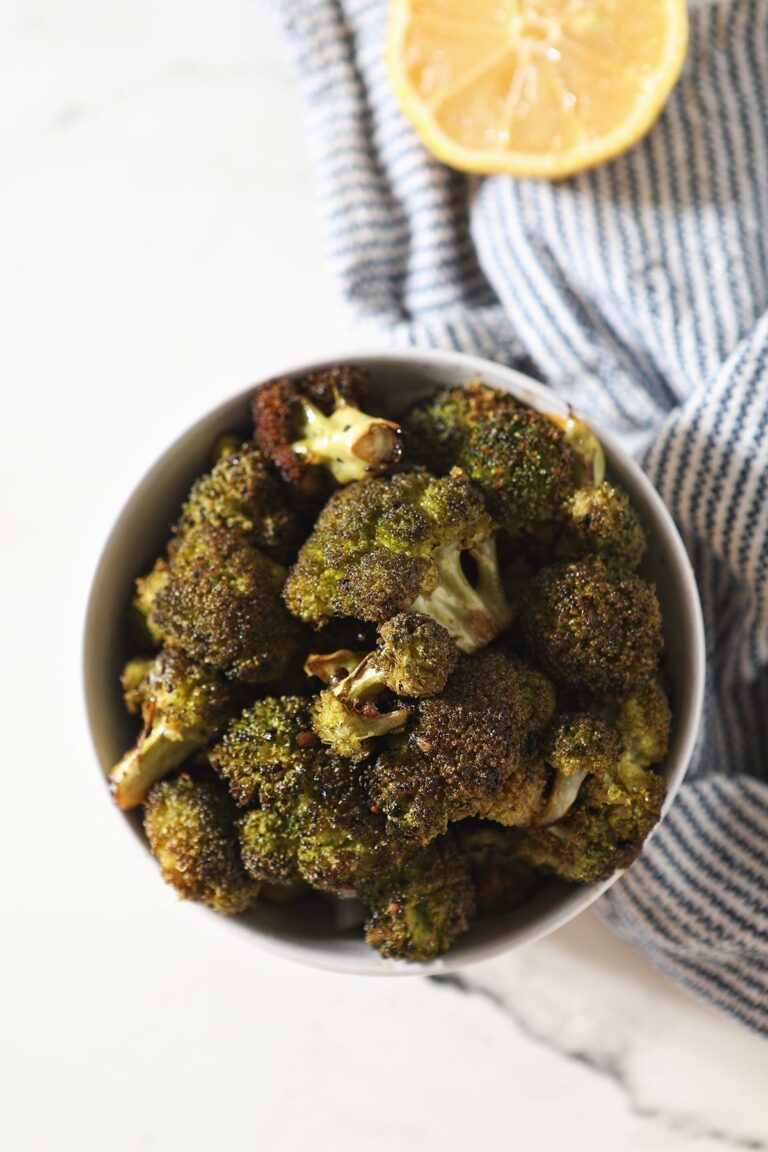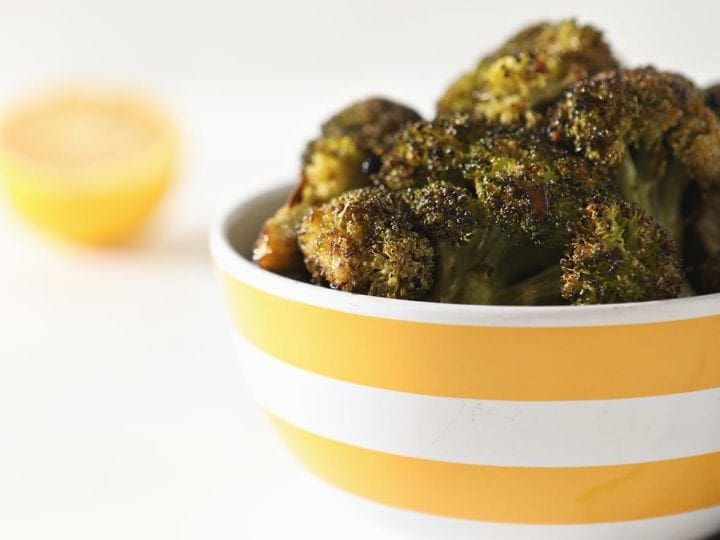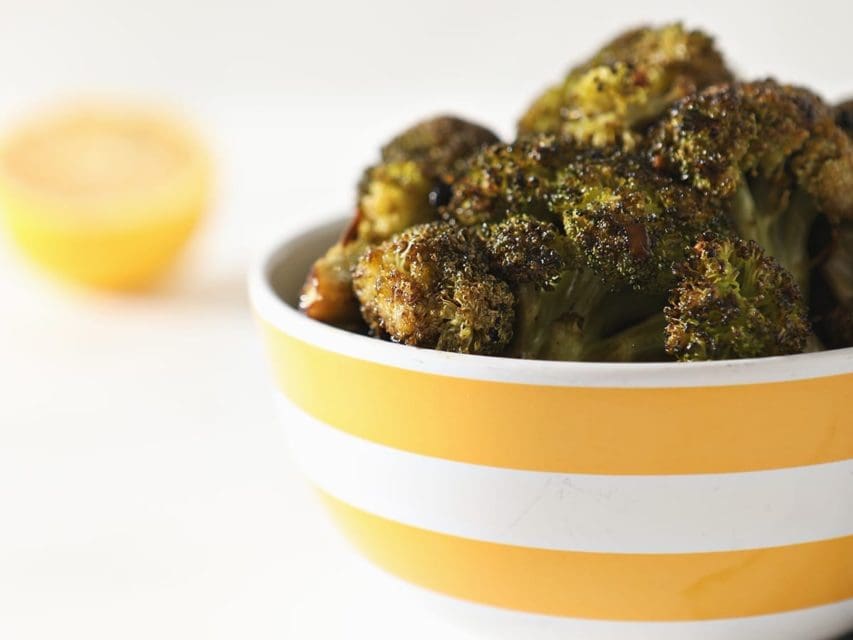 Yield:

2 servings
Roasted Broccoli with Lemon
Looking for a delicious side that comes together in less than 30 minutes? Try Lemon Garlic Roasted Broccoli, which is light, tasty and super easy to make!
Ingredients
1 head broccoli, chopped (7-8 oz.)
3 tablespoons lemon juice
3 tablespoons extra virgin olive oil
4 garlic cloves, minced
Kosher salt and freshly ground black pepper, to taste
Instructions
Preheat the oven to 425°F. Spray a small baking dish or a jelly roll pan with nonstick cooking spray.
Place the chopped broccoli in the prepared dish, and set aside.
In a small bowl, combine the lemon juice, olive oil, minced garlic, salt and pepper. Stir until combined.
Pour the dressing over the broccoli, and toss until coated.
Transfer the baking dish to the oven, baking uncovered for 15-20 minutes, or until the broccoli is tender.
Serve warm, and enjoy.
Notes
This recipe can be easily doubled or tripled for a crowd (or if your crowd likes broccoli a lot!) Do the simple math on the recipe above to calculate it out, and roast in a larger casserole.
Recommended Products
As an Amazon Associate and member of other affiliate programs, I earn from qualifying purchases.
Nutrition Information:
Yield:
2 servings
Serving Size:
1
Amount Per Serving:
Calories:

257
Total Fat:

21g
Saturated Fat:

3g
Trans Fat:

0g
Unsaturated Fat:

17g
Cholesterol:

0mg
Sodium:

231mg
Carbohydrates:

17g
Fiber:

6g
Sugar:

3g
Protein:

5g
Nutrition facts are an estimate and not guaranteed to be accurate.