If you're shopping for a man who enjoys food (and food-related products), we've got you covered. These Food Gifts for Men offer a little of everything for any male foodie in your life.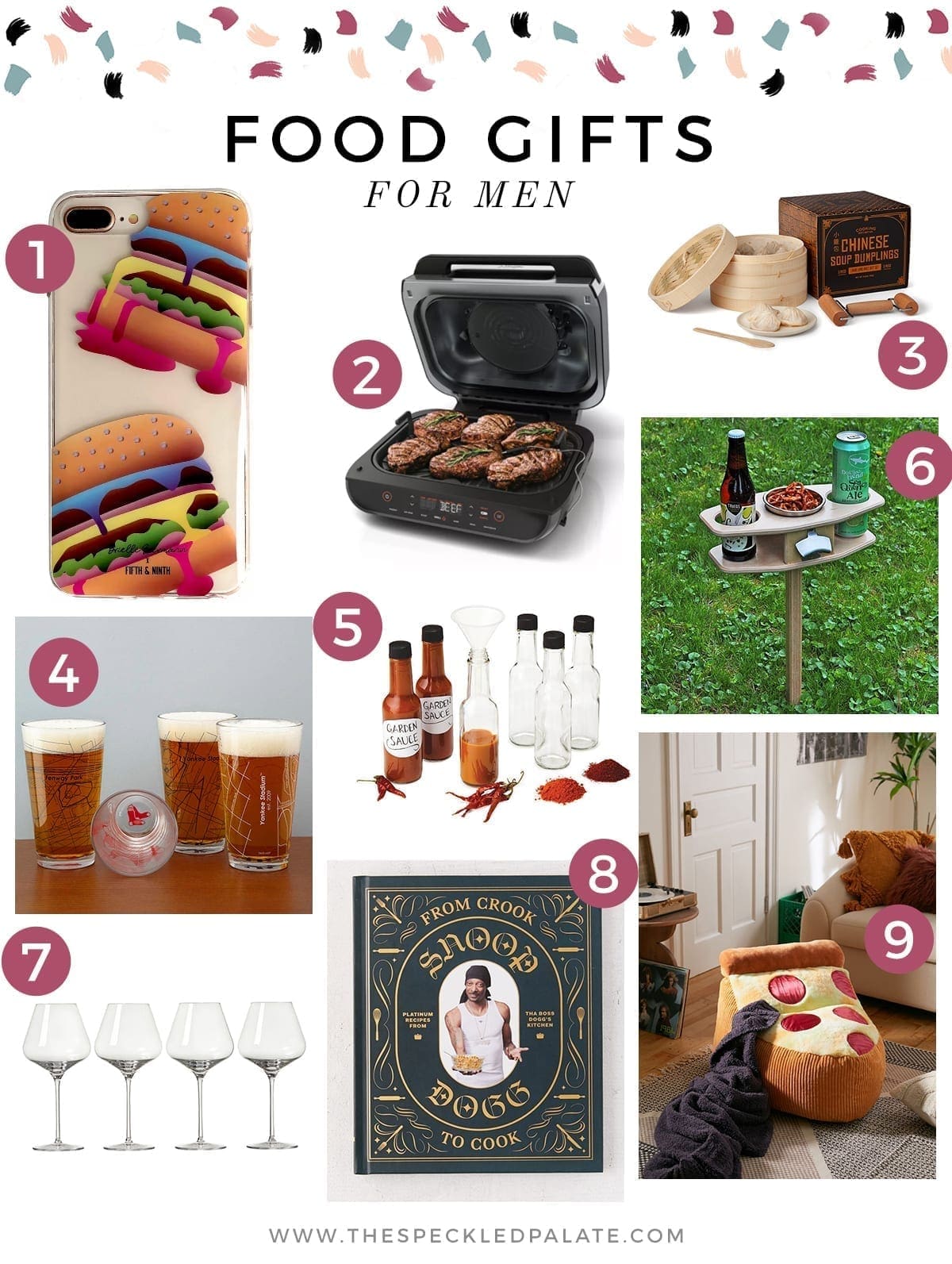 This post is not sponsored in any way and no brands have paid to be included here.
Y'all asked for gift guides based on price point and interest for 2020!
There were also some who wanted gifts for specific people in their lives, too. This Food Gifts for Men guide is for you. (Be sure to check out Food Gifts for Women and Food Books for Kids, too!)
We've rounded up nine of the best food-related presents for foodie dudes in your life. This list is extremely eclectic in the hopes that it both delights, surprises and offers some awesome ideas.
Who is this gift guide for?
Whether you're shopping for a birthday present, a holiday gift or a just because, there's a present for your dude who digs food on this list. It includes drink-related products, a cookbook, a piece of furniture and everything in between!
My friend, Valorie, scoured the Internet to find the best food gifts for men. Then she wrote you this ultimate gift guide. #yourewelcome
Other Gift Guides You Might Like: Gifts for Bakers | Gifts for Coffee Lovers| Gifts for Bourbon Lovers | Gifts for Wine Lovers | The Best Gifts for Beer Lovers | Grilling Gifts | Cooking Gifts for Kids | Gifts for Foodies By Price Point
The Speckled Palate participates in affiliate programs. As an Amazon Associate, I earn a commission from qualifying purchases. Please refer to my disclosure page for more information about these affiliate programs.
[show_shopthepost_widget id="4259549″]
Food Gifts for Men
If you're conjuring up images of personalized grill tools again, hit pause. We've rounded up some of the most interesting and unique gifts for foodie men on the Internet. While the man you're shopping for has probably tried or seen something like all of these, he definitely hasn't seen them all done quite like the gifts on this list. You're sure to find something no one else is thinking of getting your favorite home chef.
Photo Credit: www.nordstrom.com
Looking for stocking stuffers? Everyone appreciates a novelty phone case! Give the guys in your life a chuckle with this bright and bold iPhone case that proclaims a deep love for burgers. It's also just high quality—it has raised sides for 360-degree shock absorption to protect the camera and glass screen. No wonder it's rated 5-stars for safety, and selling out fast!
Photo Credit: www.target.com
Listen, everyone loves to grill! But sometimes it's just too cold to stand outside, even if you are standing over a fire! Don't make the dudes in your life sacrifice comfort for grilled food—get this indoor grill from Ninja. Don't worry—it has a smoke control system to make it safe for the great indoors.
Better yet, it even makes grilling a little easier. The smart thermometer will monitor the internal temperatures so they don't have to. It can grill, air crisp, bake, broil, roast, and dehydrate. And it's definitely family-sized: It can fit up to 6 steaks or 24 hot dogs at once!
Photo Credit: www.uncommongoods.com
Does the guy you're shopping for love trying new recipes and exploring new flavors? Help him explore making dumplings—a notoriously intimidating food!--with this soup dumpling kit.
In China, these dumplings are called Xiaolongbao, and they are filled with deliciously rich vegetable or pork broth. Real talk: They are the perfect meal when there's a little nip in the air. Or, any time really. But they need a very specific basket in order to be made from hand, and this kit gives your loved one everything they need to try it for the first time.
Photo Credit: www.uncommongoods.com
Make your baseball fan very happy with these pint glasses featuring their team's home stadium. After all, each home stadium is practically hallowed ground to sports fans, so these glasses are sure to be a homerun with any big fan. The maps are aerial views, and every MLB stadium is represented.
The glasses come in sets of two, featuring the team's two colors. At the bottom of every glass is the team's logo, celebrating a perfectly finished beer. They're also dishwasher safe, which is a nice bonus. Check out the matching whiskey glasses, too.
Photo Credit: www.uncommongoods.com
What's more fun that taste-testing hot sauces to see who can handle the heat? Making your own hot sauce, and then making your friends taste it! Gift your adventurous eater this hot sauce kit and help them reach for the peak of peppery heights with their very own hot sauces.
The kit comes with ancho, cayenne, curry and chili spice packs, as well as all the peppers and distilled vinegar you need. Use the six bottles and labels to create gifts for friends out of your concoctions, or make six different things to try. Turn up the heat on great gift giving with this fun and delicious kit.
Photo Credit: https://www.etsy.com/shop/FaircraftUSA
It's always fun to go all out on a picnic. But sometimes, a dude doesn't want to make a big fuss while enjoying a beer outside with a buddy. Help them out with small but hugely functional outdoor collapsible beer table. With a bottle opener build in on the side, this table holds two bottles and a small dish for snacks, which is really all anyone needs.
Drive the stake into the ground and enjoy an impromptu happy hour on the beach or while camping. Or, take the stake off and use just the top as a table on any unstable outdoor surface. It's simple and perfect.
Photo Credit: www.lecreuset.com
You can never, ever go wrong with a nice set of wine glasses. In the haste to buy things for the kitchen, people buy cookware and dish sets and all the cool tools that a home cook needs to be really elevate their game to kitchen pro. But something simple and classic like nice wine glasses get oftentimes is overlooked.
Whether the man you're shopping for is single or happily spoken for, this gift will definitely help him class up his act in the kitchen and impress whoever he's trying to impress. These are the set of red wine glasses (you might have to tell him—yes, there are different glasses for different types of wine!) but check out the white wine glasses, too.
Photo Credit: www.urbanoutfitters.com
It's true that we created an entire list of cookbooks to choose from. But many men of a certain age have a lot of love or respect for Snoop Dogg, so it only makes sense to specifically include his delightful cookbook here.
Whether they're just fascinated by his surprising friendship with Martha Stewart or they genuinely want to know what the Boss Dog cooks, they'll love this book. It's full of Snoop Dogg's 50 top recipes, including Baked Mac and Cheese, Fried Bologna Sandwiches, Bow Wow Brownies and so much more. It ranges from the high life—Lobster Thermidor—to the munchies—Starburst—and finishes off with the classic gin and juice.
Photo Credit: www.urbanoutfitters.com
Know a guy in college or someone going soon? Help him make his dorm the cool place to hang out with this hilarious and comfy pizza-shaped bean bag chair. We all know he's already only eating pizza while he's there, so something in his dorm might as well match, right? This bean bag chair has to be spot-cleaned, so maybe spray it with some Scotchgard to help him out before wrapping it up, but this one's sure to be a hit.
If pepperoni pizza isn't really up his alley, check out Urban Outfitters' other food-shaped furniture. Because yes, apparently this is a thing for college kids.