If you're on the hunt for the perfect gifts for wine lovers, you've found it! We've compiled a list to help you choose the perfect, unique gift that's both fun and functional. From glasses to decanters, wine travel accessories and more, you're sure to find one or more wine gifts that strike your fancy in this list!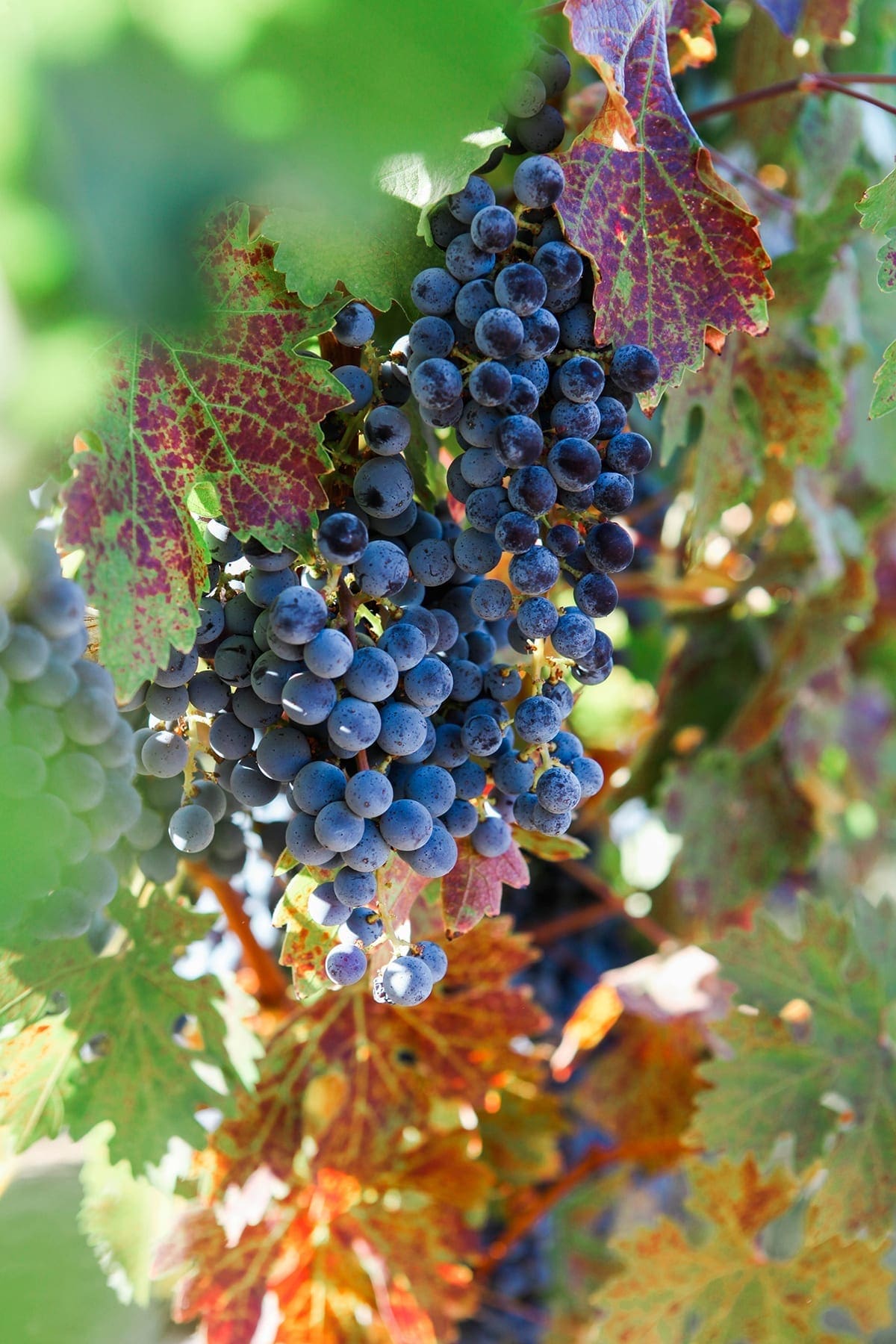 This post is not sponsored in any way and no brands have paid to be included here.
Hey-o! It's time for our next gift guide!
Today's gift guide is no different, and it's featuring one of my favorite things: WINE. And wine gifts, of course. 🙂
My friend, Valorie, searched high and low for fun gifts for the wine lovers in your life. Then she put together this guide to highlight those fun present ideas.
So whether you're looking for a birthday present, a holiday gift or just because, these gifts for wine lovers are good any time of year. Heck, you could use this gift guide as inspiration for a present for yourself. (If you're into that kind of thing.)
Other Gift Guides You Might Like: Gifts for Bakers | Gifts for Cooks | Gifts for Coffee Lovers | Gifts for Bourbon Lovers | Grilling Gifts | Cooking Gifts for Kids | Best Cookbooks to Give as Presents | Gifts for Cheese Lovers
The Speckled Palate participates in affiliate programs. As an Amazon Associate, I earn a commission from qualifying purchases. Please refer to my disclosure page for more information about these affiliate programs.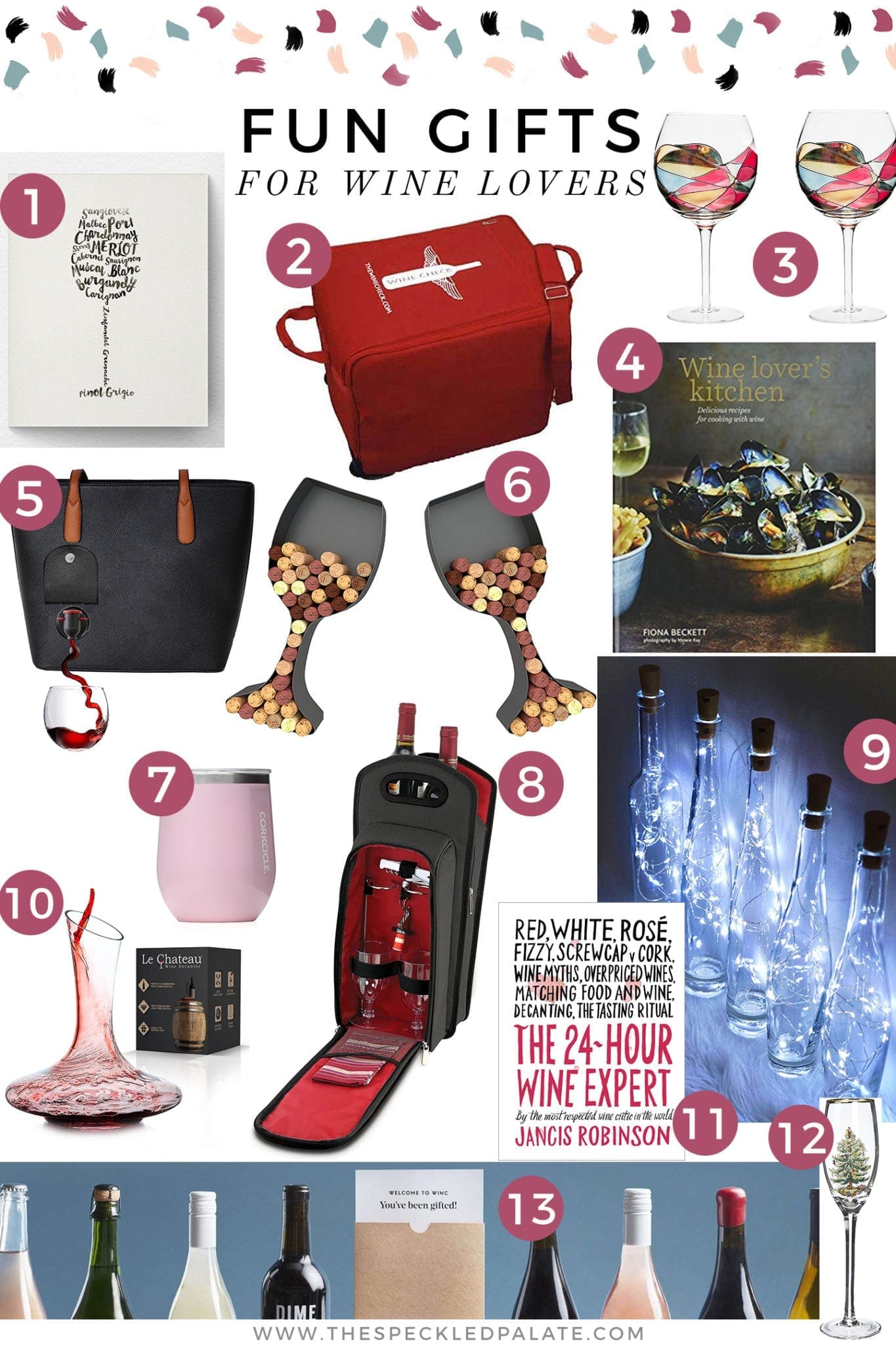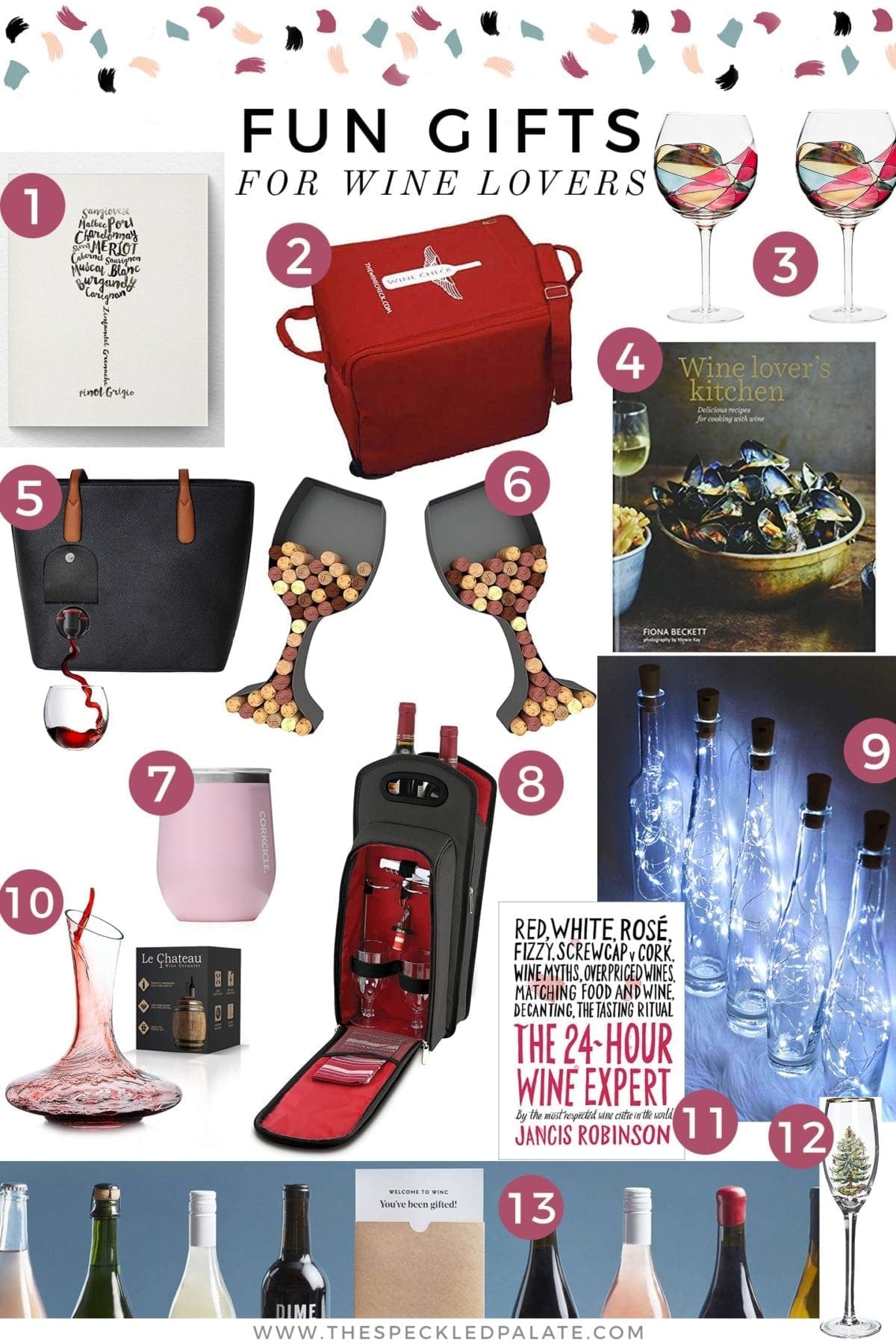 Gifts for Wine Lovers
If you're on the hunt for the perfect gifts for wine lovers, you've found it! We've compiled a list to help you choose the perfect, unique gift that's both fun and functional for your wine loving friend or family member. From glasses to decanters, wine travel accessories and more, you're sure to find one or more wine gifts that strike your fancy in this list!
Disclaimer: Some of the links below are affiliate links. If you click through and take action, I will receive a small commission. Refer to my disclosure page for more information about the affiliate programs The Speckled Palate participates in.
Photo Credit: www.amazon.com
This 8"x10" print is the right combination of minimalist and beautiful to fit into almost any kitchen decor.
It calls out some of the most well-known wine varieties, including Sangiovese and Pinot Grigio and a lot in between. The calligraphy is really beautiful, and transforming the names into a glass of wine is a fun way to add wine-themed decor to any wine lover's kitchen.
It doesn't come framed, but since it's a standard size, it won't be difficult to find a frame for it!
So many wine lovers will love this, but it's especially perfect for someone who recently moved to a new place. Pair it with a bottle of wine to share and help them hang it!
Photo Credit: www.amazon.com
What is better than traveling somewhere and bringing home some of your favorite wines from the region? This carrying case makes that much easier. It holds up to twelve bottles of wine in safe styrofoam compartments. They won't bang against each other, so you won't have to worry about any of your precious bottles breaking as they travel home with you. It's perfectly easy to check and comes with wheels to roll it, too.
The best part? When it's not being used, it easily collapses and can be folded, so it's not taking up room in your closet. It hardly weighs anything, so it's not a pain to fold up and bring in your luggage on the way to your destination. This is great for any of your loved ones who love wine and travel in equal measure.
Photo Credit: www.amazon.com
These beautiful wine glasses were hand-painted with colorful looping designs. The city of Barcelona and the stained glass windows in the famous Sagrada Familia Cathedral (designed by Antoni Gaudí) inspired the art on these glasses.
They catch the light beautifully, and the designs will always morph as they are filled with different wines.
They're made with lead-free paint and each glass was hand-blown by an expert artisan. They come packaged in a beautiful box, ready to be wrapped and given as a gift. If you can find it, there's also a matching decanter, though it seems to be sold out as of this writing. The glasses do need to be hand washed, so make sure you tell your loved one that!
Photo Credit: www.amazon.com
This book of recipes explores how wine really is the best ingredient. It covers every course, from soups and salads all the way through to desserts, and finally sauces, butters and relishes.
There are more than 70 unique recipes inside this cookbook, and each one not only uses wine as an ingredient, but also suggests a wine pairing to drink as you eat. The pictures are stunning, too, making this book an all-around treat.
Author Fiona Beckett isn't just anyone—she's an award-winning food and wine writer and once won Food Journalist of the Year from the Guild of Food Writers. She's been writing about wine and food for some of the biggest publications around the world for years.
Photo Credit: www.amazon.com
This wine purse is fashionable and functional! It carries up two bottles of wine in the insulated reusable pouch, or you can remove the pouch to use it as a regular purse. Even with the pouch inside, the purse is roomy enough for your wallet, phone and more.
This is perfect for bringing wine into places you miiiiiiiight not be allowed to have it, because even if you're asked to open the bag, it won't look suspicious inside. There's an easy pour spout that is hidden as a pocket.
The lining is BPA-free and the insulation will keep your wine chilled for a few hours. Just don't forget to bring some cups with you! Consider these unbreakable silicone ones.
Photo Credit: www.amazon.com
It seems like people are constantly finding with new and beautiful ways to display the corks they collect as they drink wine.
Now, these two glasses look like they're toasting to a new way to display corks. As you fill them up, the different colors of the corks will create unique and beautiful art to display on your walls.
Since the corks don't have to be glued in, you can move them around for maximum aesthetic effect. Make one glass "red wine" and the other glass "white wine" by using different corks. The possibilities are endless and fun!
For the big wine drinkers in your life, the two glasses can be combined with additional letters to spell out 'WINE' or with a loved one's initials for a monogram effect.
Photo Credit: www.amazon.com
The Corkcicle brand is famous in the wine world. These insulated tumblers continue the brand's mission of keeping your wine at the right temperature the whole time you're enjoying it. They're triple-insulated stainless steel, so they keep cold drinks cold and hot drinks hot. They have a non-slip silicone bottom and a spill-resistant lid to keep your wine in your cup where it belongs, too.
These wine tumblers are equally perfect for white wine on the beach and mulled wine at a holiday parade. They come in a lot of really fun colors and designs, including this rose quartz, copper, stardust, turquoise and unicorn magic. These make a great gift for anyone who likes to enjoy their wine somewhere other than the dining table.
Photo Credit: www.amazon.com
Imagine it: Wine under the stars on a blanket; wine by the beach; wine basically anywhere.
This wine picnic tote makes those plans so much easier. Rather than making sure you've got everything you need in your bag, just stick your wine in this tote and go. It comes with space for two bottles of wine, and the insulation keeps them cool. The second compartment carries a corkscrew, wine stopper (you know, in case you don't finish your bottle), and a place to secure two acrylic wine glasses.
The genius part, though, is the wine stakes. These can be inserted into the ground to create a secure resting place for your glass. No more worrying if your glass will to topple over because the ground isn't perfectly even.
This is a great addition into any picnic-lover's toolset.
Photo Credit: www.amazon.com
Do you have a friend who can't let go of empty wine bottles? Help them turn those into cool ornaments for the holidays or decorations for any time of year!
These fairy lights are battery operated, so they don't have to have wires protruding from them, and the battery is hidden in the "cork" on top! The 18-pack comes in multi-color, bright white, or warm white for any decorating scheme.
These are a great gift for the wine lover who also loves to decorate. They can make for good centerpieces and are great for any major holiday or event, too. Now those beautiful bottles don't have to just sit around gathering dust!
Photo Credit: www.amazon.com
This is one of the highest-rated wine decanters around. The lead-free crystal is shaped into a beautiful design that can take center stage on any shelf while it's not being used. And when it is, the design is perfectly optimized for aerating an entire bottle of wine at once.
This wine decanter was made to decant a standard sized bottle (750 ml).
The design creates plenty of surface area for the wine to mix with the air, which is the key to aerating a wine evenly and quickly. There are thousands of wine decanters out there, but this one is a perfect bet for any classic wine lover.
Photo Credit: www.amazon.com
Do you know a wine drinker who wants to learn more about their favorite beverage?
This is a great primer for all the big topics in wine. It teaches about the basic wines: red, white, rosé and bubbly.
After that, it tackles big questions like how to pair wine with food, understanding terroir and why some wines cost so much money.
It may not make your vino lover friend or family member an expert, but this short book will leave them with a lot more answers than questions.
The author, Jancis Robinson, is a British wine critic and journalist. She provides advice for the wine cellar for Queen Elizabeth II, so you know she's the real deal.
Photo Credit: www.amazon.com
The Spode dishes series has been around for decades. They're famous for high quality craftsmanship and beautiful designs. In fact, Spode releases new designs every once in a while, and these glasses were new for 2017.
The have the classic gold rim and the lovely artwork that has made Spode so famous.
The Spode line is actually a great ongoing gift set for loved ones—a friend's grandmother gave my parents a piece every Christmas for ten years until they had a full set of Spode dishes, bowls, silverware, and glasses; and my mother has her own set, too!
As long as they're handled carefully, these will stay beautiful for decades.
Photo Credit: www.winc.com
Winc is a wine subscription service! When you first sign up, you take a quiz so Winc can send you a personalized box. Then you rate the bottles you receive as you drink them so that they can improve the wine they include in your next box. It's a great monthly subscription for wine lovers!
Now, you can give your wine lover a gift card for Winc. Your loved one can put the money toward a subscription. If they don't want a subscription, Winc has a lot of other gifts they could get, too.
There are more than twenty different categories of wine they have—everything from chardonnay to vegan wine to Portuguese wine to grenache. A Winc gift card is a wonderful gift for any wine lover.