We all know someone who is obsessed with cheese (and everything related to it.) So today, we've rounded up the best Gifts for Cheese Lovers.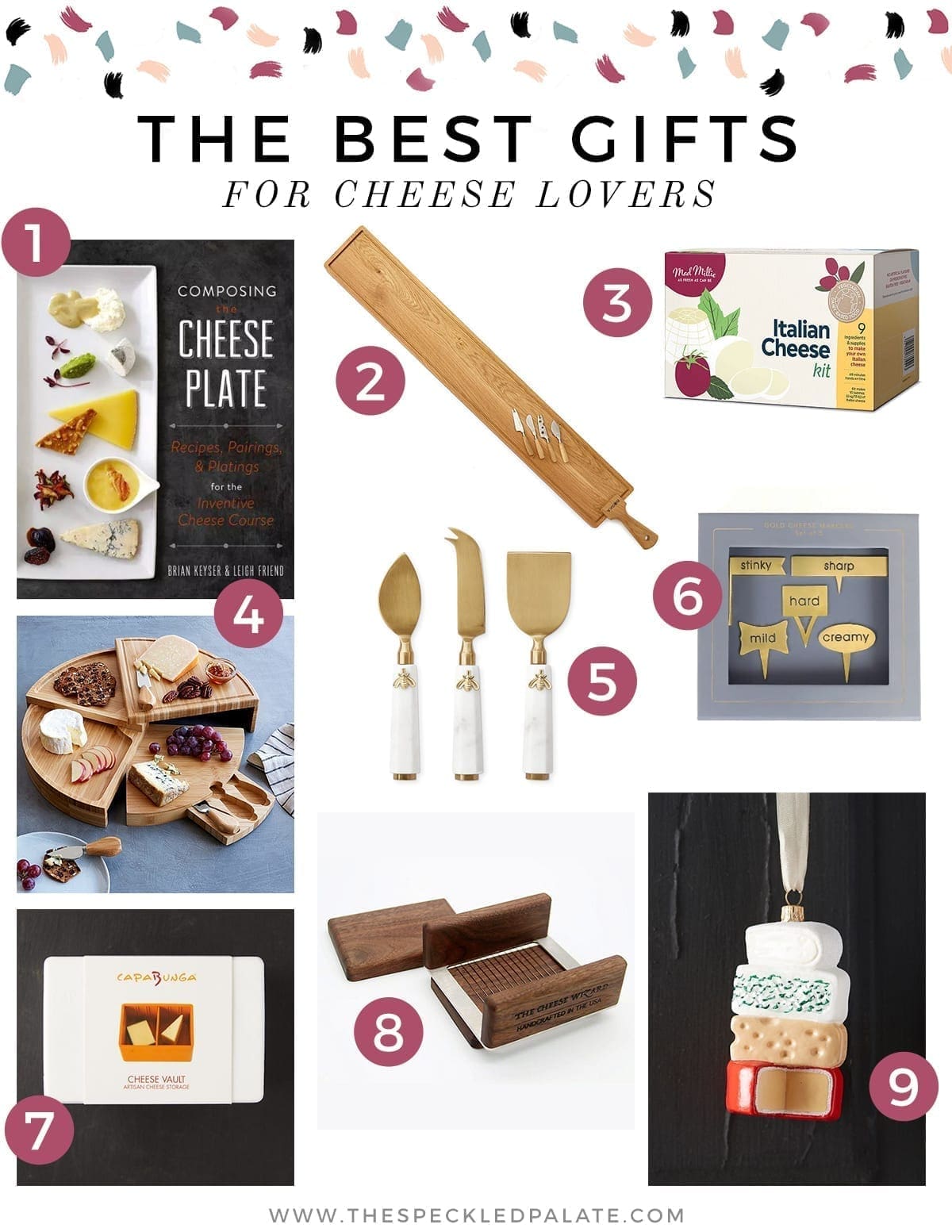 This post is not sponsored in any way and no brands have paid to be included here.
Today, we're talking about another very specific interest for a holiday gift guide.
That interest is cheese. And basically everything pertaining to it.
We all know someone who's obsessed, right? It's a calling, really.
If you're in the market to purchase a gift for a cheese lover, we've got some good ideas on this list!
Who is this gift guide for?
We've got a bit of everything on this list of gifts for cheese lovers.
Let us note that a nice block of cheese would be a lovely gift for a cheese lover.
However, we have not included actual cheese in this gift guide. Because shipping cheese is sometimes a shaky endeavor, and you may or may not be seeing your cheese lover in person this holiday season.
My friend, Valorie, seared the Internet to find the best gifts for cheese lovers available. She's written this ultimate gift guide… and it's pretty awesome, if I do say so myself.
Other gift guides for friends and family members with very specific interests: Gifts for Bakers | Gifts for Coffee Lovers| Gifts for Bourbon Lovers | Gifts for Wine Lovers | Grilling Gifts
Looking for something for a specific someone? Cooking Gifts for Kids | Food Books for Kids | Food Gifts for Women | Food Gifts for Men
The Speckled Palate participates in affiliate programs. As an Amazon Associate, I earn a commission from qualifying purchases. Please refer to my disclosure page for more information about these affiliate programs.
[show_shopthepost_widget id="4270746″]
Gifts for Cheese Lovers
Loving cheese is a way of life. A calling, really. And the people who love cheese really love cheese. So a gift based on their favorite food group is only logical. But if you don't love cheese yourself or are concerned about purchasing them the same thing everyone else has, it can be hard to know what to get. Hopefully, this list will keep you inspired!
Photo Credit: www.target.com
Help your loved one go beyond the standard cheese plate and start composing the kind of beautiful cheese plates that go viral on Instagram. Whether or not they're an influencer, this is an awesome skill to have to wow friends, too.
In Composing the Cheese Plate, Fromager Brian Keyser and pastry chef Leigh Friend provide 70 inventive recipes that skip the tired old go-tos. And, importantly, not only do they hand you recipes, but they actually teach you pairing theory.
Think: "think philosophy of pairing flavors, notes on affinage, seasonality and presentation, a cheese cutting guide, cheese and condiment pairing guides, and everything you'd ever want to know about cheese so you can create impressive, unique cheese boards for your next party or gathering." It's perfect.
Photo Credit: www.uncommongoods.com
A mile-long line of exciting different cheeses to try is basically the dream, right? Well, this board isn't quite a mile long, but when they say "extra long," they mean it. At 46" (almost 4 feet!), this is one of the longest cheese boards on the market that isn't custom-made.
It's perfect for the home entertainer who wants to let the whole table enjoy an appetizer without having to pass plates around. Or, heck, they can use it to really show off their cheese loving prowess and have 10 different cheeses and 20 pairings like crackers, jams and jellies going down the length of the table.
Photo Credit: www.uncommongoods.com
C'mon, who isn't sort of curious how milk changes into cheese? And Italian cheeses are always so rich and flavorful… so who doesn't kind of want to try making them at home? With this kit, they can very easily!
It includes all the tools and ingredients they need to make several different Italian cheeses at home, including ricotta, mozzarella, mascarpone and ricotta. Just add milk!
No artificial preservatives, either—in just a few hours, they can have cheese as good as the kind you find in the artisan cheese aisle.
Photo Credit: www.uncommongoods.com
This beautiful bamboo board starts out as a wedge, then converts into a tiered circle for displaying all your cheese and other appetizers. It even includes some storage for an included set of bamboo-and-stainless-steel knives, meaning your loved one will never lose them! (Don't you just hate when you can only find half of a set?)
This is a great gift for anyone who loves to entertain but suffers from a lack of kitchen storage. As with most bamboo stuff, it cannot be soaked, and the whole set is handwash only! Make sure your friend knows before they accidentally ruin this beautiful set.
Photo Credit: www.williams-sonoma.com
Here's the thing: No one really buys cheese knives for themselves. They often end up on registries, but get overlooked for more practical or more fun gifts. But this set of marble honeycomb cheese knives from Williams Sonoma is sure to make any cheese-lover gasp in awe. I mean, they're stunning!
The gorgeous gold on the serving side and the little gold bumblebees are such beautiful details. Of course, there's a whole line of watching marble honeycomb kitchen accessories, like cheese boards and wine chillers, so this could be just one small part of a much larger gift!
Photo Credit: www.nordstrom.com
When your friend is hosting a gathering, the last thing they want to do is stand next to the cheese board all night ,telling everyone which cheese is which! Help them out with this cheeky and useful gift that will do the work for them.
While these markers won't tell people exactly which cheese they're eating, 'hard' versus 'creamy' or 'mild' versus 'sharp' are really useful starting points. Make sure your recipient knows that these are handwash only, so they know how to care for them after their first outing.
Photo Credit: www.anthropologie.com
OK, everyone loves a beautiful cheese board. Those are almost like collector's items, really. There's no such thing as having too many (so long as you have the storage space for them.) But a cheese vault? It may not look as pretty, people may not be able to display it like a cheese board, but it is going to change their cheese eating life!
As many cheese-lovers have experienced, the problem with buying blocks of cheese is no one can really eat the entire thing in one sitting, so the leftover cheese needs to be stored. But even if the blocks are in an "air tight" container, the cheese can get moisture in the package, which makes it moldy, or the air is too dry, and it dries out.
The cheese vault is here to save the day on that one! It acts like a miniature cheese cave for the refrigerator. It keeps away excess moisture and keeps cheese at optimum flavor levels.
Photo Credit: www.anthropologie.com
This is yet another kitchen tool that everyone thinks would be nice, but rarely do people buy it for themselves. Be the hero and buy the Cheese Wizard Slicer to help your friend cut up a block of cheese quickly so they can get back to the party!
This is a great gift for your friends who are very precise and hate to see uneven thickness in their slices of cheese. Especially your food blogger friends who might worry that everyone can tell the cheese slices are uneven in their latest Instagram photos!
It comes in three wood-color options as well, which means you can definitely find the perfect one to match your friend's kitchen décor, too!
Photo Credit: www.anthropologie.com
Christmas is about the people and hobbies you love, right? So why shouldn't someone's Christmas tree celebrate their love for their favorite food group? Gift them this beautiful glass Christmas tree ornament featuring a stack of delectable cheeses.
The colored soda glass gives this ornament that classic 1950s Christmas ornament look, so it's sure to look classy on any tree. It might even take people a few glances to realize what it is! But it's sure to make anyone who loves Christmas and cheese very happy.