If you're searching specifically for a lady who enjoys food, we've got you covered. These Food Gifts for Women offer a little of everything for any female foodie in your life.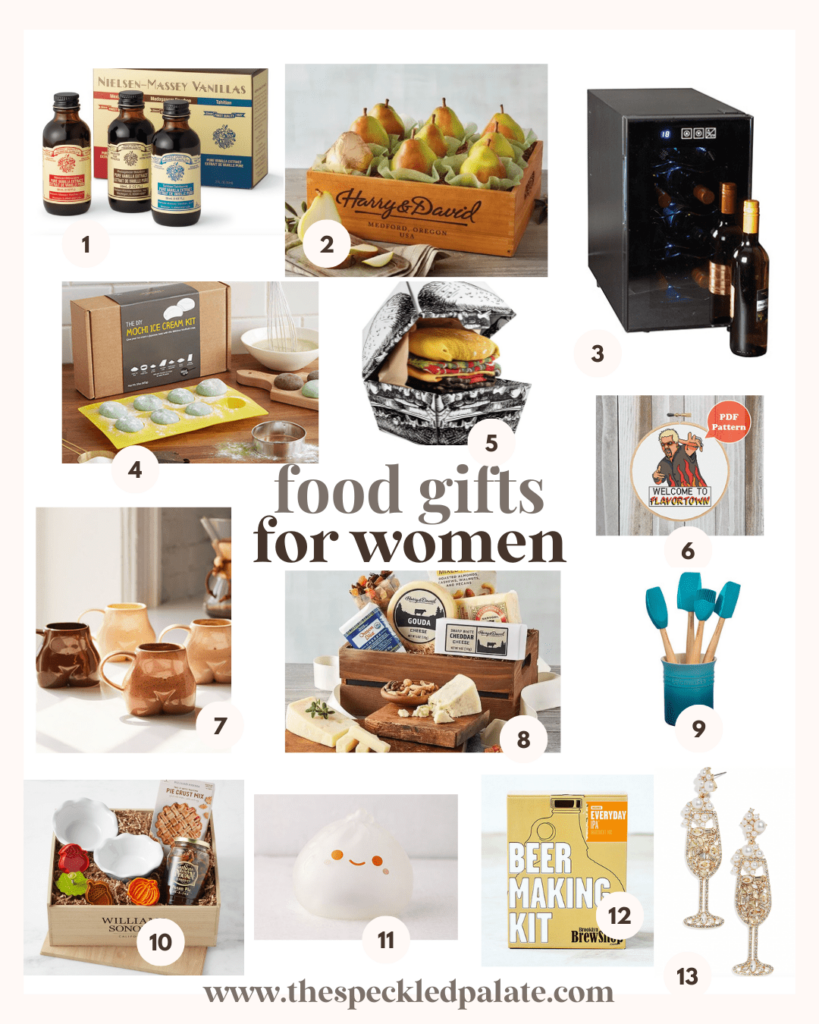 This post is not sponsored in any way and no brands have paid to be included here.
Y'all asked for gift guides based on price point and interest.
There were also some who wanted gifts for specific people in their lives.
These gifts for foodies are geared toward the ladies in your life, but there are plenty of gifts here for anyone who loves food!
Also, be sure to check out Food Gifts for Men and Food Books for Kids, too!
Who is this gift guide for?
Whether we like it or not, lots of women receive food-related gifts on the regular.
And if someone you know and love is a food person, chances are they receive food gifts even more!
So my friend, Valorie, and I scoured the Internet to find the best food gifts for women. Then we wrote you this ultimate gift guide to help serve as inspiration.
Foodie Gifts for Women
These aren't the kinds of food gifts you'd normally think of because many of them are food-adjacent, not actually food.
However, they can help make food if your friend/family member is so inclined.
No matter your price range, we've got some ideas for you here. We've also pulled some of our favorite items from beloved shops, like Uncommon Goods, Harry and David, Williams-Sonoma and more!
What they share in common is that they're all fun, unique and perfect for gifting. And they fit a wide range of interests, too.
So whether you're shopping for a birthday present, a holiday gift or a just because, there's a present for any lady who digs food on this list.
Other Gift Guides You Might Like: Gifts for Bakers | Gifts for Coffee Lovers| Gifts for Bourbon Lovers | Gifts for Wine Lovers | The Best Gifts for Beer Lovers | Best Cookbooks to Give as Presents | Grilling Gifts | Cooking Gifts for Kids | Gifts for Foodies By Price Point
Food Gifts for Women
For better or worse, women are constantly receiving kitchen-related gifts. But if you have a woman in your life who loves to cook, we've got you covered! But since you know she's got it all already, you'll have to think a little outside the box in order to find her something she doesn't already have. That's where this list comes in.
The Speckled Palate participates in affiliate programs. As an Amazon Associate, I earn a commission from qualifying purchases. Please refer to my disclosure page for more information about these affiliate programs.
Photo Credit: www.williams-sonoma.com
Nielsen-Massey makes some of the best vanilla extracts in the world, and this set of three is perfect for a pal who loves baking.
This set includes extracts from Mexico, Tahiti and Madagascar, so that any baker can explore the world through vanilla to use in their baked goods, ice cream, candy making and more.
Photo Credit: www.harryanddavid.com
This classic pear crate is a crowd-pleaser, and honestly, can you go wrong sending the best fresh fruit to your friend or family member? (No. The answer is no!)
This gift crate includes 5 lbs. of fresh pears, sent in a stunning wooden crate that's reusable!
Photo Credit: www.wayfair.com
This freestanding wine fridge is great for any wine collector. It holds 8 standard Bordeaux-size bottles. The cooling system is silent and vibration-free, which makes keeping it in the kitchen a breeze.
According to the site, "the removable stainless steel wine racks allow you to customize the cellar and the built-in soft lighting makes it a perfect show piece in any kitchen, den, or home bar." It is small enough to keep on a counter, and the contemporary styling means your loved one won't want to hide it.
Photo Credit: www.uncommongoods.com
Have you tried mochi yet? It's sweet and chewy on the outside, cold and creamy on the inside, and surprisingly adorable all around. Your gift recipient can use this kit to turn their favorite homemade (or store-bought – no judgment!) ice cream into delicious mochi balls.
They can tint and flavor the mochi with the included matcha and cocoa powder, then make them into fluffy little pillows for their ice cream balls.
It's a great afternoon activity to do with a friend or a child. Or, heck, tell them to go ahead and make a set of 8 and enjoy them alone with a nice crisp wine. No one will tell if they don't share. 😉
Photo Credit: www.etsy.com
Fun socks aren't just for guys to show off their personalities! Get any burger-loving woman these three pairs of adorable socks that are folded to resemble a burger in a box from a favorite burger stand. Available in two sizes—5.5 to 9 and 9.5 to 13—there's a pair that fits your pal's feet!
The gift box these socks come is ADORABLE and made to look like a classic to-go container for a burger. Pick these up for a stocking stuffer or for coworker you drew for Secret Santa. As long as you know she eats meat, this is a cute and cozy bet.
Photo Credit: https://www.etsy.com/shop/GrandmaGirlDesigns
Cross stitch is a wonderful way to unwind at the end of the day. And for any foodie, there's a wealth of fantastic food-related cross-stitch patterns awaiting them on Etsy.
We picked Guy Fieri, well, because, who doesn't love this guy? His enthusiasm is contagious, his love for food is what everyone aspires to inspire... he's great!
So gift this to any cross-stitching foodie who is having a bad day, or use it as a stocking stuffer. It's sure to make them smile. Welcome to Flavortown!
Photo Credit: www.urbanoutfitters.com
It's a bit... cheeky to add this one to the list, but we love this little ceramic mug from Urban Outfitters. Sculpted into part of the female form, this mug is the perfect gift for any woman. It comes in a few different shades, too, in order to be more inclusive of all skin colors!
Your girlfriend will get a kick out of drinking out of this mug every time she pulls it down from the cupboard... maybe just remind her not to take it to her next Zoom meeting!
Photo Credit: www.harryanddavid.com
Is your family member or friend a cheese love? They're bound to find something they love, if not more than something, in this cheese crate!
Including four festive cheese, as well as mixed nuts and a dried fruit mix, this cheese-filled wooden crate is bound to be perfect for any cheese lover!
Photo Credit: www.lecreuset.com
Sure, OK, every cook has (most of) these utensils already in their kitchen. But does every cook have four tools that match the stoneware crock that holds them when they're not in use? No.
Make sure that you're grabbing a set that matches either her existing Le Creuset pieces, or that matches the color scheme in her kitchen. This way it's not only a lovely functional set, but it's something she'll be really happy keeping on her countertop.
The crock is dishwasher-safe stoneware that is made to last. The silicone tools are heat-resistant BPA-free silicone, and feature beautifully crafted ergonomic handles. The heads are removable, so they can be washed in the dishwasher, but the wood handles are handwash only!
Photo Credit: www.williams-sonoma.com
She's probably already gotten a dozen baking-related gifts. But this one? It's chef quality. I mean, it's not even a gift basket. It's a gift crate, and I think that says everything about how seriously you can take it.
It's got two ceramic Emile Henry French mini ruffled pie dishes, fall-related pie punches, The Great San Saba River Pecan Company Pecan Pie in-a-Jar, Williams-Sonoma classic pie crust mix. And, of course, the crate is reusable.
Help her step up her baking game with this great set that might even get you a homemade pie as a thank you.
Photo Credit: www.urbanoutfitters.com
This little dumpling nightlight is so teeny it'll fit right into the palm of your hand. So, it's probably not going to light a room or help you read a book, but that smiling face makes a very cute nightlight to leave on all night without disturbing your sleep. It comes in clear and tan, so you can get one that looks a little more realistic or one that lets off a tiny bit more light.
Drop it in a stocking or get the rest of the food lights from Smoko to create a whole yummy glowing set. Urban Outfitters also carries a boba tea, a potato, a pear, and some toast, all giving off a delightful glow.
Photo Credit: www.anthropologie.com
Who has been telling you that women don't like drinking and brewing beer? We do! Help a beloved woman learn to brew IPA at home with this great kit. The one-gallon kit comes with citrusy Cascade hops, as well as smooth malt—the foundations of any good IPA.
Better yet, all the equipment in the kit is reusable, so she can continue experimenting with making her own beer for years to come! It also doubles as equipment for making cider or sparkling wine, too, so the sky really is the limit. As long as she can spend a few hours setting it up, then patiently wait a few weeks to drink it, she'll love this.
Photo Credit: www.nordstrom.com
Does your friend adore champagne and champagne-related celebrations? These festive, sparkly earrings from BaubleBar are a fun and festive present she can wear year-round, but especially during the winter holidays.
About 3" in length, these shimmery earrings highlight glossy imitation pearls and sparkling crystals.