The Ultimate Guide of Gifts for Bakers
Searching for the BEST gift to buy your friend/family member/coworker who's VERY into baking? We've compiled a list to help you find the BEST gifts for bakers! Including cookbooks, classes, tools and more, you're sure to find one or more item your baker will adore.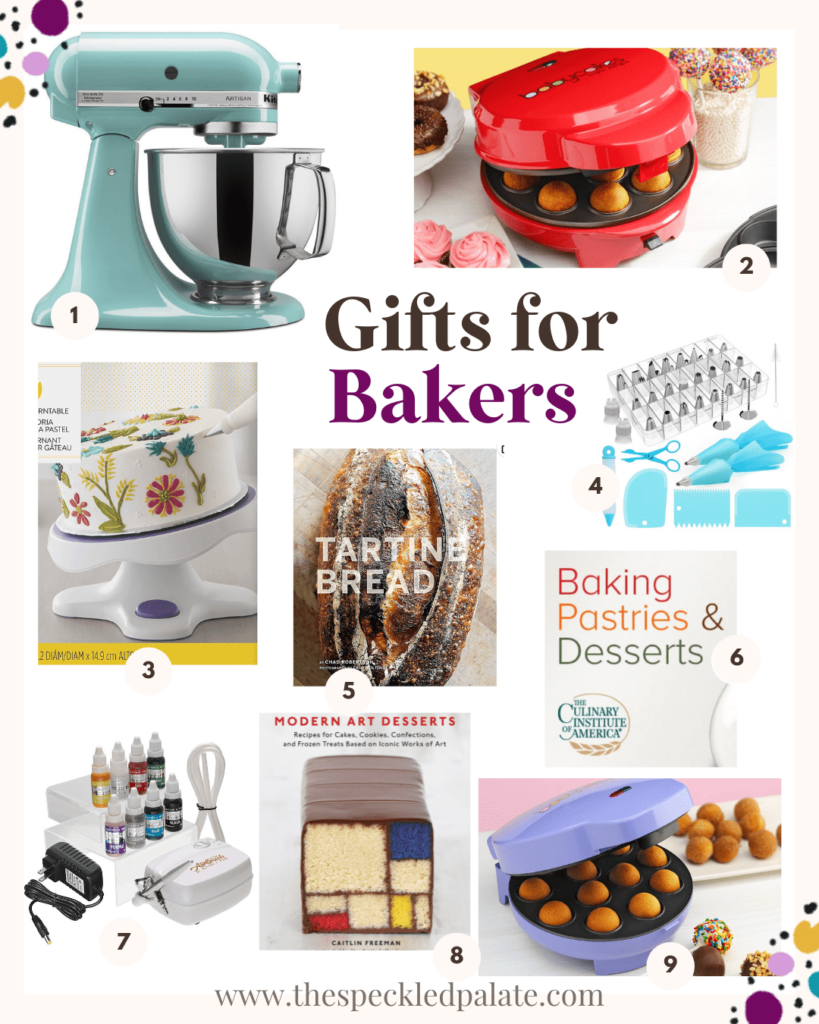 This post is not sponsored in any way and no brands have paid to be included here.
Y'all asked for gift guides based on price point and interest in recent years, and I am here to help.
Also, some of y'all requested guides for gifts for specific people in your lives.
This list of presents is for home bakers and people who enjoy baking all sorts of treats (and savory foods) in the kitchen. There will be at least one baking gift here for anyone who loves to bake!
Who is this gift guide for?
We all know someone who's obsessed with baking. (Hey, y'all know me, so you know ONE person.)
This guide? It's all for the person who looooooooooves to bake at home.
This guide is not for a professional pastry chef, but for someone who enjoys the science of baking, as well as the decorating of baked goods once they're out of the oven.
These ideas make for great holiday gifts, as well as birthday presents and more.
The Best Gifts for Bakers
Whether your friend is a dedicated bread baker or dipping their foot into cupcake decoration, we've got a little bit of something for any baker in your life in this gift guide for bakers.
You can provide tools to help them bake to their hearts' content, as well as other tools to help them decorate their baked goods once they're out of the oven.
So we're including products like a stand mixer and decorating tools, not necessarily measuring cups or baking pans since your person probably already has those.
If you want more specific tools for someone who enjoys baking, check out The 10 Best Baking Tools for Cookies. (This includes a baking sheet, cookie scoops, mixing bowls, a hand mixer and more, if you think that's more your person's speed and they don't have these products already.)
In addition to these tools, we also have educational products here for your baker friend, including cookbooks and classes, in case they have varying interests or want to try something new.
No matter what you're looking for, there are gift ideas here for every kind of home baker!
Other Gift Guides You Might Like: Gifts for Cooks | Gifts for Coffee Lovers | Gifts for Bourbon Lovers | Grilling Gifts | Gifts for Wine Lovers | Cooking Gifts for Kids | The Best Gourmet Food Gifts | Gifts for Foodies (By Price)
Gifts for Bakers
Searching high and low for the BEST gift to buy your friend/family member/coworker who's o-b-s-e-s-s-e-d with baking all the things? We've compiled a list to help you find the most fitting and helpful gift that they'll use time and again in their baking adventures!
Disclaimer: Some of the links below are affiliate links. If you click through and take action, I will receive a small commission. Refer to my disclosure page for more information about the affiliate programs The Speckled Palate participates in.
Photo Credit: www.amazon.com
This is the kind of gift that will render your loved one speechless. Every baker wants a KitchenAid Stand Mixer, but they're so expensive! If you can't afford to give a $300 gift willy-nilly, I get it! But this is a great gift to go in on with friends. I love doing group gifts for people that are traditionally hard to buy for because it makes it easier for all of us!
Not only are these mixers really beautiful (they do come in so many colors!) but they're also really functional! They can do everything from a slow stir to a very fast whip, they have a flat beater, a dough hook, and a wire whip attachments. The capacity of that bowl is enormous—you can get enough dough in there for 9 dozen cookies at once. Nine dozen! That's 108 cookies!
Photo Credit: www.amazon.com
Know someone who likes all the sweets? Then this slightly bigger multi-treat baker might be the perfect gift! Building on the Babycakes cake pop maker (shared below!), this one has interchangeable non-stick baking plates. In addition to cake pops, you can make cupcakes and donuts! It can cook 12 cake pops, seven donuts and seven cupcakes per round. It doesn't come with a cooling rack or paper sticks for your cake pops, but it does have a booklet of recipe suggestions and hints. The plates come out completely for easy cleaning.
You could definitely use this baker to bake way more treats than what it's listed for too! For instance, the donut side could prooooooobably make bagels, too. The cake ball side could be used to make hush puppies, bake Swedish meatballs, and any kind of biscuit bites—and those are just the savory ideas! Instead of cupcakes, throw some muffin mix in there. Try a little mini pie or tart.
Photo Credit: www.amazon.com
Looking for a gift for a baker who always saves money instead of treating themselves to really cool stuff? Then this most decadent version of a cake stand might be something they've had their eye on but can't rationalize buying for themselves.
A rotating cake stand is a MUST in every baker's kitchen because it makes frosting a cake so much easier. This stand goes a step further and actually tilts so that you can more easily decorate the side of a cake with a decorating pen or icing funnel.
It's such a great idea! Makes it so much easier to see and it's much better for your wrists. In fact, this would probably be really helpful for any bakers with wrist pain or arthritis! But really, it would make every baker's life a little easier.
Photo Credit: www.amazon.com
This cake decorating set is THOROUGH. It comes with thirty different icing tips and a carrying case to keep them all in so they don't get lost! There are two pastry bags and two couplers to make switching tips on and off easier. It also has three different icing smoothers, two flower nails and a flower lifter so you can make flowers for all your cakes, cupcakes, and cookies. My favorite detail is the decorating pen, which can be used to write on your desserts with jelly, icing, chocolate sauce or anything else!
Best of all? Since all the parts are silicon and stainless steel, everything is reusable and machine washable. Just throw it in the wash when you're done. Whoever you gift this to will thank you.
Photo Credit: www.amazon.com
This cookbook is basically a bread bible. It's written by Chad Robertson, one of the the owners of the famous Tartine Bakery in San Francisco. He's considered by many to be one of the best bakers in the United States. Every day, his legendary loaves are drawn from the ovens at Tartine, and they're sold out within an hour.
Robertson developed his recipes over nearly two decades of apprenticeship with some of the best artisan bakers in France and the United States. Now, he's passing on that knowledge in this beautiful book. With hundreds of step-by-step photo sets and detailed instructions, your recipient might just feel like they're standing in Robertson's kitchen and learning with him.
Tartine Bread is a great gift for anyone that is getting started with baking their own bread at home. Bread is the foundation of nearly every meal, right?
Photo Credit: www.thegreatcourses.com
Wouldn't it be great if we could all get a famous baker in our kitchen to show us how they make the best breads and desserts in the world? Yes! But, that's not always possible. And for some, learning from a book just isn't enough. So if you've got someone that wants to get into baking but wants to learn from someone, send them a class!
You can go the online route and gift your loved one a course from The Great Courses, like Baking Pastries & Desserts with Chef Stephen L. Durfee. Or if they're already a little more advanced, gift them Udemy's Become a Great Baker series, where they can learn to make really intricate desserts and sophisticated decorations just like the pros.
If they don't like to learn online, I bet your local college offers some baking and culinary courses you could help them enroll in. Either way, they're sure to learn a ton and you'll get to reap the delicious rewards.
Photo Credit: www.amazon.com
Every baker worth his or her stuff has seen at least one baking competition where the amazing confectioners use an airbrush kit to stencil designs or create realistic leaves on their cakes. Think it's prohibitively expensive to get one? Well, it doesn't have to be!
This Watson and Webb cake decorating kit can be packed up and taken anywhere. It has three-speed compressor settings, so you can work at your own speed and vary how much color goes where. It has a stay-clean needle to make sure the airbrush doesn't get clogged. That also makes precision work possible so you can easily do large jobs or tiny details. And unlike many other kits, this one comes with eight colors in the box!
Photo Credit: www.amazon.com
I know, another book. But Modern Art Desserts is a great one for all the dessert bakers who want to up their decorative game. Pastry chef Caitlin Freeman, of Miette Bakery and Blue Bot-tle Coffee fame, has put together a guide for how to create beautiful pastries based on some of the most famous works of art.
The cover is based on Mondrian's signature geometric and primary color palettes. She has a fudge pop based on an Ellsworth Kelly sculpture, a cake inspired by Lichtenstein's famous Ben-day dots, and an ice cream float based on Cindy Sher-man's colorful photographs.
Almost every dessert in here looks like something they'd create on The Great British Bake Off or Cake Wars, but don't worry because there's step-by-step assembly guides for each piece. And if you mess up, hey—that's the fun of it! It's fun to try something new! And even if your cake doesn't look like Mondrian's, who cares? It's still cake!
Photo Credit: www.amazon.com
Ever wondered how people make those perfect cake pops? This cake pop maker can help you make yours just as nice. It bakes twelve cake pops in just minutes. The maker has non-stick baking plates so that the cake comes right out and cleaning is easy. The set also comes with a cool stand especially made for cake pops, as well as some recipe ideas. Even the first 50 paper sticks come in the set!
This cake pop maker is a fun gift for new and younger bakers who want to try something trendy! Making cake pops looks so hard, but it doesn't have to be. Plus—it's so CUTE, am I right? Love that purple color.
(Psst: this can easily double as a donut hole maker!)