The Ultimate Guide of Gifts for Bourbon Lovers
Searching for an incredible present a bourbon lover in your life? We've compiled a list to help you choose the perfect (and unique!) gift that they'll enjoy time after time. From decanters to subscription boxes and everything in between, we've found the best whiskey and bourbon-related gifts!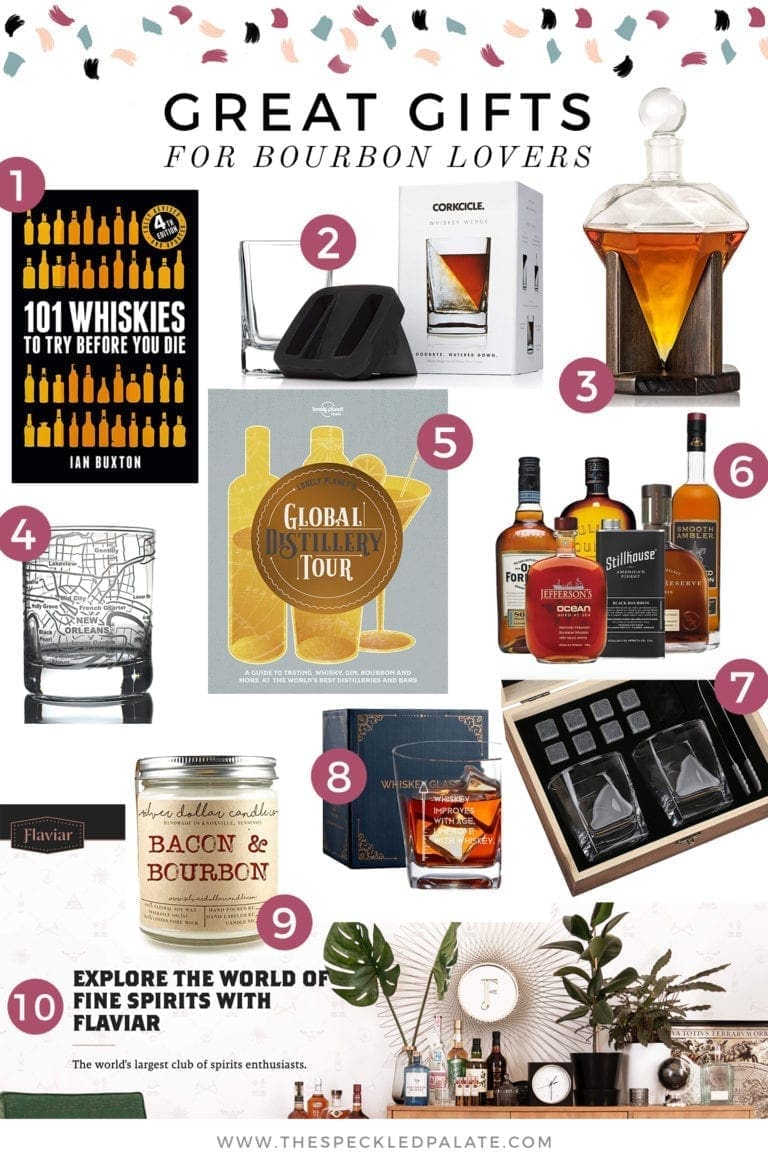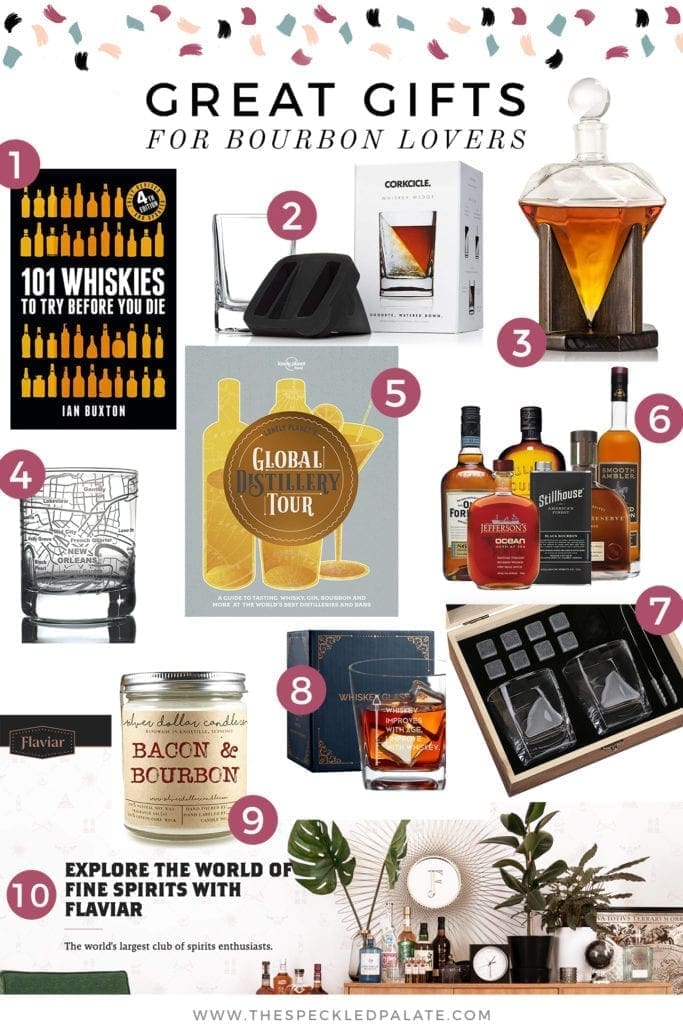 Hey-o! It's time for our next gift guide!
When I was planning content for this fall and winter, I wanted to put together several very specific guides to help you purchase gifts for your people. So whether you're shopping for a birthday present, a holiday gift or a just because, we've got you covered.
And this week, we're talking about presents for the bourbon (and whiskey and spirit) lovers in your life.
My friend, Valorie, searched high and for the most unique and fun gifts for the bourbon and whiskey lovers. Valorie knows her stuff when it comes to bourbon. How do I know this? She left her collection in my hands when she headed to Paris for graduate school.
Shockingly, she and I only created one bourbon drink when she lived here in Dallas—the Boyfriend Irish Coffee. She was, however, around for to sip and assist on the shoot for the Toasted Pecan Old Fashioned. That day was a great one!
All that's to say that Valorie knows and appreciates her whiskey. Because of this, she's written the ultimate gift guide for bourbon lovers. Hooray!
Other Gift Guides You Might Like: Gifts for Bakers | Gifts for Cooks | Gifts for Coffee Lovers | Grilling Gifts | Gifts for Wine Lovers | The Best Gifts for Beer Lovers | The Best Gourmet Food Gifts
This post is not sponsored in any way and no brands have paid to be included here. There are affiliate links in this post. If you click through and take action, I receive a small commission.
Gifts for Bourbon Lovers
Searching for an incredible present a bourbon lover in your life? We've compiled a list to help you choose the perfect (and unique!) gift that they'll enjoy time after time. From decanters to subscription boxes and everything in between, we've found the best whiskey and bourbon-related gifts!
Disclaimer: Some of the links below are affiliate links. If you click through and take action, I will receive a small commission. Refer to my disclosure page for more information about the affiliate programs The Speckled Palate participates in.
Photo Credit: www.amazon.com
The new fourth edition of this book decodes all the marketing hype out there to curate a list of old favorites, exciting newcomers and the surprisingly unknown whiskies that are begging to be tried. Whiskies from all over the world make the list, including Canada, India, the United States, Sweden, Ireland, Japan, and Scotland. The book includes old standbys like Crown Royal and obscure whiskies even some of the biggest whiskey lovers may have never heard of.
Give them a head start by gifting them one of the bottles with the book. This is an amazing gift for your loved one who is determined to experience it all. Find out how many whiskers they've already checked off!
Photo Credit: www.amazon.com
If you've heard of Corkcicle, it's probably for their famous silicone wine stopper that inserts into your bottle of wine to chill it even after pulling it out of the fridge. This glass from them has a similar mission: Keeping your whiskey cold and not watering it down.
It works by a glass paired with a silicone insert. You can easily freeze the ice by covering the glass with the silicone wedge form. Pour in water after, and then leave it in the fridge for a few hours. The water will freeze climbing up the side of the glass.
Why do this? Well, on top of just looking really cool, freezing the ice in a singular block like this slows down the melting process. You also don't run the risk of the ice hitting your teeth when it's frozen to the glass like this. A great gift for any whiskey lover with design interests!
Photo Credit: www.amazon.com
This luxurious decanter would make an interesting artistic centerpiece on any bar. This glass (lead-free!) is artisanal, which means it's hand crafted, hand blown and very elegant.
The 1000 milliliter diamond could technically fit any spirit, but c'mon—the whiskey is really the gem of the bar, right?
To preserve the whiskey, this decanter has an airtight topper that will prevent evaporation or loss of flavor. After all—whiskey can get kind of stale!
The decanter is also really easy to clean. Just use soap and water, and make sure you're using a soft sponge so you don't damage the class over time.
This is a great gift that people can use as a centerpiece on their bar for years.
Photo Credit: www.amazon.com
This pair of glass-etched tumblers makes a great gift for someone moving to a new house. The company makes glasses with the maps of eleven different US cities—Austin, Boston, Chicago, Houston, Los Angeles, New Orleans, New York, Philly, San Francisco, Seattle and Washington D.C. Whether your loved one is moving to one of those cities or away, these glasses serve as a great souvenir or a reminder.
Each glass is hand-etched by an artisan and features a hand-drawn street map with neighborhood names. They come in an elegant black gift box. The 10 ounce glasses are great for any number of beverages, really.
Best of all? They're dishwasher safe! The design will not wash off or get distorted with uses.
Photo Credit: www.amazon.com
Does your bourbon lover also love to travel? This is the ideal gift then. Lonely Planet, one of the most famous travel companies in the world, is known for their curated travel guides and recommendations. With this book, your loved one can plan trips to amazing destinations and also see the local spirits distilleries.
The book contains distilleries and bars in 33 countries. It tells you where to go and what to taste—South Africa, France, New Zealand; bourbon, whiskey, vodka. The distilleries are alphabetically by region, and each one has a recommended must-try drink or tasting experience.
Naturally, Lonely Planet also recommends what you should see in the local area between tasting sessions.
Bonus: It includes bars that are best-in-class for one particular drink, like arak in Lebanon. At the end is a look at cocktails and the best bars in the world where they're served.
Photo Credit: www.reservebar.com
There's a monthly subscription box for practically everything these days, and of course that includes whiskey. There are a ton of options out there, but this bourbon subscription box from Reserve Bar is one of the few that comes with full-size bottles.
It's a six-month subscription that can be gifted to anyone (who is 21+ and lives in specific states—check their site for more details).
The first month includes with a beautiful glass set and an amazing bottle of Jefferson's Ocean, a bourbon that is aged at sea! The subscription automatically ends after six months, so your card is only charged once.
Photo Credit: www.amazon.com
Your loved one is going to feel like they're getting royal treatment with this luxurious gift box from Royal Reserve. The box is gorgeous wood and comes filled with everything that someone needs to get their bar set up.
The two glasses nestled inside are a traditional tumbler size. The eight whiskey stones are natural granite, slate-colored to match the two slate coasters inside—perfect for classing up the drinking experience.
To make your life easier, the stones can be kept in a velvet bag, and there is even a matching pair of tongs to make picking up the frozen ones easier.
Photo Credit: www.amazon.com
This traditional tumbler is hand-etched with the humorous phrase, "Whiskey Improves With Age, I Improve With Whiskey. Because the design is etched, it will never fade or come off.
The glass is handmade shimmering glass, with a heavy base that feels great in the hand. It's lead-free and dishwasher safe, which makes life so much easier. This is a great gift for a whiskey lover who already has a lot of their own cocktail tools.
Each glass comes in it's own individual gift box, so it's easily wrapped if you're running out of time. It is great for any occasion too, whether Christmas, a birthday, or just because.
Photo Credit: www.amazon.com
Don't let the "man candle" label scare you off from buying this gift for anyone in your life. The smell of this candle is distinct, sure, but loving the combination happens in all genders.
These gorgeous candles are all hand-poured in Tennessee. The 8 ounce one has a 40-50 hour burn time, and the 16 ounce candle will burn for 80-100 hours. They're also phthalate free!
If you've never burned soy candles, the benefits are great. They're much more eco-friendly than paraffin wax, and soy wax burns without creating a lot of soot that stains the candleholder or smells up the space.
Photo Credit: flaviar.com
Not up for a full bottle delivery of bourbon every month? The Flaviar subscription is a really cool gift for anyone who is into trying new things and exploring the wide world of spirits.
Flaviar thinks of their service sort of like a continued fight against Prohibition—so many spirits are still unreachable because bars and liquor stores don't carry them. With Flaviar, small samples of rare spirits show up in your mailbox.
Your spirits lover picks what they want to taste every quarter. They get exclusive access to the Flaviar Vault, as well as rare and vintage drams in full bottle and sample size.