The Ultimate Guide of Gifts for Cooks
Searching the BEST gift for your friend/family member/coworker who's loves to cook and spend time in the kitchen? We've compiled a list to help you choose the most helpful gift that they'll use time and again. From kitchen gifts to food-related ones, these gifts are versatile and fun!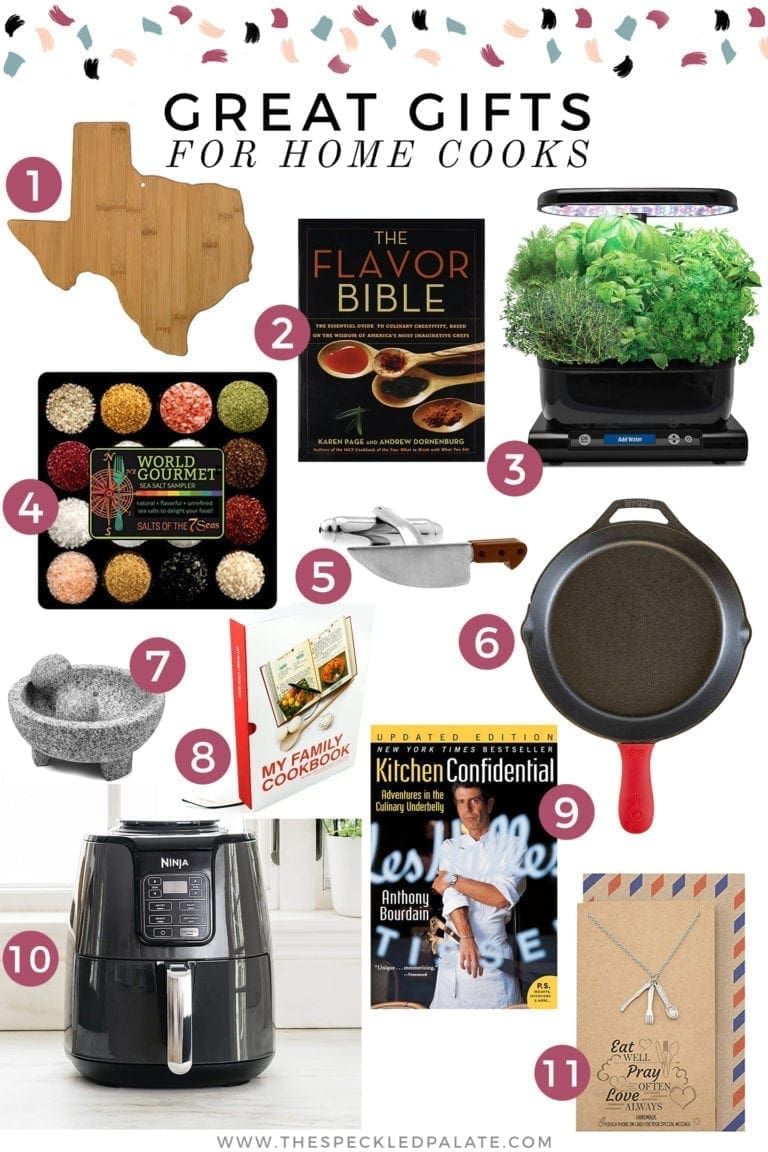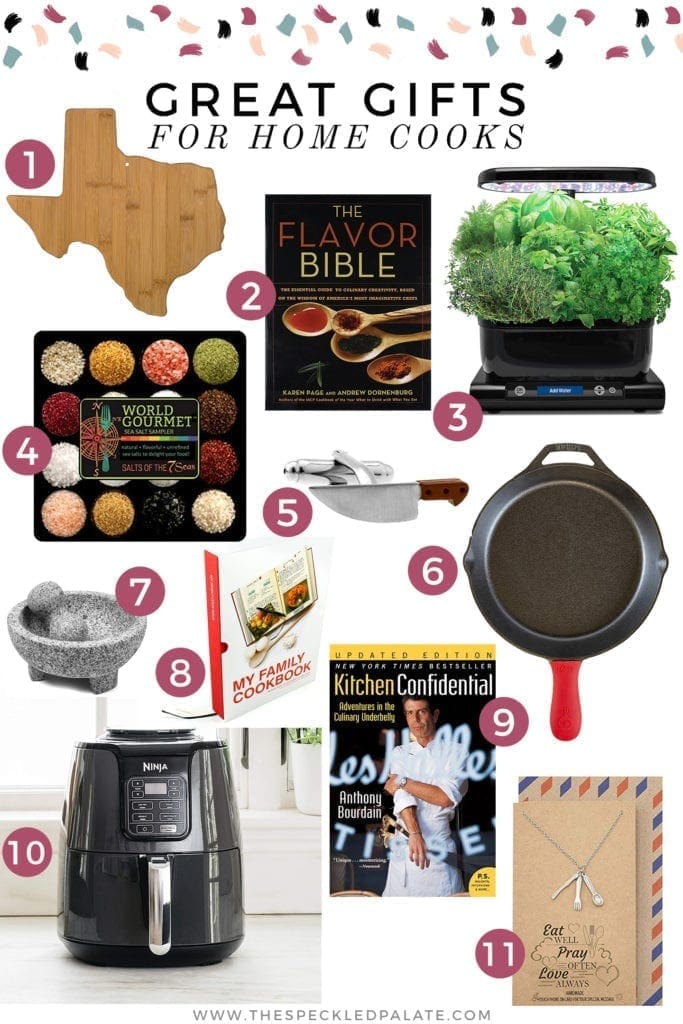 While thinking about holiday planning for this year, I knew I wanted to help you shop for the people you love. Basically, I wanted to put together several guides to help you find gifts for your people.
So whether you're shopping for a birthday present, a holiday gift or a just because, there's a present for you on this list. Because it's all for the person who enjoys cooking.
My friend, Valorie, scoured the Internet to find the best gifts for cooks out there. She has written the ultimate gift guide for home cooks.
Other Gift Guides You Might Like: Gifts for Bakers | Gifts for Coffee Lovers| Gifts for Bourbon Lovers | Gifts for Wine Lovers | Grilling Gifts | Cooking Gifts for Kids
This post is not sponsored in any way and no brands have paid to be included here. There are affiliate links in this post. If you click through and take action, I receive a small commission.
Great Gifts for Cooks
Searching the BEST gift for your friend/family member/coworker who's loves to cook and spend time in the kitchen? We've compiled a list to help you choose the most helpful gift that they'll use time and again. While some of these gifts are for the kitchen, others are food-related, so the gift can be with or on them always.
Disclaimer: Some of the links below are affiliate links. If you click through and take action, I will receive a small commission. Refer to my disclosure page for more information about the affiliate programs The Speckled Palate participates in.
Photo Credit: www.amazon.com
A novelty—but working!—cutting board is a lovely gift for anyone. These state-shaped cutting boards should definitely make the cut. You can purchase one for a friend or family member who recently moved away to remind them of home, or to celebrate their new home state. These boards are made of bamboo, so they're high quality and will last a long time.
Cutting boards aren't just for cutting on, though. Each board has a hole at the top so it can be hung on the wall, and they also make for a cute countertop piece to spark conversation. If you're wary of damaging it with cutting, you can use it as a serving tray too. Place your cheeses around it to make a great savory dessert tray.
The boards are hand wash only, but that'll be worthwhile it to keep it looking beautiful for years.
Photo Credit: www.amazon.com
Since it was published in 2008, The Flavor Bible has been on every cooking bestseller list. It's a great resource for chefs of any level. It is an essential guide to pairing flavors and developing a creative mindset in the kitchen. And it's chockfull of wisdom from America's most imaginative chefs.
Authors Karen Page and Andrew Dornenburg created this book with a bit of secret knowledge: Recipes will only get you so far. It takes skill and practice to know how to properly season any ingredient to bring out its most delicious qualities.
Here they combine wisdom from the combined experiences of dozens of chefs to teach you how to find deliciousness in anything.
Photo Credit: www.amazon.com
Here's one for the very modern cook-gardener! This hydroponic germination kit will allow your person to grow fresh herbs, veggies, salad green, flowers, and more in a countertop garden that would look right at home in any updated modern kitchen. It can grow up to six different plants at a time.
It's also designed to help people with the brownest of thumbs. It has an LED lighting system that is tuned to a specific spectrum that allows plants to maximize photosynthesis. No more worrying if you've got it in the right window for sunlight. An LCD panel also tells you when to add water, reminds you to add nutrients, and automatically turns the light on an off.
How's that for modernity and farming?
Photo Credit: www.amazon.com
If your loved one prefers salty to sweet, this might be a fun gift for them. This gift set contains samples of 16 different sea salts from all over the world. It even includes some rare salts.
There's enough of each bit of salt to have multiple servings of it, so they can compare and decide which they think is best. If they really fall in love with one, the same company sells several of them in individual larger containers.
Luckily, an informative brochure comes with the set. It tells your cook about each salt and advises them on what to try it with. It's a great resource for someone who's never experimented beyond table salt!
Photo Credit: www.amazon.com
Are you giving a gift to someone who is finishing (or just finished) their culinary degree? Cufflinks are a traditional coming-of-age/graduation gift, so these chef knife ones are perfect for the culinary school graduate in your life! They're just about an inch wide, and look like they have a real wooden handle and a metal blade. Don't worry, they're not sharp enough to actually cut!
The cufflinks set comes with a gift box that can also be used to store them, as well as a polishing cloth to keep them looking beautiful. Just remind your loved one not to wear these in the kitchen, or someone might be biting into one later!
Photo Credit: www.amazon.com
If you've got the strength to carry it, find your loved one a good cast iron skillet. They're a welcome addition in any kitchen because of the way the seasoning process protects and promotes flavors. This particular one from Lodge also comes with a nice red silicone handle to help you carry it, though an over mitt is still definitely recommended. It also comes pre-seasoned, a process that used to require a lot of oil and wasted food, so it's ready to use as soon as you unwrap it.
Cast iron is great for searing, sautéing, baking, frying and grilling. Basically, it'll be the most multi-use tool in your favorite chef's kitchen. Just make sure they know the special ways cast iron has to be cleaned: While the skillet is still arm, hand wash it with a gentle brush using oil and salt, rinse out the salt, dry immediately to prevent rusting, then rub down with a touch more oil before storing.
Photo Credit: www.amazon.com
These used to be a staple on wedding registries, but have gotten less popular with time. It's a shame, because a classic mortar and pestle, one of humanity's oldest cooking utensils, is still one of the most efficient ways to grind seasonings at home.
Use this mortar and pestle to make amazing salsa or guacamole, and then serve it right inside. The granite bowl looks modern and beautiful! It moves seamlessly from kitchen to table, though it does need to be carefully washed after dinner.
Because it's made of 100% granite, it will look beautiful on any counter, and it also is safe to eat from over and over again.
This classy gift is definitely something your younger loved ones probably would never buy for themselves but would definitely love to have.
Photo Credit: www.amazon.com
This is a really cute recipe journal and a great way to create a keepsake for anyone in the family. Families compile their best recipes together in one book. You can record great details, like who came up with the recipe, and put in a picture of a completed meal, preferably a time you all shared it! There's even a section for family 'reviews'—here's hoping everyone is nice!
If you're gifting it to a new cook, this also has professional advice in the back—cooking times, abbreviations, butter/margarine ratio, tips about defrosting, and more!
This is a great gift for any cook that's a bit sentimental. Pass it around to everyone to put in their recipes before a big event, or build the recipes together during the holidays.
Photo Credit: www.amazon.com
The world is still in mourning over the tragic death of world-famous chef and foodie, Anthony Bourdain. The man reminded us all of why we cook with such passion, and he inspired people worldwide to try new foods.
There's no "full collection" of Bourdain's books… yet. Probably because he published across such a wide variety of genres. He wrote famously about the culinary world, but before that he also wrote spy novels and a historical monograph about Mary Mallon, better known as Typhoid Mary. Nevertheless, we fully expect a full collection in a beautiful gift box to be announced any day now.
Until then, any book from his most famous Kitchen Confidential to Gone Bamboo to A Cook's Tour. Eater made a list ranking of all of Bourdain's books, so check it out to decide which one is the right fit for your culinary loved one.
Mary Mallon | Gone Bamboo | Bone in the Throat | A Cook's Tour
Photo Credit: www.amazon.com
Anyone who says they don't like fried food is probably lying. Whether it's French fries or fried Twinkies, everyone's got one fried guilty pleasure. Help your loved ones make a healthy version at home with an air fryer.
Air fryers work by using rapid-air circulation to mimic the effects of deep frying without the oil. So this method is much safer for a home cook, and also much more healthy. Anything made in the air fryer has about eighty perfect less fat than oil fried foods, but it tastes just as good.
This one features a nearly 4-quart capacity, so you can get a lot "fried" at once.
Photo Credit: www.amazon.com
This is such a sweet gift for a home cook. This necklace is a lovely reminder of their prowess in the kitchen, and how everyone comes together over a home cooked meal. By giving them this, you're acknowledging that their cooking is one of the things you love. This one comes with an Eat, Pray, Love inspired card, so it's great for fans of that book, too. Or, you can just take it off and put it in your own jewelry box!
The chain is stainless steel, so it's very durable. Each of the charms is made of pewter, so they shouldn't tarnish easily. Similar necklaces also exist in whisks, butcher knives, and more, so get creative with the jewelry you're gifting them! There's bound to be one that suits their favorite cooking styles.