The secret to delicious cookies is having a great recipe… and the best baking tools to make 'em. Here are our top 10 favorite baking accessories to help bake scrumptious cookies every time.
Love baking holiday cookies? Don't miss Shortbread Brown Butter Cookies, Potato Chip Cookies and Dark Chocolate Peanut Blossoms!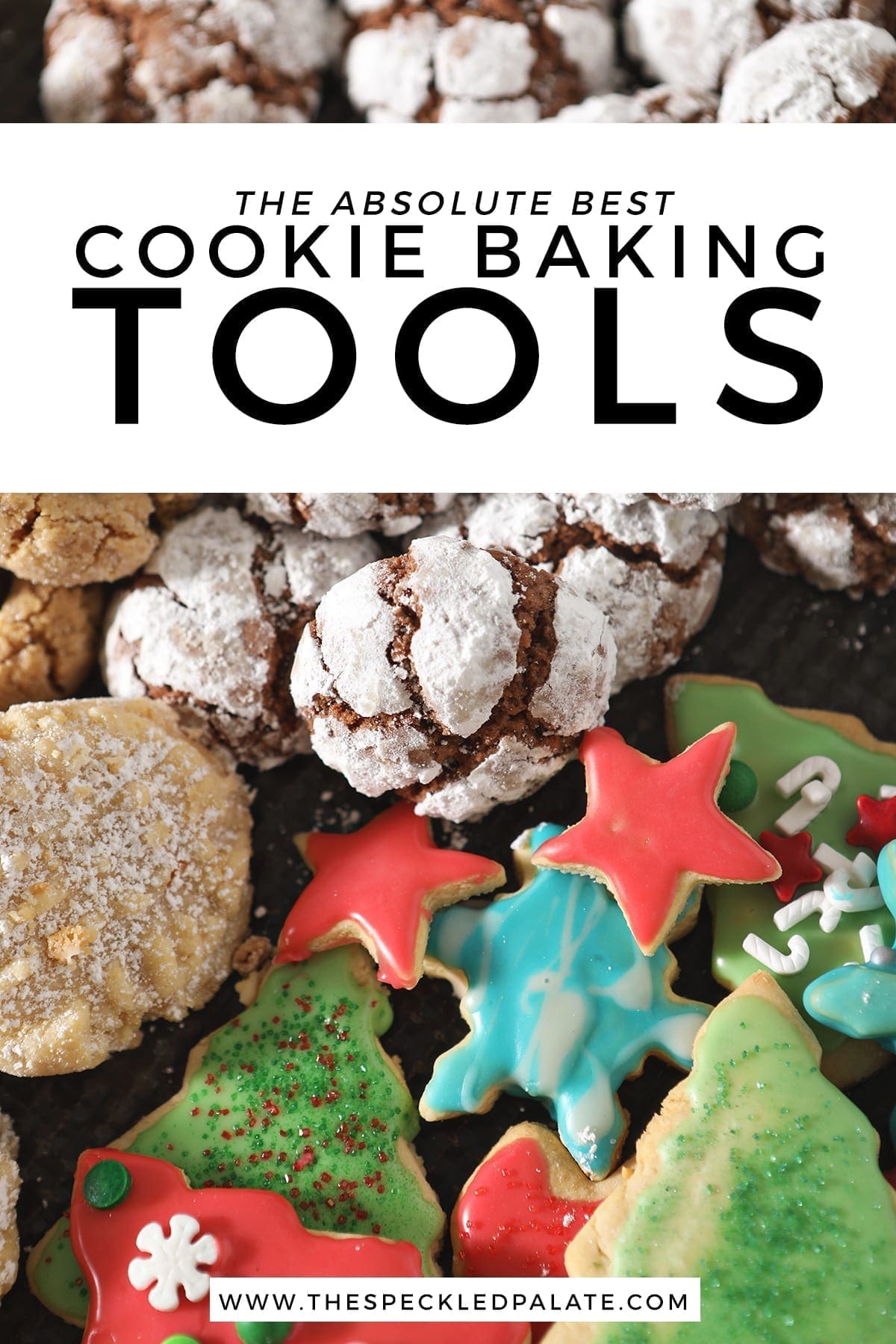 When I was a sophomore in college and still technically a fine arts student, I spent the last two weeks of school baking cookies for my friends while they prepared for and took their exams.
You see, I had turned in my final art projects, so I had all the time in the world. So I decided I would surprise them all with platters of homemade Tea Cake Cookies and Easy Sugar Cookie Icing as an early Christmas present.
One thing that was a challenge, though, was that I didn't have the right baking tools to make the cookies, so it took longer than expected.
Why do I need these specific products to bake cookies?
Listen, I've baked a lot of cookies in my day… and I cannot stress enough about having the proper tools to make them.
Why? While these baking accessories and tools might be a bit of a splurge, if you're seriously into cookies, they are helpful for baking cookies.
For example…
The proper baking products help you mix your cookie dough consistently. (Also, mixing cookie dough with a whisk by hand is exhausting.)
The proper baking accessories help your cookies bake evenly.
The proper baking supplies help you decorate cookies at home with the kids (or your housemates!) or at a cookie decorating party.
Also, depending on the type of cookie you're baking, you may or may not need some of these tools.
For example, if you're making a drop cookie like a Oatmeal Chocolate Chip Cookies, you will need a cookie scoop. You won't need a rolling pin or some other baking supplies.
However, if you're baking Raspberry Linzer Snowflake Cookies, you'll need that rolling pin and cookie cutters. You will not need a cookie scoop.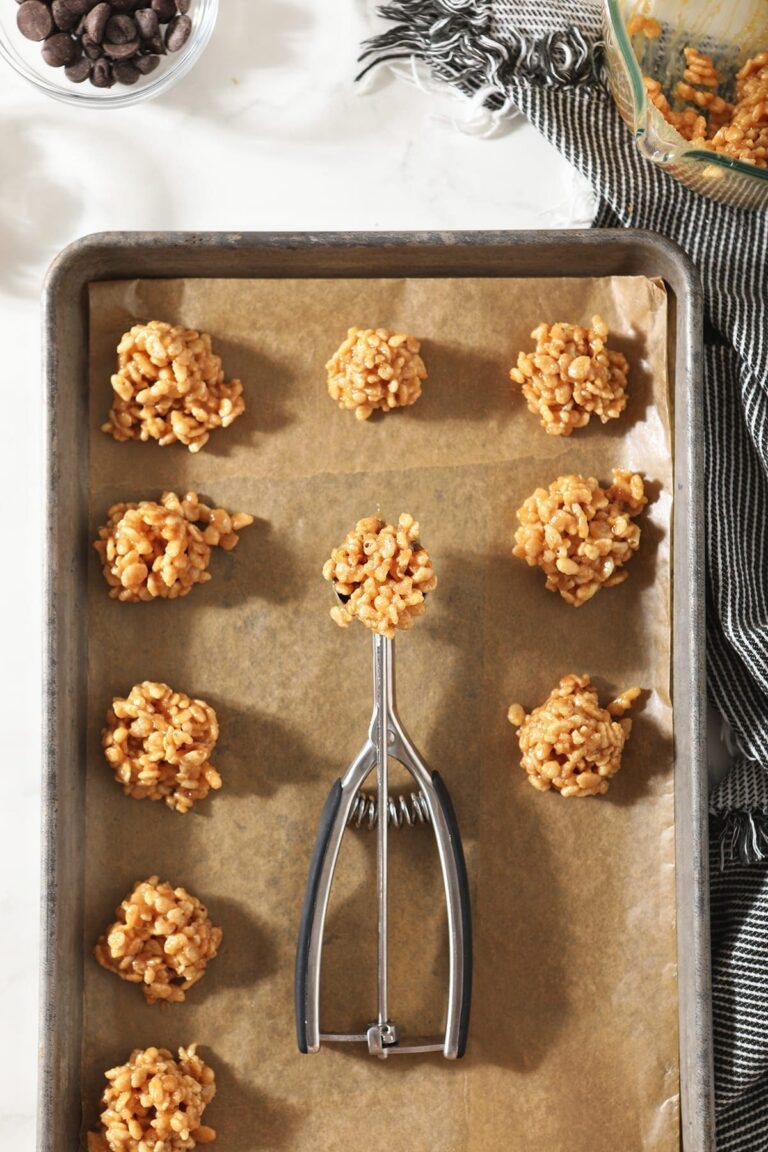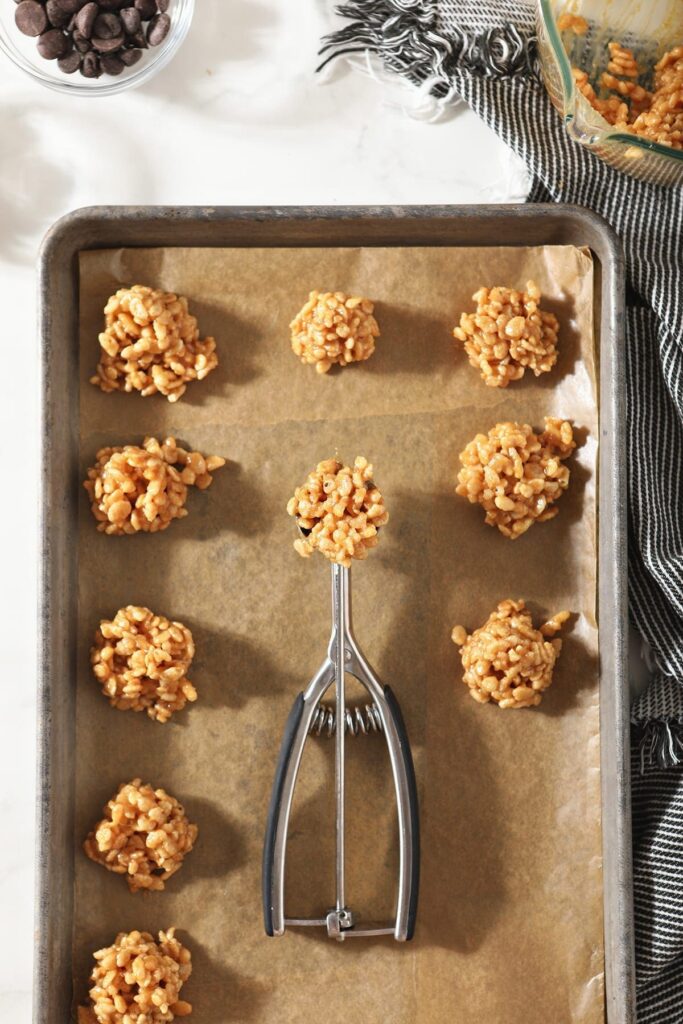 What are the best cookies to make with these baking accessories?
Like I said above, every cookie recipe requires a different combination of tools to make 'em happen.
That said, here are some of my family's personal favorite cookies to bake:
Shop my favorite cookie baking tools and products!
The Speckled Palate participates in affiliate programs. As an Amazon Associate, I earn a commission from qualifying purchases. Please refer to my disclosure page for more information about these affiliate programs.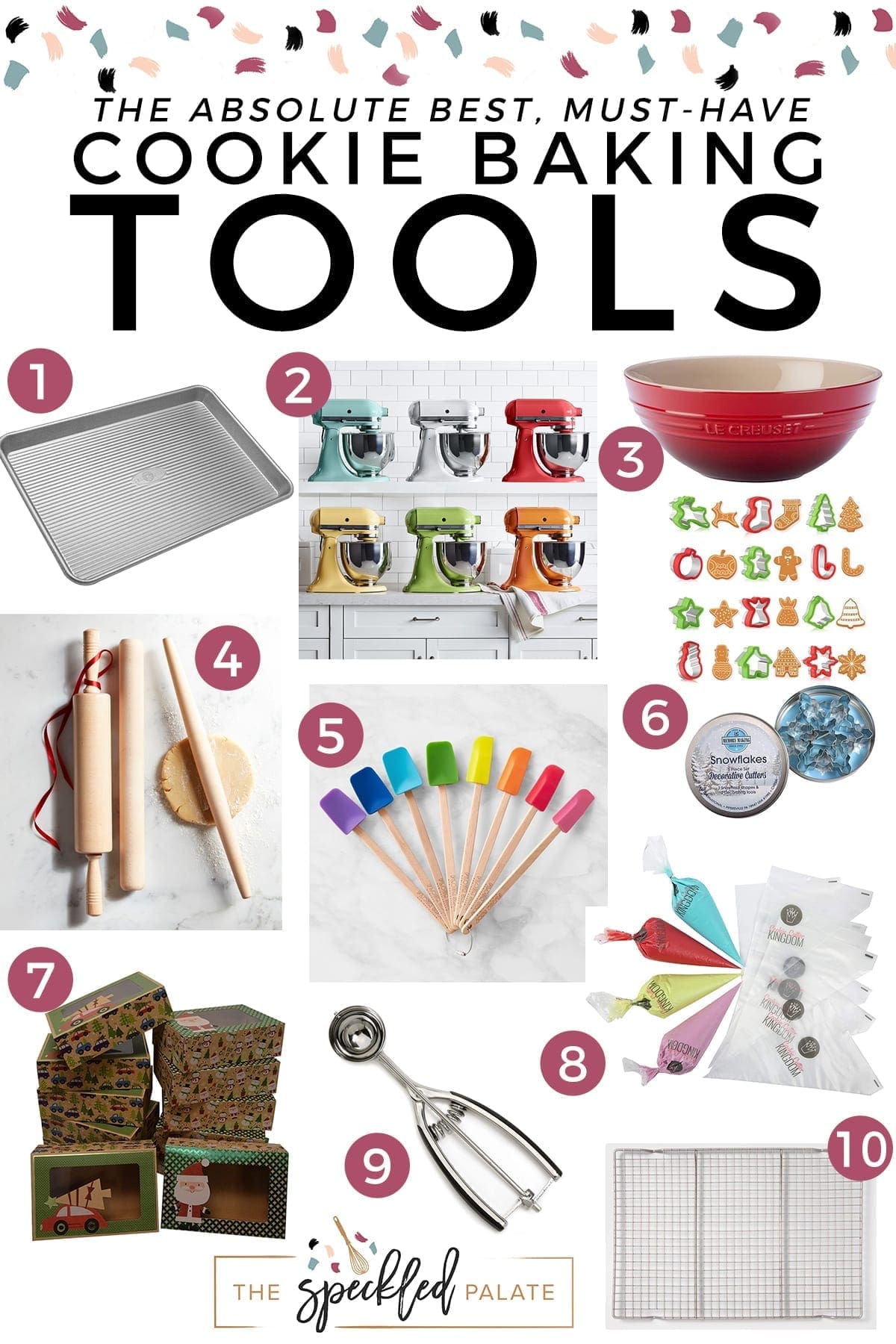 1 | 2 | 3 | 4 | 5 | 6 | 7 | 8 | 9 | 10

Must Have Cookie Baking Tools
The secret to delicious cookies is having a great recipe… and the best baking tools to make 'em. Here are our top 10 favorite baking accessories to help bake scrumptious cookies every time.
Disclaimer: The links below are affiliate links. If you click through and take action, I will receive a small commission. Please refer to my disclosure page. for more information about the affiliate programs The Speckled Palate participates in.
Photo Credit: www.amazon.com
In order to bake cookies, you need at least one good baking pan. I love these from USA Pan because they're sturdy (and don't warp like some of my older ones) and clean up nicely. Also, this half-pan size is perfect and stores easily.
I have two of this size of baking sheet, and quite honestly, I wouldn't mind having two more since they're great. And they're not just for cookies: you can make sheet pan dinners on this, as well as various snack mixes, too.
Just don't forget to line it with a nonstick baking mat or parchment paper before you bake your cookies.
Photo Credit: www.williams-sonoma.com
A stand mixer is definitely an investment, but it's an awesome one to make if you love baking cookies, other desserts and even making breads or pizza dough.
Some people enjoy letting their stand mixer live on their countertop, too, so it's a nice decorative piece to add to your kitchen that also has some major functionality.
If you don't have it in your budget to invest in a stand mixer, I love, love, love (and use the heck out of) my KitchenAid hand mixer.
Photo Credit: www.amazon.com
I debated adding this because a bowl is a pretty standard kitchen tool, in my opinion. That said, I wanted to put this large bowl on the list because it's not your average bowl.
It's heavy duty and sturdy. The color is gorgeous. It cleans up so, so, so easily. The sides are a little lower than a standard mixing bowl, so my kids can easily measure ingredients into it.
The one downsize is the sides are a bit lower, so ingredients can spill or spray if you're not careful. But overall,
ALSO, make sure you've got measuring cups and spoons to measure out your ingredients, as well.
Photo Credit: www.williams-sonoma.com
Another really important tool for making cookies, specifically any roll-out cookie like a sugar cookie that you'll cut and shape, is a rolling pin! I've had one of these maple rolling pins for years, and it gets the job done every time.
If you're interested in making patterned cookies, this Scandi Christmas Engraved Rolling Pin is absolute perfection!
Photo Credit: www.williams-sonoma.com
These mini spatulas are used for everything in my kitchen: cookie dough making, cooking on the stovetop, stirring our sourdough starter after she's been fed. The mini size is fantastic, and it's great for both adult and kid hands.
Photo Credit: www.amazon.com
If you're making a cookie that rolls out, you absolutely need cookie cutters! I particularly like these Christmas-themed ones because they have the comfort grip on them, making them easier for my kids to use.
We also have these Snowflake Cookie Cutters, and they get a lot of use around the holiday months. They're a little more fussy than the Christmas ones linked here because they have a lot finer edges, but they make for a gorgeous cookie if you take the time with 'em.
Photo Credit: www.amazon.com
If you've seen any of my cookie recipes, chances are, you've seen me recommend this cookie scoop before. It's the perfect size for a bite-sized cookie, and we use ours weekly.
If you like a larger cookie, a 2 tablespoon cookie scoop is also awesome!
This scoop can be used for more than just cookies, too. It can measure muffin batter into tins so they're even, you can use it to scoop frosting onto a cupcake or you could even use it for mini ice cream scoops!
Photo Credit: www.target.com
Once your cookies bake... then what? Using a nonstick cooling rack like this one is awesome, and I particularly like this one. Why? It feels sturdier than some other cooling racks I have, and it cleans up easily. (And hey, that's a win in my book.)
Photo Credit: www.amazon.com
Real talk: I like the tipless piping bags for when I'm decorating cookies, especially with my kids, because this is less fuss for me. (However, if you want to do the bags with tips, I recommend this Wilton set.)
You can use royal icing or just regular 'ol sugar cookie icing in these and decorate cookies until your heart is content!
Photo Credit: www.amazon.com
If you're planning to share cookies during the holiday season (or any season!), having cookie gift boxes is key.
We purchased these last year to share our baked goods with friends, and I was really pleased with their look, as well as how they held up (and how many cookies they held.) I was able to pack in more than a dozen cookies to each, depending on the size, and the boxes stood up during transportation, too!