The Best Gifts for Beer Lovers
Got an opinionated beer drinker in your life? We've found the best gifts for beer lovers out there and compiled them in this gift guide!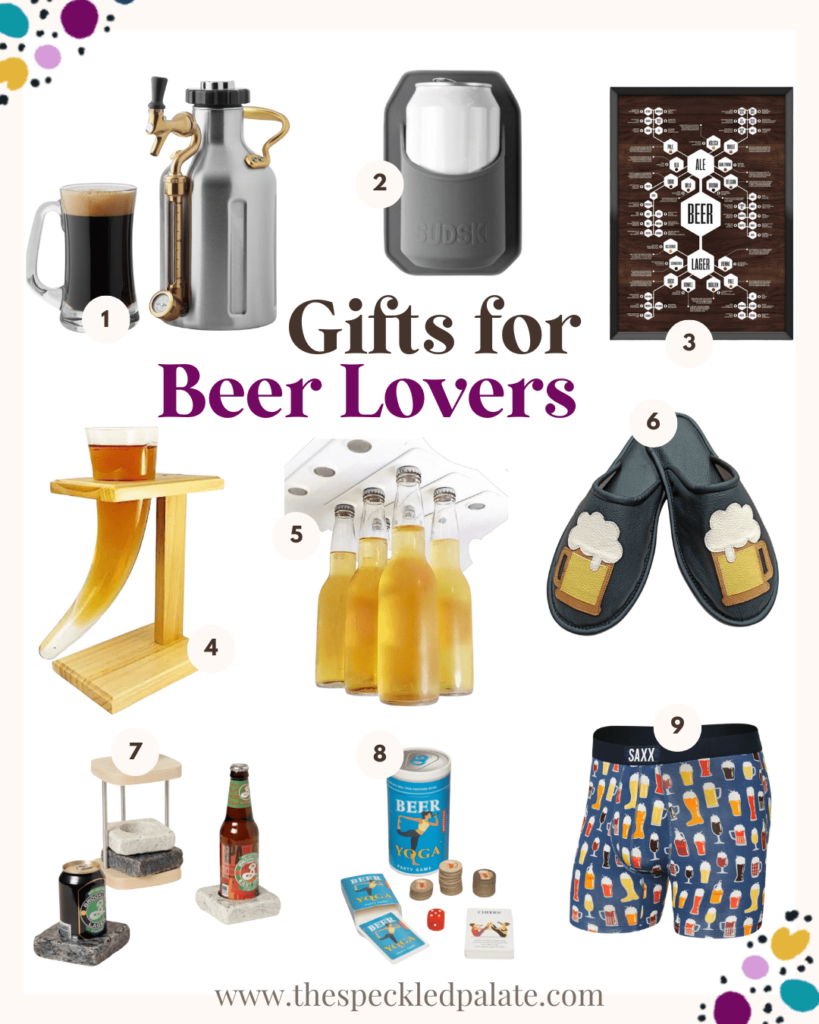 This post is not sponsored in any way and no brands have paid to be included here.
Please know I'm saying this tongue-in-cheek because I'm an opinionated beer drinker.
Today, we're talking about gifts for beer lovers. And if you're one, chances are, you're pretty specific about what you like (and what you don't.)
The good news is that beer drinkers are pretty easy to shop for because you can get 'em a 6-pack from a local brewery that you think they'll like. But with the holidays as they are this year, shipping beer isn't always the easiest, and we might not be able to be together… so we've found some other beer-related gifts that don't involve you getting beer to the recipient.
These gifts for beer lovers cover all the bases. So whether you're shopping for a birthday present, a holiday gift or just because, we've got a little something for everyone on this gift guide. Because, again, it's all for the beer lover.
Once again, Valorie has searched the Internet to find the best gifts for beer lovers. She's transformed her list into this guide, too. #yourewelcome
Gift Guides for other drink lovers: Gifts for Coffee Lovers| Gifts for Bourbon Lovers | Gifts for Wine Lovers
Other Gift Guides for Food-Related Presents: Gifts for Bakers | Grilling Gifts
The Speckled Palate participates in affiliate programs. As an Amazon Associate, I earn a commission from qualifying purchases. Please refer to my disclosure page for more information about these affiliate programs.
[show_shopthepost_widget id="4250509″]
The Best Gifts for Beer Lovers
Beer lovers are—thankfully—generally pretty easy to shop for. There's always a new craft brewery to taste, after all. But if you've already got a full fridge or you're shipping gifts and your loved one lives somewhere that you can't ship beer, you'll have to go with the next best thing. And we've rounded up several 'next best things' for you to try. Hopefully your beer lover will love one of these!
The Speckled Palate participates in affiliate programs. As an Amazon Associate, I earn a commission from qualifying purchases. Please refer to my disclosure page for more information about these affiliate programs.
Photo Credit: www.williams-sonoma.com
The GrowlerWerks uKeg Growler is amazing for experienced homebrewers. The growler (usually) fits perfectly on the top shelf of a fridge and keeps beer tasting deliciously fresh for up to two weeks. The variable pressure regulation cap maintains carbonation levels and has an easy-to-read gauge.
And since the growler is vacuum-insulated, it's great for on the go beer-drinking. Take it camping, take it to the beach, take it to a friend's house, and the beer will stay fresh, cold and frothy for a long while. It comes in stainless steel, copper and matte white to match any kitchen design.
Photo Credit: www.target.com
You've heard of shower beers, and you've probably even seen shower beer holders. And, better yet, it's inexpensive enough that you can add a six-pack of beer for them to enjoy for their next few showers, too. It comes in grey and white to match any bathroom décor as well. Your only decision will be whether to get one for yourself as well.
Photo Credit: www.etsy.com/shop/CrateStyle
For your science-minded beer-loving friend, this poster is sure to be a hit. Like a family tree for beer, the poster breaks down beers into groupings and explains what makes them what they are.
As the creators describe, "the poster recognizes the 16 distinct types of beer, explains their origin and then breaks down even further into nearly 40 more subcategories. Each of the final beer-types is then marked with 3 examples of that beer, as well as an icon depicting the type of glass that the beer is typically served in."
Photo Credit: www.amazon.com
Does your beer lover also appreciate famous beer drinking cultures, like the Vikings? If so, this gift is going to be right up their alley. This unique novelty drinking vessel features the classic Viking drinking horn shape and a rustic, sturdy wooden stand with a leather strap to securely hold it in place when it's not in someone's hand.
This Nordic horn is an unusual gift, but perfect for beer drinkers seeking adventure and glory. Get it personalized with their first initial to mark it as theirs, and challenge all the Viking lovers to a horn chugging contest.
Photo Credit: www.uncommongoods.com
OK, OK. Maybe you don't think there's anything particularly glamorous about gifting someone storage solutions. But these clever little storage strips free up shelf space by lifting beer bottles off the refrigerator shelf and into the air, making room to store food (or more beers) beneath them.
And everyone knows that when fridge space is limited—as it so often is—a way to store more is always welcome. The set holds up six beers using extremely strong magnets. They'll adhere to any spot in your fridge with a solid peel-and-stick adhesive.
Photo Credit: www.etsy.com
If your beer lover also loves to be cozy, these slippers might just be the best possible gift for them this winter. They're cozy, they're cute, and they're the perfect accompaniment to a beer after work on a long, cold day.
These are handmade and 100% leather. Gift these to anyone who needs something to warm up their feet and their bellies this holiday season.
Photo Credit: www.uncommongoods.com
That's right: coasters that will actually keep a beer cold for your loved ones! Just leave these in the freezer until it's time for a drink, then pull them out, and they'll keep the beer cold.
Each coaster is made from reclaimed New Hampshire granite, so they look as beautiful as they are useful. And since they're real granite, they're each individual too, so even when everyone is drinking the same type of beer, it's easy to tell everyone's drink apart. And unlike thin cork coasters, these will stay in place when the beer is picked up.
For each rock this company harvests, they "replant" one to be tumbled in the ocean.
Photo Credit: www.walmart.com
Sometimes, people don't have a lot of time on their hands, and they've got to do two things at once. If you have a friend who is always short on time, help them combine their yoga practice with social beer drinking, thanks to this Beer Yoga game!
It comes with 54 game cards, 36 chips, a game die and instruction sheet. For each stretch, you take a sip and get a chip. It's a good way to loosen up a practice during happy hour and to have a little extra fun during a practice every once in a while.
Photo Credit: www.saxxunderwear.com
While a T-shirt from someone's favorite brewery is always good, keep men who love beer comfortable with these whimsical and fun beer print boxers. Sweat-wicking mesh keeps the wearer comfortable even during the most active of drinking games. A flat seam prevents chafing, and an anti-roll waistband keeps them in place all day.
The whimsical design of beers in all shapes and sizes is also super fun for anyone. Get these for someone who enjoys drinking a beer while super comfortable on the couch.