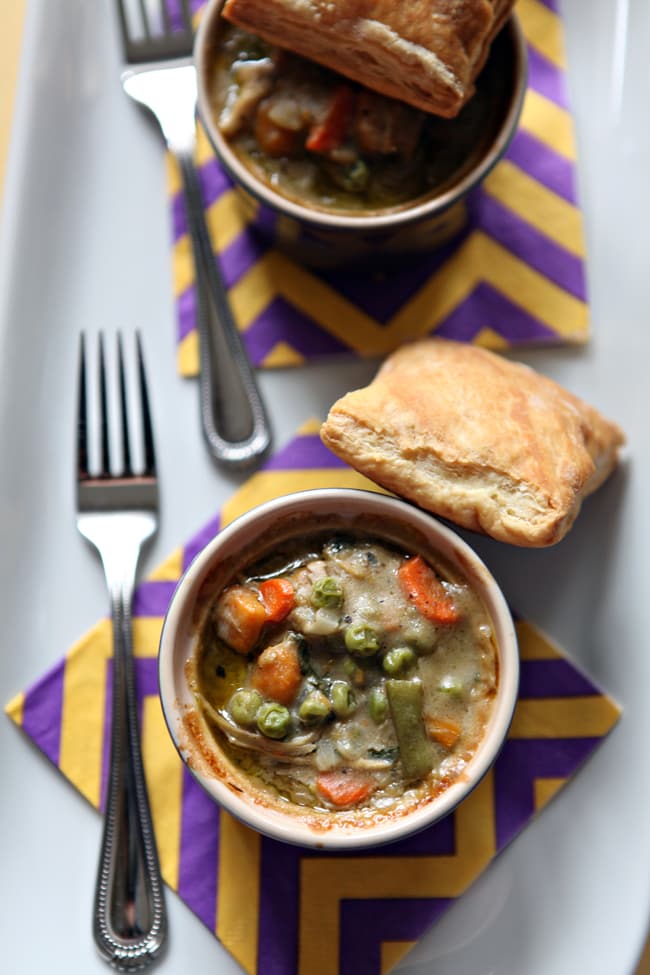 Thanksgiving has come and gone, and chances are, you've got a ton of leftovers lying around. (No? Just me? Because when I've cooked Thanksgiving… and attended various celebrations throughout the years, we always make more than we need so we specifically have leftovers because these leftovers are the best leftovers of the year.)
What to do?, you ask yourself.
Chances are, you might enjoy a good Turkey Sandwich, complete with cranberry sauce, dressing and gravy, but after you eat one or two of those, you want to try something completely different.
My co-worker, Breanne, and I were discussing Turkey Day leftovers, and she mentioned she'd love to see how I would make a Turkey Pot Pie, and unbeknownst to her, I did. (Thank you for the spectacular idea, girl!)
This recipe is an adaptation on my Chicken Pot Pie, and it's a fantastic use of leftovers, especially if you have a ton of turkey hanging out in your fridge post-holiday. In fact, you could probably throw in a few remaining Thanksgiving veggies you've got in the house if they aren't covered in sauces and already in casseroles.
Here's how you make it: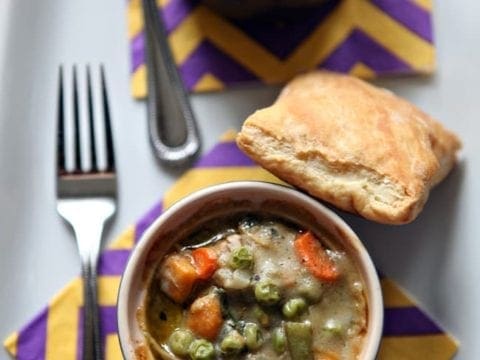 Yield:

8 servings
Individual Turkey Pot Pies
Make dairy-free and individually portioned Turkey Pot Pies with your Thanksgiving leftovers this year! These pot pies are a delicious twist on leftovers.
Ingredients
1 lb. turkey, chopped (about 3 cups)
¾ cup carrots, chopped
1 ¾ cups onions, chopped
1 sweet potato, about 1 lb.
½ cup fresh green beans, chopped
1 ½ cups frozen peas
1 ½cups fresh spinach
4 tablespoons extra virgin olive oil
5 tablespoons all-purpose flour
3 ½ cups vegetable stock
1 cup unsweetened almond milk
1 cup unsweetened coconut cream
1 teaspoon salt-free poultry seasoning
½ teaspoon kosher salt
1 teaspoon freshly ground black pepper
1 sheet Puff Pastry
Instructions
Preheat the oven to 375°F.
In a large stockpot, boil the carrots, potatoes and onions in a large pot of water until "crisp tender" (about 8 minutes), then add in the green beans, peas and spinach for another 2 minutes.
Drain the vegetables and set aside.
In a large Dutch oven, bring the olive oil to a simmer, then add the flour. Whisk until the mixture is golden brown.
Stir in the stock and milks, seasoning the mixture with the poultry seasoning, as well as the salt and pepper.
Cook, stirring the mixture often, until thickened, then add the chopped turkey and the vegetables, adjusting the salt and pepper as needed.
Pour the filling into greased individual baking dishes and pop in the oven, baking for 30 minutes, or until bubbly and golden brown on the top.
Cut the Puff Pastry into 9 squares and space them out on a greased baking sheet.
In the same oven, bake the Puff Pastry for 30 minutes or until the tops of the pastry are browned.
Once all ingredients are cooked, top the individual pot pies with a square of Puff Pastry and enjoy!
Nutrition Information:
Yield:
8
Serving Size:
1 serving
Amount Per Serving:
Calories:

394
Total Fat:

21g
Saturated Fat:

9g
Trans Fat:

0g
Unsaturated Fat:

11g
Cholesterol:

66mg
Sodium:

546mg
Carbohydrates:

30g
Fiber:

6g
Sugar:

9g
Protein:

21g
Nutrition facts are an estimate and not guaranteed to be accurate.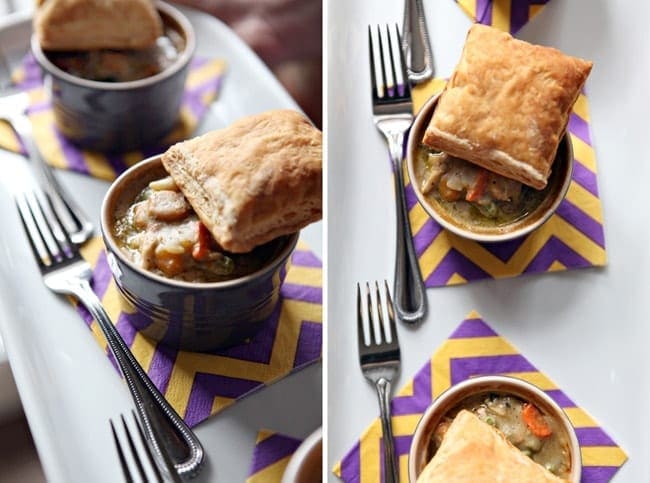 How do you like to eat your Turkey Day leftovers?