The Best Gourmet Food Gifts
If you're searching for gourmet food gifts for someone you love, a coworker or a friend, you've come to the right place. We're sharing our favorite food gifts and more here!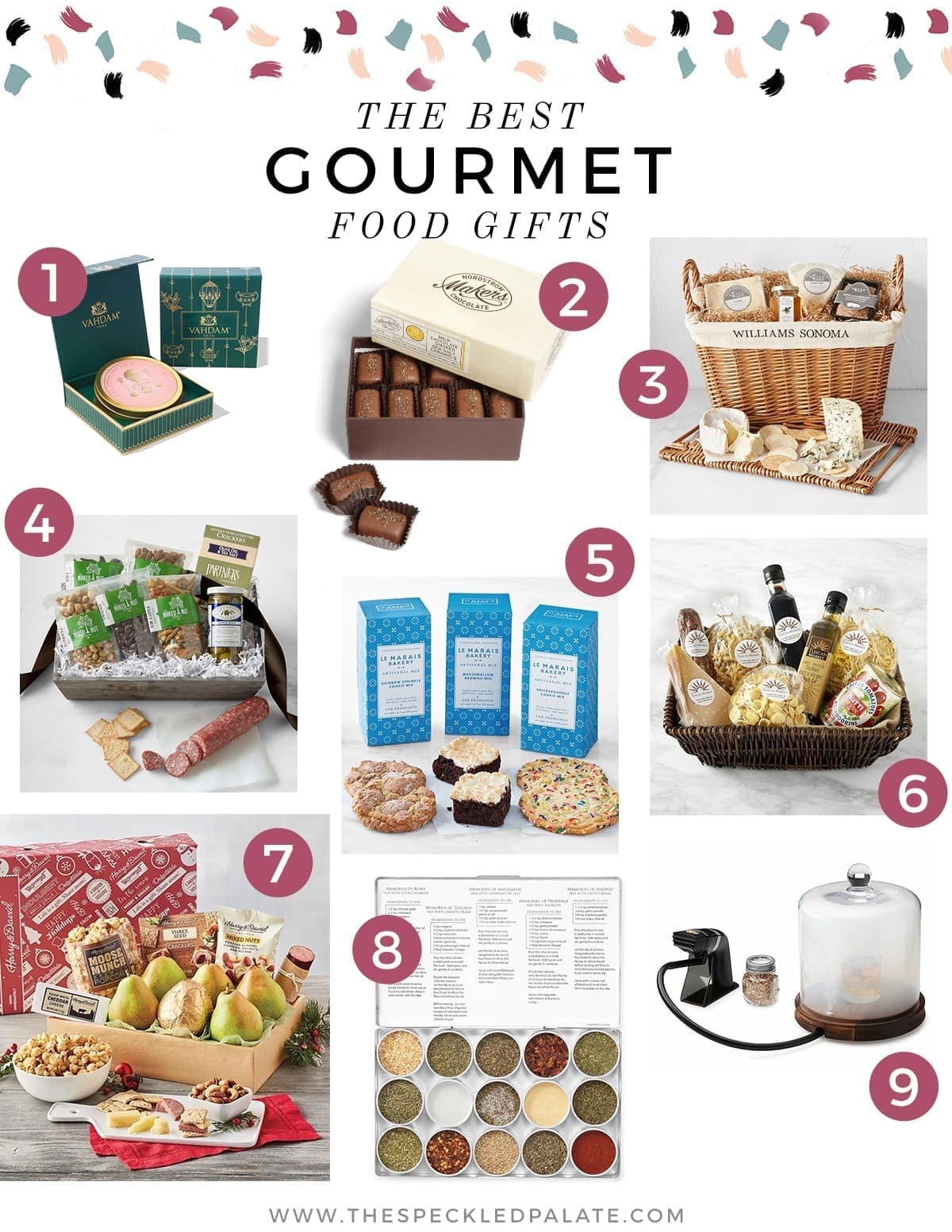 This post is not sponsored in any way and no brands have paid to be included here.
A few weeks ago, I asked on Instagram what types of gift guides y'all would like to see this season.
And I got two different sets of answers: People want gift guides based on price. People also want gift guides based on specific interest.
Today, we're talking about a specific interest: gourmet food gifts. And in this gift guide, you'll find all kinds of food products, not just food-adjacent ones. We're talking crackers, cheeses, cured meats, sweet treats and a little bit of everything in between.
Because everyone loves a little something special like this for a present, right?
Who is this gourmet food gift guide for?
This gift guide is for anyone who loves gourmet food products… and for anyone who might like to receive them as a present.
But honestly: Who doesn't love a little gourmet gift? Fancy nut mixes, nice chocolates, expensive fruit. There's something about the fact that we can only enjoy these gifts for a short while that makes them that much sweeter, as well as a sweet surprise!
So whether you're shopping for a birthday present, a holiday gift or a just because, there's a present for you on this list. Because it's all for the person who enjoys a gourmet food gift.
Looking for more interest-specific gifts? Shop Gifts for Cheese Lovers, Gifts for Beer Lovers, Gifts for Wine Lovers, Gifts for Cooks and Gifts for Bakers!
Shopping for a kid who loves food? Check out Cooking Gifts for Kids and Food Books for Kids!
Shop this foodie gift guide:
The Speckled Palate participates in affiliate programs. As an Amazon Associate, I earn a commission from qualifying purchases. Please refer to my disclosure page for more information about these affiliate programs.
[show_shopthepost_widget id="4298971″]
The Best Gourmet Food Gifts
Oooh, who doesn't love a little gourmet gift? Fancy nut mixes, nice chocolates, expensive fruit. There's something about the fact that we can only enjoy it for a little while that makes it that much sweeter. Here are nine items you can gift your friends to brighten up their mealtime (and snacktime!) this season.
Disclaimer: The links below are affiliate links. If you click through and take action, I will receive a small commission. Please refer to my disclosure page. for more information about the affiliate programs The Speckled Palate participates in.
Photo Credit: www.nordstrom.com
Nothing says "gourmet" like the words "signature private reserve." And for the tea lover in your life, nothing will you say you pay attention to their interests like this very special tea from Vahdam Teas. The tea is a unique, vibrant black tea with prized notes of rose, almonds, cardamom and pistachio. The tin comes in a beautiful gift box they can reuse over and over.
Even better? VAHDAM Teas donates 1% of its revenue toward the education of the tea growers' children in India as part of its TEAch Me program. So not only is it delicious, but it gives back, too!
Photo Credit: www.nordstrom.com
Nice chocolates are the classic gourmet gift. And these Smoked Sea Salt Caramels are a perfect modern twist on that tradition. A light sprinkling of smoked sea salt balances out the rich flavor of Belgian milk chocolate with a sweet caramel center. Doesn't that just sound like a dream?
It comes with twenty pieces, enough to last them at least a few days after you gift it to your favorite sweet tooth. Hopefully they'll share!
Photo Credit: www.williams-sonoma.com
This gorgeous hamper from Williams Sonoma is "filled with fine French cheese and savory pork paté, along with crisp crackers and sweet, floral honey."
This basket includes Comté, Fourme D'Ambert, Brillat-Savarin cheese, and Ossau Iraty cheeses, a few of which are very hard to find in the U.S.!
With the included crackers, honey and paté, your recipient has a beautiful charcuterie plate ready to go as soon as they open this gift!
Photo Credit: www.williams-sonoma.com
Honestly, the best part of this gift basket (besides the delicious food and reusable tray) is the good you do buying it! The Naked Nut Growers has been run by a California farming family since 1860! Today, the company is pioneering the use of solar energy while protecting honey bee habitats. That makes this gourmet set the perfect gift for anyone health-conscious and environmentally conscious.
The basket comes with Olive Oil & Herb Partners Crackers, Green Peppercorn Busseto Dry Salami, Milk Chocolate Raisins, Roasted Salted Almonds, Hot & Spicy Party Mix, Black Mission Figs, Butter Toffee Peanuts and Garlic Stuffed Olives. Y-U-M.
Photo Credit: www.williams-sonoma.com
Not a lot of people would put kids and gourmet together, but kids like what they're taught to like! And this French-inspired gourmet cookie set is the perfect way to start a kiddo off learning about nice ingredients and how to cook. Send this to any family that needs a pick me up or a fun activity they can do together.
The kit comes with the same artisanal ingredients that the chefs behind Le Marais in San Francisco use in their kitchen! Folks at home just need to add eggs and butter to make two kinds of cookies and delicious marshmallow brownies.
Photo Credit: www.williams-sonoma.com
The Best of Italy basket focuses on—you guessed it!--delicious Italian food. This basket from Tuscan Markets will help any home chef recreate some of Italy's most famous dishes, with offerings from every major region!
The basket includes several dried pastas, Parmesan cheese, tomato sauce, extra-virgin olive oil, balsamic vinegar and wine-infused salami. There's really no reason not to give someone this gift! Holidays, birthdays, housewarming, weddings, the list goes on!
Photo Credit: www.harryanddavid.com
This gift box has a little bit of everything—and it's from a company that reminds me of my childhood. Complete with Harry and David's Royal Riviera® Pears, a popcorn mix, cheese, crackers and more, this gift box hits sweet and savory components perfectly.
And it comes with its own wrapping (and customized art!), so it's nice and festive when it arrives on your loved one's doorstep.
Photo Credit: www.uncommongoods.com
These herbs and spices help your recipient explore flaovrs of the world from their own kitchen. "Start your journey in France with herbs de Provence, tour Italy with oregano and crushed red pepper flakes, dash over to Spain with a pinch of smoked paprika, then zip to the Levant with za'atar."
For the ultimate gift impact, pair this with a fresh baked loaf of bread and some nice extra virgin olive oil. Your loved one will be snacking in no time.
Photo Credit: www.uncommongoods.co
Is there anything that says elevated cocktails like a smoking cloche? Chances are you've got a friend who has tried a smoked cocktail once and loved it, but never thought to buy themselves one. They seem intimidating to use, but this one promises ease!
And it's not just for cocktails! You can smoke anything that fits under that cloche. Soft cheeses, dried fruit, chocolates, nuts... Try anything!