Lavender Lemonade is a refreshing, floral and balanced drink to make all summer long. All you need are three ingredients, including homemade lavender simple syrup, to make this easy lemonade recipe. Makes 6 servings.
Love lemonade? Try Fresh Squeezed Lemonade, Watermelon Lemonade and Strawberry Lemonade.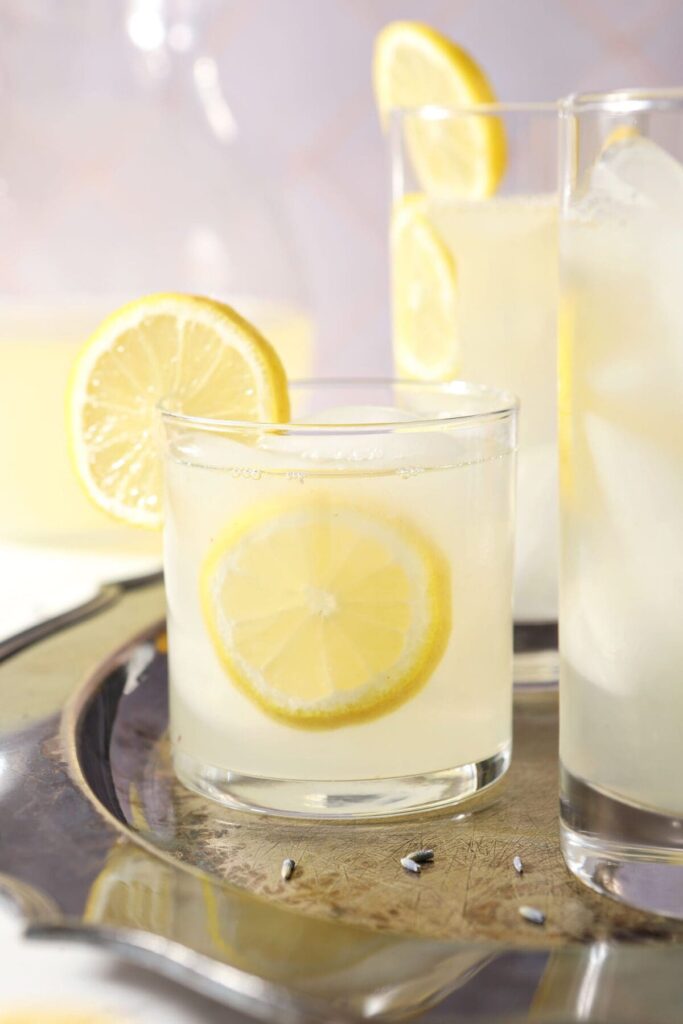 My entire family are suckers for homemade lemonade, especially when we can have a glass on a warm day or a summer afternoon.
Our girls, especially, love the process of making lemonade.
From squeezing the lemons (and figuring out which tools do the best job of actually getting the juice out) to the stirring and then taste testing… it's an adventure.
They helped me develop this recipe and photograph it on a stormy afternoon in March during their spring breaks.
We may or may not have had a pantry party directly after finishing up the images due to a tornado warning…
Why I love this recipe:
When I initially dreamed up this Lavender Lemonade recipe, I was concerned that our first attempt might taste a little, well, perfurme-y for our taste buds.
I'm here to tell you that these concerns were unfounded.
Our homemade lavender simple syrup brings the floral, light lavender notes to the lemonade without overwhelming the lemon or making it taste like something we'd rather sniff (and not consume.)
The floral flavor is light. You could very easily make a stronger lavender syrup, though I really liked how subtle it was and how it played with the acidic lemon juice.
The process to make this lemonade is easy as pie, especially if you've already made the lavender simple syrup (or have a bottle of it that you're hoping to use.)
I will note that this lemonade is naturally yellow because the homemade lavender syrup does not have a color, like many store-bought bottles do. If you use a store-bought one that has added food dye, your lemonade could turn a blueish or purple color.
It will still taste delicious, though!
This take on a classic lemonade recipe is fabulous for any day OR special occasions, like baby showers or bridal showers.
More refreshing summer drink recipes: Watermelon Frose | Blueberry Lemonade | Homemade Cherry Limeade | Mixed Berry Mint Lemonade | Mojito Pitcher | Homemade Mint Lemonade | Blackberry Red Wine Spritzer
Looking for another refreshing summer drink? Be sure to check out my Nonalcoholic Drinks Recipe Index and The BEST Lemonade Recipes for Kids.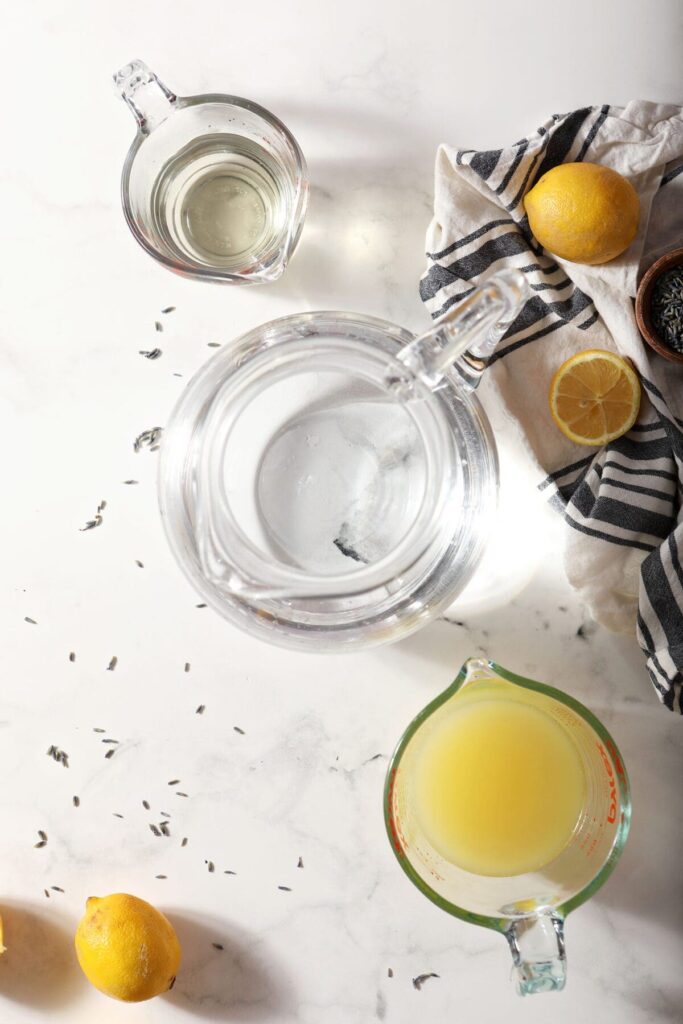 What you'll need to make this recipe:
The Speckled Palate participates in affiliate programs. As an Amazon Associate, I earn a commission from qualifying purchases. Please refer to my disclosure page for more information about these affiliate programs.
Let's talk ingredients!
In addition to the tools above, you're going to need some ingredients to make this recipe, too! Chances are, you might already have some of them in your fridge or pantry. Scroll down to the recipe card for the full measurements and instructions.
Here's what you need:
Freshly squeezed lemon juice — the shelf-stable variety you can find at the grocery store won't do. Juice fresh lemons yourself or find the cold pressed fresh lemon juice at the store. It normally hangs out by the pre-cut fruits in the refrigerated section.
Water — if you drink your tap water, just use that! You don't need fancy water to make simple syrup.
Lavender simple syrup — you can make your own (like my recipe linked here) or order one online
Dried lavender — you want to find food-grade lavender, which is key. I ordered mine from The Spice House, but you can find it at various grocery stores and online retailers.
Variations on this recipe:
Add a splash of vodka to make it a lavender lemonade cocktail.
Garnish the lemonade with sprigs of mint or fresh lavender flowers for a special occasion.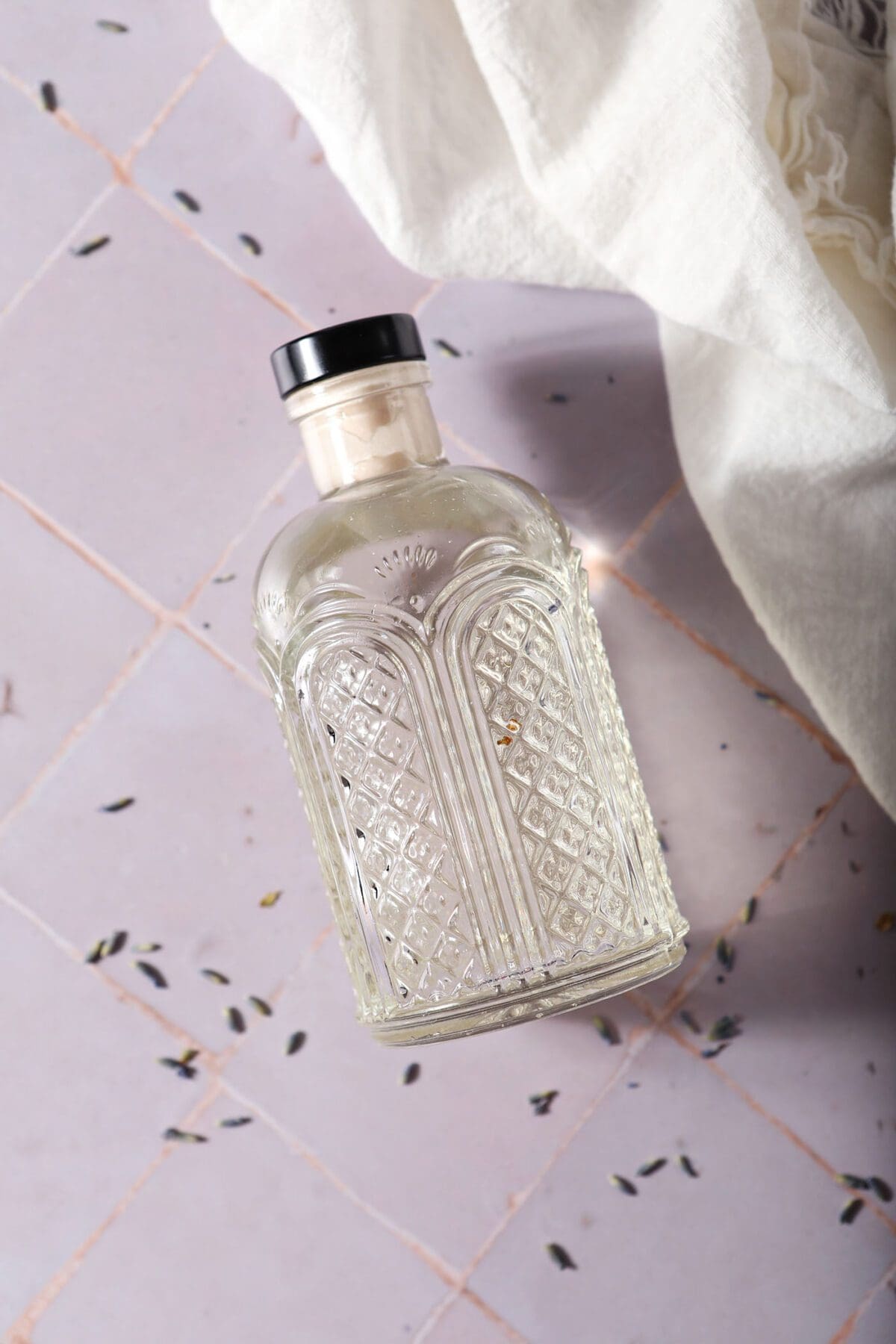 How to make Lavender Lemonade
If you haven't yet, make your lavender simple syrup in a medium saucepan and let it steep until it's nice and floral. (This will take about 30 minutes.)
In a large pitcher, combine the lemon juice, lavender simple syrup and water.
Stir 'em together until incorporated.
Chill in the refrigerator or serve over ice with lemon slices and lavender sprigs.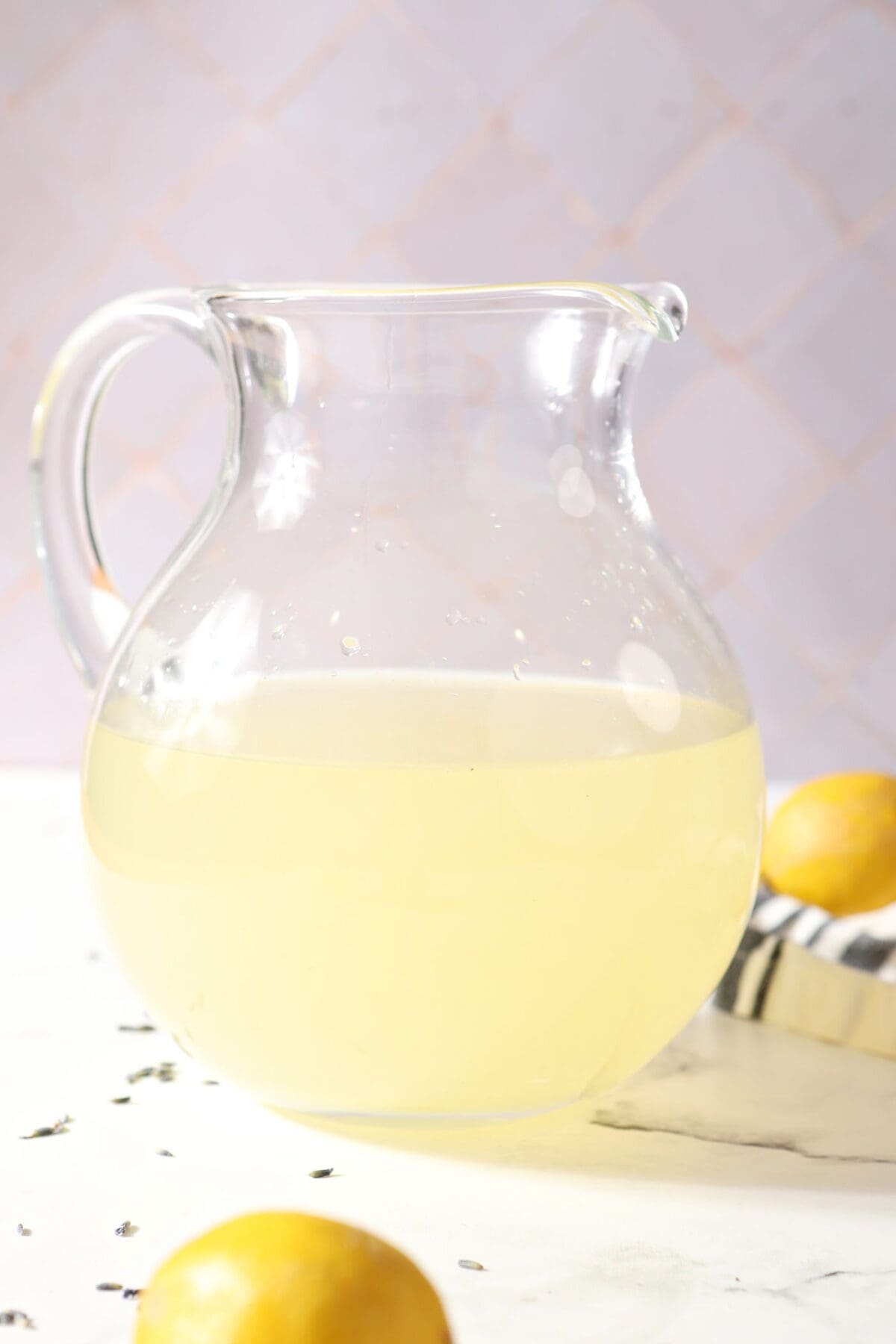 Pro tip!
Don't add ice to the lemonade if you're not serving it immediately because as it melts, the lemonade will become diluted.
How to store lemonade
Store in the refrigerator for a week or until it's all gone.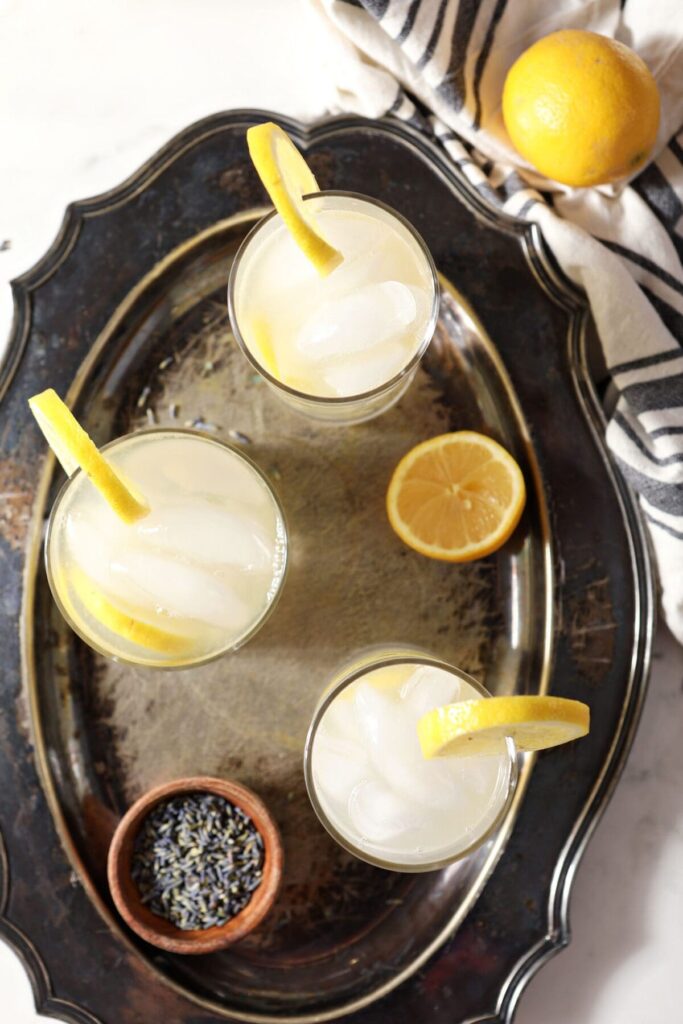 Erin's Easy Entertaining Tips
This recipe is an easy one to pull off for entertaining because it requires very little time and effort.
In fact, the most time you'll spend on this recipe is juicing the lemons. (Also, it should be noted that the lavender simple syrup will take about 30 minutes, give or take, to steep.)
Because of this, I think Lavender Lemonade is the perfect summertime entertaining drink. (Think backyard barbecues and at-home tailgates.) It's beloved by adults and children, and it's so easy to sip.
Here are a few tips and tricks to make it as easy as possible:
Make a batch of lavender simple syrup 1-2 days in advance. Let it hang out in the fridge.
Squeeze the lemons in advance… or purchase a jar of freshly squeezed lemon juice in the refrigerated fruit section of your grocery. This'll make it easier to put the lemonade together before guests arrive.
Make the lemonade before guests arrive so that it has time to chill out in the fridge. That way, it'll be ice cold!
Make two pitchers if you're hosting more than 6 people or keep extra ingredients in the fridge at the ready in case you run out.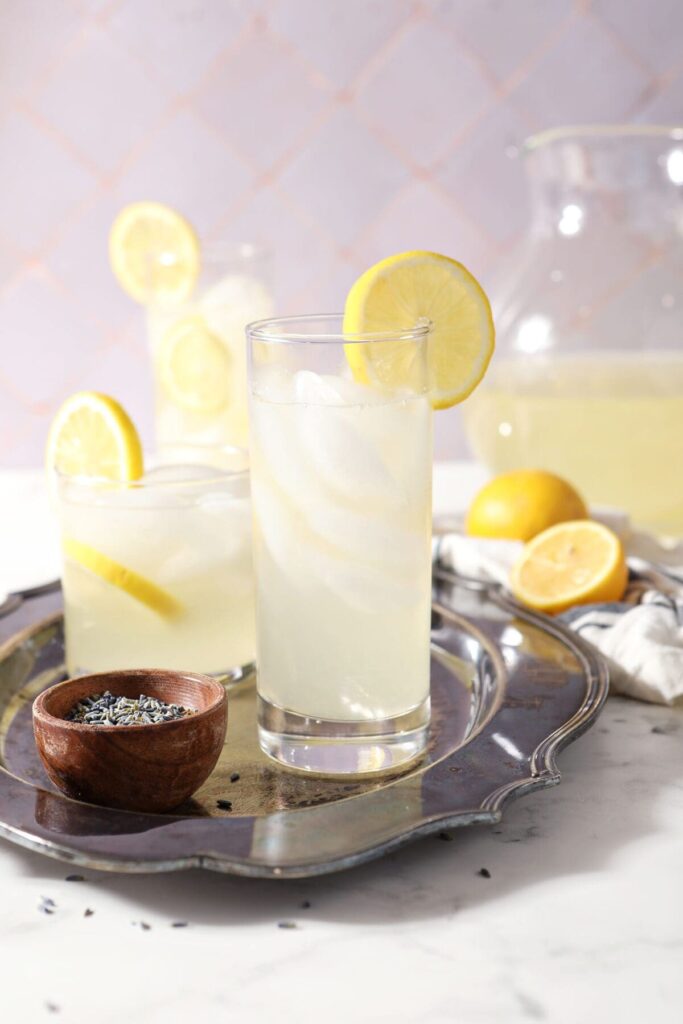 Frequently Asked Questions
What lavender should I use for this lemonade?
We're using dried culinary lavender to make the lavender syrup to make this drink. There are many varieties of lavender, including Provence lavender and English lavender. Any works here. However, I have not tried this recipe using lavender extract in this lemonade recipe.
Could I use the shelf-stable lemon juice that's on the shelf at the grocery store?
If it's from the refrigerated produce shelves, yes, that should work. If it's shelf stable, probably not. Freshly squeezed lemon juice makes a difference in homemade lemonade, so you want to make sure your lemon juice is as fresh as possible.
Can I use fresh lavender in this recipe?
I recommend using fresh food-grade lavender flowers as a garnish, but I used dried lavender to make the simple syrup. I have not tried it with fresh.
How long does this recipe last?
It will keep for up to a week in the fridge.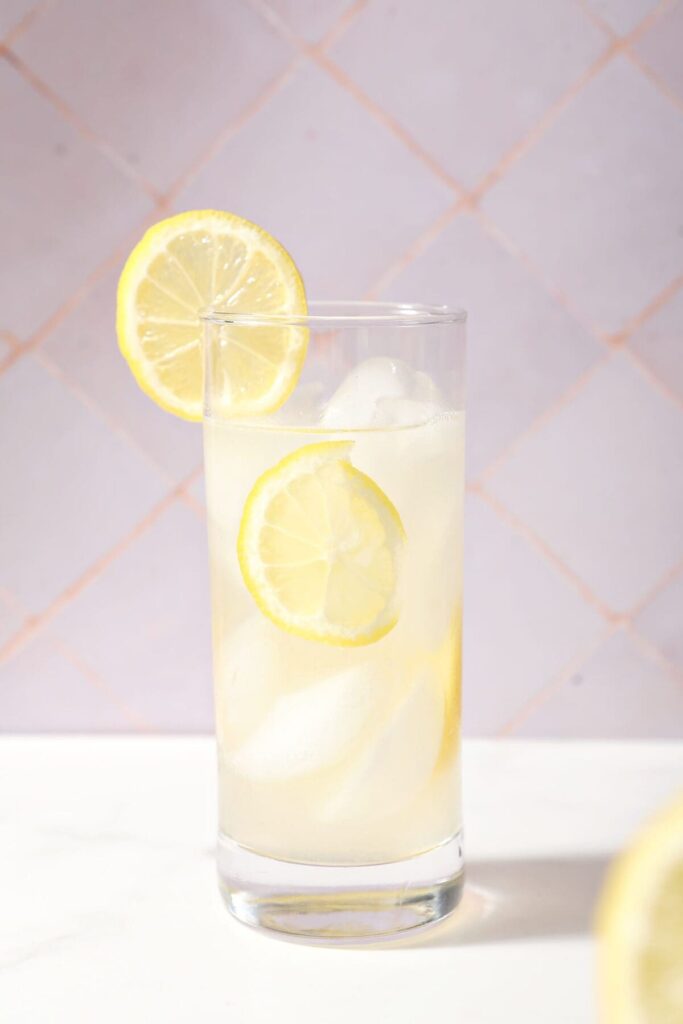 Tips and tricks for juicing lemons for lemonade:
Here are a few of my favorite tips and tricks about juicing lemons. They truly come in handy when you're making a pitcher of homemade lemonade.
Don't juice a cold lemon. A cold lemon won't give as much juice as a room temperature one. If you keep your lemons in the fridge, let it come to room temperature, or pop it in the microwave for 20 seconds to get it to warm up.
Roll the lemon on the countertop because this will bring the juices to the surface.
Slice the lemon down the equator, not from the stem to the tip.
Don't just squeeze it with your hands… use a citrus reamer or a juicer to get that good juice out of it. Personally, I like a lemon reamer better.
More lemonade recipes to try: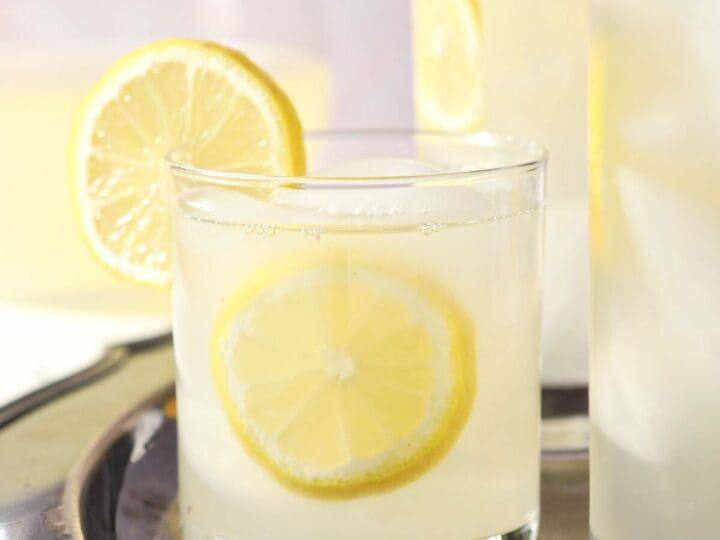 Yield:

6 servings
Lavender Lemonade
Lavender Lemonade is a refreshing, floral and balanced drink to make all summer long. All you need are three ingredients, including homemade lavender simple syrup, to make this easy lemonade recipe.
Ingredients
1 cup freshly squeezed lemon juice
5 cups water
Instructions
In a large pitcher, combine the lemon juice, water and lavender simple syrup.
Stir to combine.
Taste, and add additional simple syrup, if desired.
Serve over ice with lemon rounds and fresh lavender as a garnish. Enjoy!
Notes
How to store: Store in an airtight drink container in the fridge for up to a week.
Recommended Products
As an Amazon Associate and member of other affiliate programs, I earn from qualifying purchases.
Nutrition Information:
Yield:
6
Serving Size:
1
Amount Per Serving:
Calories:

110
Total Fat:

0g
Saturated Fat:

0g
Trans Fat:

0g
Unsaturated Fat:

0g
Cholesterol:

0mg
Sodium:

23mg
Carbohydrates:

28g
Fiber:

1g
Sugar:

26g
Protein:

1g
Nutrition facts are an estimate and not guaranteed to be accurate.