Get that fried okra flavor without frying at your home! This Oven Fried Okra recipe takes the Southern classic appetizer and makes it a little healthier by baking it in the oven instead of frying! Makes 6 servings.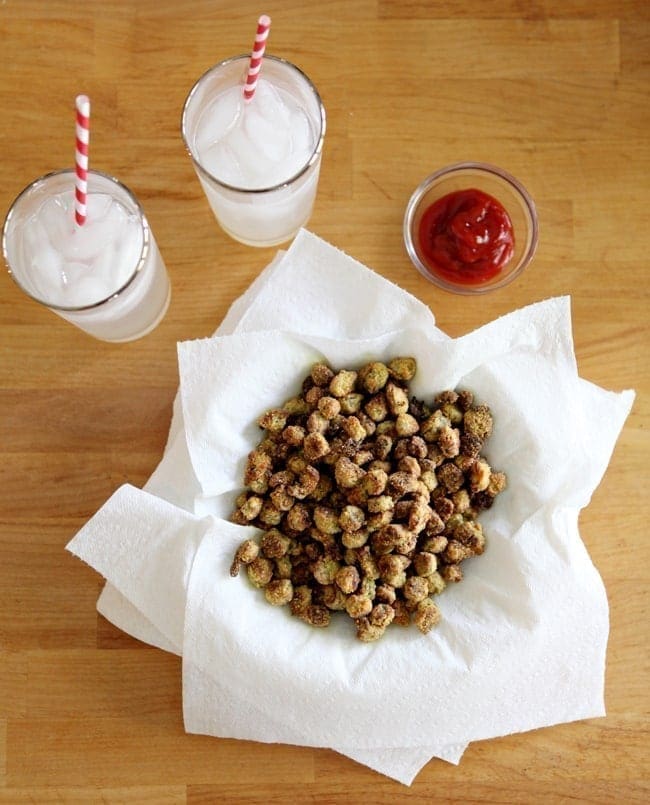 We've established that I am a Southern girl… and I'm about to prove it again with a story of my childhood in the South.
When I was a kid, we'd occasionally drive to Mississippi for fried catfish.
Growing up in Memphis, we were close to the border, and it was certainly easy enough to make a trip.
We trekked south for special occasions, taking backroads for some fried catfish. Whenever we enjoyed this Southern delicacy, we would also order hushpuppies, fried pickles and fried okra.
We'd sometimes get dessert, too, assuming we weren't stuffed to the gills when our meal was over. Because if you're driving any distance for a meal, you might as well have a decadent sweet, too. (I'll take two slices of the strawberry cake, mmkay?)
I've been obsessed with fried okra since my childhood. It's a pleasure, and something I crave for no reason other than it is delicious.
However, I don't fry food at home. (Confession time: I'm terrified of setting my kitchen on fire. Also, I don't like the smell of it.)
So if I want something fried, I order the dish at a restaurant, and I view it as an indulgence.
Because of this, I've learned how to make faux-fried okra in the oven!
Why I love this recipe:
This okra recipe is the exception to my whole frying rule, and since it's technically fried in the oven, it's a lot less stressful than babysitting a pot of oil. It's also a lot less messy.
The okra is crisp and bursting with flavor!
It tastes like the deep fried goodness without requiring a fryer or an entire vat of oil on your stovetop.
While I am hesitant to say this okra recipe is healthier than the classic (because we're still coating it in breading and then using some oil to crisp it up), it's definitely a more manageable recipe to make at home!
More summer recipes to try: Oven Roasted Okra | Charred Corn Salsa | Cucumber Bruschetta (Easy Cucumber Appetizer) | Baked Eggplant Parmesan | Classic Potato Salad
Looking for more side dishes to serve this season? Check out my Side Dish recipe index for more ideas.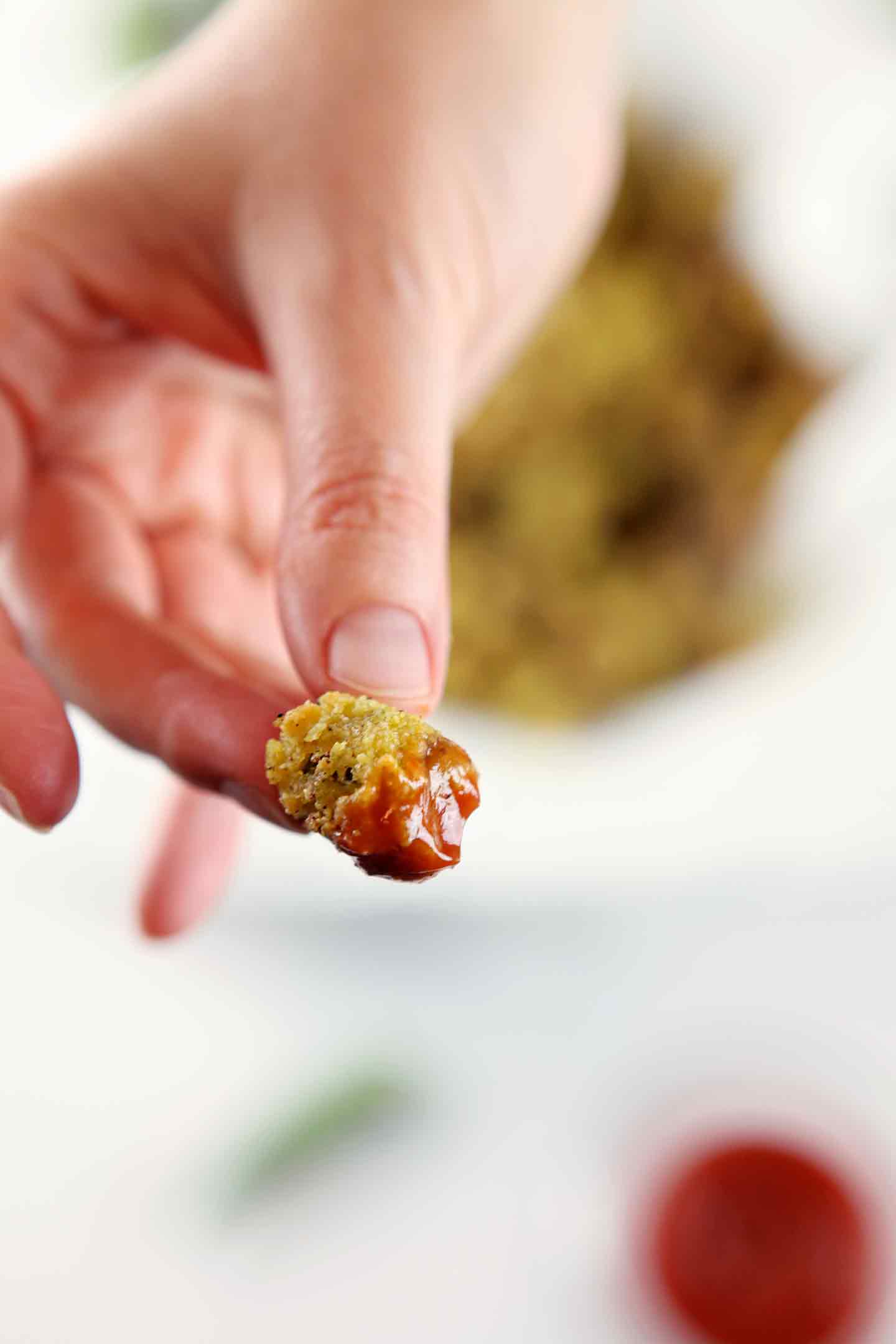 What do I need to make Oven Fried Okra?
The Speckled Palate participates in affiliate programs. As an Amazon Associate, I earn a commission from qualifying purchases. Please refer to my disclosure page for more information about these affiliate programs.
Let's talk ingredients!
In addition to the tools above, you're going to need some ingredients to make this recipe, too! Chances are, you might already have some of them in your fridge or pantry. Scroll down to the recipe card for the full measurements and instructions.
Here's what you'll need:
Fresh okra—while I've been told this recipe works with frozen okra, I have never tried that. Use the freshest okra you can find, and chop it into bite-sized pieces.
Buttermilk—this is the "bath" for the okra, and it will go into this before we dip it into the coating mixture. If you don't keep buttermilk at home, you can add a tablespoon of white vinegar or lemon juice to milk to create a buttermilk substitute.
All-purpose flour—we keep unbleached AP flour at our house, though the regular kind totally works here, too.
Cornmeal—we keep yellow cornmeal at our house, but you could just as easily use white cornmeal, too.
Seasoned salt—this adds just a touch more flavor than a "regular" salt would. Penzey's seasoned salt is my go-to.
Black pepper—we like to freshly grind ours!
Extra virgin olive oil—or another neutral oil, like avocado oil or even a vegetable oil. This will coat the bottom of the pan to give our okra a wonderful crispness.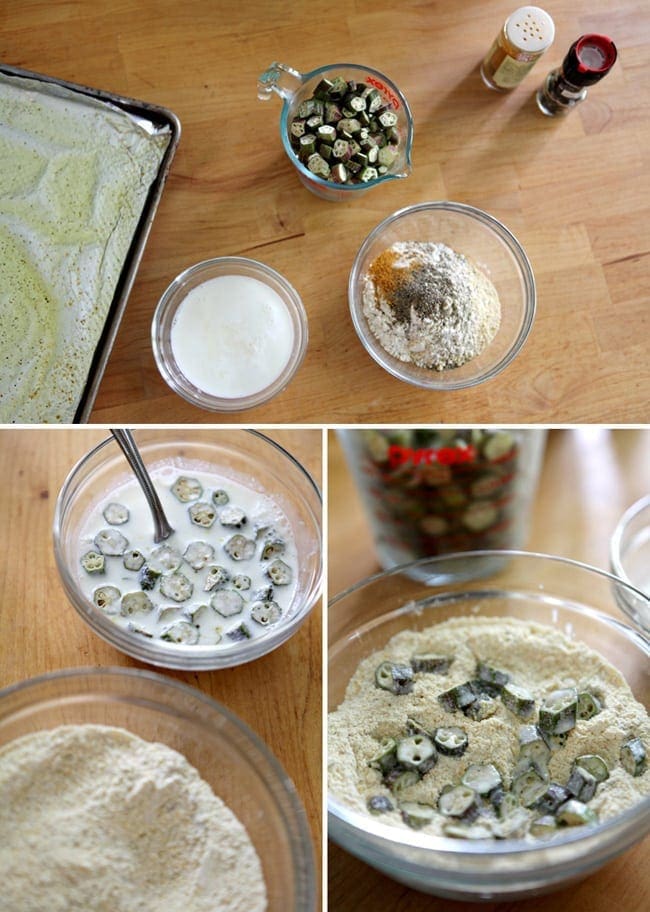 How to make fried okra in the oven
Line a rimmed baking sheet with 2-3 layers of aluminum foil. This will prevent sticking, as well as make the clean up easier. You do not have to use this, but I do since this is a rare treat we make in our house.
Pour the oil onto the baking sheet. Season liberally with seasoned salt and black pepper. This will provide extra flavor to the okra!
Combine the dry ingredients (flour, cornmeal, salt and pepper) in a large bowl. This is the cornmeal mixture.
Pour the buttermilk into another bowl.
Coat the okra. Place some of the sliced okra in the buttermilk and let it soak for a few minutes before transferring to the breading mixture.
Use your fingers to gently toss to coat the okra before you transfer it to the prepared baking sheet.
Pro tip!
Work in small groups! You want to give the okra time to soak up the buttermilk before dunking it into the breading mixture.
Continue this process until all of the okra has been breaded.
Bake in the preheated oven.
Halfway through the bake, flip the okra with a spatula. This will ensure the okra crisps up!
When totally crispy, remove from the oven. Transfer to a paper towel-lined plate or bowl to soak up excess oil. Season with additional seasoned salt, if desired.
Serve warm with your favorite dippers. (We love a combination of ketchup and hot sauce!)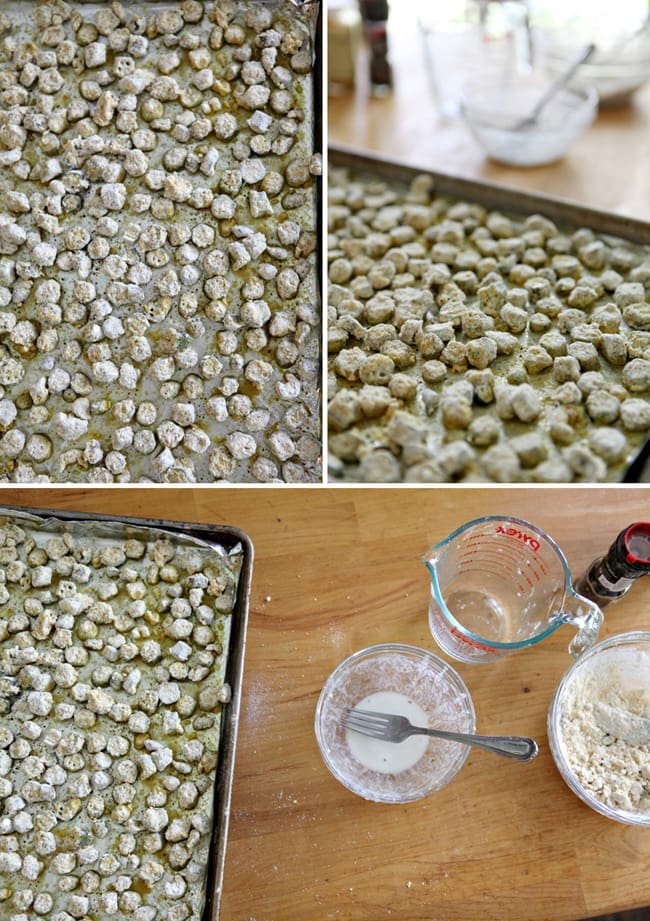 Frequently Asked Questions
What is oven frying?
Instead of using a big 'ol pot of oil, oven frying is the process where you cook a food in oil in the oven.

The final product will appear to be fried, but it's actually been baked! It might be considered a healthier version of the fried variety.
Can you cook fried okra in the oven?
Yes! With this little technique that I've figured out, we can get fryer-crisp okra… from the oven!
What if I don't have buttermilk?
Yes, you can. While it's not an exact match, there is a way you can make this, assuming you have regular (cow's) milk in your fridge.

Add a tablespoon of white vinegar or lemon juice to regular milk. Let it sit for 5-10 minutes, then you're good to go! This will give the milk the tangy, creamy flavor buttermilk provides.
Can I use frozen okra instead of fresh?
While I've never done it myself, I've been told by my readers that yes, it works! Let it thaw slightly (so the buttermilk doesn't freeze), then follow the breading and baking instructions.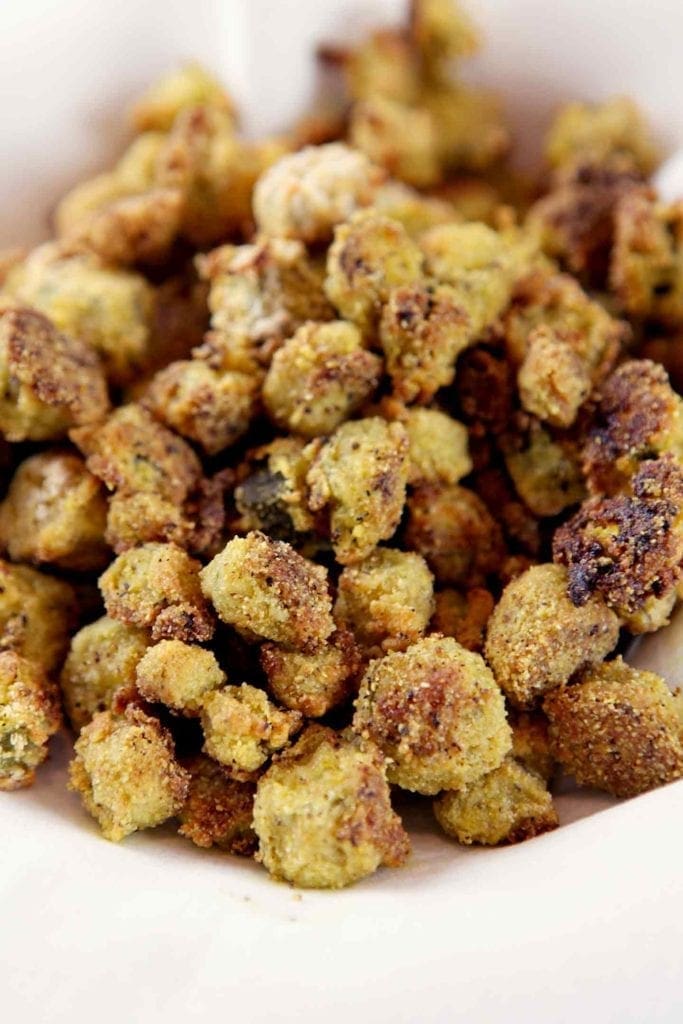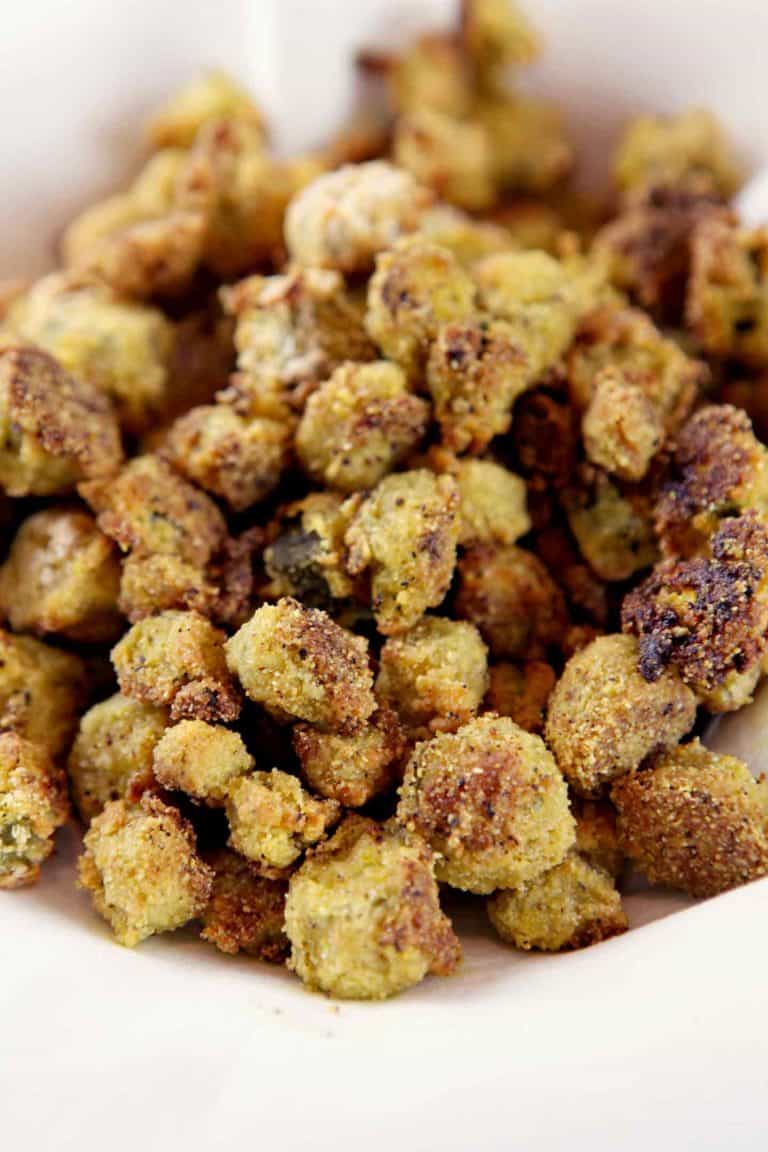 What recipes can I serve with this okra?
Then scroll on down to learn how to make these crunchy okra bites at home!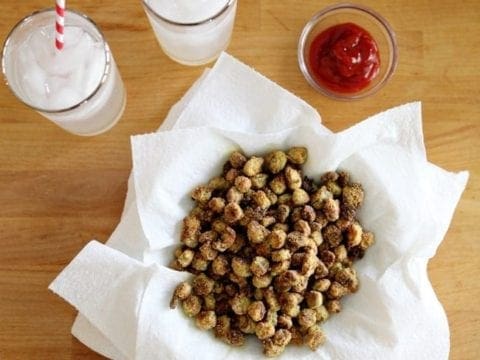 Yield:

6 servings
Oven Fried Okra
Get that fried okra flavor without frying at your home! This Oven Fried Okra recipe takes the Southern classic appetizer and make sit a little healthier by baking it in the oven instead of frying! Simple and delicious, you'll never know this Oven Fried Okra wasn't deep fried!
Ingredients
2 cups fresh okra, sliced
½ cup buttermilk
½ cup unbleached all-purpose flour
½ cup yellow cornmeal
1 teaspoon seasoned salt
1 teaspoon black pepper
¼ cup extra virgin olive oil
Instructions
Preheat the oven to 475°F.
Line a baking sheet with aluminum foil. Pour the olive oil onto a baking sheet, and make sure all surfaces are covered. Sprinkle the oil liberally with seasoned salt and black pepper before setting aside.
Combine the flour, cornmeal, salt and pepper in a bowl. Pour the buttermilk into another bowl.
Working in small groups, transfer okra into the buttermilk, allowing a few moments to soak before moving into the flour and cornmeal mixture. Coat the okra pieces completely in the mix, then move to the baking sheet.
Continue this process until all of the okra has been breaded and placed on the baking sheet.
Bake for 15 minutes, then remove the okra from the oven, flipping with a spatula.
Place back in the oven for an additional 10 minutes (or until cooked through.)
Transfer to a paper towel-lined plate, and serve warm with ketchup and hot sauce.
Notes
Please watch your okra carefully, as the cooking time of this is based upon my 1950's oven. I'd say check on it at the 10 minute mark and based on how it looks from there, flip it. You don't want to overcook the okra, as it doesn't taste nearly as good.
Recommended Products
As an Amazon Associate and member of other affiliate programs, I earn from qualifying purchases.
Nutrition Information:
Yield:
6
Serving Size:
1
Amount Per Serving:
Calories:

175
Total Fat:

10g
Saturated Fat:

1g
Trans Fat:

0g
Unsaturated Fat:

8g
Cholesterol:

1mg
Sodium:

299mg
Carbohydrates:

19g
Fiber:

3g
Sugar:

2g
Protein:

4g
How do you feel about frying dishes at home?
Have you ever oven fried anything?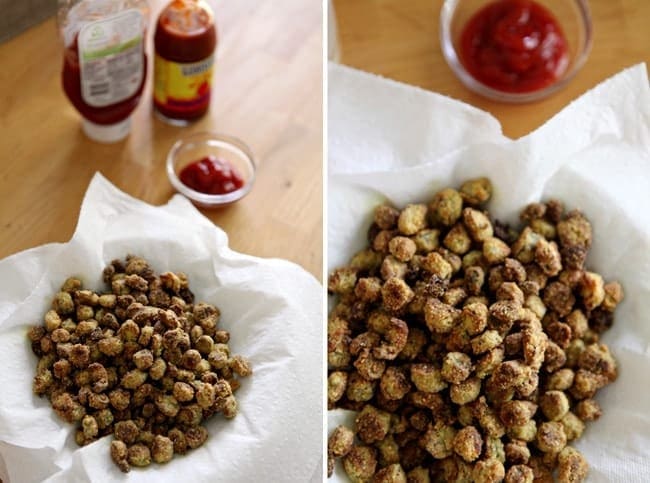 —
The photos and recipe for this Oven Fried Okra were originally published on July 30, 2013. The photographs, along with the text of this blog post, were updated on October 3, 2017.