Pumpkin and Peanut Butter Dog Biscuits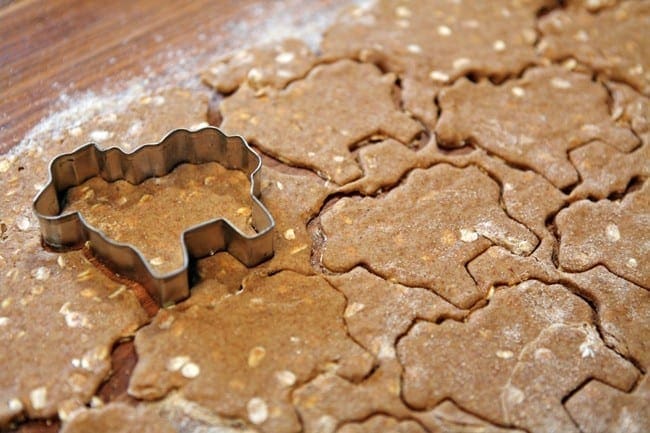 Five years ago today, I took home a sweet puppy from the animal shelter in Hattiesburg, Miss. I had no idea what to expect, but I was prepared for it. (At least, I thought I was because I'd been a dog owner before. I also purchased all the necessary puppy/young dog supplies. And I even read a book, to boot.)
To be honest, I was just thrilled at the thought of having a friend who would be excited to see me every morning and every night, as being new in town was hard. To top that off, I hadn't made any friends yet and didn't have people to hang out with when not working during those first few months. I also worked crazy hours for my job as a newspaper photographer, so I thought I needed a little consistency in my life. I seemed to think a dog would provide that.
Lucy (who was originally called "Nancy" at the animal shelter) provided all that and more than I could have ever imagined.
Other dog treats your pup might like: Peanut Butter Pumpkin Pupcakes / Milkbone Apple Pupcakes / Sweet Potato and Apple Pupcakes
Learn more about my Lucy: For the pup / Sunday Snippets: The Pup-iversary Edition / FAQs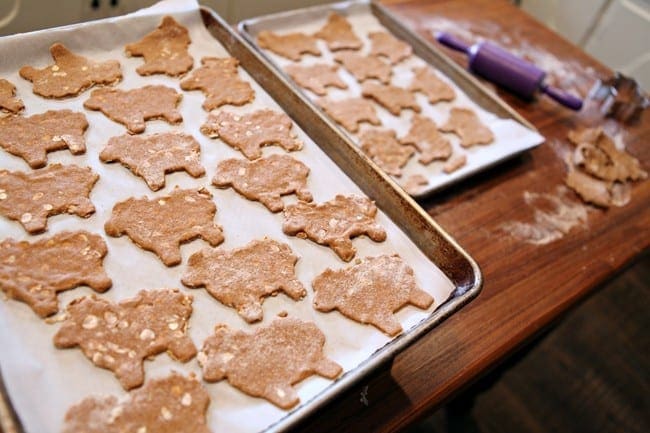 Five years later, a lot has changed. We've moved several times… from Mississippi to Tennessee to Louisiana to Texas. I've changed jobs several times, too. I got married. Lucy now has a father who she loves dearly, but who she was not so sure about at first. (True story.)
Lucy's remained consistent throughout all these life changes. And I'm not ashamed to say I am still crazy about her still, even though she drives me nuts sometimes. Like last year when she rolled in grossness and nipped my chin on the pup-iversary. Or most mornings when she stands on my back and wakes me up with frantic barks that I translate to, "Get up! Get up! Get up!"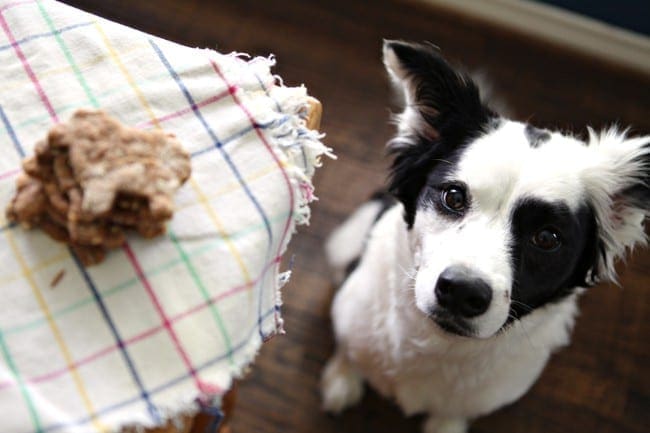 Five years is a long time, and to commemorate this pup-iversary, I whipped up some homemade dog treats for Lu earlier this week. She stood by my feet as I whipped up the dough, just like she does whenever I'm cooking anything that could be of interest to her (read: everything), though she didn't know these was for her.
I rolled out the cookies, cut them into the shape of sheep while cackling (because I'm easily amused) and popped these treats in the oven.
And when Lucy realized they were for her as they were cooling?
Let's just say she couldn't contain her excitement and squeaked around the house. (Because I have a sheep dog who legit squeaks and cries when she gets excited. Not quite sure where that comes from, but it's endearing.)
Here's how you make 'em: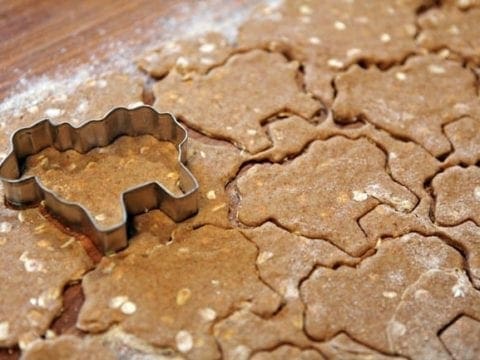 Yield:

36 dog biscuits
Pumpkin and Peanut Butter Dog Biscuits
These Pumpkin and Peanut Butter Dog Biscuits, adapted from a Cesar Milan recipe, are the perfect baked good for your pup! Pumpkin and peanut butter make the base of this dog treat that is sure to be well-loved!
Ingredients
¾ cup pumpkin puree
¼ cup smooth peanut butter (unsweetened, if possible)
¼ cup water
2 tablespoons unsweetened applesauce
1 cup whole wheat flour
½ cup old fashioned rolled oats
1 teaspoon cinnamon
¼ teaspoon baking soda
¼ teaspoon baking powder
Instructions
Preheat the oven to 350°F. Prepare a baking sheet with parchment paper (or spray with cooking spray), and set aside.
Combine the pumpkin, peanut butter, water and applesauce, stirring until smooth.
Add in the flour, oats, baking soda, baking powder and cinnamon. Mix until combined into a sticky dough.
Flour a surface in the kitchen, and roll the dough into a 1/2"-1/4" layer, then cut the biscuits out in the shape of your choice.
Place on the prepared baking sheet, and bake for 25 minutes or until the biscuits have hardened.
Let cool, then give a few to your dog!
Notes
Makes around 3 dozen dog biscuits.
Adapted from Cesar Millan's recipe.
Nutrition Information:
Yield:
36 dog biscuits
Serving Size:
1 dog biscuit
Amount Per Serving:
Calories:

28
Total Fat:

1g
Saturated Fat:

0g
Trans Fat:

0g
Unsaturated Fat:

1g
Cholesterol:

0mg
Sodium:

21mg
Carbohydrates:

4g
Fiber:

1g
Sugar:

0g
Protein:

1g
Nutrition facts are an estimate and not guaranteed to be accurate.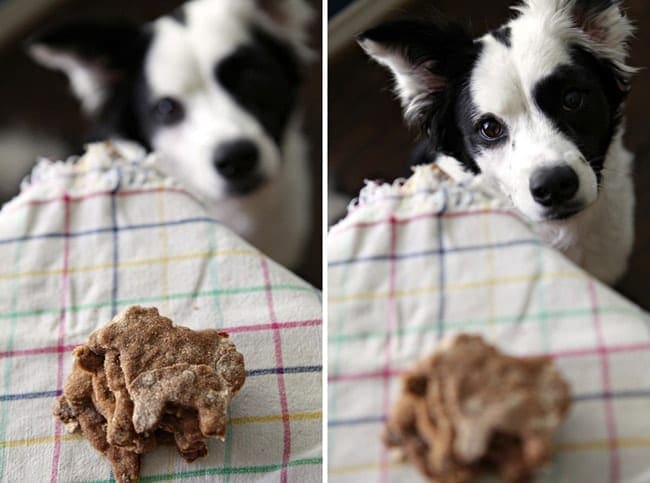 … I mean, how can you say no to that face? (Y'all should know that Lucy ate about 10 biscuits after these photographs were made because I'm a crazy/awesome dog mama. Also, because it's our pup-iversary, and how could I not?)
Have you ever baked for your dog?