Sweet Potato and Apple Pupcakes
Celebrate your dog with homemade dog treats. Made with whole food ingredients like sweet potatoes, applesauce, honey and rolled oats, these Sweet Potato and Apple Pupcakes are sure to become your pup's favorite snack!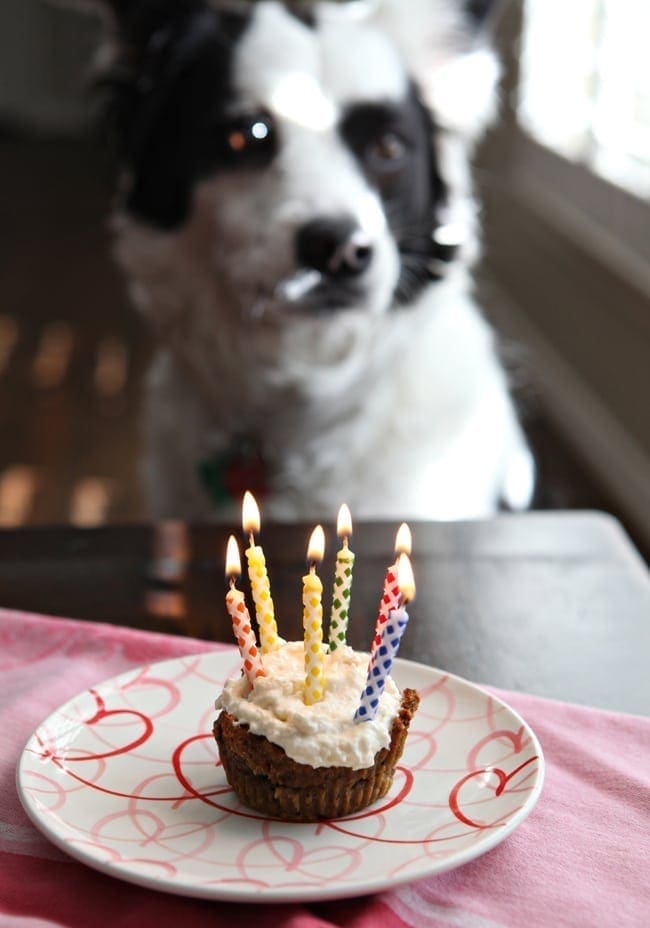 This post contains affiliate links. If you were to make a purchase through one, I would receive a small commission. For more information about the affiliate programs The Speckled Palate participates in, please refer to my disclosure page.
My dog might be the most spoiled dog in the world, and the worst part about this is she doesn't even know it. She just expects lots of things from us and rightfully so.
She's been conditioned for this, of course, and after what her life was like for the first seven months, I think she deserves all the attention and treats in the world to make up for that rough patch.
However, as she grows older, her list of demands seems to grow.
Other dog treats your pup might like: Peanut Butter Pumpkin Pupcakes / Milkbone Apple Pupcakes /Pumpkin and Peanut Butter Dog Biscuits
Learn more about my Lucy: For the pup / Sunday Snippets: The Pup-iversary Edition / FAQs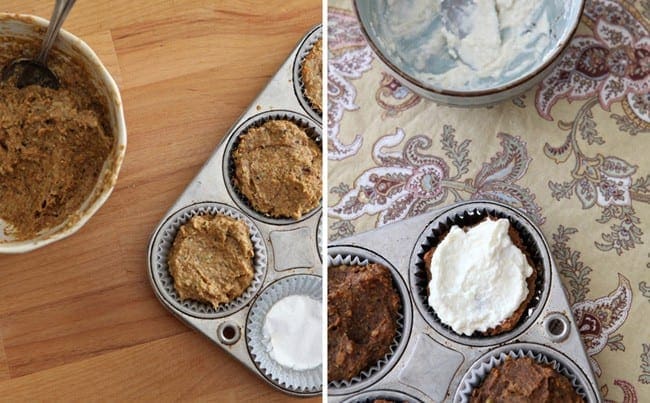 Case in point: I baked Lucy pupcakes for her birthday yesterday.
OK, so pupcakes weren't a demand made by Lu, but they should clearly illustrate that my pup is spoiled. (It should also prove that I'm the kind of dog mama who wants her furbaby to have a good birthday… even if it makes me sound a little nutty.)
Pupcakes aren't something that are made at our home on a regular basis, so they are pretty special. In fact, when Lu learned the baked goods were for her, her excitement was indescribable.
It's pretty fantastic to witness, and I love seeing the moment when the realization dawns on her that yes, this was made specifically for her.
Lucy didn't know these were her birthday treat until I was actually photographing the first image in this post. Yes, the one with the lit candles. No, my dog was not harmed in the documenting of this recipe. And no, she wasn't in danger at any time.
Fear not: Lucy and I have attended several training classes over the years. Even though she has many opinions and doesn't like to listen to me all the time, she knows that to get a treat, she needs to be good. Being good requires sitting quietly.
So I asked her to sit, told her to stay, lit the candles, held down my shutter, snapping as many angles as possible in a short amount of time, then proceeded to blow out the candles, remove them from the pupcake and slid the treat across the surface to Lucy.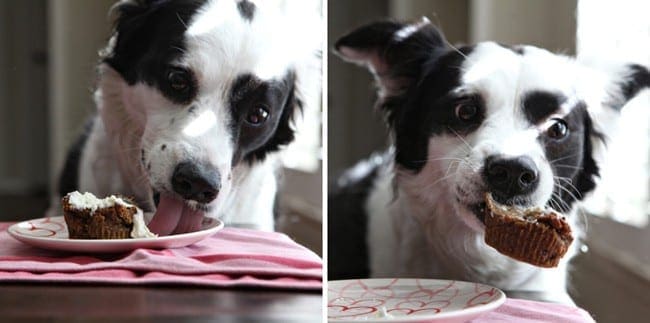 She looked up at me with wide eyes, wondering if this was a test. When I encouraged her to give it a try, she took an experimental lick before diving right in, slurping off the icing before grabbing the cake between her front teeth and attempting to swallow it whole.
Note: If you make full-sized pupcakes, PLEASE cut them up. Lu was fine, but she scared me for a moment.
And ever since I baked these, Lucy now believes everything that comes out of the oven is for her… and she sat patiently next to a tester batch of cookies cooling on the island last night, sneaking glances every once in a while to see if I noticed she was being good.
Because, you know, being "good" definitely means you deserve a treat. Even if the treat you think belongs to you doesn't.
My sweet girl may be spoiled, but she's earned it. She's brought so much joy into our home over the last five years, and I don't know what I would have done without her through some of the rougher times.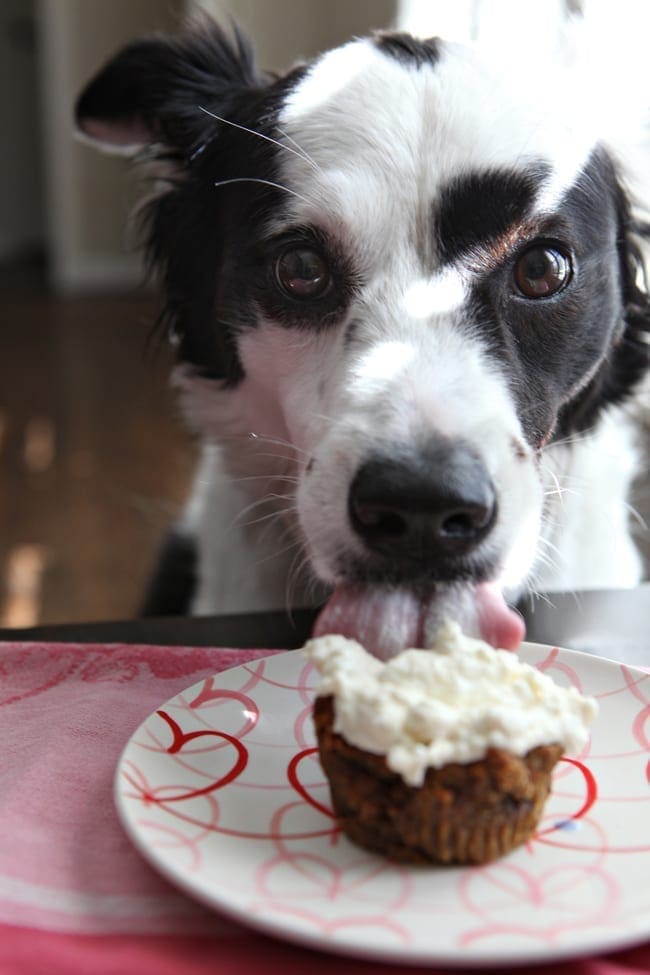 Sweet Potato and Apple Pupcakes Essentials


So if you're like me and want to shower your dog with affection and good eats on their birthday, here's how you make this recipe: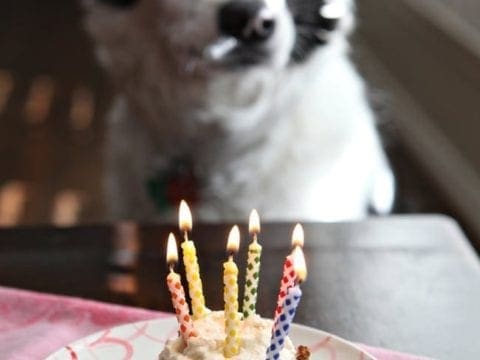 Yield:

6 pupcakes
Sweet Potato and Apple Pupcakes
Celebrate your dog with homemade dog treats. Made with whole food ingredients like sweet potatoes, applesauce, honey and rolled oats, these Sweet Potato and Apple Pupcakes are sure to become your pup's favorite snack!
Ingredients
Pupcakes
½ cup sweet potato, , pureed
½ cup unsweetened applesauce
1 tablespoon honey
1 tablespoon coconut oil
1 apple, grated finely
1 egg , beaten
¾ cup whole wheat flour
2 tablespoons rolled oats, (not quick cooking oats)
Icing
2 oz. cream cheese
2 tablespoons unsweetened applesauce
Instructions
Preheat the oven to 350°F.
In a large bowl, combine the pureed sweet potato, apple, applesauce, honey and coconut oil.
Pour in the beaten egg, stirring until incorporated, then add the whole wheat flour and uncooked oats.
Once the dough comes together, grease your lined cupcake pan and slowly dollop the batter in. (It will be SUPER thick, so no worries.)
Bake for 15-30 minutes, or until an inserted toothpick comes out clean.
While the pupcakes are cooling, combine the cream cheese and applesauce in a bowl, beating with a hand mixer and set aside until needed.
Once the cakes are cool, top with the icing if you so choose, and let your pup enjoy!
Notes
My pupcakes turned out REALLY dense, so I recommend making these in mini cupcake pans and cutting them in half before feeding to your dog, as Lucy tried to eat hers whole unsuccessfully...
Nutrition Information:
Yield:
6 pupcakes
Serving Size:
1
Amount Per Serving:
Calories:

181
Total Fat:

7g
Saturated Fat:

4g
Trans Fat:

0g
Unsaturated Fat:

2g
Cholesterol:

41mg
Sodium:

50mg
Carbohydrates:

27g
Fiber:

3g
Sugar:

10g
Protein:

4g
Nutrition facts are an estimate and not guaranteed to be accurate.
Have you baked for your pet before?
Does this concept sound absolutely crazy to you?
(If it does, that's OK. My husband felt the same way… and then I got Lucy, and she changed everything…)