Kale Madeline is creamy, cheesy and utterly decadent. This spicy creamed kale recipe comes together quickly and can be made in advance for the holidays. If you're looking for a kale recipe with some spice to bring to the Thanksgiving table, this is it! Makes 4 servings.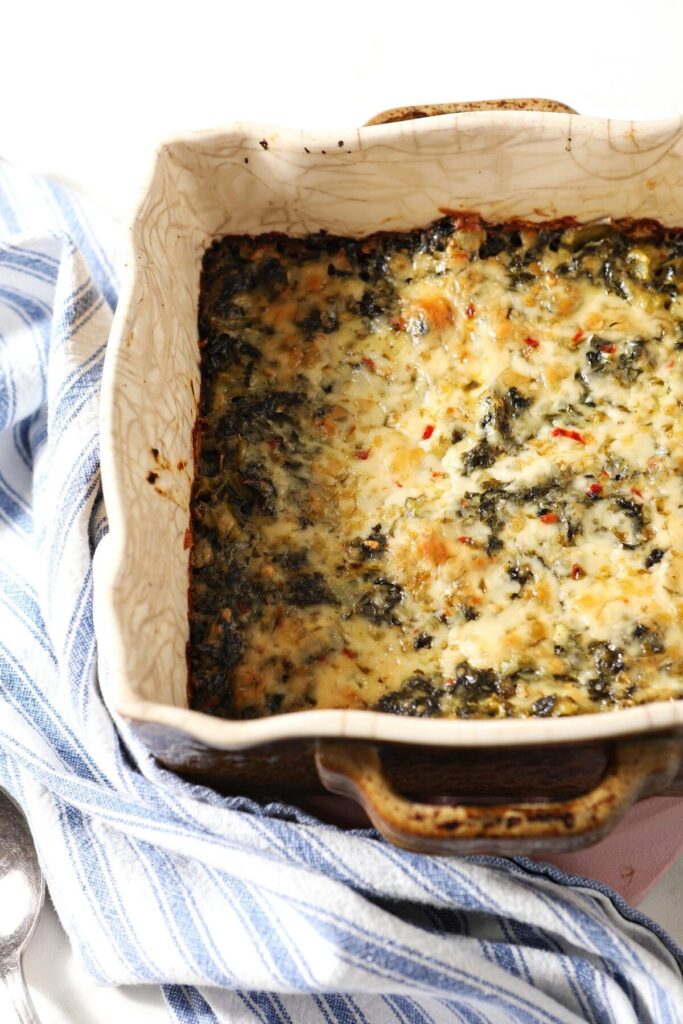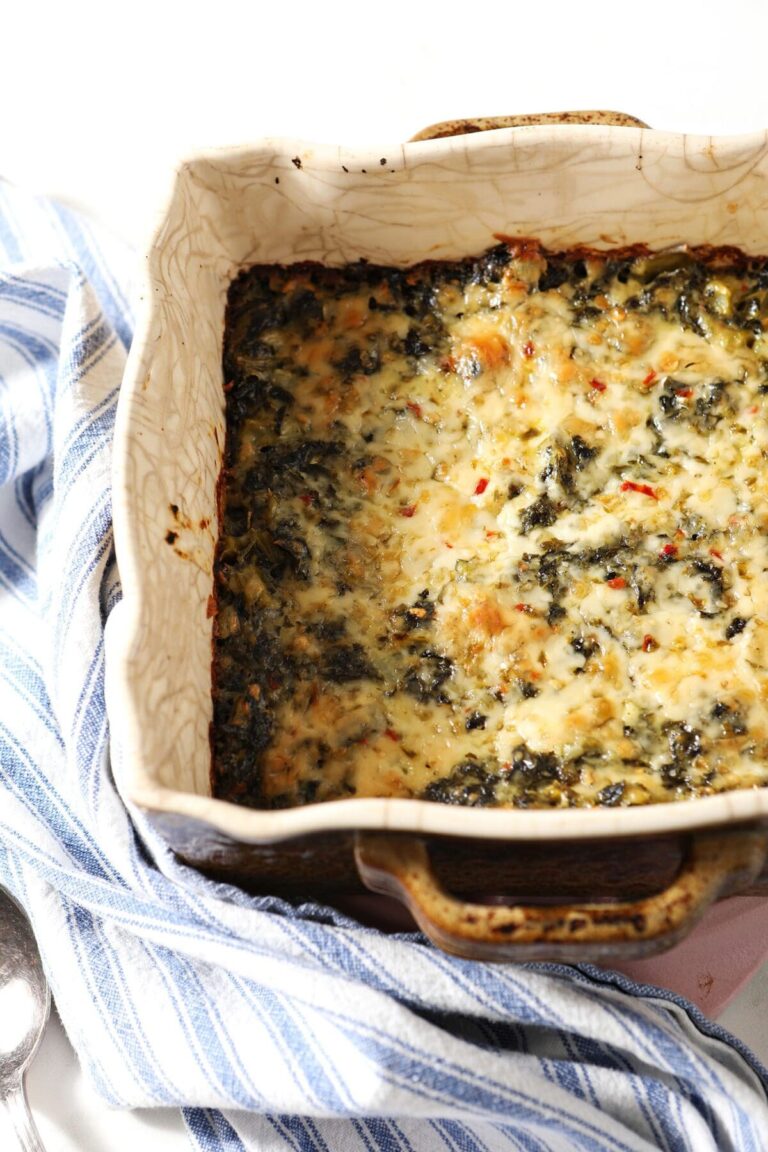 I was introduced to Spinach Madeline on New Years Eve. It was end of quarter for my work, so I had to work late.
My husband and mother a special dinner for us to enjoy after I was off work. One of the recipes was Spinach Madeline.
I fell in love with it at first bite.
Funnily enough, I got to photograph Madeline Wright, the woman who created the recipe, a few years later.
When I was thinking about Thanksgiving, I wanted to add a twist to her recipe, so I used kale.
Not surprisingly, it is every bit as wonderful.
What is Kale Madeline?
Kale Madeline is a creamy side dish. It's similar to creamed spinach, but with kale. Instead of just using cream, it gets a kick from pepperjack cheese.
The original recipe calls for a jalapeno log. This one calls for shredded pepperjack cheese.
This Kale Madeline recipe was adapted from my Spinach Madeline recipe, which was adapted from River Road Recipes.
Why I love this recipe:
Kale Madeline is a fun twist on a classic.
It's comforting, cheesy and decadent while also being wonderfully delicious.
Unlike a lot of creamy kale recipes, this one does not call for heavy cream, cream cheese or parmesan cheese.
We're using a combination of milk and pepperjack cheese, along with some spices, to really bring the flavor.
This recipe is simple, calling for just a handful of ingredients. It comes together quickly.
We love the versatility of it, too. You can serve it as a side dish for a holiday, like Thanksgiving or Christmas.
It also is an excellent side for Date Night at Home. We love to pair it with Broiled Steak, Garlic Butter Steak or Cast Iron Ribeye.
Other side dishes to try: Roasted Parmesan Broccoli with Pine Nuts | Hasselback Sweet Potatoes | Lemon Pepper Green Beans | Homemade Mashed Potatoes | Broiled Asparagus with Lemon and Parmesan
Looking for more inspiration? Head on over to my Side Dish recipe index for more ideas.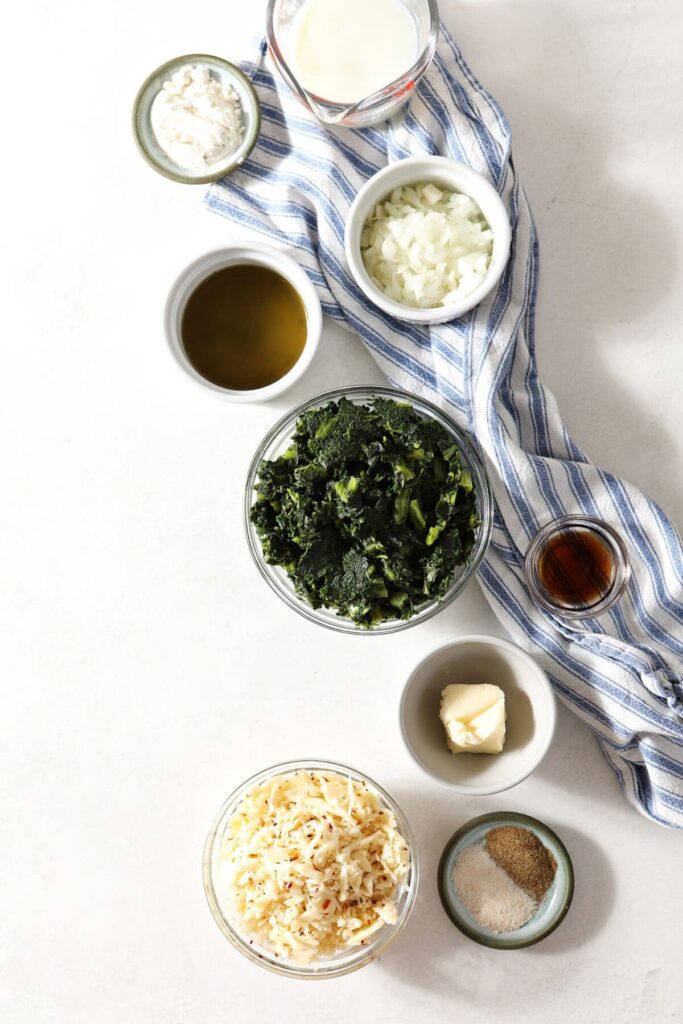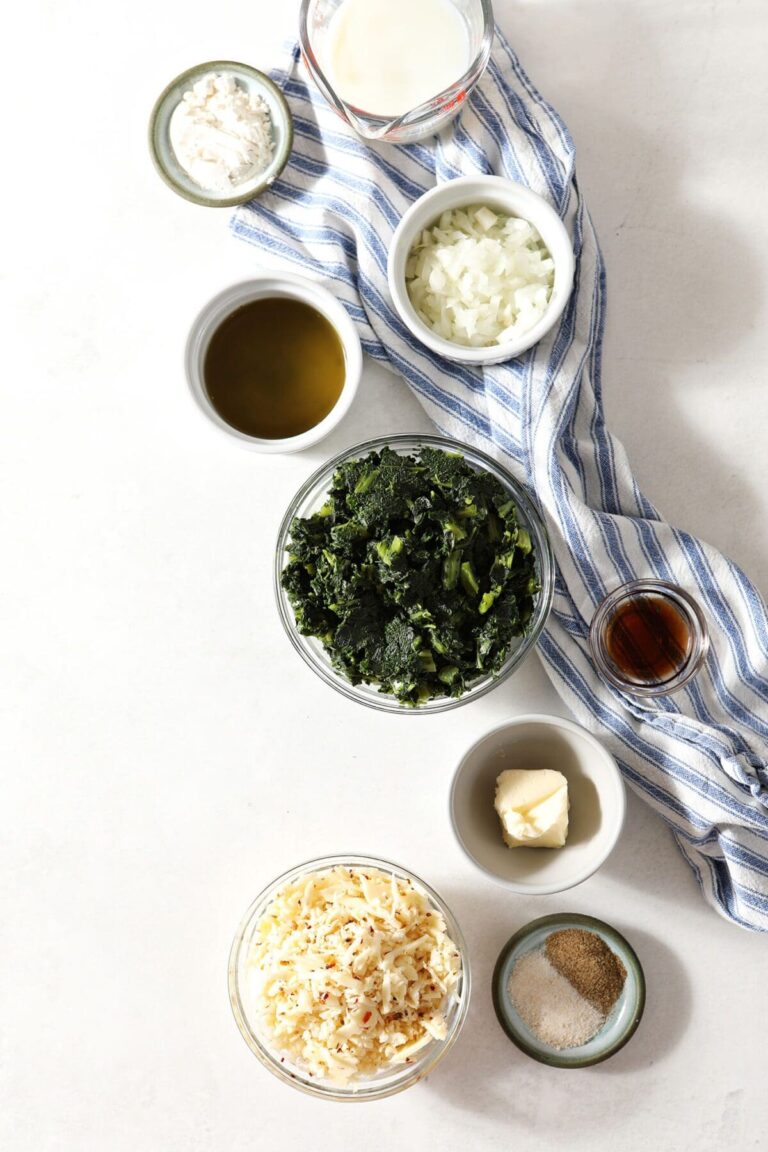 What you need to make this recipe:
The Speckled Palate participates in affiliate programs. As an Amazon Associate, I earn a commission from qualifying purchases. Please refer to my disclosure page for more information about these affiliate programs.
Let's talk ingredients!
In addition to the tools above, you're going to need some ingredients to make this recipe, too! Chances are, you might already have some of them in your fridge or pantry. Scroll down to the recipe card for the full measurements and instructions.
Here's what you need:
Kale — I like to use frozen chopped kale and cook that before draining it and saving the liquid. My original recipe called for fresh kale, and I changed it because I liked the ease of the frozen kind better. However, if you want to use fresh kale, be my guest! More on this below.
Unsalted butter — you could also use extra virgin olive oil here, if desired.
All-purpose flour — I like to use unbleached AP flour, but the regular kind works, too. I have never swapped this for a gluten free flour, so I do not recommend that.
Onion — yellow or white is perfect. You do not want to use a sweet onion or a purple onion.
Milk

— whatever you've got on hand works. We like to use 2% or whole milk for the most flavor.

Worcestershire sauce — this gives the sauce some umami. If serving this recipe to vegetarians, purchase vegan Worcestershire sauce.
Kale cooking liquid — this is the liquid that comes out of the kale after it cooks. You want to save it because it imparts such amazing flavor to the dish!
Seasonings

— we're using a combination of celery salt, garlic salt and freshly ground black pepper. You can add extra salt, to taste, though I suggest holding off on it until you taste the final sauce. It can get salty.

Pepperjack cheese — this is what adds our spiciness. It goes into the sauce, as well as sprinkled on top before baking. Give it a taste before stirring it in to gauge the heat, as different brands are spicier than others.
Substitution ideas:
Use fresh kale. Blanch the kale in a pot of salted water until crisp tender, then remove and drain. Reserve some of that liquid, then make the recipe as written below.
Add some more heat. A sprinkle of red pepper flakes will add a kick!
No onion? Use shallot! It will have a milder flavor, but it's still delicious. I always have onions on hand, but if you're into shallots, those work!
Don't have garlic salt? Use granulated garlic instead. You might need to add a pinch of salt to the final dish, but taste it beforehand.
Pepperjack cheese too spicy? Use half pepperjack and half monterrey jack. If you don't like heat at all, you can use all monterrey jack. We love the kick pepperjack adds, but I know it can be too much for some.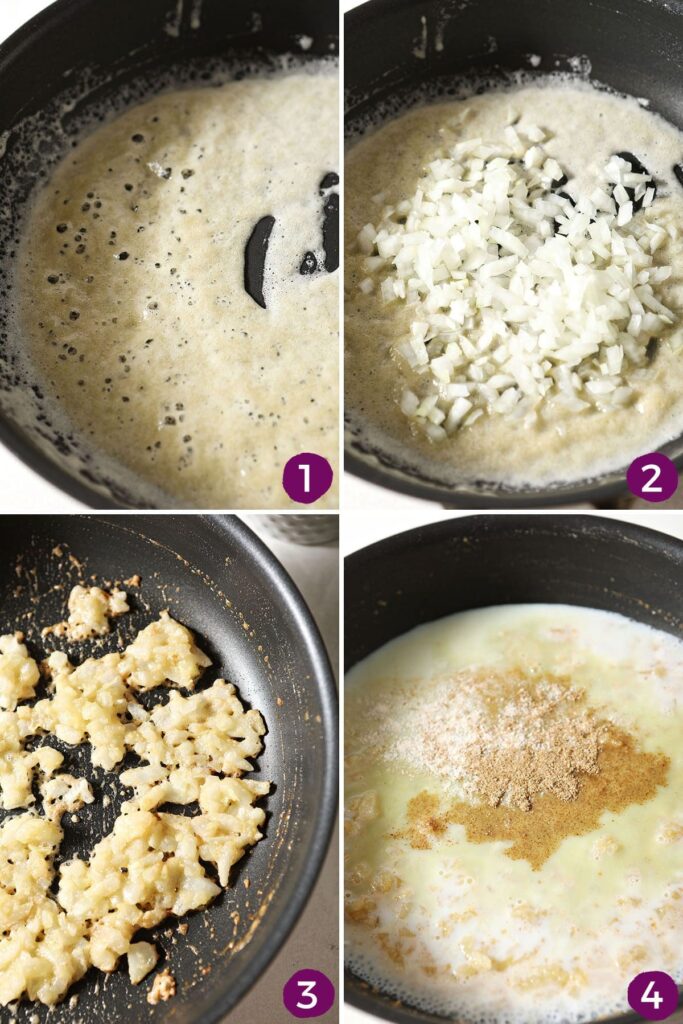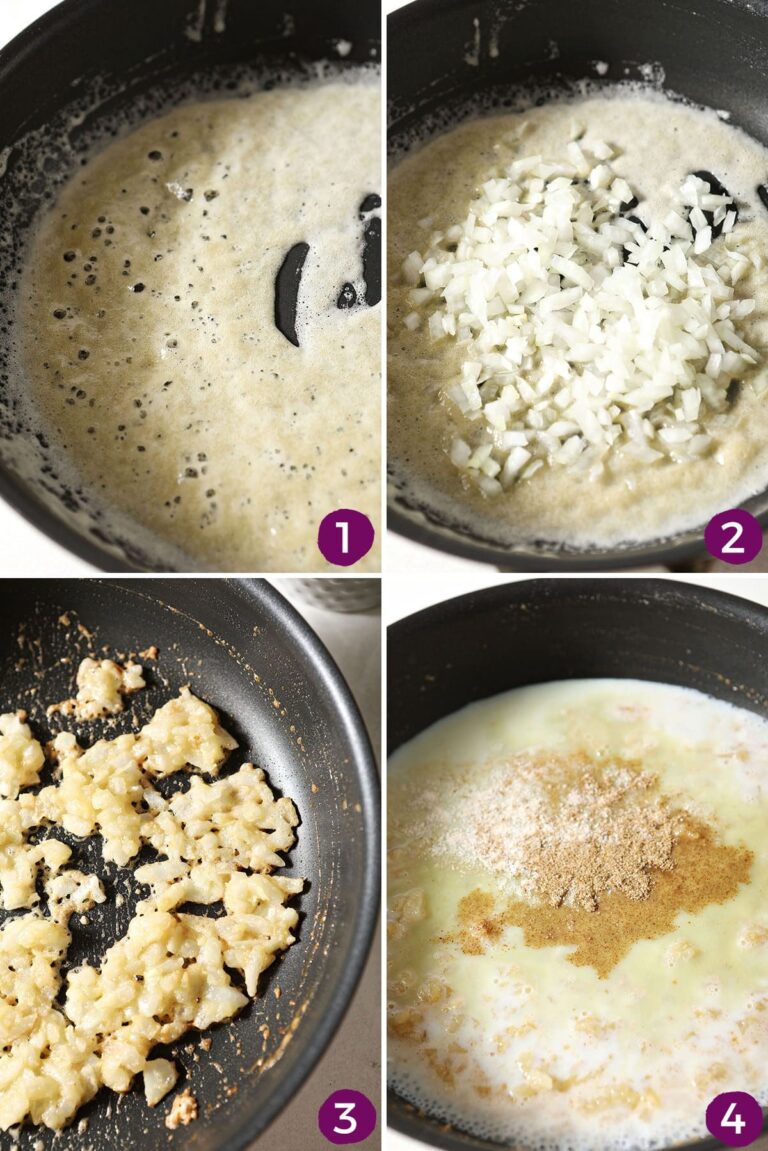 How to make Creamy Kale Madeline
Cook and drain the kale. Steam the frozen kale in the microwave. Drain over a large bowl in a fine mesh strainer. Let it cool before pressing the liquid out with a large spoon or your hand.
Preheat the oven, and spray a baking dish with nonstick cooking spray.
Melt the butter in a large, high-sided skillet over medium-high heat.
When the butter is melted, add the onion. Cook until soft but not brown.
Add the flour and stir until the onions are coated.
Cook for a few minutes until the flour begins to turn a golden brown. This is a roux, which will thicken the cheese sauce.
Slowly pour in the milk and the kale liquid. Stir constantly until the sauce thickens.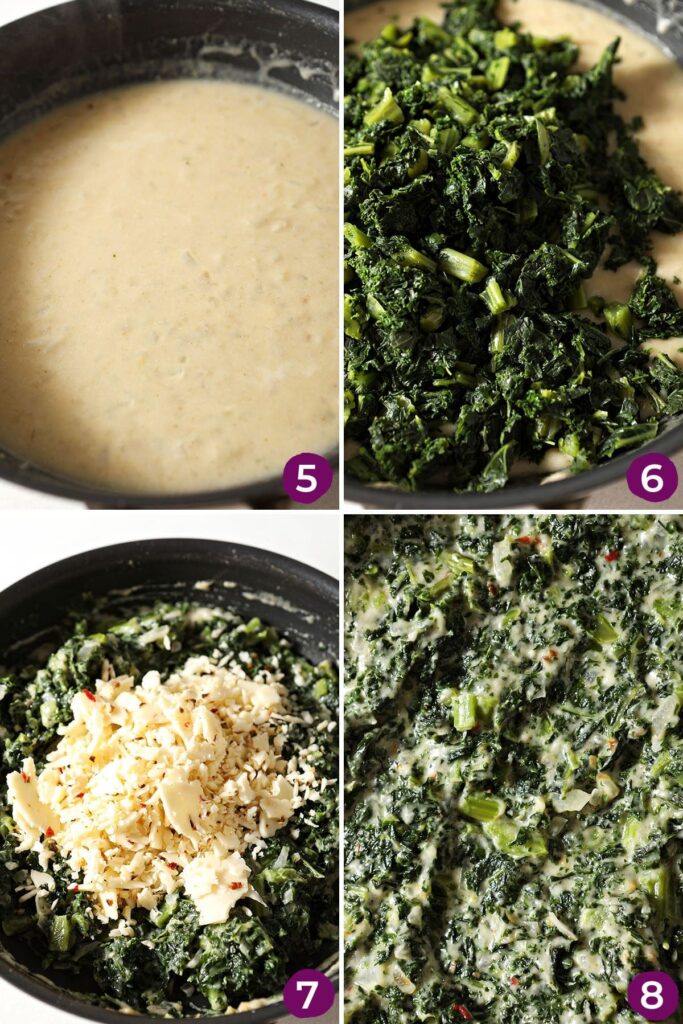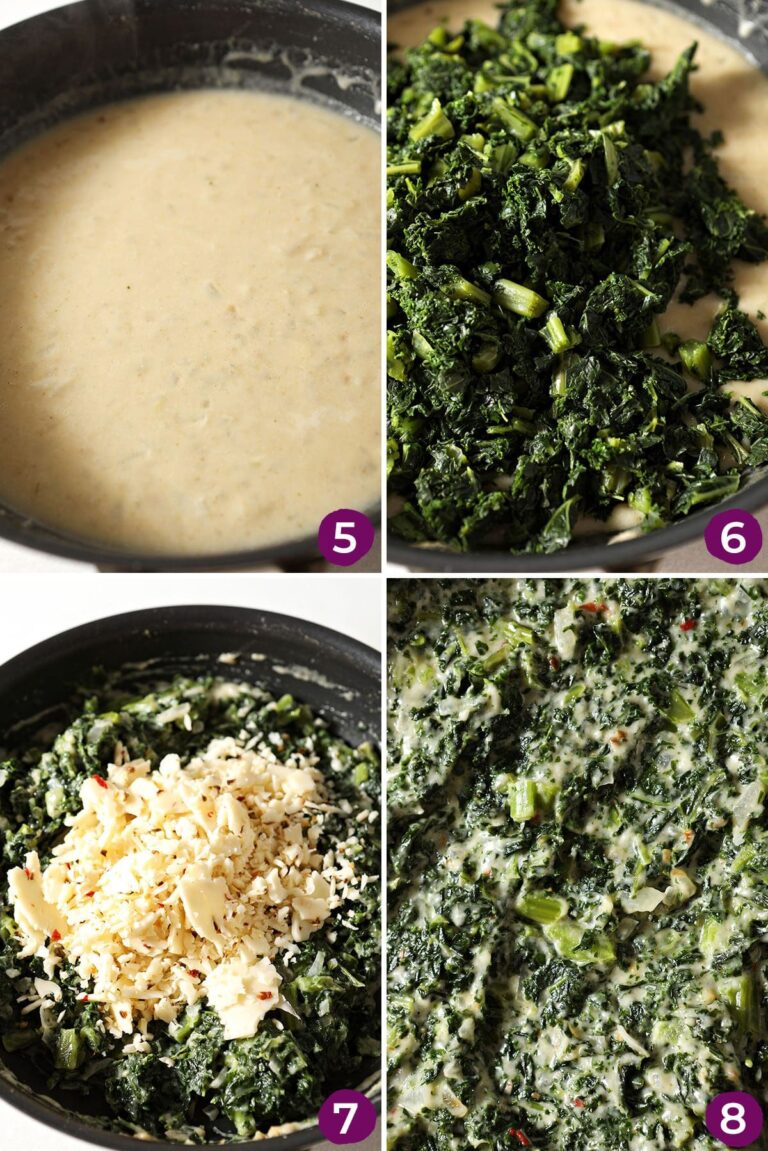 Once the sauce has thickened, add Worcestershire, celery salt, garlic salt and black pepper. Give it a taste and add salt, if necessary.
Remove the skillet from the heat and add most of the cheese. You also should add the kale.
Stir until combined.
Transfer into a casserole dish. Sprinkle with the remaining cheese.
Bake for 30-40 minutes. The cheese will brown.
Serve immediately, and enjoy!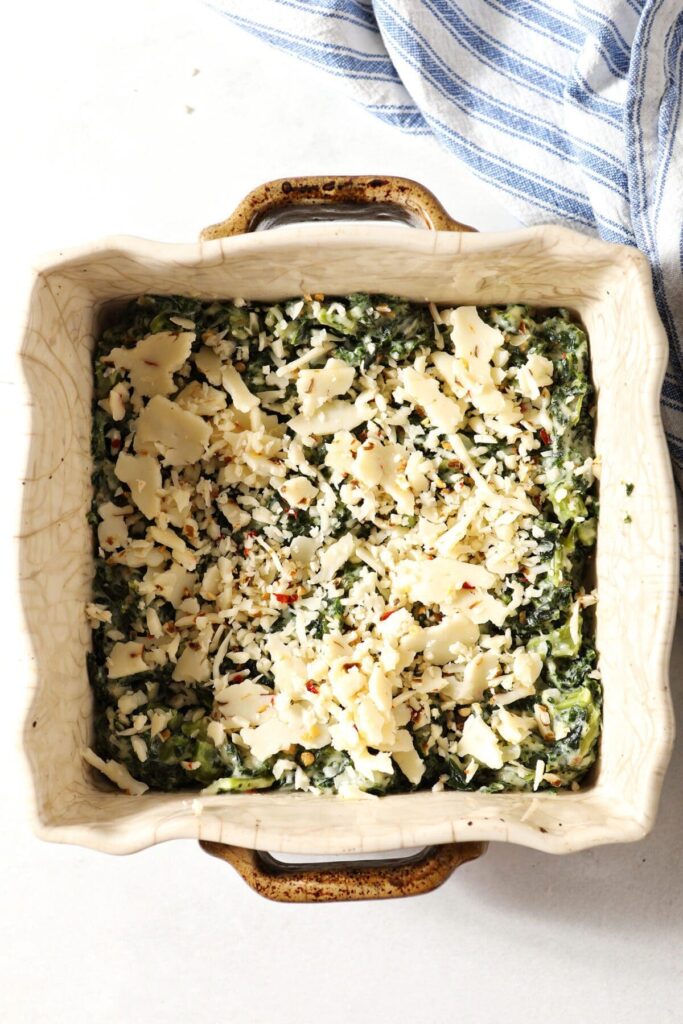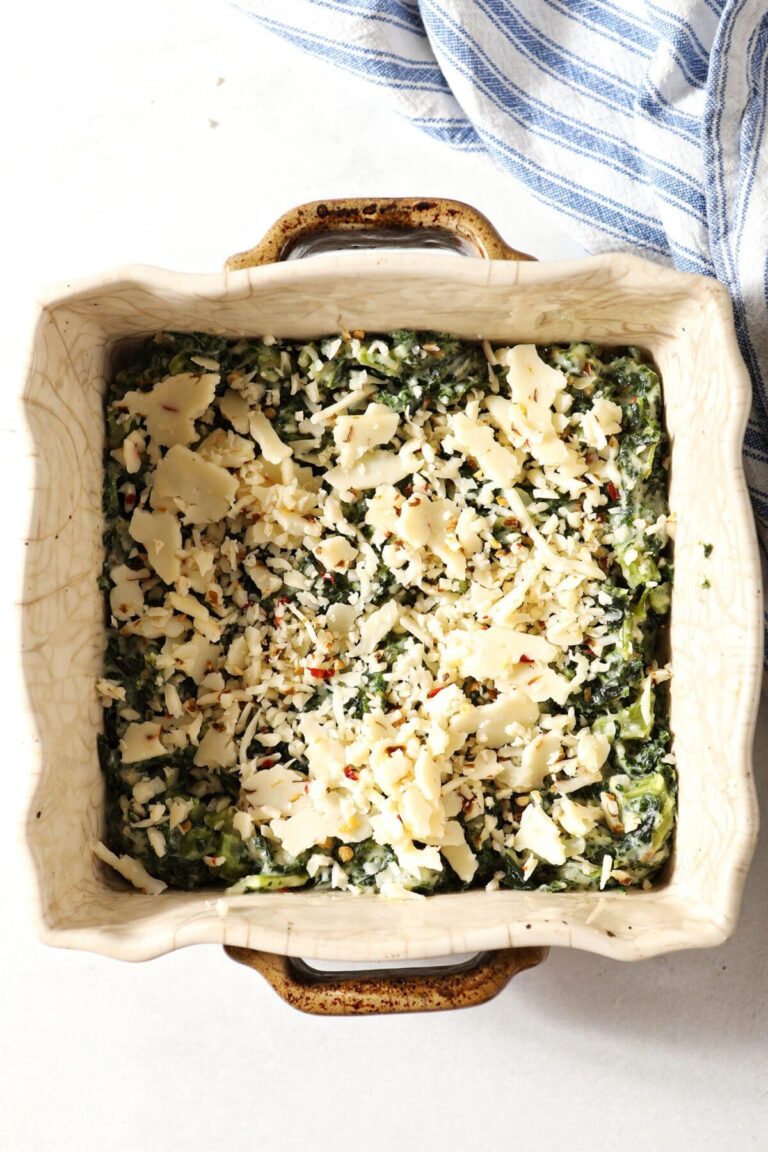 Erin's Easy Entertaining Tips
One thing I love about this spicy kale is that it's versatile. You can make it for a variety of different occasions.
Here's what I like to do when I make it for a gathering:
Make it early. Put together the sauce and stir in the kale. Sprinkle the cheese on top, wrap in plastic wrap and transfer to the refrigerator overnight. Bake when ready.
Double or triple the recipe. We always make extra when hosting because this side is always gobbled up.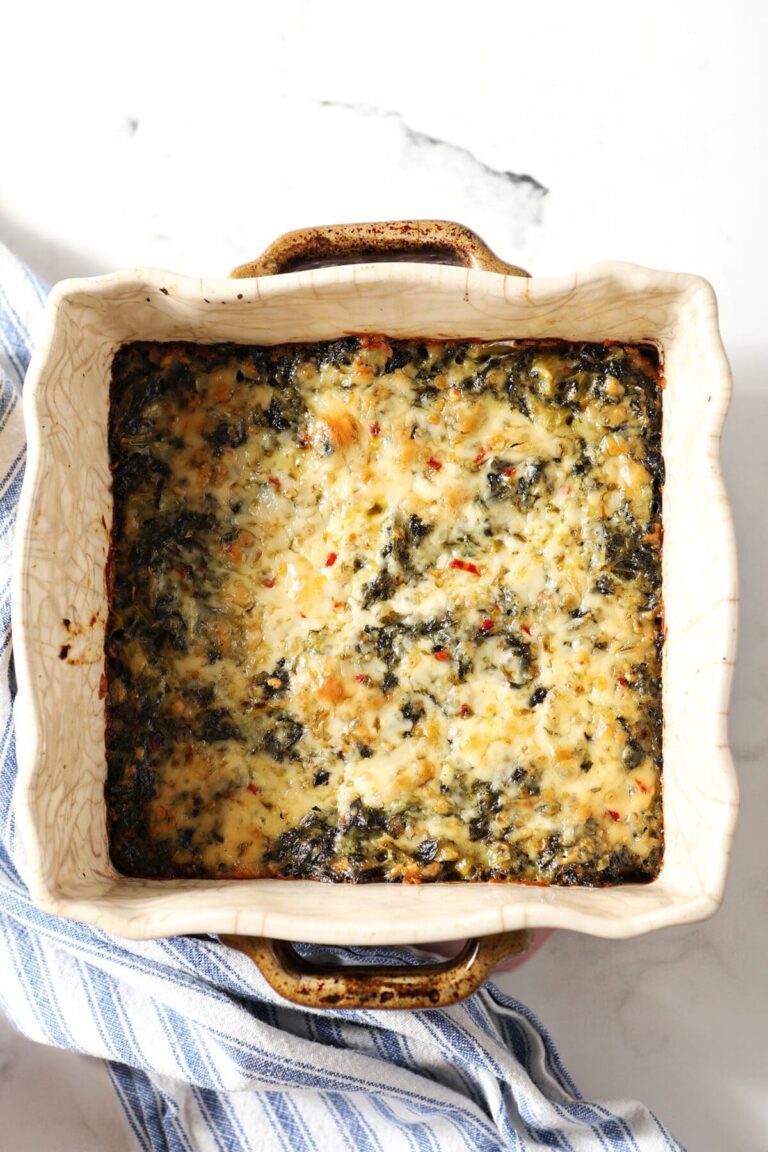 Frequently Asked Questions
How do you make delicious kale?
We think this is a delicious way to prepare kale! First, you steam the kale and then throw it into the sauce, which is creamy and cheesy and a little spicy. Then you bake it for optimal gooeyness.
What's the tastiest way to eat kale?
In my opinion, it's this!
What seasoning is good for kale?
Honestly, adding celery salt and garlic salt really adds such a kick to this recipe, alongside the pepperjack cheese.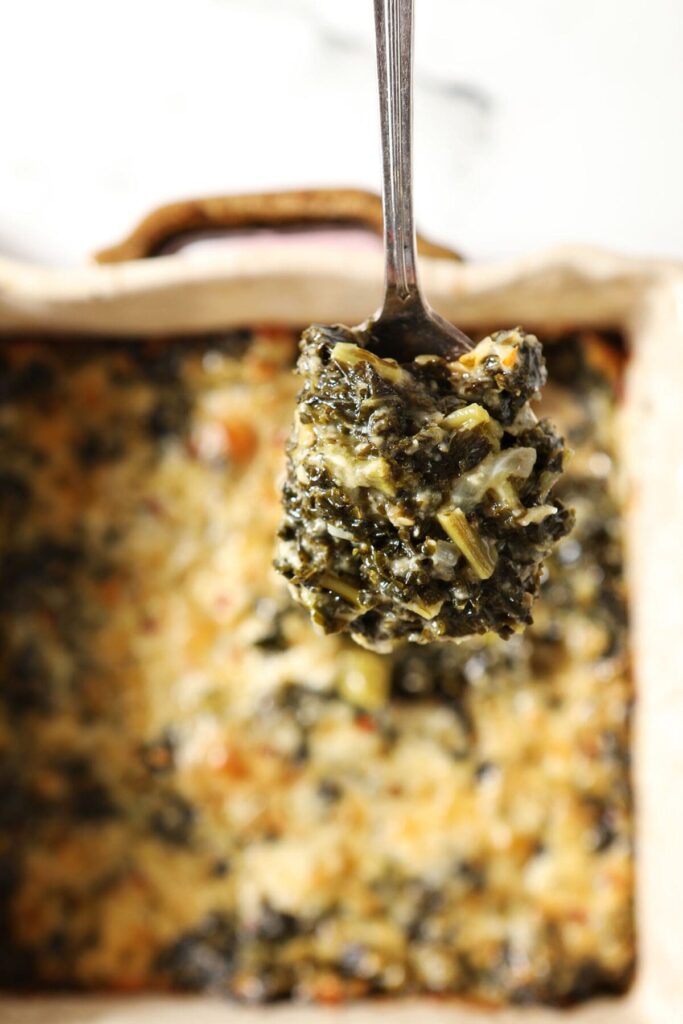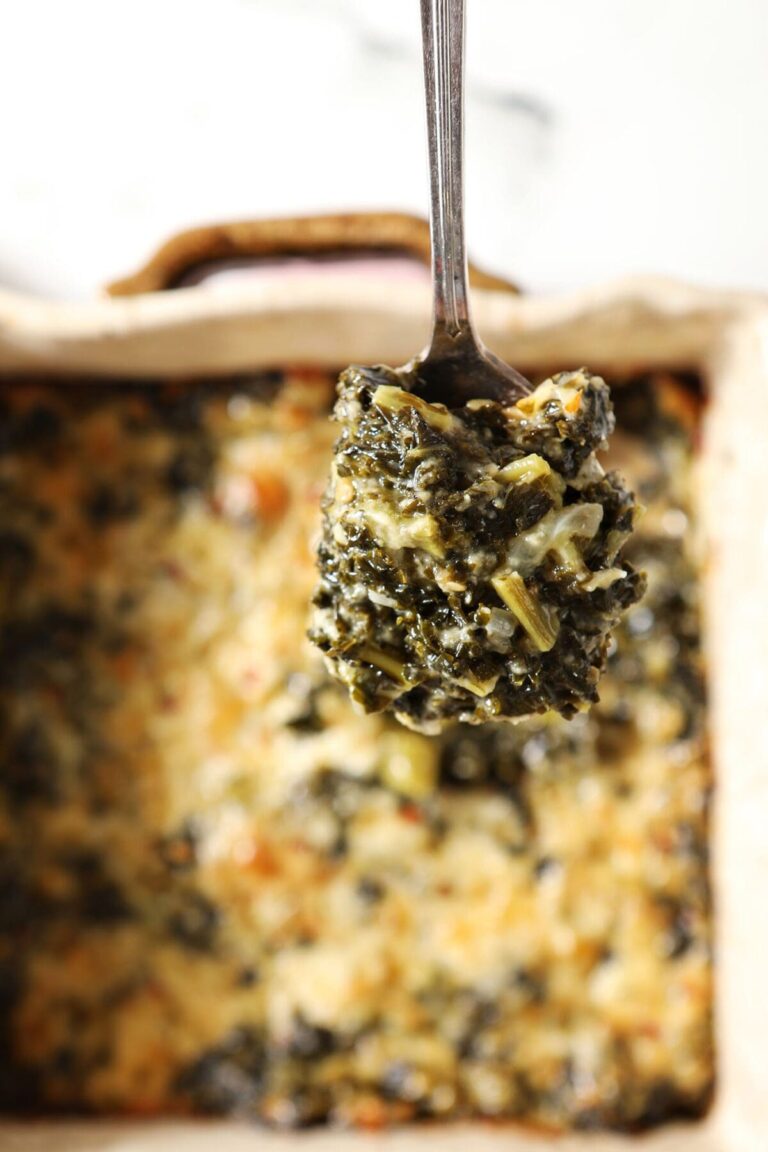 Tips and Tricks to making the BEST Kale Madeline
Cook the kale early, and let it drain slowly over a bowl. This will give the kale time to cool off so you don't burn your hands.
Prep everything before starting cooking. This will make the assembly and cooking easy.
Taste the pepper jack before stirring it in. Some are more spicy. If you're concerned about this, mix in some mozzarella or monterrey jack.
How to store: Transfer leftovers to an airtight container after cooled. Refrigerate for up to a week.
How to reheat: Reheat portions in the microwave until warm.
More unique sides: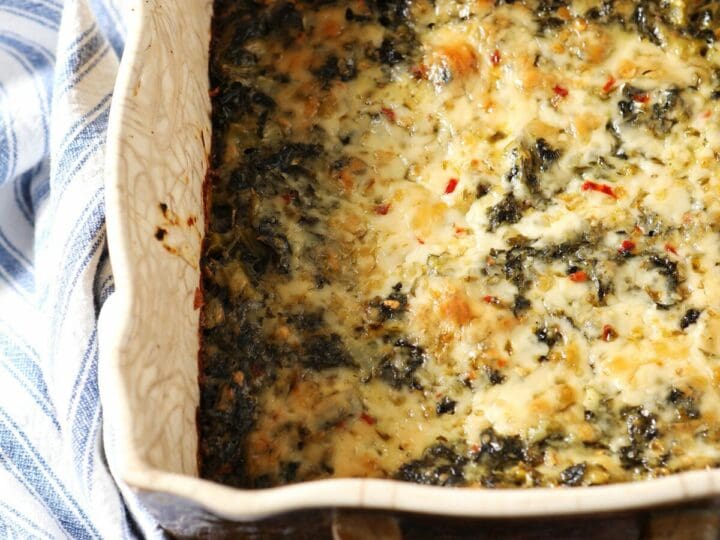 Yield:

6 servings
Kale Madeline
A take on the ever-popular Spinach Madeline, Kale Madeline is heartier than the dish that inspired it. Fresh kale is cooked and tossed with onion, seasonings and cheese before baking into a casserole. This dish makes for a fantastic Thanksgiving or Christmas side dish.
Ingredients
12 oz. frozen kale, cooked and drained with liquid reserved
2 tablespoons unsalted butter
1 tablespoon all-purpose flour
1 small onion, finely diced (about 1/4 cup)
½ cup milk
1 teaspoon Worcestershire sauce
¼ cup reserved kale liquid
½ teaspoon celery salt
3/4 teaspoon garlic salt
1 cup shredded pepper jack cheese, divided (140g)
Salt and pepper to taste
Instructions
Preheat the oven to 375°F.
Cook the frozen kale in the microwave in a microwave-safe dish. When cooked through, let cool and then drain in a fine mesh strainer over a bowl and save the liquid.
In a skillet, melt the butter and add the flour, forming a blonde roux.
Add the onion, cooking until translucent and coated in the roux.
Pour in the milk, Worcestershire and the reserved kale liquid. Season with the celery salt, as well as freshly ground black pepper and salt.
Simmer until the sauce has thickened substantially, then add in the kale and 3/4 cup of the cheese, stirring until combined.
Pour into a greased baking dish, top with the remaining 1/4 cup of cheese, and transfer to the oven.
Bake for 20-30 minutes, or until the cheese on top is brown and bubbly.
Serve warm and enjoy!
Notes
This recipe was updated in 2022 to use frozen kale instead of fresh. If you'd still like to use fresh kale, use the same amount as the frozen and blanch in a pot of salted water until cooked. Drain like you would above and then follow the recipe.
This recipe can easily be doubled or tripled for a crowd.
How to store: Transfer leftovers to an airtight food storage container after they have cooled completely. Refrigerate for up to a week.
How to reheat: Reheat portions in the microwave until warm.
Recommended Products
As an Amazon Associate and member of other affiliate programs, I earn from qualifying purchases.
Nutrition Information:
Yield:
4
Serving Size:
1
Amount Per Serving:
Calories:

225
Total Fat:

16g
Saturated Fat:

10g
Trans Fat:

0g
Unsaturated Fat:

5g
Cholesterol:

45mg
Sodium:

752mg
Carbohydrates:

10g
Fiber:

2g
Sugar:

4g
Protein:

12g
Nutrition facts are an estimate and not guaranteed to be accurate.