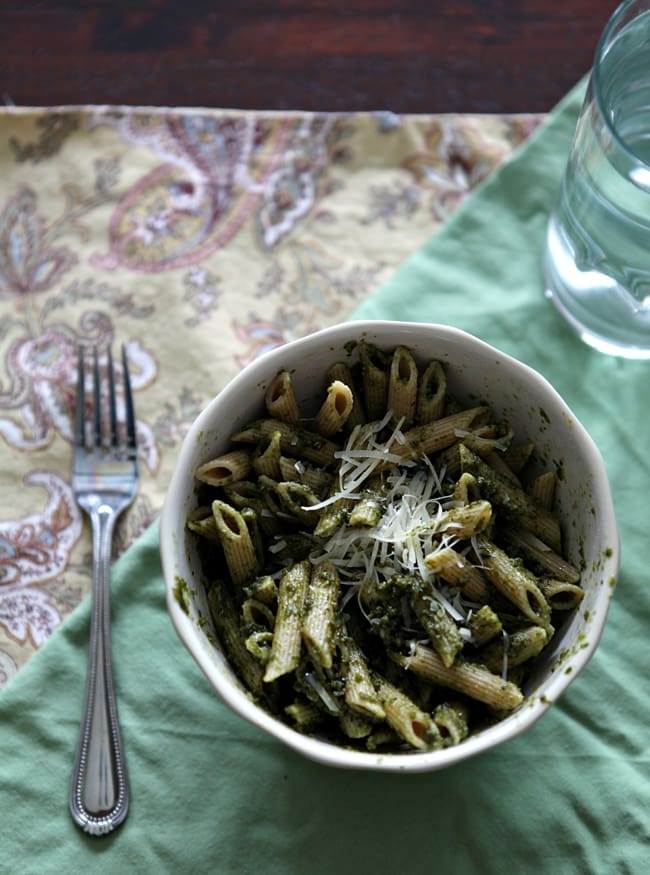 First and foremost, Happy St. Patrick's Day, y'all!
If your weekend was anything like mine, you may or may not have been drinking beer around 11 a.m. on Saturday at a friend's St. Patrick's Day Party because that's what you do. And then you may have avoided beer yesterday because you ran a ton (read: 18 painstaking miles) and were afraid that it would put you to sleep. (Spoiler alert: Beer is delicious, but sleeping while drinking a beer? Makes me sad.)
Today, I'm sharing a green recipe that also doubles as runner food. However, if you're looking for a sweet St. Patrick's Day-inspired recipe for later, might I suggest my Guinness Cupcakes with Bailey's Cream Cheese Icing and Jameson Simple Syrup… or the Guinness Brownies with Bailey's Cheesecake Swirl that I made for Delightfully Southern last year… or the Guinness and Root Beer Floats I shared at The Perch last year?
Other sauces that are wonderful for pasta and pizza: Turkey and Sausage Tomato Sauce | Lemon Shrimp Pasta | Spinach Pistachio Pesto | Pepperoni Pizza Rolls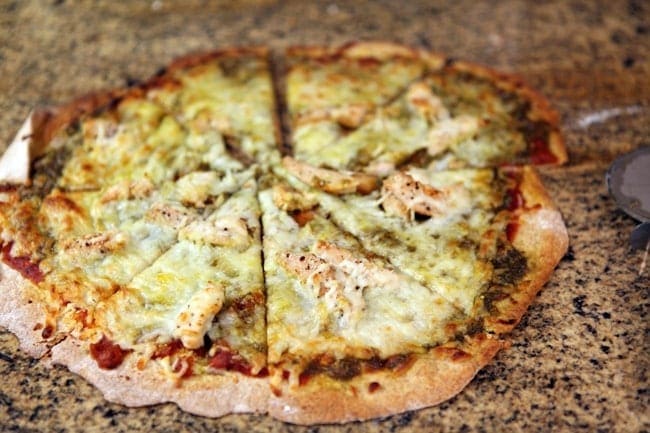 So.
Basil Pesto.
It's a simple recipe, and it's not crazy fancy… but it's incredibly delicious and goes wonderfully on both pasta and pizza.
In fact, this Basil Pesto on top of pasta (regular or the gluten free variety, like I've been consuming recently) is solid running food because of the good fats that reside in the olive oil and all the other fresh ingredients pulled into the recipe. I have yet to try this combo before a super long run, but I've read encouraging things.
As my race draws closer, I find myself reaching for the foods I already know and love and the ingredients I know make me feel good. This pesto, while pretty basic, is one of those dishes I know.
Here's how you can make your own: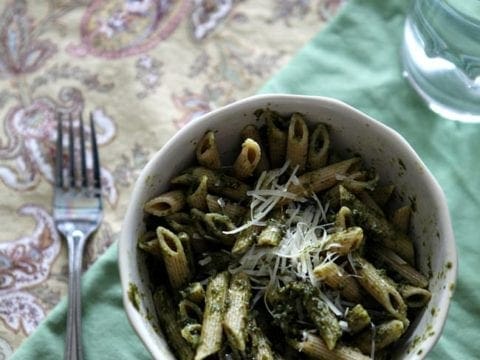 Yield:

4 servings
Basil Pesto
Ingredients
2 cups fresh basil leaves, packed
3 garlic cloves
1/3 cup pine nuts, toasted
¾ cup extra virgin olive oil, divided
½ cup freshly grated parmesan cheese
Kosher salt and freshly ground black pepper, to taste
Instructions
Add the basil, garlic and toasted pine nuts to a food processor and pulse until coarsely chopped.
Pour in 1/2 cup of the oil, then process until incorporated and smooth. Season with salt and pepper to taste.
If using immediately, add the remaining oil and pulse until smooth. Transfer the pesto to a serving bowl (or jar) and stir in the cheese, then enjoy immediately.
If you're freezing the pesto, transfer it to an air-tight container and drizzle the remaining oil over the top. Freeze for up to 3 months. When appropriate, thaw, then stir in cheese and enjoy.
To make pesto pasta: Boil 1 lb. of noodles of your choice until al dente, then drain and transfer the pasta into the bowl with the pesto. Combine, then serve warm.
Notes
Adapted from The Food Network
Nutrition Information:
Yield:
4
Serving Size:
1 serving
Amount Per Serving:
Calories:

452
Total Fat:

49g
Saturated Fat:

7g
Trans Fat:

0g
Unsaturated Fat:

40g
Cholesterol:

3mg
Sodium:

132mg
Carbohydrates:

3g
Fiber:

1g
Sugar:

0g
Protein:

3g
Nutrition facts are an estimate and not guaranteed to be accurate.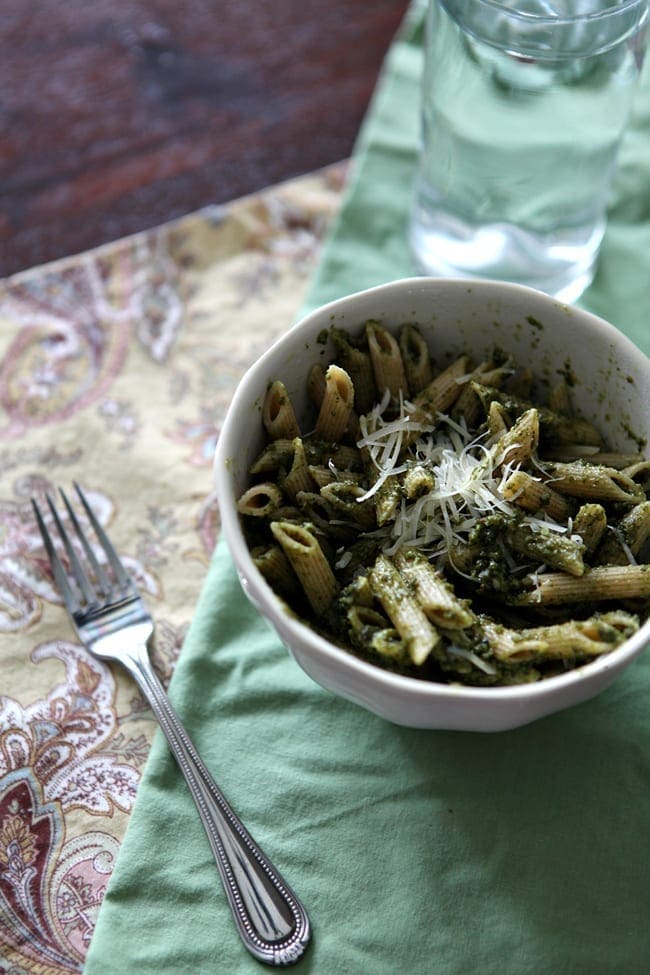 Are you a big pesto fan, too?
What is your favorite food before a long run?