Take the stress out of stocking your bar with this guide for the essential items you need in your home bar! Including recommendations of liquor, mixers, tools and more, this how to guide shows how to easily build up your at-home liquor collection.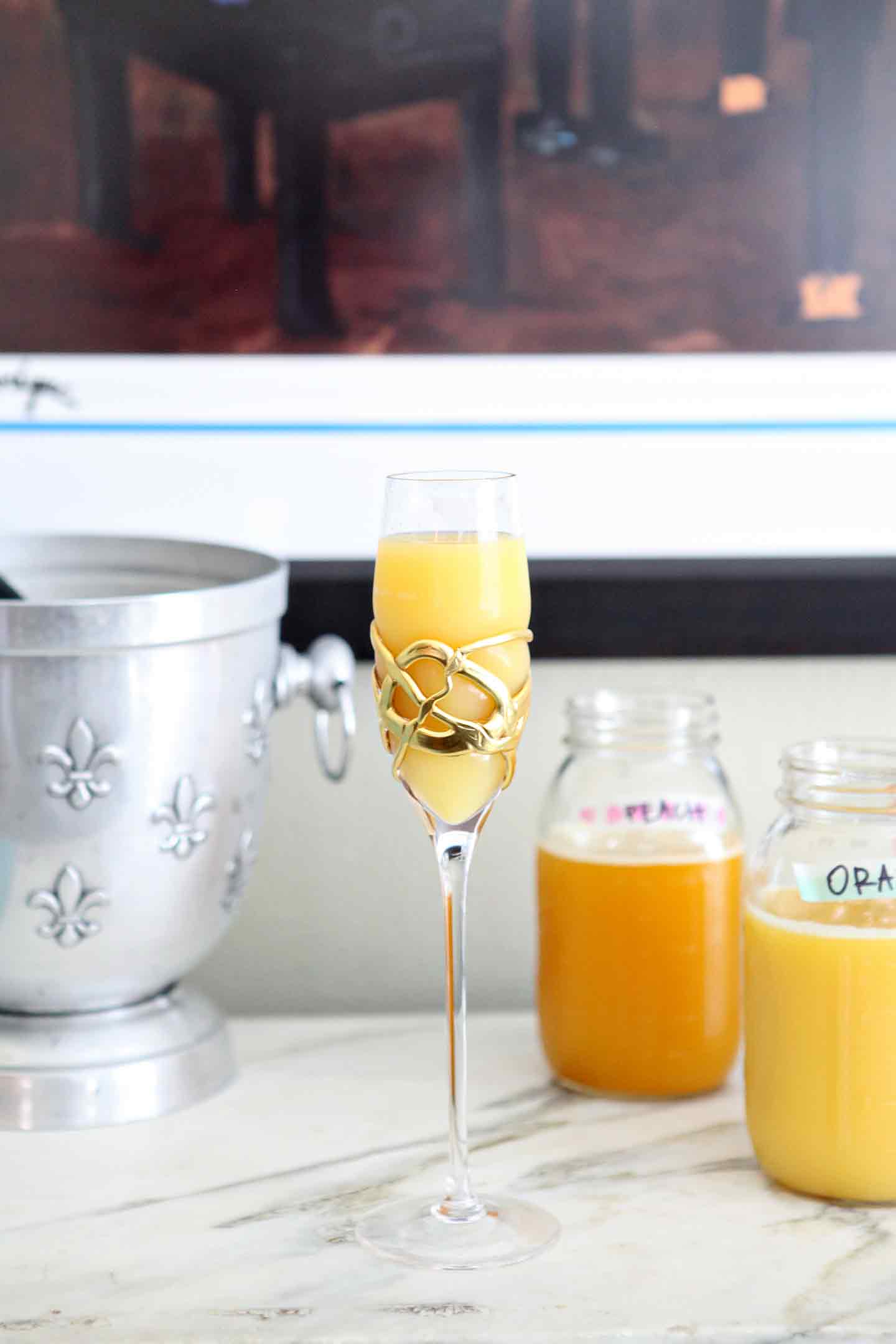 After we purchased our first house and officially moved in, we decided to stock our home bar.
Because we are adults… and because we'd never had the opportunity to do so before.
When we arrived at the liquor store, we were overwhelmed with all the possibilities… and tried to take home a bottle of everything because clearly, that's what we needed.
Here's a secret, though:
You don't need to own every bottle of liquor under the sun to have a "well-stocked" home bar.
Having a well thought-out bar is better than a bar that has all the bells and whistles, and while having a bar cart is cute, it's even cuter to have a bar that you actually use (instead of just look at.)
So I've put together my list of "essentials" for a home bar, and they're pretty customizable. Since, you know, we all have different tastebuds and like different types of drinks.
Choose 3-4 Of Your Favorite Liquors.
These should be liquors that you actually like and will make drinks with. There is no point in purchasing liquors that you don't like or know and those bottles will sit on your shelves for years. (How do I know? Because I have a few like that.)
What do you like to drink?
What alcohols do you despise?
What do you think you'd like, but you've never really tried before?
Build your bar around your tastebuds, not anyone else's. (Or the tastebuds you aspire to have.)
So, for example, you won't find multiple tequilas in my home bar because tequila isn't my jam, but you will find several bourbons and whiskeys because we love those.
If you like Moscow Mules and varieties on those, have a good bottle of vodka.
Margaritas are your jam? Have a solid bottle of tequila for mixing your faves.
Like an old fashioned? A good bottle of bourbon is essential.
If you're unsure what bottles to go with, speak with someone in your local liquor store. I've had great luck chatting with employees in the various sections because they know the differences in the bottles you're looking at and can make a suggestion off your personal preferences.
Purchase Mix-Ins And Mixers That Pair Well With Those Liquors.
Some awesome mixers to have on hand are as follows:
BUT! You do not need to have all of these in your home bar to make it a success.
However, some drinks require more or less of certain mixers. Again, go back to what you like and purchase ingredients to support your tastebuds instead of buying mixers willy-nilly because they sound like a good idea. (Spoiler alert: Having a ton of ingredients but not actually using them makes them pointless.)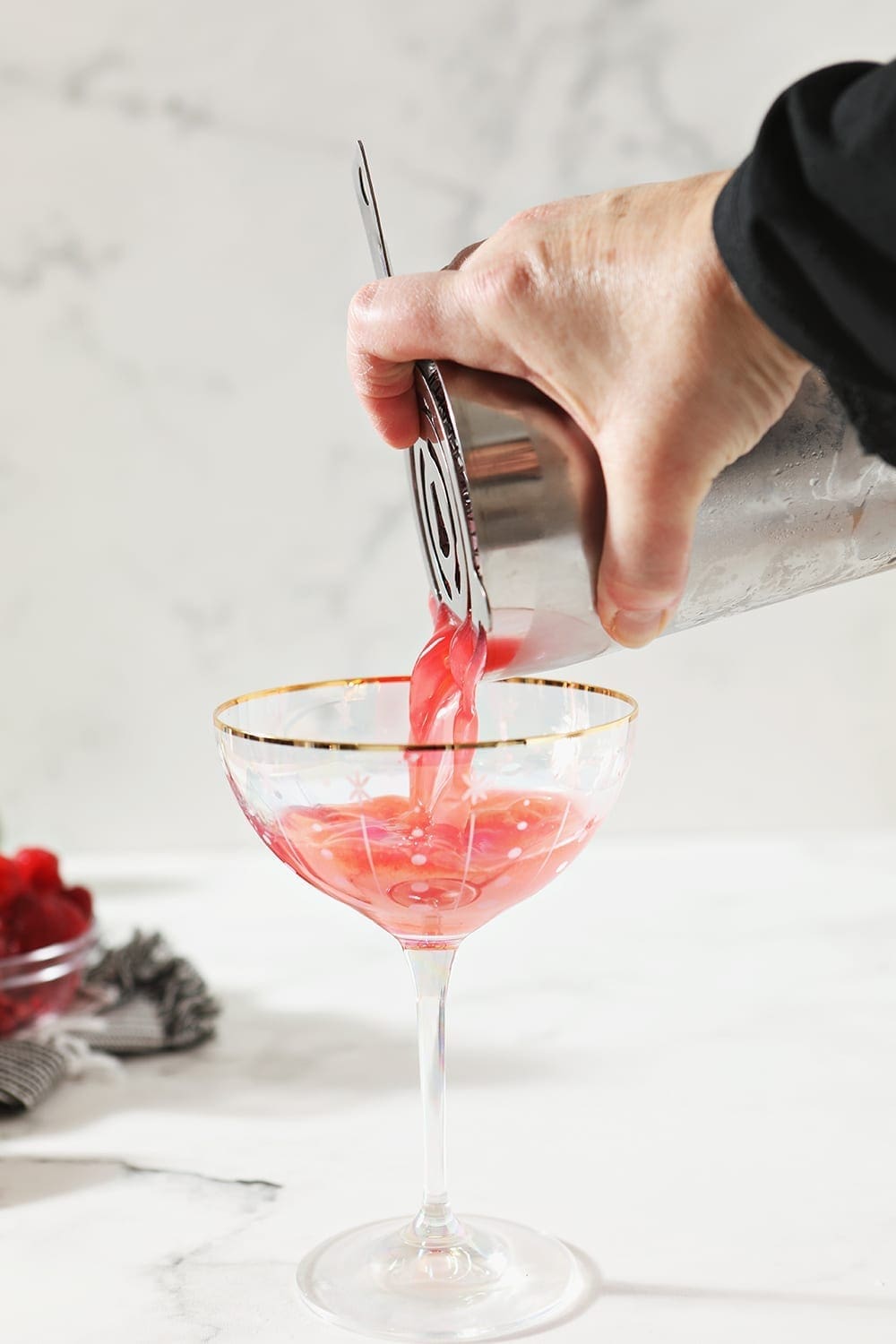 Essential Tools For A Home Bar
Disclaimer: The links below are affiliate links. If you click through and take action, I will receive a small commission. Please refer to my disclosure page for more information about the affiliate programs The Speckled Palate participates in.
To reiterate what was stated earlier, you certainly don't need to have everything under the sun for your home bar.
That said, if you like making mixed drinks, a cocktail shaker is a must-have. If you like frozen margaritas, you might want to have a high-powered blender to mix things together easily.
You definitely want to have all-purpose glasses (or even glasses that are more specific if you dig a specific type of drink.)
Here are some of the items I suggest considering purchasing for your home bar.
Again, keep in mind that you might not use all of these, and if you're not going to use them, please do not spend your money on them.
Glasses (like old fashioned glasses, wine glasses, etc., though you can honestly drink any cocktail out of a regular glass if you want)
A jigger or another measuring tool to measure out your drinks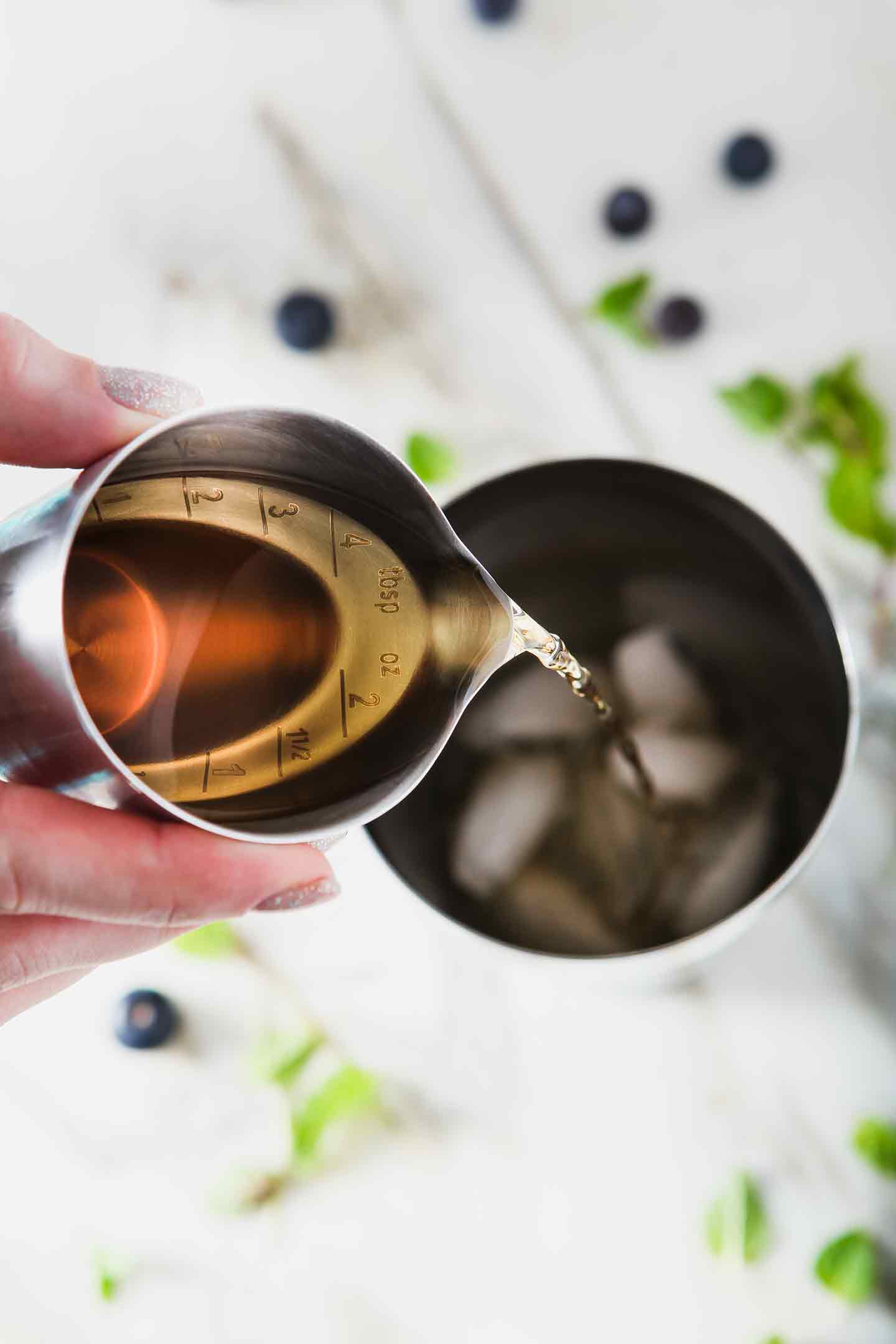 Choose A Place In Your Home And Set Up Your Bar!
The last step of setting up your home bar is choosing where it lives!
For us, we have a bright blue buffet table that we use as our home bar. Whenever we're hosting friends, we clear it off and set out the liquors/mixers that we have for people to make their own drinks.
Please note that we used to have everything out before kids, but we have since taken them down since we don't want kids potentially getting into them.
So if you don't have kids and want to have your bar out (or a super cute and breakable glass bar cart), YOU DO YOU! Just be aware of other peoples' kids and of your pets, too, because goodness knows they can wreak havoc.
Choose your location and set out your liquors, mixers and tools. Mix up a drink when you're in the mood for one and invite friends to do the same thing!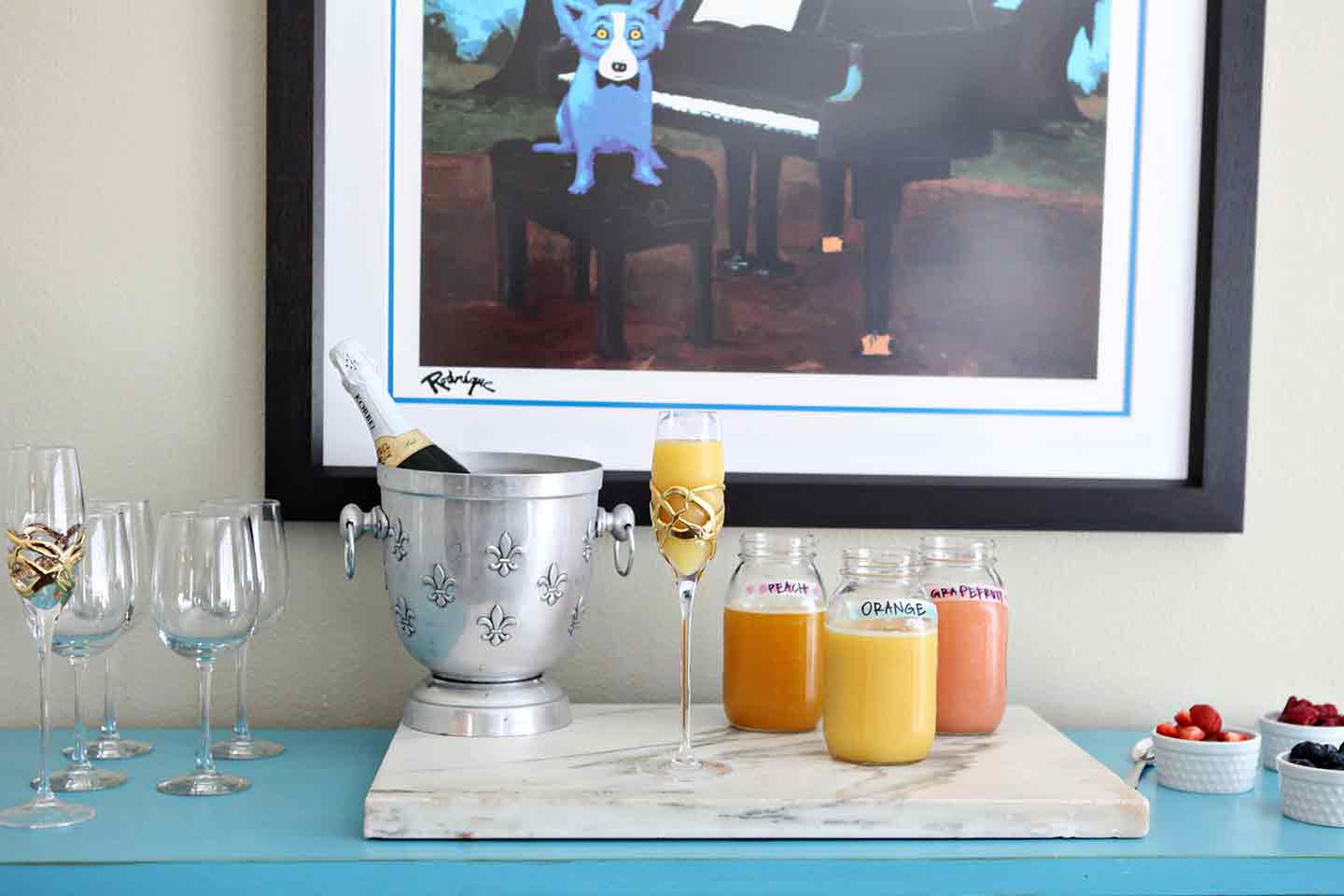 Erin's Easy Entertaining Tips
Having a home bar makes entertaining a breeze because you (probably) have the essentials to make a custom drink for a gathering or to let friends mix up their own libations.
Here are a few tips and trips for making your at-home bar cart as well-prepared as possible and how to stock that home bar for success while entertaining:
Don't overwhelm your guests. Provide mixers and liquors for 1-2 drinks (instead of any drink ever.) This will make life easier on you. For us, we set up a Mimosa Bar and an Outdoor Drink Station for day parties at our house. Also, you should check out how to make a Bloody Mary Bar and a Mule Bar, too!
Keep it cold! We love having a champagne bucket of ice out on our bar when entertaining so we can add ice to the cocktail shaker or to drinks easily.
Don't overthink it. Go with your gut, and serve a drink you love! Your guests will probably enjoy it, too.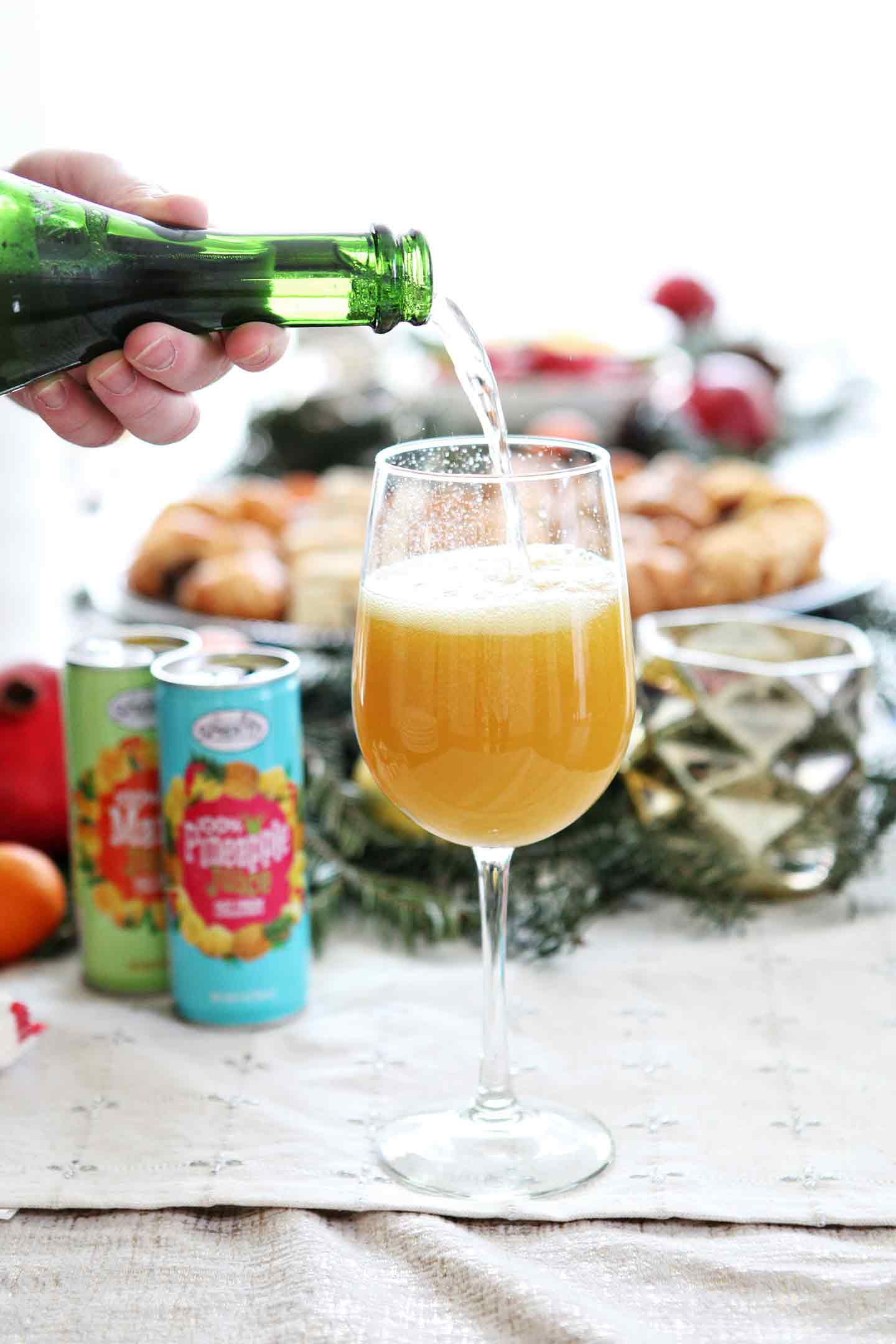 Frequently Asked Questions
How do I choose the best all-purpose glassware for my home bar?
Honestly, you should choose something you like the look of and something that makes sense financially for you. While fancier drink glasses are gorgeous and fun to have on hand, you need to ask yourself if you're going to be brokenhearted when one breaks. (Because, real talk: One will break eventually.)
How do I know what the best type of liquor is for my home bar?
If you don't know what type of liquor to purchase for your home bar, I recommend going to your local liquor store for some guidance. When there, speak to an employee and ask questions about the different types of liquors available.
At our favorite liquor stores, many brands will set up tastings on the weekends, so you can discover new things you like (or new things you don't like.) Just go in with an open mind before purchasing a bottle of everything.
Which of these home bar essential items will I actually need?
I've made some blanket recommendations above, but depending on you and what you like, you may or may not need the recommendations.
That said, I suggest looking at the drinks you enjoy and deciding from there.
If you enjoy a Martini, you'll need a cocktail shaker, but if you dig Sangria, you will need a large pitcher to mix the sangria in instead of a shaker.
Just know that you don't have to have all the tools when you set up your bar, but you might have to add more to your collection, just depending on what you enjoy drinking and what your friends like, too.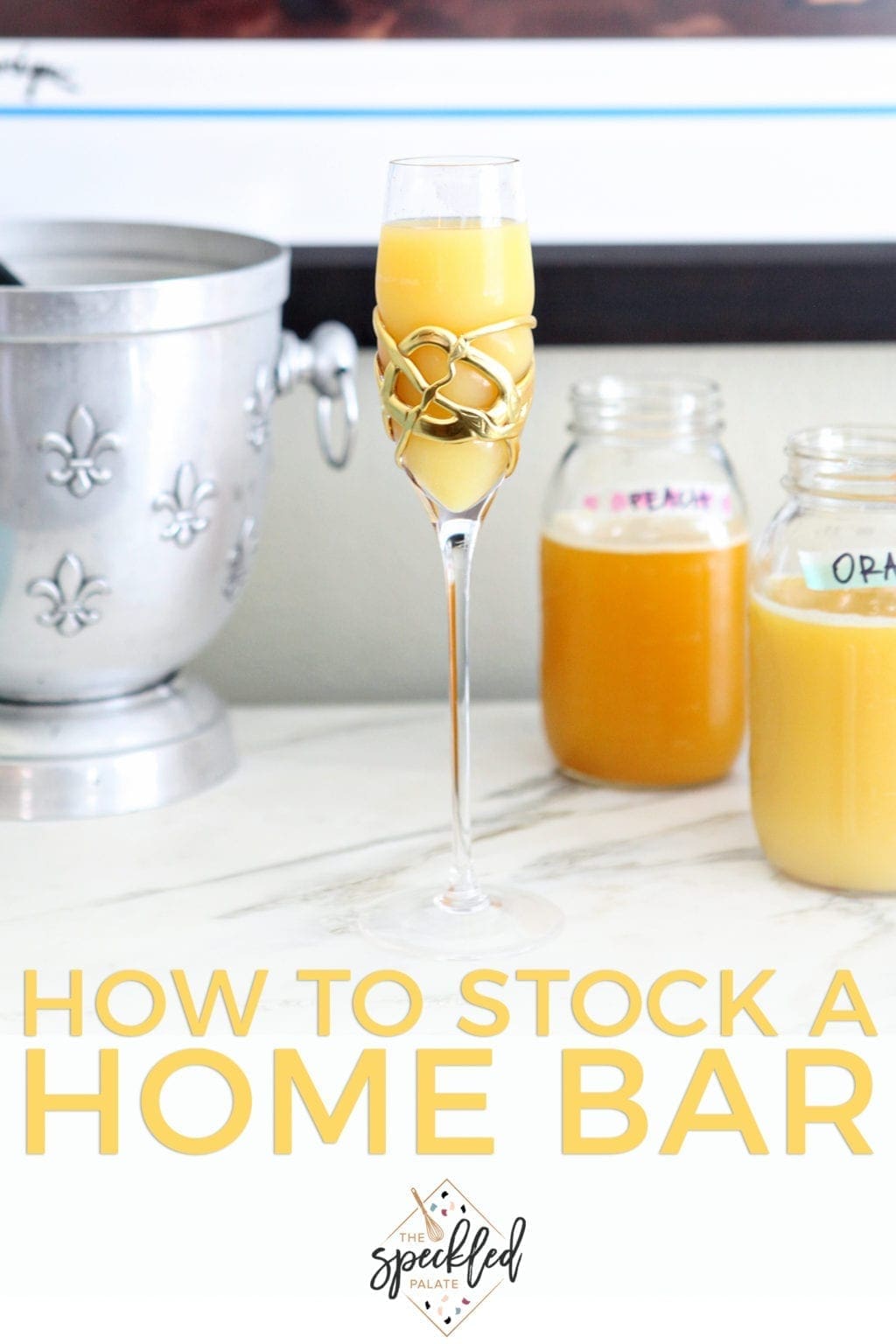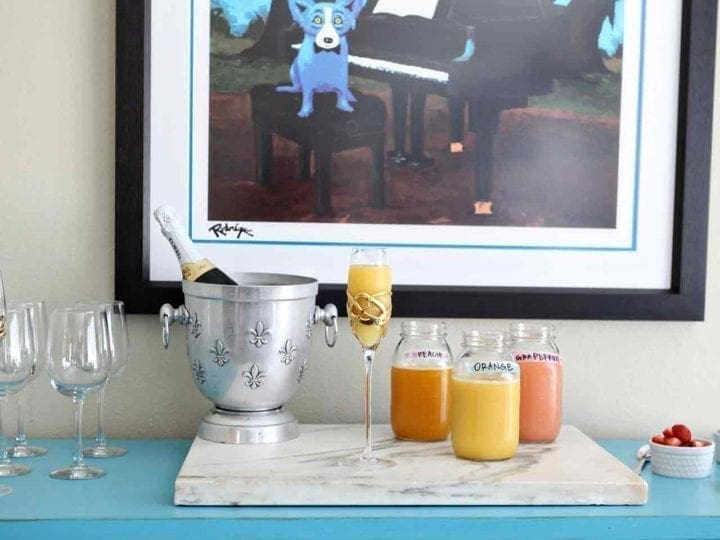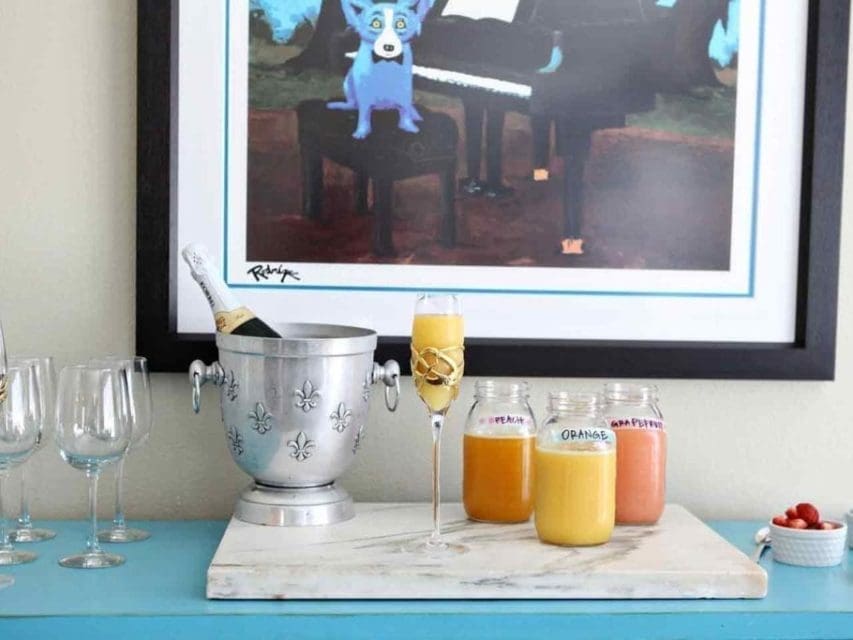 Yield:

1 customized home bar
How to Stock a Home Bar
Unsure where to start with stocking your home bar? You've found the right place that includes the essentials items you need to stock your bar!
Materials
Your favorite liquors (3-4 tops)
Your favorite mix-ins
Tools
A bar cart, a buffet table or a surface to place your bar atop
Glasses
Cocktail shaker
Cocktail spoon
Instructions
Choose 3-4 of your favorite liquors. These should be liquors that you actually like and will make drinks with. There is no point in purchasing liquors that you don't like or know and those bottles will sit on your shelves for years. (How do I know? Because I have a few like that.)
Purchase mix-ins and mixers that pair well with the liquors you've chosen. Depending on what liquors you have on hand, you'll need different mix-ins, like club soda, tonic water, ginger ale, bitters, etc. However, you do not need to have all of these mix-ins in your home bar to make it a success, so only purchase the mixers that you use on a regular basis.
Purchase a few essential tools for a home bar, like a cocktail shaker, all-purpose glassware and more.
Choose a place in your home and set up your bar! You can use a buffet table, a side table that's currently unused or even a fancy bar cart. (Note that some types of bars are more breakable than others, so get one that fits your lifestyle.) Choose your location and set out your liquors, mixers and tools. Mix up a drink when you're in the mood for one and invite friends to do the same thing!

Notes
Please note that you can make your home bar as simple or as extravagant as you'd like! If you're working on a budget, purchase one bottle of liquor and the mixers to mix with it to make 1-2 different cocktails.
Recommended Products
As an Amazon Associate and member of other affiliate programs, I earn from qualifying purchases.
…
Do you have a home bar?