Serve up a Sparkling Ginger Cranberry Mocktail at any celebratory event! This sparkling nonalcoholic drink, featuring just two ingredients, is great for adults and kids. Makes 1 drink, but can easily be made as a pitcher.
Love festive nonalcoholic drinks? You absolutely need to try Blood Orange Mocktail Mule, Arnold Palmer Iced Tea Lemonade Mocktail and Sweet Sunrise Mocktail!
This post first appeared at Julie's Eats and Treats, where I was a contributor.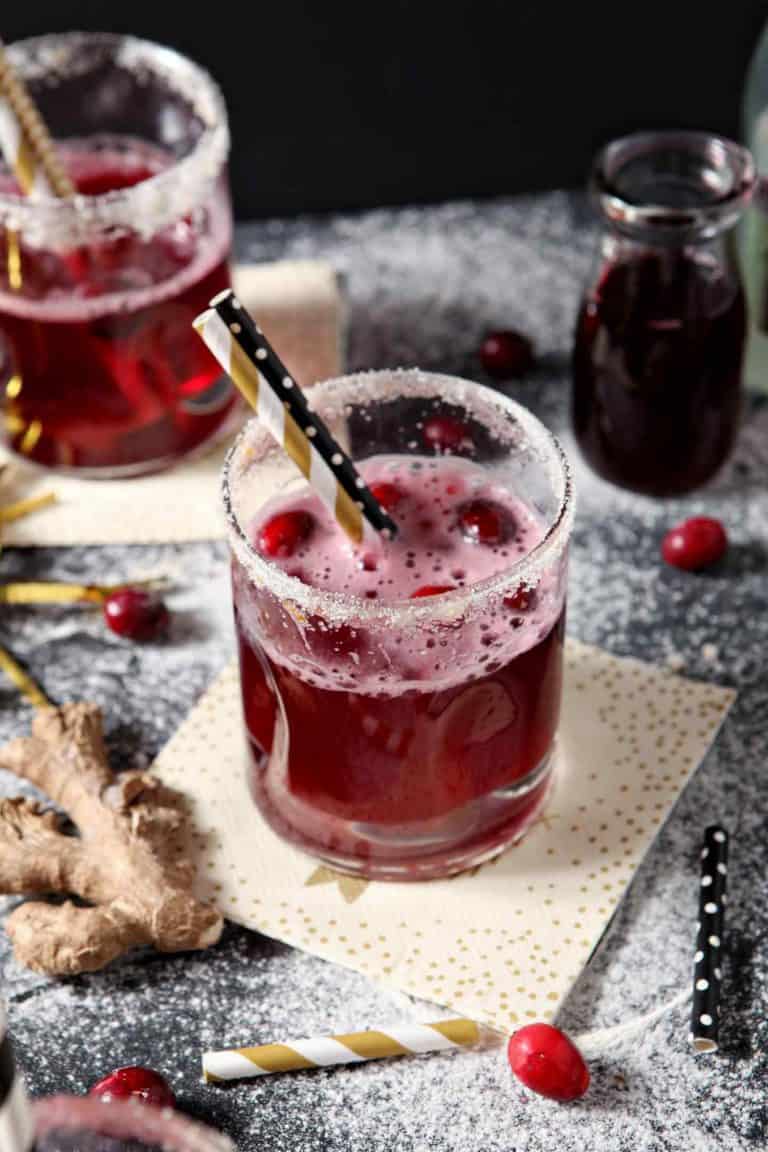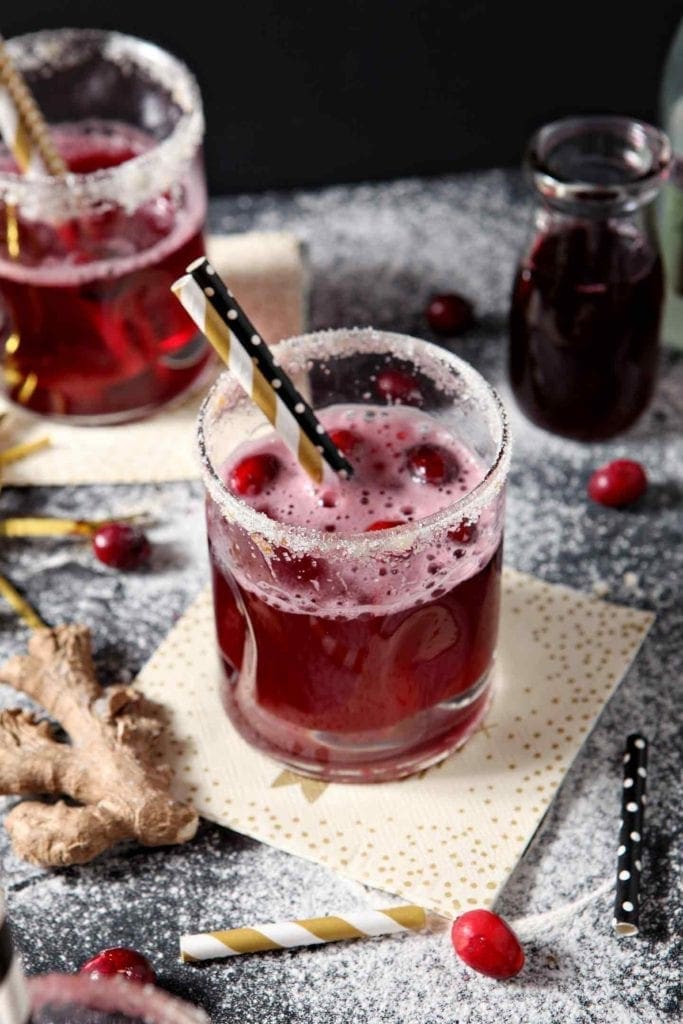 In true Erin fashion, I never even heard of a mocktail until I was pregnant with our first child.
One of my friends (probably Susannah, if I'm really thinking about it) asked me what I planned to drink when I went out for dinner and drinks that evening, and I told her, "Water. Obviously. Or maybe a Coke?"
"Why not ask the bartender to make you a mocktail?"
And thus, my mocktail obsession was born!
While I love a good booze-infused drink (hello, my top 10 recipes are basically all drinks), there's something nice about having a nonalcoholic mixed drink, too.
And for New Year's festivities this year, I wanted to offer a drink that everyone can enjoy!
So why not feature some of my favorite seasonal flavors?
Why I love this mocktail recipe:
This drink calls for just two ingredients—unsweetened cranberry juice (NOT cranberry cocktail!) and ginger beer.
You can add a little bit of apple juice or orange juice, too, if the cranberry is too tart or the ginger beer is too spicy.
It's versatile, and when served with a sugared orange rim, this drink is absolutely fabulous for a celebration!
More celebratory drink recipes: Winter Sparkling Champagne Sangria | New Year's Eve Cranberry Sparkler Mocktail | Pomegranate French 75 | Pomegranate Ginger Orange Sparkling Mocktail | How to make a Grape Shrub Mocktail
Looking for New Year's inspiration? Check out my New Year's Eve recipe index!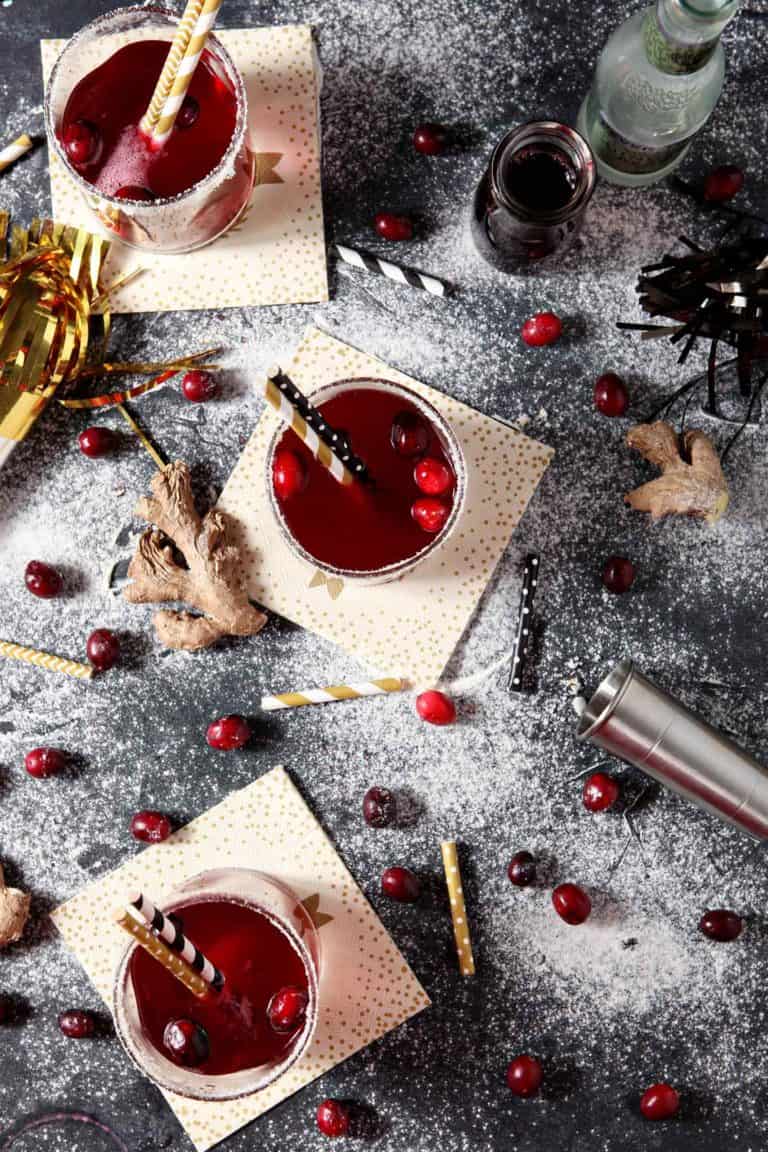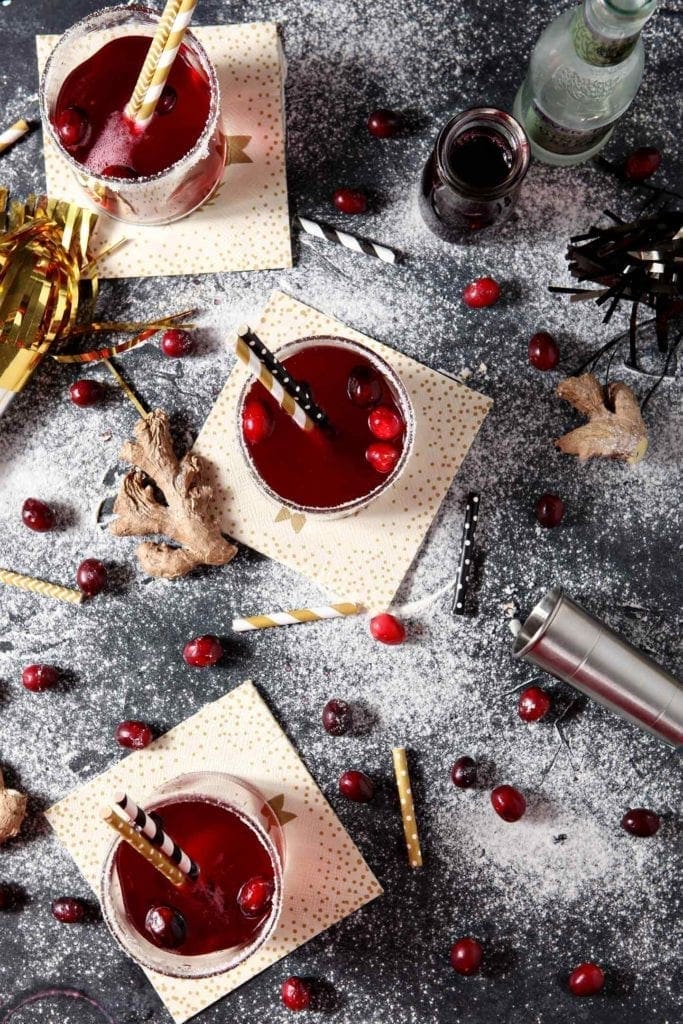 What do I need to make this Cranberry Mocktail?
The Speckled Palate participates in affiliate programs. As an Amazon Associate, I earn a commission from qualifying purchases. Please refer to my disclosure page for more information about these affiliate programs.
Sharp knife to slice the orange wedges
Zester, for the orange zest
Cocktail glasses
In addition to these tools to make this nonalcoholic drink, you're going to need a few ingredients, as well.
Granulated sugar
An orange
Unsweetened cranberry juice (NOT cranberry cocktail)
Ginger beer
How to make a Cranberry Mocktail
First and foremost, we're going to make the orange sugar. That means we'll need to mix up granulated sugar with orange zest. You can do this on a plate or in a bowl. Just make sure there's enough surface area to where you'll be able to dip the glass into it.
To rim the glass with the orange sugar, run an orange wedge around the rim of the glass. Dip it into the orange sugar until coated.
Once the rim is ready, pour the unsweetened cranberry juice with ginger beer directly into the glass and stir.
Add some fresh cranberries for garnish, and enjoy your Ginger Cranberry Mocktail immediately!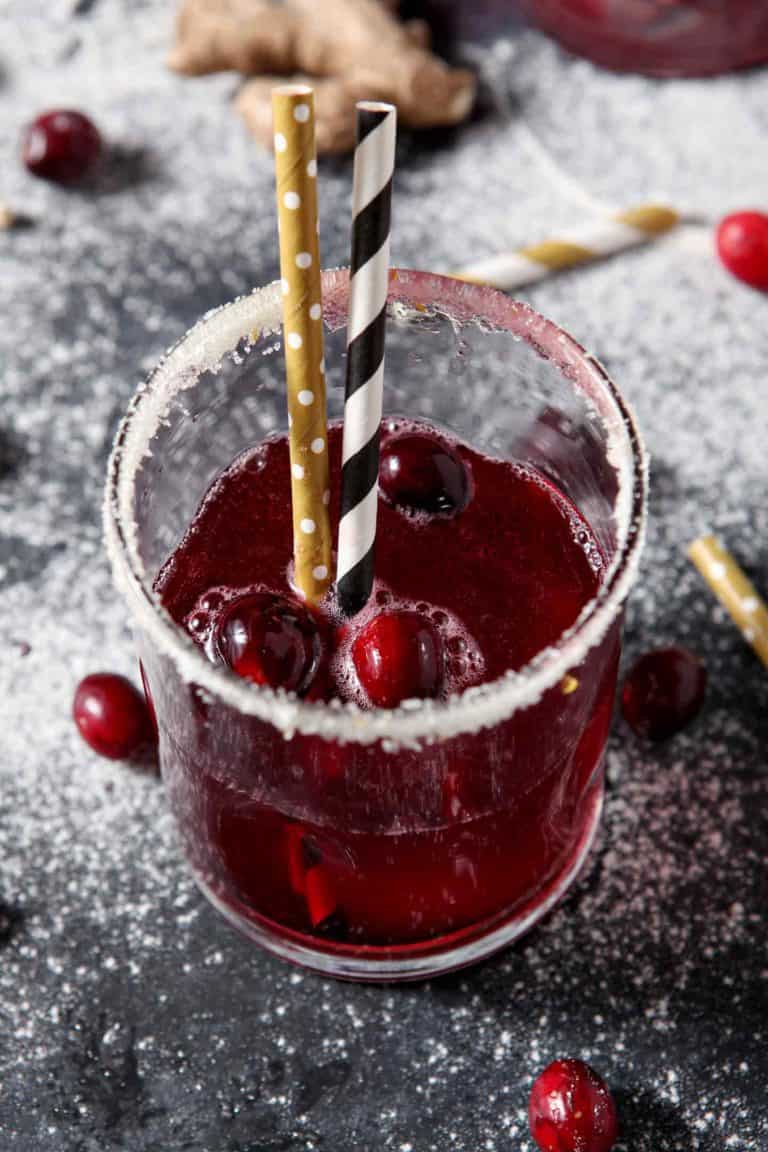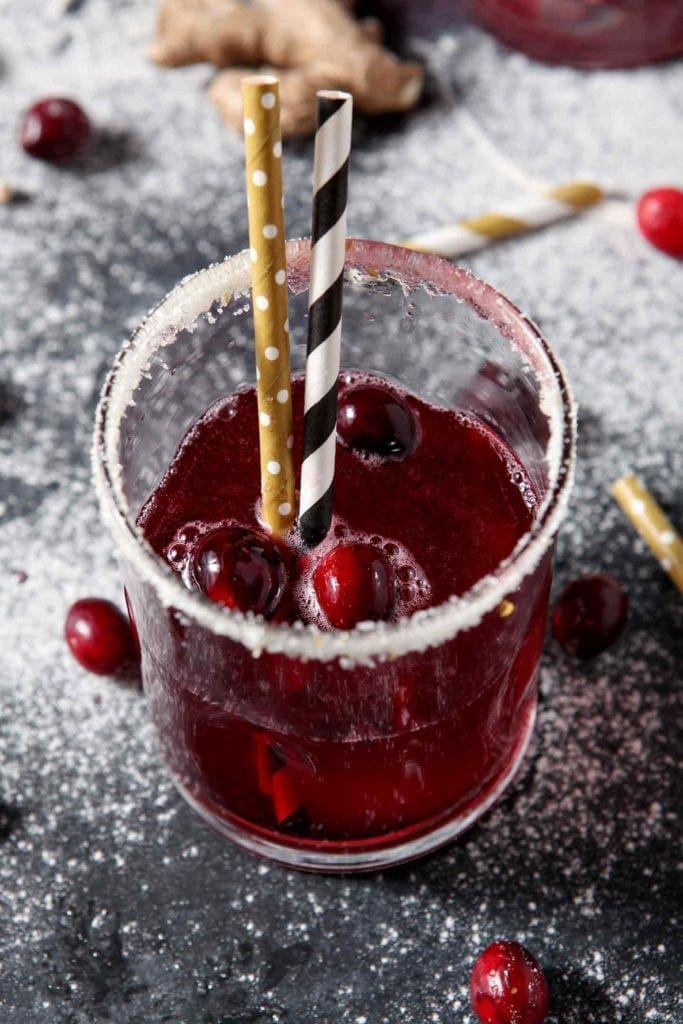 Erin's Easy Entertaining Tips
This Ginger Cranberry Mocktail is the perfect sipper to serve at a wintertime gathering, whether it's Thanksgiving, Christmas or New Year's Eve.
Why do I think it's great for entertaining? It's incredibly simple to make, but it's also a festive color. Also, the addition of orange sugar to the glasses make them look as if they're frosty!
Here are a few tips and tricks for making these festive mocktails for a gathering:
Let your guests mix their own. Print out the recipe, put it in a frame and set it on a flat surface with the ingredients so people can make and garnish their own cranberry mocktails.
Make the orange sugar in a batch… and make it early. This is by far the most time-consuming part of this drink recipe, and you can make this 1-2 days in advance and keep it in the refrigerator.
Make 'em in a pitcher. I've included the Ginger Cranberry Mocktail recipe below for you to simply pour everything into a pitcher and serve it even more easily!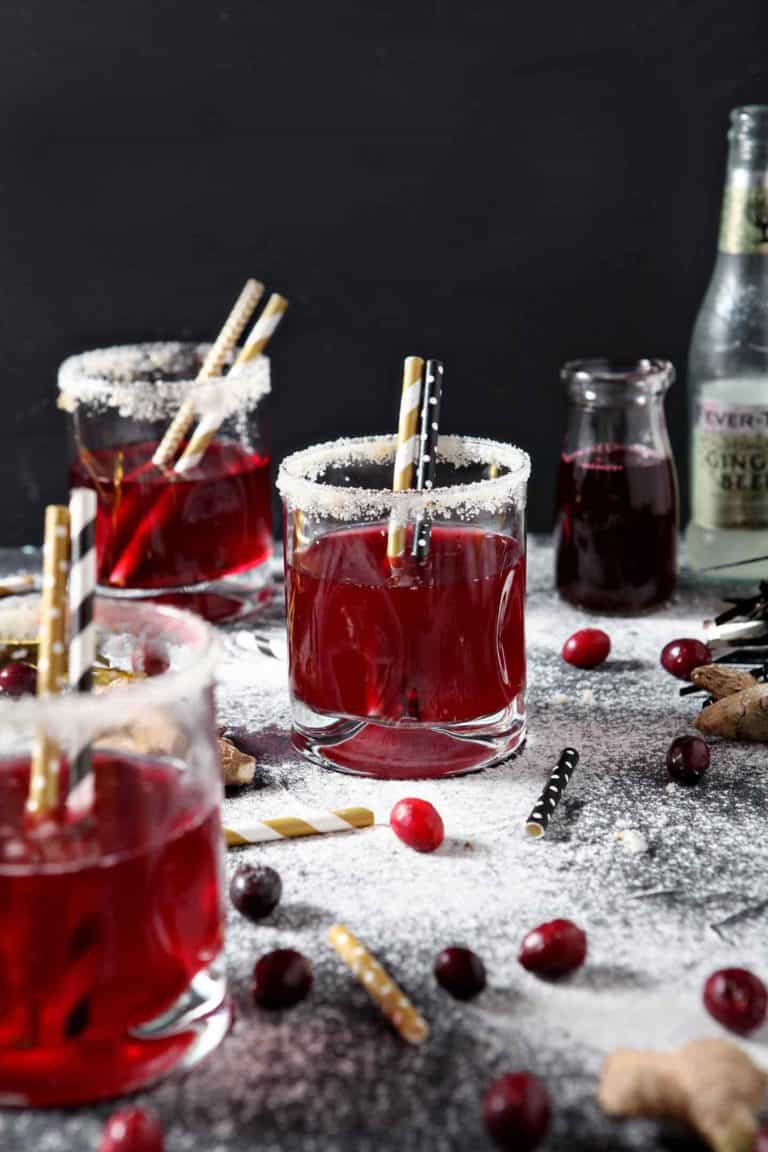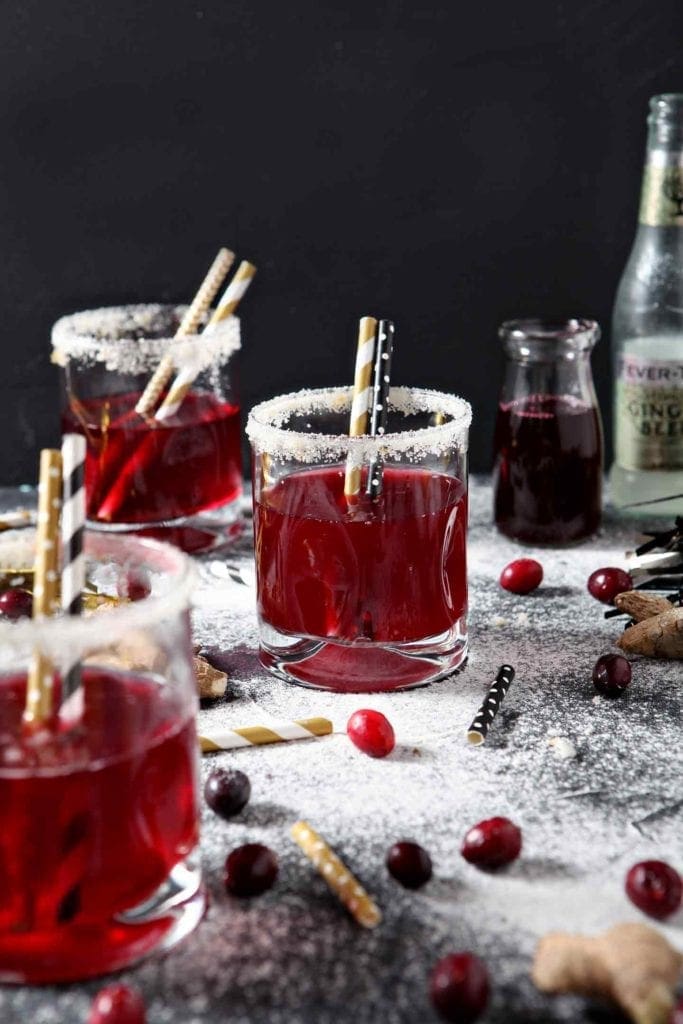 Frequently Asked Questions
What is a mocktail? Is there any alcohol in a mocktail?
A mocktail is a nonalcoholic mixed drink! So there is no alcohol in a mocktail.
Basically, it's a drink that calls for a few ingredients that are mixed together. If you were to add a shot of booze, it would be considered a cocktail. Since you leave the alcohol out of it, this will be a mocktail.
What is ginger beer? Is ginger beer alcoholic?
A naturally sweetened, carbonated, naturally fermented beverage. This brewed drink is considered non-alcoholic because their alcohol content is so low. (Ginger beer is similar to a kombucha with the fermenting and suuuuuuper low alcohol content.)
When poured into a glass, ginger beer bubbles and fizzes like a beer would.
What is the difference between ginger beer and ginger ale?
Ginger beer has been brewed and fermented. Because of the way it is made, the ginger flavor is robust.
Ginger ale is carbonated water flavored with ginger. It's generally lighter in color and has a much mellower flavor.
How do you make this Sparkling Cranberry Mocktail for kids?
You can serve kids this mocktail as it is, though I'd advise taste testing it first.
Depending on the ginger beer you use, it could be too spicy for a child. (For example, we used Sprouts branded ginger beer in our tester batches, and mixed the final photo versions with Fever Tree. The Sprouts ginger beer is milder, while the Fever Tree has more heat.)
If your ginger beer is strong, consider adding some orange or apple juice to this sparkling mocktail. Both juices will mellow the ginger and add a little sweetness to balance out the tart cranberry juice.
You could also swap the ginger beer for ginger ale if serving your kids this cranberry mocktail.
Our 3.5-year-old wants you to know she enjoyed hers with a splash of apple juice.
How do I turn this into a pitcher mocktail?
To make a pitcher of these cranberry mocktails, combine the following in a pitcher and stir:
12 oz. unsweetened cranberry juice
24 oz. ginger beer
Garnish with fresh cranberries (or frozen cranberries to keep the pitcher cold), and serve immediately.
What are some other drinks I can serve for a New Year's Eve gathering?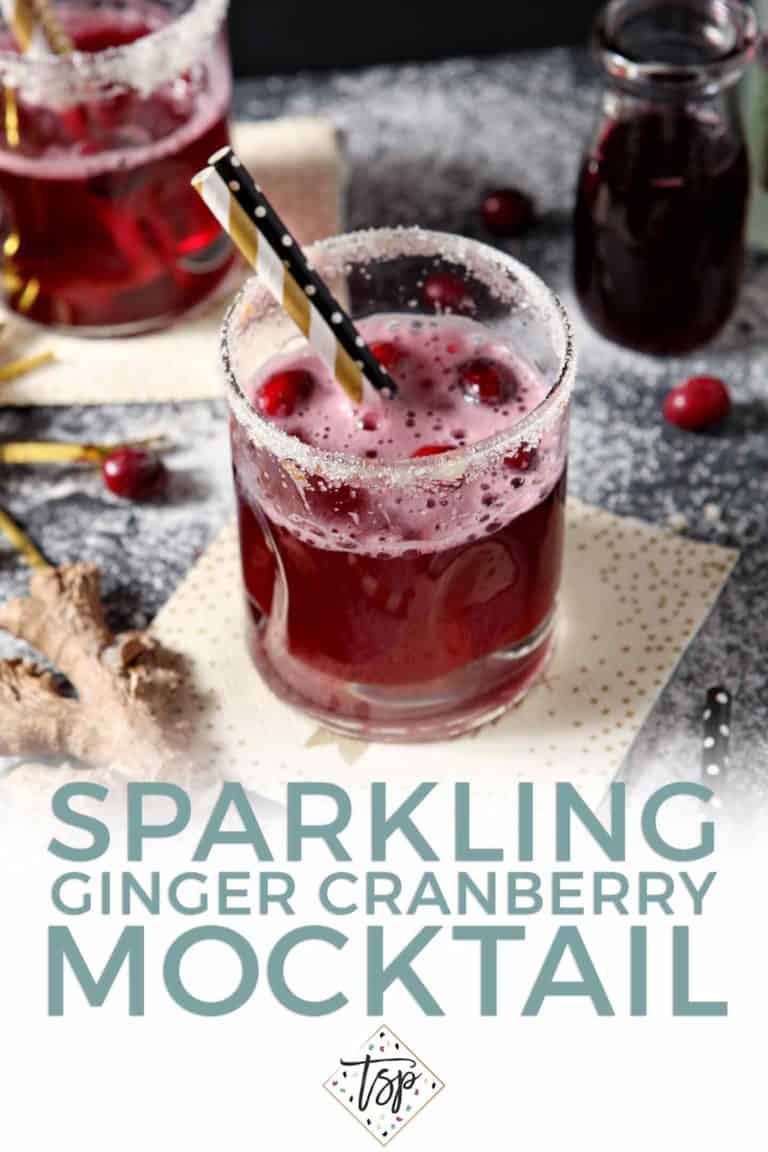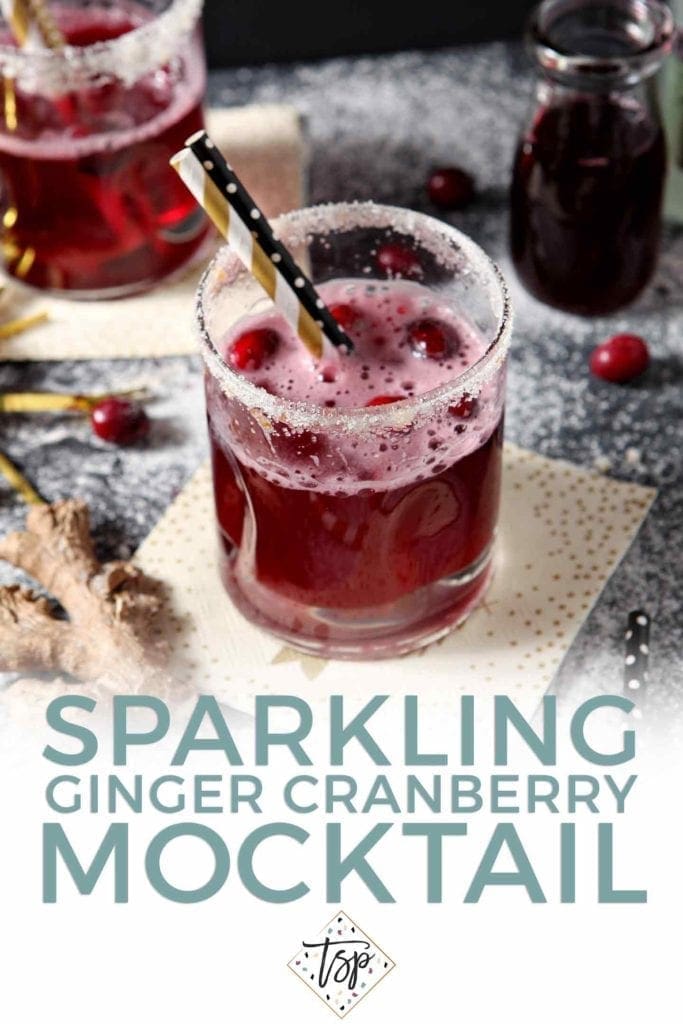 Now who's ready to mix up one of these gorgeous nonalcoholic mixed drinks?
Scroll on down to learn how easy and effervescent this cocktail is for any kind of wintertime celebration.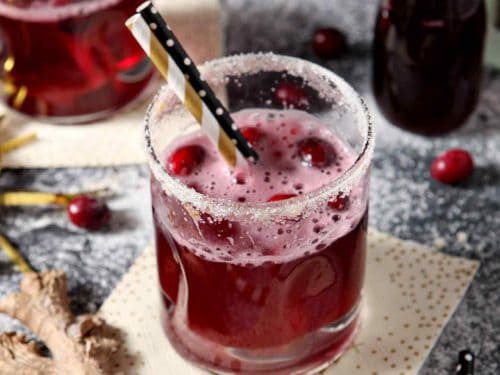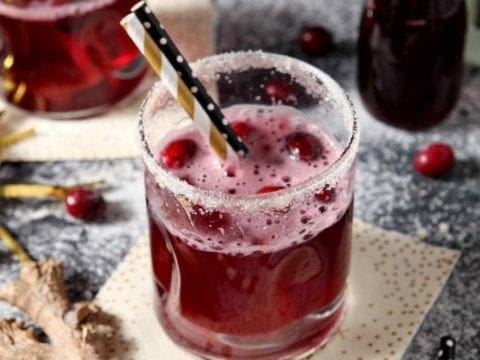 Yield:

1 drink
Sparkling Ginger Cranberry Mocktail
Serve up a Sparkling Ginger Cranberry Mocktail this New Year's Eve! This sparkling mocktail, which features tart unsweetened cranberry juice and spicy ginger beer, is a flavorful mixed drink to serve to individuals or a crowd. Add orange juice or apple juice to mellow the flavors for children. You can also swap ginger beer for ginger ale, too. With options to make this drink as tasty as possible, it's perfect for both adults and children!
Ingredients
Mocktail (Makes 1 drink)
2 oz. unsweetened cranberry juice
4 oz. ginger beer
Fresh cranberries, for garnish
Orange Sugar (Enough for FOUR Drinks)
2 tablespoons granulated sugar
1 teaspoon orange zest
Instructions
On a small plate, combine the sugar with the orange zest. Stir them together until combined, and set aside.
Slice an orange with a sharp knife, and cut into a wedge.
Run the wedge around the rim of your glass. Make sure the entire rim is damp, as the orange sugar won't stick if it's not.
Dip the rim into the orange sugar on the plate, moving the glass until all parts are coated.
Using a jigger or a liquid measuring cup, measure out the cranberry juice and pour into the glass.
Pour the ginger beer on top of the cranberry juice, and stir.
Garnish with fresh cranberries, and enjoy immediately!
Notes
Please note that different ginger beers are different levels of spice. Taste yours before mixing your drink, especially if serving to kids. (We love Fever Tree, but it has super strong ginger flavors that other brands don't necessarily have.)
Renditions: Add an ounce of orange or apple juice to mellow out the spice of the ginger and tartness of the cranberry. If you're serving children and think they might not enjoy the strong ginger flavor of a ginger beer, use ginger ale instead.
How do I turn this into a pitcher mocktail?
To make a pitcher of these cranberry mocktails, combine the following in a pitcher and stir:
12 oz. unsweetened cranberry juice
24 oz. ginger beer
Garnish with fresh cranberries (or frozen cranberries to keep the pitcher cold), and serve immediately.
Recommended Products
As an Amazon Associate and member of other affiliate programs, I earn from qualifying purchases.
Nutrition Information:
Yield:
1
Serving Size:
1 drink
Amount Per Serving:
Calories:

241
Total Fat:

0g
Saturated Fat:

0g
Trans Fat:

0g
Unsaturated Fat:

0g
Cholesterol:

0mg
Sodium:

12mg
Carbohydrates:

63g
Fiber:

4g
Sugar:

53g
Protein:

1g
Nutrition facts are an estimate and not guaranteed to be accurate.
Have you ever tried a mocktail before?
What are your feelings on ginger beer vs. ginger ale