Peanut Butter Overnight Oats are a delicious on-the-go breakfast. Easy to make vegan and naturally sweetened with maple syrup, they can be made in batches so you've got enough for the week. Whether you're young or old, vegan or not, these overnight oats are the perfect way to start any day. Makes 4 jars.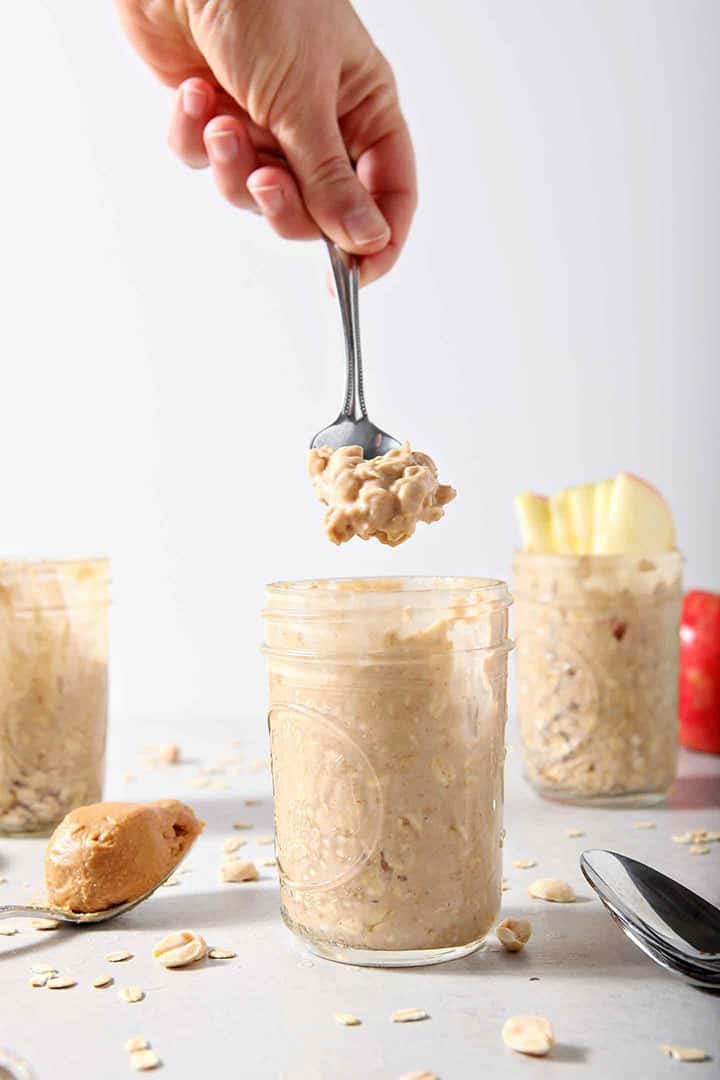 In my "old age," I'm not one for resolutions.
When I was younger, it was always about setting (unrealistic) expectations for the new year and failing miserably about a month in, and then having a chip on my shoulder for entirely too long before I let it go.
And now that I'm a bit older (and maaaaaybe wiser—that's debatable and depends who you ask, ha!), I know that's not the way I want to start my new year.
But I also know that in 2019, I want some things to be different.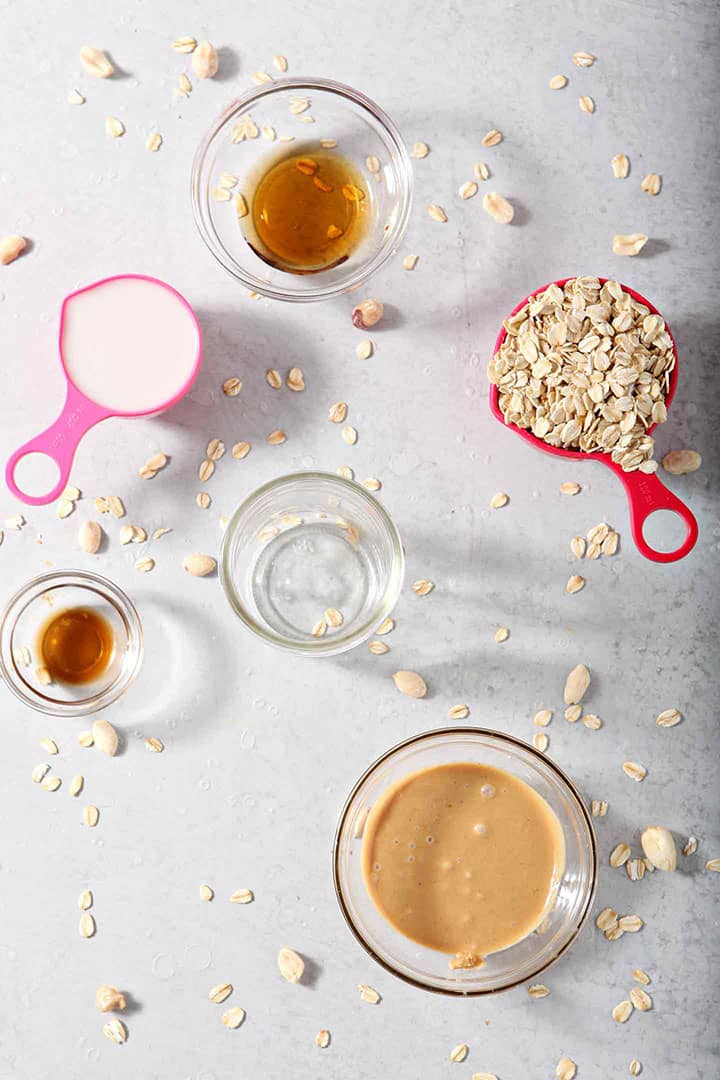 With the arrival of Lady Speckle in September, I realized the following things very quickly:
I have very little time to focus my energy on work while staying home with two littles, one of whom nurses every 2-3 hours and the other who is incredibly active and verbal
The pace with which I've been keeping on the blog over the last few years is pretty unsustainable
I want to continue creating awesome content, but I want it to be content y'all actually utilize instead of just stuff I want to make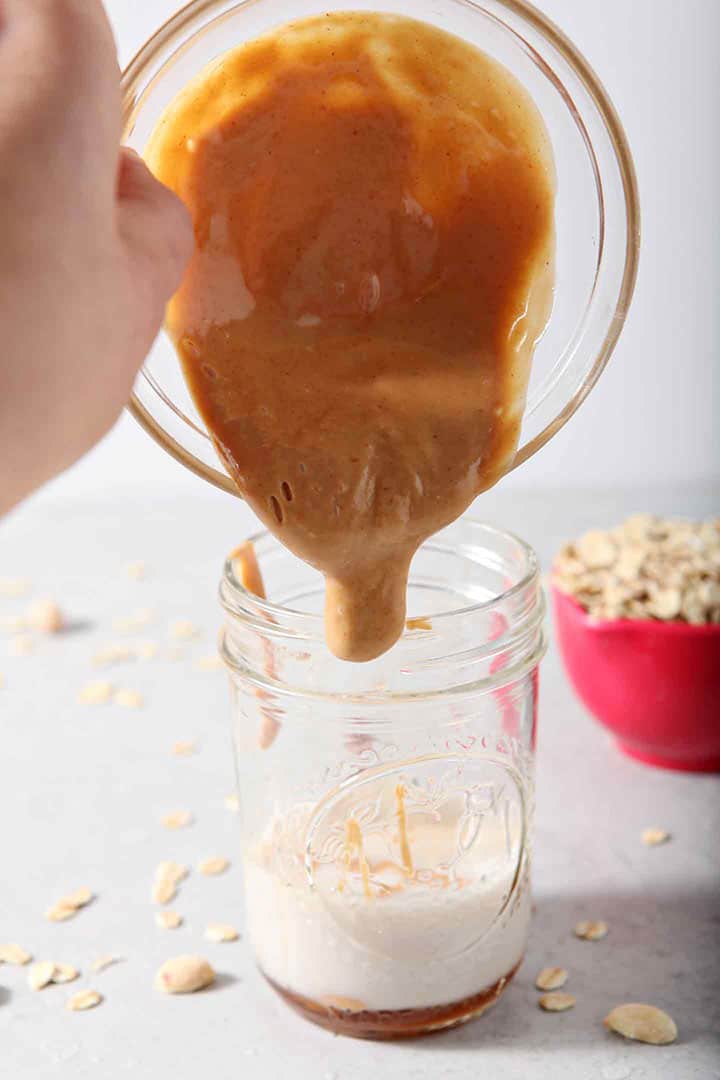 So because of this, I plan to share one new recipe a week in 2019.
I'll have an occasional secondary post about entertaining or hosting—or maybe even republish an old awesome post that no one knows about because this blog is ancient—and every Friday, the weekly meal plan is here for all to enjoy, but I'm dialing back… and that's OK.
In 2019, I want to take better care of myself so I can be a better mama, a better wife and a better businesswoman. And that starts with prioritizing what's important.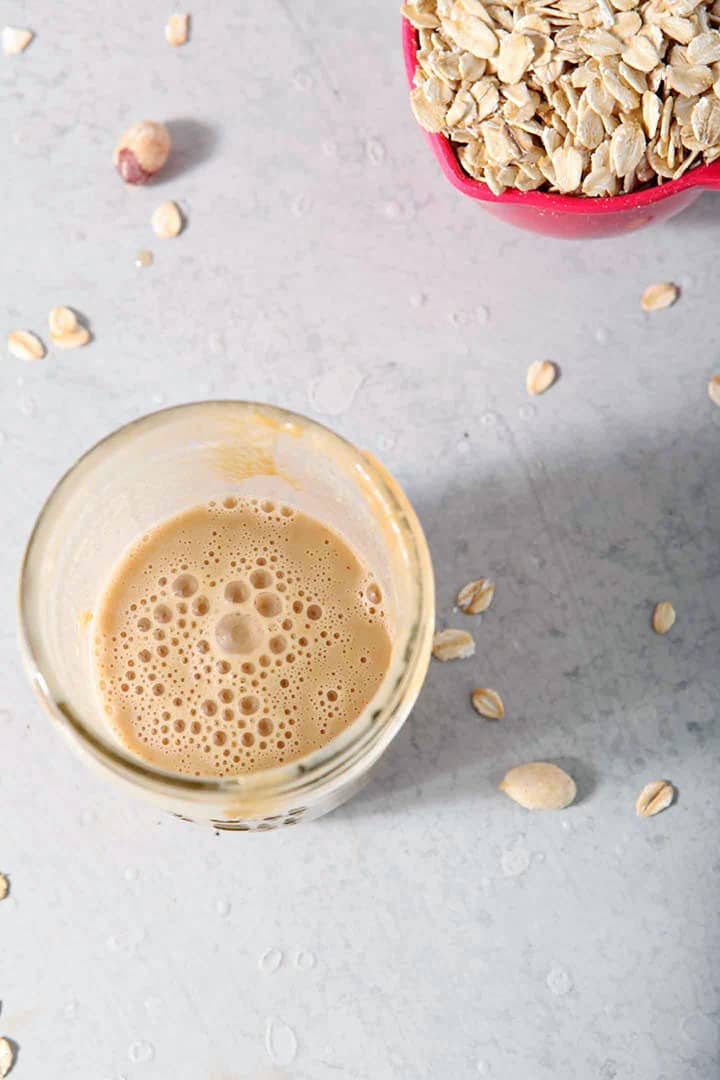 These Peanut Butter Overnight Oats are one of my secret weapons for 2019.
I will be the first to admit that I do a terrible job taking care of myself and prioritizing me while basically living in the weeds of motherhood.
Because of this, I subsequently do a terrible job eating breakfast until I'm about ready to gnaw off my arm halfway through the morning. I forgot to eat in the rush of getting everyone else taken care of. It sounds silly, but it's truly a struggle.
I've found that these Peanut Butter Overnight Oats—which I make vegan with unsweetened cashew milk—are the perfect filling breakfast to start any day.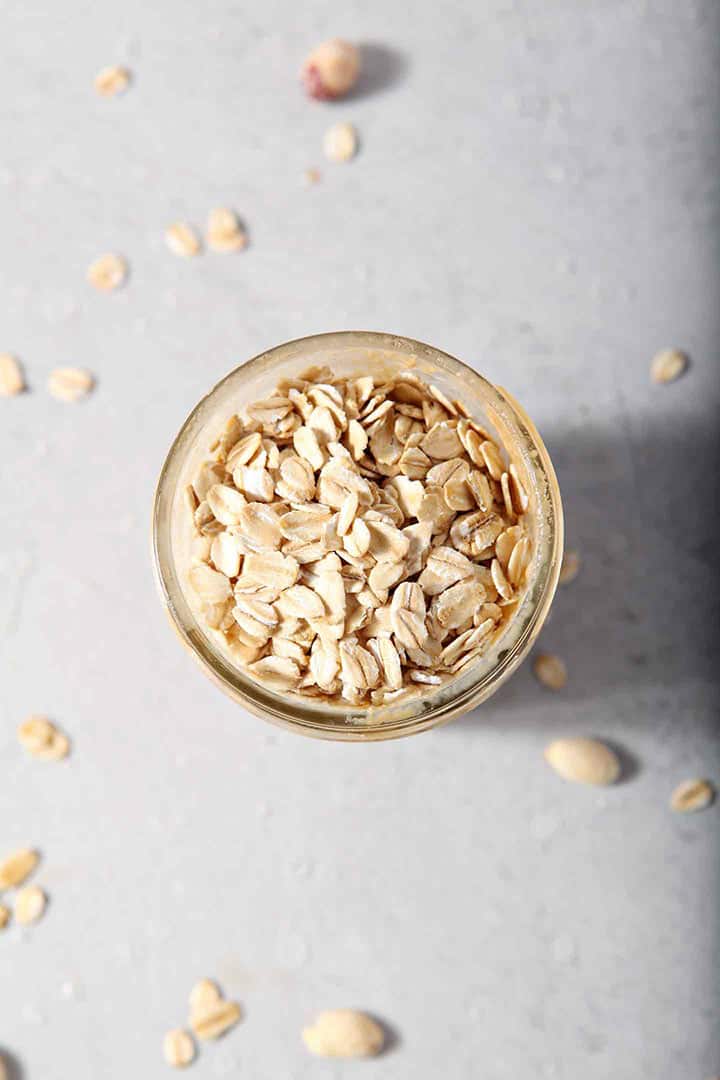 What are overnight oats?
Overnight oats are a breakfast food that consist of rolled oats, milk (cow's or nut or another non-dairy variety) and some sort of flavoring.
The night before, you mix them all together in a mason jar, refrigerate overnight, then enjoy in the morning.
The overnight portion is essential because it softens the oats. They can be enjoyed warm or cold, but I tend to just eat them directly out of the fridge in the morning.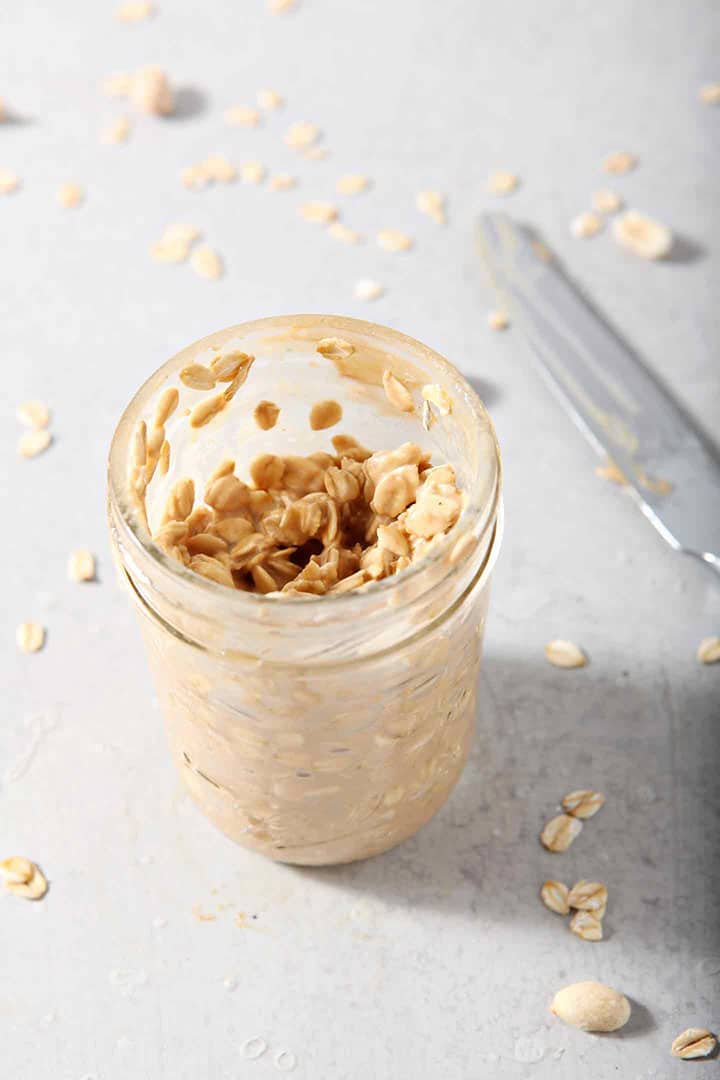 I'm not vegan, dairy free OR gluten free. Why should I try these overnight oats?
Short answer: They're delicious, and they're an easy breakfast you can make ahead and completely customize.
Long answer: Overnight oats are an amazing way to start any morning because the oats are one of the healthiest grains you can put into your body. They're heart healthy, too.
Also, I find that I don't get hungry as quickly if I have oats as a part of my breakfast because they're incredibly hearty.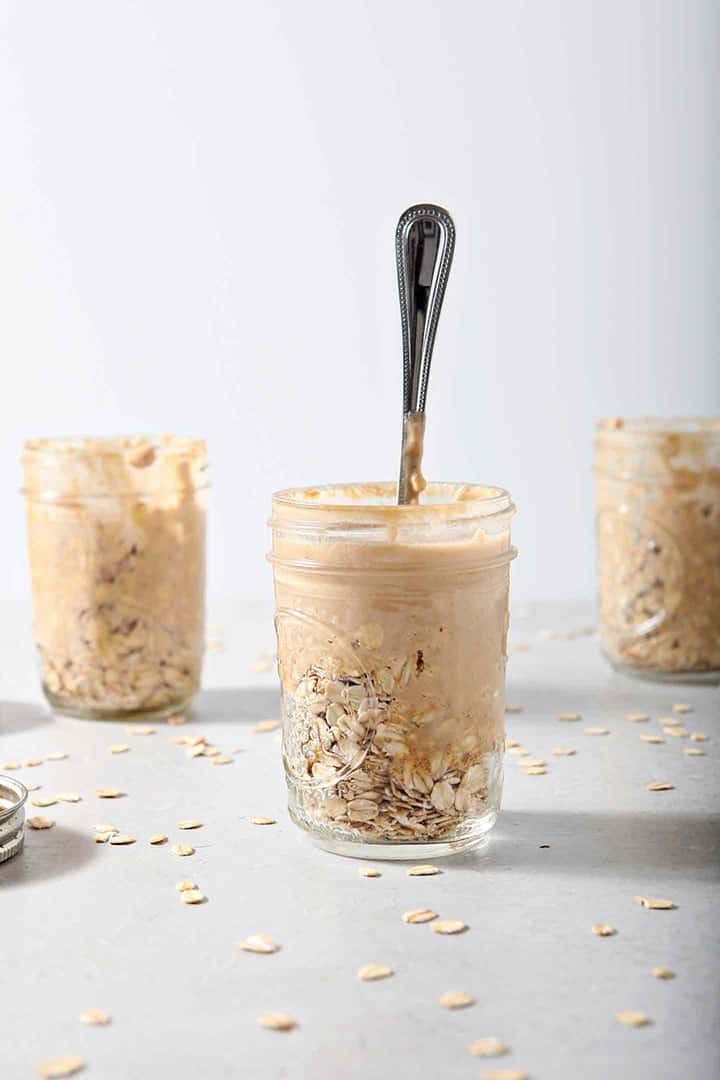 How can I customize these oats for myself?
Everyone's tastebuds are different, so you can definitely customize these.
If you're not vegan or dairy free, you can use cow's milk.
If you're allergic to peanuts, you can use almond butter (or another nut butter.) That said, if you have a nut allergy, maybe skip these and check out my Strawberry Overnight Oats instead.
If the cashew milk/peanut butter/vanilla/maple syrup mixture isn't sweet enough, add a bit more maple. (Just use it sparingly because you don't want to over sweeten!)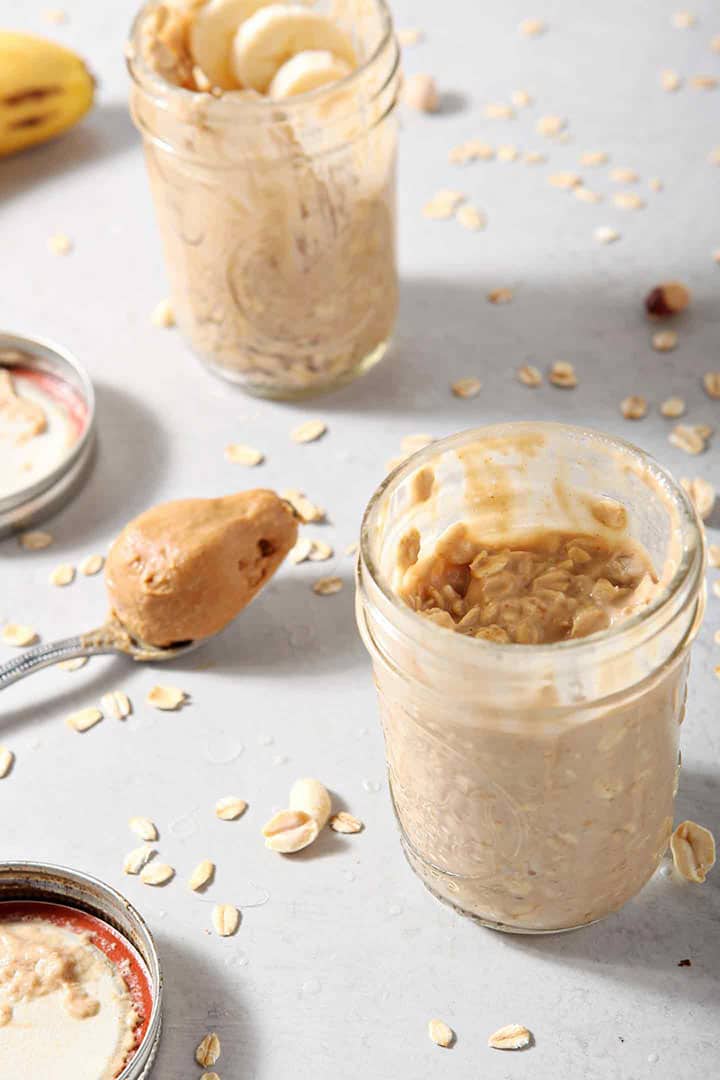 I'm allergic to peanuts, but not tree nuts. Can I substitute another nut butter here?
Absolutely! We love almond butter in our house, but this would work well with any kind of nut butter that you're not allergic to.
How long can these overnight oats last in the fridge until they turn to mush?
Ours lasted a week and were utterly delightful! I use extra thick rolled oats * (affiliate link) because I love the texture those provide, and that made them last so long.
If you're using regular rolled oats, 2-3 days is your maximum limit, assuming you like a little bit of texture in your oats.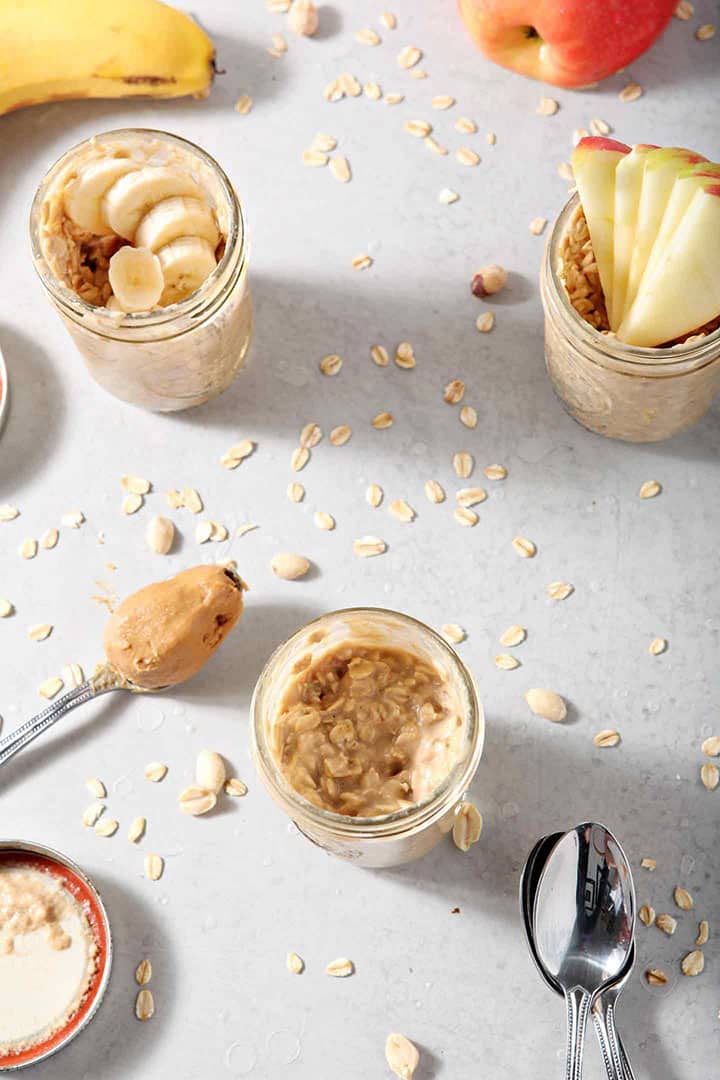 What do I need to make these Peanut Butter Overnight Oats?
Disclaimer: The links below are affiliate links. If you click through and take action, I will receive a small commission. Please refer to my disclosure page. for more information about the affiliate programs The Speckled Palate participates in.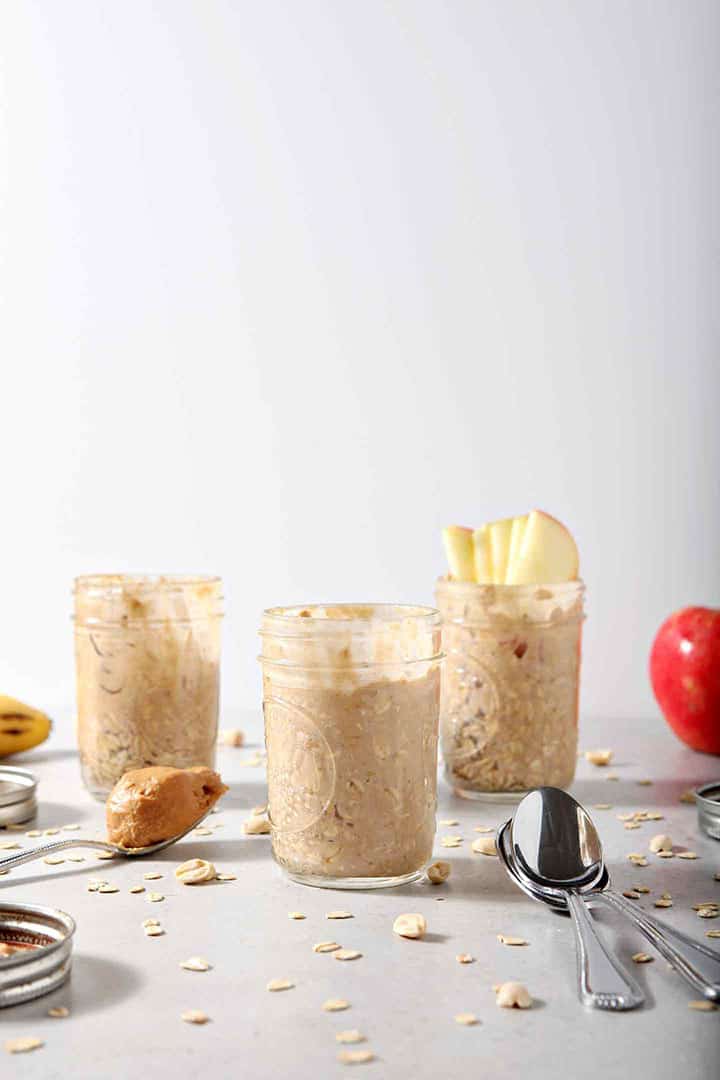 Do you have other oat-centric breakfast recipes I can try, too?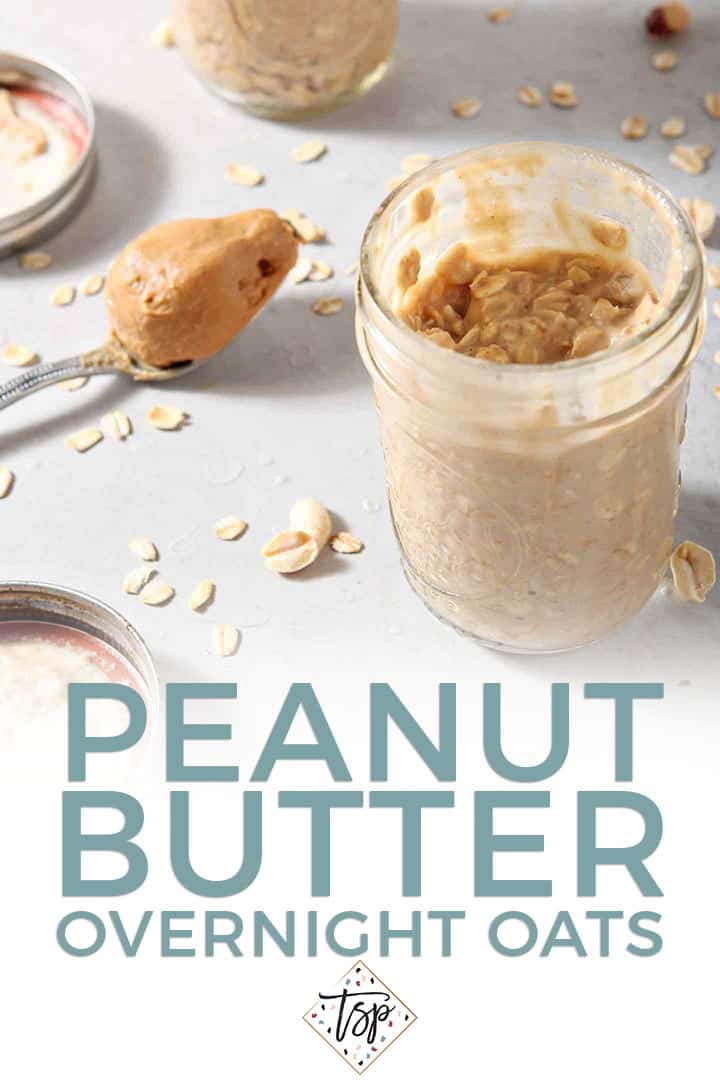 Now who's excited for some overnight oats?
Scroll on down to learn how to make 'em…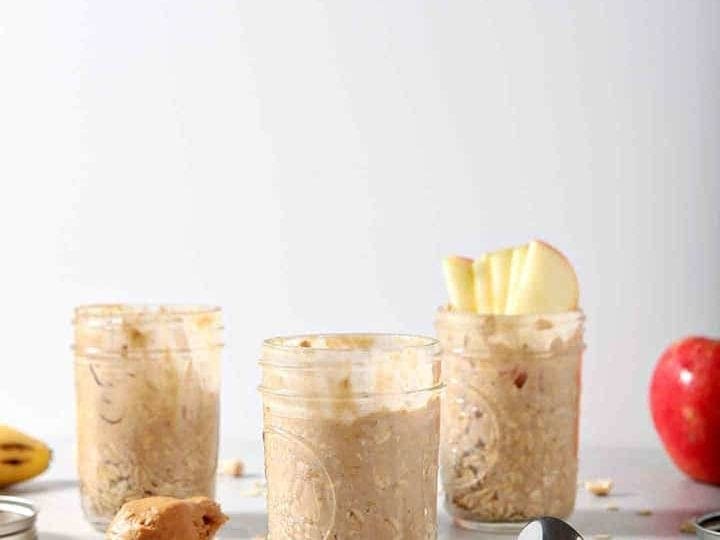 Yield:

4 mason jars
Peanut Butter Overnight Oats
Overnight Resting Time:
12 hours
Total Time:
12 hours
5 minutes
Peanut Butter Overnight Oats are a delicious on-the-go breakfast. Easy to make vegan and naturally sweetened with maple syrup, these overnight oats are prepared the night before and refrigerated. In the morning, mix in bananas or apples—or nothing at all—and enjoy. As an added bonus, they can be made in batches so you've got enough for the week. Whether you're young or old, vegan or not, these overnight oats are the perfect way to start any day.
Ingredients
1 cup unsweetened cashew milk
½ cup creamy peanut butter (unsweetened)
1 tablespoon pure maple syrup
1 teaspoon vanilla extract
2 cups extra thick rolled oats
Instructions
In a blender, combine the cashew milk, peanut butter, maple syrup and vanilla extract. Blend until smooth. (If you're making an individual serving, you can do this by combining everything in a mason jar and shaking.)
Divide the rolled oats between four mason jars.
Divide the liquid ingredients between the jars, then stir using a spoon or a butter knife.
Cover, and refrigerate overnight.
Enjoy cold the next morning. Add peanuts, banana slices or apple slices to jazz up these oats.
Notes
To make ONE 8 oz. mason jar
¼ cup unsweetened cashew milk
2 tablespoons creamy peanut butter (unsweetened)
¾ teaspoon pure maple syrup
¼ teaspoon vanilla extract
½ cup extra thick rolled oats
Can I use regular old fashioned oats? Of course! If you make four for the fridge, though, they'll become a little mushy by the time you're ready to eat the fourth one on the fourth morning, though.
Why use unsweetened cashew milk and peanut butter? I don't like a lot of added sweetness to my breakfast, and the sweetness I do add, I like to have control over. It's easy to cut out extra sugars first thing in the morning by finding these items without added sugar/sweetener
If you or your family members are allergic to peanuts, use another nut butter (assuming you have no allergies to tree nuts in your family) and substitute the cashew milk for coconut milk, rice milk or cow's milk.
If your peanut butter is hard to mix, microwave it for 30 seconds before combining with the liquid ingredients.
Nutrition Information:
Yield:
4
Serving Size:
1 mason jar
Amount Per Serving:
Calories:

374
Total Fat:

19g
Saturated Fat:

4g
Trans Fat:

0g
Unsaturated Fat:

13g
Cholesterol:

0mg
Sodium:

157mg
Carbohydrates:

41g
Fiber:

6g
Sugar:

7g
Protein:

13g
Nutrition facts are an estimate and not guaranteed to be accurate.
Are you a believer in resolutions for the new year?
Do you like overnight oats, too?