Prepare breakfast the night before by mixing up oats, strawberries and milk in a mason jar, then letting them hang out overnight. Enjoy Strawberry Overnight Oats the next morning, topped with fresh strawberries. Makes 2 servings.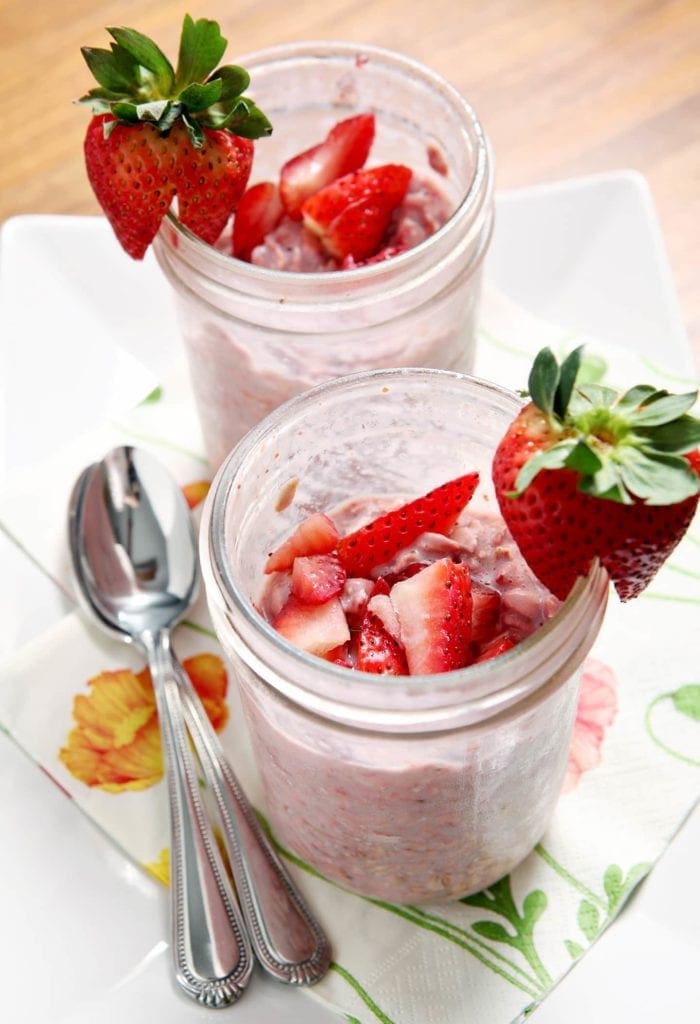 It's been a lazy morning here, and after an extremely slow start, we are watching and cheering for the runners competing in the Boston Marathon.
It's hard to believe that this time last year, I was preparing for my first marathon, and that I'm holding my firstborn and doing my best to get in a walk daily this year.
My, how a year can change everything.
Other breakfast oat recipes we love: Peanut Butter Overnight Oats / Hazelnut and Pecan Baked Oatmeal / Cherry Overnight Oats / Vegan Peanut Butter Chocolate Chip Overnight Oats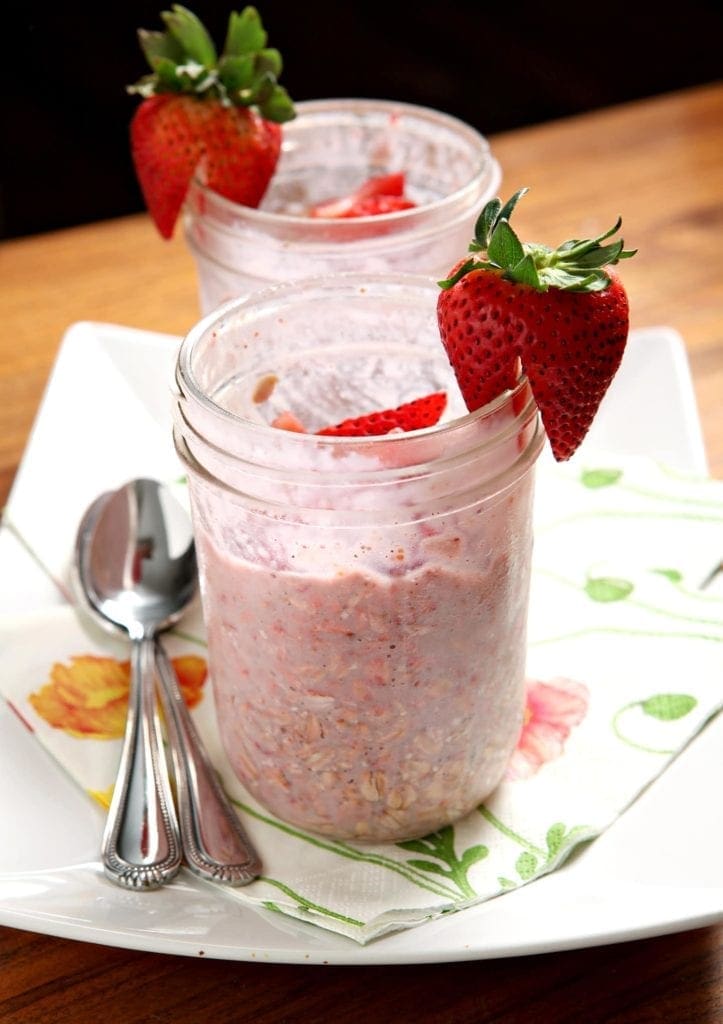 As I marvel at these runners who are closing in on the finish line, I'm thinking of my running journey and how I want to begin again sometime soon. I know it won't be easy, but I cannot wait to feel the wind in my hair and the strength in my legs as I find my stride.
And when I think about running, I inevitably think about runner food.
Did y'all know that I begin every race day with a huge glass of water and plain oatmeal?
In fact, I ate a lot of plain oatmeal during pregnancy because the blandness didn't bother the heartburn that I seemed to get from everything during the latter stages.
Except… plain oatmeal is super bland.
And sometimes, I want something a little fancier. So I began experimenting and came up with these delightful Strawberry Overnight Oats. The strawberries elevate the oats to the next level without adding sugar into the mix. And I'm fairly positive I could eat this every morning for breakfast because it's both delicious and filling, making it a wonderful breakfast for an active day.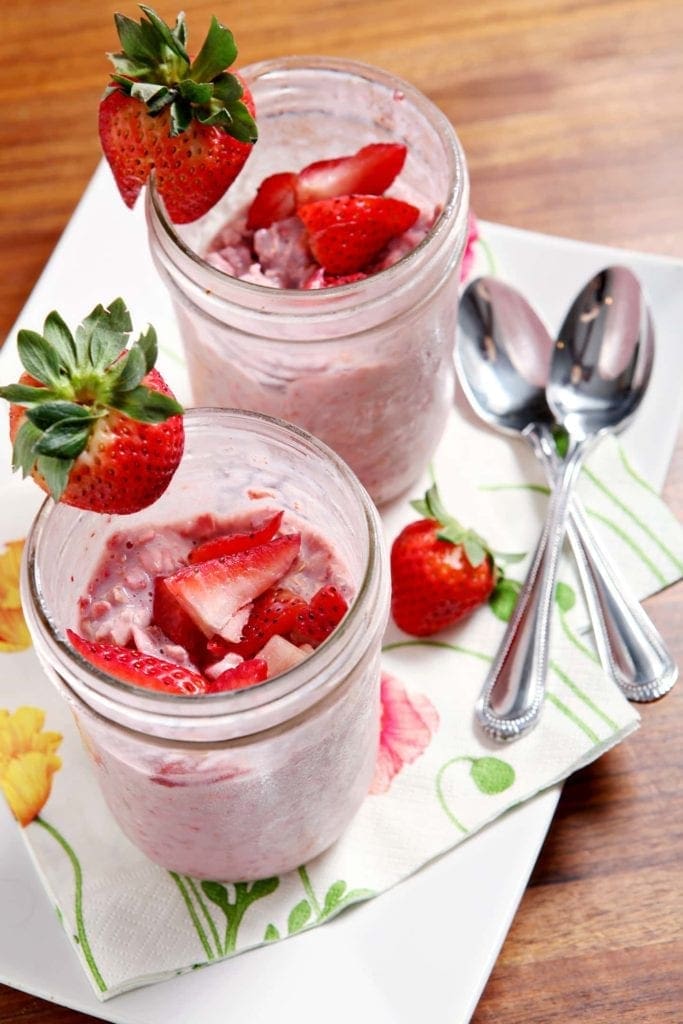 What do I need to make Strawberry Overnight Oats?
Disclaimer: The links below are affiliate links. If you click through and take action, I will receive a small commission. Please refer to my disclosure page. for more information about the affiliate programs The Speckled Palate participates in.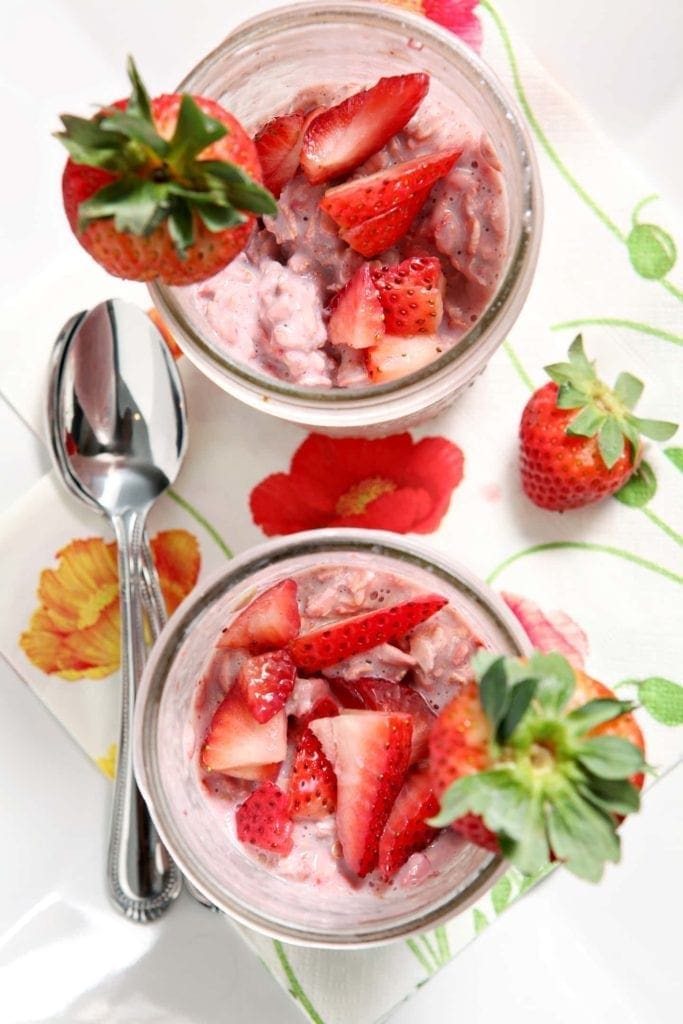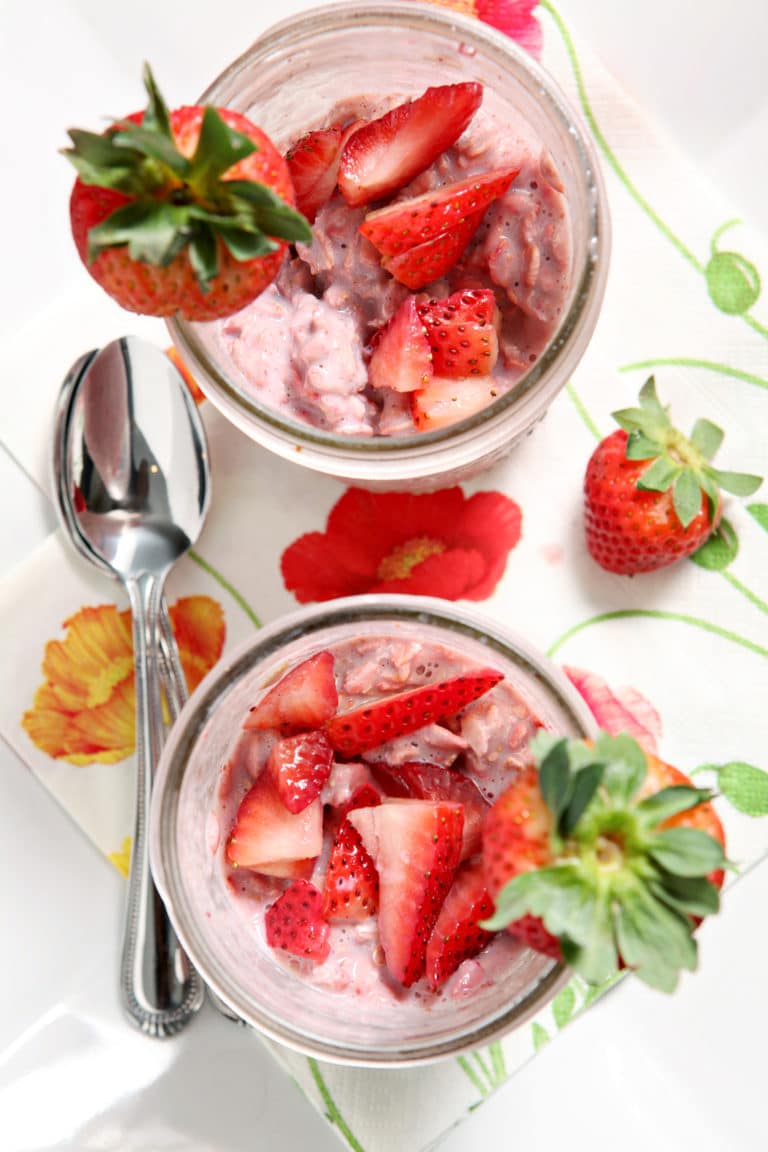 What do I need to know to make the BEST Strawberry Overnight Oats?
Do NOT use quick cook oats! If you do, these beautiful overnight oats be mush before morning. (However, if you're into mushy oats, maybe go this route?)
These are best eaten within 1-2 days of making. The old-fashioned rolled oats will hold up in texture for these days, but not much longer.
If you don't have frozen strawberries, you can use fresh. 🙂
What substitutions and additions can I make in these fruity overnight oats?
These overnight oats can be made with dairy milk or a non-dairy milk. Be sure to choose an unsweetened non-dairy milk if you go that route, as the strawberries add more than enough sweetness to these oats!
If you're feeling decadent, add toasted shredded coconut, toasted nuts or a sprinkling of dark chocolate to your oats in the morning.
…
Interested in making your own? Here's how I made mine: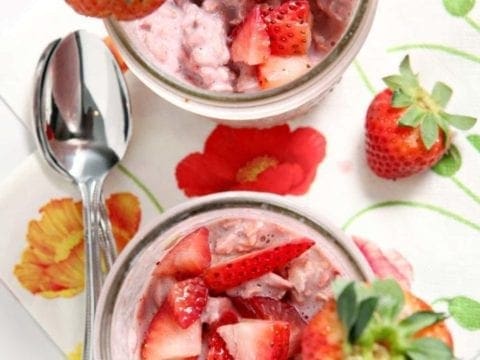 Yield:

2 servings
Strawberry Overnight Oats
Refrigeration Time:
8 hours
Total Time:
8 hours
5 minutes
Prepare breakfast the night before by mixing up oats, strawberries and milk in a mason jar, then letting them hang out overnight to create these delicious Strawberry Overnight Oats. Top with fresh strawberries (and maybe some dark chocolate if you're feeling decadent) and enjoy cold the next morning!
Ingredients
1 cup milk, (dairy or non-dairy OK)
1 ½ cups frozen strawberries
1 ½ cups rolled oats, (¾ cup in each jar)
Instructions
In a blender, combine the milk and frozen strawberries.
Divide the rolled oats between two mason jars.
Pour half the strawberry/milk mixture into each jar, stirring with a spoon.
Cover, and refrigerate overnight.
Enjoy cold the next morning, topped with fresh strawberries.
Notes
This recipe can easily be made vegan by using non-dairy milk. Cashew milk or whole-fat coconut milk would be delicious here.
Nutrition Information:
Yield:
2
Serving Size:
1
Amount Per Serving:
Calories:

339
Saturated Fat:

2g
Cholesterol:

12mg
Sodium:

57mg
Carbohydrates:

55g
Fiber:

8g
Sugar:

12g
Protein:

12g
Do you have a special meal that you like to eat before a big race/workout?
Have you tried this recipe? If so, leave me a comment and star rating below to let me know what you thought!