Dr Pepper® Cherry Cupcakes with Grenadine Whipped Cream
This shop has been compensated by Collective Bias, Inc. and its advertiser. All opinions are mine alone. #ShareFunshine #CollectiveBias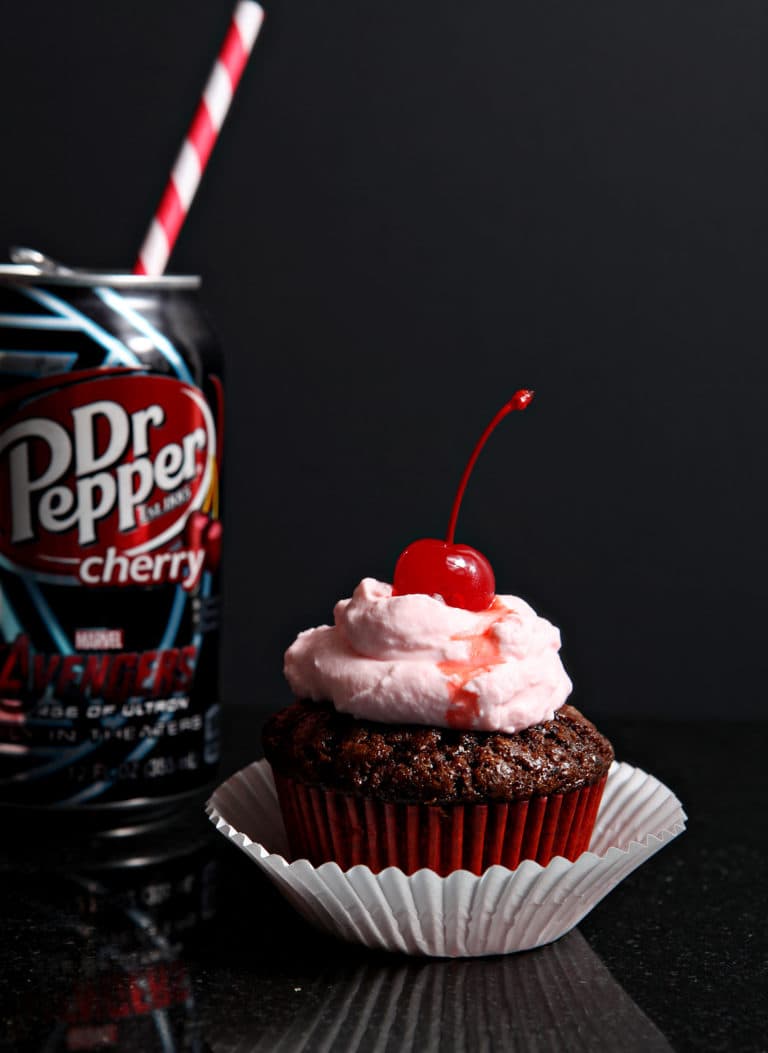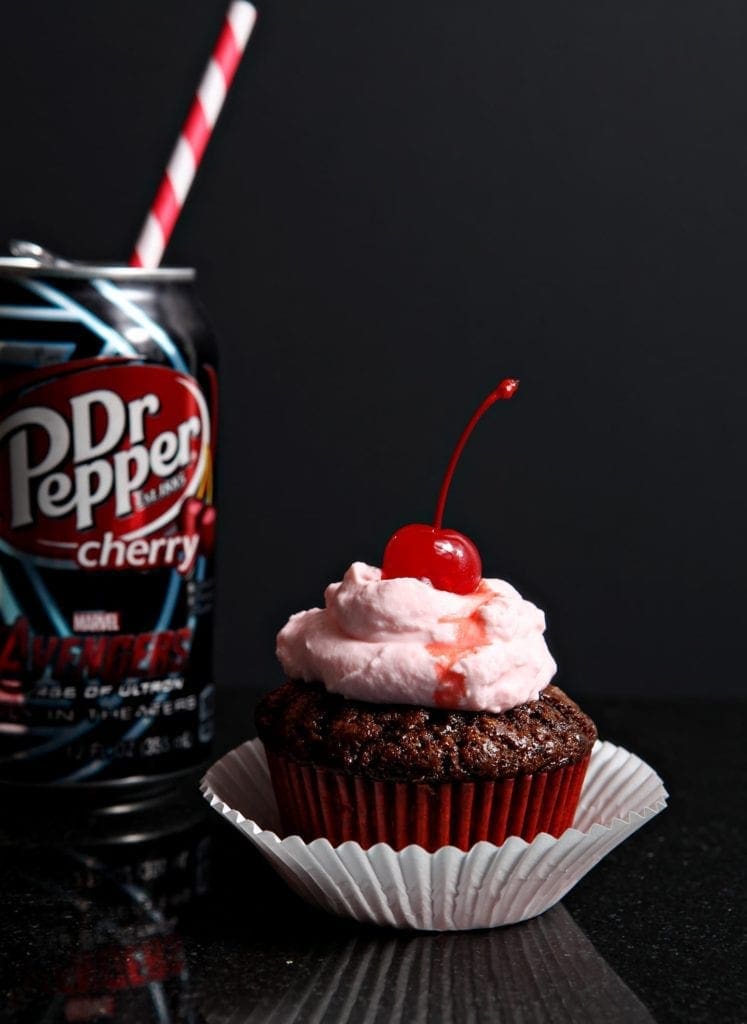 Celebrate summer by baking Dr Pepper® Cherry Cupcakes, topped with an utterly decadent Grenadine Whipped Cream. These cherry chocolate cupcakes taste like a hot summer's day and are the perfect treat to enjoy after a day in the sunshine.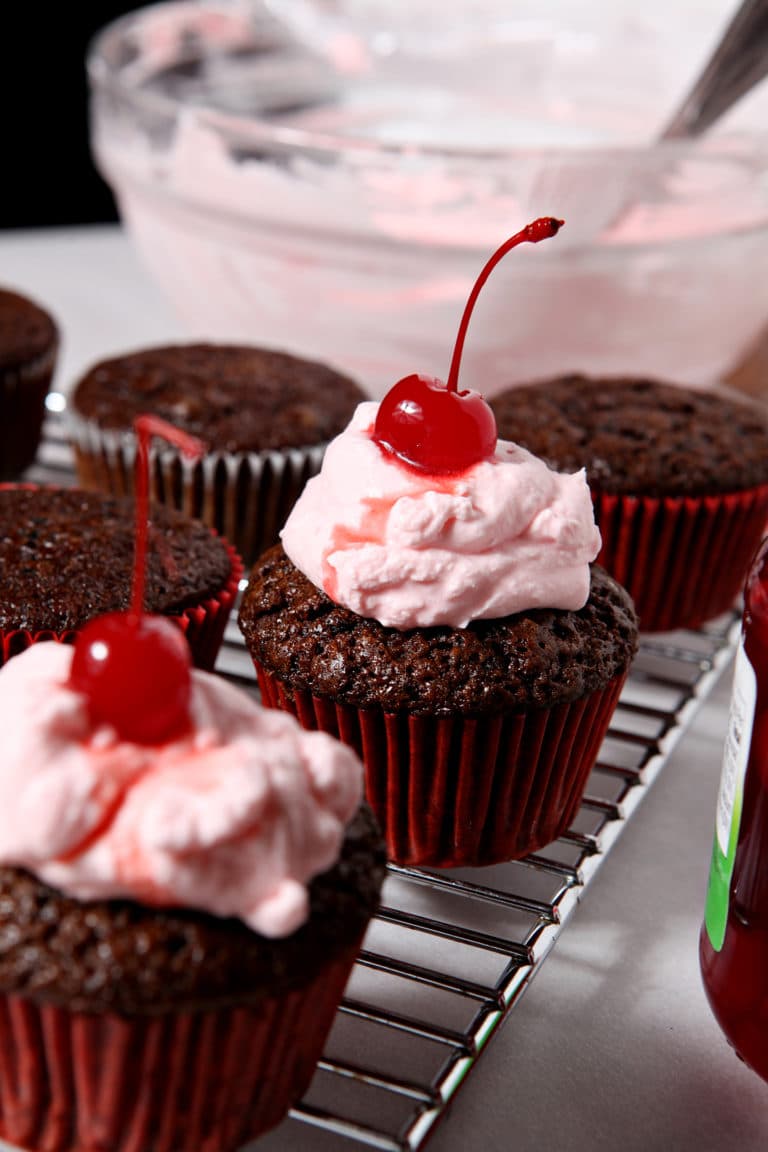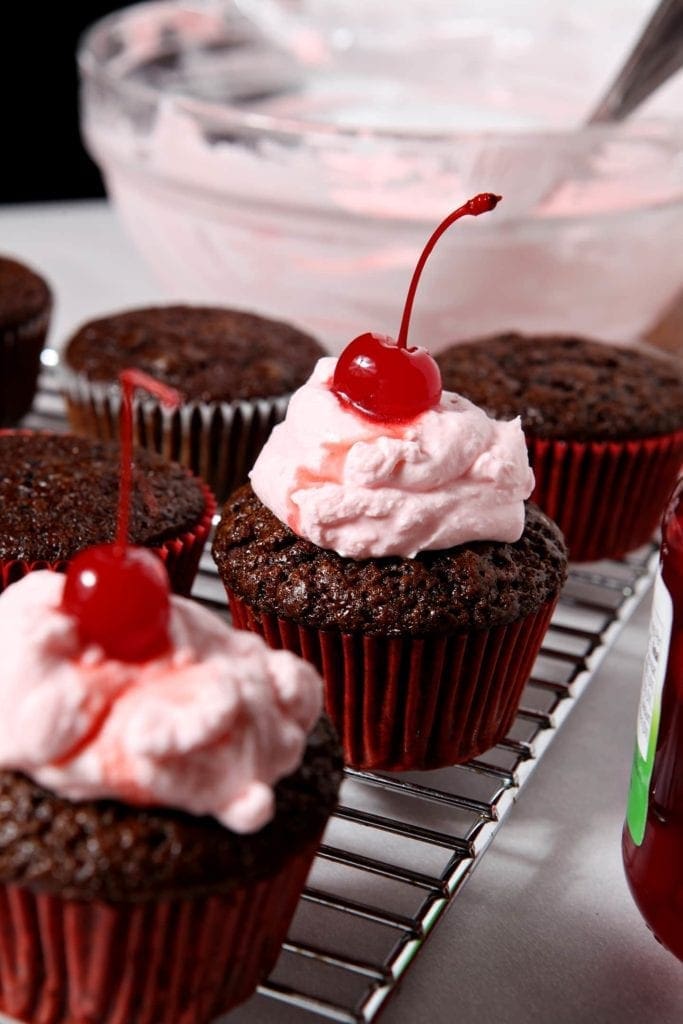 Summertime is here, and if I were about twenty years younger, I'd be dancing in the sunshine, climbing trees and running through sprinklers.
In fact, I'd really like to do all three of those now because it's hot in Dallas.
What's new, right?
Even though we had a lovely tropical depression come through earlier this week, it's sunny and muggy again. And it's got me thinking about the summers of my childhood.
Other chocolate and cherry recipes you might adore: Dr Pepper Chocolate Cherry Brownies | Mini White Chocolate-Cherry Bundt Cakes (Instant Pot Cake) | Dark Chocolate Cherry Granola | Fresh Cherry Quick Bread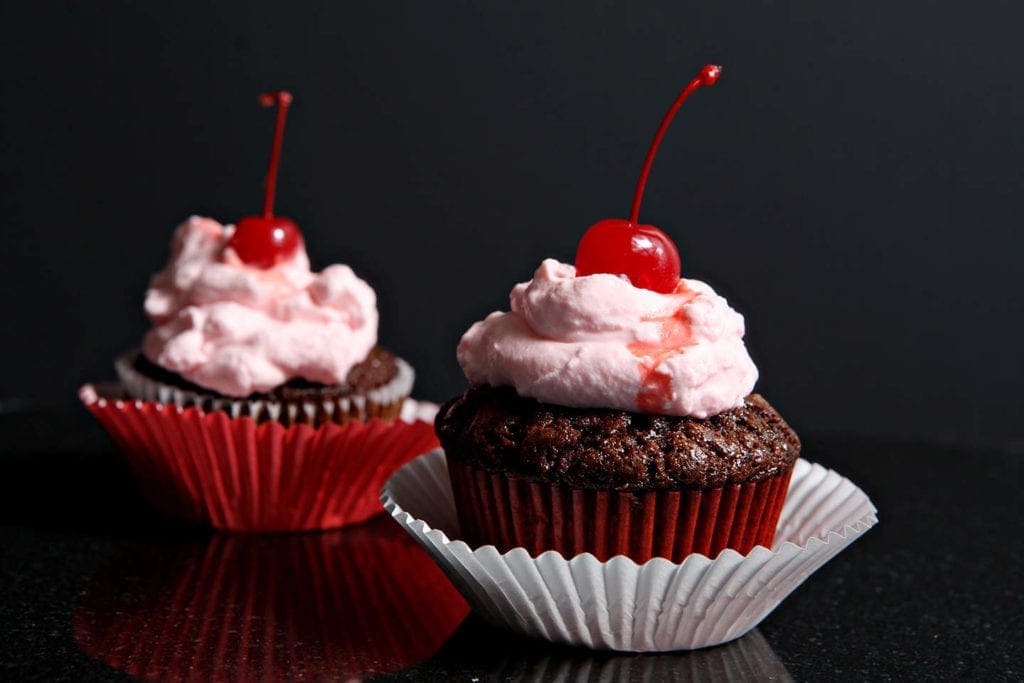 When I was a kid, I relished spending as much time as I possibly could outdoors, only coming in for meals, hydration and the occasional sweet treat.
My sister and I loved the freedom that summer offered us. Sure, we went to camps and traveled with our family, but the weeks spent at home were a blast, too, because we roamed the neighborhood. We rode our bikes. We played in sprinklers. We climbed trees, vaulting ourselves over fences. We played hide and seek constantly with our friends. And we ran around with our dog, who, even though he was only 25 lbs., could somehow jump a 6 foot tall fence. It was ridiculous.
The joy of the summertime was the sun went down so much later… and we got to stay outside until it set. We'd come inside to eat dinner, enjoy a little dessert and then would pass out shortly after.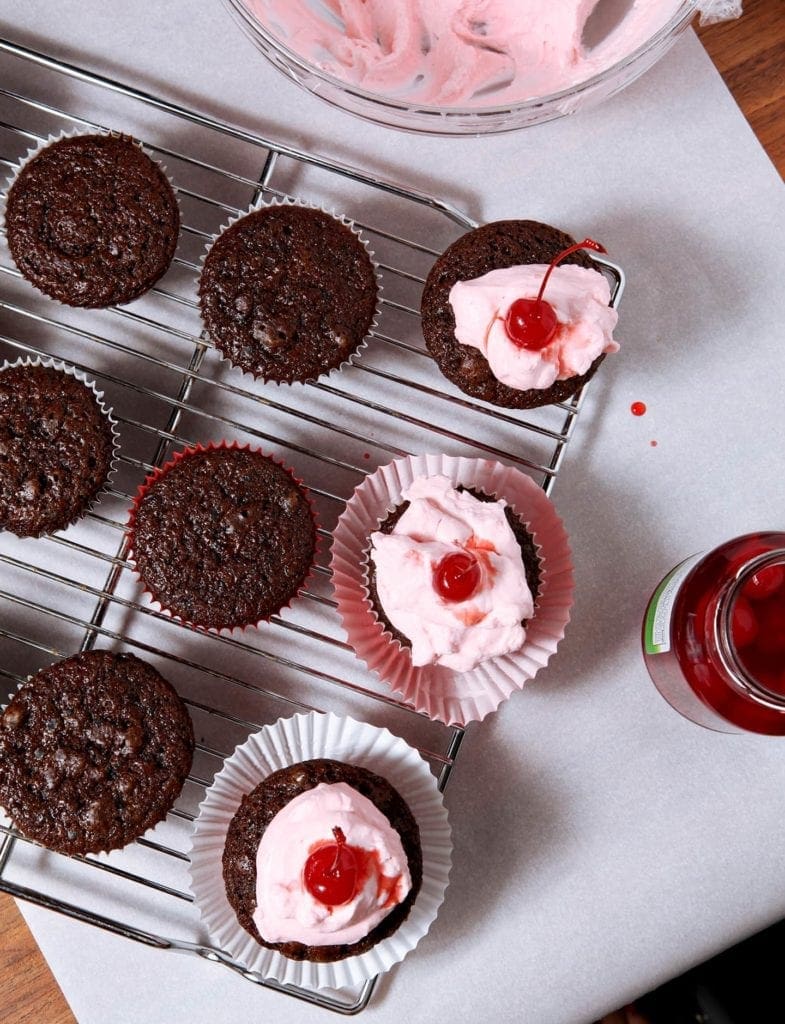 So you're probably wondering how spending all the time outside translates to this cupcake recipe, right?
It should come as no surprise that sweets of all kinds are kind of my thing if you've read my blog before… and while I'm unsure if this is actually the truth, I feel like my sister and I were allowed to eat more sweets during our summer breaks.
One of my favorite summer treats was and still is a Dr Pepper® Float, and when I was brainstorming what to make for today, I thought that sounded good, but a little too simple. As I continued thinking, I noted that nothing's comforting like a homemade baked good… so decided to transform a float into these Dr Pepper® Cherry Cupcakes with Grenadine Whipped Cream.
They're ridiculously chocolate-y, cherry-y (yep, making that a word now… sorry not sorry…), creamy and delicious, whether you're a child or an adult.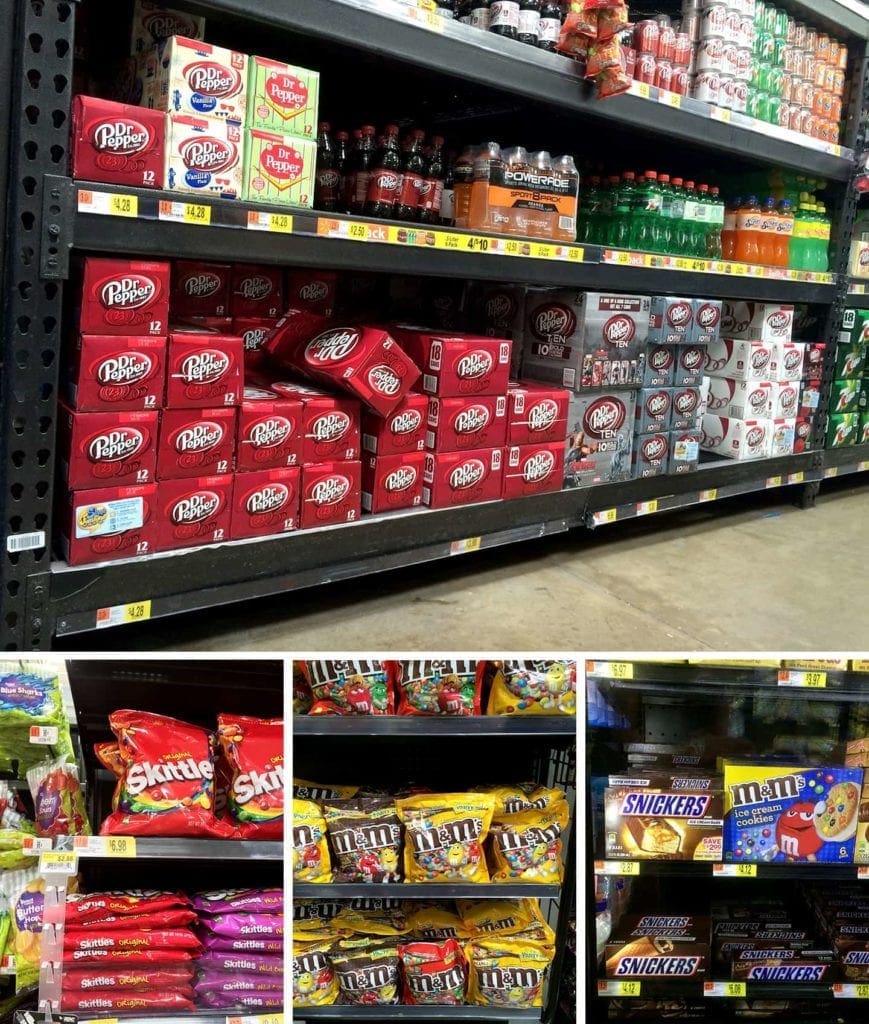 So I headed to my local Walmart Supercenter to grab some Dr Pepper® Cherry, as well as the other ingredients and various other sweet treats to enjoy throughout the week.
Hellooooooooo, M&M's® Plain, M&M's® Peanut, SNICKERS® Ice Cream Bars, Skittles® and a Dr Pepper® Cherry 12-pack!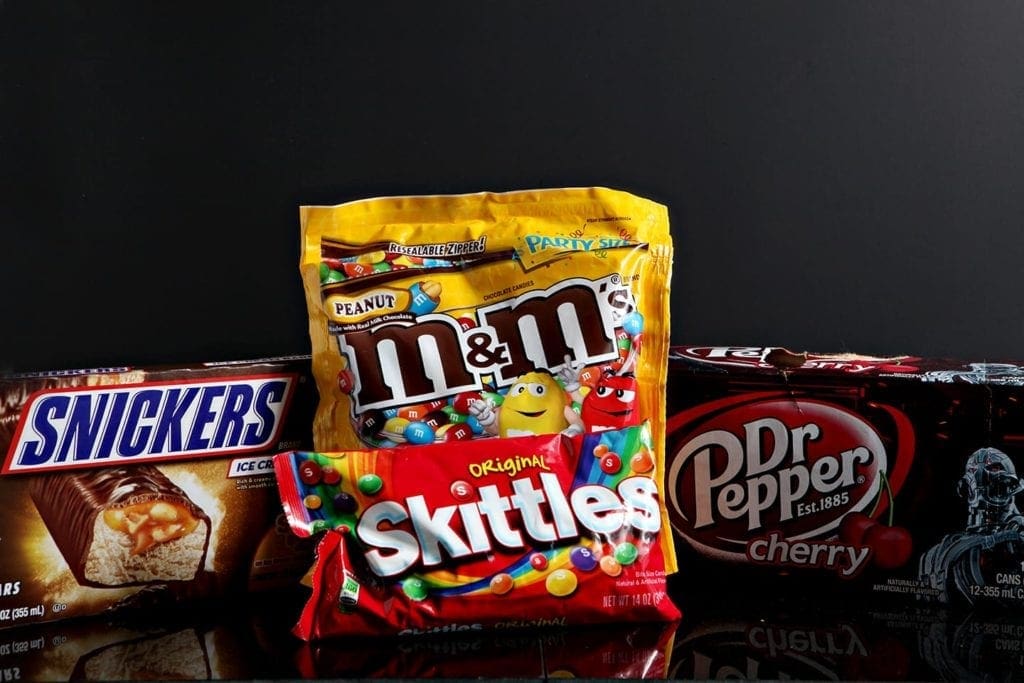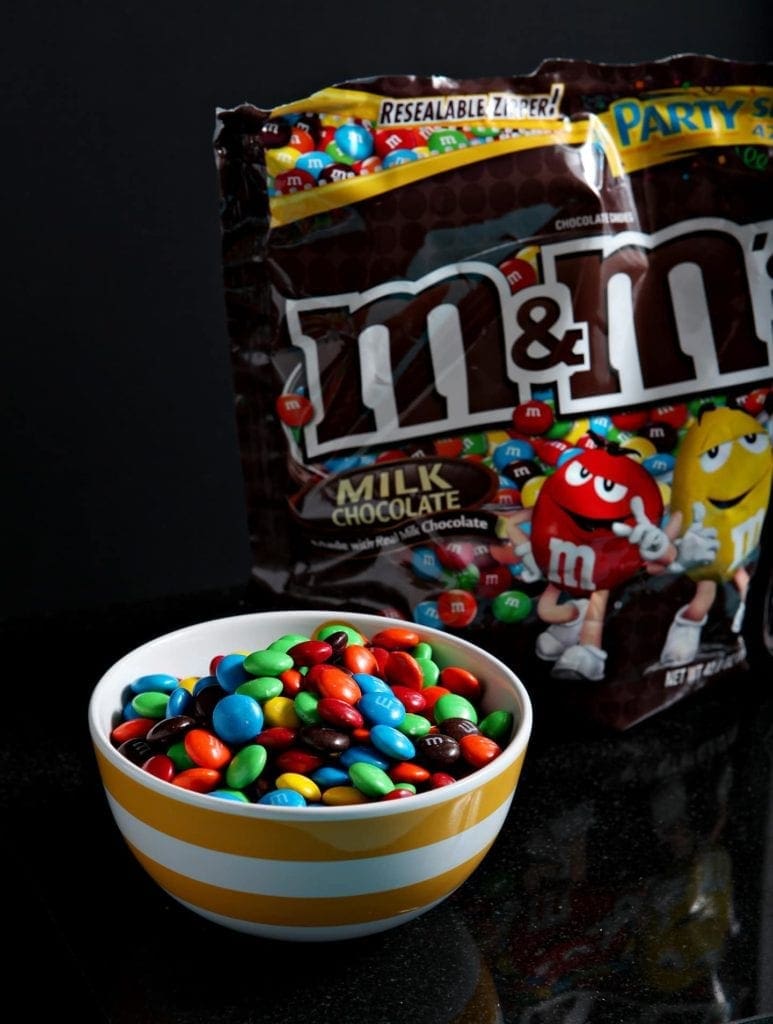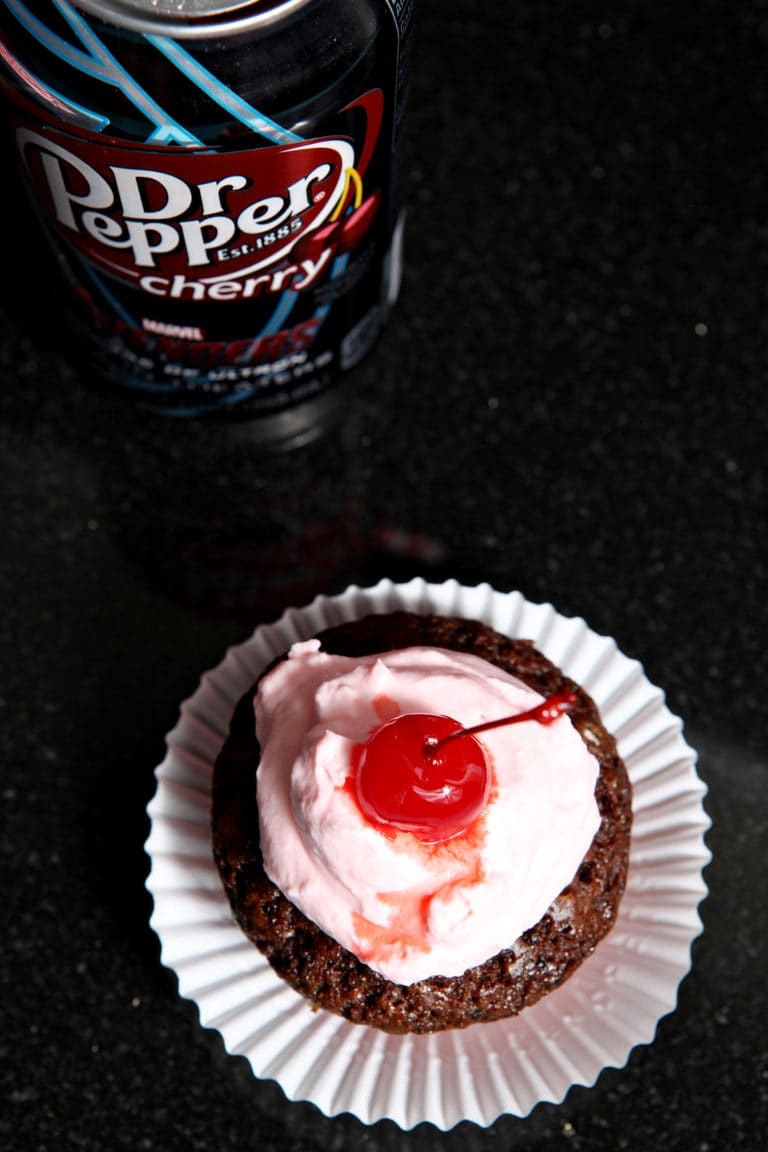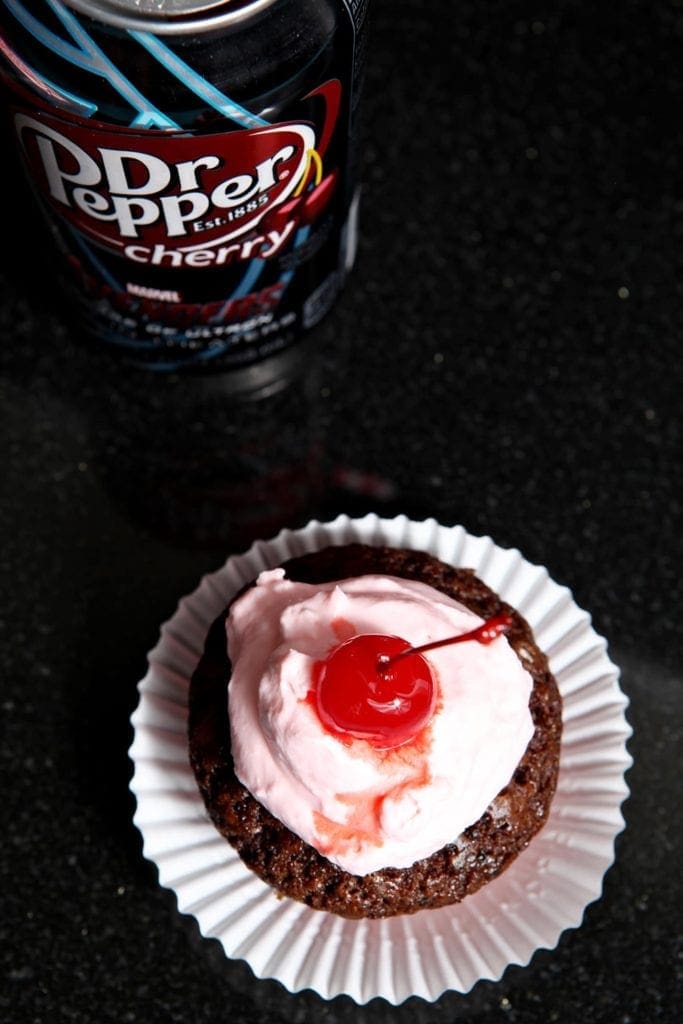 Confession time — can I confess that I feel like I have waaaaay too many confessions here on this blog about food? No? Well, too bad. I've got another one for y'all, and it's pertinent to this here post.
I don't like whipped cream.
There, I said it.
Yet… this whipped cream that my mother made because I don't like whipped cream? Tastes heavenly. It's slightly sweet and tastes like cherries. How could I not love that, especially when you dollop it on top of chocolate cherry cupcakes?
Answer: I couldn't not love it.
And you're going to love it, too. Here's how you can make 'em: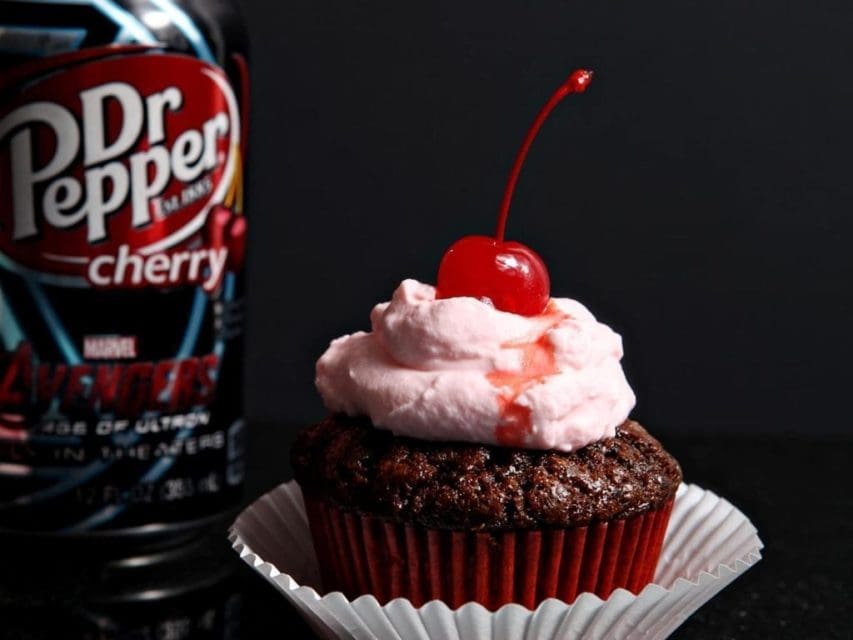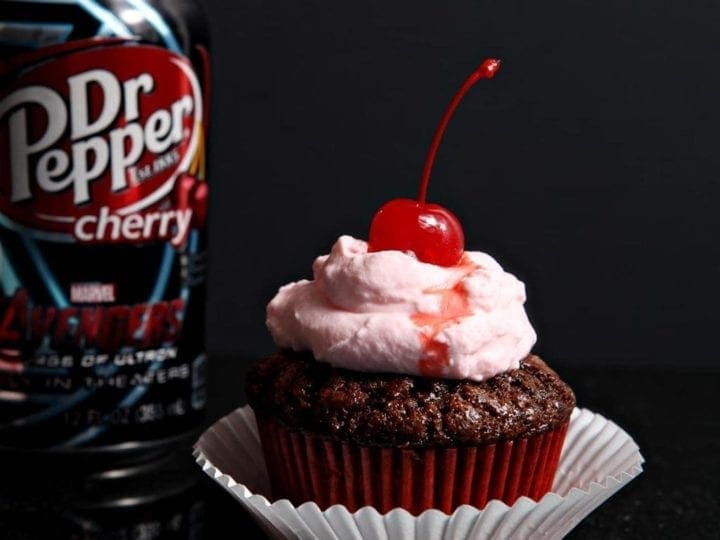 Yield:

18 cupcakes
Dr Pepper® Cherry Cupcakes with Grenadine Whipped Cream
Celebrate summer by baking Dr Pepper® Cherry Cupcakes, topped with an utterly decadent Grenadine Whipped Cream. These cherry chocolate cupcakes taste like a hot summer's day and are the perfect treat to enjoy after a day in the sunshine.
Ingredients
Cupcakes
1 cup unbleached all-purpose flour
¼ cup unsweetened cocoa powder
1 ½ teaspoons baking soda
1 ½ teaspoons baking powder
¼ teaspoon kosher salt
¼ cup coconut oil, melted
½ cup unsweetened applesauce
½ cup granulated sugar
3 eggs
1 cup Dr Pepper® Cherry
¾ cup dark chocolate chips, chopped
Grenadine Whipped Cream
1 cup heavy whipping cream
1 ½ tablespoons grenadine
3 tablespoons powdered sugar
Instructions
Make the Cupcakes
Preheat the oven to 375°F. Place paper baking cups in the holes of a muffin tin, and lightly spritz with cooking spray. Set aside.
In a medium-sized bowl, sift together the dry ingredients -- flour, baking soda, baking powder, salt and cocoa powder -- and set aside.
In another large bowl, cream the coconut oil, applesauce and sugar together until smooth and well incorporated.
Add the eggs to the oil/applesauce/sugar mixture one by one, stirring until the ingredients are mixed.
Pour the Dr Pepper® Cherry into the wet ingredients, and slowly stir it into the mixture. It will fizz up, so be prepared for that, as well as for the wet ingredients to be very runny.
Sprinkle the dry ingredients into the wet ingredients, folding with a rubber spatula until incorporated. (The batter will be on the runnier side, so do not fret!) Add the chopped dark chocolate chips.
Using a ice cream scoop, pour the batter into the prepared muffin tins.
Bake for 20-25 minutes, or until an inserted toothpick comes out clean.
Let cool on the counters for an hour, then top with the Grenadine Whipped Cream.
Make the Grenadine Whipped Cream
In a medium-sized glass bowl, pour in the cold heavy whipping cream.
Using a hand mixer (or stand mixer), whip the heavy whipping cream on a high speed until it begins to thicken.
Measure in the grenadine and the powdered sugar, then continue whipping the mixture on high speed until it reaches the desirable whipped cream consistency.
Chill in the refrigerator until it's time to ice the cupcakes, then enjoy!
Notes
Cupcakes should be iced with the whipped cream individually instead of all together, then sitting on the counter. Since there were just three of us to enjoy these cupcakes, I iced the ones that were photographed, then the rest were placed on a plate and covered with plastic wrap. The whipped cream icing was kept in the refrigerator, and we've simply fluffed the whipped cream before scooping it on top of the cupcakes as we've wanted to eat them.
Nutrition Information:
Yield:
18 cupcakes
Serving Size:
1 cupcake
Amount Per Serving:
Calories:

191
Total Fat:

11g
Saturated Fat:

7g
Trans Fat:

0g
Unsaturated Fat:

3g
Cholesterol:

47mg
Sodium:

194mg
Carbohydrates:

21g
Fiber:

1g
Sugar:

12g
Protein:

3g
Nutrition facts are an estimate and not guaranteed to be accurate.

Do you have any summertime foods that take you back to your childhood?
What are some of your favorite ways to make summer fun?