Cool off with a Strawberry Honeysuckle Sparkler, a summertime cocktail featuring fresh strawberry puree, honey simple syrup, honeysuckle vodka and club soda. It's light, simple and oh-so-delicious!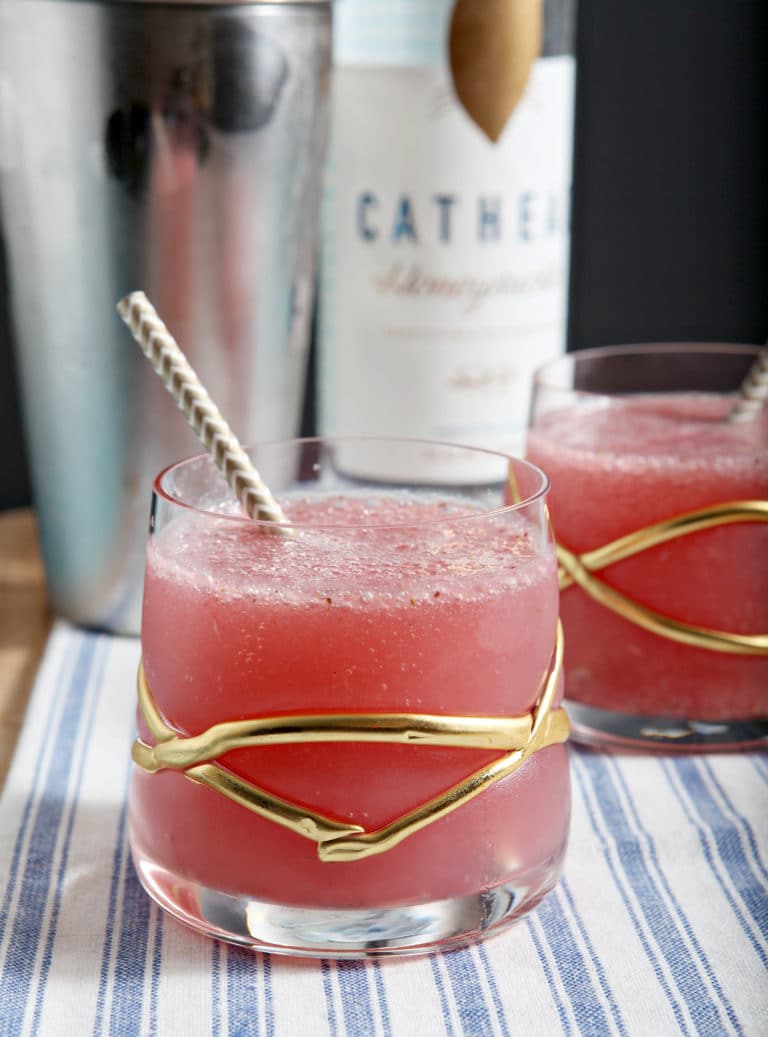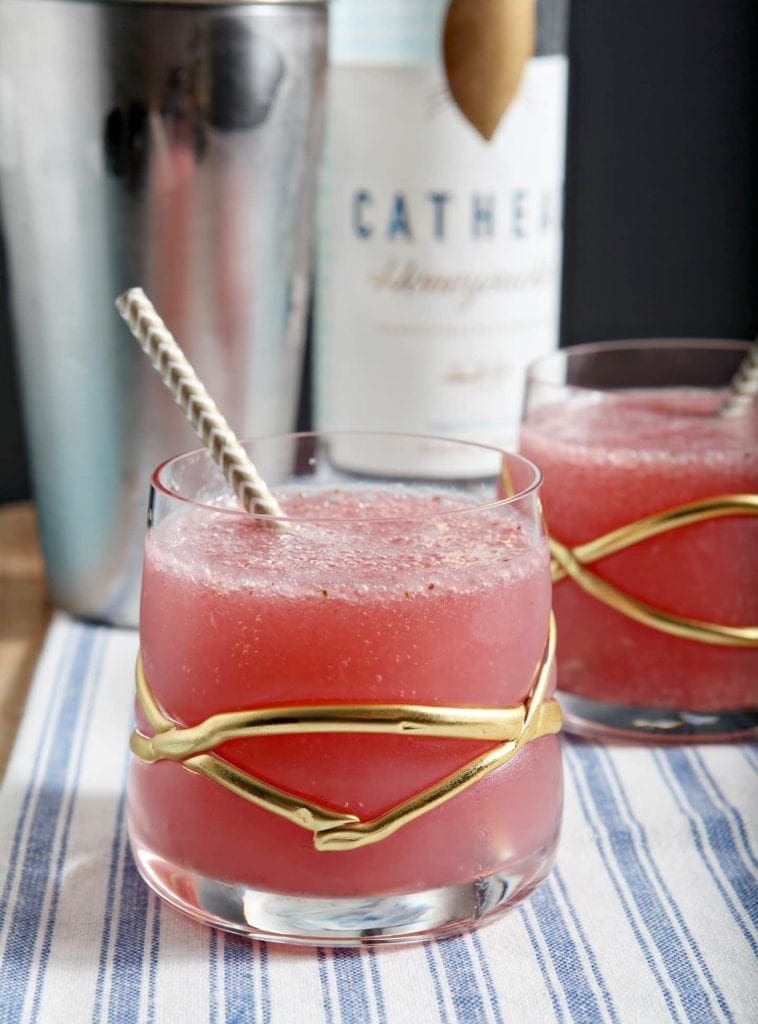 This post contains affiliate links. If you were to make a purchase through one, I would receive a small commission. For more information about the affiliate programs The Speckled Palate participates in, please refer to my disclosure page.
During last year's July 4th weekend, we attended one of my best friend's weddings. It was a glorious weekend filled with new and old friends, sunshine and lots of fun.
I was also pregnant for the celebration. About five weeks pregnant, to be exact… so it was suuuuuuper early. Being the Nervous Nelly that I am, we wanted to keep the pregnancy a secret until our eight week doctor's appointment, when we would confirm everything was OK. We'd then tell our families, and once I was safely out of the first trimester, we'd tell our friends and the rest of the world.
So… I was pregnant and keeping it under wraps. Which is really freakin' hard if you're like me and (1) want to tell people exciting news when you know exciting news, and (2) you happen to enjoy a delicious mixed drink every once in a while, especially when you're celebrating at your best friend's wedding.
I'm fairly positive no one except the bride bought my whole "I'm our DD" spiel at the rehearsal dinner, then the whole "this is totally a gin and tonic" (when it was actually club soda with a lime wedge) explanation at the reception. And the only reason the bride didn't buy my stories was because she was too busy getting married.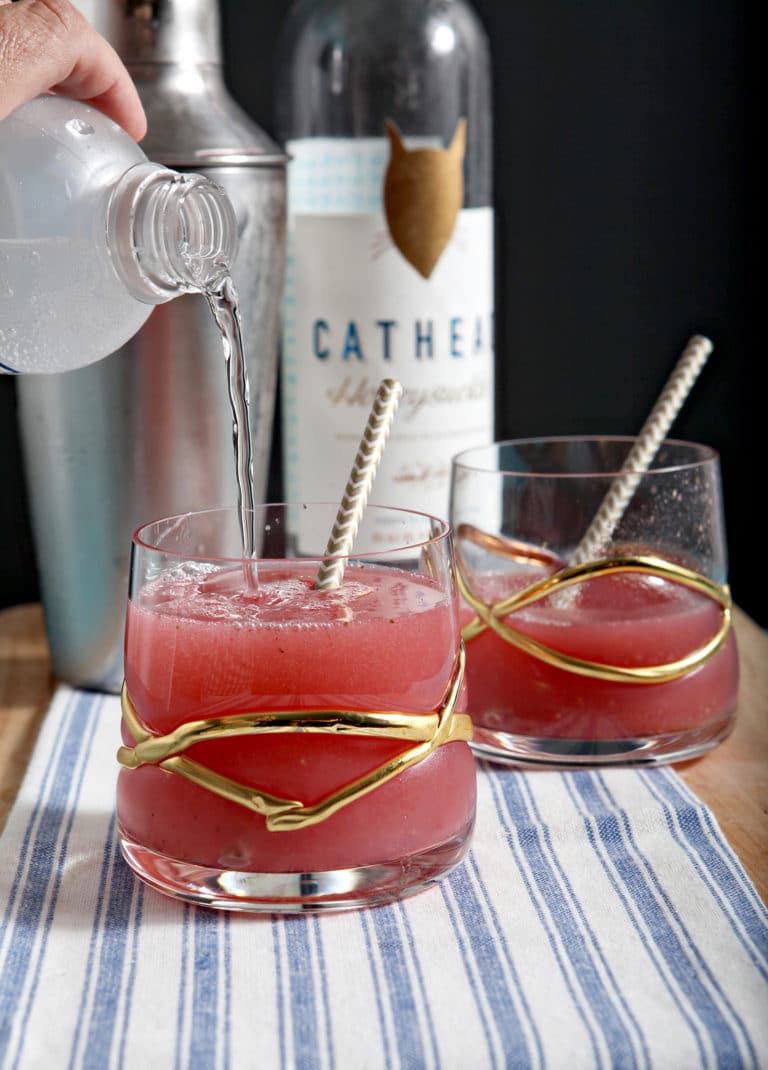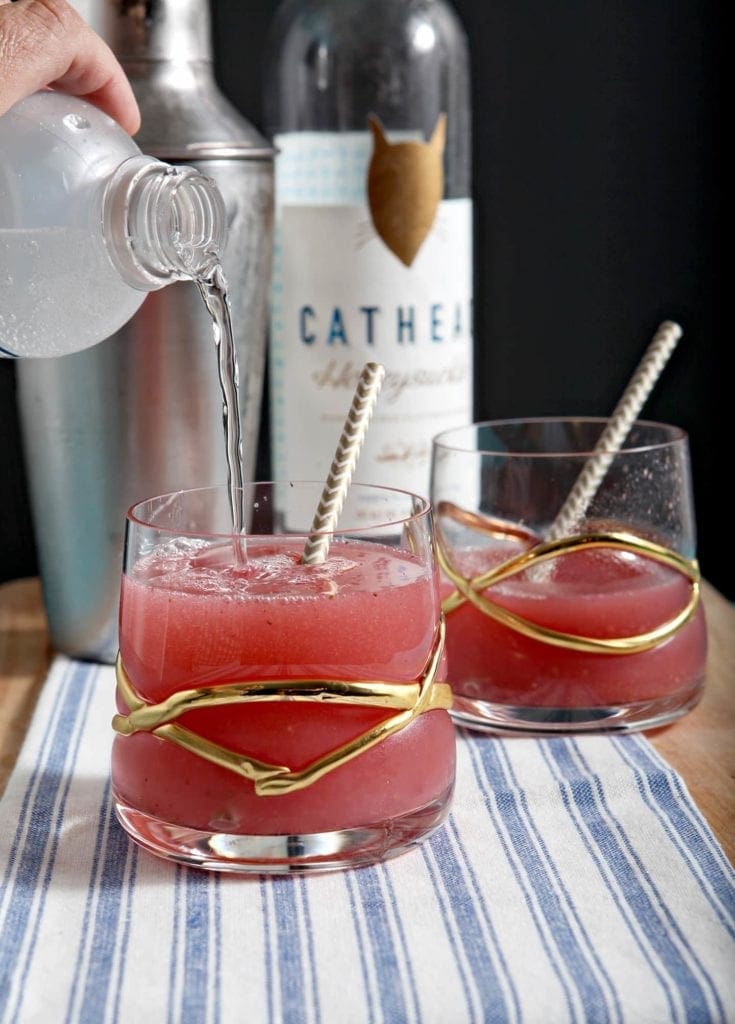 This July 4th weekend, I plan to indulge a little and have that mixed drink I so desperately wanted last Independence Day, but couldn't. (Yes, I was that pregnant woman. You know, the one who really wanted to sip on a beer or a mixed drink, for whatever reason, during her first trimester. And then when I was safely out of the first trimester and assured by my doctor that I could have a glass of wine and be A-OK, I had no interest in any alcohol. Go figure.)
So this year? I present to y'all my Strawberry Honeysuckle Sparkler.
It features a few of my favorite things: fresh strawberries, honey simple syrup (best. discovery. ever!) and honeysuckle vodka.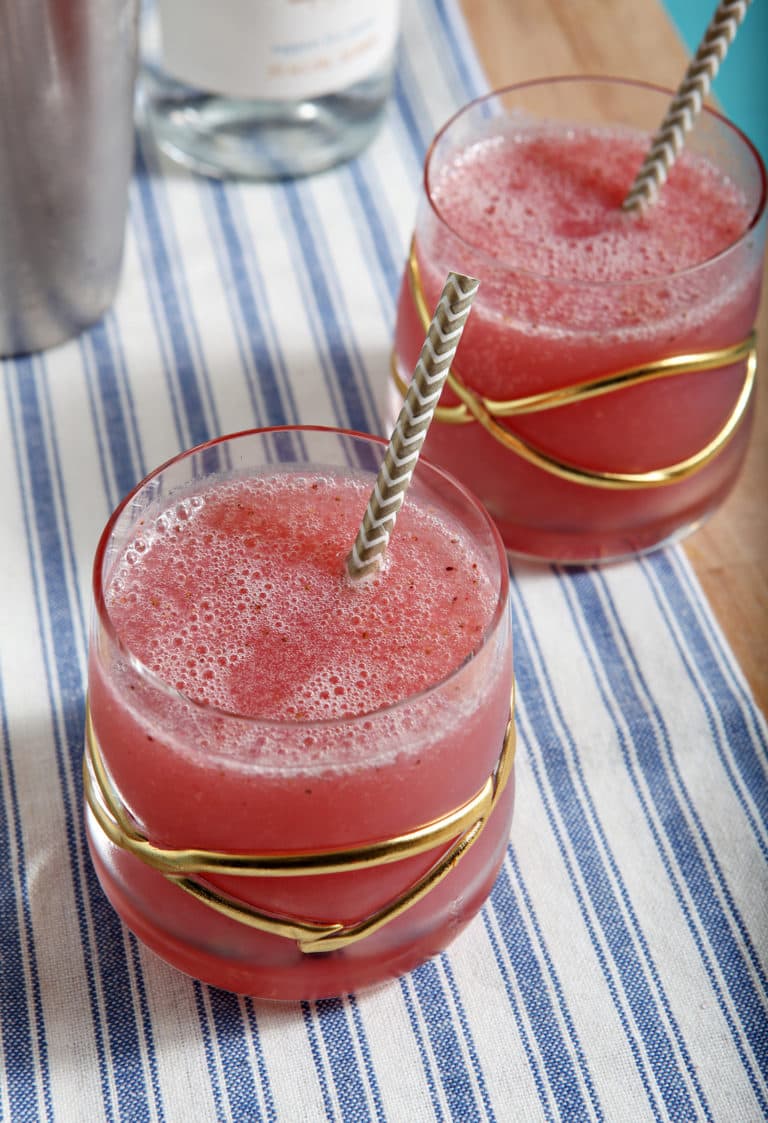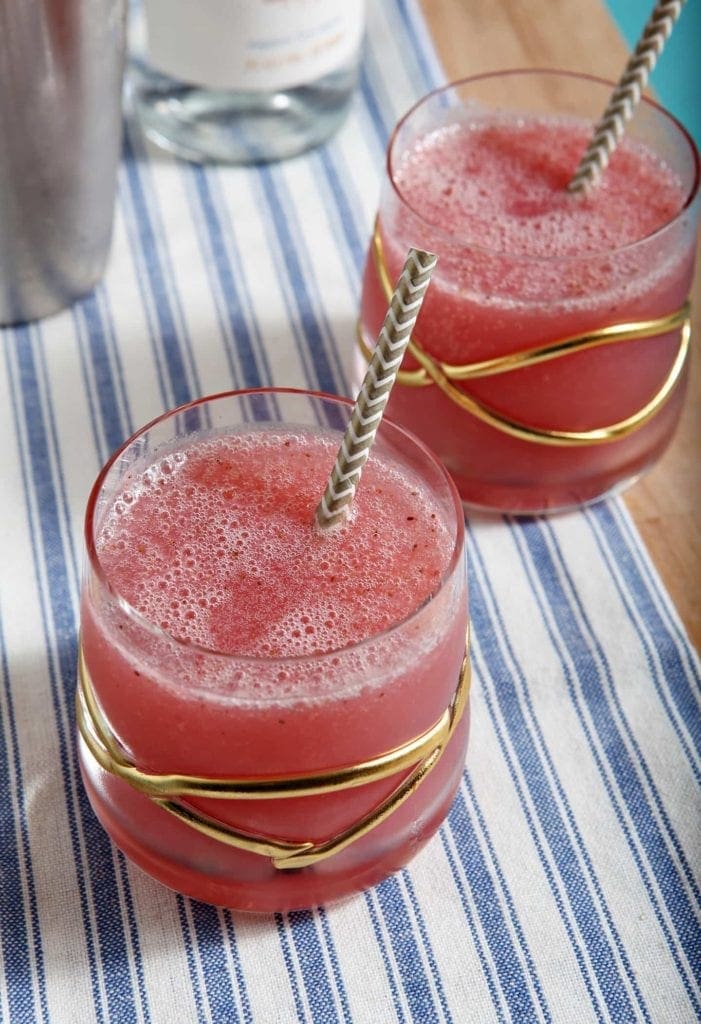 Oh, you've never heard of this mythical honeysuckle vodka?
Let me share how I was introduced to it: Once upon a time when Winston and I were in New Orleans for a friend's wedding, and we were staying at a swanky little hotel in the Quarter, tucked just off Bourbon Street. We had a few drink tickets to the bar, so we moseyed our way down before attending a rehearsal dinner. I'd asked the bartender for a Pimm's Cup, which he said he didn't have ingredients for, but he suggested another mixed drink, which featured honeysuckle vodka from a small distillery in Mississippi.
I was intrigued and ordered the drink. It was allllllll kinds of tasty.
We ended up chatting about the vodka for a while before Winston and I headed out to the rehearsal dinner, and I made a note to look it up whenever we got home.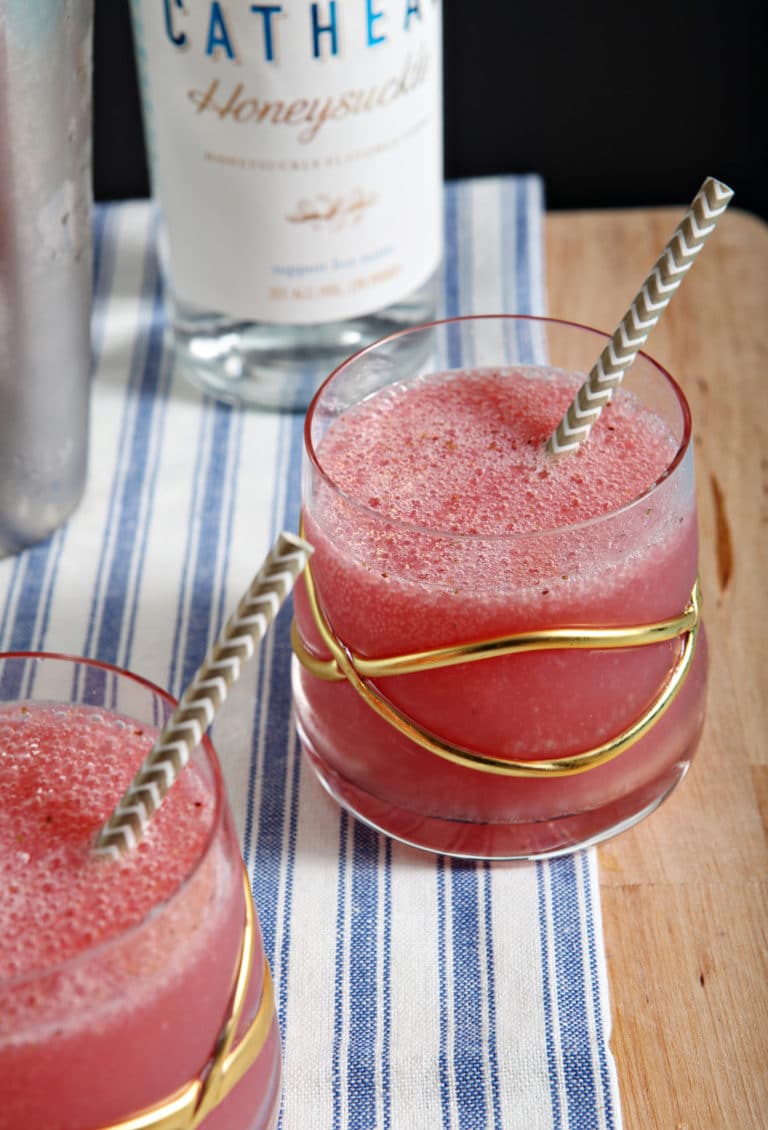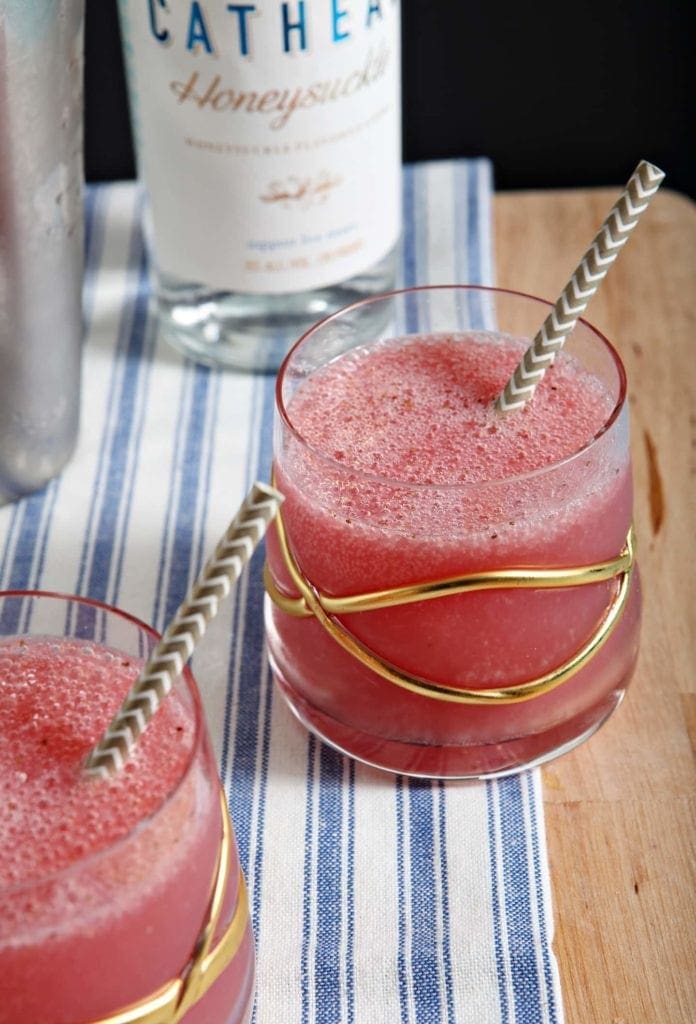 I ended up forgetting about the vodka until I was visiting my family in Memphis a few weeks later. I was making a liquor store run to pick up some wine for the evening. The honeysuckle vodka was in a display case near the front of the store, and I grabbed a bottle, thinking it'd be fun to have at home to make different mixed drinks.
Well, unfortunately, we haven't used it for much, and I wanted to change that this summer, especially since I can enjoy a mixed drink again.
Honeysuckle is an amazing flavor for the summertime, and when paired with this strawberry/honey puree, it's divine. Add a little bubbly club soda, and you're set with a perfect cocktail to sip by the pool or while you hang out in the sunshine.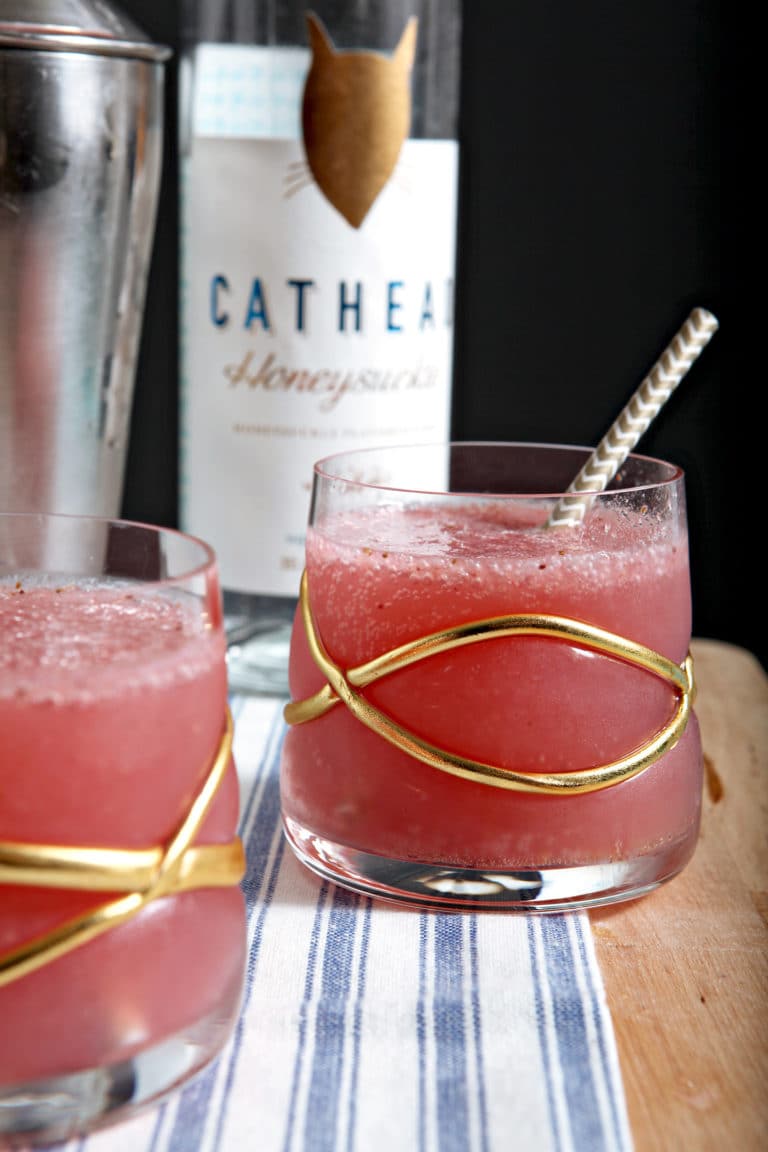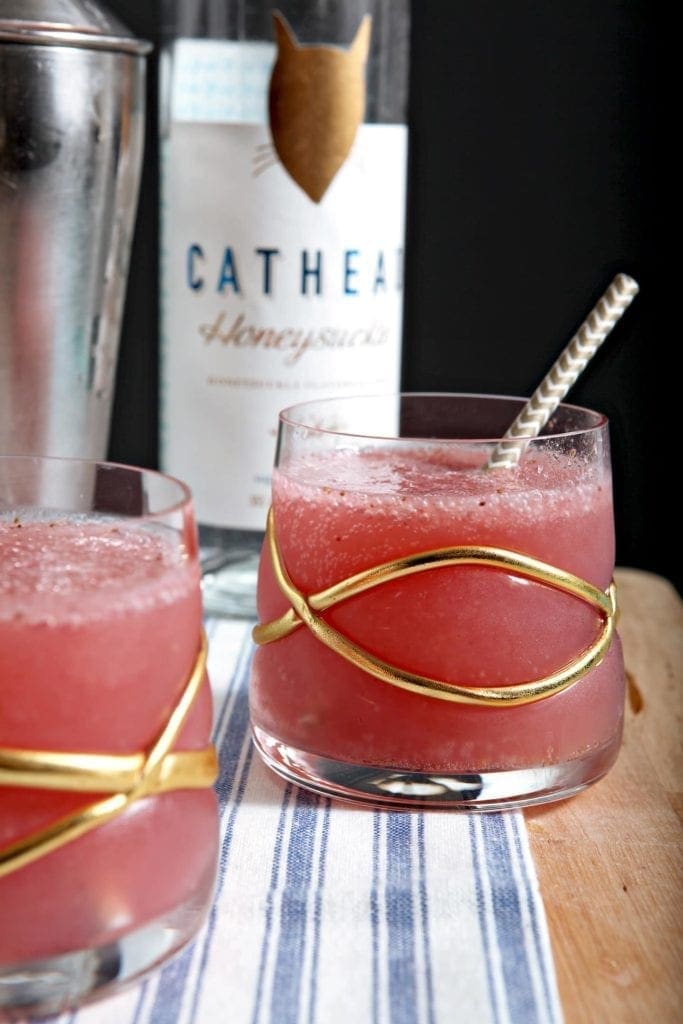 Strawberry Honeysuckle Sparkler Essentials
Get the look!


Here's how I made it: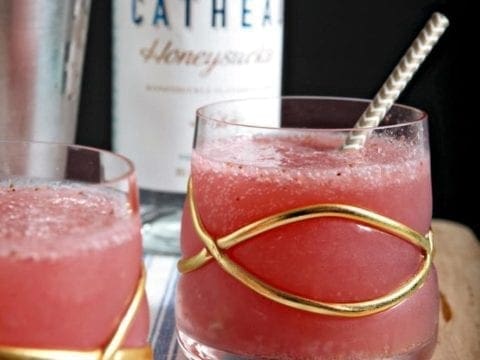 Yield:

2 drinks
Strawberry Honeysuckle Sparkler
This weekend, cool off with a Strawberry Honeysuckle Sparkler, a summertime cocktail featuring fresh strawberry puree, honey simple syrup, honeysuckle vodka and club soda. It's light, simple and oh-so-delicious!
Ingredients
½ cup strawberries, sliced
3 tablespoons honey simple syrup
4 oz. honeysuckle vodka
8.5 fl. oz. club soda
Instructions
In a blender, mix the strawberries and honey simple syrup until smooth.
Pour the strawberry puree mixture and honeysuckle vodka into a shaker with ice, and shake until well-mixed.
Pour into two glasses, then top with the club soda.
Drink immediately!
Nutrition Information:
Yield:
2 drinks
Serving Size:
1 drink
Amount Per Serving:
Calories:

529
Total Fat:

0g
Saturated Fat:

0g
Trans Fat:

0g
Unsaturated Fat:

0g
Cholesterol:

0mg
Sodium:

5mg
Carbohydrates:

104g
Fiber:

1g
Sugar:

103g
Protein:

0g
Nutrition facts are an estimate and not guaranteed to be accurate.
Have you ever tried honeysuckle vodka?
What is your go-to summertime drink?