Sour Cream Funfetti Cupcakes
Let's whip up homemade Sour Cream Funfetti Cupcakes today! These cupcakes are the perfect dessert for a party or any get together! Instead of using a traditional boxed mix, these homemade beauties come together quickly with the help of some baking staples like butter, sugar, sour cream, eggs and flour. Throw in some sprinkles to add the FUN, then bake until golden! Topped with decadent Sour Cream Frosting, these cupcakes are a perfect treat!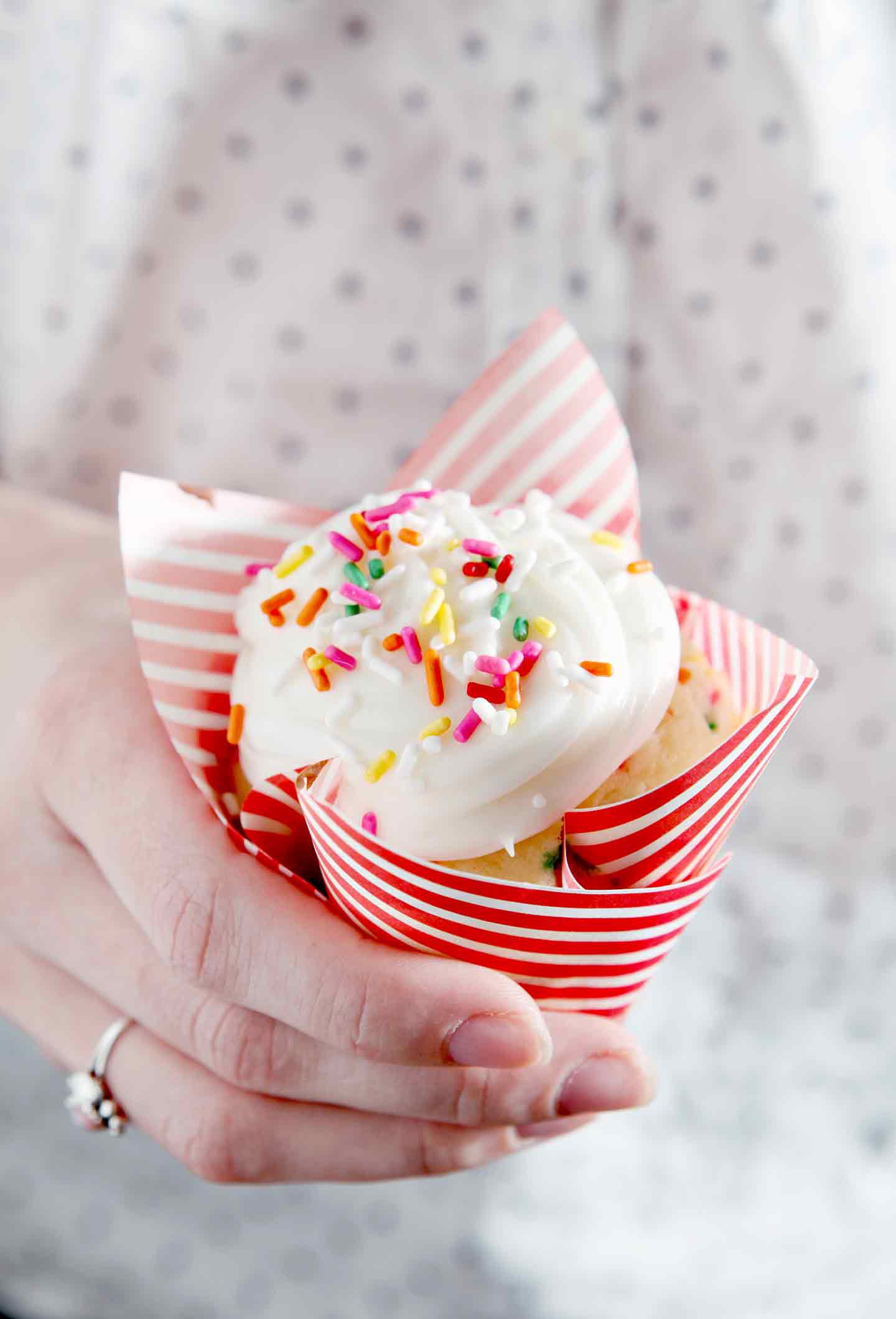 We're still celebrating The Speckled Palate's sixth birthday today, and what better way to do that than by republishing one of my first recipes ever?
These Sour Cream Funfetti Cupcakes are just as good today as they were six years ago.
But I'm going to go out on a limb and guess most of y'all weren't here to check 'em out six years ago, so I decided to give the post a bit of a facelift.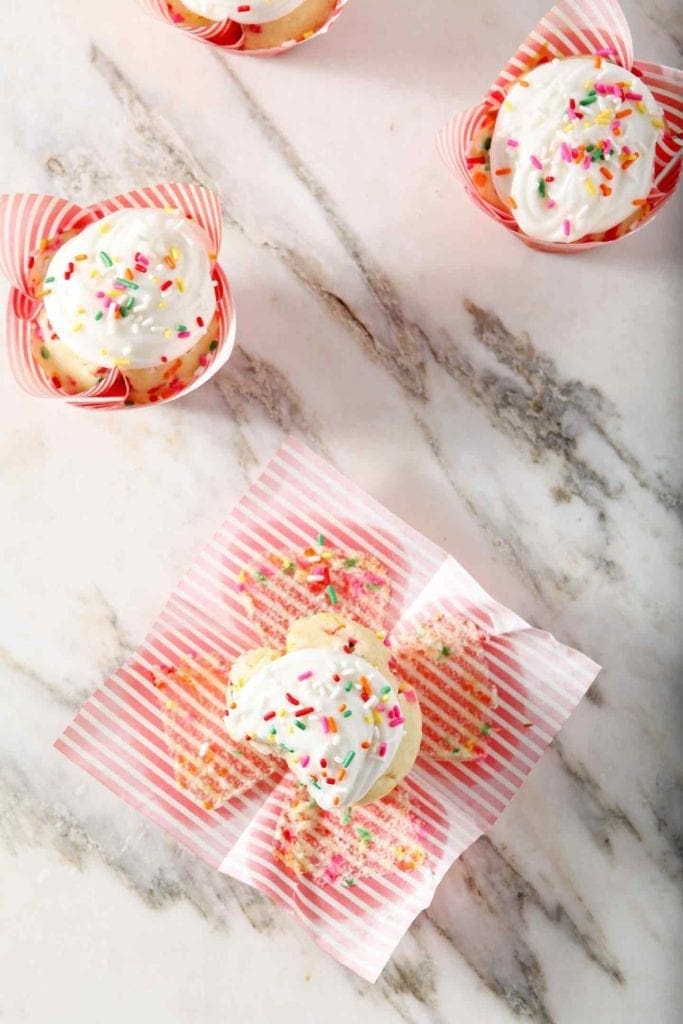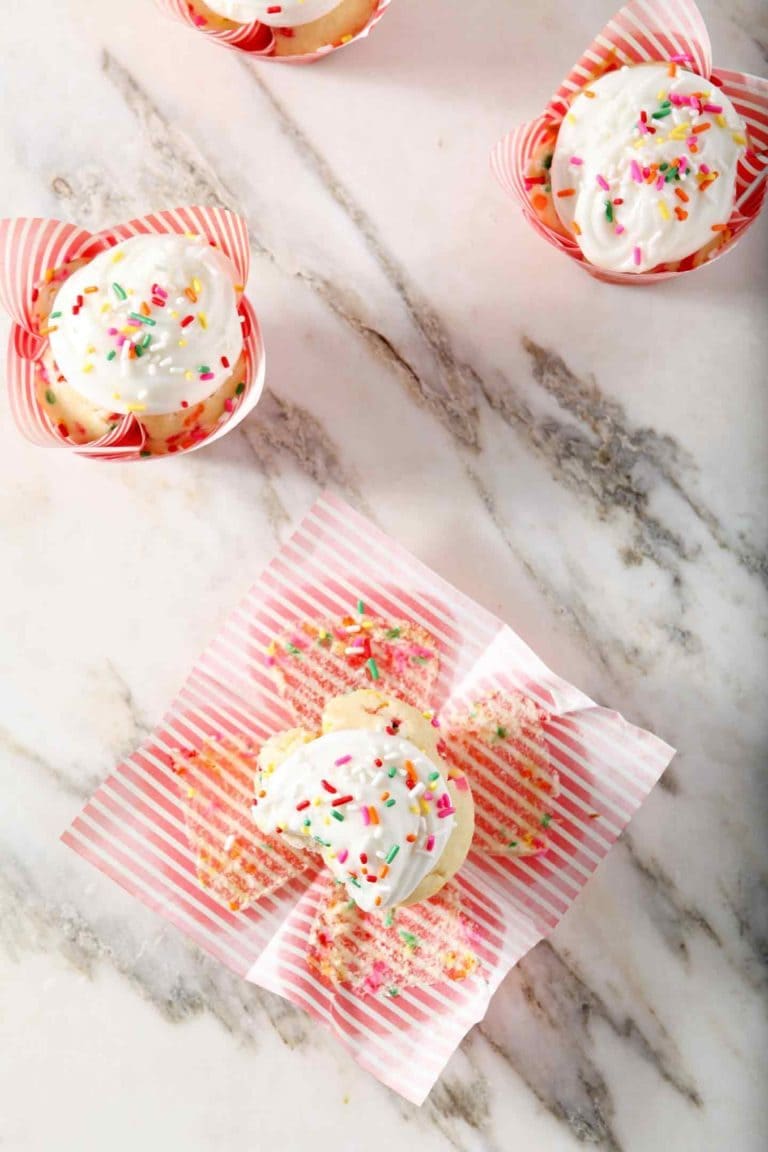 New photos!
A new-ish story!
An updated recipe!
The whole shebang.
That's how we roll for birthdays, y'all.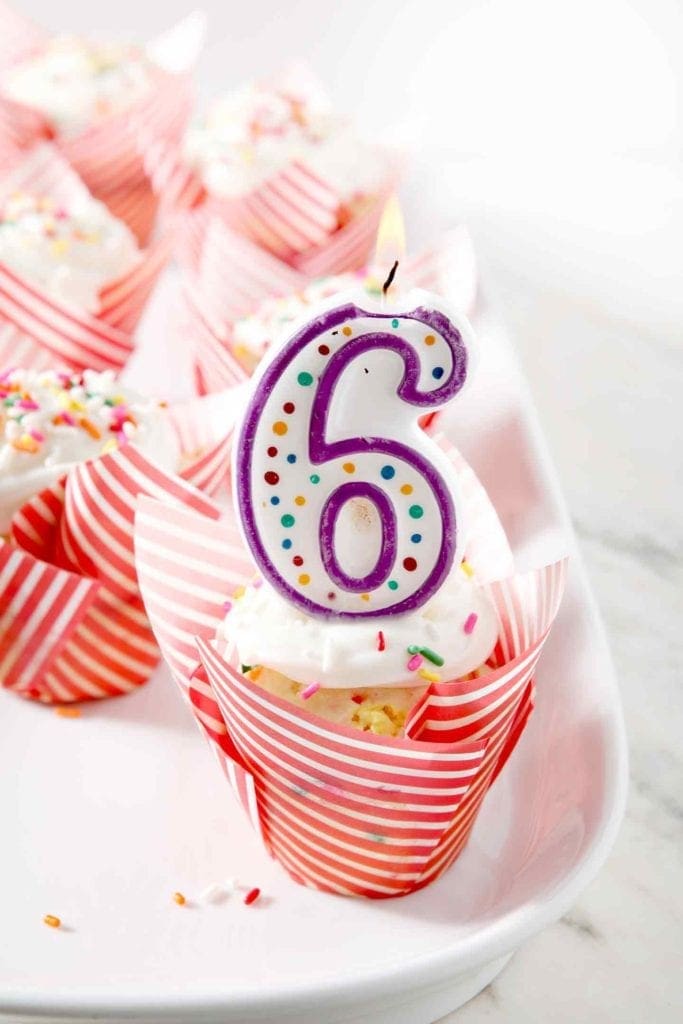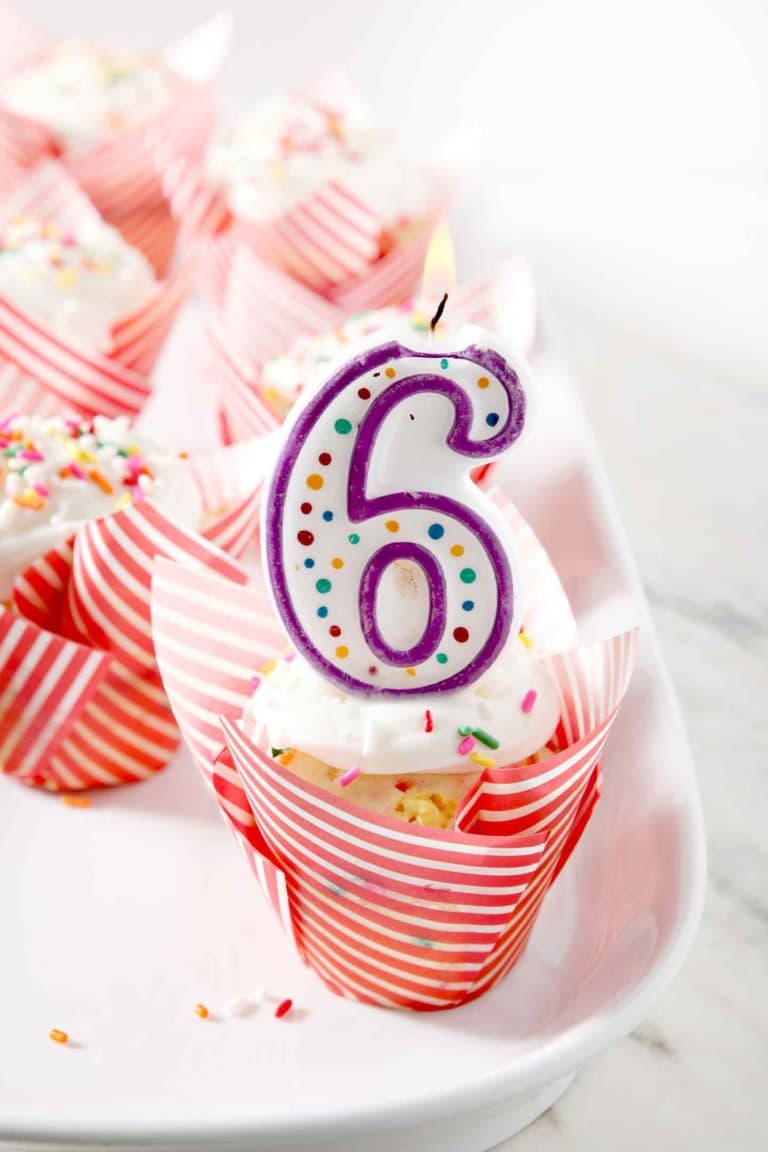 This recipe was inspired by a family friend's wedding cake.
While I didn't attend the wedding, I heard about their cake. Specifically, a FUNFETTI layer.
How cool is that?!?
And why the heck didn't we request that for our wedding cake?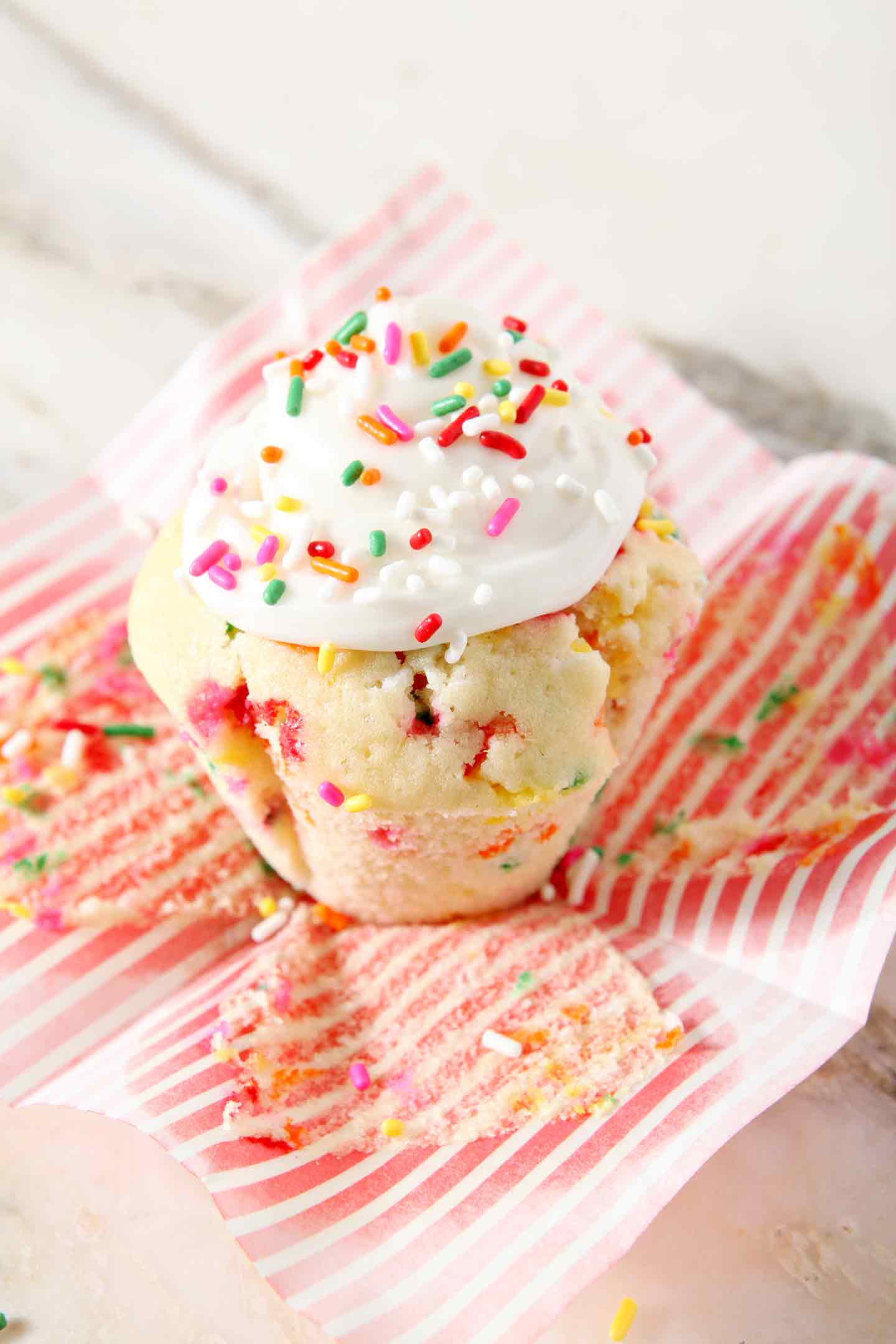 My stomach growled when my mother told me about the cake, and promptly after I hung up, my stomach requested something funfetti.
However, I didn't want to go to the store to get the boxed mix. Instead, I dug around in my pantry and discovered I had ingredients to make funfetti. Specifically, sprinkles. Because those are essential in funfetti.
Funny story: The sprinkles I found in my kitchen that day? They were from my bachelorette party. And that's all I'm gonna say about 'em. 😉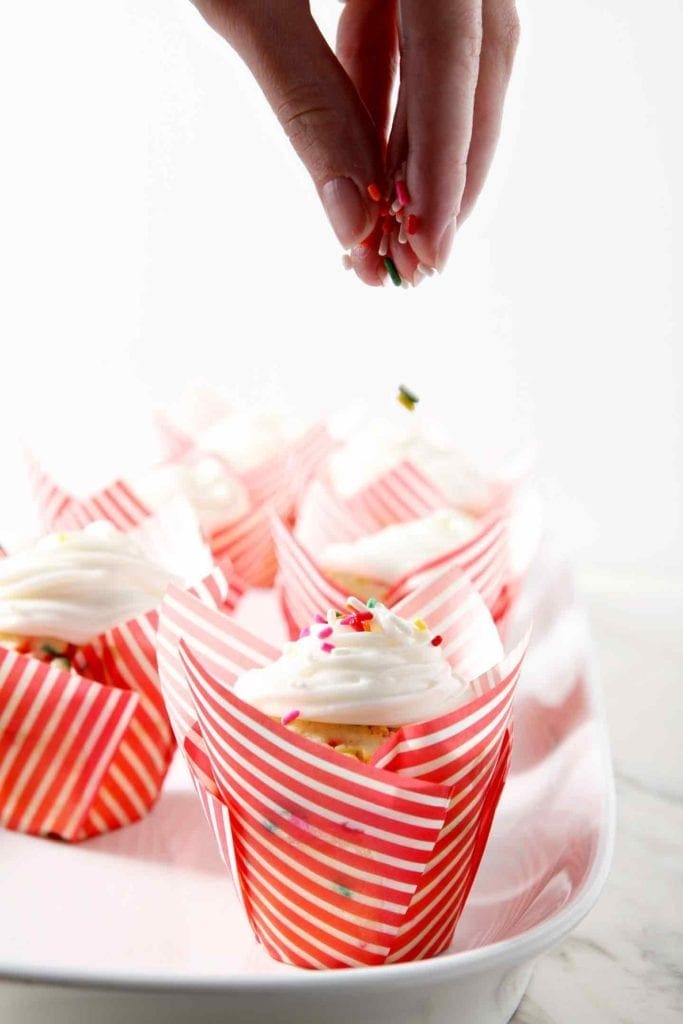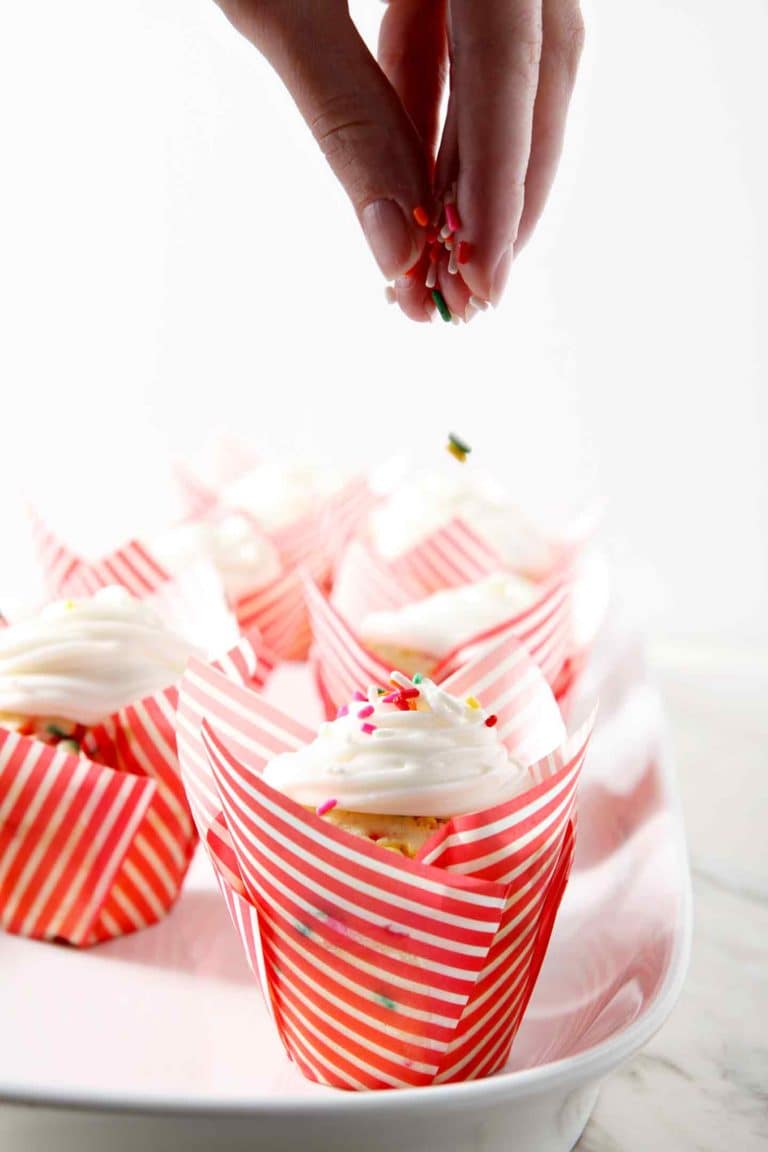 The one problem I ran into: I didn't have cream cheese for the icing, and cream cheese icing is my favorite.
So I did some digging in the fridge and found some sour cream.
Similar enough, right?
RIGHT!
Yes, I know. It sounds bizarre, but the sour cream balances out the sweetness of the cupcakes and powdered sugar here, and it works like a charm!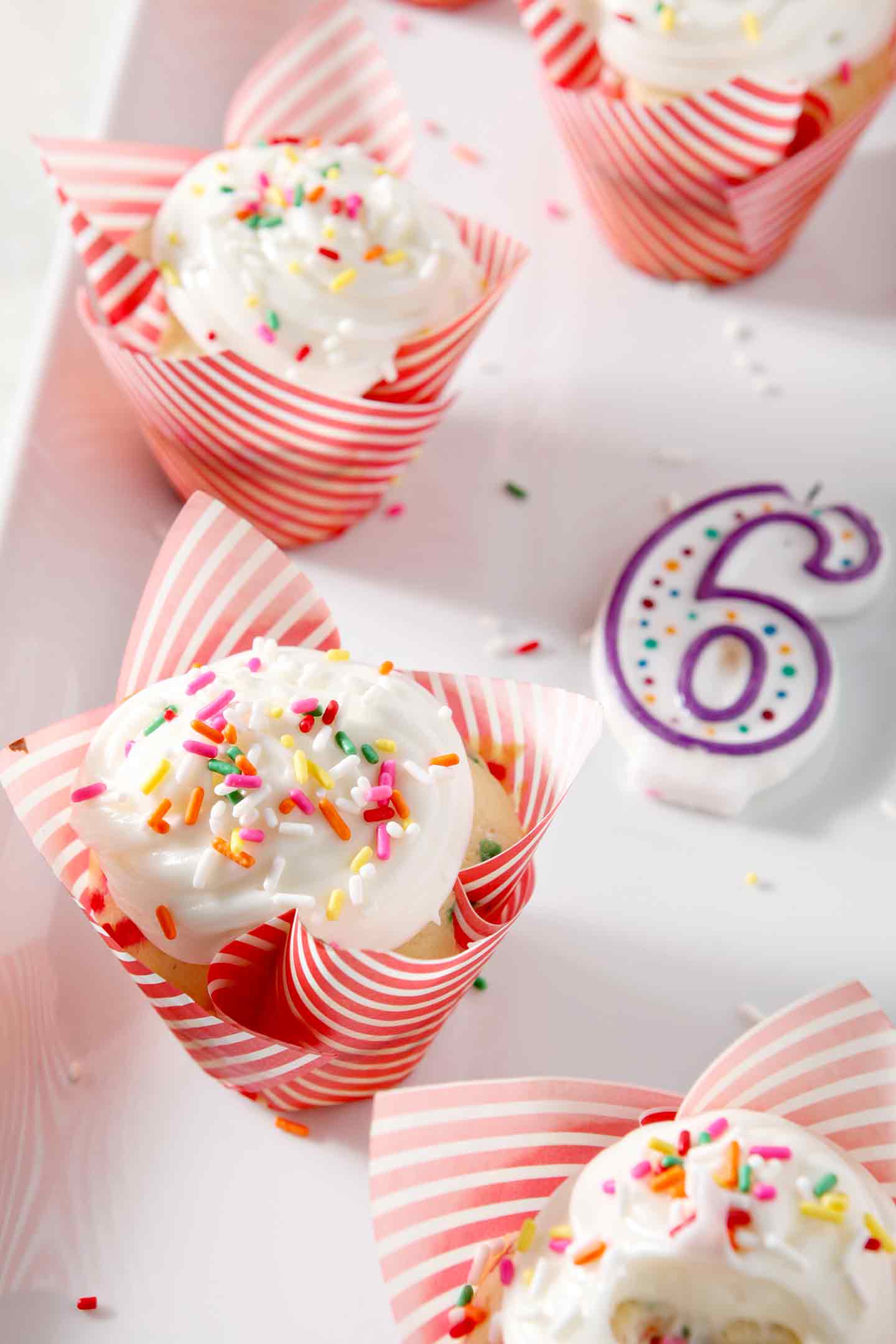 These Sour Cream Funfetti Cupcakes are fluffy and moist. They're not saccharine sweet, and neither is the frosting.
Which is exactly what I love in a baked good.
Making funfetti from scratch? Ain't a thing. And if you've got the ingredients, they're super easy to pull together!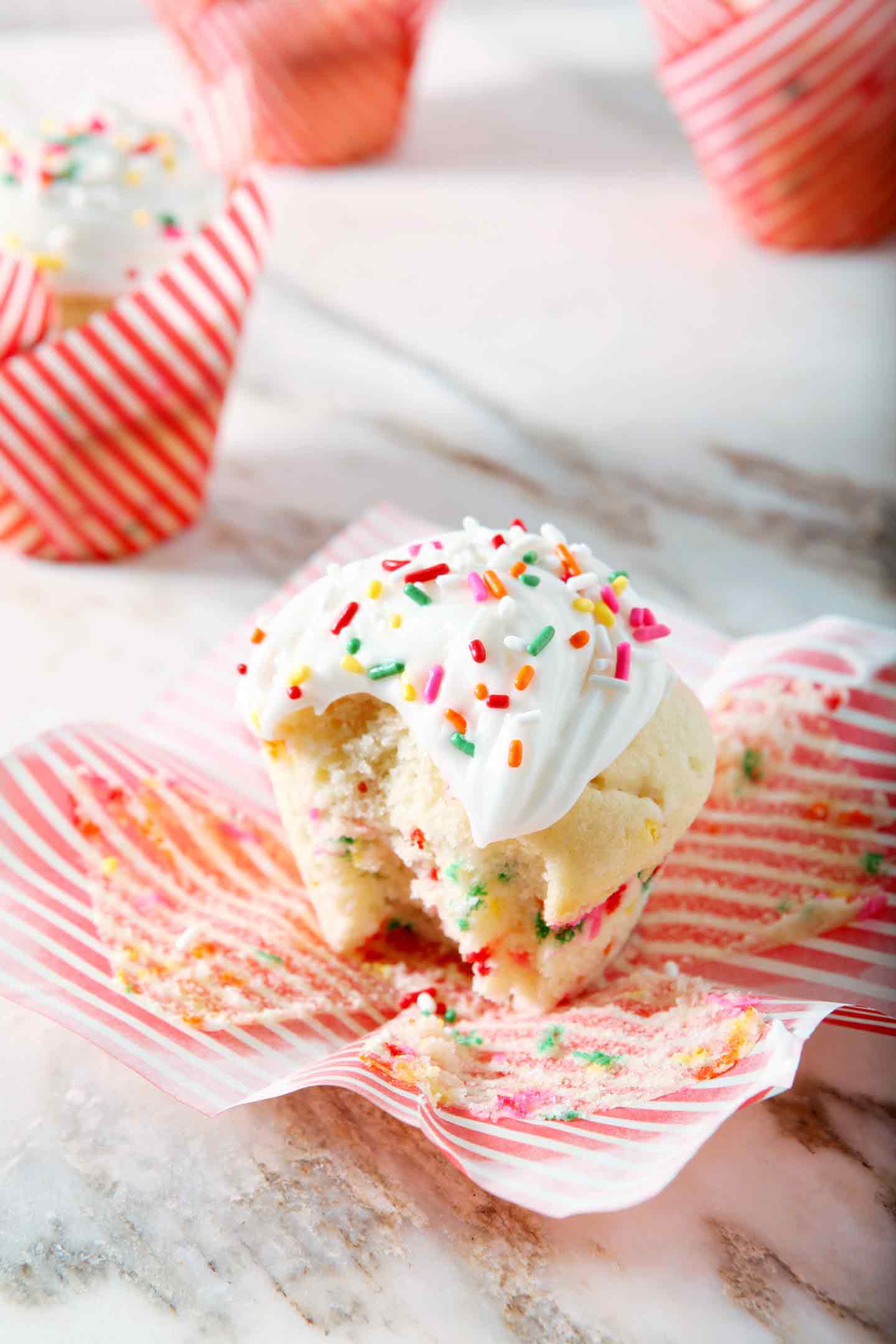 Sour Cream Funfetti Essentials
Disclaimer: The links below are affiliate links. If you click through and take action, I will receive a small commission. Please refer to my disclosure page for more information about the affiliate programs The Speckled Palate participates in.
Get the look!
Red stripe tulip cupcake liners. (Similar here.)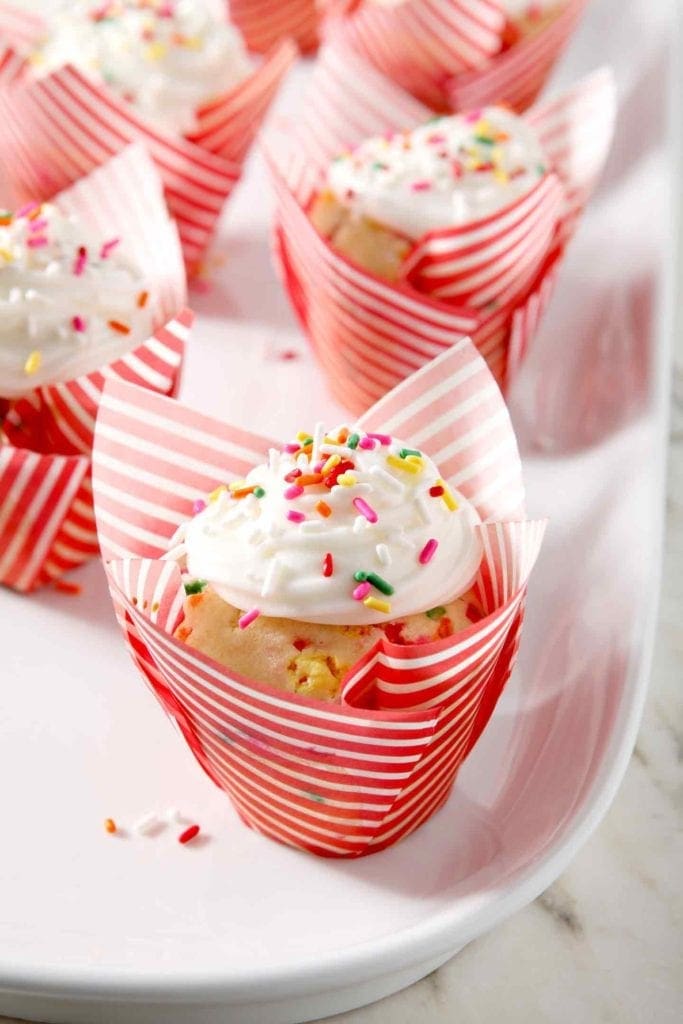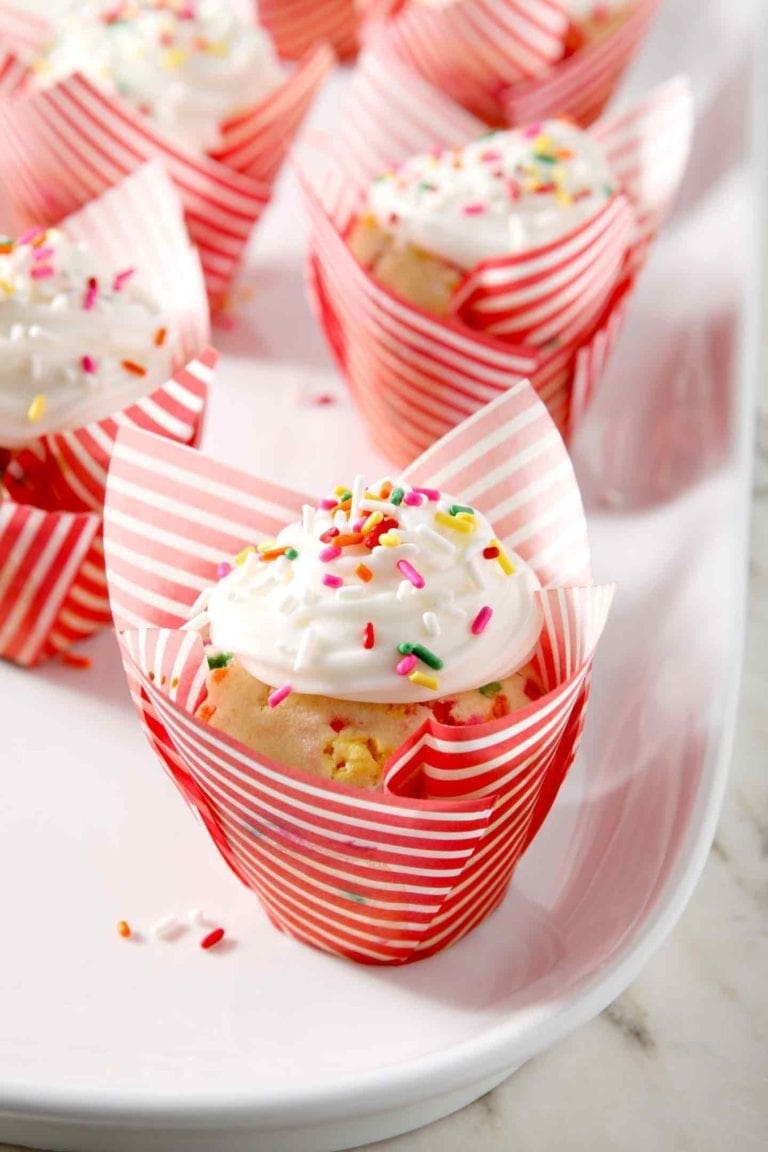 Now who wants a cupcake of their own?
I wish I could share mine with each and every one of you — this is technically a birthday party — but alas.
Scroll on down to get the recipe, and happy baking!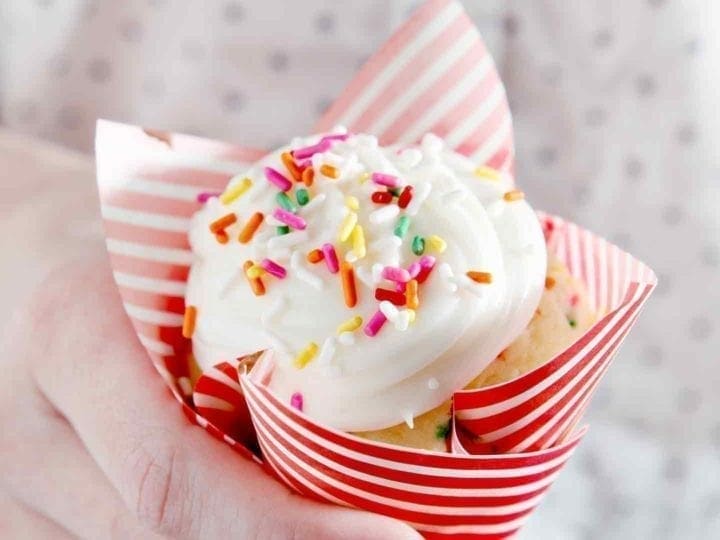 Yield:

12 large cupcakes
Sour Cream Funfetti Cupcakes
Let's bake today... and use sour cream to make these homemade Funfetti Cupcakes even more decadent! Instead of using the traditional boxed mix, we'll cream together butter, sour cream, sugar, eggs and pure vanilla extract then add unbleached all-purpose flour, baking powder, milk and rainbow sprinkles to the batter. Dollop them into a cupcake tin before baking for 20 minutes. Once cooled, we'll top them with tart Sour Cream Icing! These cupcakes are a sweet recipe for the weekend baker.
Ingredients
Funfetti Cupcakes
¼ cup sour cream
4 tablespoon unsalted butter, softened
1 cup granulated sugar
2 eggs
2 teaspoons pure vanilla extract
¾ cup milk
2 cups unbleached all-purpose flour
1 ¾ teaspoons baking powder
½ teaspoon kosher salt
½ cup rainbow sprinkles
Sour Cream Frosting
2 ½ cups powdered sugar
½ cup sour cream
1 teaspoon pure vanilla extract
A pinch of salt
Instructions
Make the Cupcakes
Preheat oven to 350°F. Line a cupcake pan with cupcake liners, and spritz with nonstick cooking spray. Set aside.
In a large glass bowl, cream the sour cream, butter and sugar together.
Once the sour cream, butter and sugar are a smooth consistency, add the two eggs and the vanilla extract, mixing thoroughly.
Pour in the milk, and gently stir into the other wet ingredients until smooth.
In another bowl, sift together the flour, baking powder and salt.
Add the dry ingredients to the wet ingredients, stirring until just combined.
Stir the rainbow sprinkles into the batter, careful not to overmix.
Dollop the batter into the prepared cupcake liners. Fill ¾ of the way full with a cookie scoop.
Bake the cupcakes for 22-28 minutes, or until tops are light brown and a toothpick comes out clean.
Make the Sour Cream Frosting
While the cupcakes bake, measure out the sour cream, powdered sugar, vanilla and salt into a glass mixing bowl.
Using a hand mixer, whip the icing until combined, smooth and shiny.
When the cupcakes have cooled, decorate with the frosting, and enjoy!
Nutrition Information:
Yield:
12
Serving Size:
1 cupcake
Amount Per Serving:
Calories:

354
Total Fat:

10g
Saturated Fat:

4g
Trans Fat:

0g
Unsaturated Fat:

5g
Cholesterol:

51mg
Sodium:

196mg
Carbohydrates:

62g
Fiber:

1g
Sugar:

44g
Protein:

4g
Nutrition facts are an estimate and not guaranteed to be accurate.
What kind of things do you like to bake (or eat, if you aren't a baker)?
Are you a cupcake person, a cake person or a pie person?
…
The photos and recipe for these Sour Cream Funfetti Cupcakes were originally published on June 13, 2011. The photographs, along with the text of this blog post and the recipe, were updated on June 1, 2017.