This post (and the giveaway found within it) is sponsored by Cabot Creamery and Bob's Red Mill. As always, all opinions, recipes and thoughts are my own.
Sweet and spicy, this Tabasco Honey Butter Popcorn is the perfect afternoon snack for someone who loves a combination of flavors on their popcorn. Tabasco adds pepper to the popcorn, and the sweet honey butter drizzle balances everything out to make a lovely bowl of popcorn.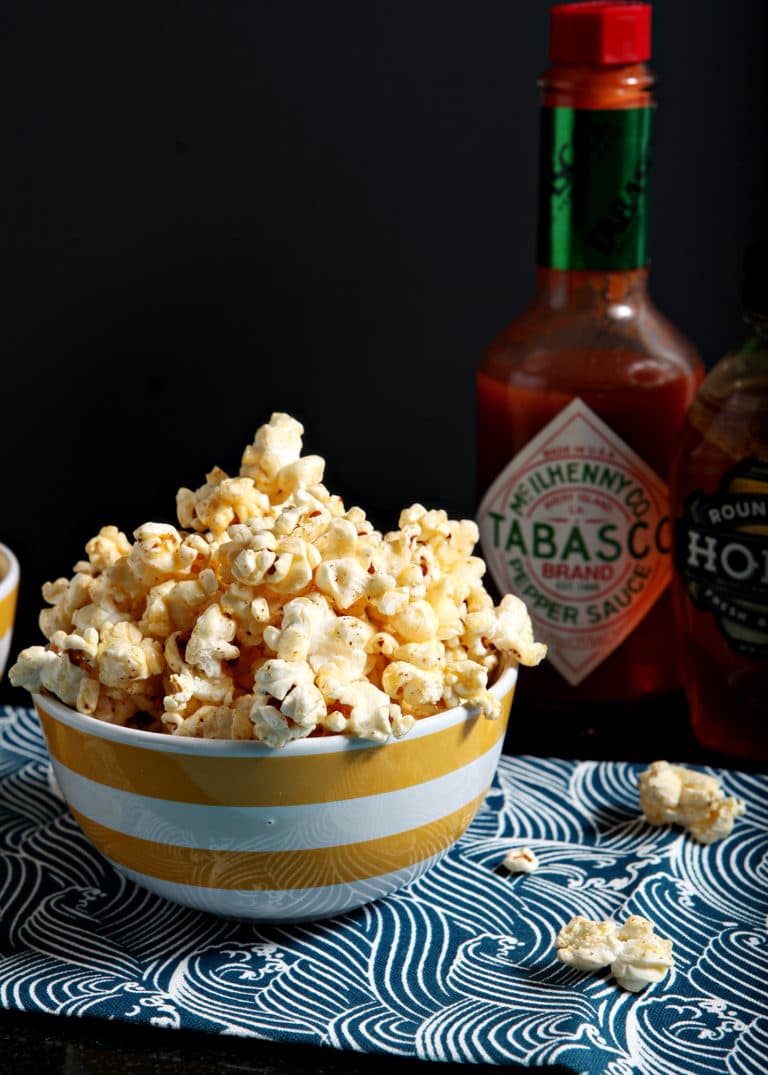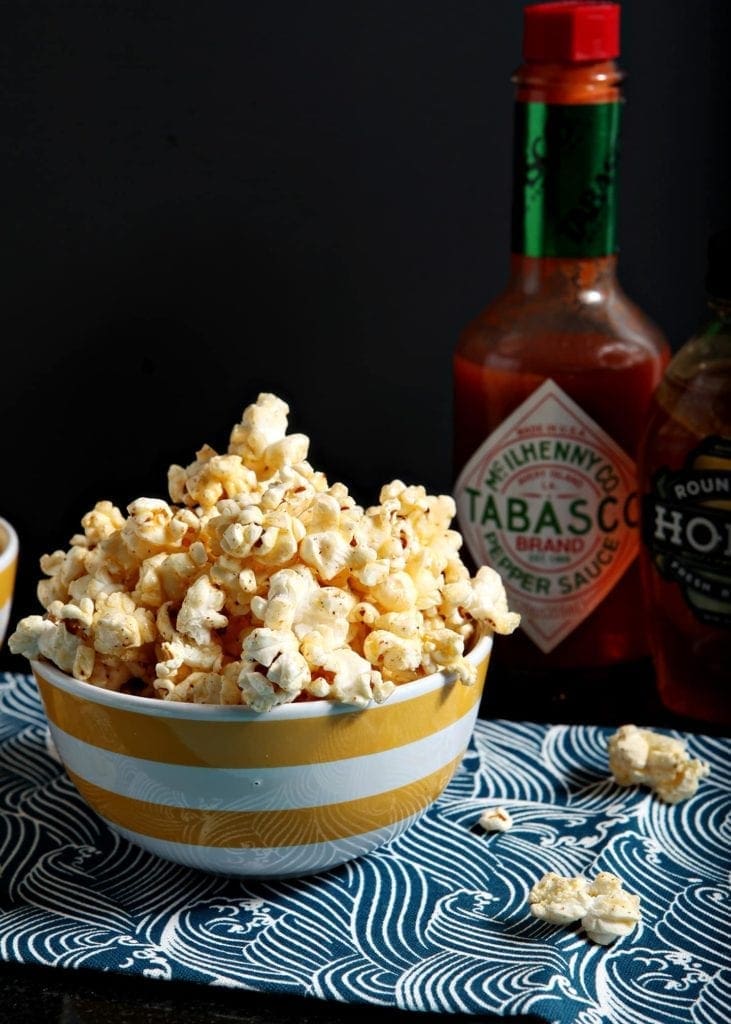 I'm really excited, y'all.
It's Popcorn Week! And I've teamed up with 14 other fabulous bloggers to share some innovative popcorn recipes with y'all, as well as bring you a popcorn-centric giveaway. We're using the hashtag #popcornisforbloggers on social media this week, so be sure to follow that for all kinds of popcorn goodness.
But first? First, I've got a story to share with y'all about this recipe and where it comes from.
My final semester of college, I was enrolled in one class.
Yep, I was that person… and I'm fairly positive several of my friends hated me because of it. After all, I was a super senior, and I should have graduated after the fall semester. Why didn't I? Well, I wasn't allowed to take a entry-level broadcast journalism class along with the capstone journalism course because "[I] would absolutely need to know all the skills I learned in broadcast for the capstone."
Spoiler alert: I did no broadcast work in my capstone class.
I ended up spending a lot of my final semester hanging out with friends, making new friends and interning for a local magazine.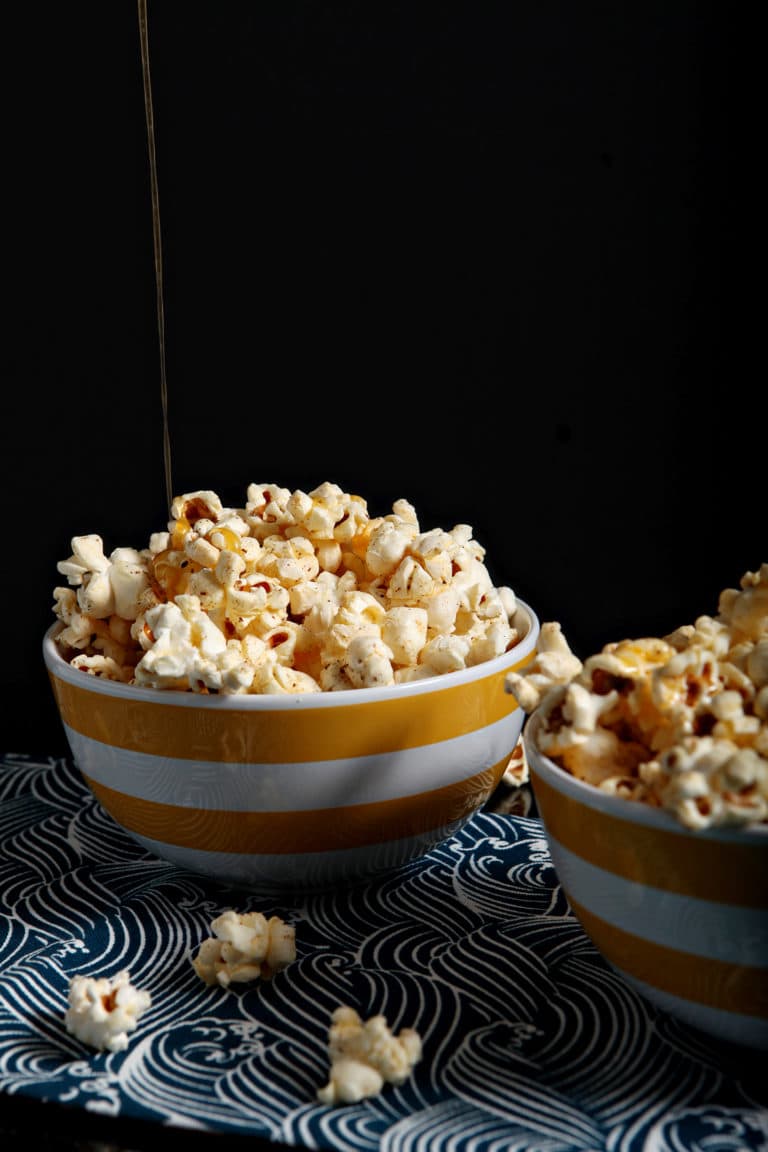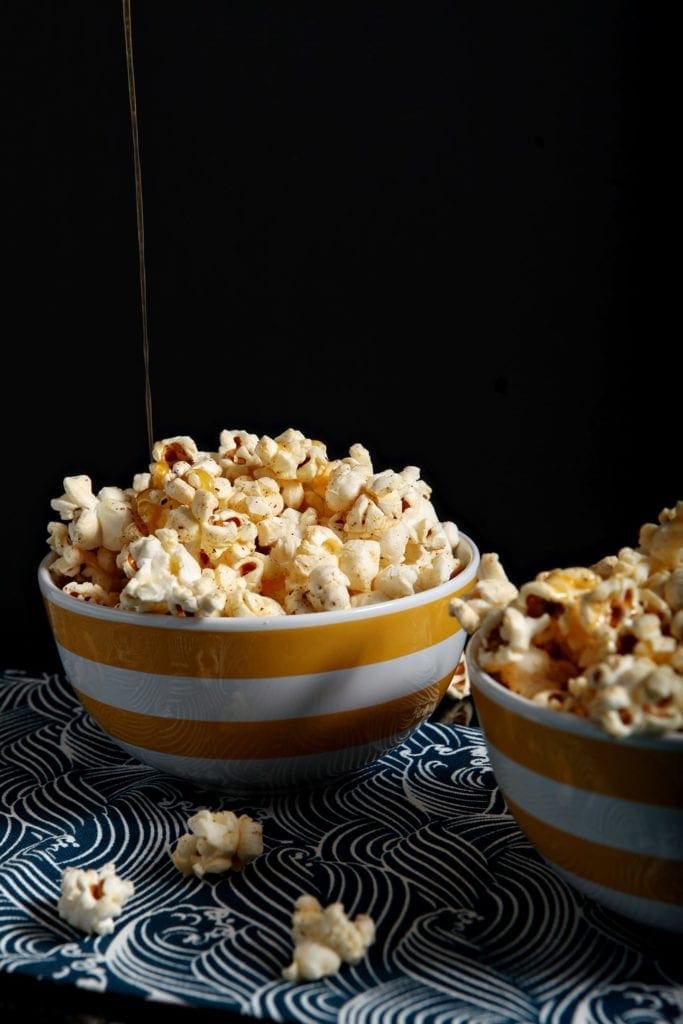 Since I was only taking one course my final semester, I had a lot of free time on my hands.
One day, I was hanging out at Winston's apartment. He was getting ready for class, and I was planning to go back to my place when he left. One of his roommates suggested that I stick around instead of heading home — we had plans for the evening, after all — and we could watch a movie while we waited for him to be done with school for the day.
I had nothing better to do, so I agreed.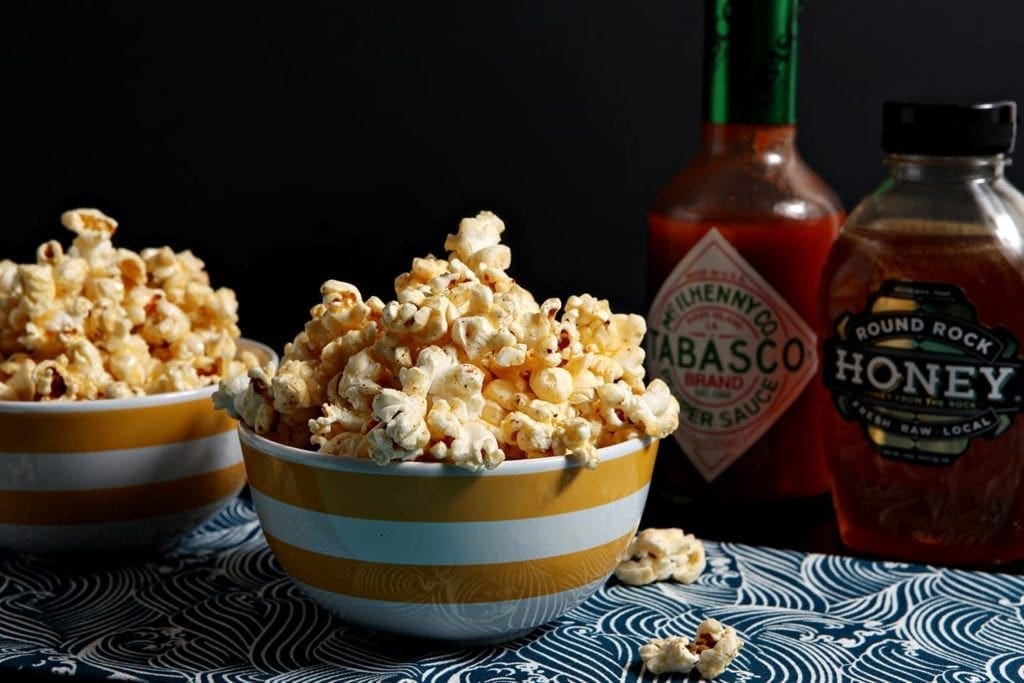 We ended up watching That Thing You Do, a film I adored during my childhood — it's still pretty darn good, in case y'all were wondering — and we became random movie buddies after that.
Every time we watched a movie, he made us popcorn.
Instead of just popping it in the microwave and calling it a day, he always sprinkled it with Tony Chachere's Original Creole Seasoning, which gave it a little heat and a surprising (but delightful) hint of sweetness, too.
This popcorn recipe that I have for y'all today is inspired by the snack we ate during many a movie afternoon.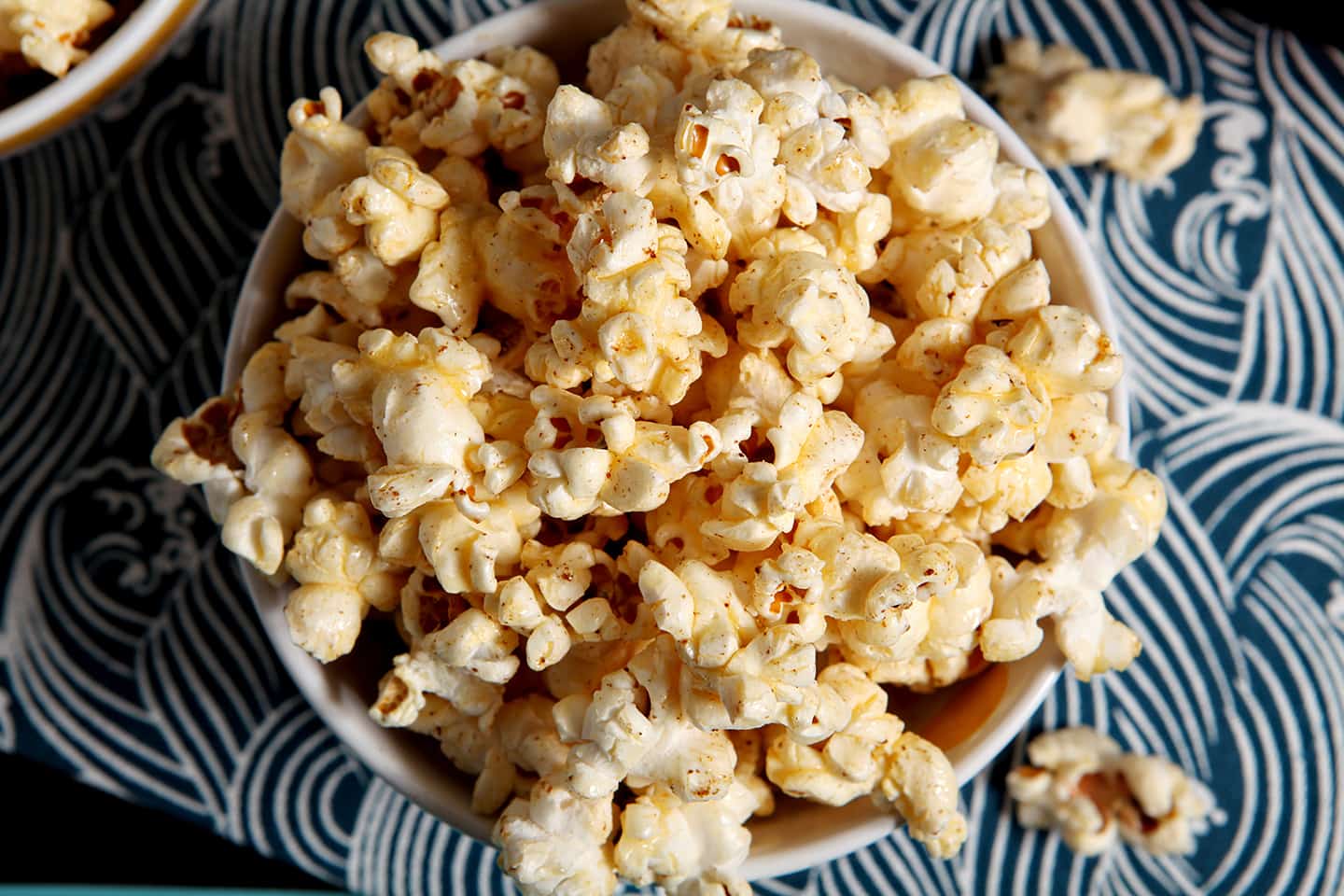 I love anything that is both sweet and spicy… and this recipe just sings of that combination.
You pop the popcorn on the stovetop in coconut oil and a little Tabasco sauce, then when it's finished popping, you toss it in a Honey Butter glaze that has a little additional Tabasco, for good measure.
Transfer that popcorn to a bowl, and you're good to go!
Here's how I made it: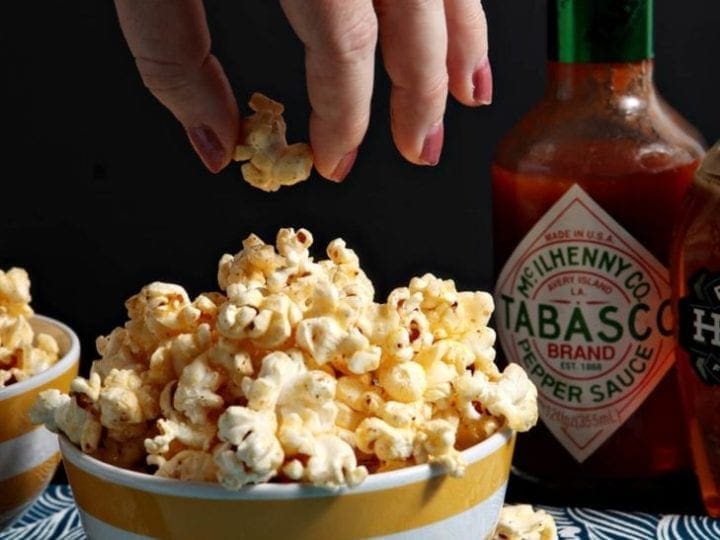 Yield:

2 quarts
Tabasco Honey Butter Popcorn
Sweet and spicy, this Tabasco Honey Butter Popcorn is the perfect afternoon snack for someone who loves a combination of flavors on their popcorn. Tabasco adds pepper to the popcorn, and the sweet honey butter drizzle balances everything out to make a lovely bowl of popcorn.
Ingredients
Popcorn
2 tablespoons coconut oil
1 tablespoon Tabasco sauce
1/3 cup popcorn kernels
Honey Butter
2 tablespoons unsalted butter, melted
2 tablespoons honey
1 ½ teaspoons Tabasco sauce
A pinch of kosher salt
Instructions
Make the popcorn
In a 3-quart (or larger) pot over medium-high heat, melt the coconut oil. Add the Tabasco sauce when the coconut oil is simmering.
Add a few kernels of popcorn to the oil, and cover the pot, moving over the heat constantly, until the popcorn pops.
When the initial kernels have popped, add the other kernels and cover. Continue the shaking movement of the pot over the heat until the kernels begin popping.
When the popping slows down, remove from the heat, but continue moving until all the pops are finished.
Let cool slightly off the heat as you make the Honey Butter.
Make the Honey Butter
Stir the melted butter, honey and Tabasco sauce together in a small bowl while the popcorn is cooling. Add the pinch of salt, and stir until smooth.
Finish the Popcorn
Drizzle the Honey Butter over the popped kernels, tossing slightly until all the popcorn is coated in the glaze.
Enjoy immediately!
Nutrition Information:
Yield:
2
Serving Size:
1 serving
Amount Per Serving:
Calories:

295
Total Fat:

25g
Saturated Fat:

18g
Trans Fat:

0g
Unsaturated Fat:

5g
Cholesterol:

31mg
Sodium:

361mg
Carbohydrates:

18g
Fiber:

0g
Sugar:

17g
Protein:

0g
Nutrition facts are an estimate and not guaranteed to be accurate.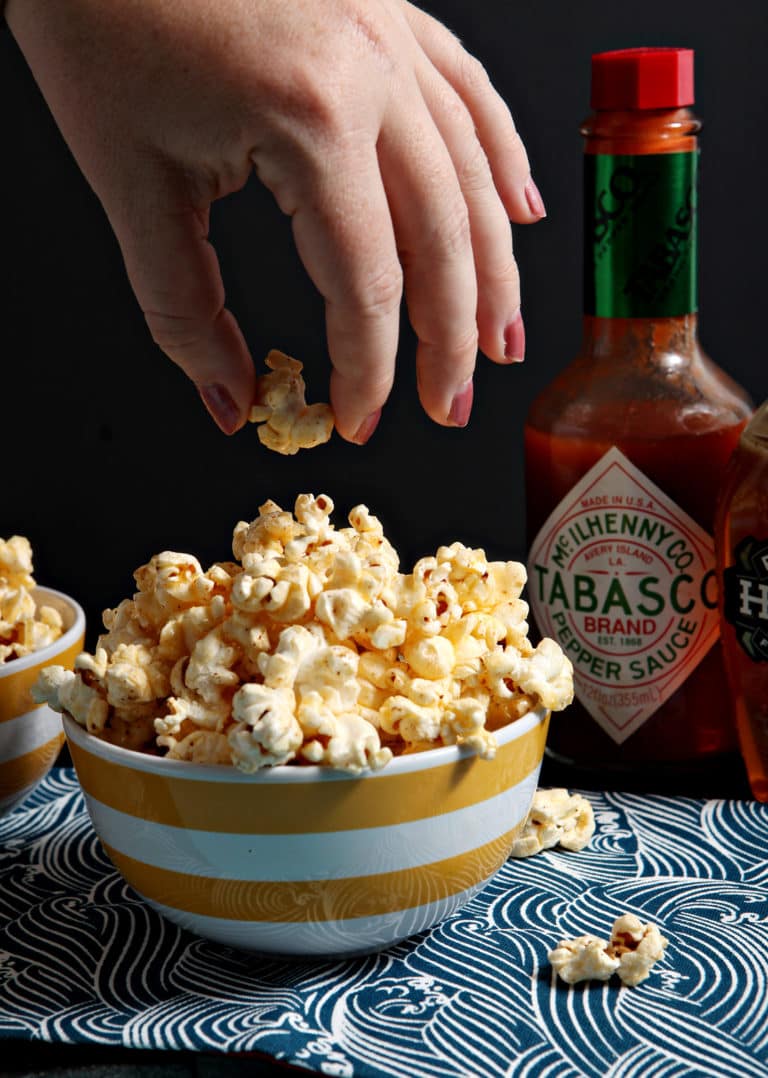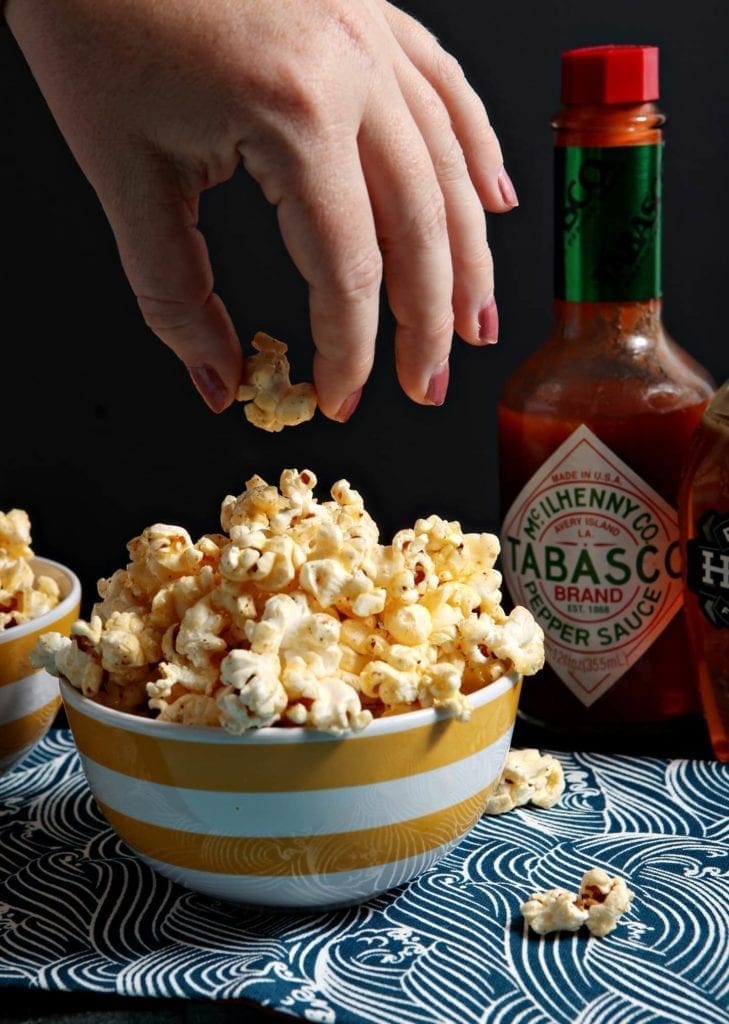 And now, let's talk some more about Popcorn Week, my co-collaborators and this sweet giveaway we've got for y'all!
There are 15 of us total sharing delicious popcorn recipes this week, which means three new recipes are being revealed each day!
Be sure to check out everyone's blogs to see their popcorn recipes throughout the week:
Beth at bethcakes // Amy at Club Narwhal // Abby at The Frosted Vegan // Nick at Macheesmo // Linda at Brunch with Joy // Meghan and Cake 'n Knife // Erica at The Crumby Cupcake // Molly at Hey There Sunshine // Meredith at Meredith Noelle // Katie at Twin Stripe // Sarah at The Sugar Hit // Erin at The Speckled Palate // LeAndra at Love and Flour // Heather at Sugar Dish Me // Susannah at Feast + West
Here are our recipes that have been shared throughout the week:
Cookie Butter Popcorn Cupcakes — The Crumby Kitchen
Mexican Chocolate Popcorn — Macheesmo
Unicorn Popcorn Rocky Road — The Sugar Hit
Snickers Popcorn — Cake 'n Knife
Birthday Cake Oreo Popcorn — Club Narwhal
White Chocolate Raspberry Cheesecake Popcorn — Feast + West
Loaded Candy Bar Popcorn — Sugar Dish Me
Vegan Caramel Corn Cacao Nib Popcorn — Twin Stripe
Caramel-Masala Popcorn with Pistachios — Love & Flour
Vegan Almond Joy Popcorn — The Heart of a Baker
Also, a big thanks to Cabot Creamery and Bob's Red Mill for generously sponsoring our project and giveaway, which has already closed.