This post is sponsored by Silpat and Le Creuset. As always, all opinions, thoughts and recipes are my own.
Celebrate Easter by baking Easter Fruit Buns this year. These homemade buns are chock full of currants, raisins, apricots and cranberries. Make a simple sponge starter to begin the process, then add the dried fruits soaked in rum, butter and eggs before mixing the batter together. After two risings, the buns are brushed with an egg wash and ready to bake! These buns are time intensive, but they are the perfect sweet accompaniment to Easter breakfast.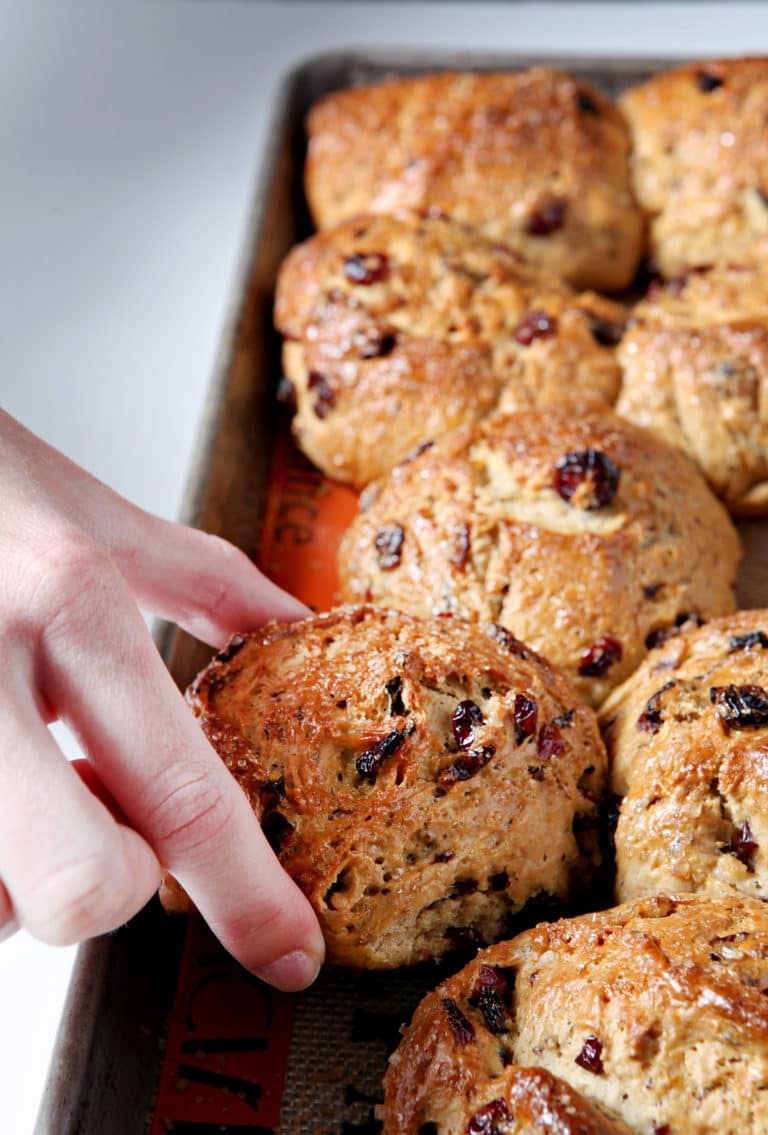 This post contains affiliate links. If you were to make a purchase through one, I would receive a small commission. For more information about the affiliate programs The Speckled Palate participates in, please refer to my disclosure page.
The last time I tried to make a dough with yeast, it was an unmitigated disaster.
I'm talkin' a giant lump 'o dough that didn't rise at all (even though I let it take HOURS before I declared it a failure) disaster.
So when I decided to make a snazzy (read: differently shaped and sliiiiiiiightly different ingredients) rendition on our favorite Fruit-Studded Bread for Easter this year, I was crossing my fingers and toes.
Especially since I was sent a Silpat Nonstick Baking Mat and a Le Creuset Egg Carton to use while making and photographing this Easter recipe.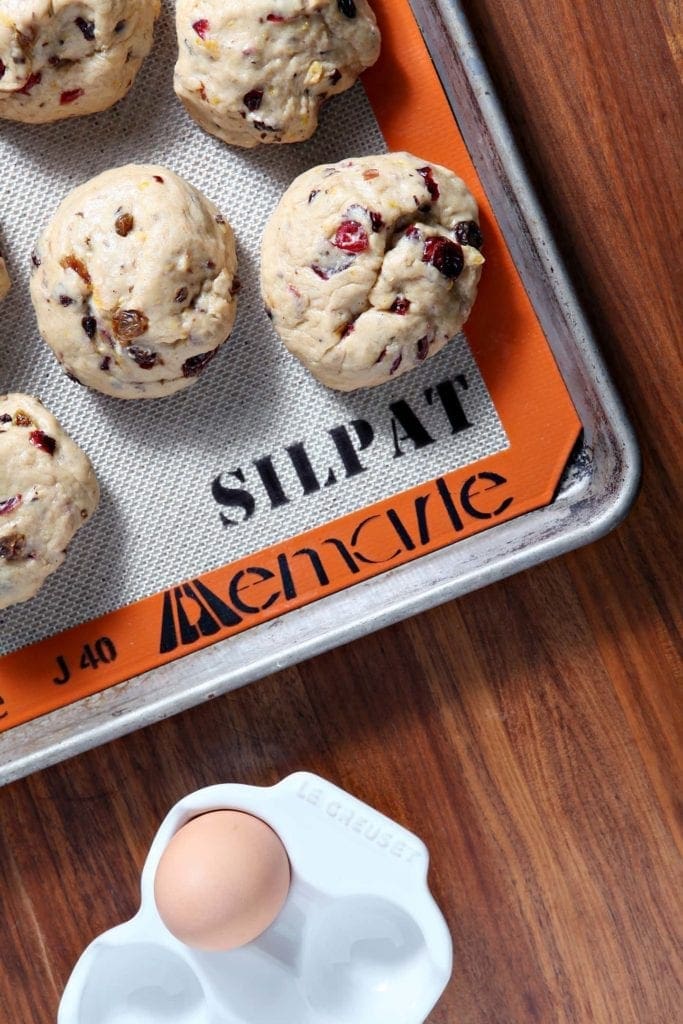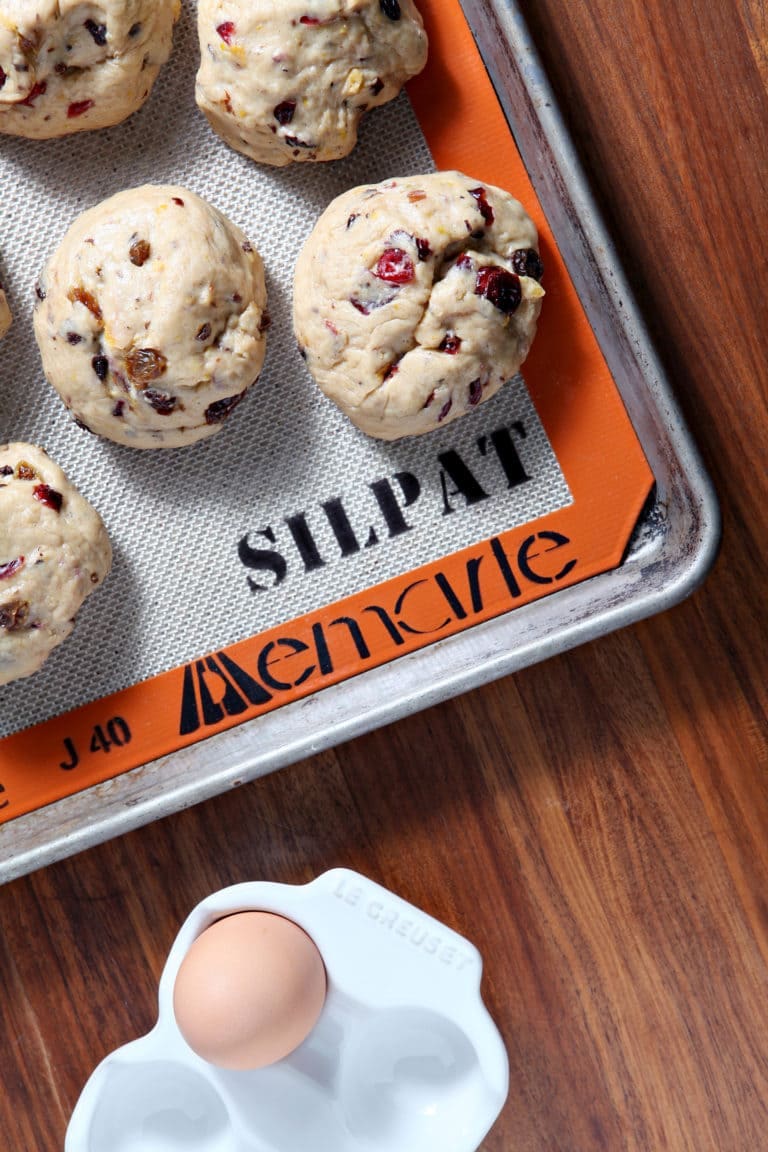 Turns out, I was nervous over nothing.
The yeast worked beautifully, and the recipe was a success!
And I was so thrilled with the products that I'm partnering with Silpat and Le Creuset to give away a Silpat Nonstick Baking Mat and a Le Creuset Egg Carton in white! More on this in a bit, though. (If you're just interested in the giveaway, scroll on down past the recipe, then you'll find the details!)
First, though, let's discuss these buns.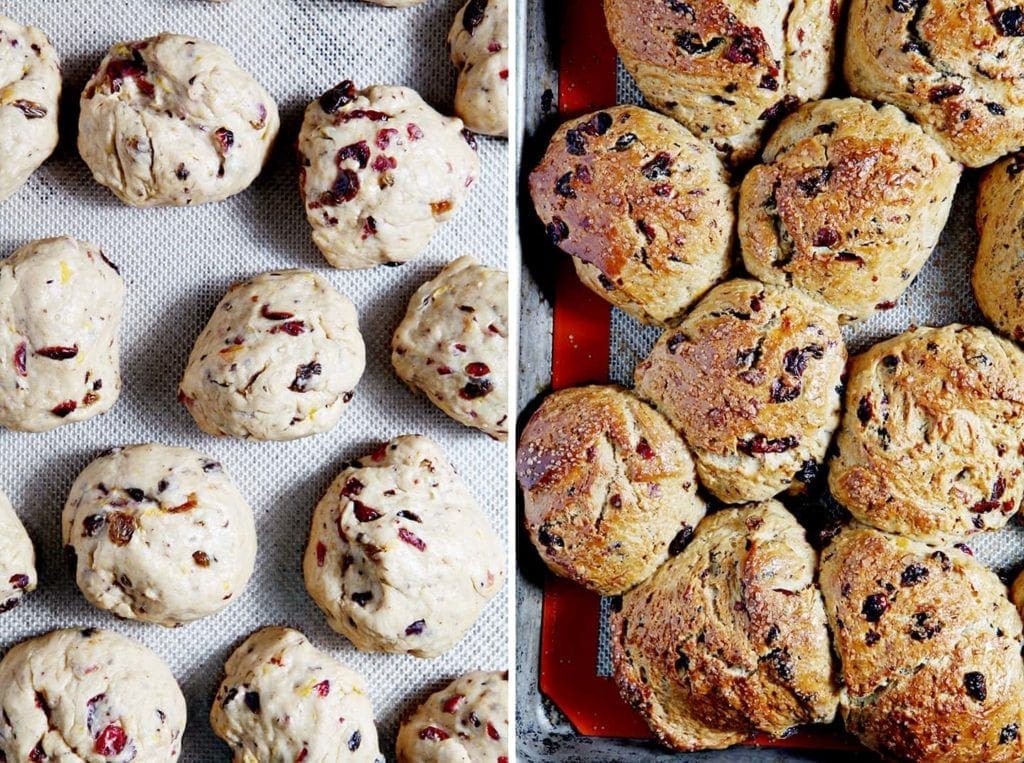 A quick aside: every time I type buns, it's really being pronounced BUNS! in my head. Because these little yeasty rolls of goodness really are delicious enough to cause my brain to lapse into all caps and an exclamation point every time I think of 'em.
So.
Easter Fruit Buns.
The biggest/scariest thing about this recipe is the amount of time it takes. These buns (BUNS!) are a labor of love, but a lot of the time spent on this recipe is non-active time. Meaning you can walk circles around your house with your toddler (check!), do the laundry (check!) and even go on a long walk around your neighborhood (check!) in the amount of down time you'll have between the rising of the sponge, then the first and second rise of the dough.
To for those of y'all who are intimidated by the time and by the fact that this recipe uses yeast? Don't be. It sounds like a waaaaaaay bigger deal than it actually is.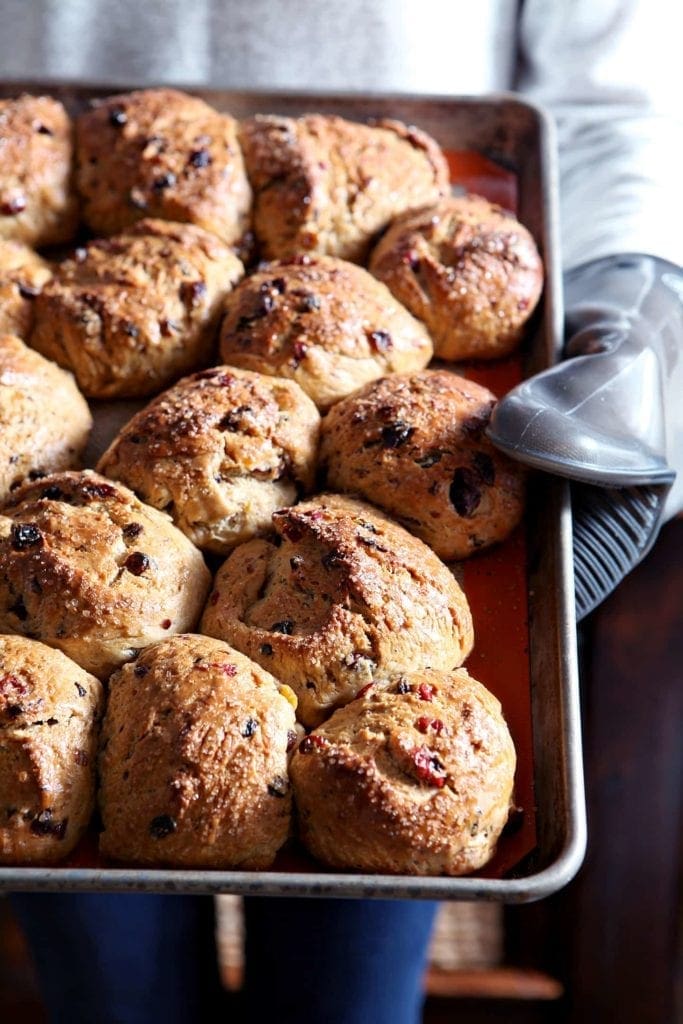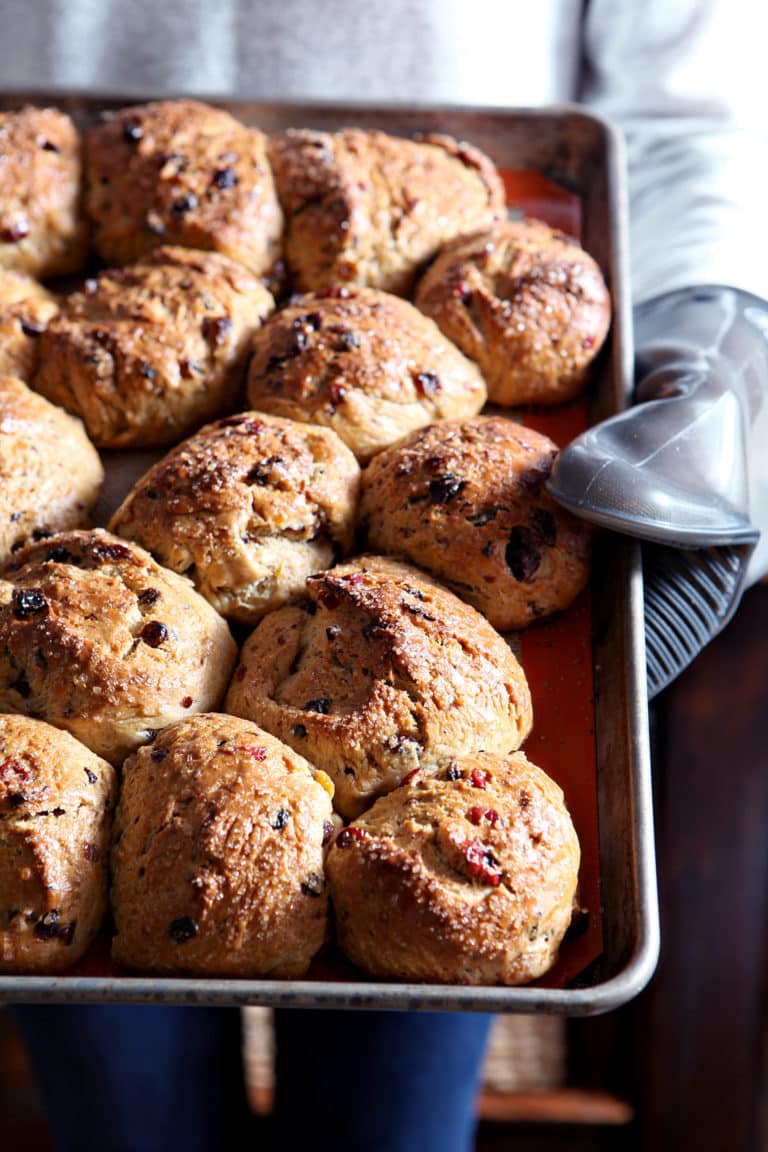 The best thing about these buns (BUNS!), in my opinion, other than the taste, is the smell.
I baked these on Monday.
When my husband arrived home on Monday, he announced the house smelled like king cake. (Close, but no cigar.) He was thrilled to find these buns (BUNS!) still warm.
Today is Wednesday, and our house still smells like sweet, freshly baked bread.
You can't beat that, y'all.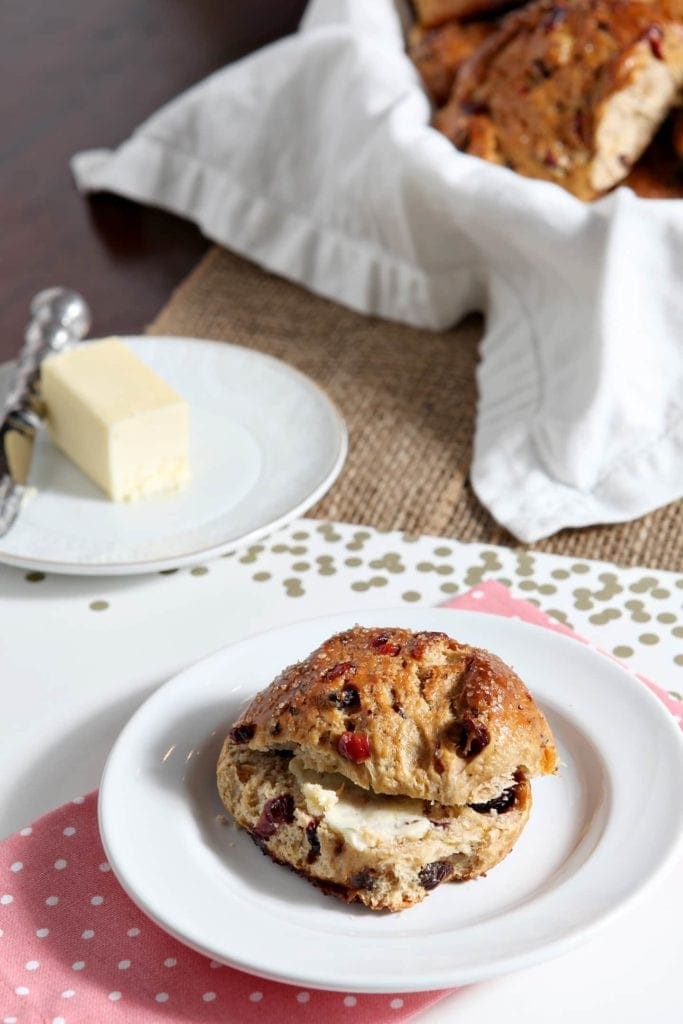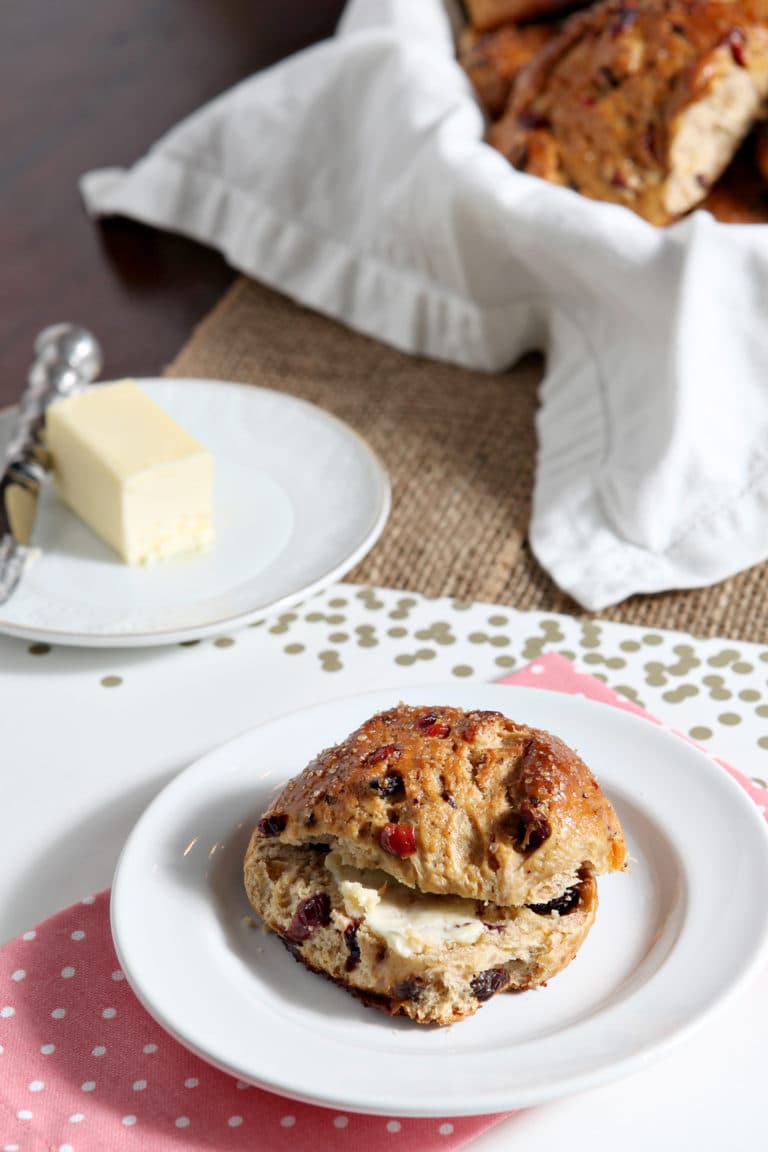 So if you're looking for a recipe to make for your family this Easter weekend and have a little time on your hands, consider these Easter Fruit Buns. They're well worth the amount of time you put into them and a major hit with everyone I've ever shared them with. And that's a lot of people… because this is the stuff I bake for new neighbors.
Here's how you can make it at your house: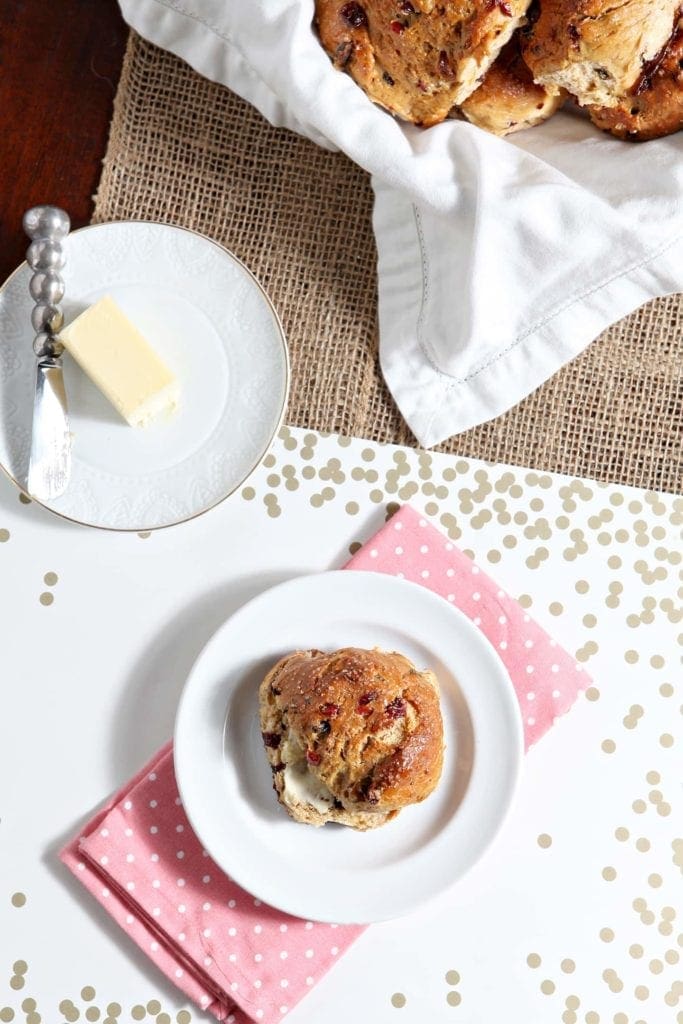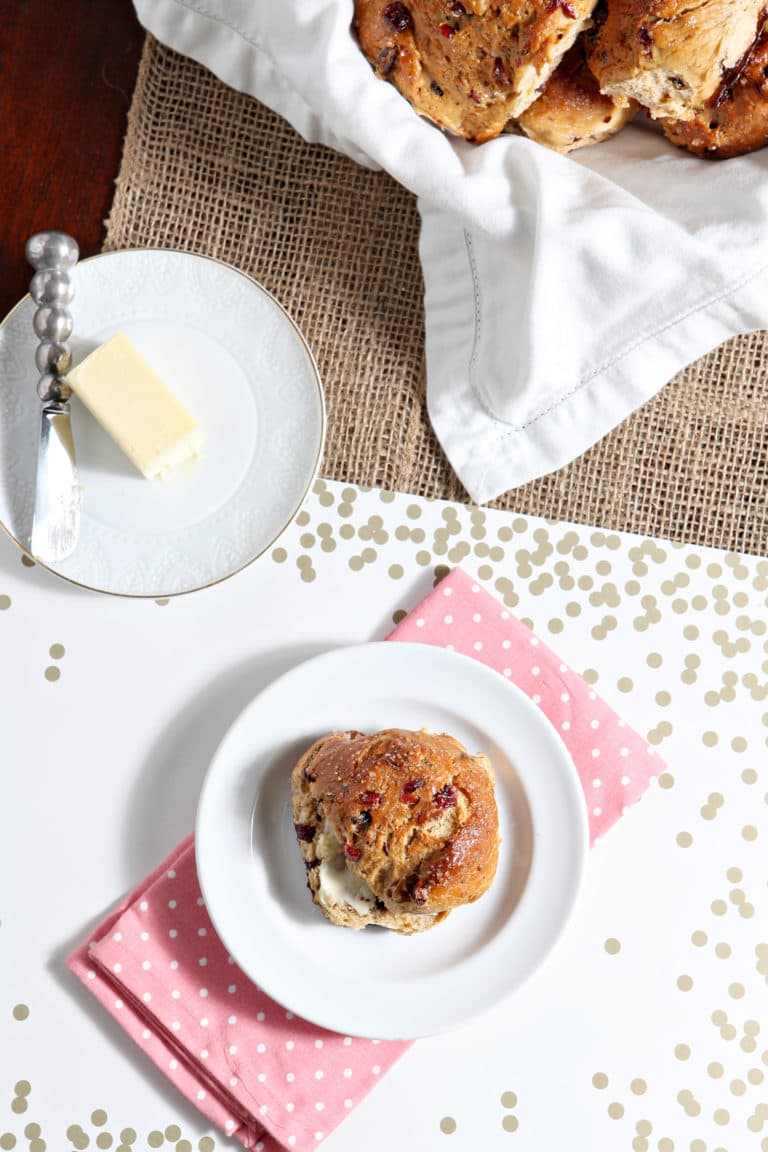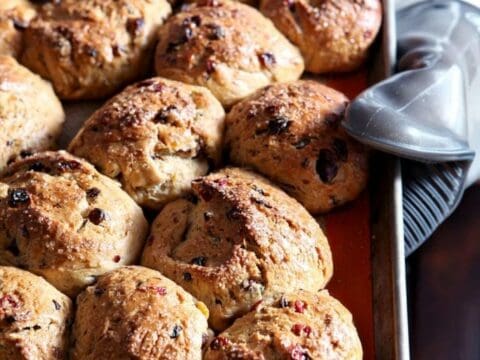 Yield:

16 buns
Easter Fruit Buns
Prep Time:
2 hours
30 minutes
Total Time:
3 hours
5 minutes
Celebrate Easter by baking Easter Fruit Buns this year. The buns are chock full of currants, raisins, apricots and cranberries and are the perfect sweet accompaniment to Easter breakfast.
Ingredients
Sponge
1 cup milk, (whole, skim, even almond works here), at room temperature
2 ¼ teaspoons active dry yeast
1 cup unbleached all-purpose flour
Buns
¼ cup dried currants
½ cup golden raisins
¼ cup sun-dried raisins
¼ cup dried apricots, , chopped
1 cup dried cranberries
3 tablespoons dark spiced rum
2 eggs + 3 egg yolks
12 tablespoons unsalted butter, , melted and at room temperature (1½ sticks)
2 teaspoons pure vanilla extract
4 cups unbleached all-purpose flour
½ cup granulated sugar
1 teaspoon kosher salt
1½ teaspoons anise seeds
1 teaspoon ground cardamom
1 teaspoon ground cinnamon
1 tablespoon orange zest
2 teaspoons lemon zest
1 tablespoon heavy whipping cream
2 tablespoons turbinado sugar
Instructions
Make the sponge: Pour the milk into a large bowl. Add the yeast, and let dissolve. Whisk in a cup unbleached all-purpose flour, then cover the bowl and leave in a warm place until it has doubled in size and is very frothy. This should take about 30 minutes, though it has taken upwards of an hour for me depending on the weather.
Prepare ingredients for the buns: Measure the currants, raisins, cranberries and apricots into a bowl. Cover the dried fruit with hot water, and let stand for 10 minutes. Drain the fruit, then return to its original bowl, and stir in the rum before setting aside.
In another bowl, measure out and beat the 2 whole eggs and 2 of the yolks.
Once the sponge is ready, pour the beaten eggs, melted butter and vanilla extract into the sponge mixture, and stir together. Fold in the rum-soaked fruit, then set the sponge and fruit mixture aside.
In the large bowl of your stand mixer, measure out 4 cups of unbleached all-purpose flour, the sugar, salt, anise seeds, cardamom, cinnamon and the orange and lemon zests. Whisk together.
Pour the sponge mixture over the flour mixture and combine using the dough hook of the stand mixer, starting the mixer on a low speed and turning it up once the loose flour has started being incorporated into the dough.
When the dough comes together, allow the stand mixer to knead the dough for a few minutes before turning off the appliance and transferring the dough to a greased large bowl.
Cover the bowl containing the dough with plastic wrap or a damp towel, and let rise in warm place until it has doubled in size. This should take around 45 minutes.
Once doubled in size, punch the dough down and knead it lightly before breaking it down into 16 buns. (I knead the dough into one loaf, then split into two round loafs. From there, I slice is like pizza. Each round loaf breaks down neatly into 8.)
Place the buns side-by-side on a nonstick baking mat. Be sure to leave at least 1/2"-1" between the buns, as they will rise again.
Cover the loaves with plastic wrap or with a damp kitchen towel, and let rise until doubled. This should take around 30 minutes.
When the loaves have doubled in size, preheat the oven to 350°F.
While the oven is preheating, make the egg wash. Using the remaining egg yolk and the heavy whipping cream, beat the ingredients together with a fork.
Brush the buns generously with the egg wash, then sprinkle each bun with a little turbinado sugar.
Transfer the buns to the oven. Bake on the middle rack for 35 minutes or until the buns are a dark, glossy brown.
Once cooked through, transfer the loaves to a cooling rack and allow them to cool down completely before enjoying.
Recommended Products
As an Amazon Associate and member of other affiliate programs, I earn from qualifying purchases.
Nutrition Information:
Yield:
16 buns
Serving Size:
1 bun
Amount Per Serving:
Calories:

355
Total Fat:

11g
Saturated Fat:

6g
Trans Fat:

0g
Unsaturated Fat:

4g
Cholesterol:

83mg
Sodium:

155mg
Carbohydrates:

56g
Fiber:

3g
Sugar:

22g
Protein:

7g
Nutrition facts are an estimate and not guaranteed to be accurate.