'Tis the season for parties and entertaining! Change up your appetizer game by offering guests 10 Easy Bruschetta Recipes for a Spring Party. These bread-based appetizers offer a wide variety and are the perfect handheld appetizer for guests to enjoy during any warm weather gathering, whether it's a baby shower, a Derby party or anything in between!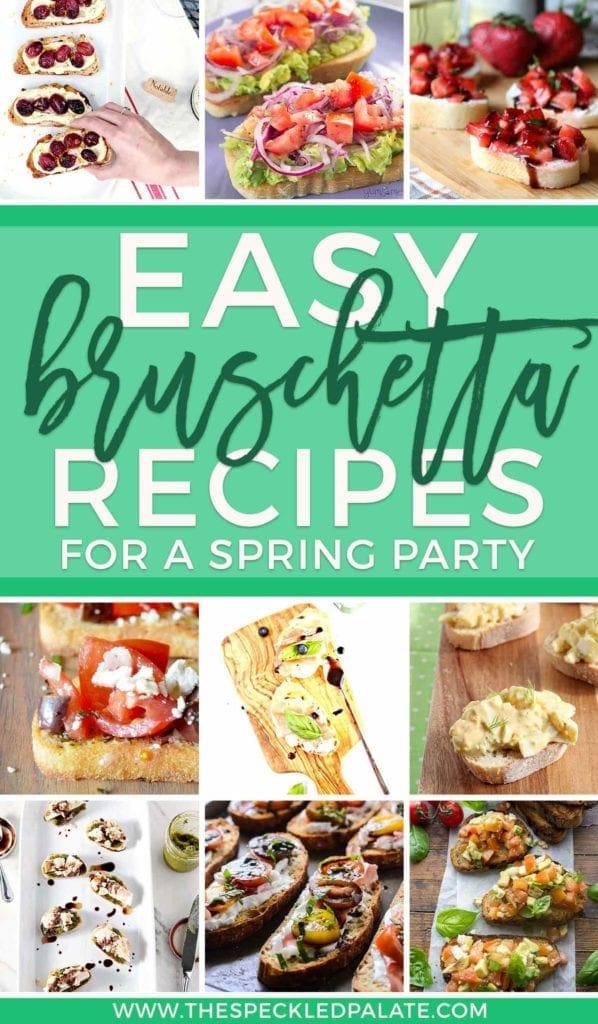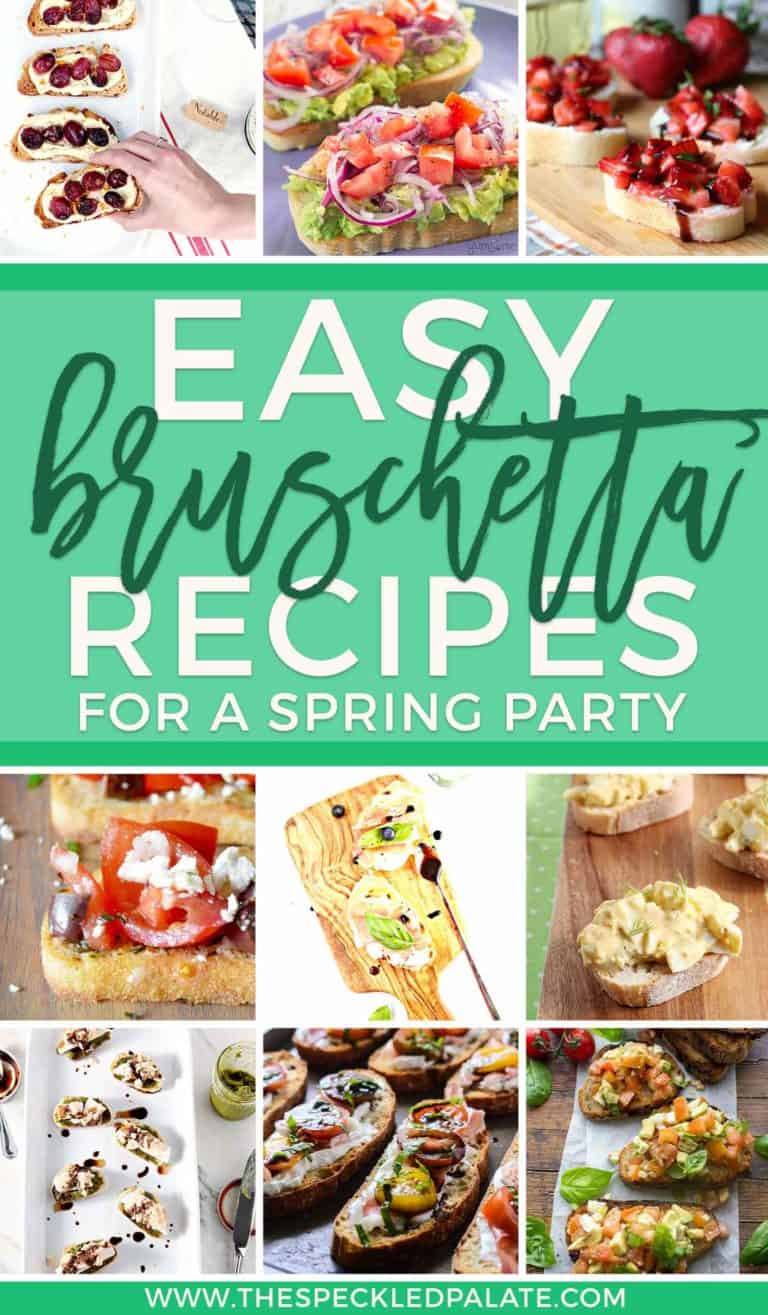 Springtime is upon us! And even though the weather has been BONKERS these days (anyone else going between 40's and 80's? Because yeah, that's been F-U-N), warmer weather should be here to stay.
In celebration, I've compiled a list of some bruschetta and crostini I'd love to make during this season.
Whether you're hosting folks to watch the Kentucky Derby, throwing a baby or bridal shower for a friend, watching playoffs basketball or hockey, these easy bruschetta are what it's about this season!
Ready to check 'em out? Let's go…
Other bruschetta round ups: 10 Easy Bruschetta Recipes for a Fall Party | 9 Easy Bruschetta Recipes for a Winter Party
Let's talk about bruschetta!
Bruschetta is a simple Italian appetizer that is toasted bread, rubbed with garlic and drizzled with extra virgin olive oil. The bread can be toasted in either the oven or on the grill.
Traditionally, it's this toasty bread (with the garlic and EVOO) is topped with fresh tomatoes (if they're in season) and a pinch of salt. Since the bread is toasted/grilled, it holds up to the juiciness of the fresh tomato.
This classic Italian recipe hails from Tuscany, though bruschetta is made all over Italy with fresh, seasonal ingredients! (Want to learn more? I loved reading about bruschetta from La Cucina Italiana.)
Now, obviously, this bruschetta recipe strays from the classic, but I hope that the celebration of a seasonal ingredient on a delicious slice of bread speaks to you and your tastebuds.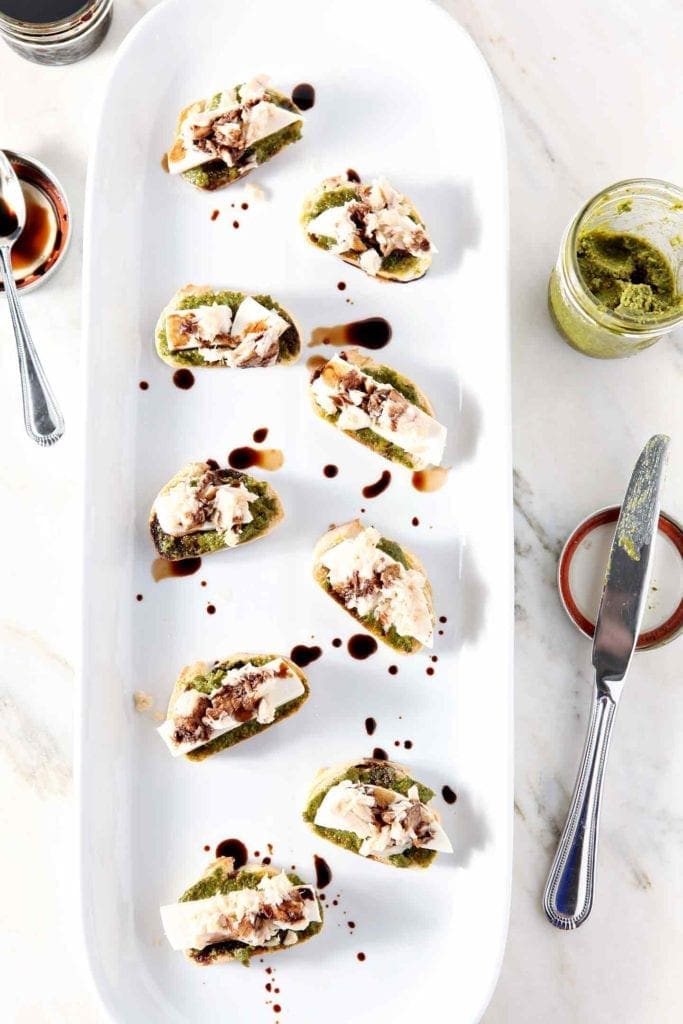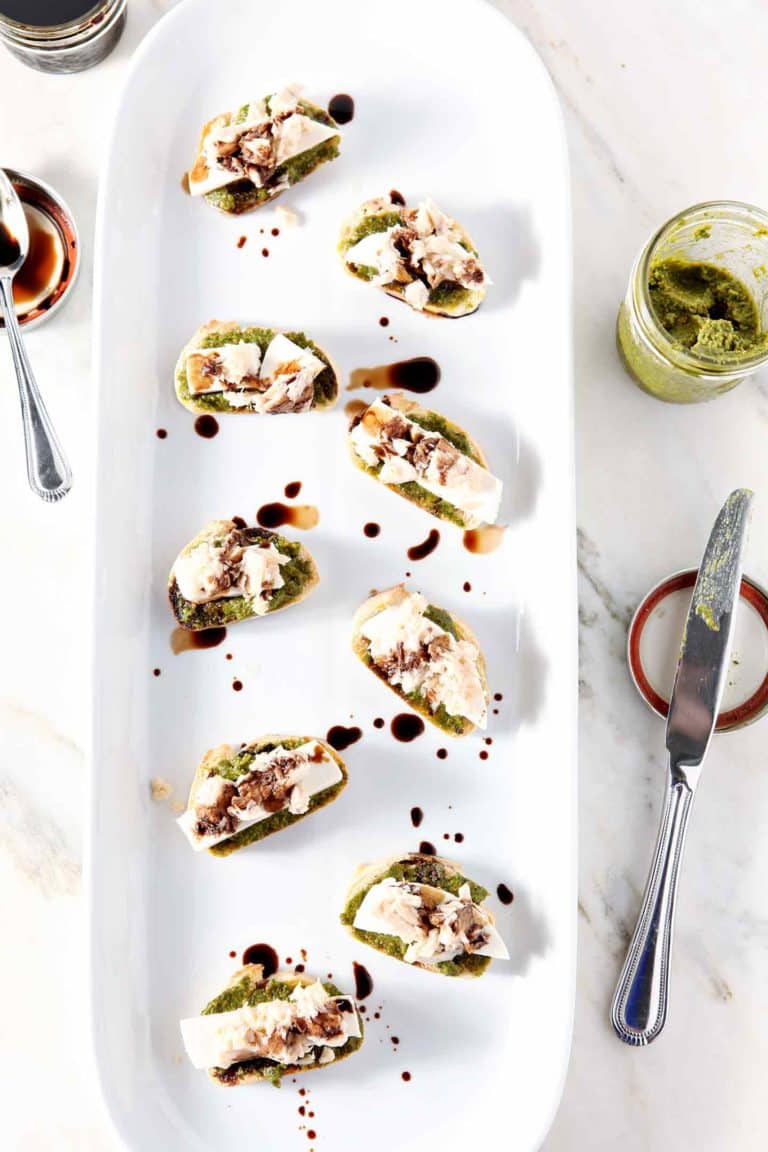 Tuna Pesto Crostini from The Speckled Palate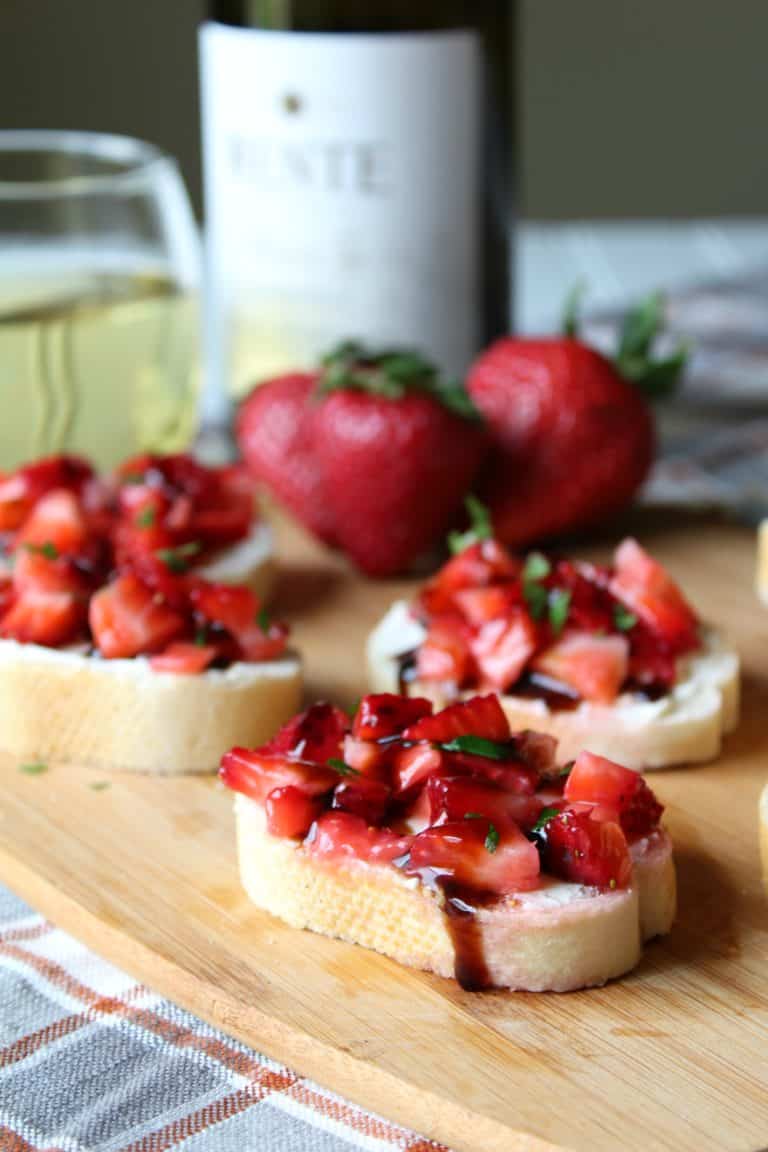 Strawberry Balsamic Bruschetta from Mildly Meandering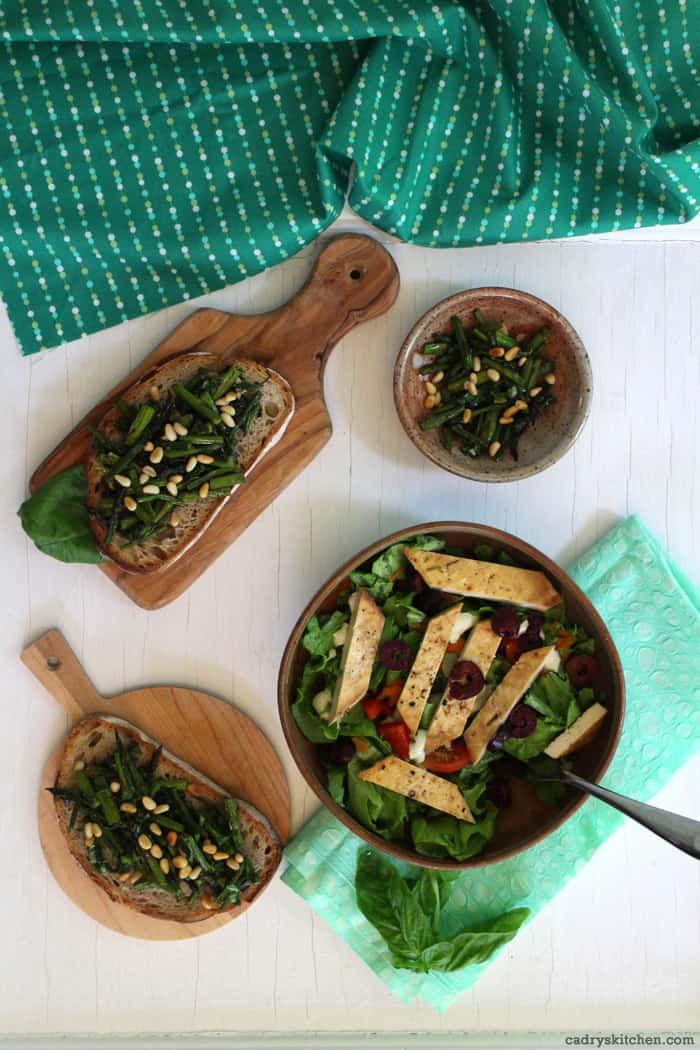 Roasted Asparagus Bruschetta from Cadry's Kitchen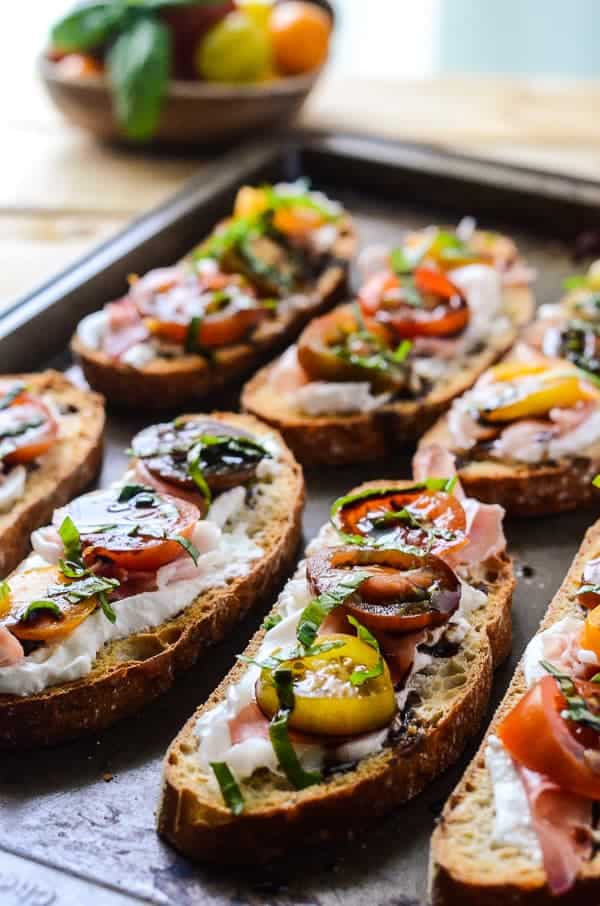 Burrata Caprese Crostini with Prosciutto from The Crumby Kitchen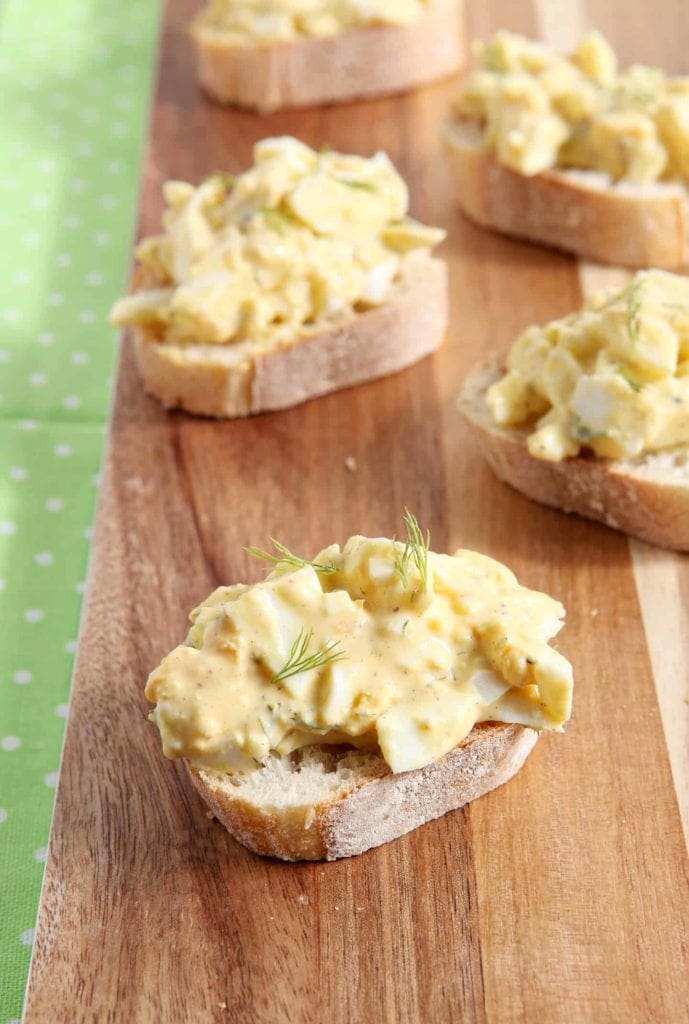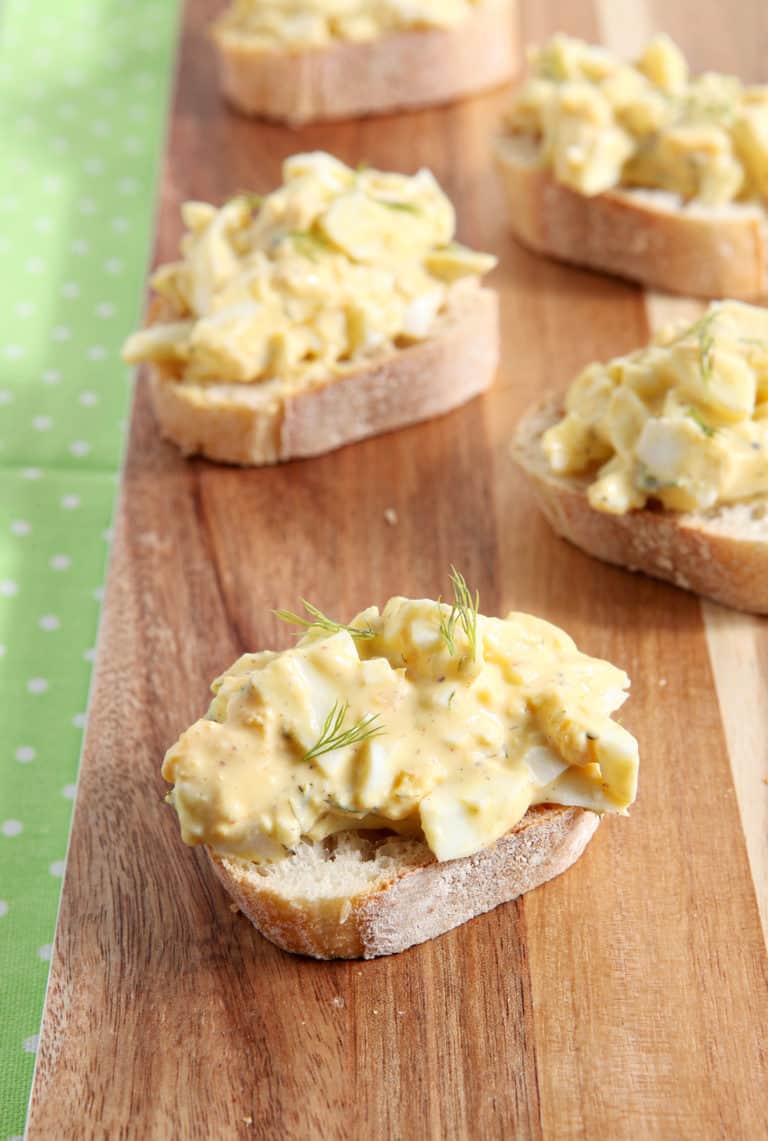 Deviled Egg Bruschetta from The Speckled Palate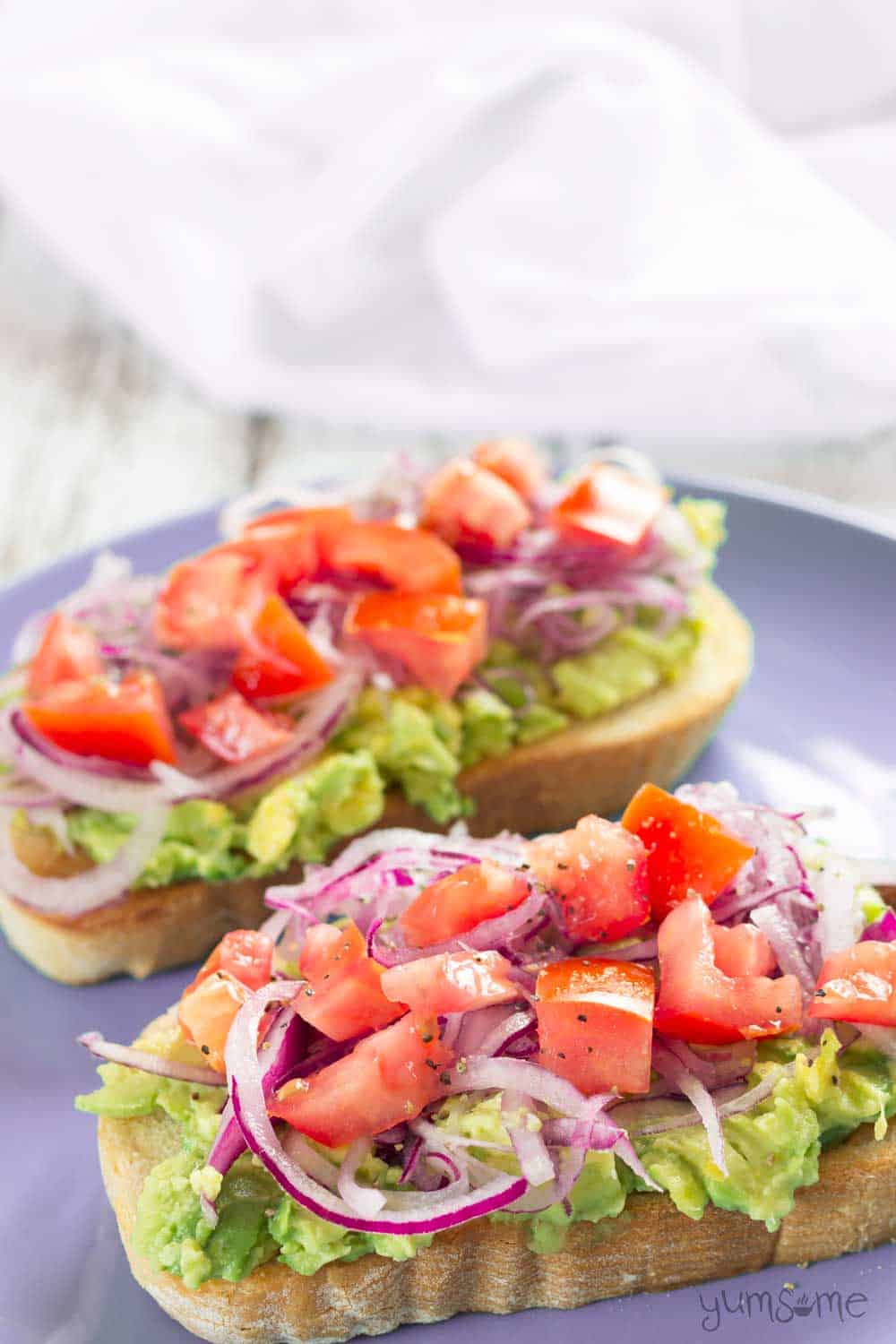 Easy Healthy Avocado Bruschetta from Yumsome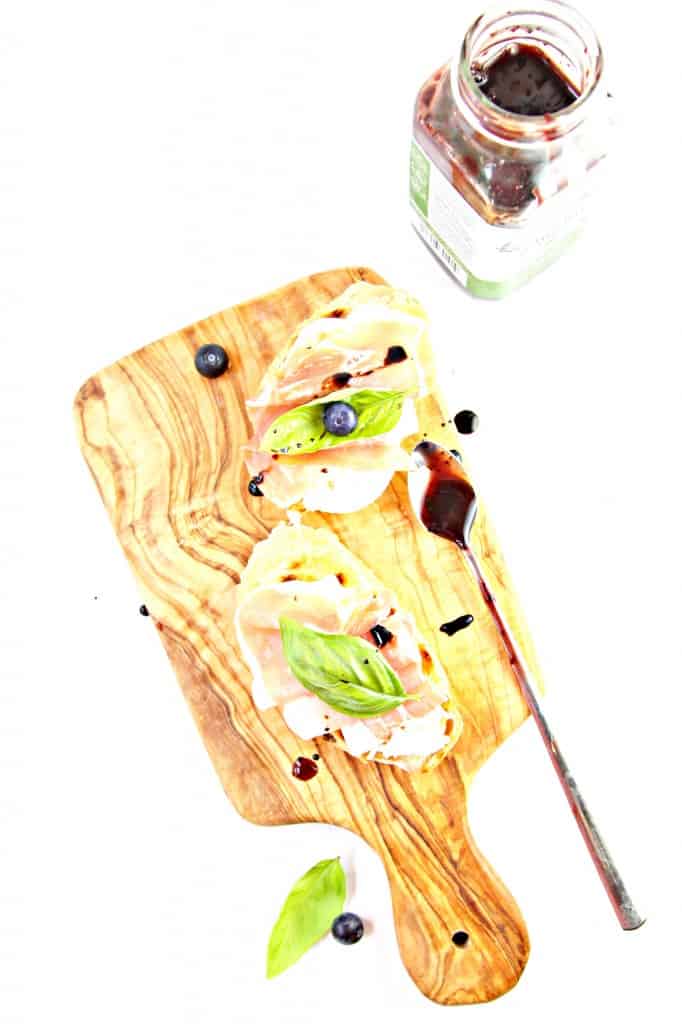 Grilled Bruschetta with Burrata and Blueberry Balsamic Sauce from bell'alimento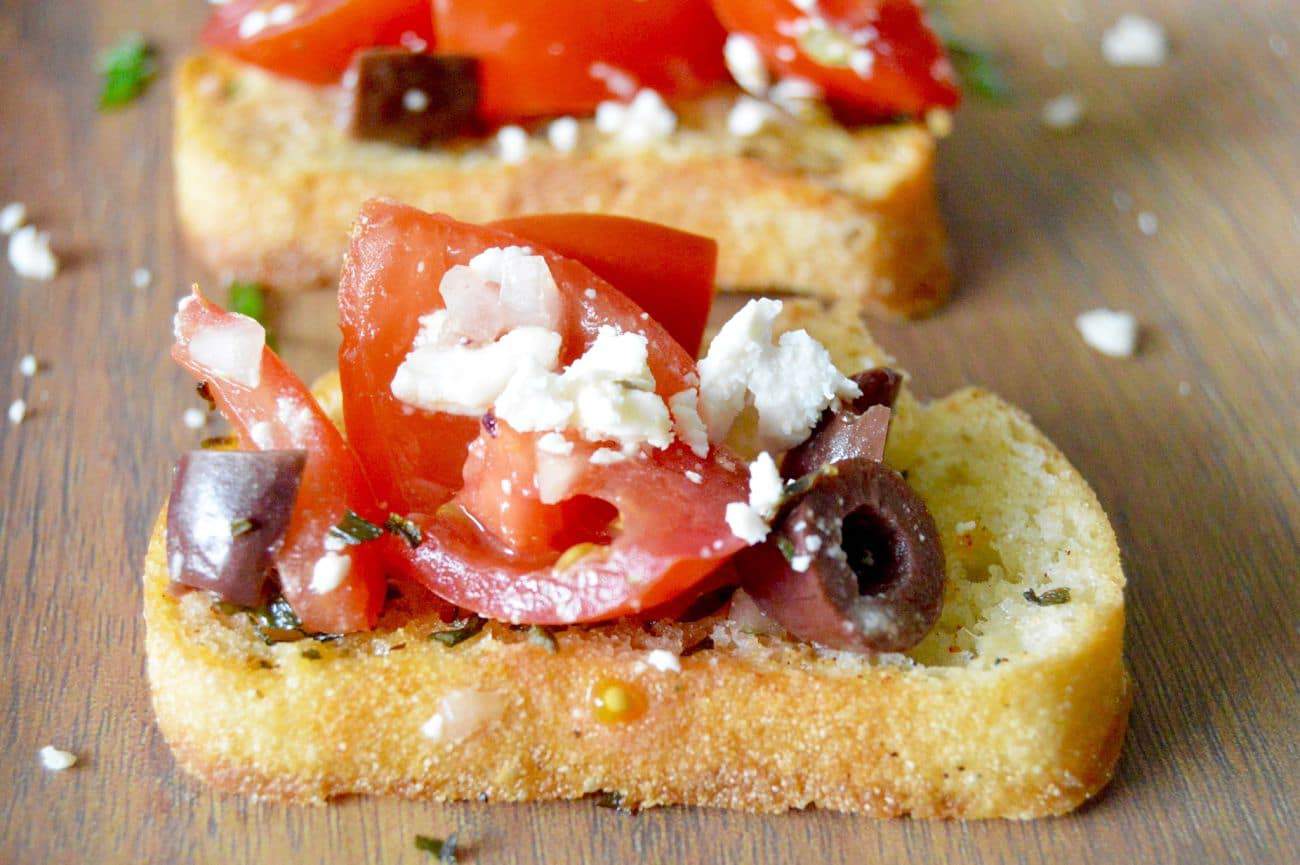 Feta Kalamata Bruschetta (Greek Style) from West via Midwest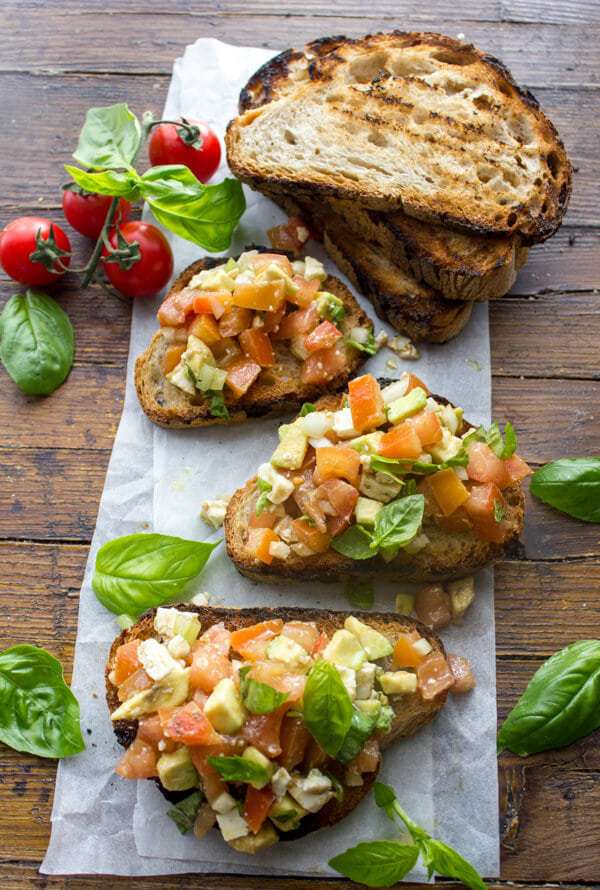 Easy Tomato Avocado Feta Bruschetta from An Italian in My Kitchen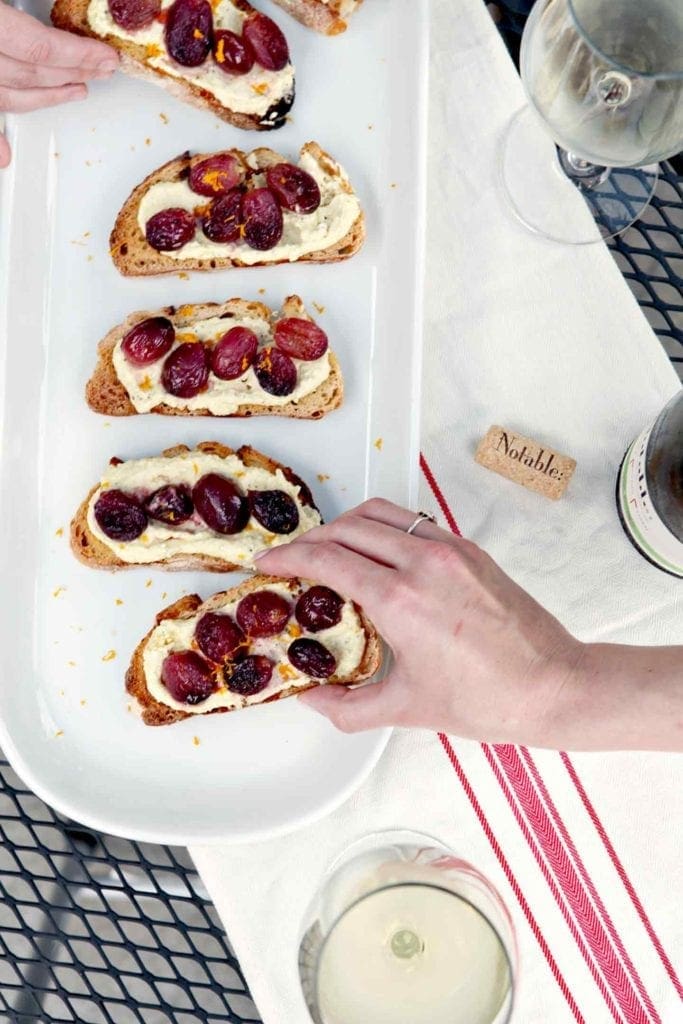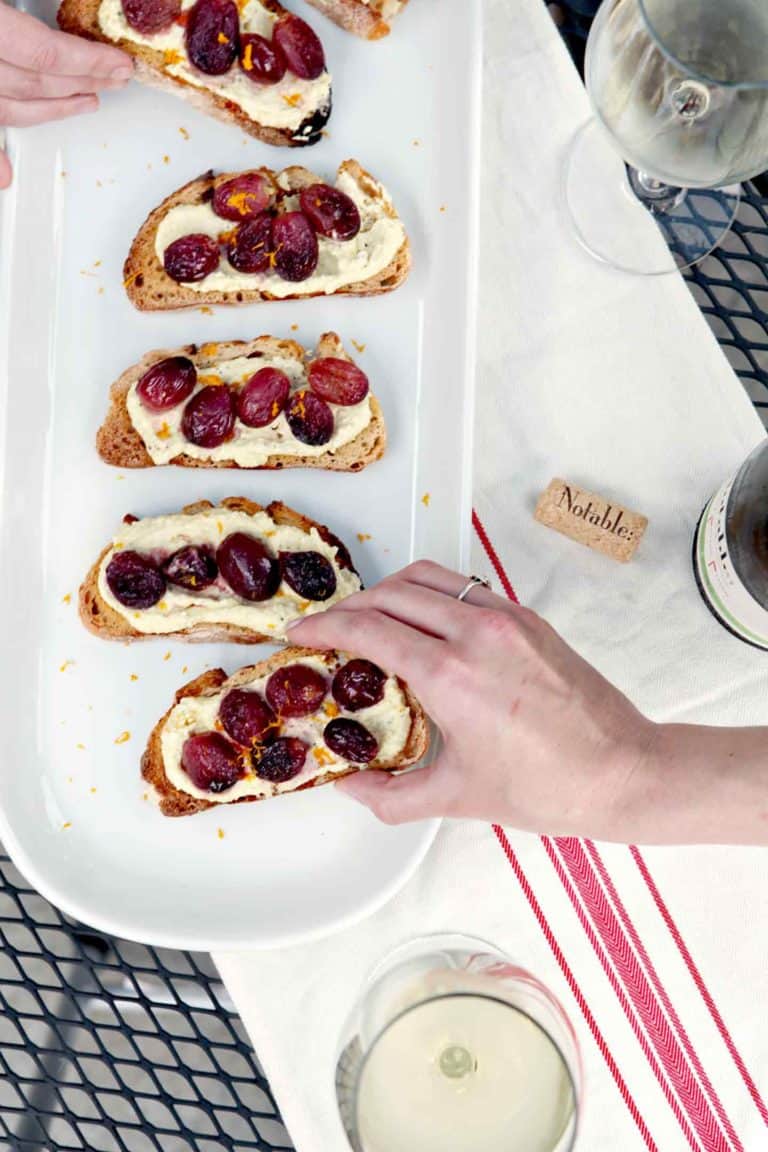 Roasted Grape Bruschetta with Whipped Feta from The Speckled Palate
What kind of easy bruschetta recipe is calling your name this season?