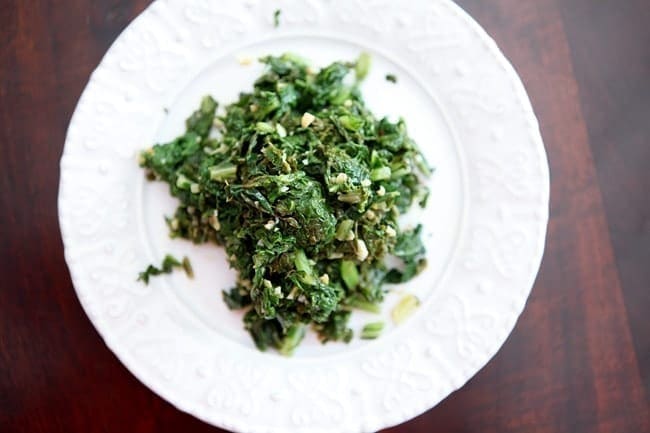 When we joined our CSA here in Dallas, I was both excited and scared. Excited to be receiving locally grown vegetables and fruits from a local farmer and scared because of the 'what ifs' that were rampant in my mind. What if I didn't like the vegetables that were grown? What if we were given too much or too little per week? What if I couldn't find any recipes to go along with the vegetables, and they all tasted like dirt because I messed up on the cooking aspect? What if, what if, what if.
Collard greens were one of the first vegetables we were given, and I was terrified, y'all. I can work with sweet and spicy peppers, green onions, sweet potatoes and the like, but collard greens? Or any other greens? I'm a Southern girl, and I've had some great greens in my time. Needless to say, I was terrified I wouldn't do the leafy vegetables justice with my poor attempt to make them. I felt out of my element, and I turned to my trusty pal, Google, for some help.
After talking myself down from having a conniption fit, I realized I can do this.
And I did.
This recipe is crazy simple, and it's crazy delicious. The greens — you can add a mixture of greens or go straight collards, whatever floats your boat — take on a meaty, hearty quality, and I could honestly eat this side as a entree any day. One piece of advice: Make sure to have some breath mints for afterward… because while this recipe is tasty, the garlic packs quite a punch!
Other dishes with greens: Kale Madeline / Bacon Collard Greens / Vegan Tuscan Kale Bruschetta / Hearty Holiday Quiche / Mandarin Kale Salad
Yield:

4 servings
Sauteed Greens
A light, savory greens recipe that is quickly made and enjoyed.
Ingredients
7 cups chopped greens
1 tablespoon extra virgin olive oil
1 ½ tablespoons minced garlic
½ tablespoon lemon juice
Instructions
Bring a large pot of salted water to a boil. When the water has reached a rolling boil, put the greens in it, boiling for a total of 15 minutes.
Once the greens have shrunken and boiled for the 15 minutes, strain them and set aside.
In a large skillet, heat the olive oil over medium-high heat.
Add the minced garlic to the pan, stirring until you can smell the garlic cooking.
Add the drained greens to the pan, mixing with the garlic, and let cook for 2-3 minutes.
Pull the skillet off the heat and add the 1/2 tablespoon of lemon juice, stirring until the greens have soaked it in.
Serve warm, and enjoy!
Notes
You can use whatever greens you've got on hand! In the past, I've used a combination of collard greens, kale and mustard greens. But you can use just one of these or fresh spinach, and it'll work out beautifully!
Recommended Products
As an Amazon Associate and member of other affiliate programs, I earn from qualifying purchases.
Nutrition Information:
Yield:
4
Serving Size:
1
Amount Per Serving:
Calories:

222
Total Fat:

11g
Saturated Fat:

2g
Trans Fat:

0g
Unsaturated Fat:

6g
Cholesterol:

25mg
Sodium:

77mg
Carbohydrates:

20g
Fiber:

13g
Sugar:

1g
Protein:

17g
Nutrition facts are an estimate and not guaranteed to be accurate.
Do you have any cooking fears? Have you faced them?