Monthly Meal Plan: 31 Recipes to Make in January 2018
Hello, hello! Welcome to a new monthly series that I'm launching today. 😀
*throws confetti*
Since my family enjoys several recipes throughout each and every month, I thought it might be fun to share with y'all what we're making and enjoying. A monthly meal plan of sorts, if you will, even though I won't be breaking it down by the day and a specific meal every week.
To make things easier, I've broken the recipes down by category and added a bit of a description to each one for y'all. Feel free to click through, save 'em for later, and enjoy this month, too!
Let's get this party started!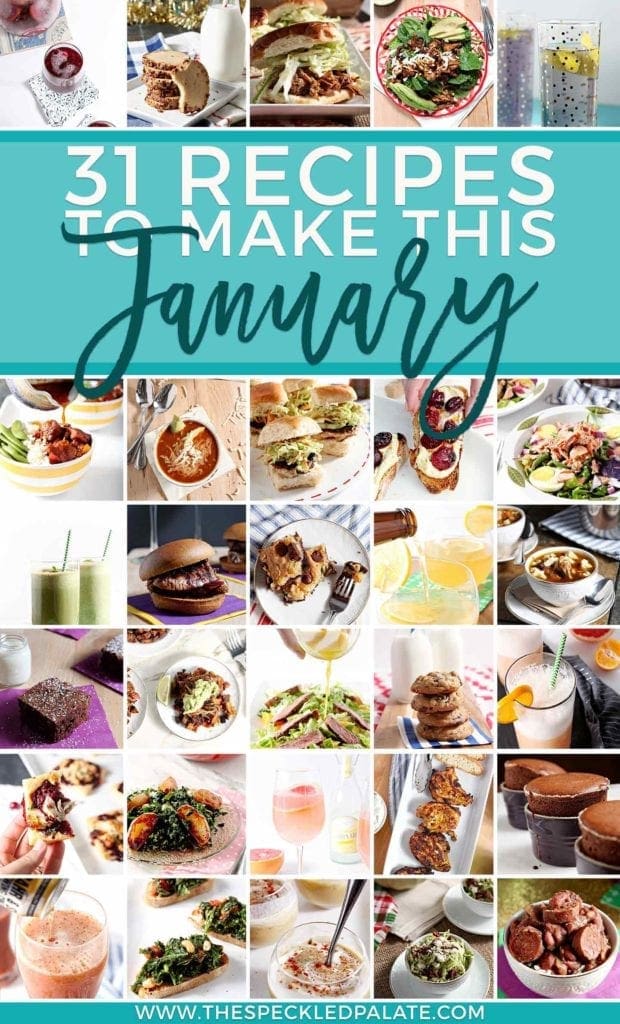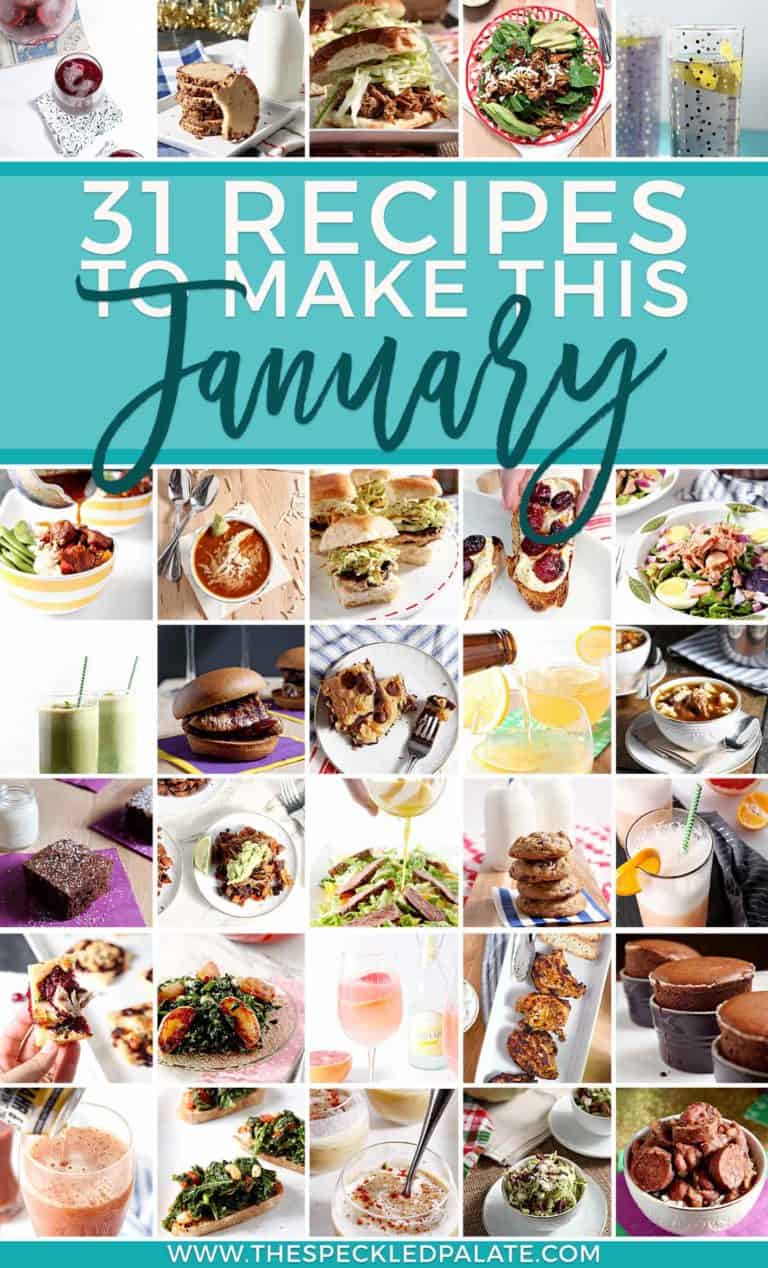 Monthly Meal Plan: January Breakfasts

Blast the blues away by mixing up a Creamy Winter Citrus Smoothie! Blended with freshly squeezed pink grapefruit juice, orange juice, lime juice and grassfed whey protein, it creates a deliciously fruity drink that works well in the mornings or afternoons. Not only it is tasty, but this Creamy Winter Citrus Smoothie boasts a ton of protein to fuel your body throughout the day.

Christmas Breakfast Casserole is the perfect savory breakfast to enjoy on Christmas morning. This make-ahead casserole features eggs, bread, breakfast sausage, red and green bell peppers, onions and cheese.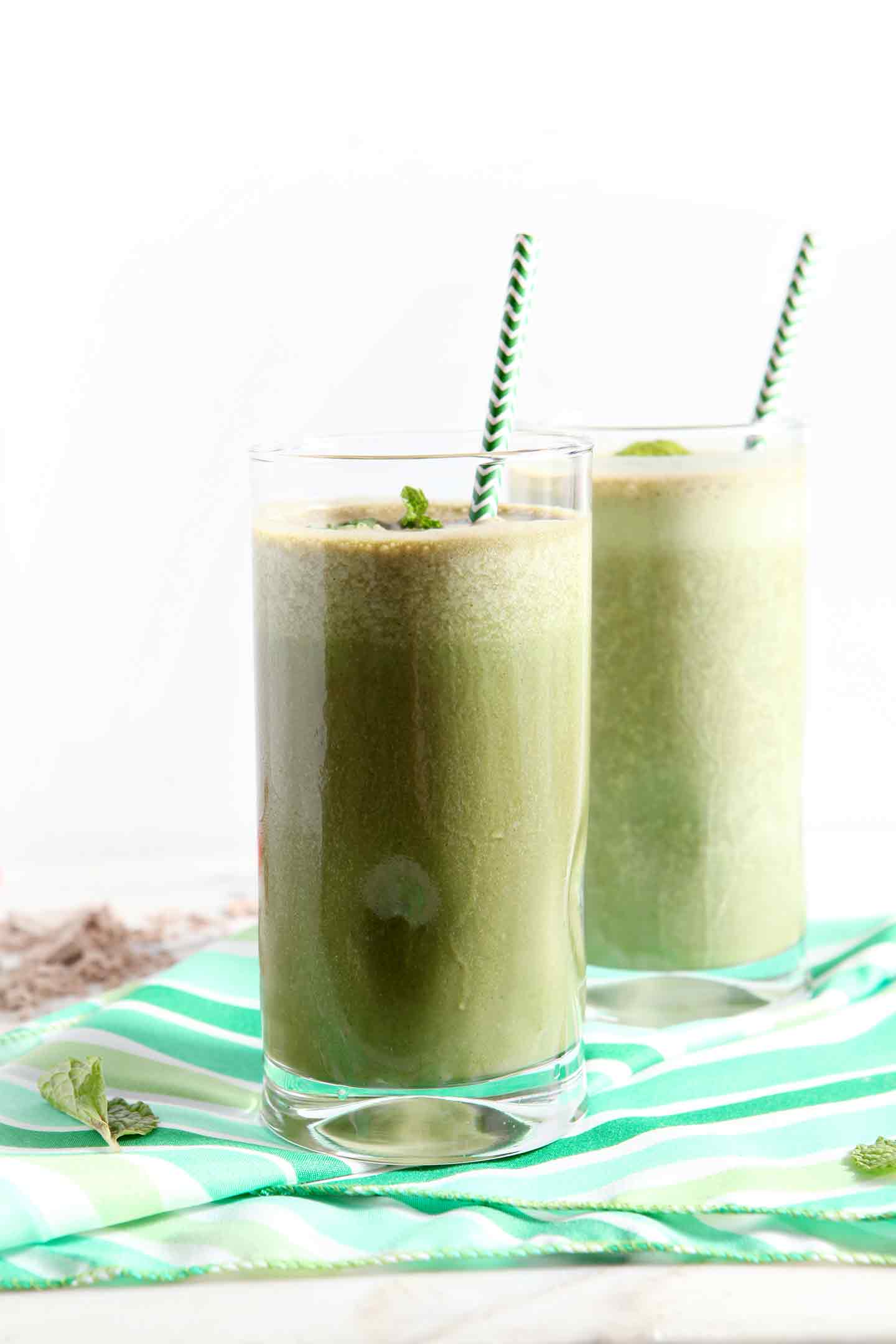 Mint and chocolate together are ALWAYS a good idea… especially for breakfast! Start your morning with a delightfully minty Vegan Thin Mint Smoothie. Blend non-dairy milk, vegan chocolate protein powder, peppermint extract, spinach and ice together, then serve. This flavorful breakfast smoothie is well-loved by vegans and non-vegans alike and makes a tasty meal!
Monthly Meal Plan: January Soups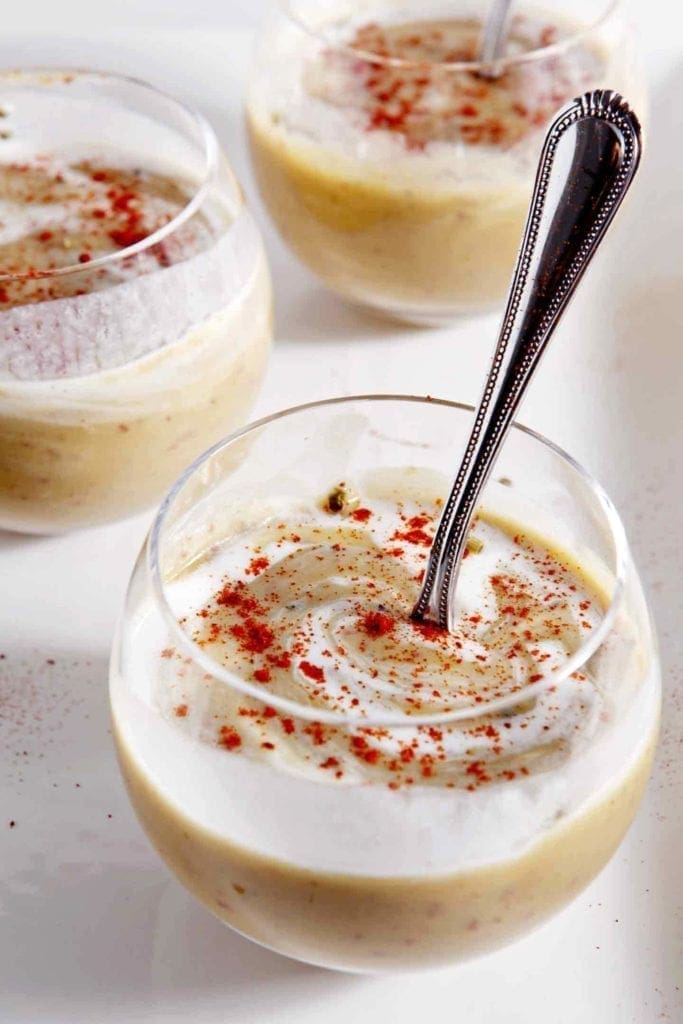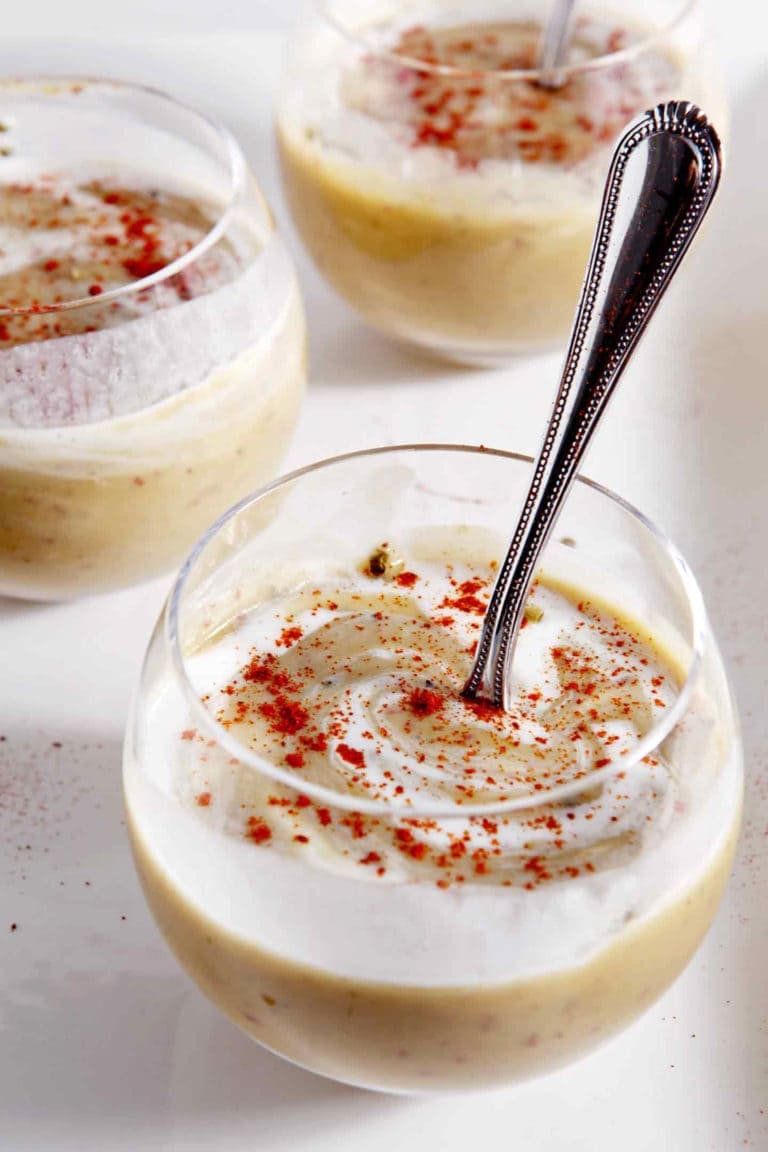 Vegan Potato Leek Soup makes the perfect creamy soup for all seasons! This Whole30-compliant, Paleo, Dairy Free, Gluten Free soup recipe takes an hour to make and packs a flavorful punch. Cook leeks, onion and garlic together, then add veggie stock and red potatoes and boil. Once the potatoes are soft, blend until smooth. Swirl in coconut cream, then serve warm with an additional dollop of coconut cream and a sprinkle of chives and paprika.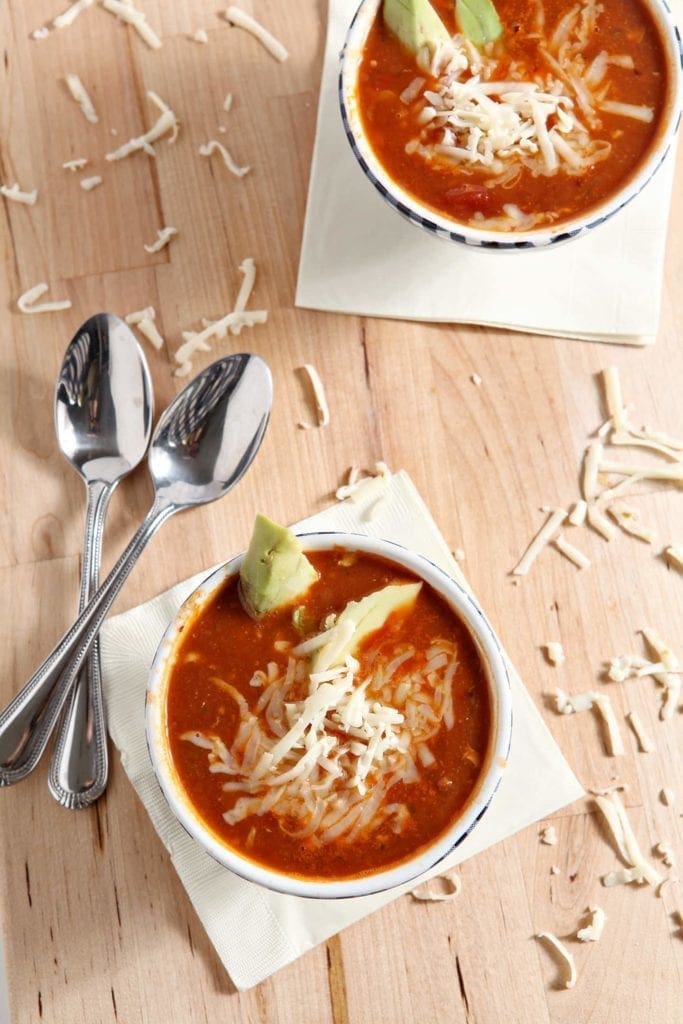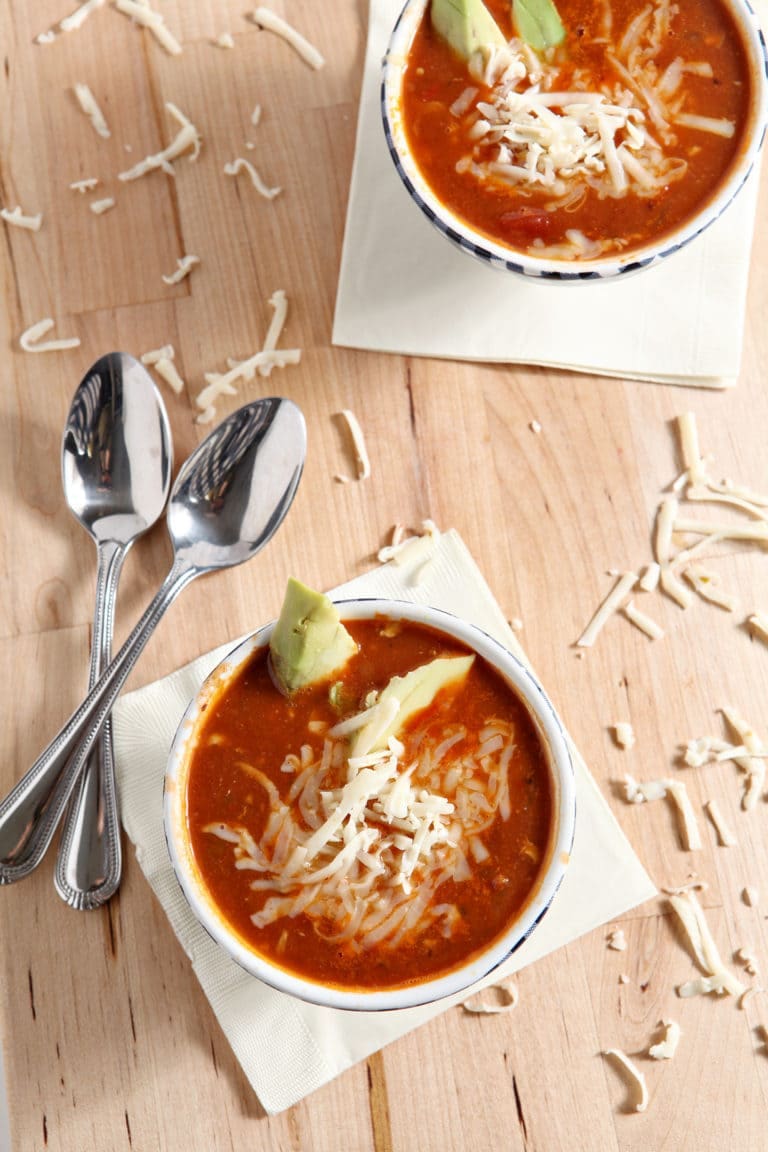 Turkey Taco Soup is a simple, delicious wintertime meal. Easy to make and even easier to eat, this soup adds a zing of spice and lots of vegetables to liven up any weeknight meal. Ground turkey is sautéed with onion and garlic, then peeled tomatoes, refried beans, diced chiles, corn and chicken stock are added before the soup simmers for 30 minutes. Finish with cheese, avocado or a dollop of sour cream to highlight this well-spiced soup.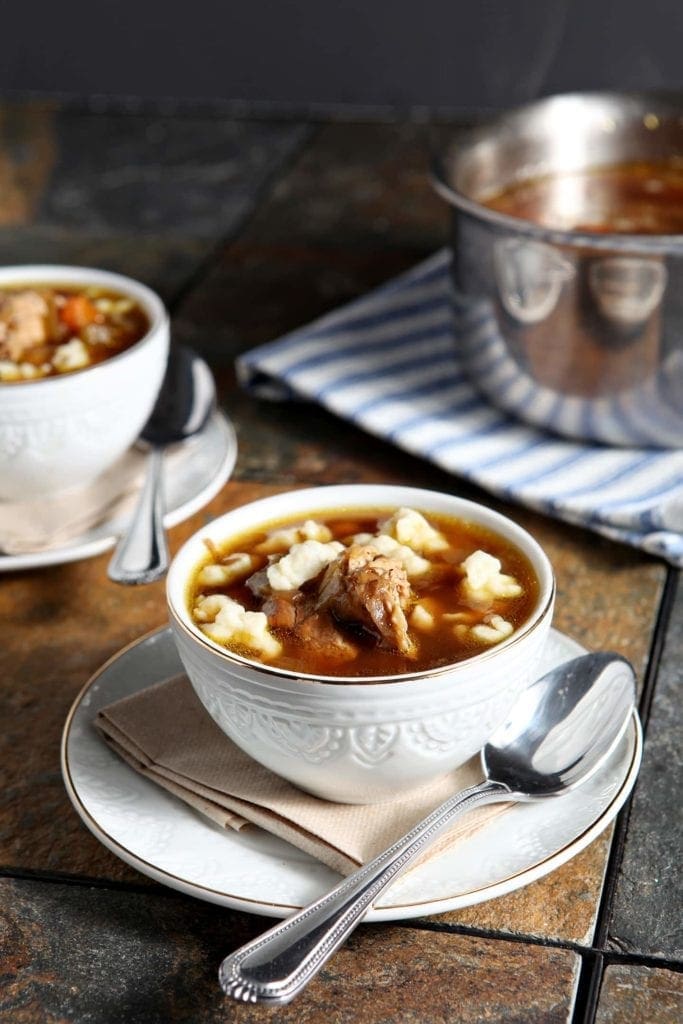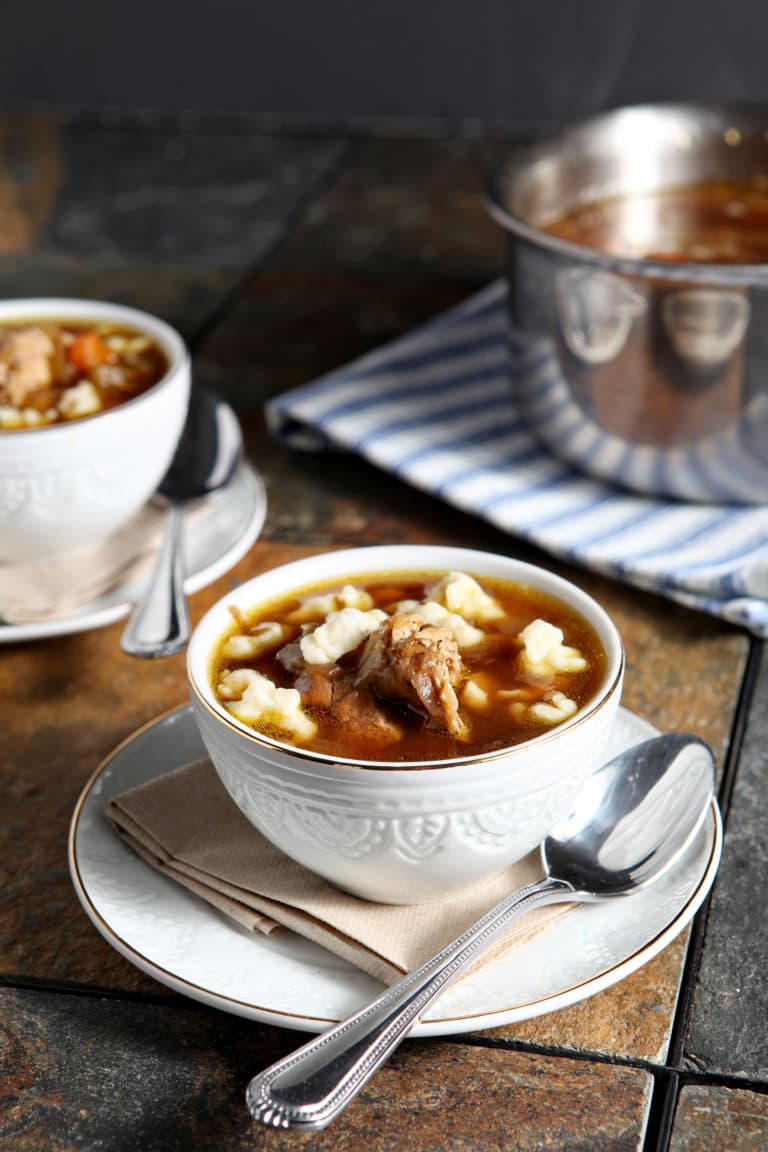 Chicken Spaetzle Soup is a perfect comfort food for a chilly day. Classic chicken soup with onions, carrots and celery is filled with spaetzle, German egg noodles, to create this comforting twist on a classic.
Monthly Meal Plan: January Easy Dinner and Slow Cooker Recipes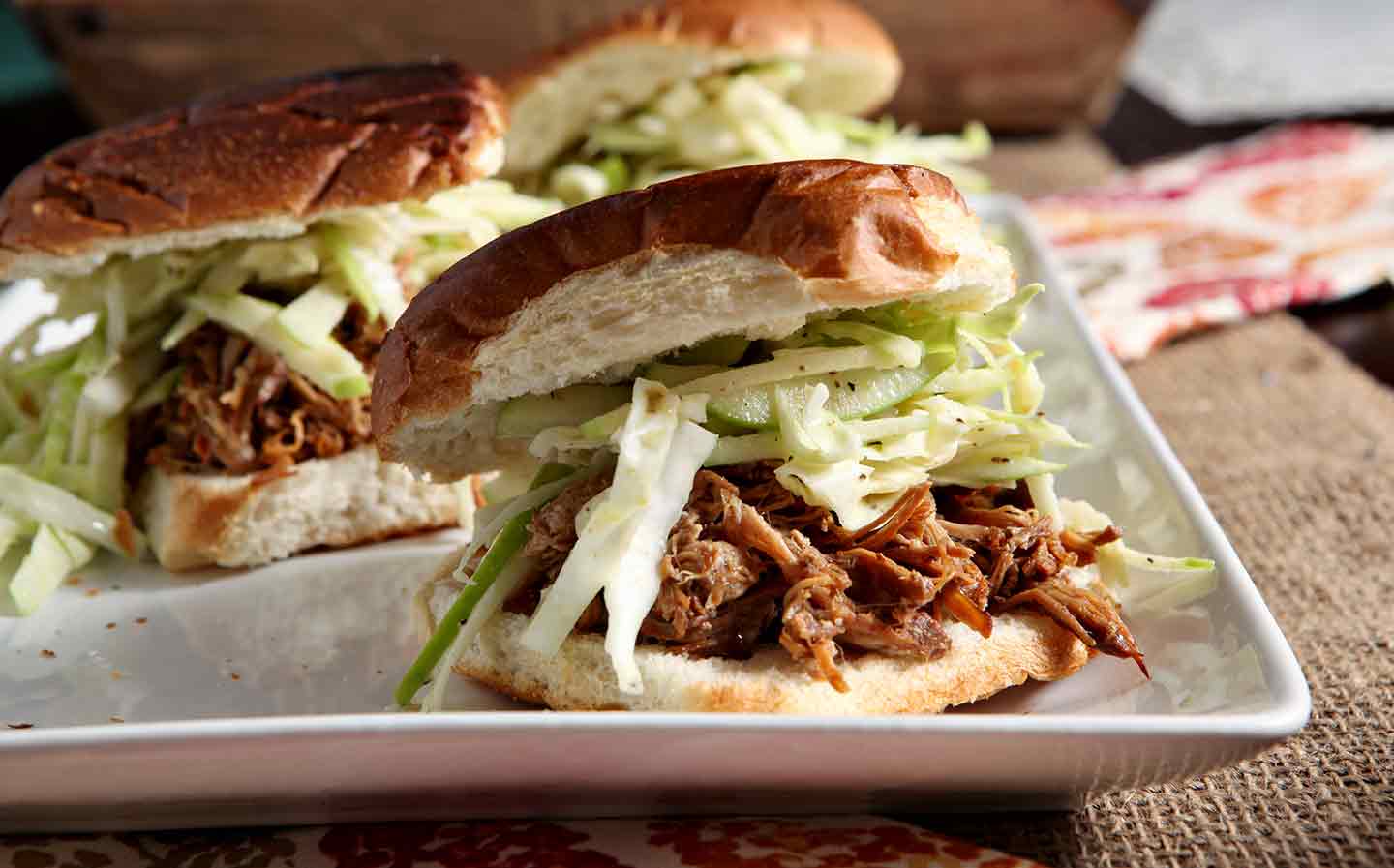 Pork and apples are an age-old combination… and this Apple Cider Pulled Pork with Apple Cabbage Slaw is the perfect entree for any fall get together or a simple weeknight meal. Pork butt simmers in spiced apple cider for hours in the slow cooker before shredding. Serve on a toasted bun with a tart apple cabbage coleslaw in a creamy yogurt sauce. Apple Cider Pulled Pork with Apple Cabbage Slaw makes a delicious meal for the whole family!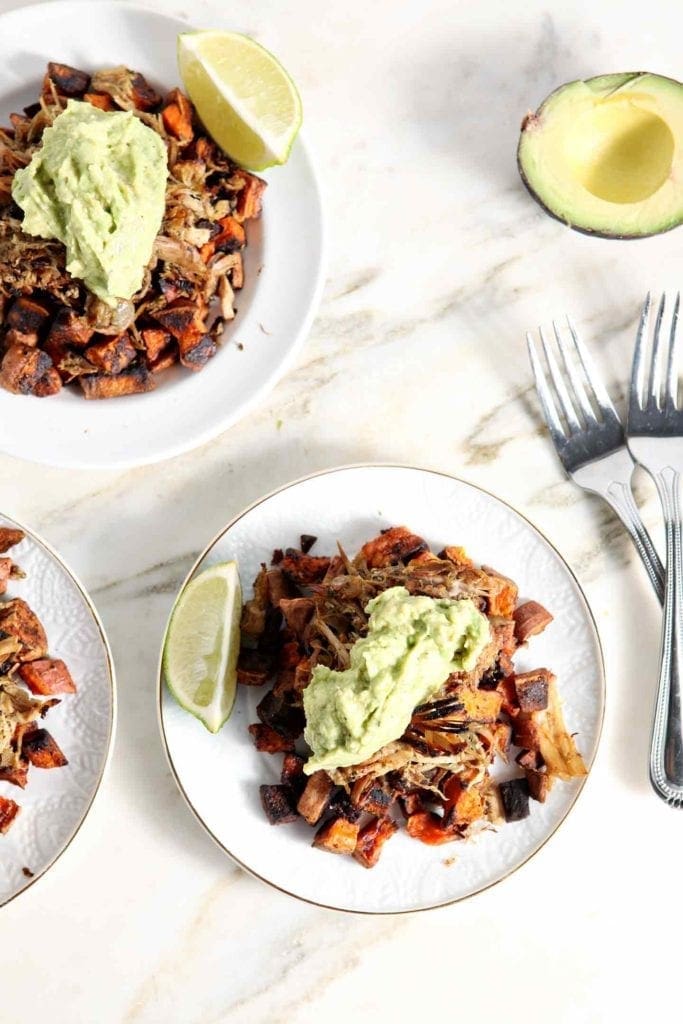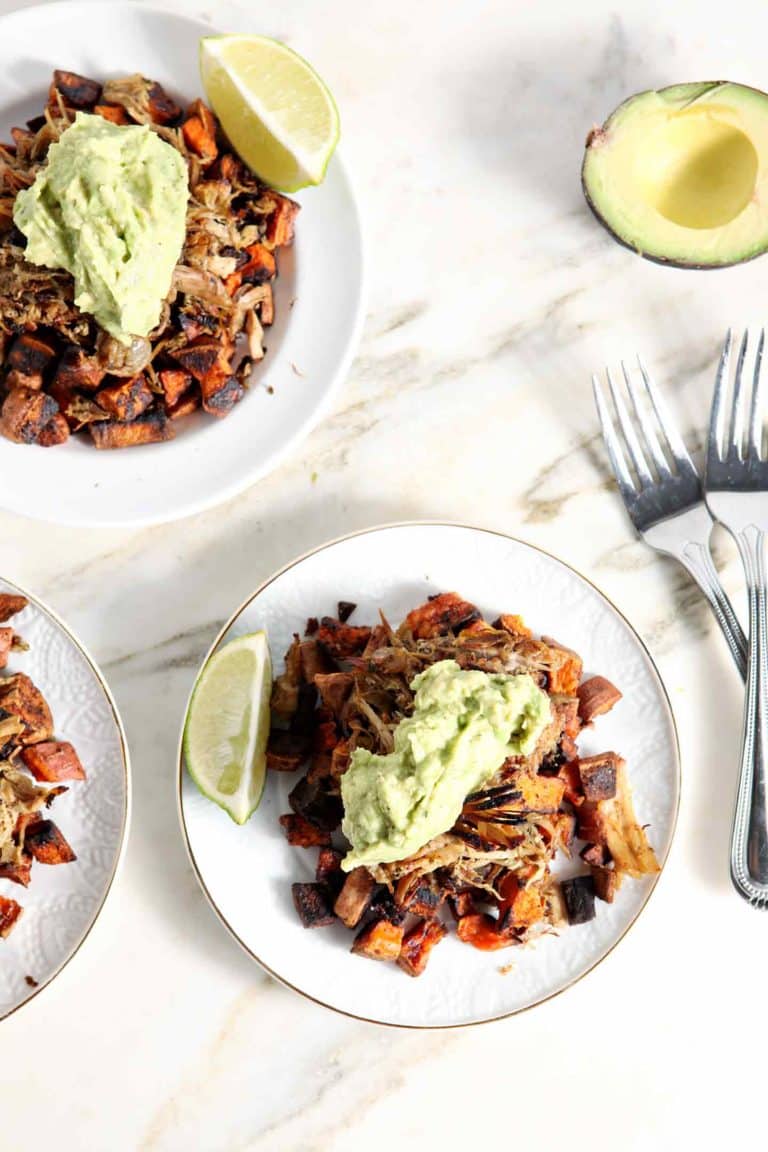 Satisfy a TexMex craving with Whole30 Slow Cooker Pork Carnitas Plates. This paleo-friendly recipe feeds a crowd and makes a delicious party entree. Roast pork in the slow cooker, then shred. Roast sweet potato cubes until crispy and whip up a simple homemade guacamole. Make the plates, adding the hash first, then the carnitas and guac. Bursting with flavor and perfect for entertaining, Whole30 Slow Cooker Pork Carnitas Plates are a new favorite!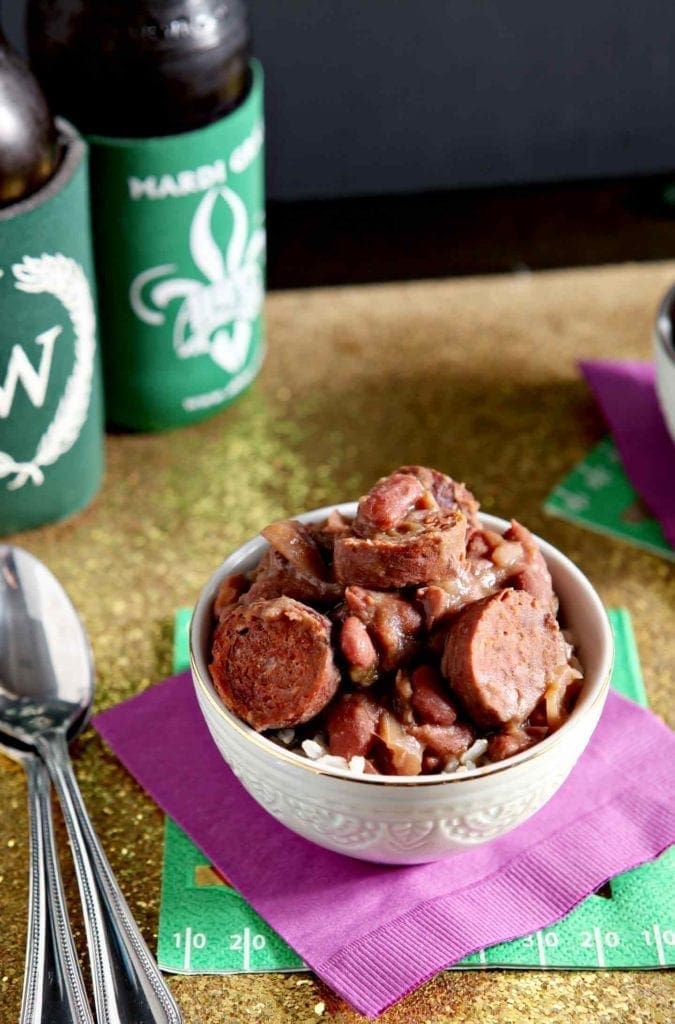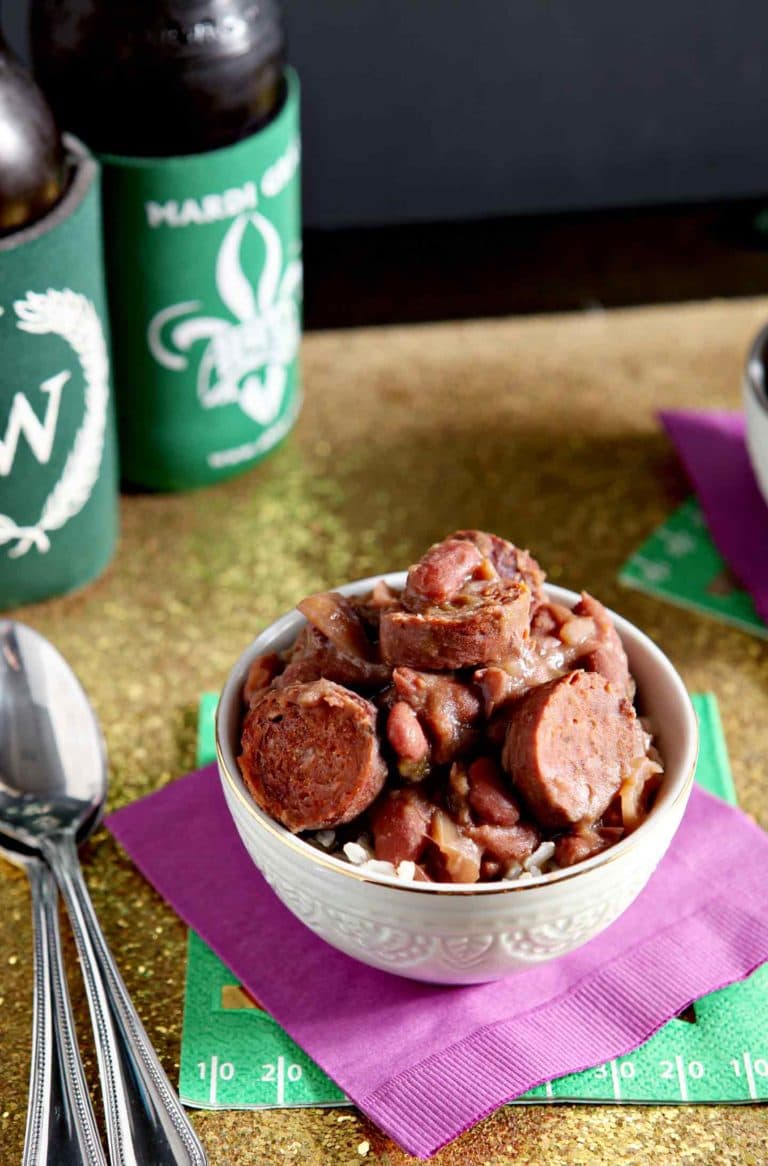 Slow Cooker Red Beans and Rice makes a delicious dinner… and this recipe is SO simple! This well-loved Louisiana entree, which calls for dried red beans, Andouille sausage, green bell pepper, onion and spices, is the perfect meal year-round. This recipe, which is perfect for Mardi Gras festivities, football tailgates and while hosting a party, because it requires little hands-on time, cooks unassisted in the slow cooker and feeds a crowd.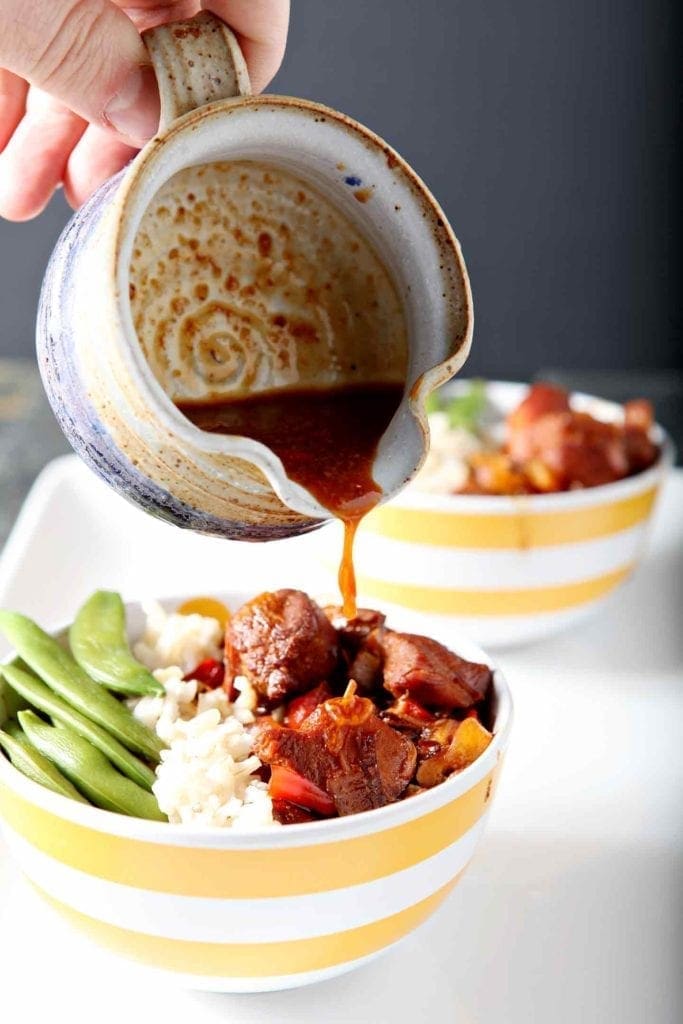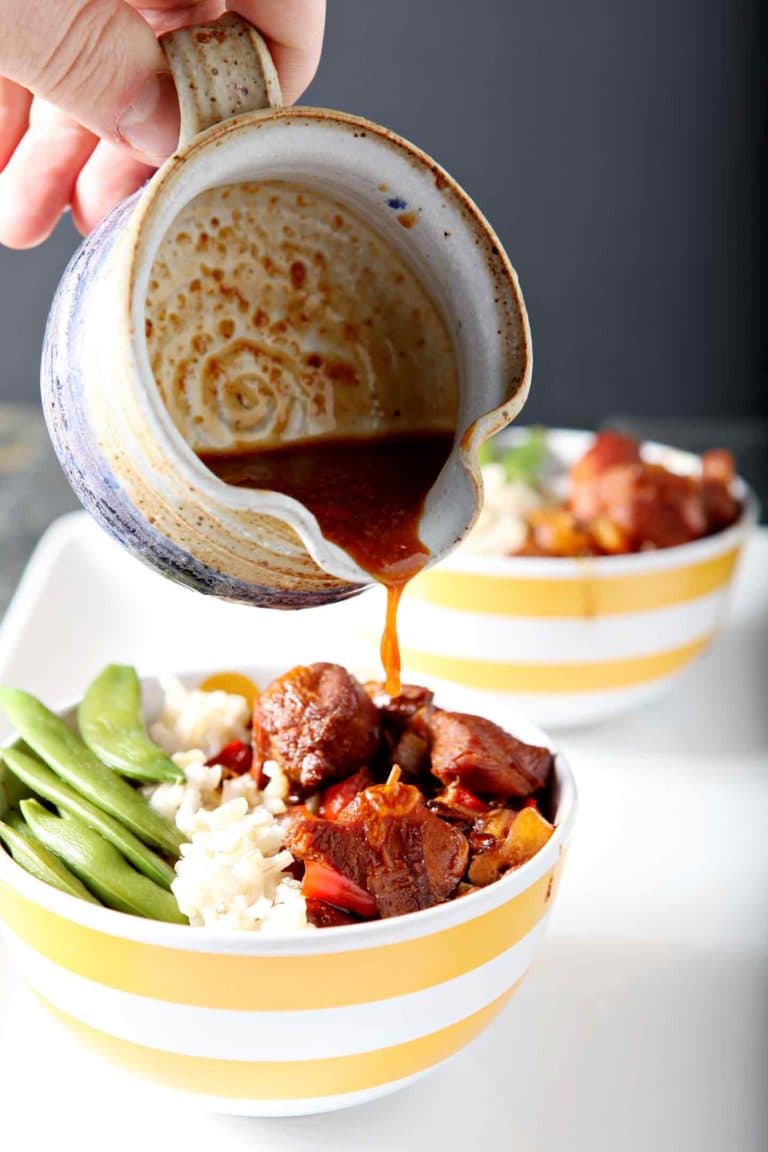 Enjoy flavorful Honey Sriracha Chicken Rice Bowls for dinner this week! Place the chicken, onion and red bell pepper in the slow cooker with honey, soy sauce and water. Cook for 4 hours. Steam brown rice and snow peas, then layer the rice, chicken and its sauce and snow peas in a bowl for serving. Slightly sweet with a zing of spice, Honey Sriracha Chicken Rice Bowls make a well-loved, simple and healthy weeknight meal for the whole family.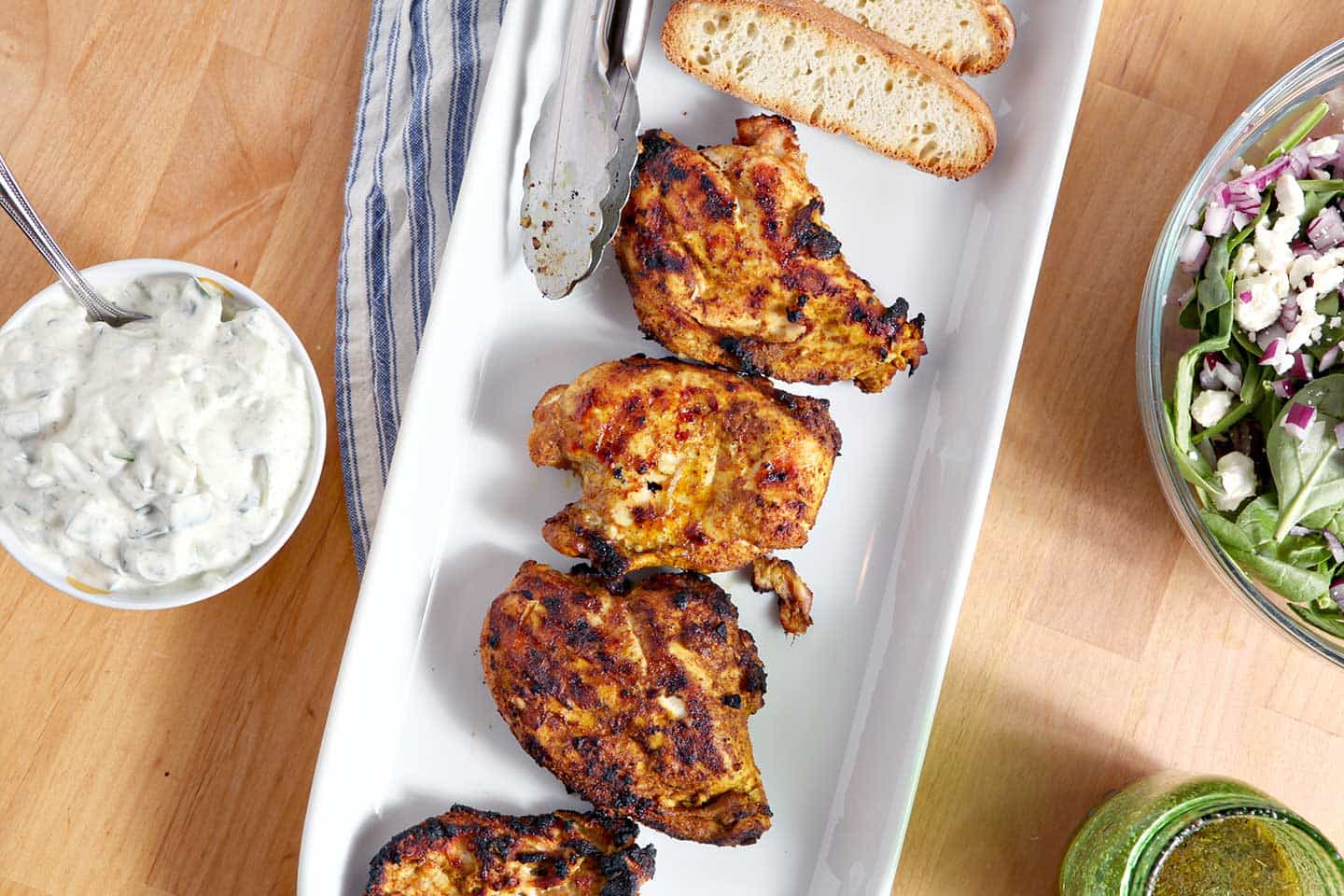 Fire up the grill and make Grilled Chicken Shawarma for the family! This Middle Eastern dish – which can be made with chicken, lamb, beef and more – is traditionally cooked on a vertical spit. This rendition, which is just as flavorful, spicy and delicious, can be made on the grill at home! The meat is marinated, then grilled. Served with fresh pita, Tzatziki sauce, salad, Grilled Chicken Shawarma is the perfect entree for any cookout!
Monthly Meal Plan: January Salads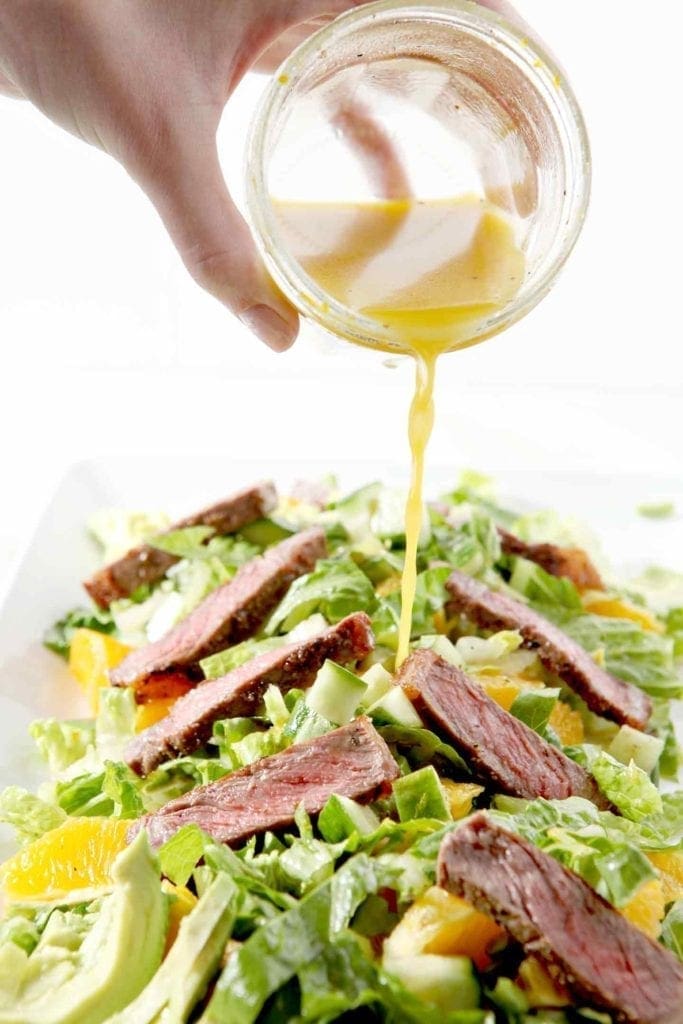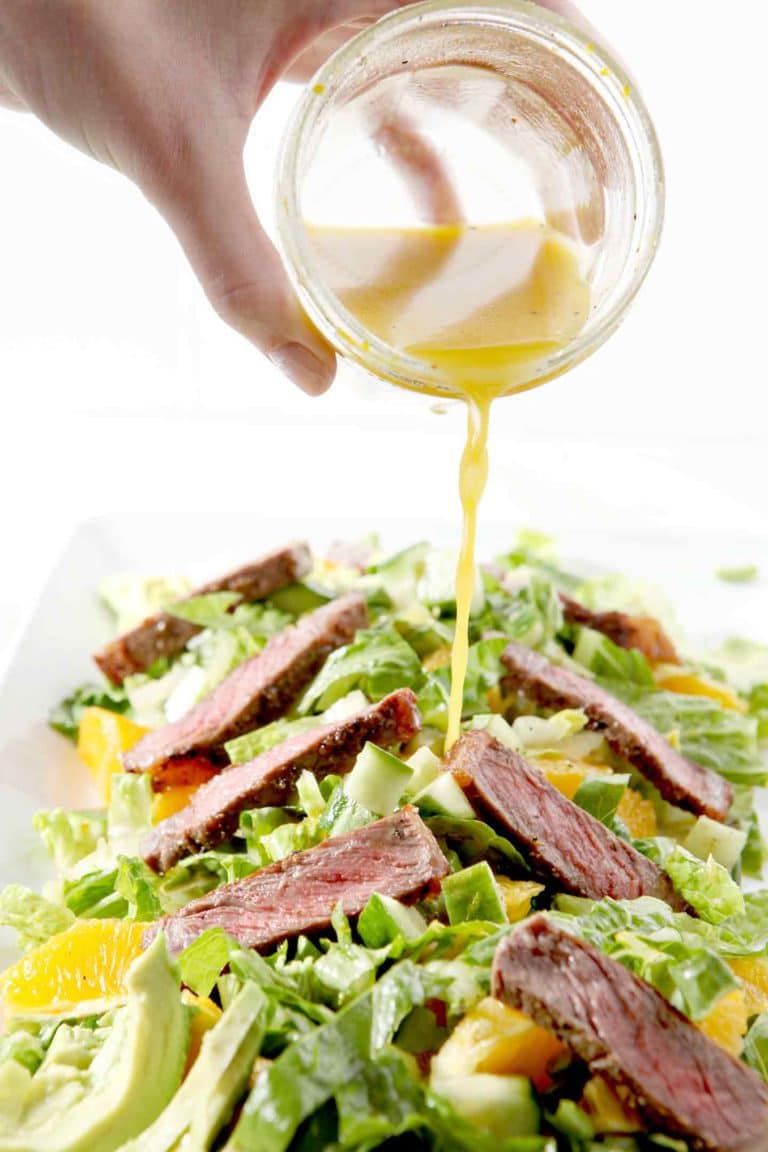 Looking for an entree or appetizer to wow the crowd this summer? Orange Steak Salad is the way to go! This Whole30-compliant, Paleo and Gluten Free recipe will impress guests and family alike. Perfectly cooked New York Strip Steak sits atop a bed of romaine lettuce, studded with navel oranges, English cucumbers and avocado. Finish with a drizzle of homemade Orange Vinaigrette, and this Orange Steak Salad makes the perfect summer meal!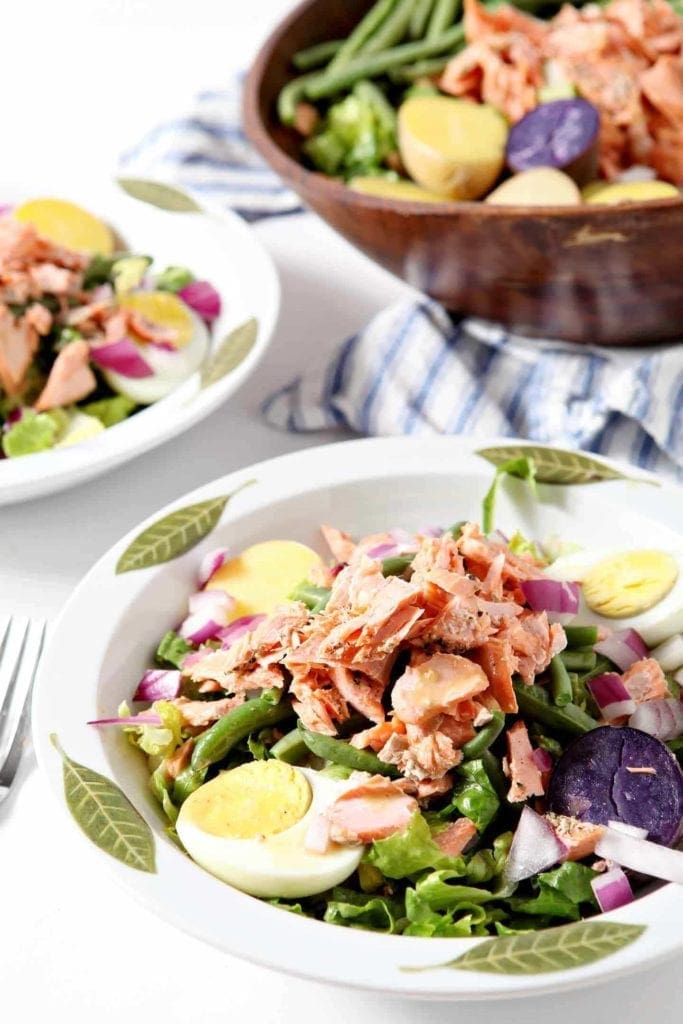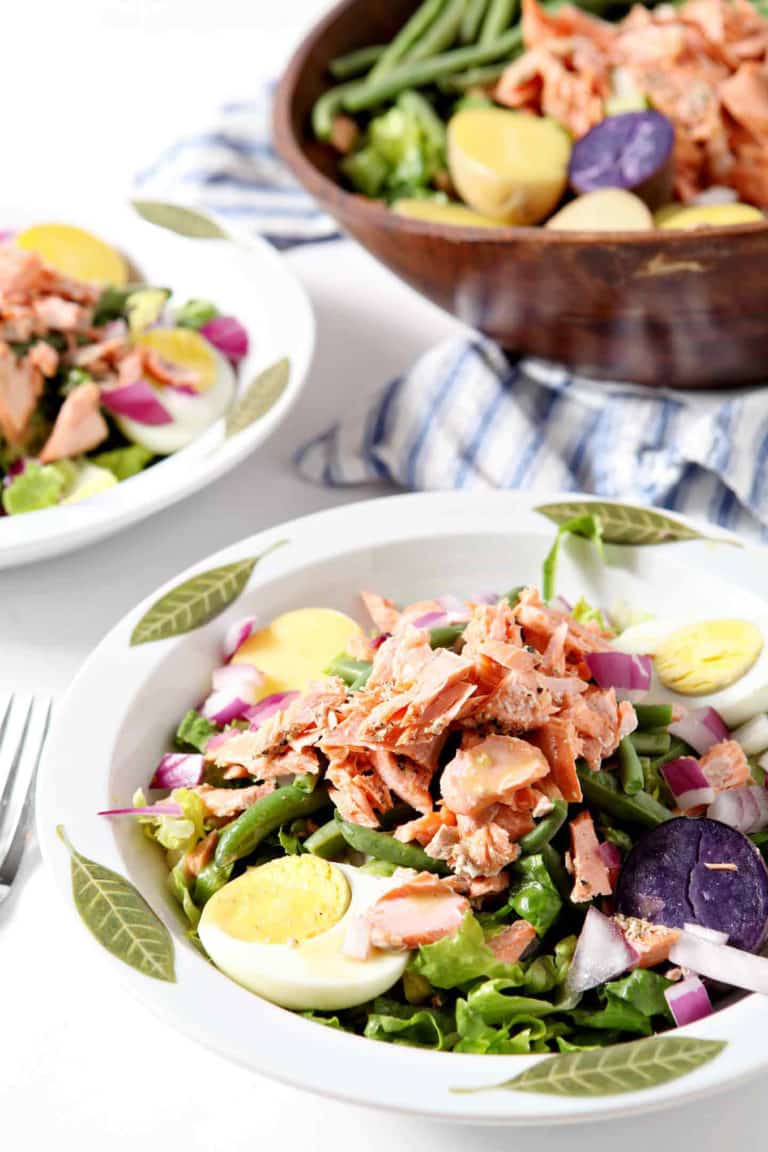 A twist on the French classic, Salmon Niçoise Salad makes a perfect light dinner! Fresh sockeye salmon serves as the centerpiece of this entree salad in place of traditional tuna. Romaine lettuce, steamed green beans, baby potatoes and red onion are tossed together to create the rest of the salad, then topped with a tangy olive oil-Dijon vinaigrette. Flavorful for lunch or dinner, this Salmon Niçoise Salad sings of summertime flavors.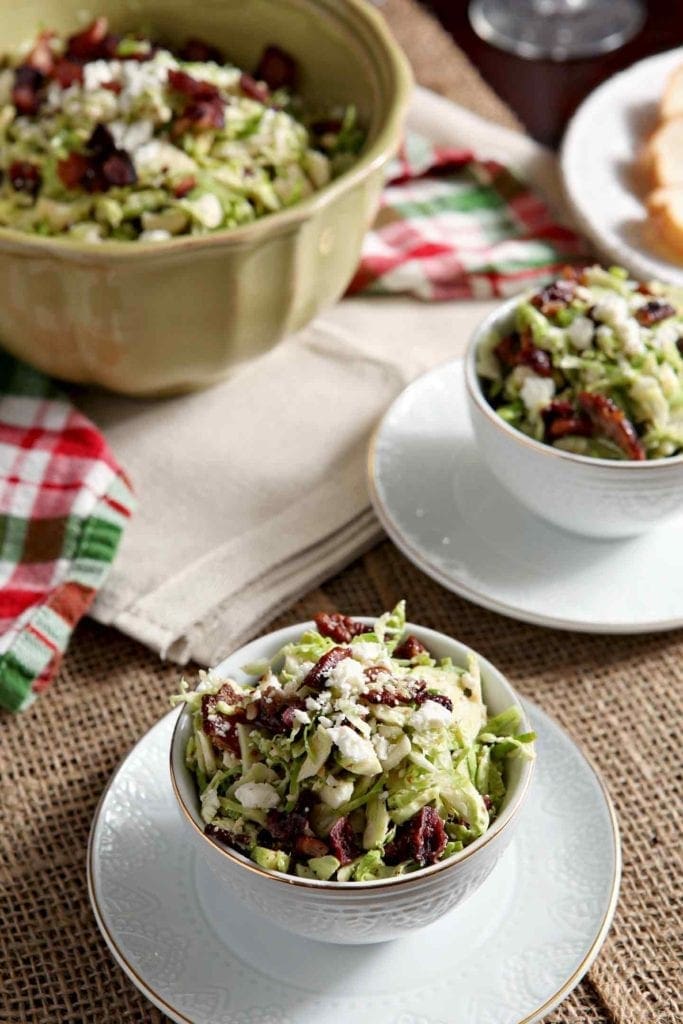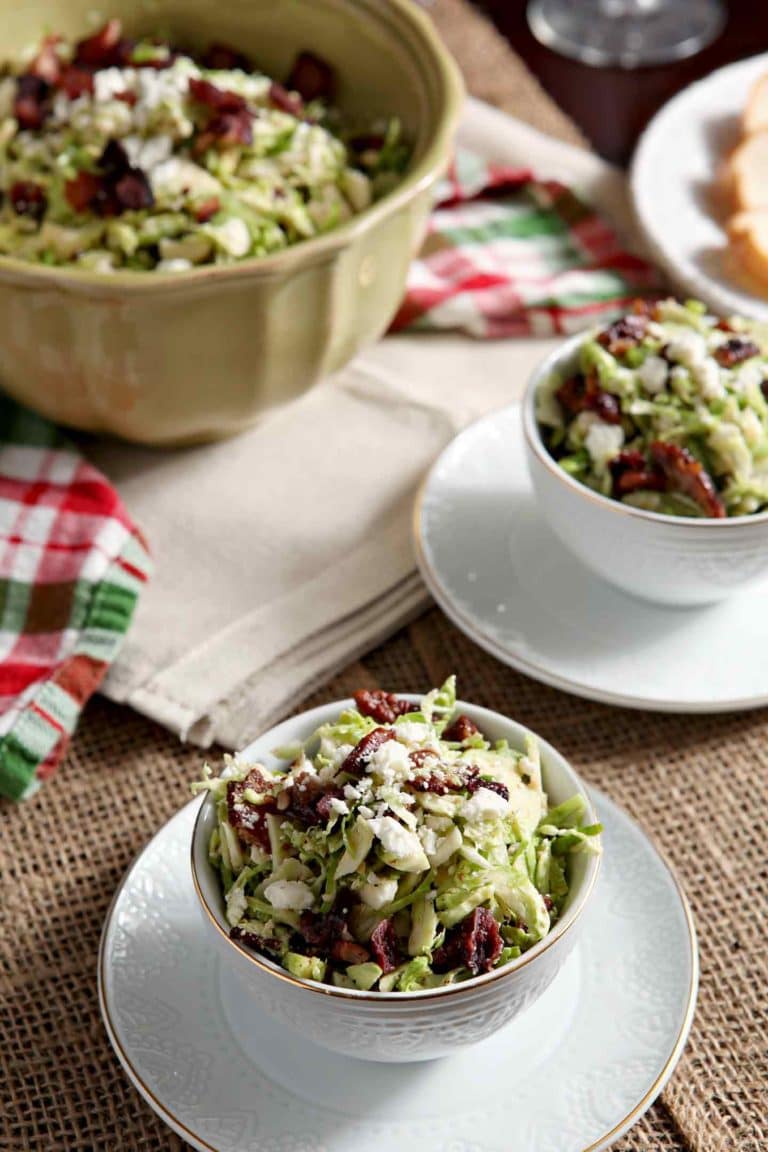 Serve Cranberry Feta Brussels Sprout Salad with Candied Pecans and Warm Bacon Vinaigrette as a festive side dish this season! Brussels sprouts serve as the base of this unique winter salad. Top the shredded Brussels sprouts with dried cranberries, crisp bacon, feta cheese, candied pecans, then toss in a warm bacon vinaigrette before serving. Slightly sweet, savory, salty and crunchy, this salad is a delicious new way to enjoy Brussels sprouts!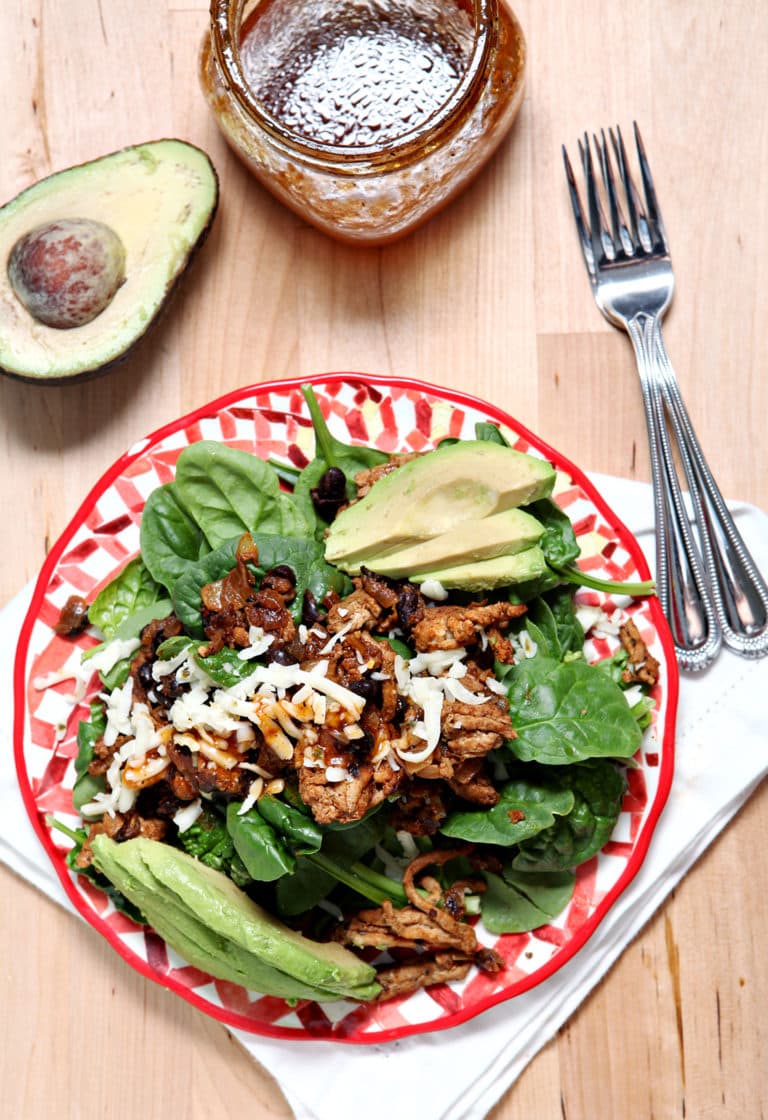 Celebrate Cinco de Mayo at home with this delicious Turkey Taco Salad. Ground turkey, onions and black beans are sautéed together, then placed on a bed of spinach with various other toppings to make a tasty TexMex meal. Drizzle with a homemade Catalina dressing to finish. Easy to personalize, this Turkey Taco Salad is well-loved and perfect for a weeknight meal.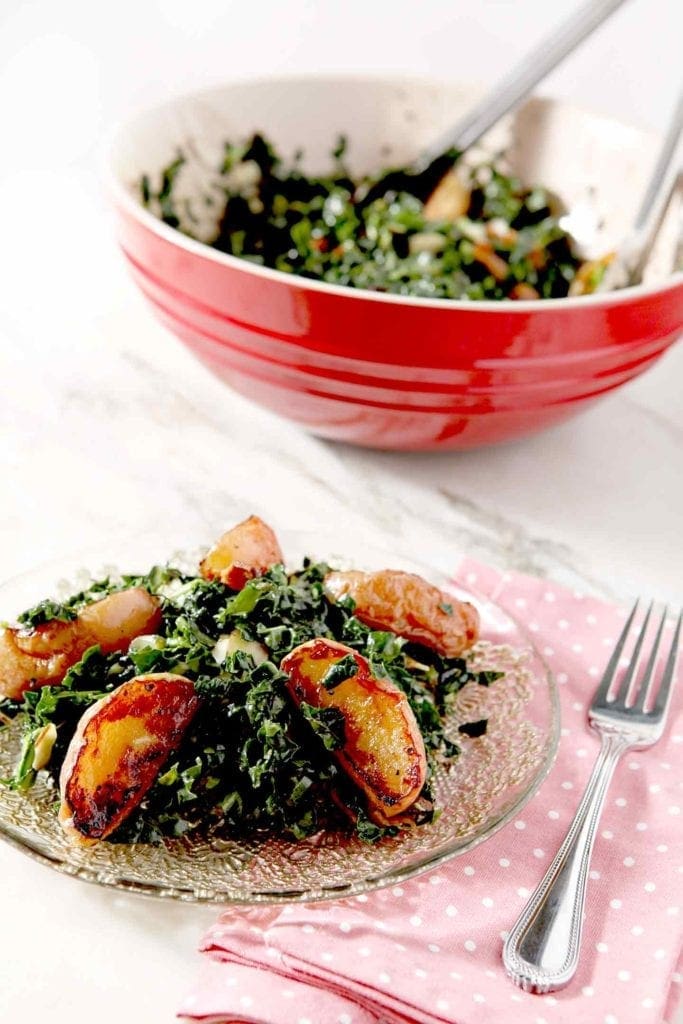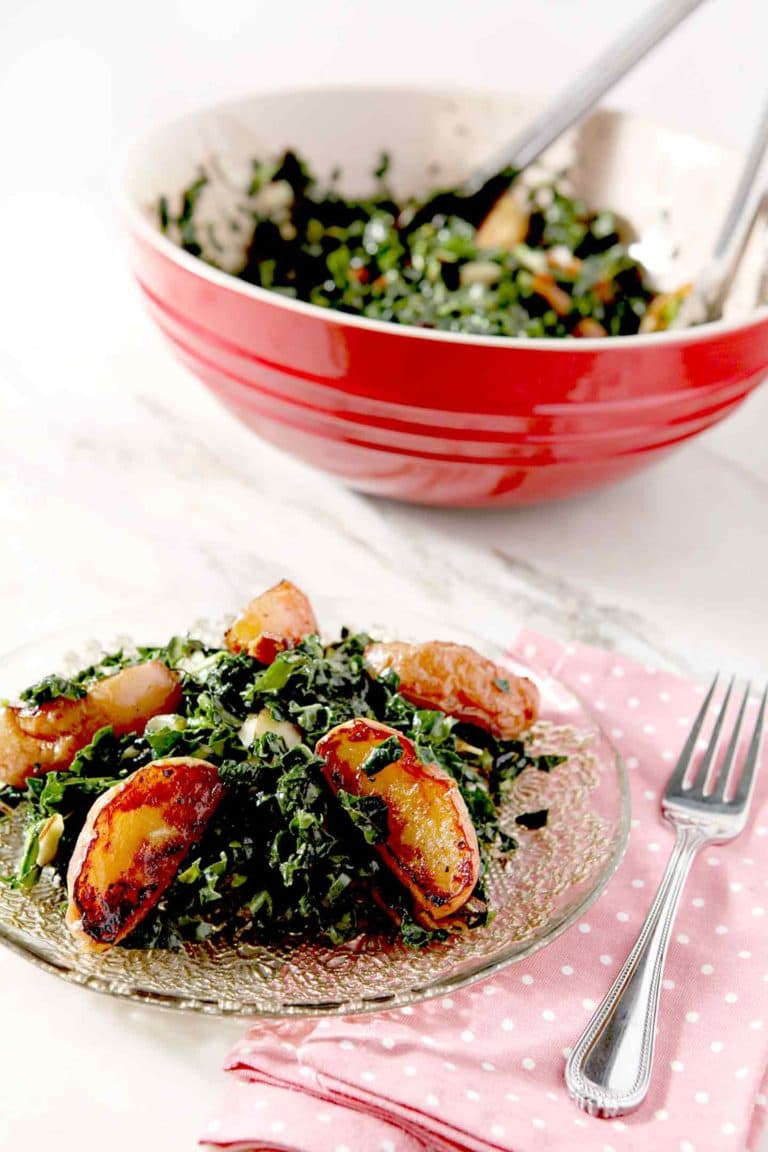 Just because you're doing the Whole30 doesn't mean you don't have to skimp on flavor. This Whole30 Bacon Apple Salad with Bacon Vinaigrette makes a perfect summertime appetizer or entree. Cook bacon, then set aside the fat. Roast the apple slices, then serve the crumbled bacon and roasted apples over a bed of Tuscan kale. Top with toasted almonds, then toss in homemade Bacon Vinaigrette. Perfect for cookouts, barbecues and fast weeknight dinners!
Monthly Meal Plan: January Party Food
(for, you know, football parties)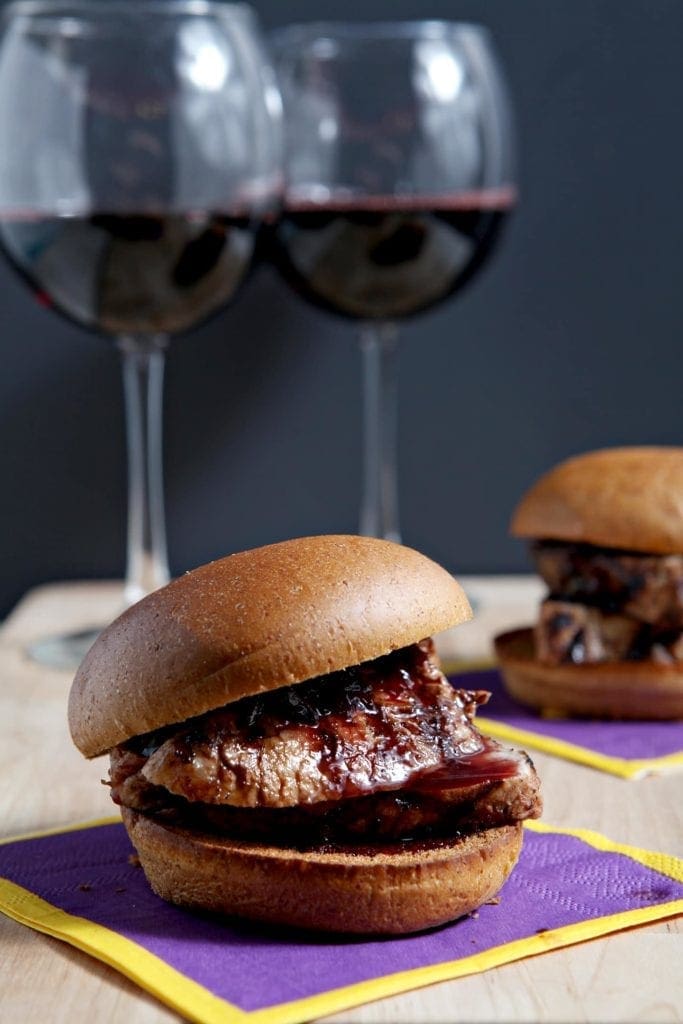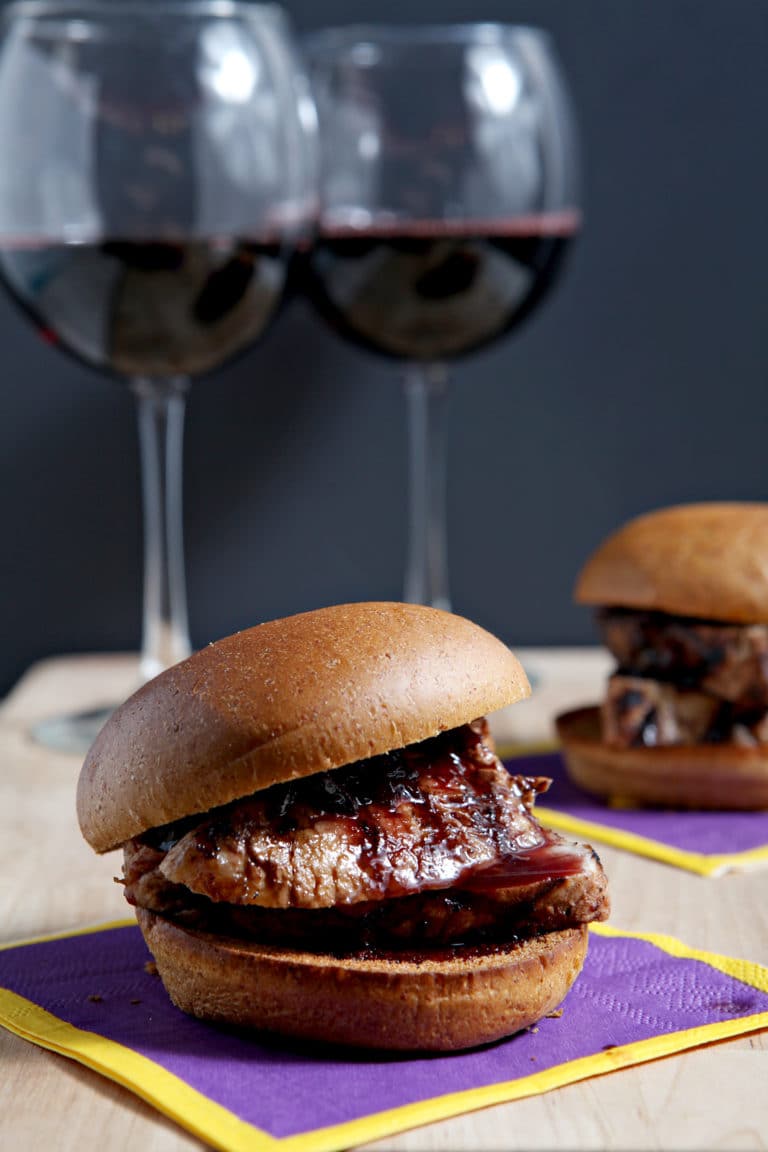 With football season in full swing, these Pork Tenderloin Sliders with a Red Wine Reduction Sauce are the perfect tailgate entree! Marinate the pork overnight in Black Box Merlot and a few other ingredients, then toss it on the grill at your tailgate party for a delicious sandwich! You can use the wine to make a delicious reduction to top the sliders.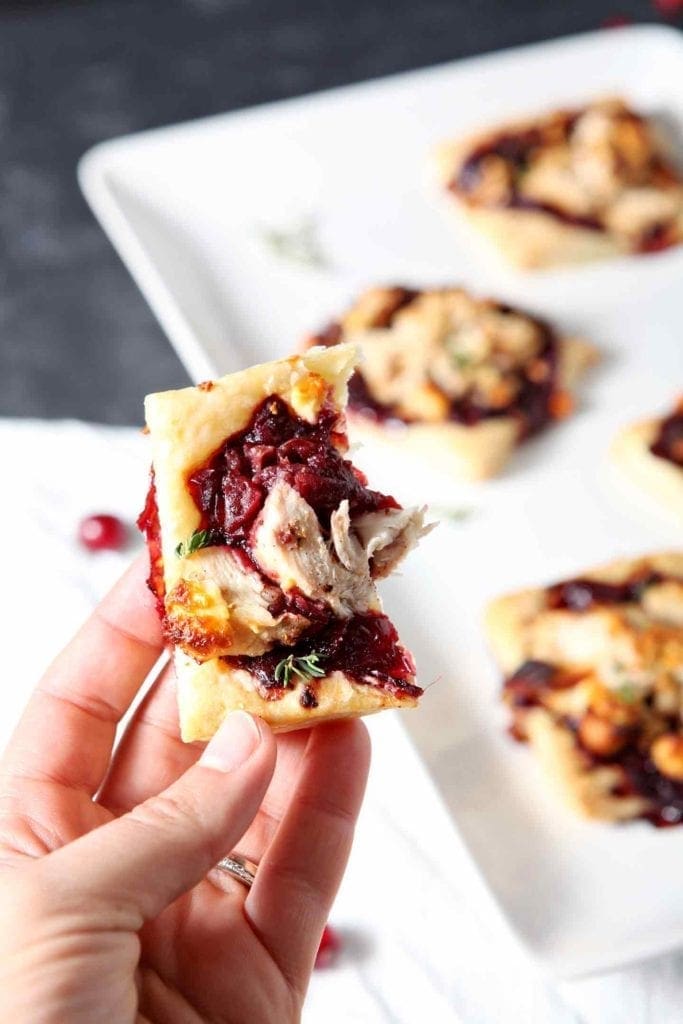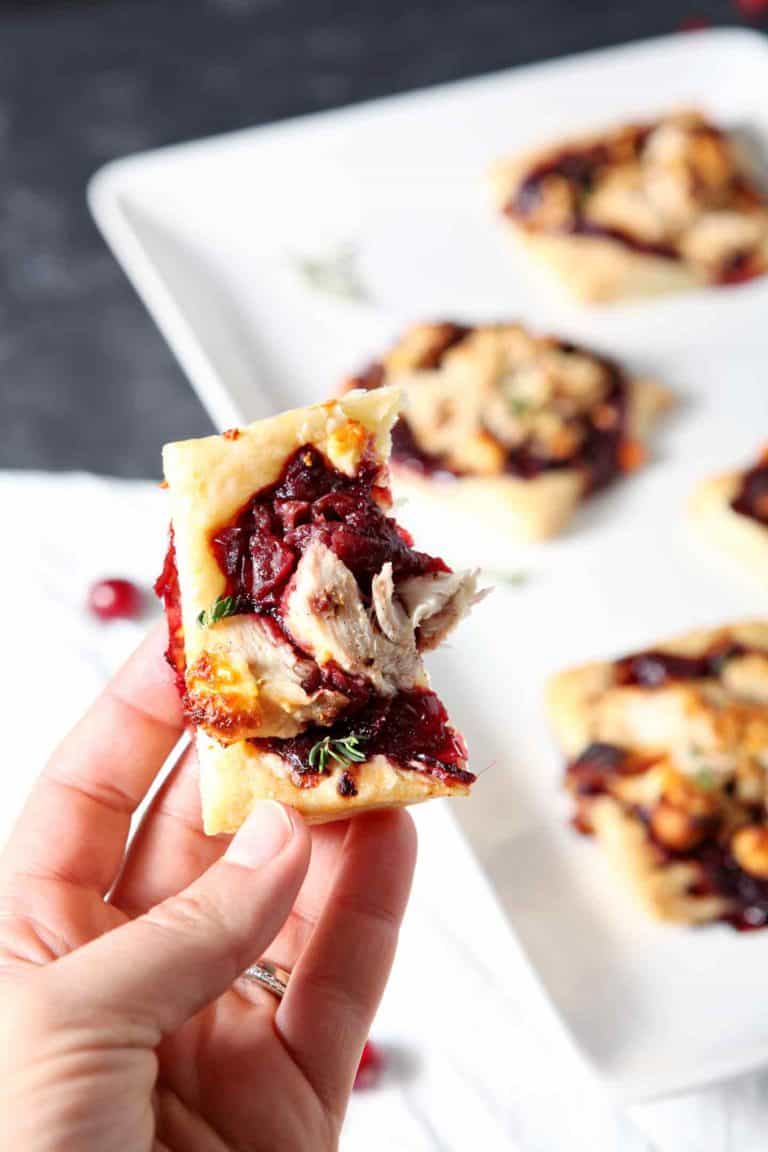 Spread cheer by baking delectable Cranberry Turkey Puff Pastry Tartlets for your friends and family! These tartlets, filled with tart cranberry sauce, spicy Jennie-O Cajun turkey breast and salty feta cheese, sing of the season's flavors. Serve the tartlets warm with a sprinkling of fresh thyme sprinkled. Perfect for a party, Cranberry Turkey Puff Pastry Tartlets are sure to be a crowd pleaser at any get-together this winter!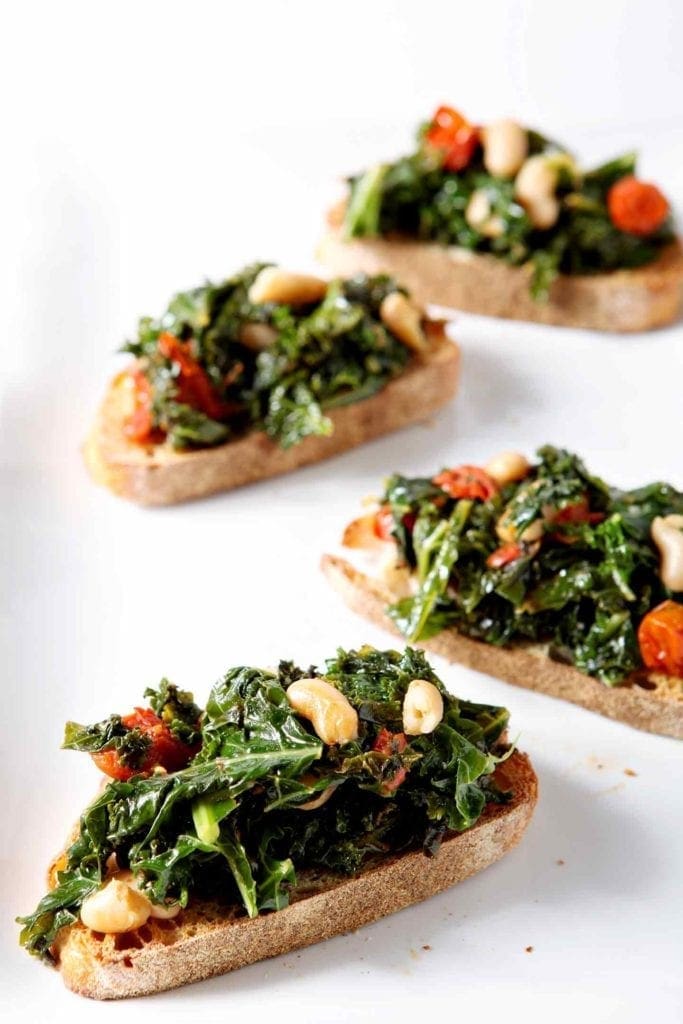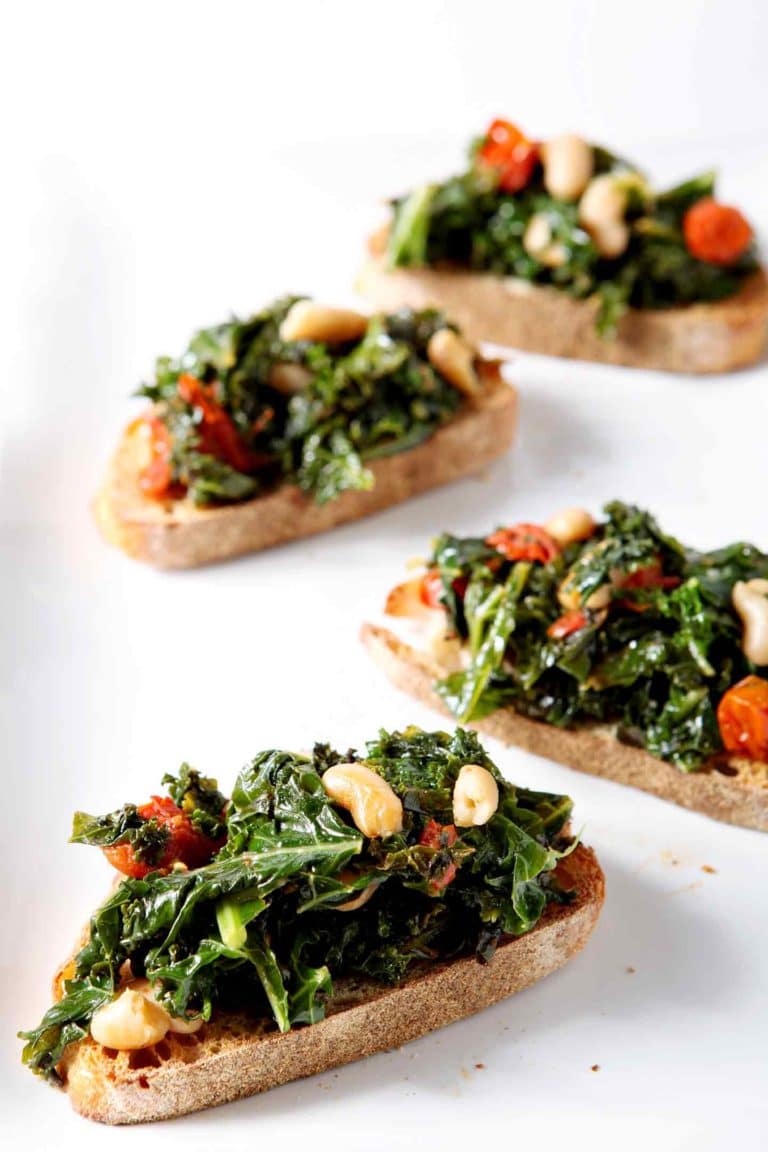 Break free of the winter entree doldrums and make veggie-filled Vegan Tuscan Kale Bruschetta tonight. This twist on a traditional bruschetta highlights Tuscan kale, cooked down with grape tomatoes and cannellini beans. The kale becomes marvelously wilty, the tomatoes blister and break apart, and the beans brown slightly before all three are served upon toasted bread. Vegan Tuscan Kale Bruschetta is a scrumptious dinner or appetizer for a crowd.

Today calls for BBQ Chicken Burger Bites with Avocado Slaw and a Spicy Vinegar Sauce. These quick chicken sliders make a delicious appetizer or meal. Featuring spicy BBQ sauce and BBQ rub, the poultry patties mix up easily and cook quickly. Top with homemade avocado slaw and a spicy/sweet vinegar sauce, and these burger bites are hard to beat. Cook up a batch for a crowd, whether you're hosting a party, a holiday get-together or a weeknight meal!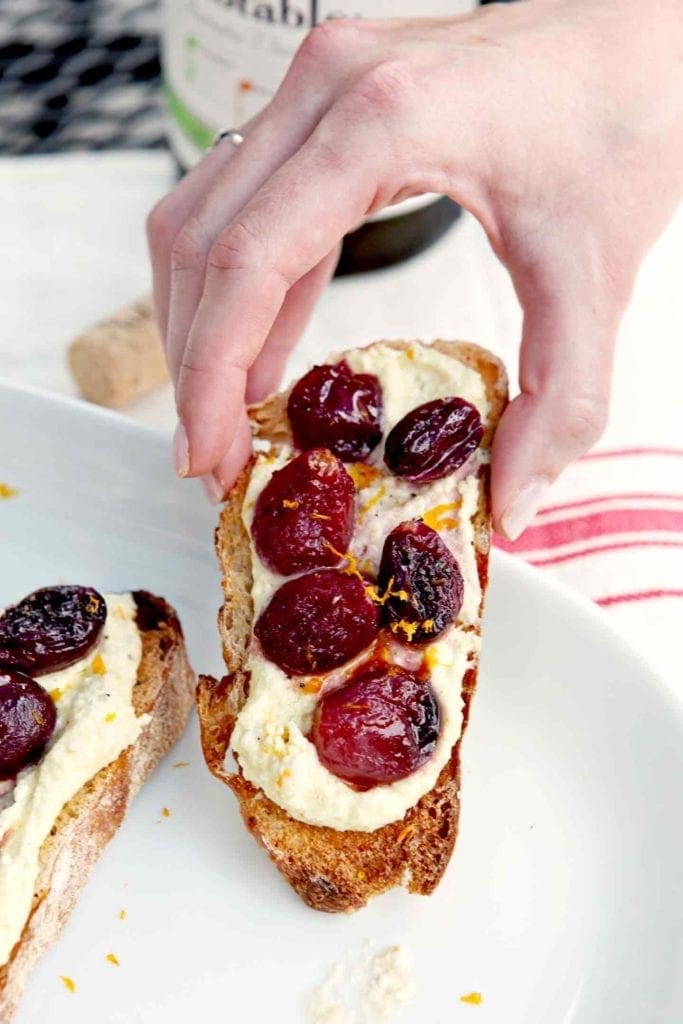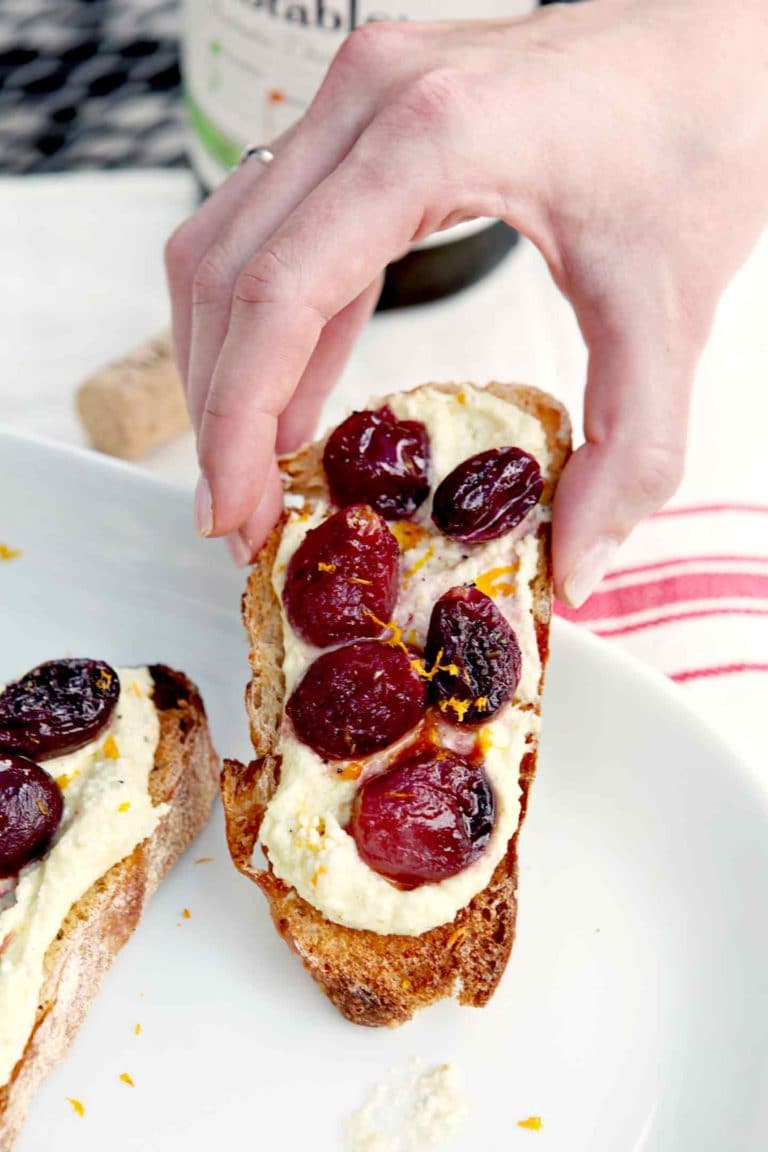 Host friends and family for a patio wine tasting party this season! Roasted Grape Bruschetta with Whipped Feta makes a delicious appetizer to pair with chardonnay! Simple to pull together and pack a ton of flavor, these finger foods lend themselves beautifully to crisp white wine. Sweet and savory, Roasted Grape Bruschetta with Whipped Feta are the perfect bites to serve at a wine tasting soirée!
Monthly Meal Plan: January Drinks

Mix up a batch of seasonal Meyer Lemon Shandies for your guests as you watch the Big Game! This twist on a classic Shandy celebrates winter citrus. First, make a tart Meyer Lemonade that will serve as the base for this cocktail. When the lemonade has chilled, pour in a fruity wheat beer. Garnish with a slice of Meyer lemon, and enjoy. These Shandies make a delightfully tart tailgating drink, as well as a simple sipper for any winter get-together.

Celebrate seasonal produce by mixing this slightly sweet, yet delightfully tart Sparkling Grapefruit Sangria! Freshly squeezed pink grapefruit juice serves as the base of this cocktail, then a bottle of sauvignon blanc is added, along with Meyer lemon, blood orange and grapefruit slices. Chill before serving. Top individual glasses of sangria with Sprouts Farmers Market Sparkling Lemonade. Enjoy this sweet citrus goodness all winter long.

The Princess Violette Cocktail makes the PERFECT brunch drink with its bubbliness and lemon zing! The color of lavender, this combination of exotic creme de violette, champagne and lemon juice is invigorating and slightly sweet. Inspired by a libation at a Dallas brunch mainstay and born out of the love of champagne, this cocktail is sure to be well-loved during hot months when a bubbly drink is equally refreshing and delicious!

Attending a morning tailgate and do not want to imbibe a mimosa? Make this fun twist on a classic breakfast cocktail! Bloody Beer combines your favorite beer with a Bloody Mary. Pour the Bloody Mary Mix into a glass, add hot sauce and black pepper, then top with a golden beer to complete this breakfast drink.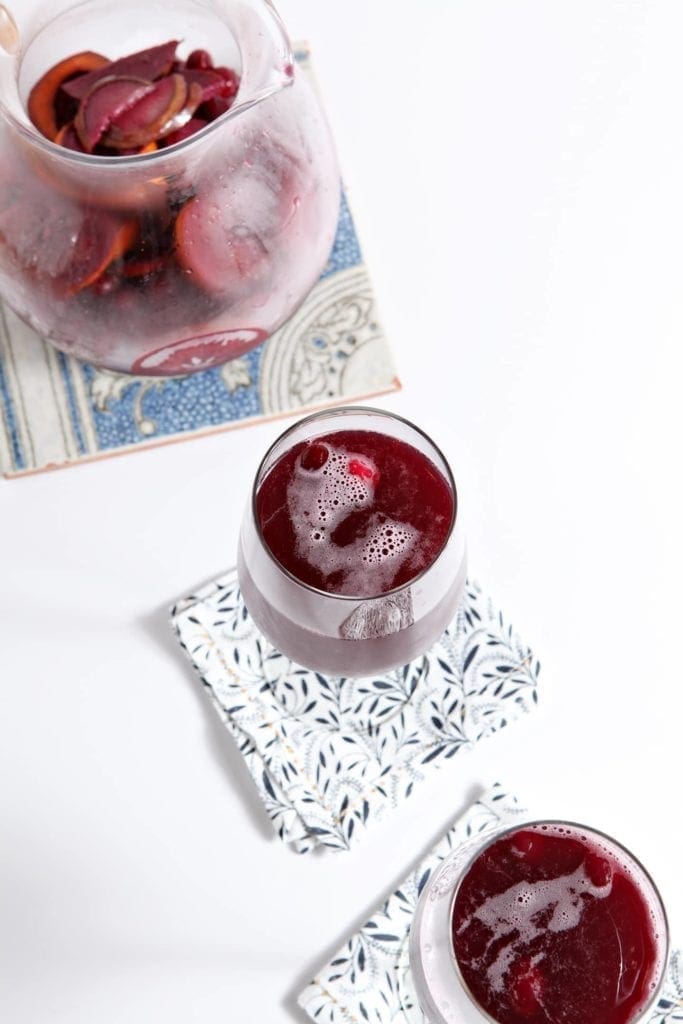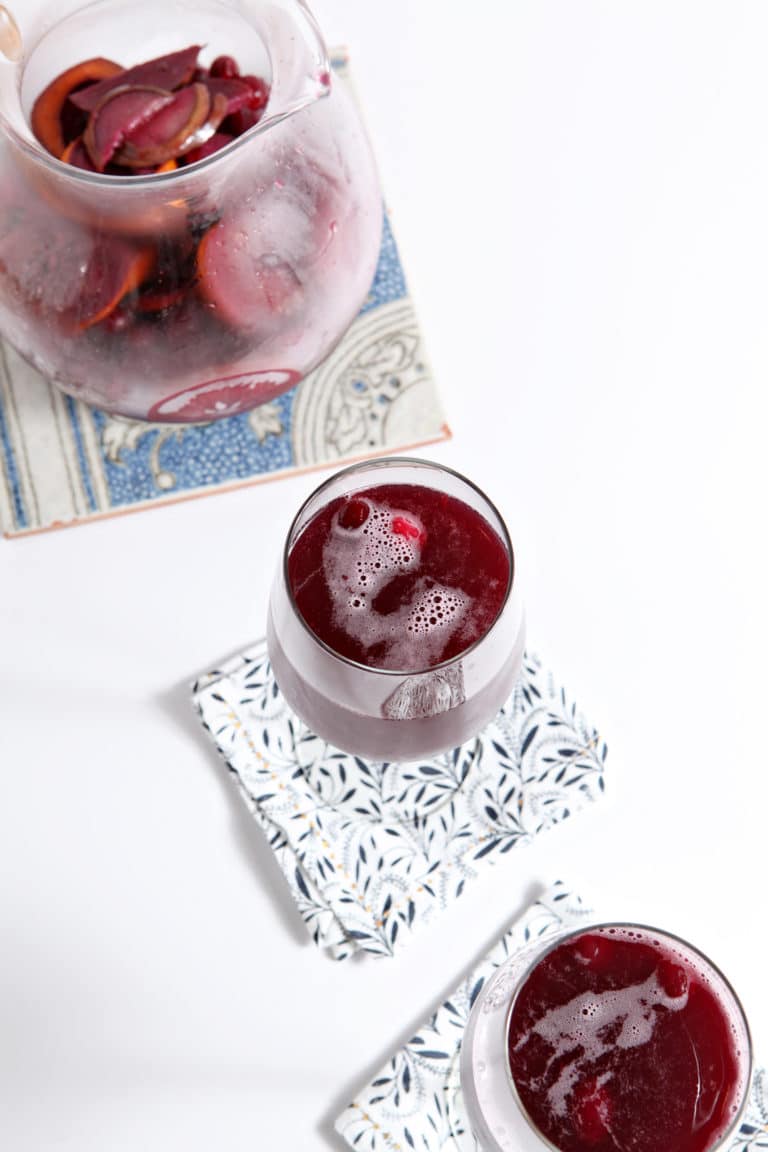 Winter sangria, chock full of orange and cranberry goodness, is combined with a favorite bottle of bubbly to create this cocktail. Spicy and not too sweet, Winter Sparkling Champagne Sangria is a perfect cold weather mixed drink!
Monthly Meal Plan: January Sweets

Hosting folks for a party this weekend? Bourbon Pecan Brownies are a unique dessert! Dense, chocolate and pecan-filled brownies sing with bourbon flavor and are perfect for a crowd.

Celebrate the season by baking delightfully simple, yet complex Toasted Pecan Shortbread Cookies. This twist on a classic is elevated by the addition of toasted pecans to the outside of the cookies. Cream butter, maple syrup and powdered sugar together before adding flour and salt to make the cookie dough. Coat the dough with toasted pecans, then chill. Slice and bake when ready for the perfectly crunchy, slightly sweet cookie.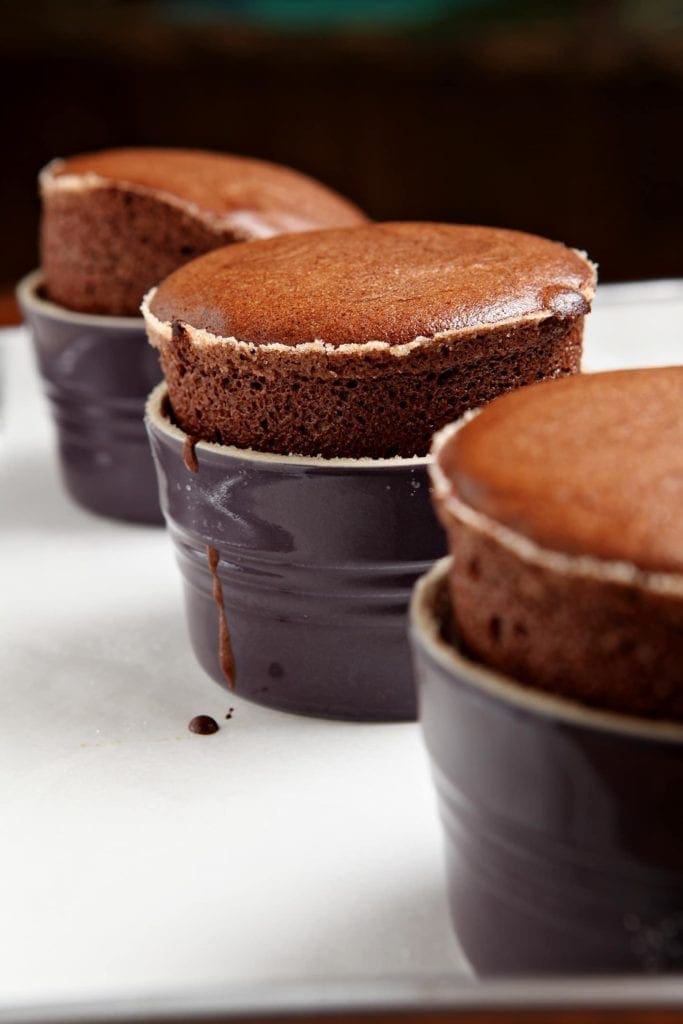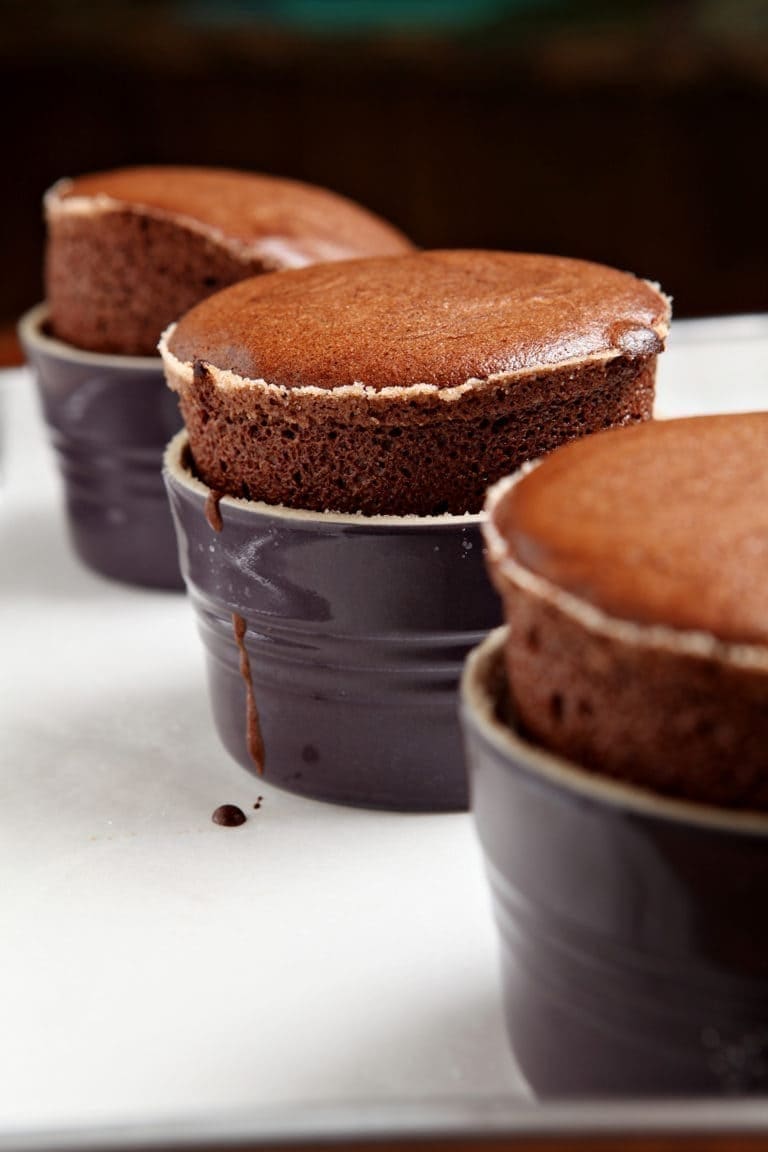 Celebrate wintery holidays and special evenings with these gooey, decadent and delicious Dark Chocolate Soufflés, which come together quickly and bake up nicely. The perfect dessert if you're holding a stay-at-home Valentine's celebration this year!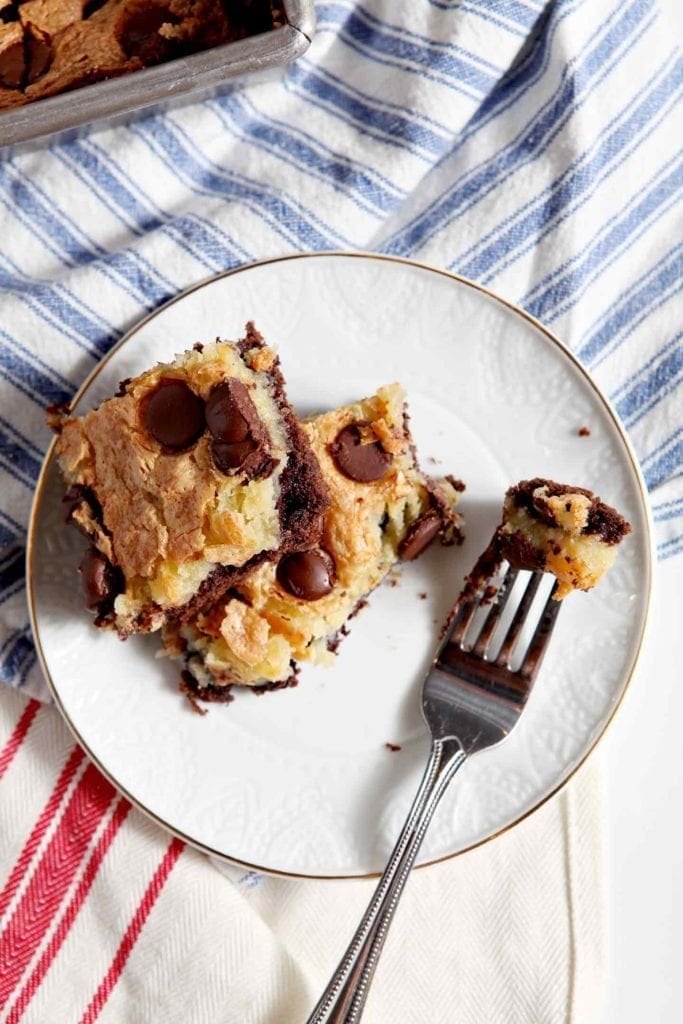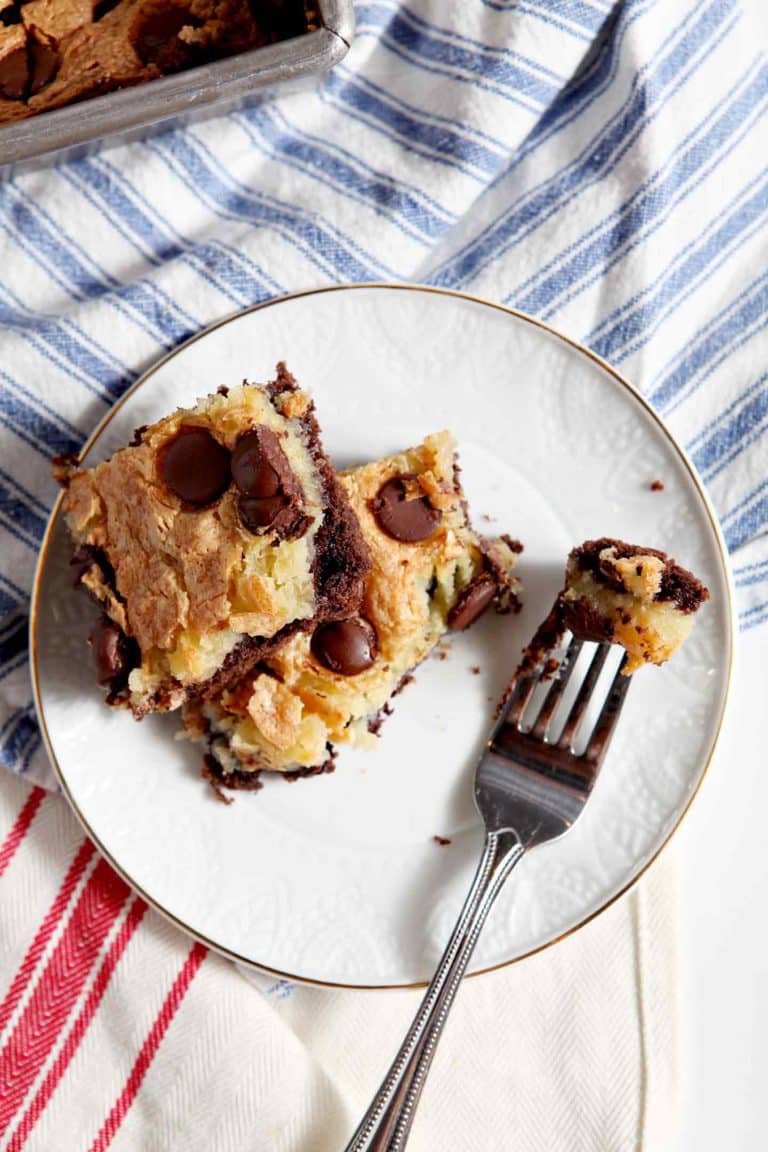 Chocolate-y, cheesecake-y dessert perfection, Ooey Gooey Bars are what you need to bake for dessert. These bars, lovingly referred to as "crack brownies" in my circle, make an amazing sweet treat! A brownie layer serves as the base and is topped with cheesecake, studded with dark chocolate chips. Bake to ooey gooey perfection, then slice and serve warm with a glass of milk. A word of warning: These Ooey Gooey Bars are decadent and addictive!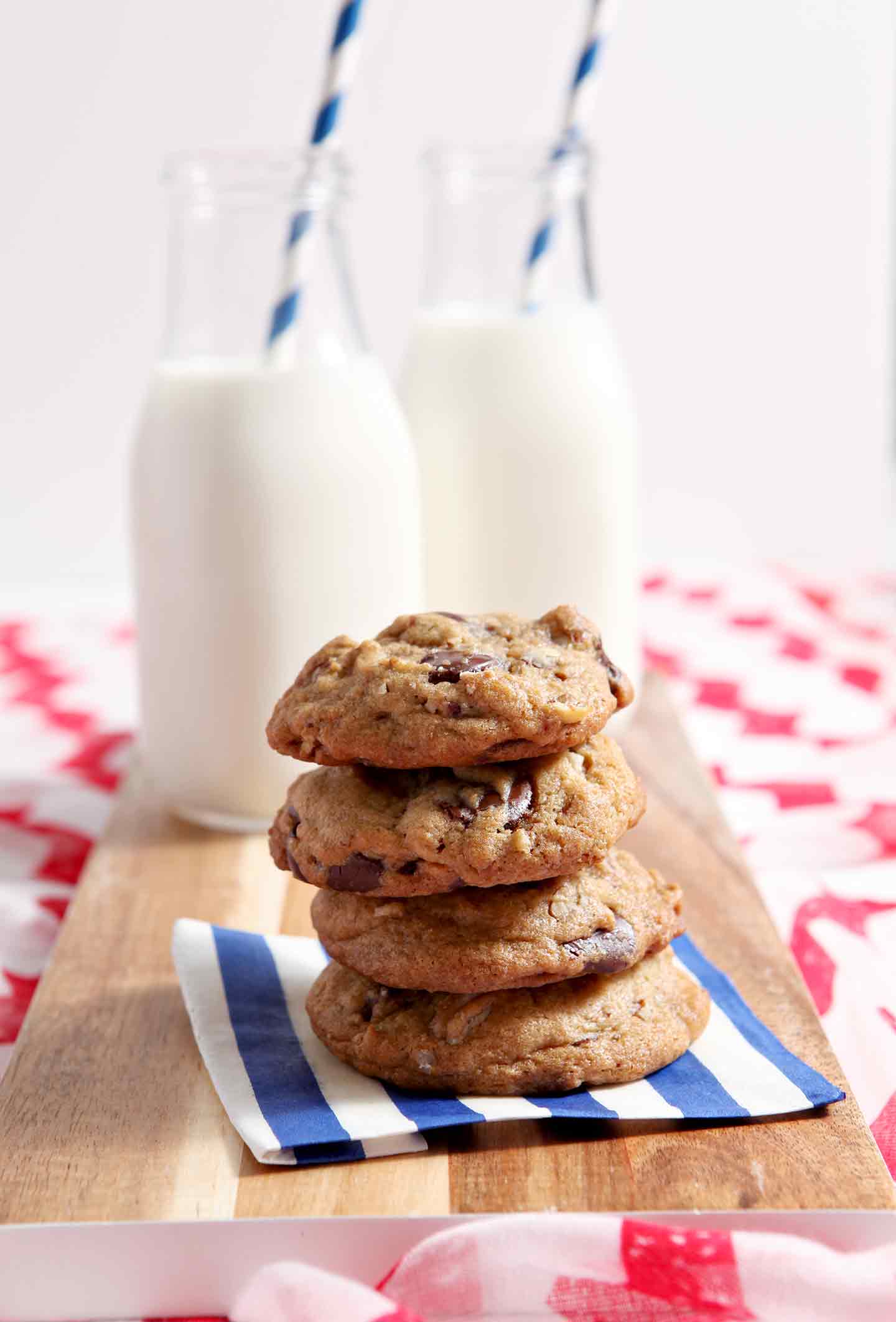 All-American Chocolate Chip Cookies are ooey, gooey and utterly delicious! This ultimate American sweet, which is studded with bittersweet chocolate chips and pecans, was adapted from a family friend's award-winning recipe. The batter comes together quickly and chills for at least an hour. When ready, scoop the dough onto a prepared baking sheet and bake until golden brown. Serve freshly baked, warm cookies with a cold glass of milk.
…
What are some of the foods you plan to enjoy this month?
Is there anything on this list that you would like to try?
Other monthly meal plans: February 2018 / March 2018 / April 2018 / May 2018 / June 2018 / July 2018 / August 2018 / September 2018 / October 2018 / November 2018 / December 2018