Monthly Meal Plan: 31 Recipes to Make in October 2018
Looking for recipes to make this October? Look no farther than this Monthly Meal Plan, which includes 31 recipes to make this month! Featuring family-friendly fall-flavored entrees, sweet and savory pumpkin dishes, Halloween goodness and more, this monthly recipe list is sure to offer something for everyone!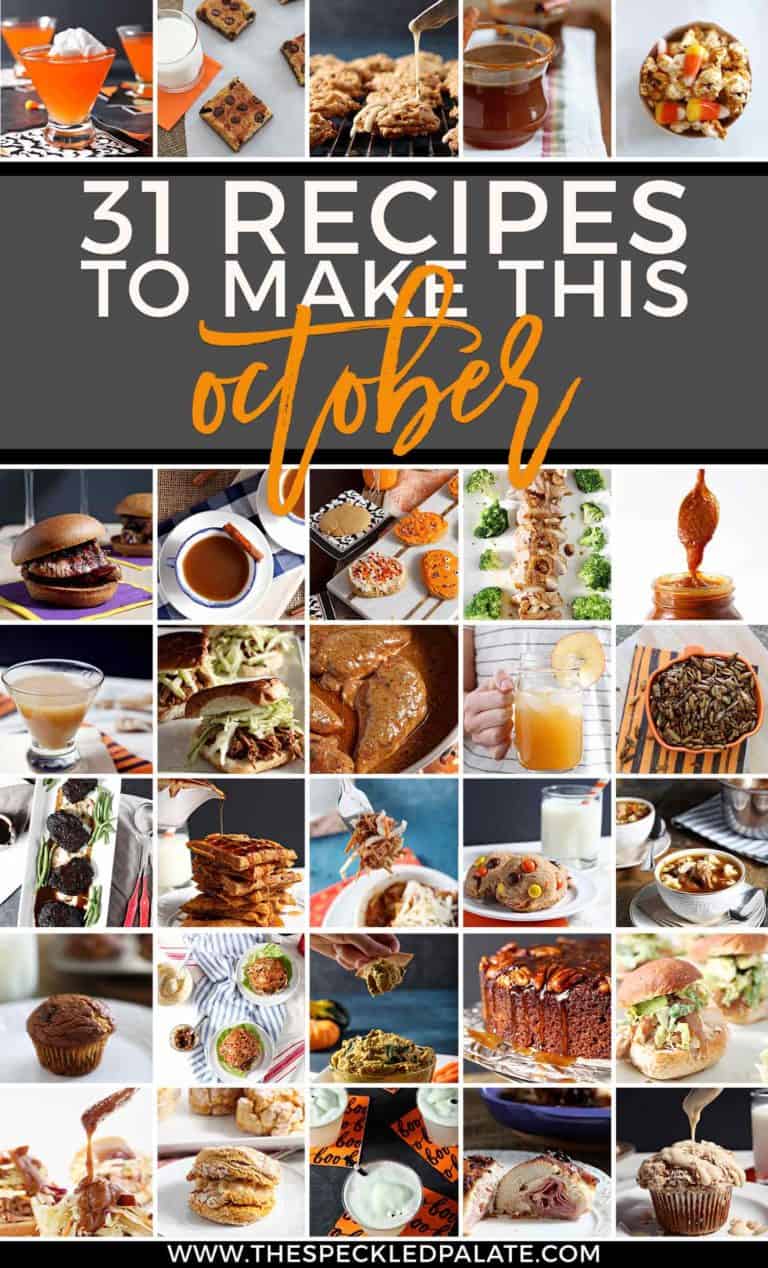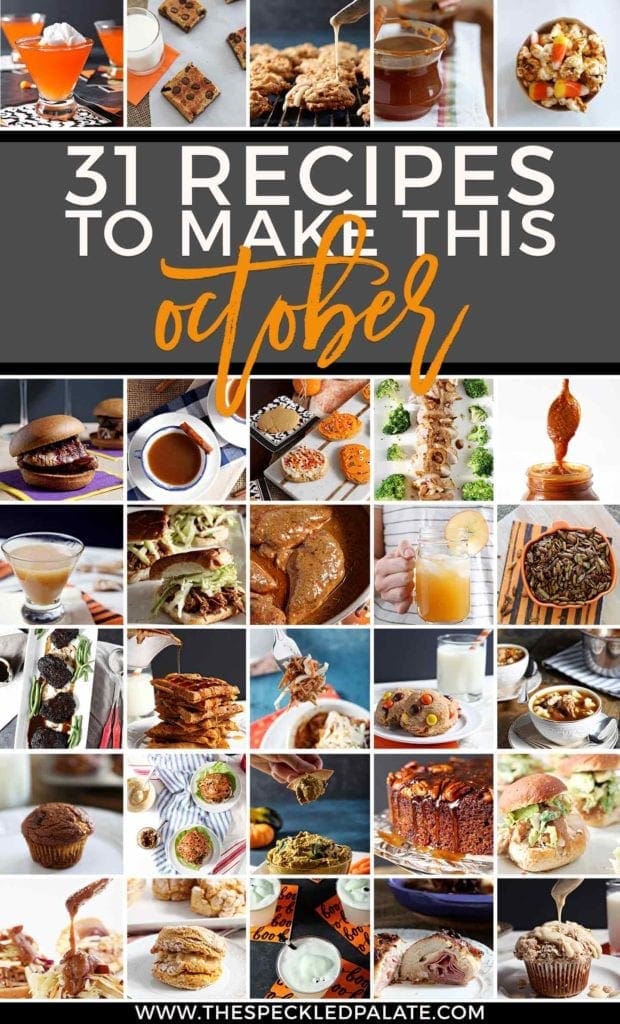 Happy October, everyone!
I don't know about y'all, but I'm really looking forward to cooler weather this month. Which should be showing up sometime in the near future. Maybe. Hopefully. (I hope it's feeling like fall wherever you live.)
This month, we're talking about Fall Dinners for the Whole Family, Sweet Pumpkin Dishes AND Savory Pumpkin Dishes, as well as Halloween Party Recipes.
Y'all ready to dive into this goodness? Let's do it!
Fall Dinners for the Whole Fam
Fall is the time to gather around the table with the family at the end of the day, and our family loves a good, comforting, filling meal. Below are some of our favorites!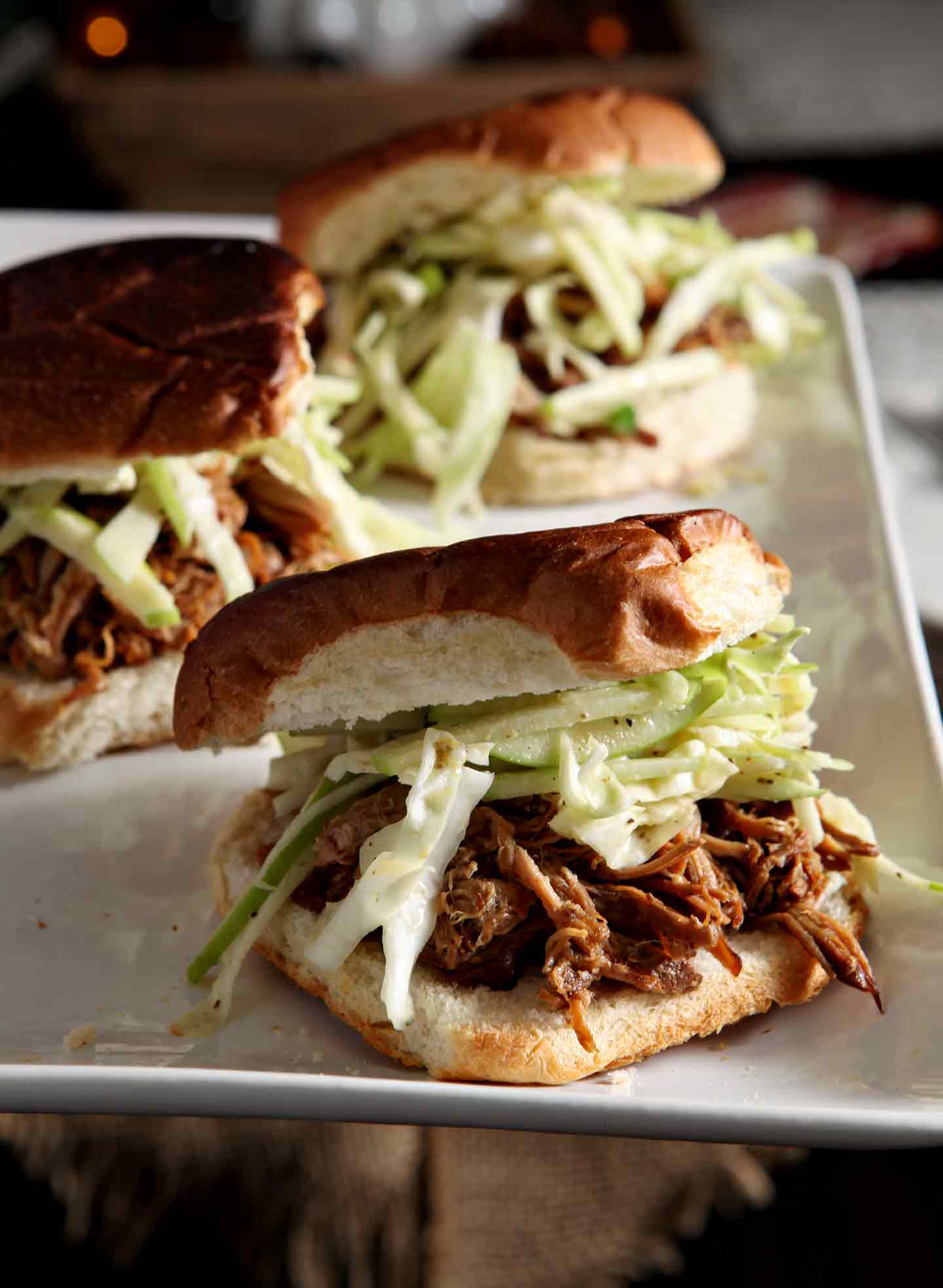 Pork and apples are an age-old combination… and this Apple Cider Pulled Pork with Apple Cabbage Slaw is the perfect entree for any fall get together or a simple weeknight meal. Pork butt simmers in spiced apple cider for hours in the slow cooker before shredding. Serve on a toasted bun with a tart apple cabbage coleslaw in a creamy yogurt sauce. Apple Cider Pulled Pork with Apple Cabbage Slaw makes a delicious meal for the whole family!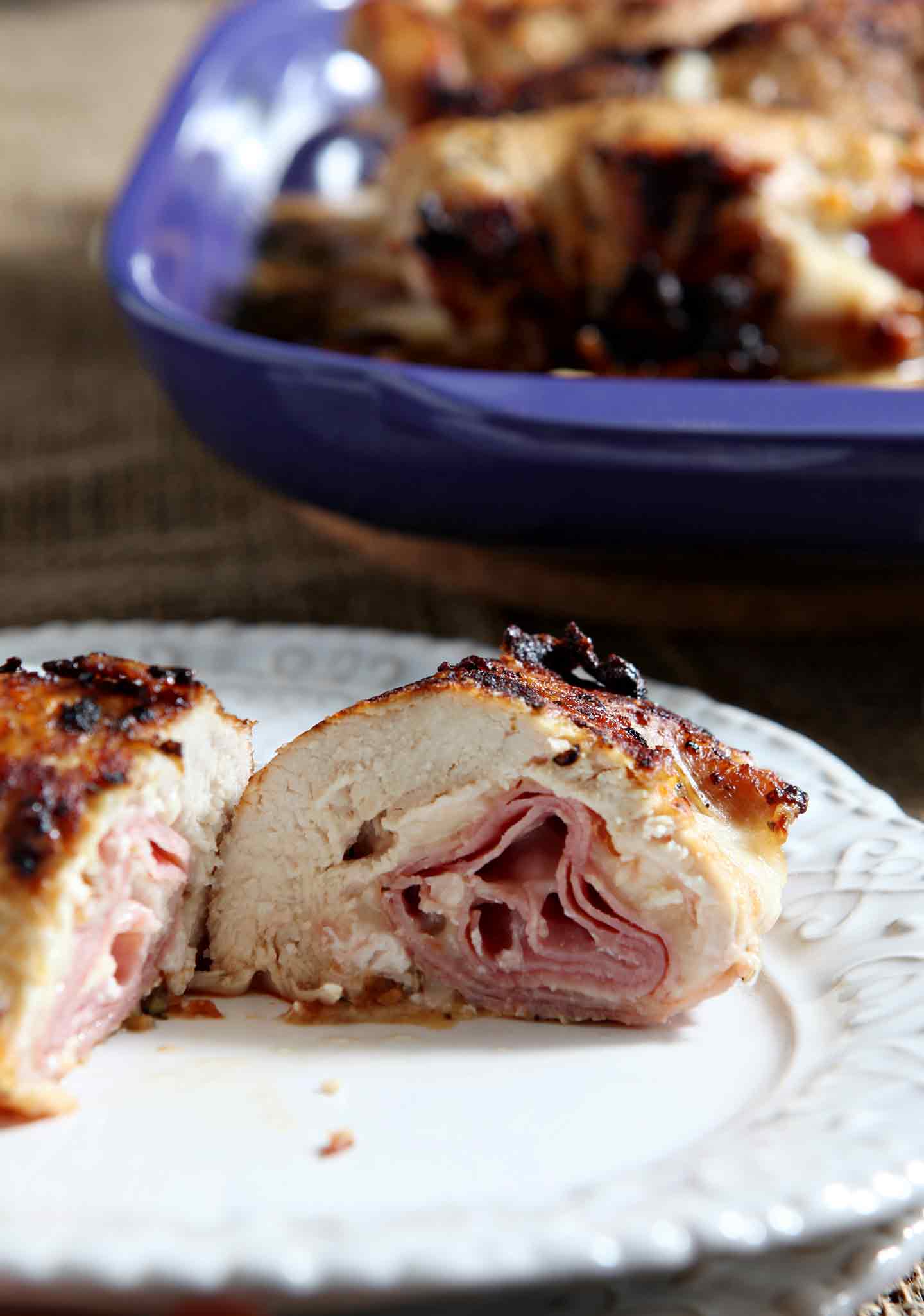 Looking for an easy weeknight meal? Make Chicken Cordon Bleu! It's easier than you think and can be ready in less than an hour. Pound the chicken breasts, then roll Honey Cured Ham and Swiss Cheese into them. Sear the chicken in a skillet until browned, then bake. Serve this family-friendly entree with a favorite veggie and watch as the whole family falls in love with this combination of flavors.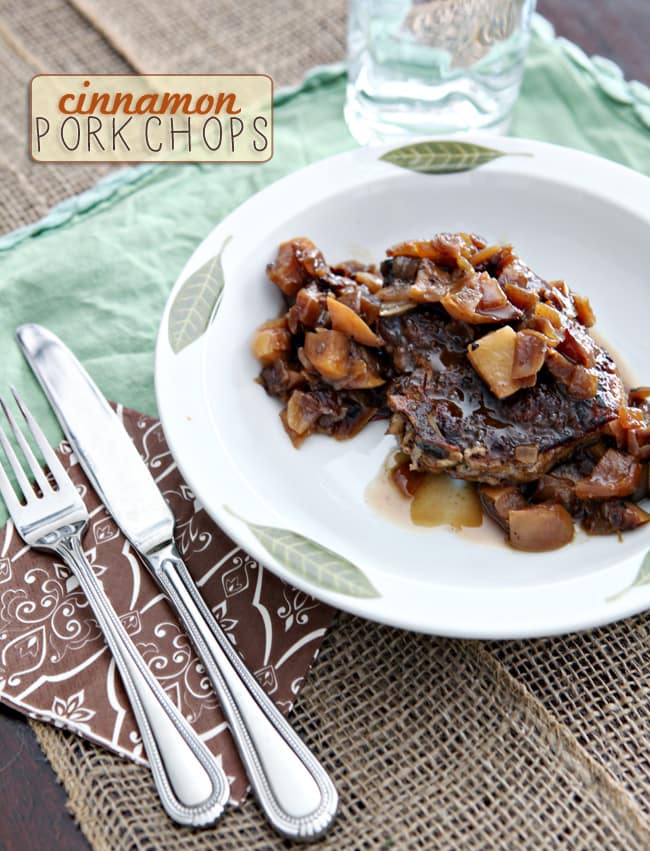 These seared Cinnamon Pork Chops are topped with sweet, caramelized apples and onions and served warm. This dish is the perfect kind of sweet and savory weeknight meal.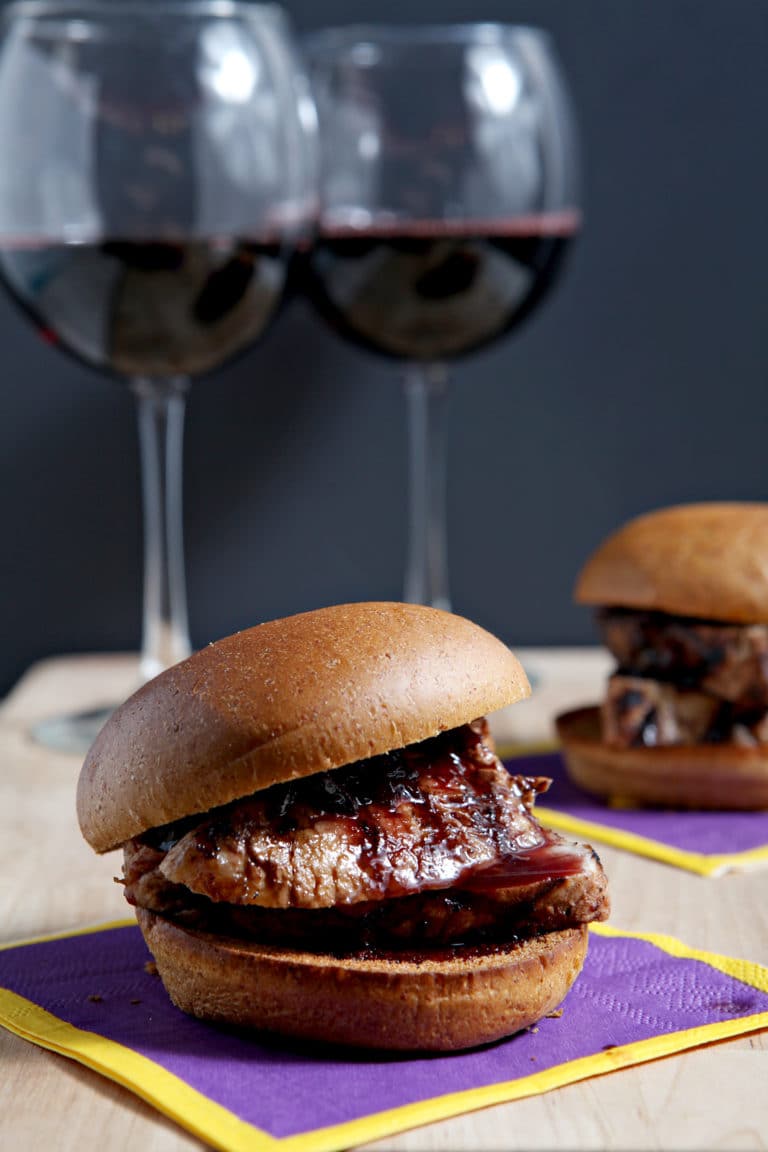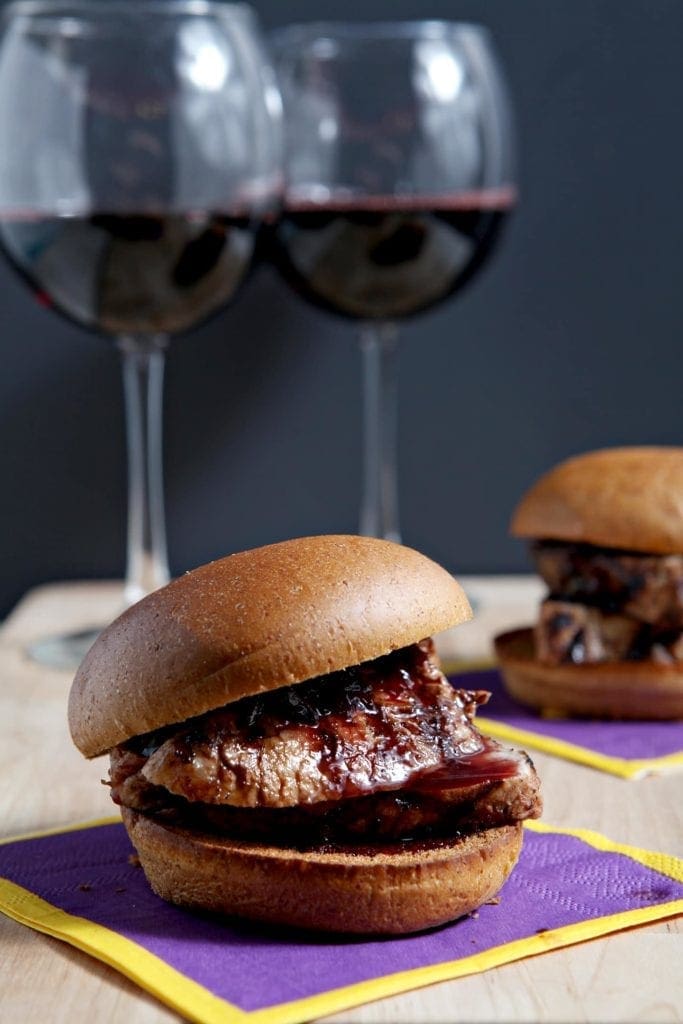 With football season kicking off this weekend, these Pork Tenderloin Sliders with a Red Wine Reduction Sauce are the perfect tailgate entree! Marinate the pork overnight in Black Box Merlot and a few other ingredients, then toss it on the grill at your tailgate party for a delicious sandwich! You can use the wine to make a delicious reduction to top the sliders.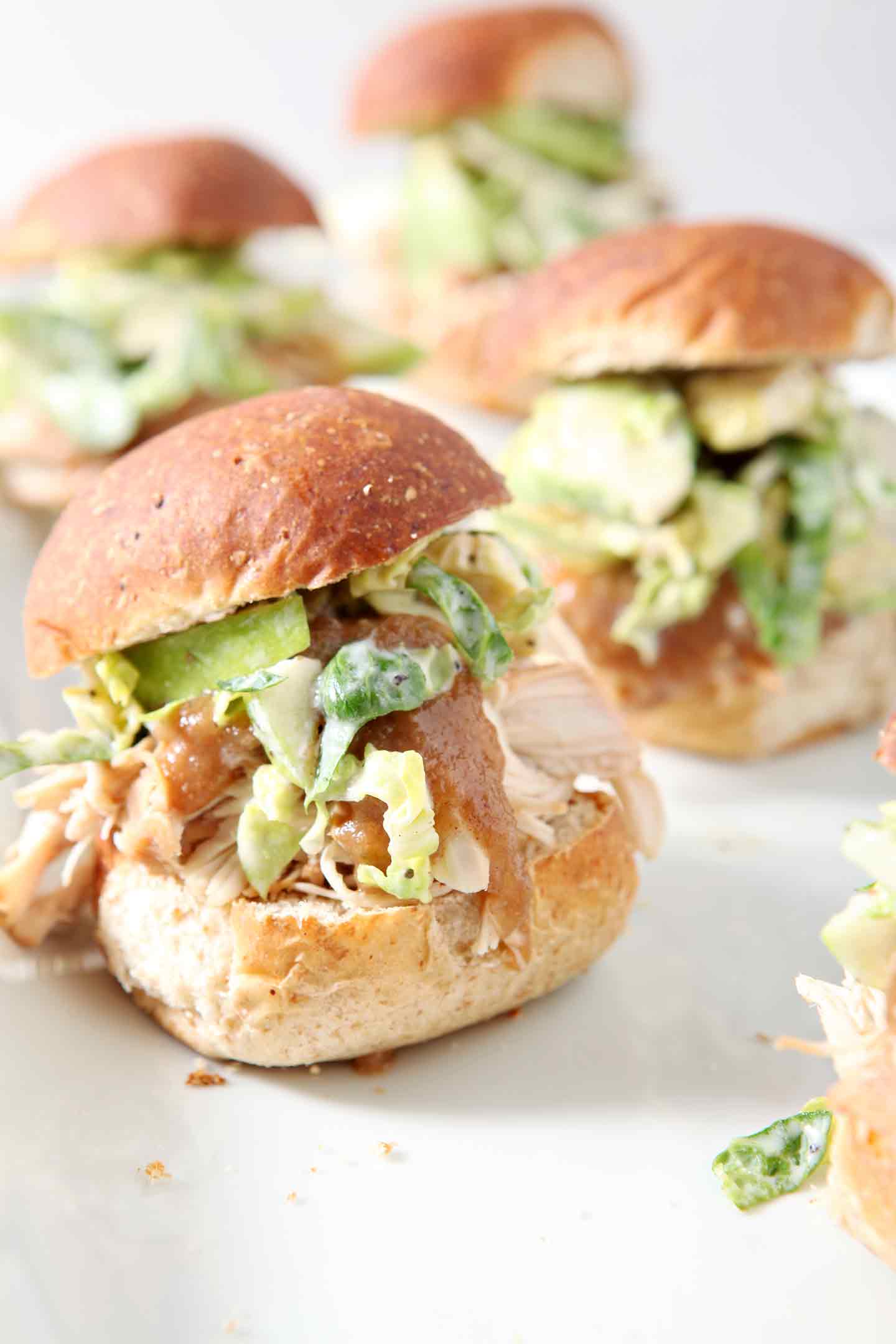 Serve Shredded Applesauce Chicken Sliders with Brussels Sprouts Apple Slaw at your next tailgate! These sliders can be made in advance for an easy entertaining the day of. Chicken slow cooks with applesauce and other fall flavors before it's shredded. Reduce the cooking liquid to be used as a sauce, then shred Brussels sprouts and apples and toss in a yogurt-apple juice dressing. Serve the sliders on buns, and enjoy! Gameday never tasted so good!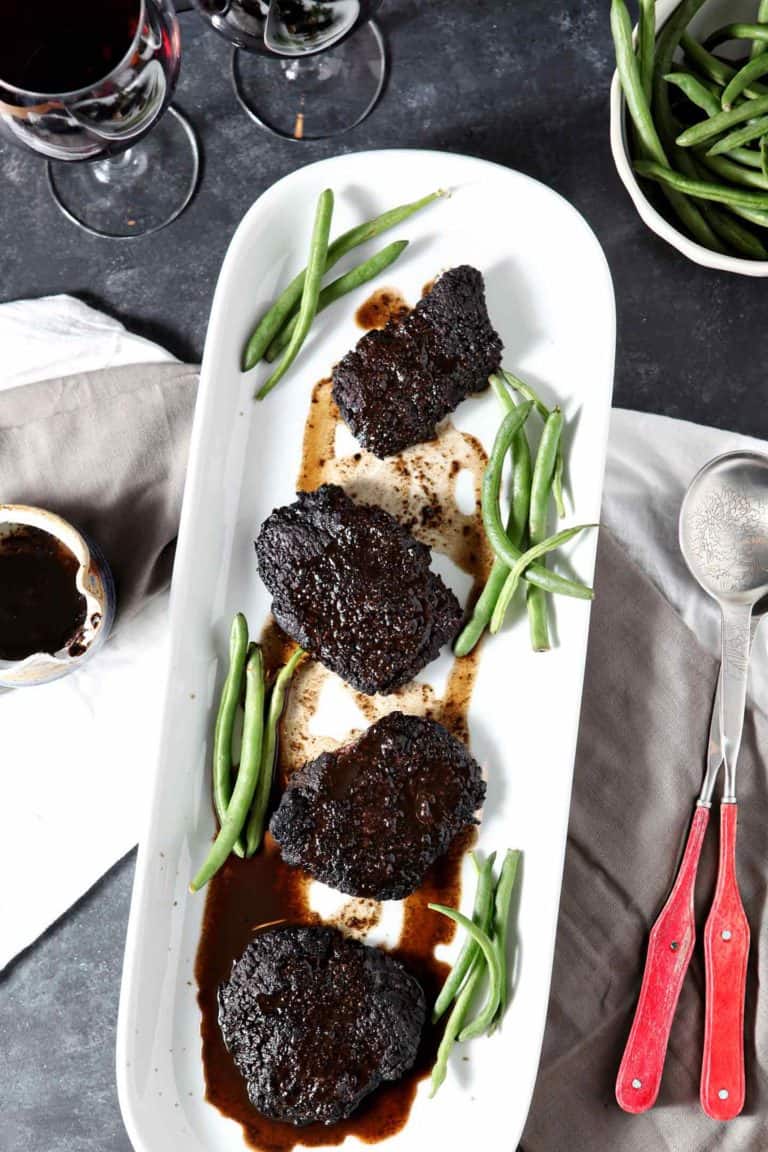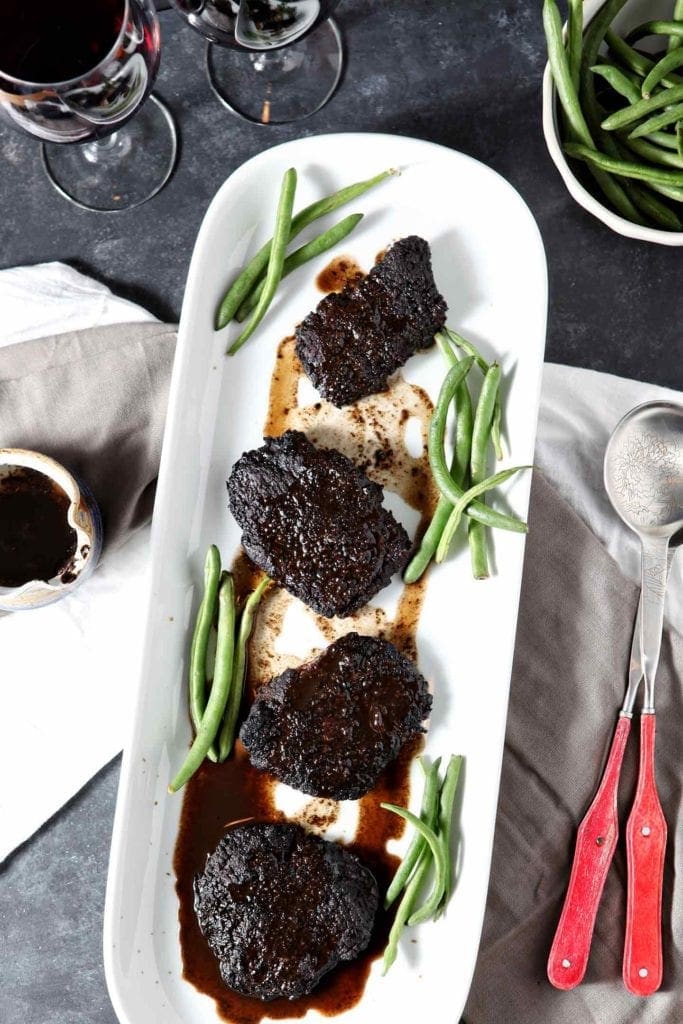 Need an easy, flavorful meal that the whole family will enjoy? Make Baked Steak, a favorite entree that requires very little hands-on time! Sear the cubed beef in a pan, then simmer in broth on the stovetop for a few hours until done. By dinner time, the meat should fall apart it's so tender. The pan gravy is utterly delicious, too, adding a wonderful drizzle to the entree! Serve with rice and a favorite green side for an easy weeknight meal!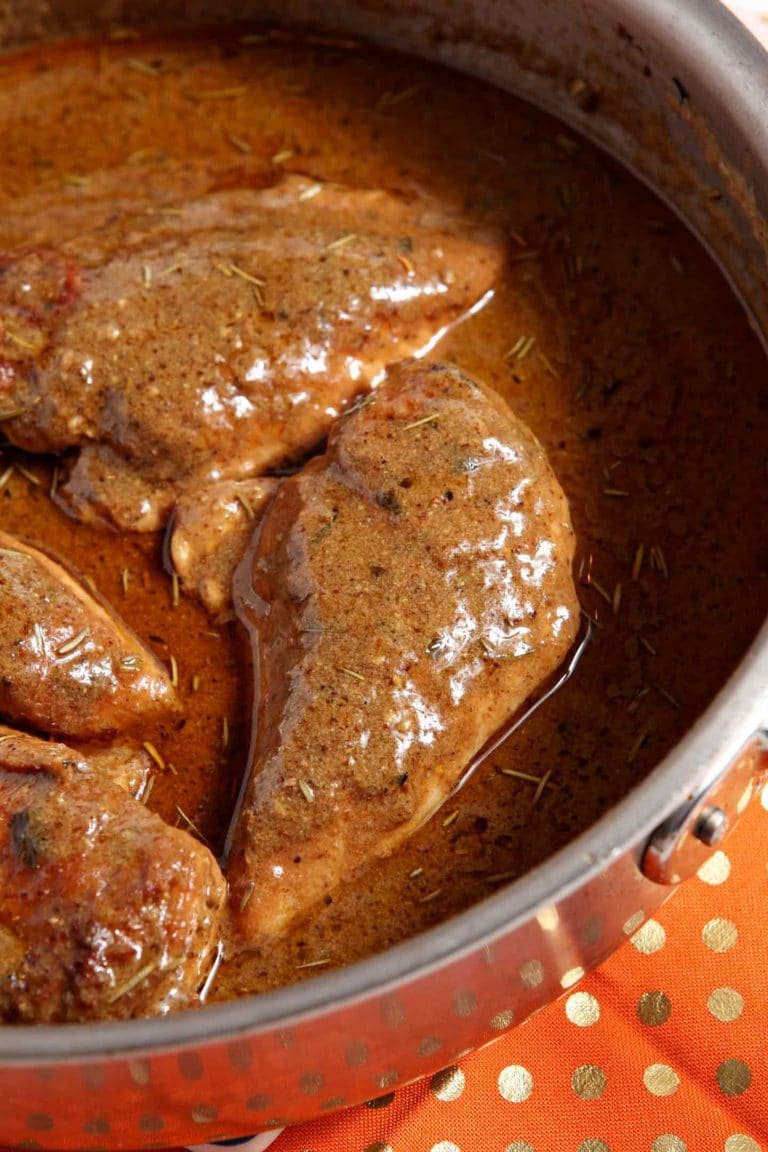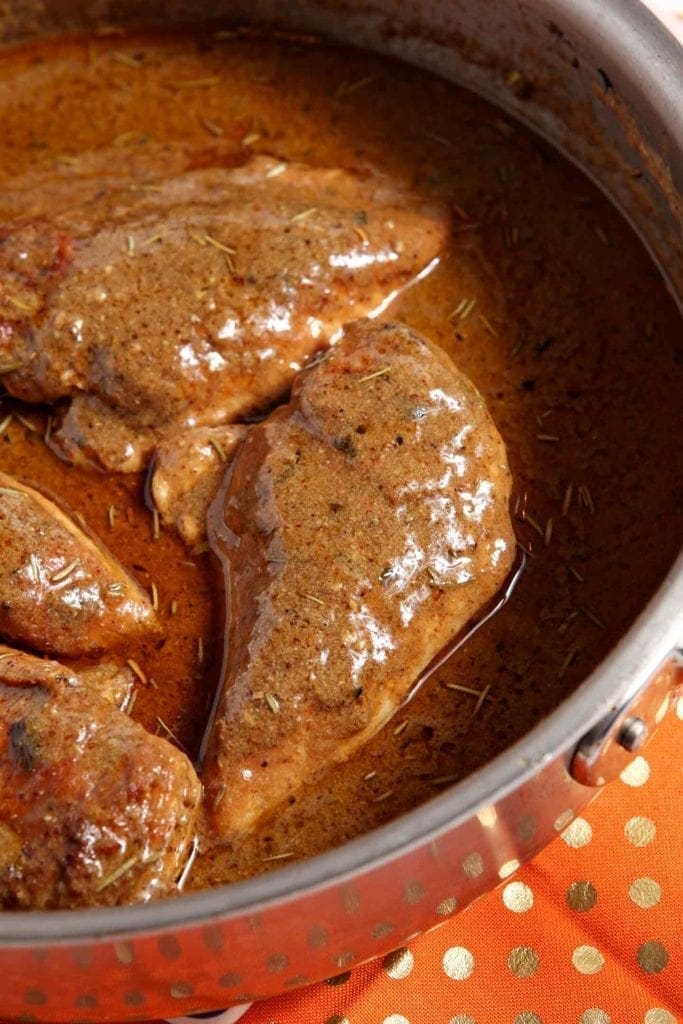 Mustard Chicken is an entree the whole family will love, and it can be on the table in less than 45 minutes. Chicken breasts are seasoned and seared, then a creamy mustard sauce is created using the pan drippings, chicken stock, milk, Dijon mustard and dried herbs. Pop the chicken back into the sauce and simmer until ready. Serve the chicken over rice and smother with the decadent mustard sauce. Enjoy with bread so you can sop up more sauce!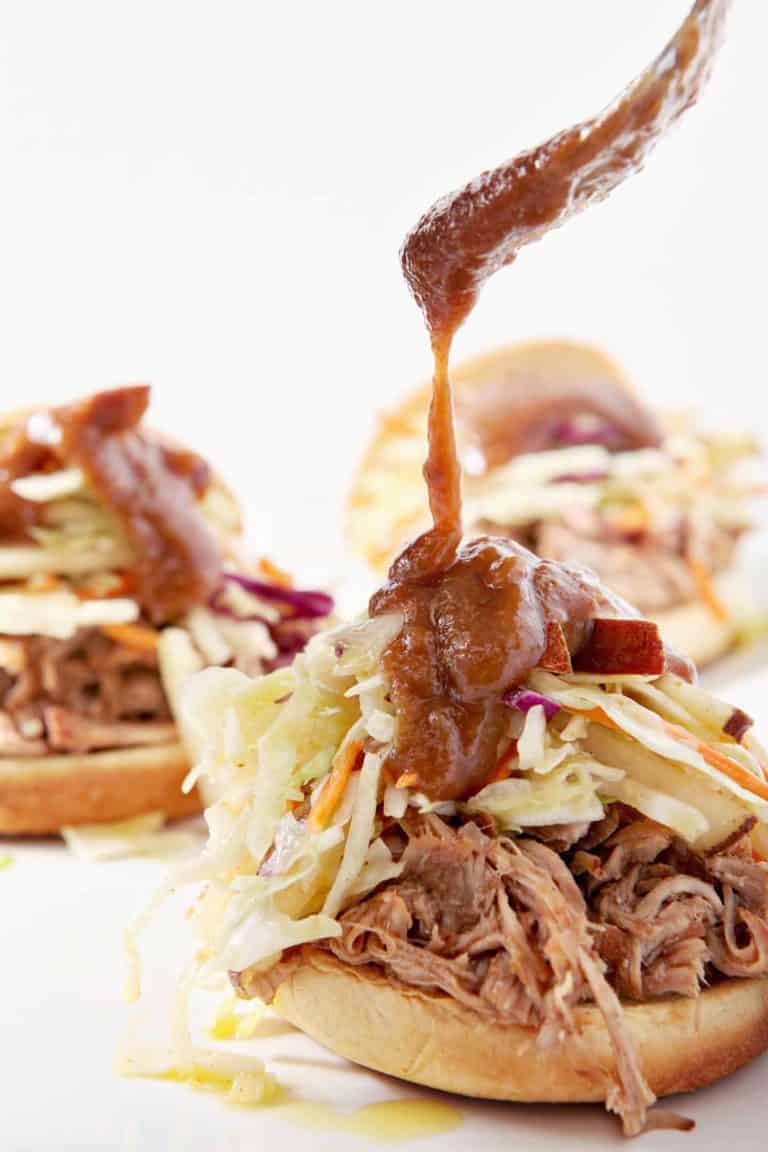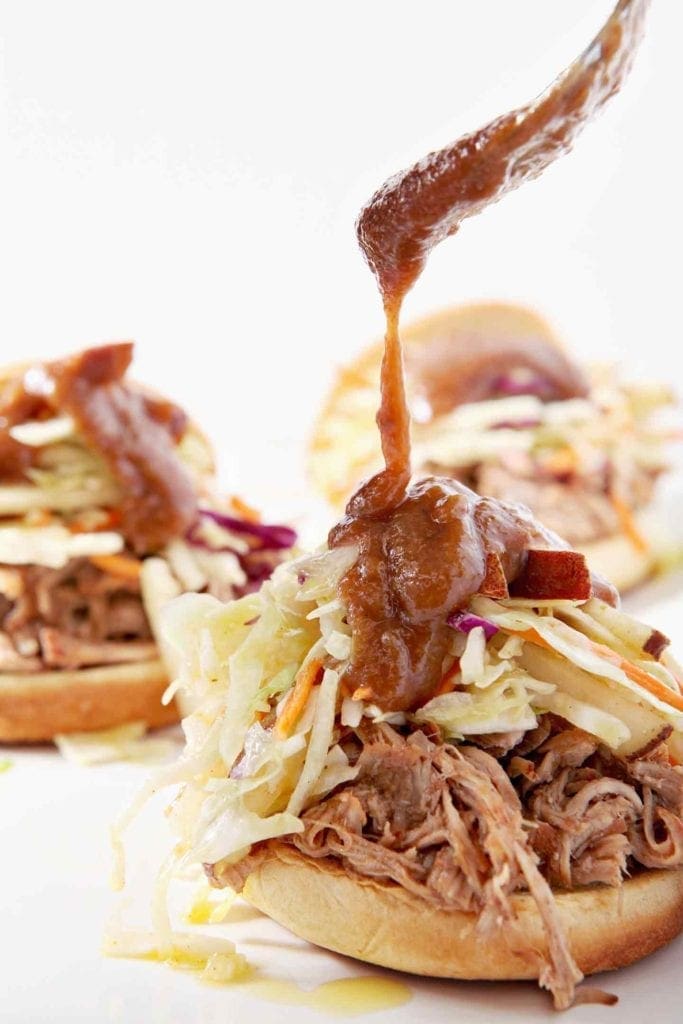 Preparing for a fall gathering? No matter the occasion, Pear BBQ Pulled Pork with Pear Slaw is a delicious dish! This pulled pork cooks in the Instant Pot and serves a crowd. First, a make homemade PEAR barbecue sauce, and cook the pork. Next, toss together pear coleslaw, and serve together. Whether you're serving dinner for the family or hosting a gameday gathering, Pear BBQ Pulled Pork with Pear Slaw will become a seasonal favorite! #ad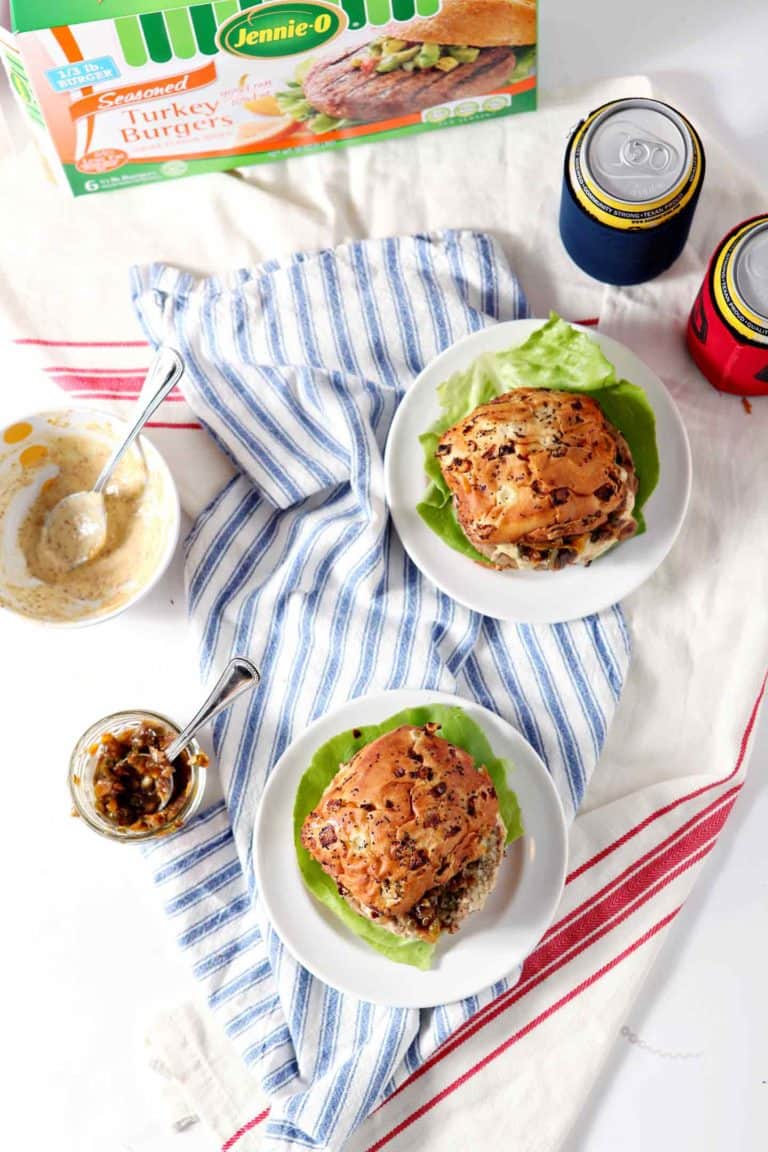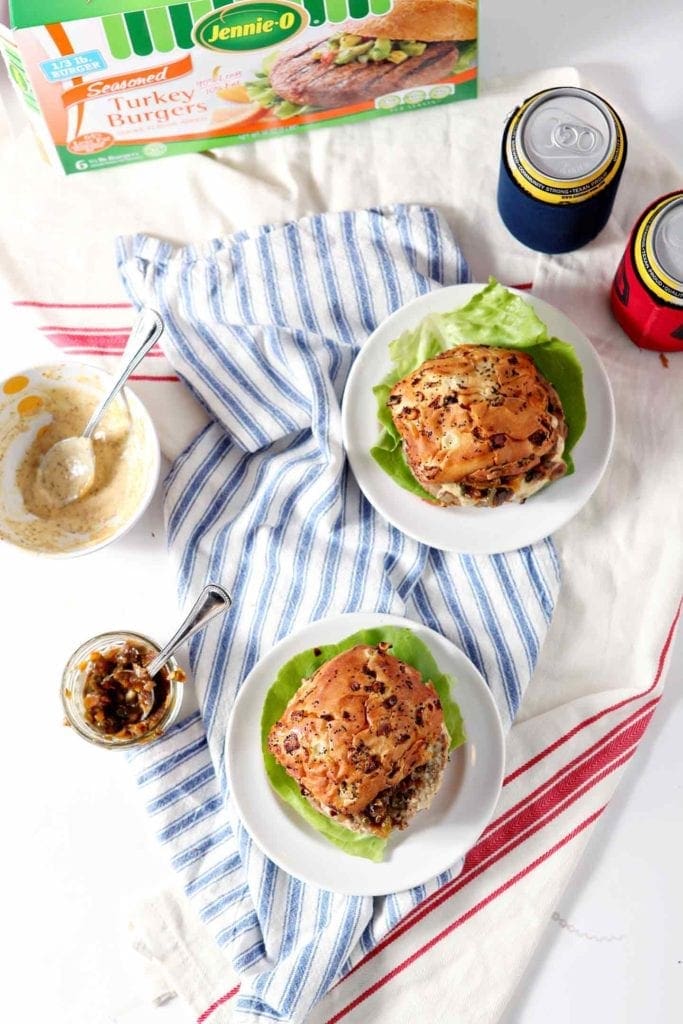 Fire up the grill and serve Louisiana Cajun Turkey Burgers with Étouffée Relish and Creamy Cajun Sauce this weekend! This spicy twist on a classic turkey burger makes for a delicious entree at barbecues or grill outs. Topped with purple, green and gold Étouffée Relish and a Creamy Cajun Sauce for sweet-spicy Louisiana flair, these burgers are sure to be a summertime hit!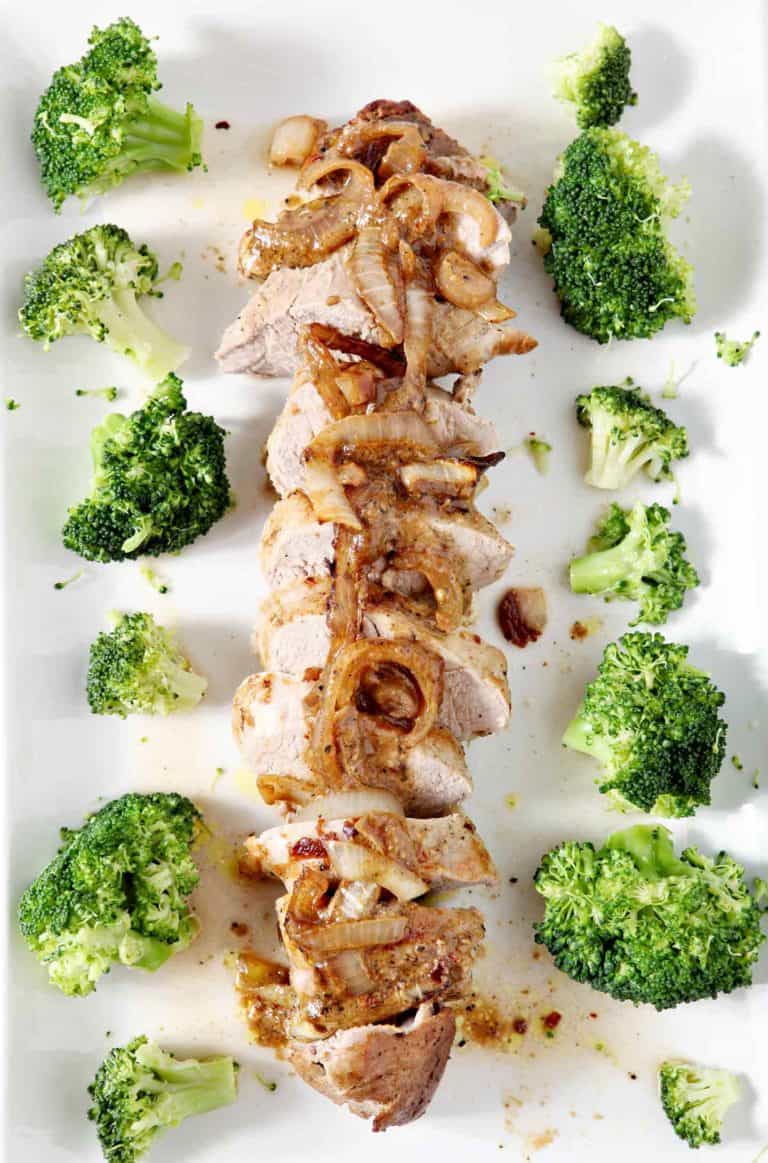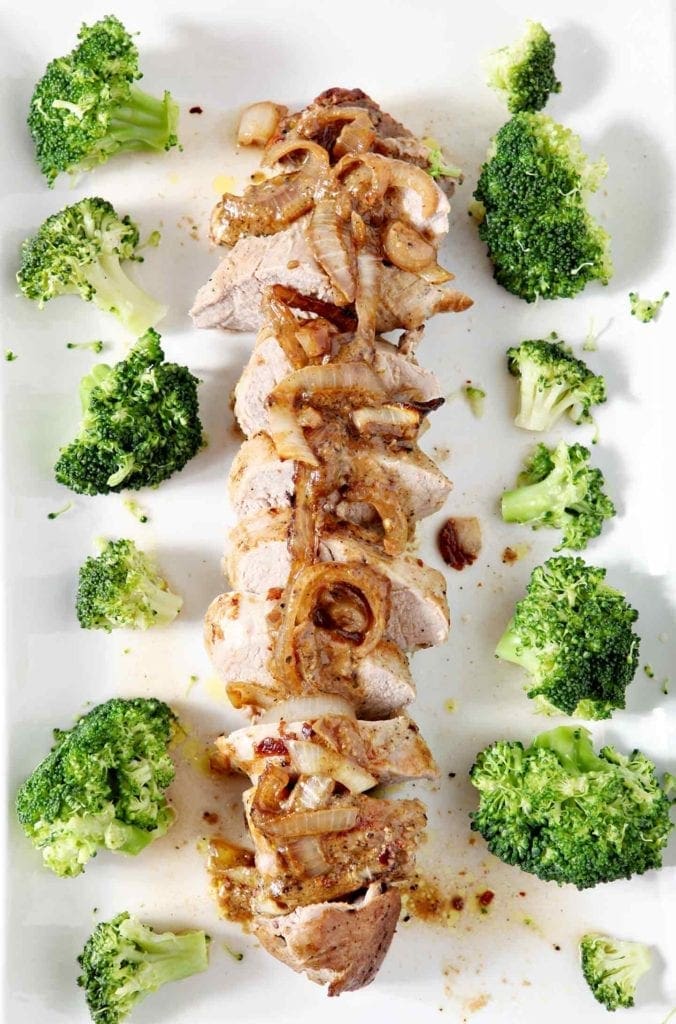 A family favorite, Leigh's Everything-but-the-Kitchen-Sink Pork Tenderloin bakes up to make a DELICIOUS meal any time of the year! This pork tenderloin first marinates in a mixture of olive oil, Worcestershire sauce, soy sauce, grainy mustard, hot sauce, apple cider vinegar and various spices to create a juicy and tender protein before baking. Leigh's Everything-but-the-Kitchen-Sink Pork Tenderloin is bound to become a household favorite!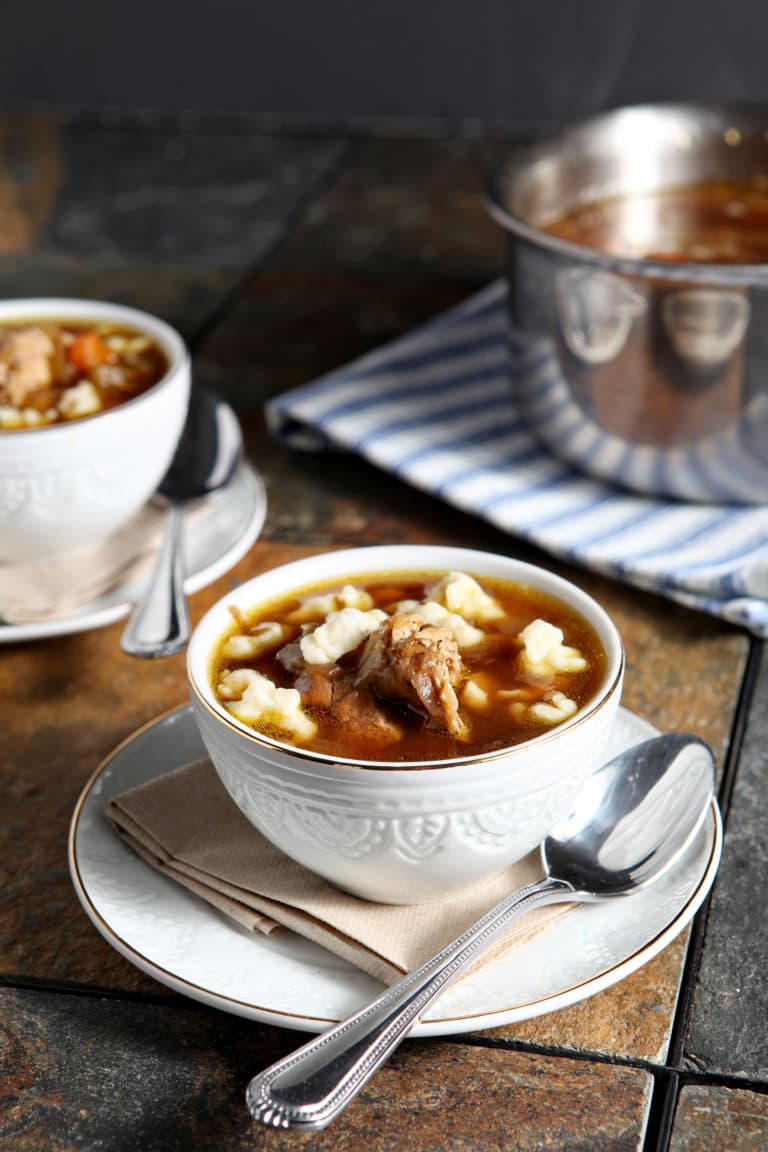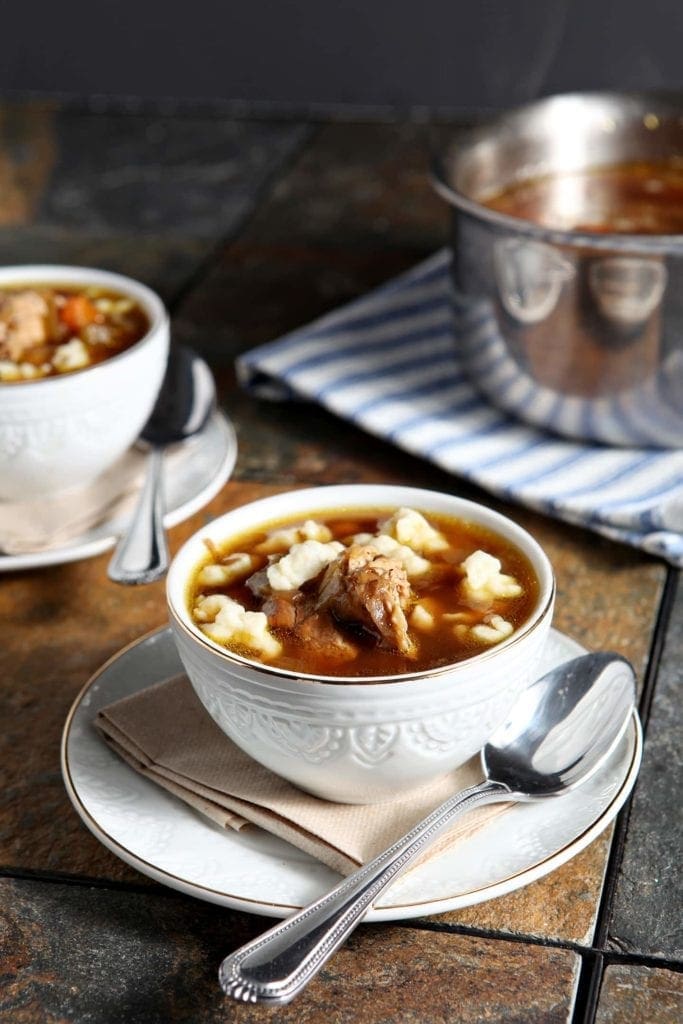 Chicken Spaetzle Soup is a perfect comfort food for a chilly day. Classic chicken soup with onions, carrots and celery is filled with spaetzle, German egg noodles, to create this comforting twist on a classic.
All Things Pumpkin: Sweet
'Tis the season for all things PUMPKIN! Below are some of our favorite sweet pumpkin treats to enjoy as the season of pumpkin (and pumpkin spice) continue.
'Tis the season for pumpkin spiced everything! These flavorful Pumpkin Spice Sugar Cookies make the perfect seasonal sweet! This cookie dough, which features pumpkin puree, is soft baked and perfectly spiced. Seasoned with cinnamon, ground ginger and allspice, the delicious pumpkin flavor of these cookies sings. Treat guests to two options of frostings – brown butter and traditional – and these cookies are sure to fly off the table this fall.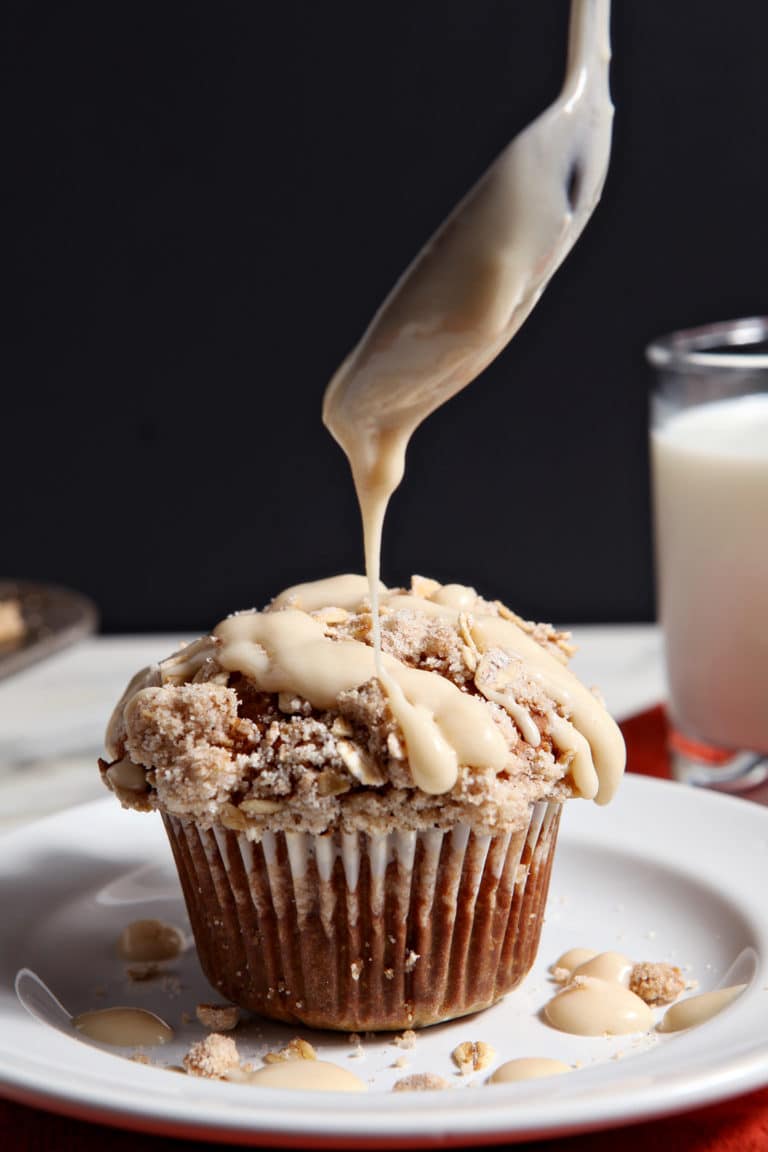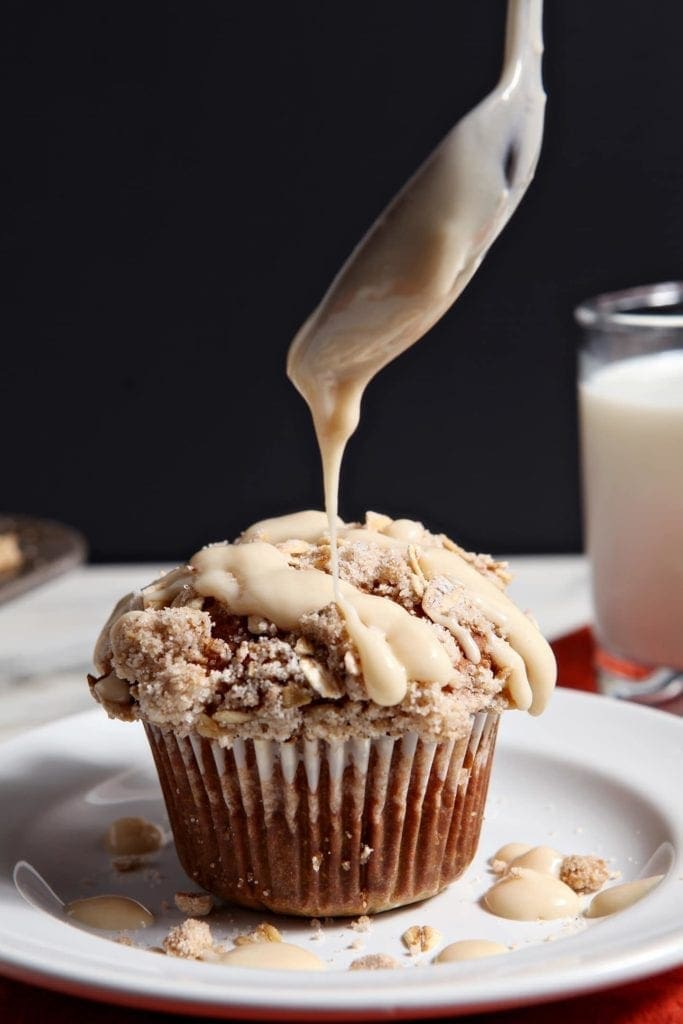 Pumpkin season is in full-swing, and we should celebrate with these decadent Pumpkin Brown Butter Streusel Muffins with Maple Cream Cheese Glaze. The muffins are fluffy, the streusel is crumbly and the glaze is tart, culminating in a delicious breakfast or brunch confection that everyone is bound to adore.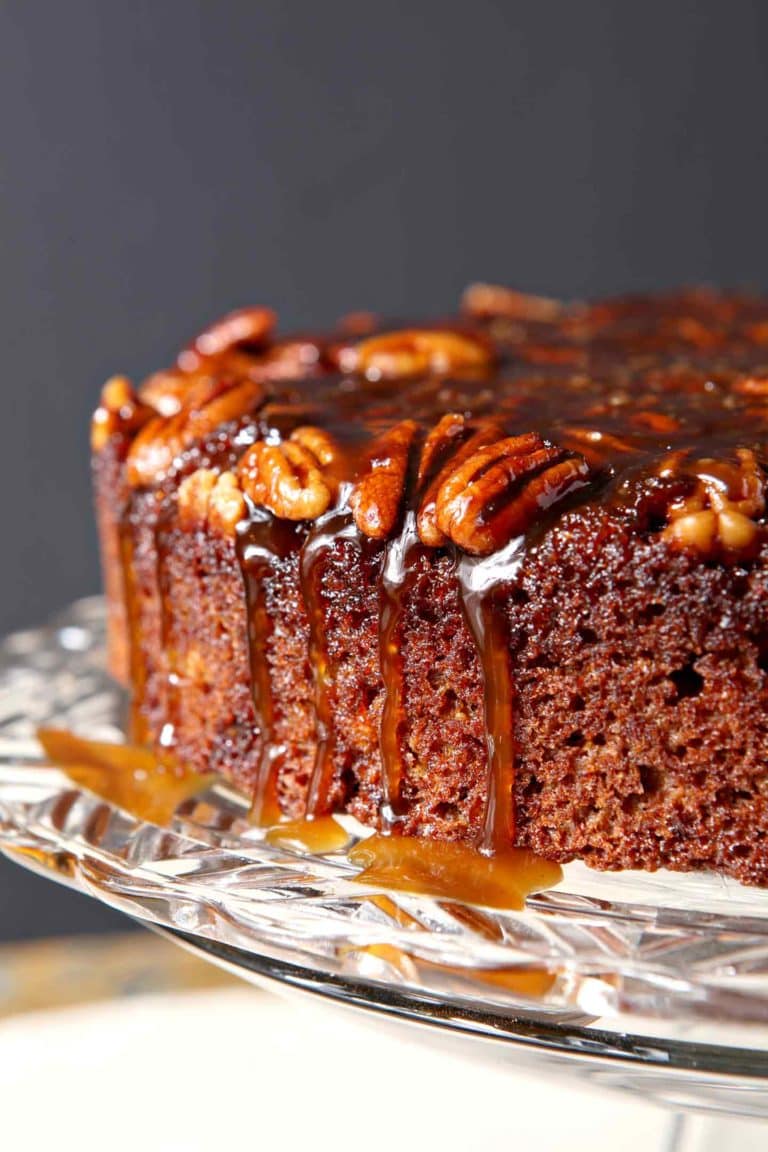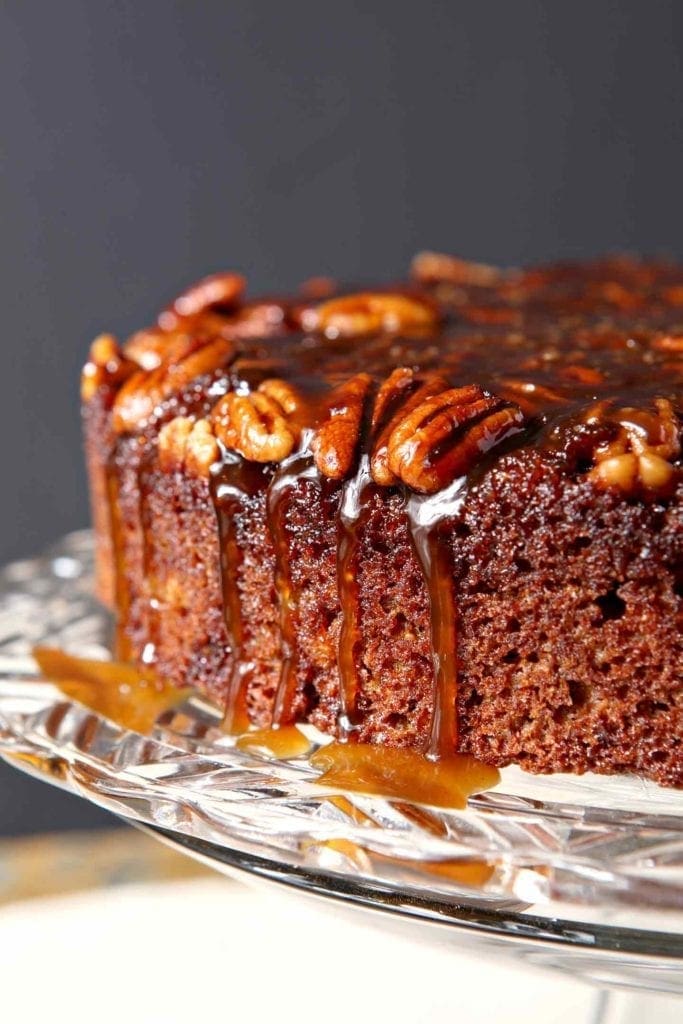 Combine two favorite fall flavors to make the ULTIMATE Thanksgiving dessert: Praline Pumpkin Upside Down Cake! Bourbon pralines create the base/top of this cake, then pecans add decoration. Once the pecans are in place, pour the thick pumpkin cake batter into the cake pan, and bake! Flip after removing from the oven and free from the pan, then drizzle with bourbon caramel sauce for the finishing touch. This cake is decadently moist and perfect!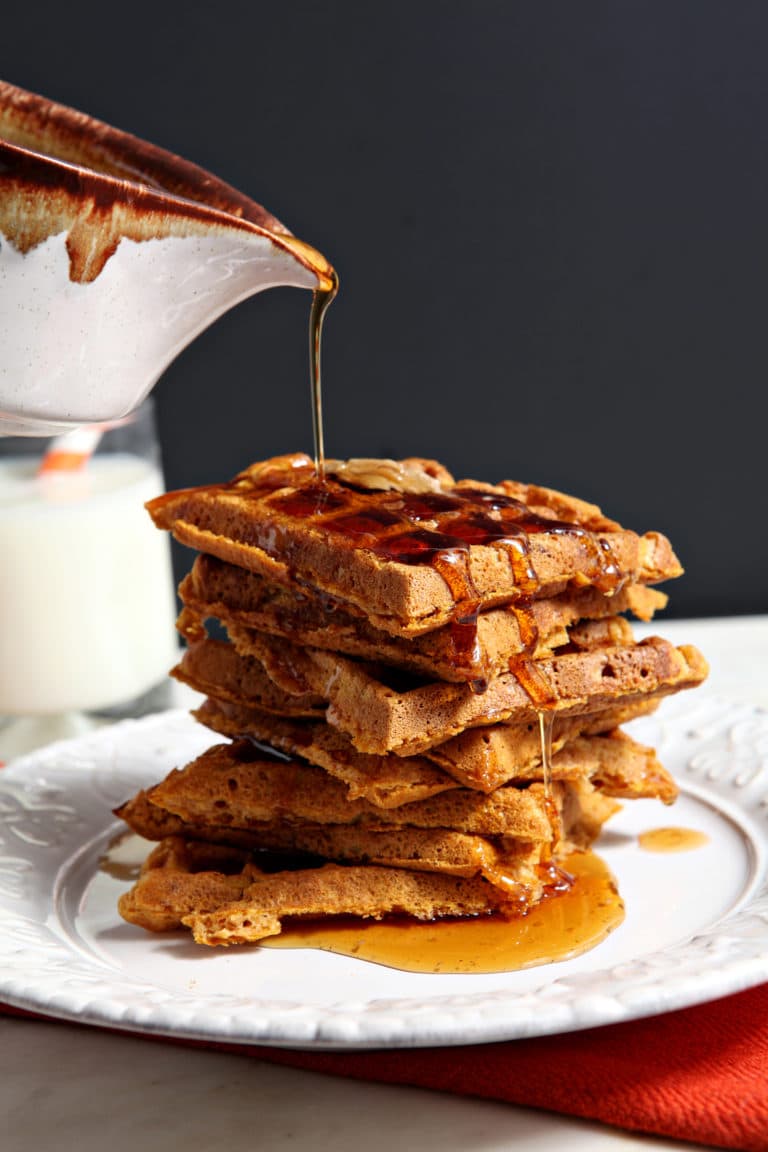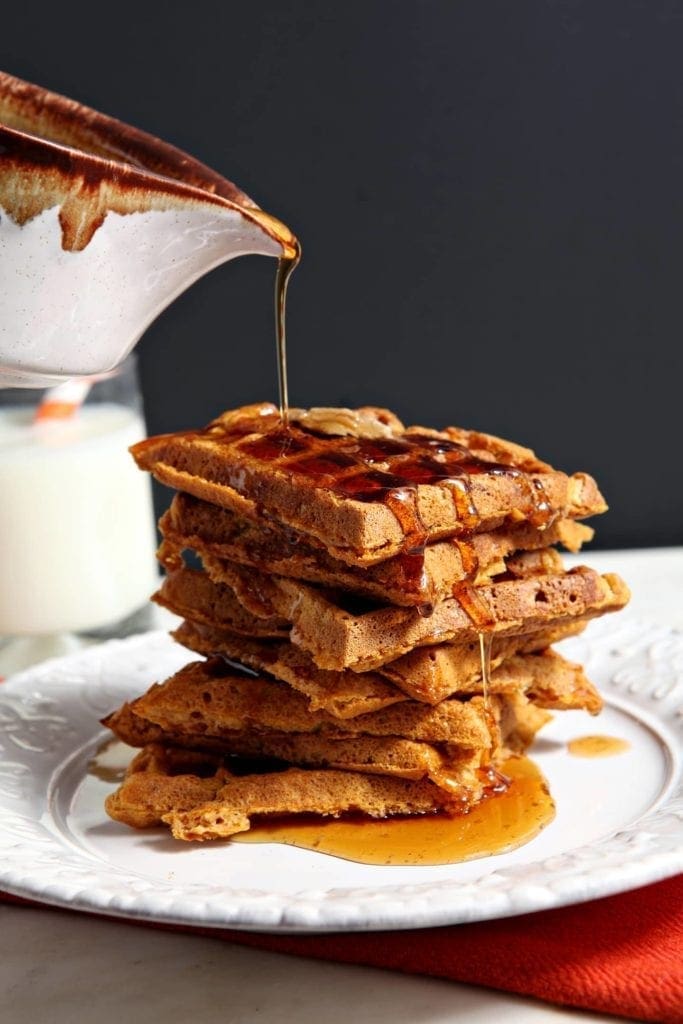 Fluffy pumpkin waffles are the perfect breakfast treat for fall. Topped with a stellar cinnamon maple syrup, these waffles are sure to be a family favorite.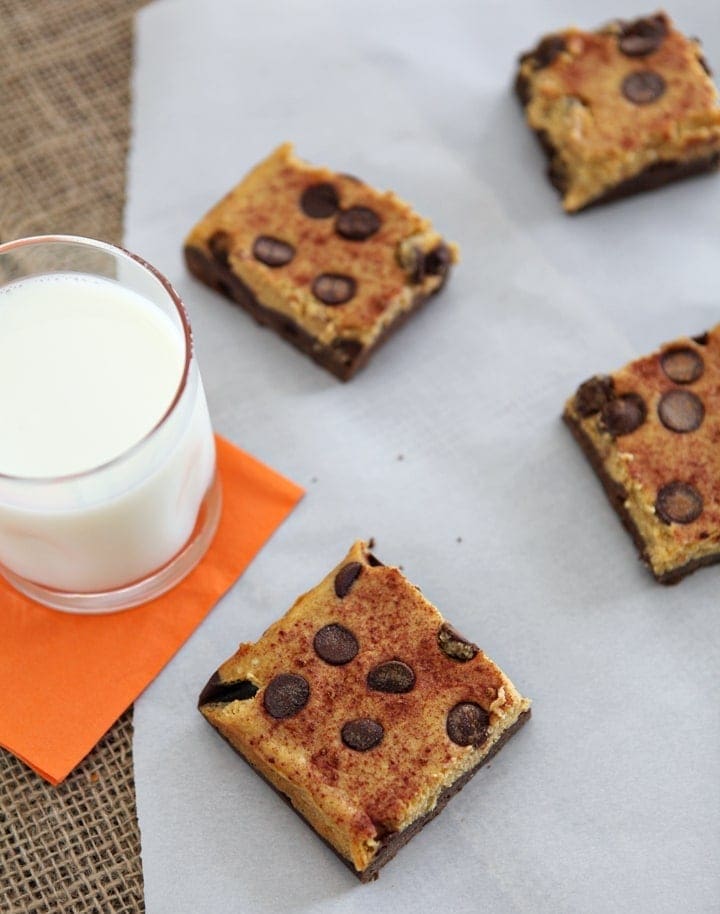 This decadent and fulfilling seasonal treat combines two much-loved favorites: cheesecake and brownies. And then we upped the autumn factor by creating a gorgeously smooth pumpkin cheesecake on top of a dense, rich dark chocolate brownie. What's not to love?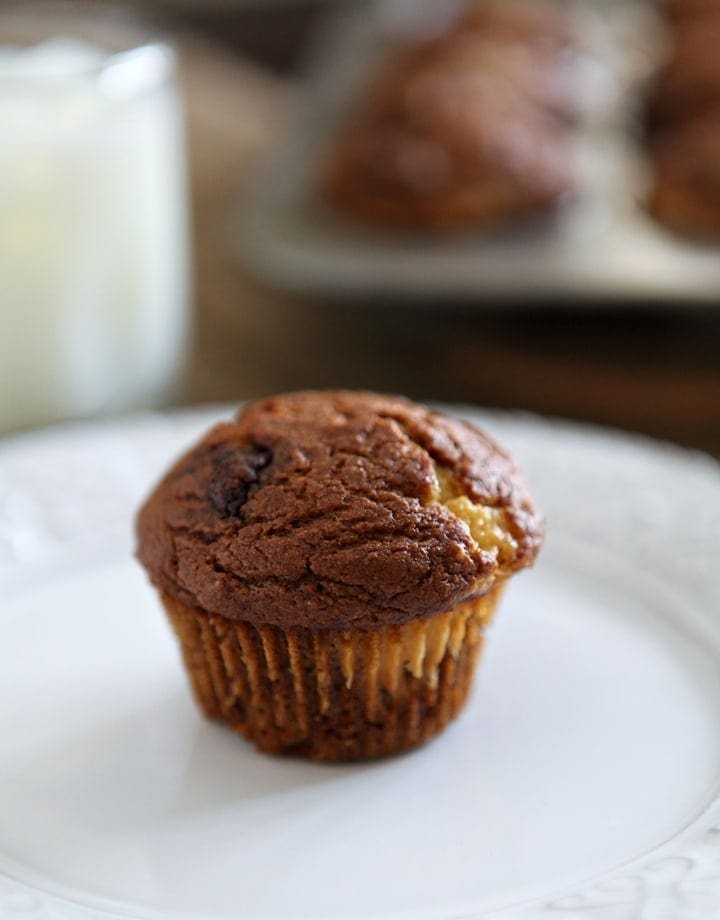 It's almost fall, so let's celebrate the season with these delightful Pumpkin Muffins with Cream Cheese and Nutella Swirl. Fluffy, decadent pumpkin muffins are filled with a cream cheese mixture and a dollop of Nutella.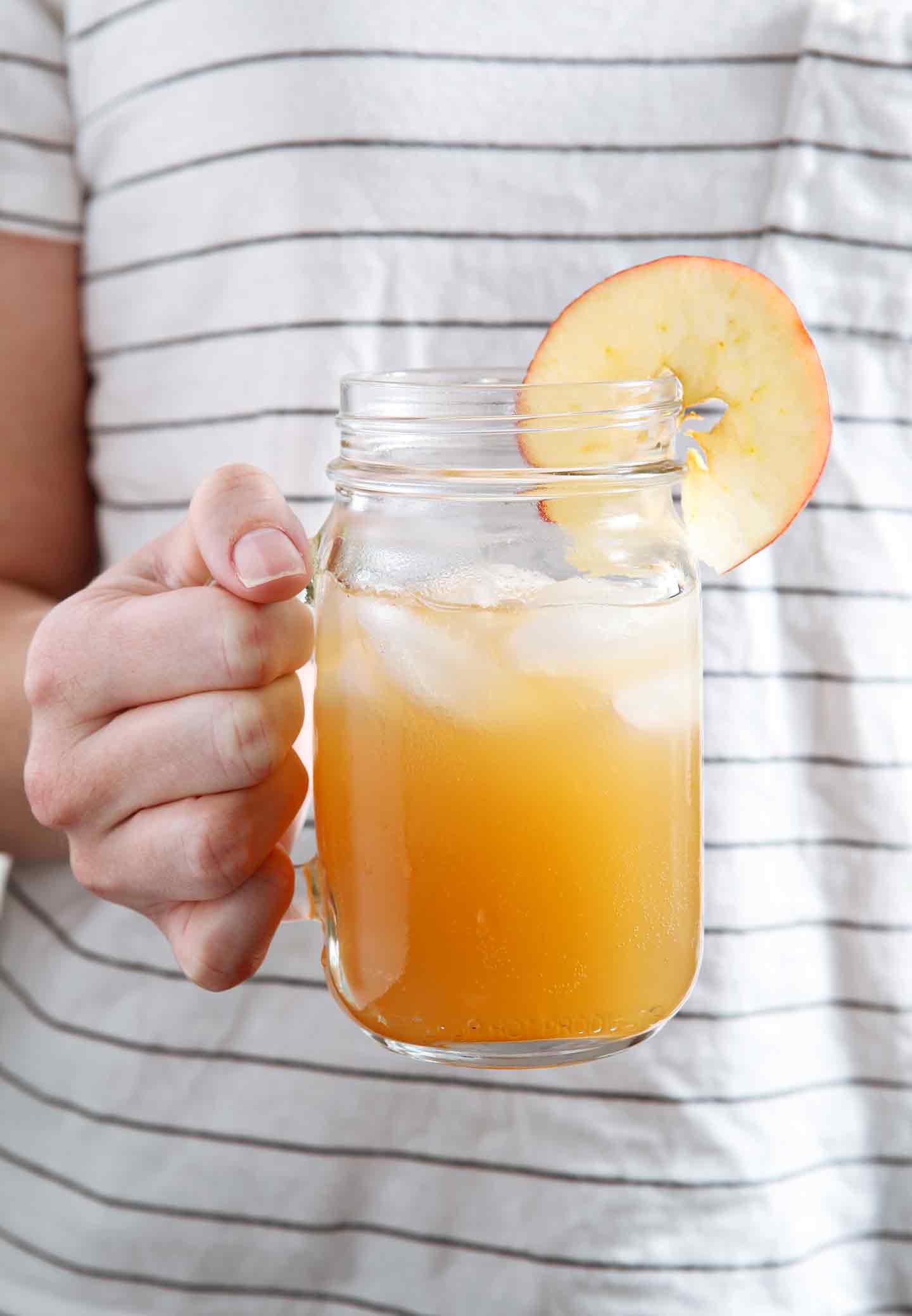 Sparkling Bourbon Pumpkin Apple Punch is the PERFECT autumnal punch! Pumpkin Spiced Apple Cider acts as the base of this crowd pleasing drink, then ginger ale and maple simple syrup are stirred in. For the final touch, we add bourbon. This Sparkling Bourbon Pumpkin Apple Punch sings of pumpkin and apple, as well as seasonal spices like cinnamon, nutmeg and allspice. This punch would make a unique Thanksgiving cocktail.
All Things Pumpkin: Savory
I've found that savory pumpkin dishes are harder to come by, but no less delicious! In the last year or two, I've spread my wings with making recipes highlighting pumpkin in a savory fashion. Here are some of our family faves…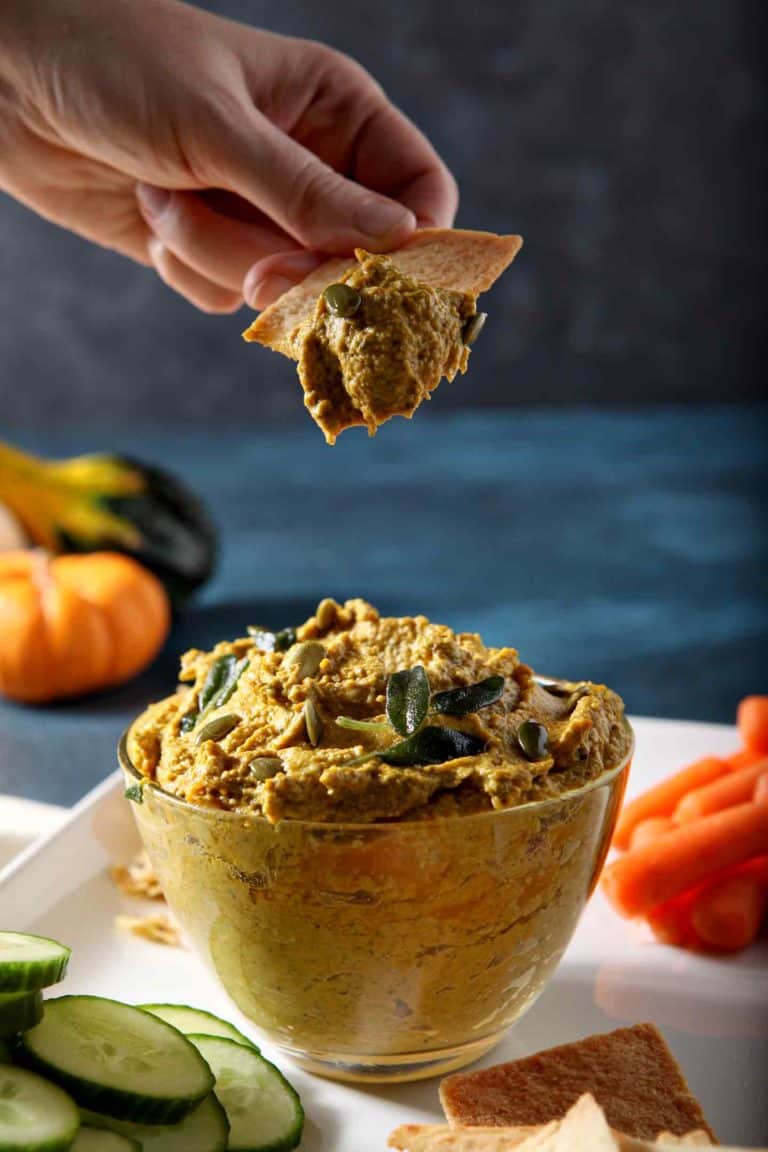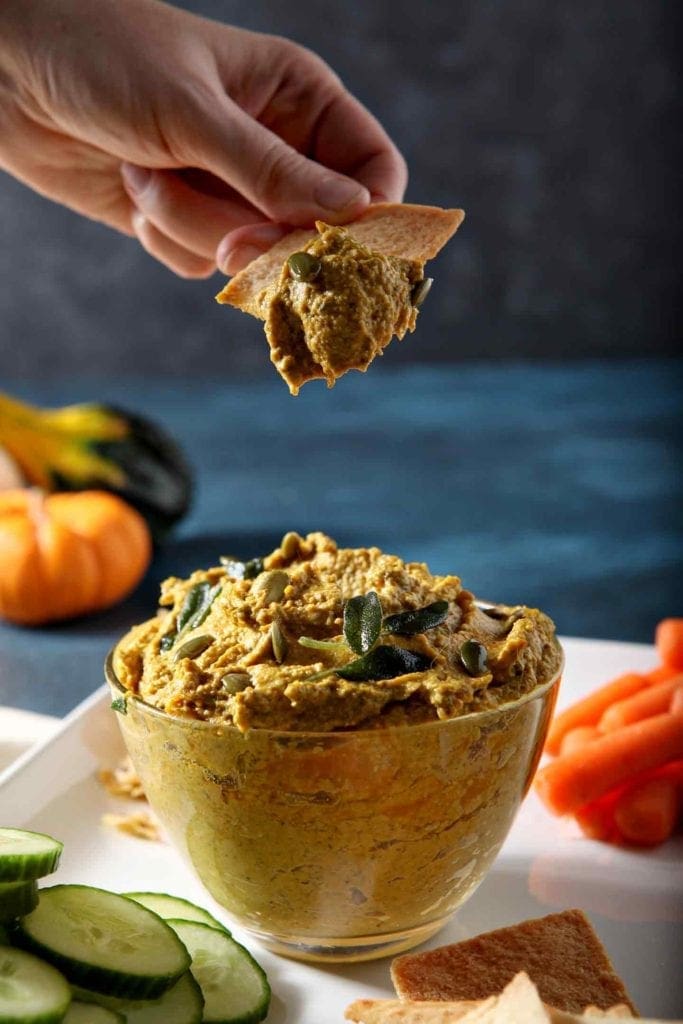 Serve Sage Pumpkin Hummus this fall at any entertaining event! Made with toasted pumpkin seeds, pumpkin puree, olive oil and fresh sage, this twist on a traditional dip is sure to please your guests' tastebuds! Serve this pumpkin-centric hummus with pita chips and vegetables as a delightful party appetizer or an afternoon snack. Easy to make and even easier to enjoy, this nutty, flavorful Sage Pumpkin Hummus is sure to become a seasonal favorite!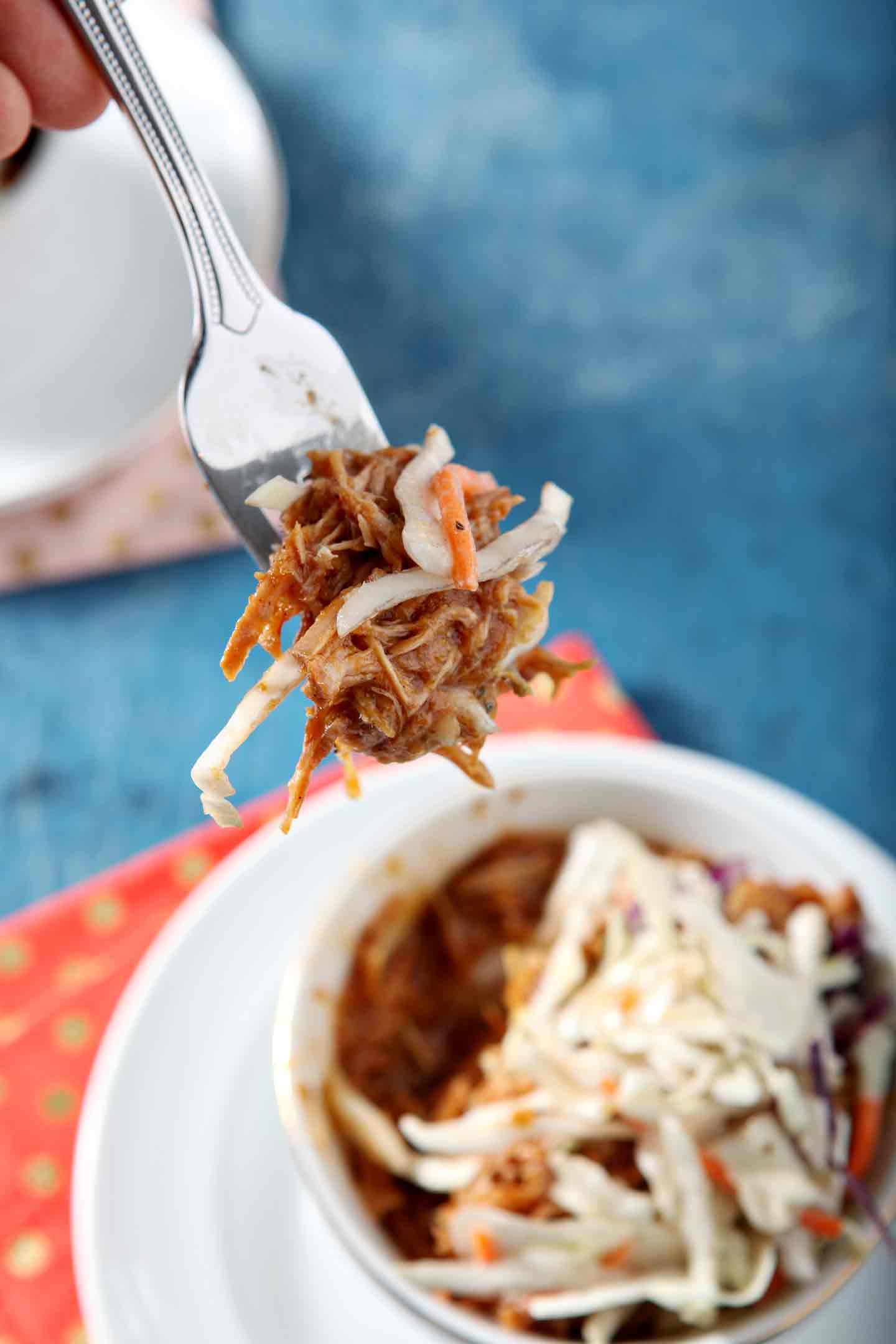 Pumpkin Pulled Pork Bowls make the ultimate low carb fall dinner, whether you're entertaining, serving family or bringing it on the road for a tailgate. Pork loin cooks in homemade pumpkin barbecue sauce all day in the slow cooker. Toss together an autumnal coleslaw, scoop the ingredients into your favorite bowls and enjoy. Perfect for dinner, homegating, tailgating, fall cocktail parties and more, Pumpkin Pulled Pork Bowls are a delicious meal.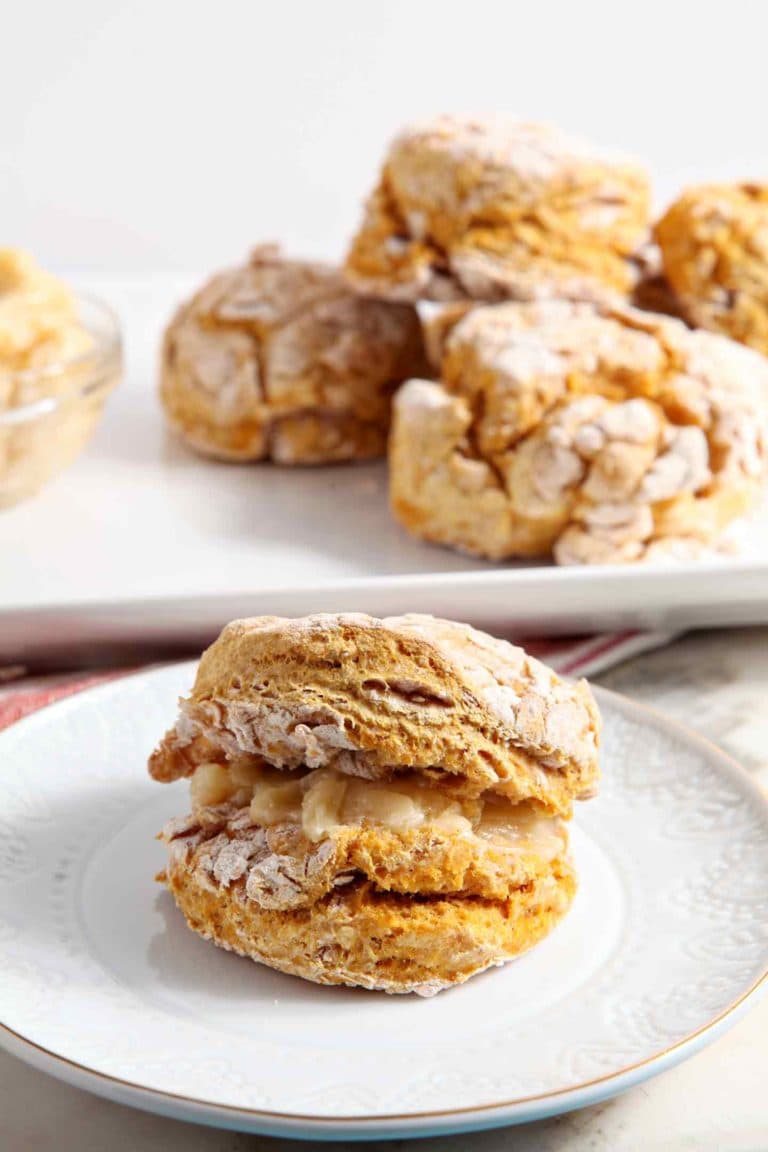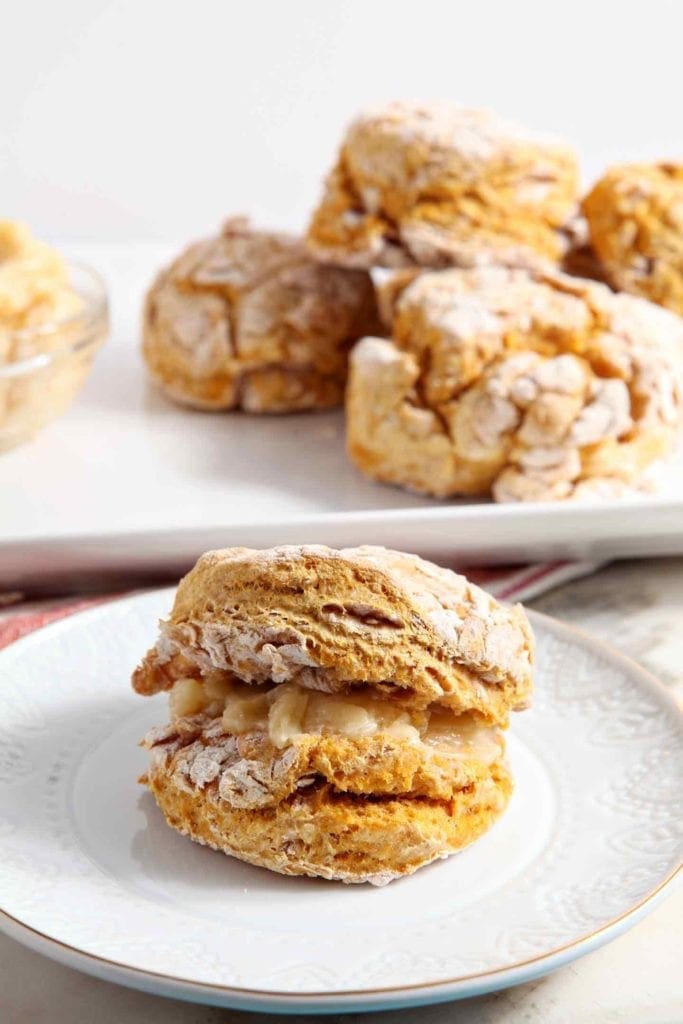 Celebrate the arrival of fall with these fluffy Pumpkin Biscuits with Maple Butter. Vegan biscuit dough is made with fresh or canned pumpkin puree, all-purpose flour, baking powder, unsweetened non-dairy milk, ground cinnamon and sea salt. Cut them into six large biscuits, then bake. Once they have risen, cooked through and cooled slightly, slice them in half and slather with homemade honey butter for the ultimate autumn-flavored decadence.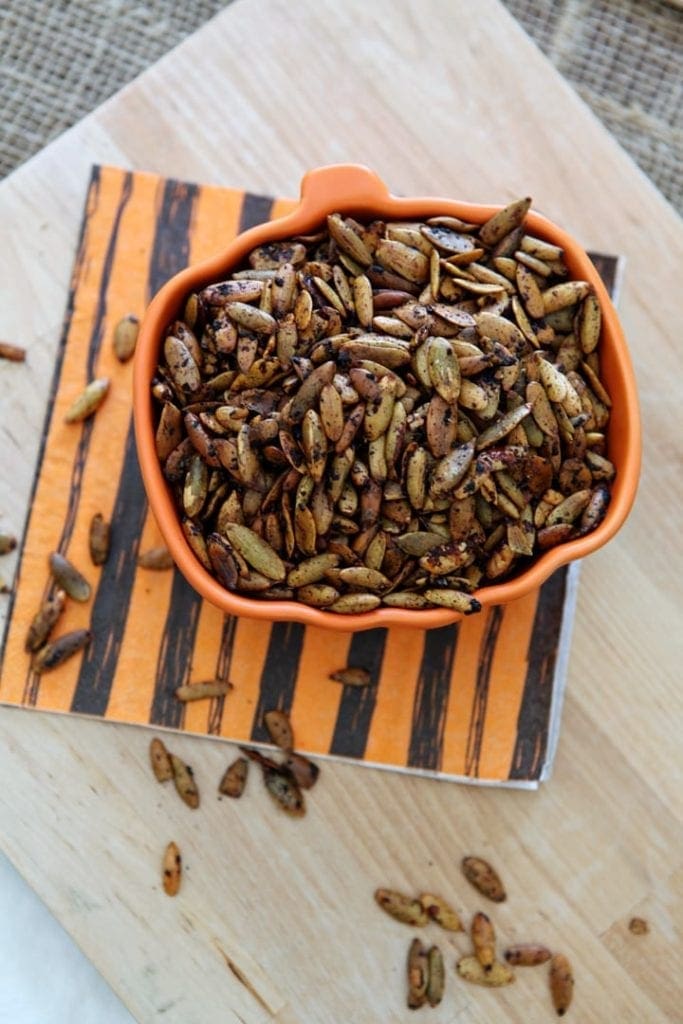 Afternoon snackers, pay attention. I've got the perfect fall-themed snack to get you through the work day: Roasted Pumpkin Seeds! Spicy, savory and delish!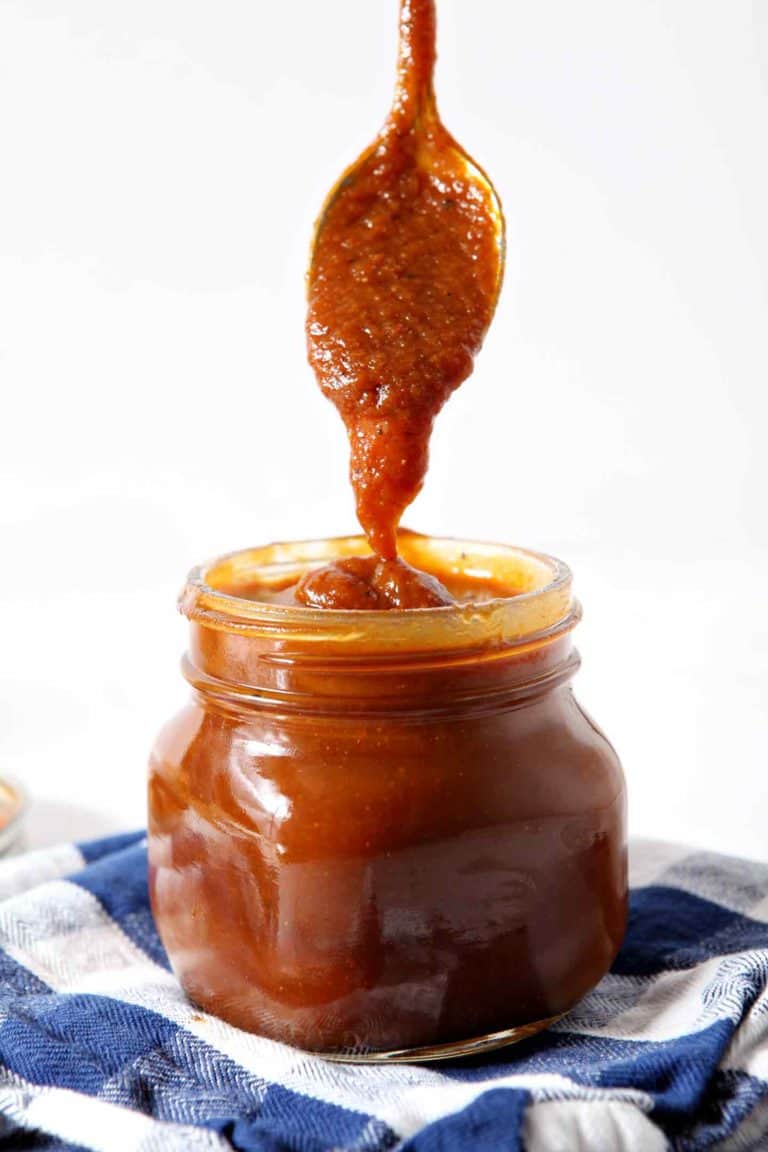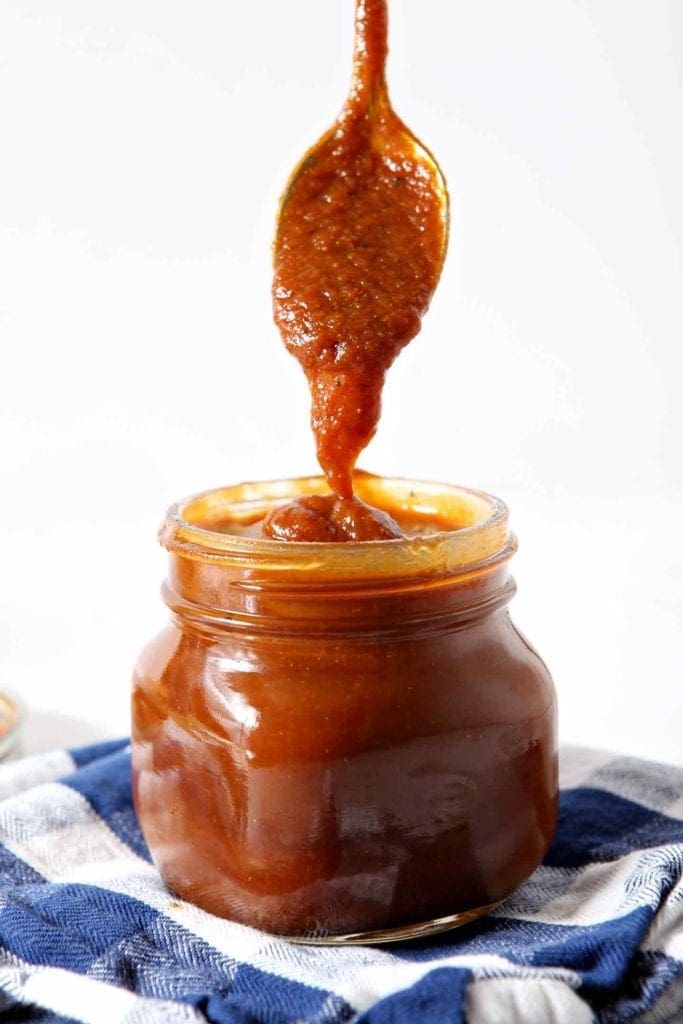 Pumpkin Barbecue Sauce is our new favorite condiment! This naturally sweetened barbecue sauce swaps pure pumpkin puree for the ketchup and other sweetened tomato products, and maple syrup instead of a mountain of brown sugar. Apple cider vinegar, Worcestershire sauce and a pinch of cayenne give a little kick to this sauce. Slather Pumpkin Barbecue Sauce on slow cooked meats or vegetables this season, and enjoy this fall twist on a classic!
Halloween Party Recipes
Since Halloween is just around the corner, we should talk about HALLOWEEN recipes! In the past, we've had pizza with neighbors and friends before trick-or-treating, but this year is different since we've moved to a different neighborhood. Below, you'll find some of our favorite Halloween-y recipes that are perfect for a crowd, whether you're leisurely trick-or-treating with the family, handing out candy or entertaining!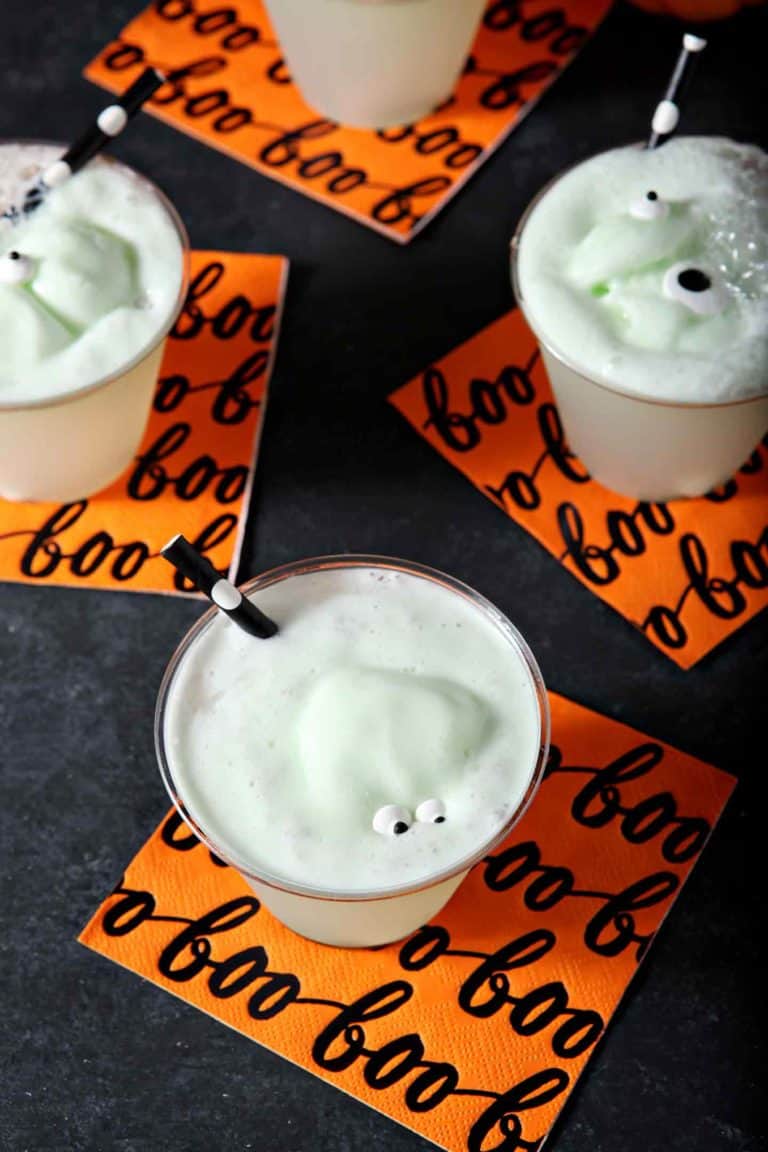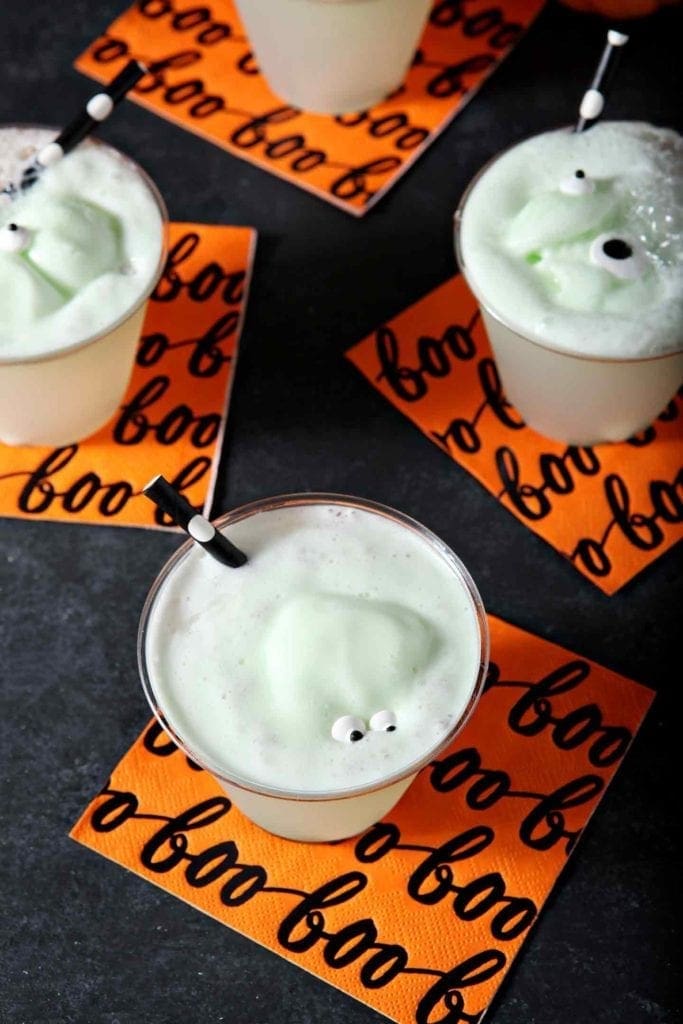 Kids and adults will love this festive Melting Monster Halloween Punch! Made with three simple ingredients, this lemon-lime mocktail is the perfect beverage to serve for various Halloween festivities. Set up a drink station and let kids decorate their melting monsters with edible candy eyeballs before sipping! Slightly tart with a hint of sweetness, Melting Monster Halloween Punch is a delightful drink to serve to a crowd this Halloween!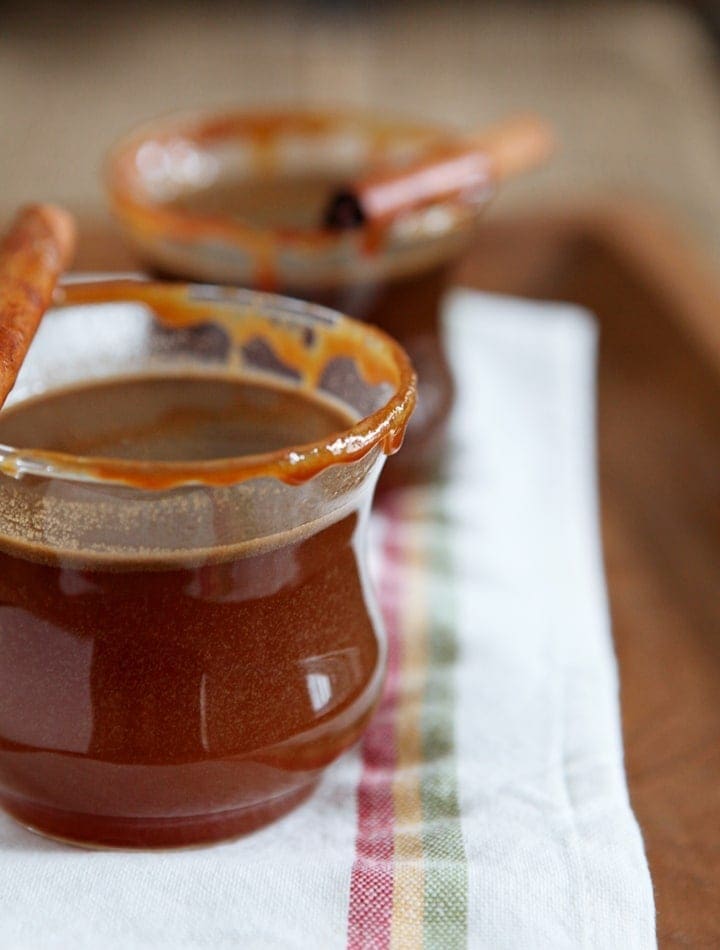 Slightly sweet and crisp apple cider, swirled with homemade salted caramel, and if you so choose, your favorite bourbon. Spiked Caramel Apple Cider is a delightful fall treat!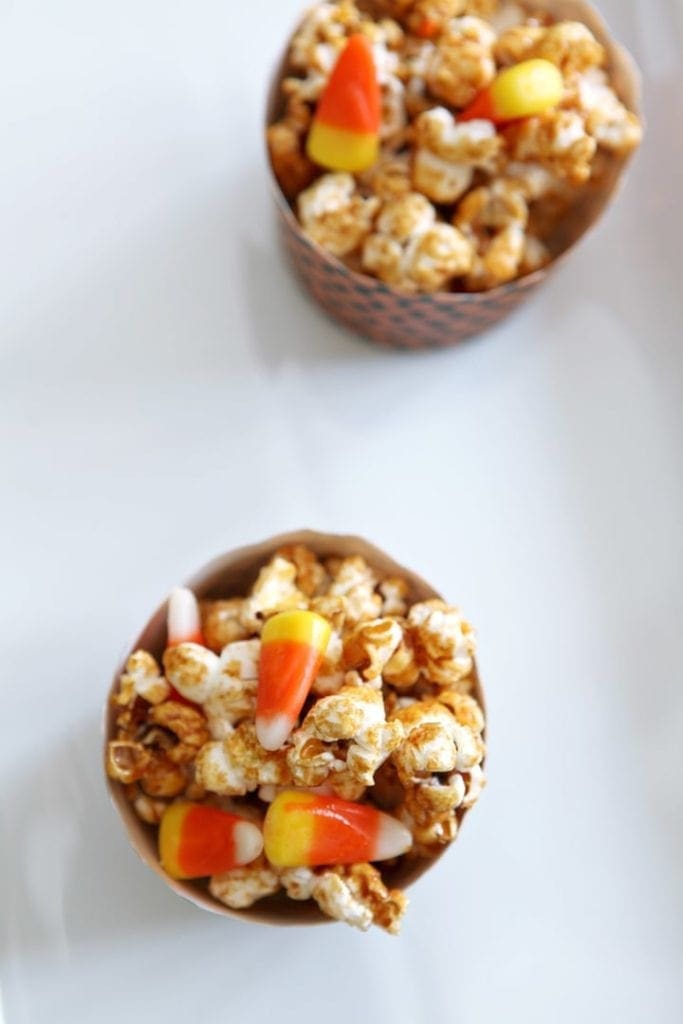 Looking for a sweet-and-salty treat to enjoy while handing out candy to trick-or-treaters this Halloween? Look no farther than this delectable Halloween Caramel Corn, which is made in a flash!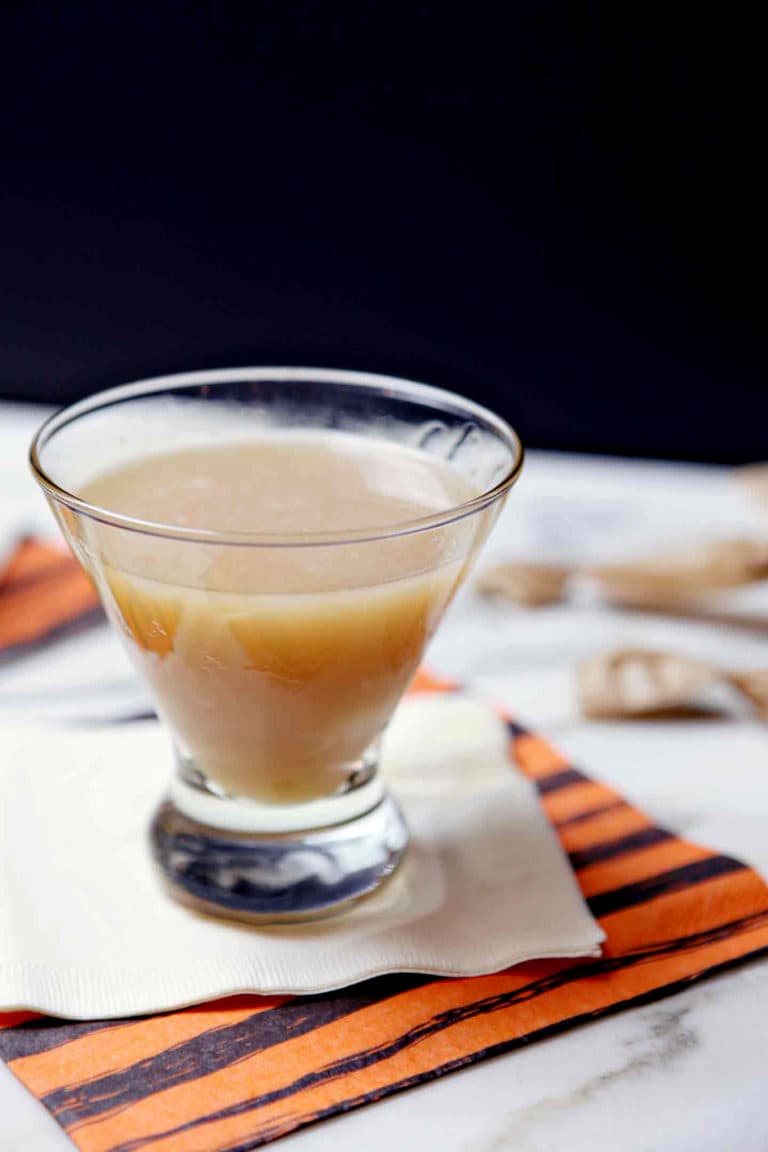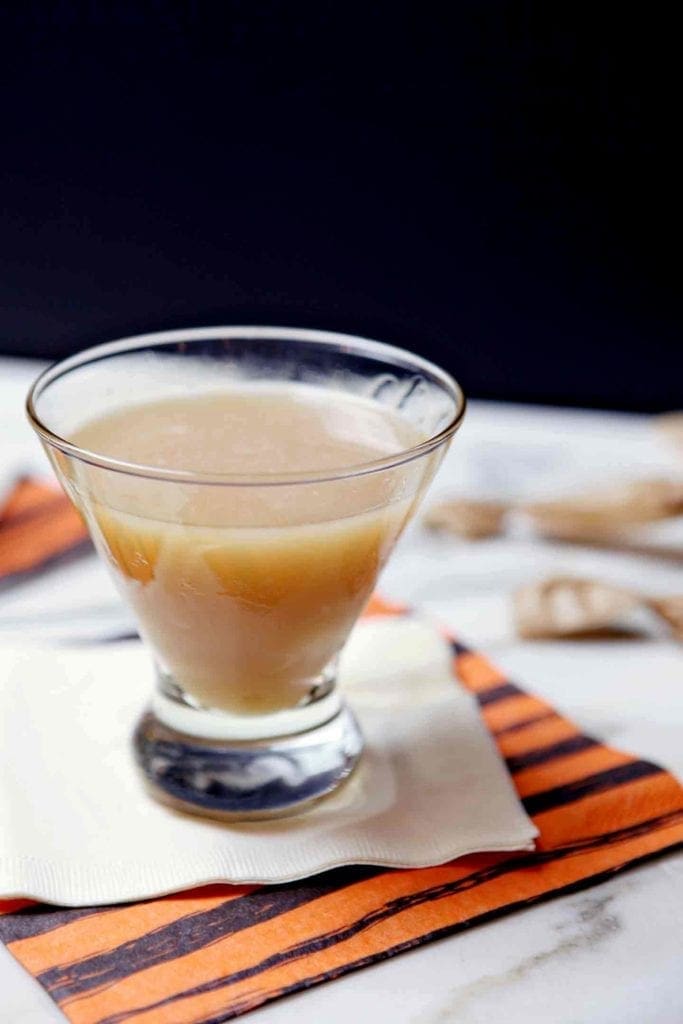 Looking for the perfect autumnal cocktail? Try a Salted Caramel Appletini, made with homemade Salted Caramel-Infused Vodka. First, you'll make the Salted Caramel-Infused Vodka. The caramels dissolve into the vodka after about 24 hours. Once you've prepared the infused vodka, it's time to make the Appletini! Measure the infused vodka, apple cider and caramel sauce into a cocktail shaker, then mix vigorously. Enjoy this cocktail on a cool fall evening!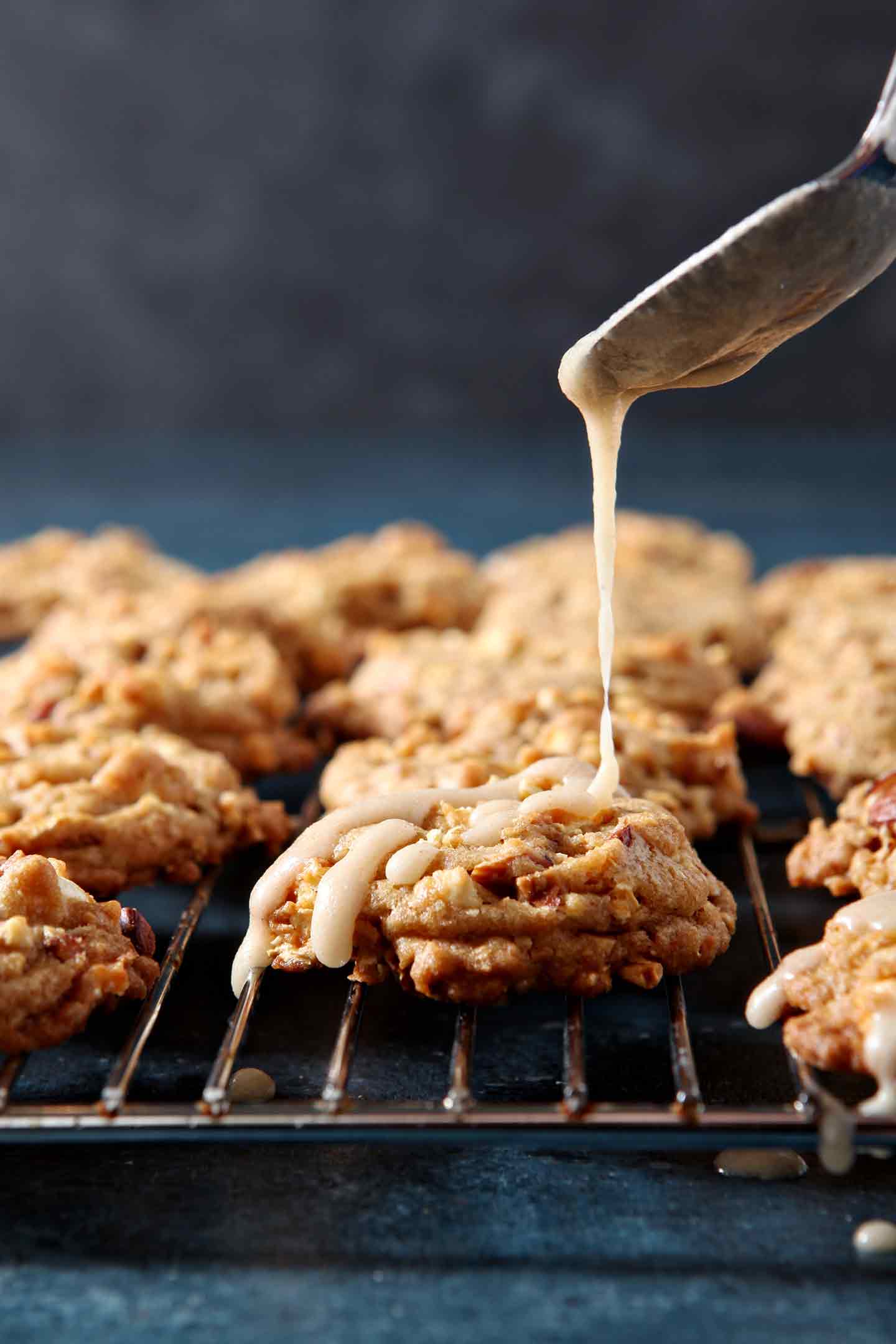 Caramel Corn Cookies make a sweet-salty-crunchy dessert! Featuring caramel corn and roasted almonds, these sweets sing. The caramel melts into the dough as these cookies bake while the almonds add a salty crunch to the mixture. Then once these cookies are topped with their browned butter glaze, they're out-of-this-world delicious! Perfect for Halloween, Thanksgiving, tailgates and more, these Caramel Corn Cookies make a satisfying sweet treat!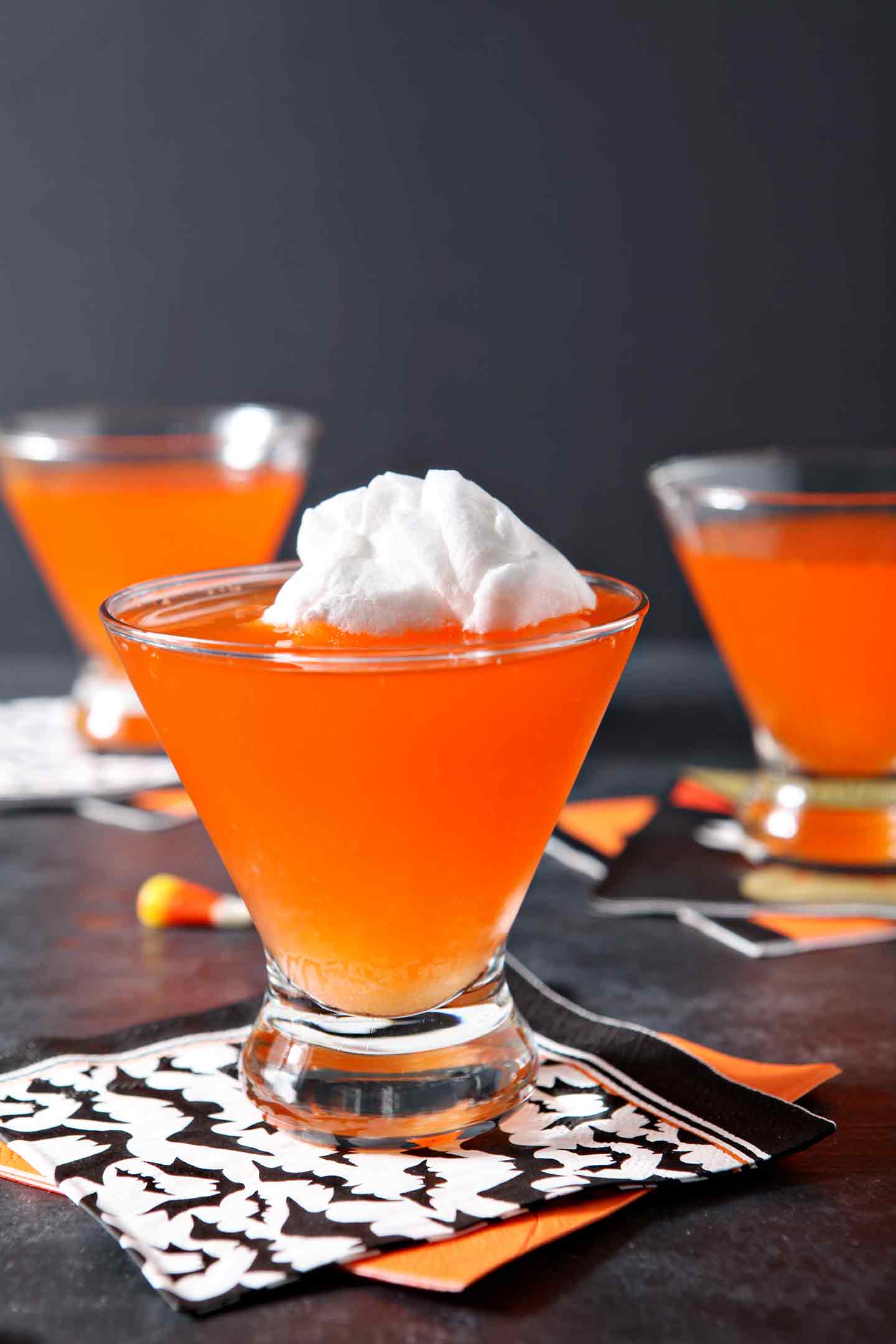 Celebrate Halloween in style by mixing up a Candy Corn Martini! This festive martini features homemade candy corn-infused vodka, ginger beer, pineapple juice and tonic water before it's garnished with cotton candy, which dissolves into the drink. Strong on candy corn flavors, this cocktail is perfect for anyone who enjoys a sweet drink. Make the infused vodka a few days before Halloween, and then serve to friends while you celebrate the holiday!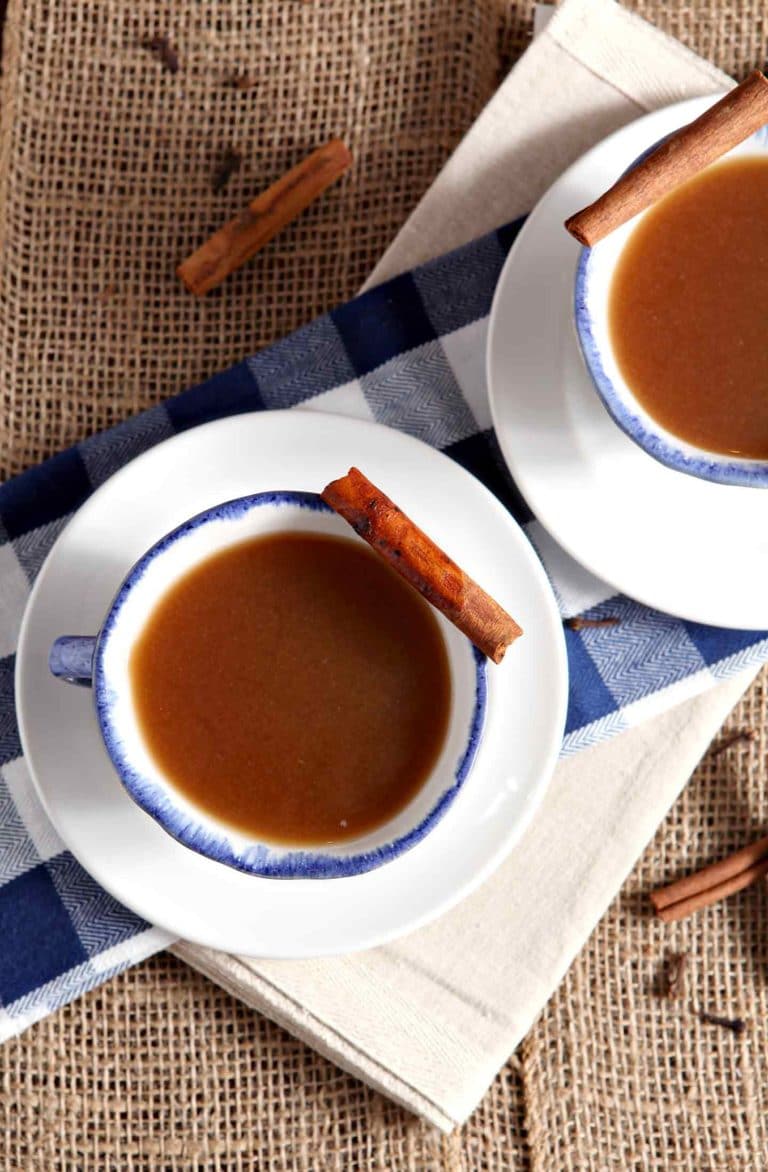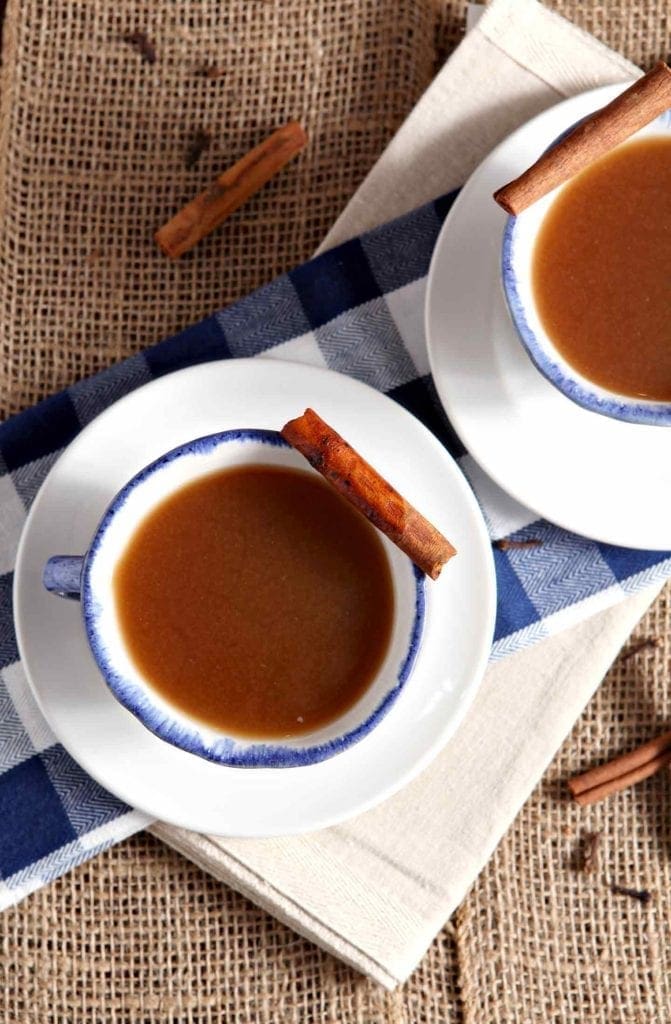 Spiced Apple Cider is the perfect warm drink for a chilly fall evening and especially for Halloween! 100% apple juice, cinnamon sticks, whole cloves and a little brown sugar simmer together over low heat until the juice transforms into a spicy, seasonal favorite. Pour the Spiced Apple Cider into your favorite to-go mug, then sip slowly while trick-or-treating! This drink is also delicious with a splash of rum or bourbon if you're feelin' fancy.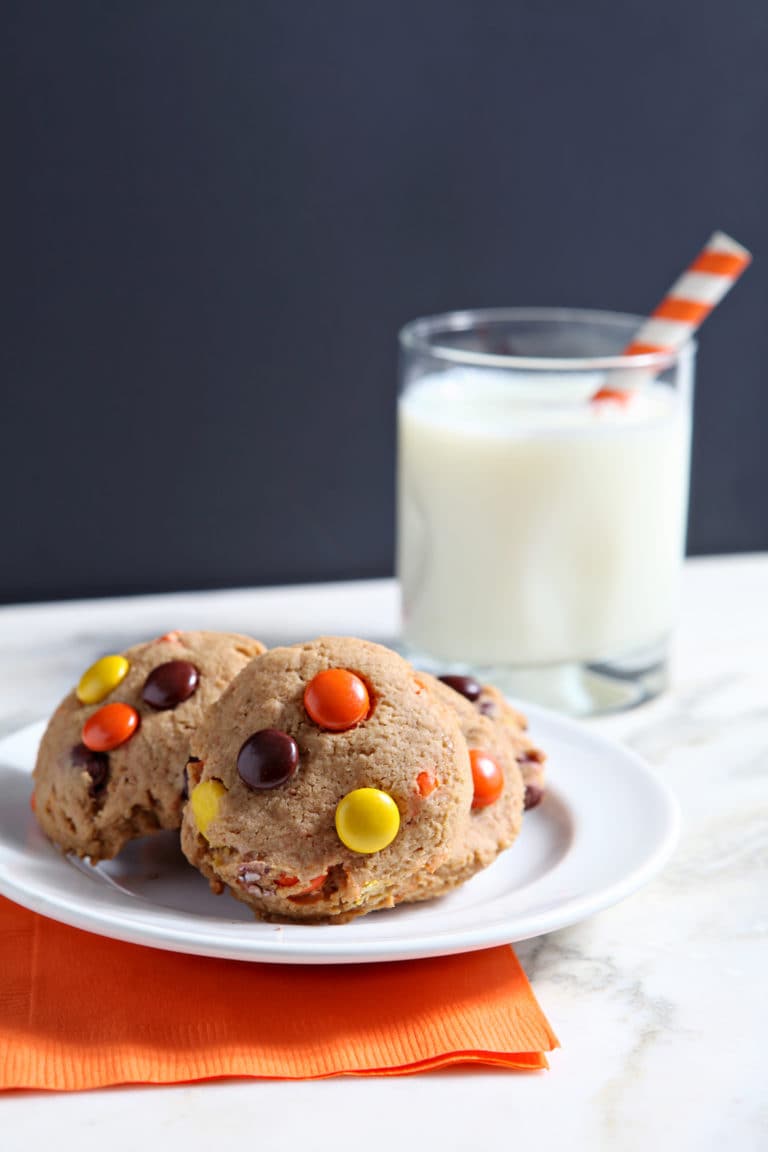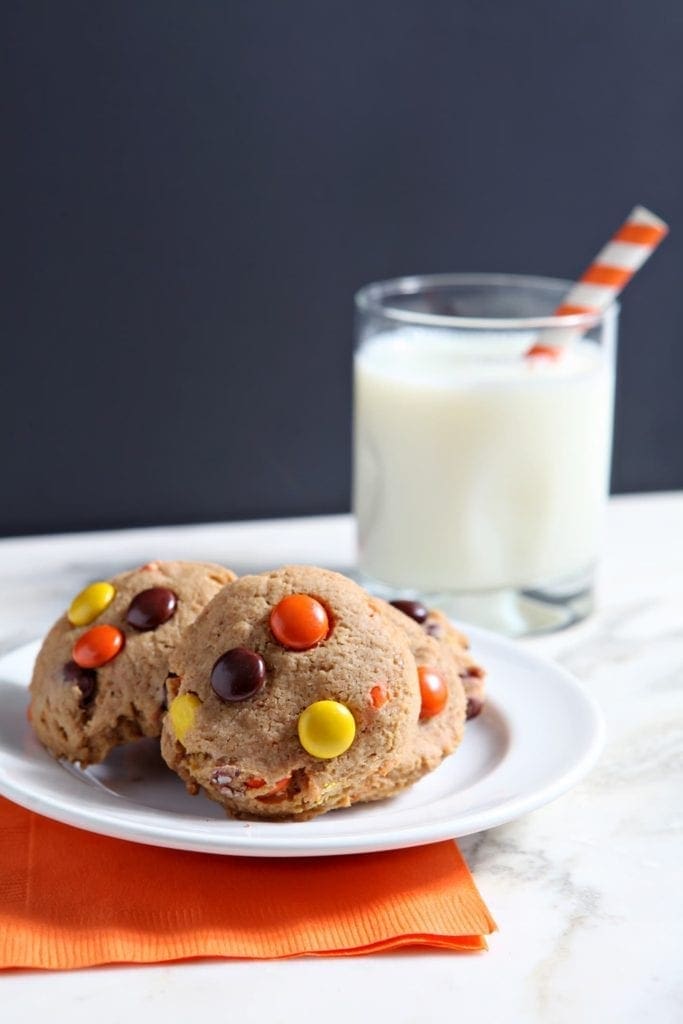 These rich Reese's Pieces Peanut Butter Cookies, studded with everyone's favorite orange, black and yellow Reese's Pieces candies, make the ultimate Halloween cookie. Crisp on the outside and soft on the inside, Reese's Pieces Peanut Butter Cookies will be well-loved in any household whose inhabitants love peanut butter and chocolate.
…
What kinds of things do you have planned for the month of October?
Which recipes from this Monthly Meal Plan would you like to make?
Other monthly meal plans: January 2018 / February 2018 / March 2018 / April 2018 / May 2018 / June 2018 / July 2018 / August 2018 / September 2018 / November 2018 / December 2018