Monthly Meal Plan: 31 Recipes to Make in August 2018
Looking for recipes to make this August? Look no farther than this Monthly Meal Plan, which includes 31 recipes to make this month! Featuring dishes for summertime entertaining, easy warm weather meals, refreshing sippers, fruit-based desserts and more, this monthly recipe list is sure to offer something for everyone!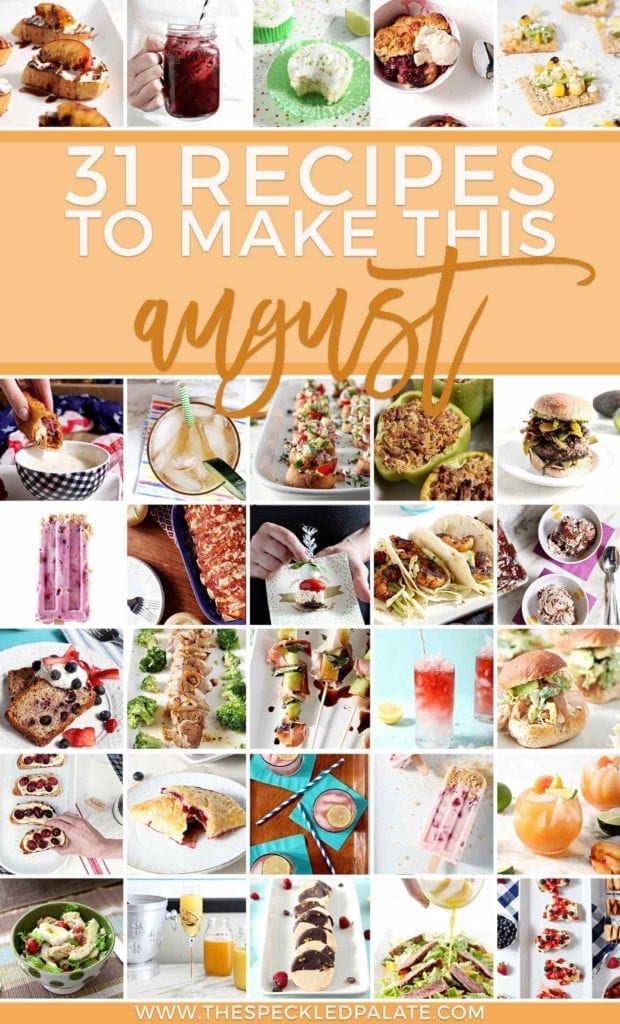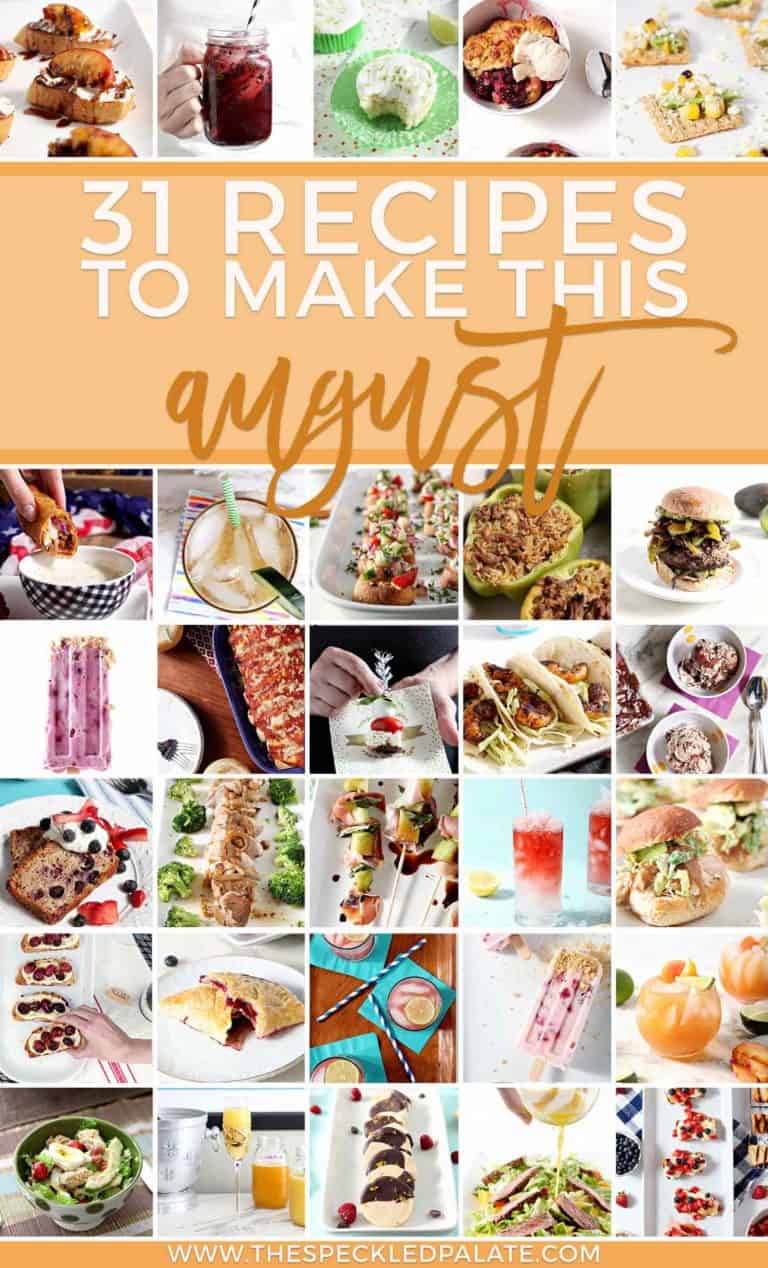 Happy August, y'all! I hope this post finds you well and enjoying the bounty of the summertime, whatever that means in your neck of the woods.
Around these parts, we're drowning in cucumbers, carrots and tomatoes.
(Unrelated to food, we are settling into our new home after moving this past weekend and hooooooo-boy, y'all. It's been a doozy, but we are so very thankful to finally be settling into our new place.)
So today, I've whipped up a Monthly Meal Plan to celebrate all the goodness that August has to offer. Below, you'll find some delightful appetizers, easy summery meals, fruity desserts and refreshing sippers (that are both boozy and not boozy!)
Y'all ready for this goodness?
Summertime Gathering Appetizers
Hosting folks for a backyard barbecue? Gathering friends before school is back in session? Opening up your home because you just moved? Whatever the reason, these appetizers are sure to please a crowd AND be easy peasy to whip up this month.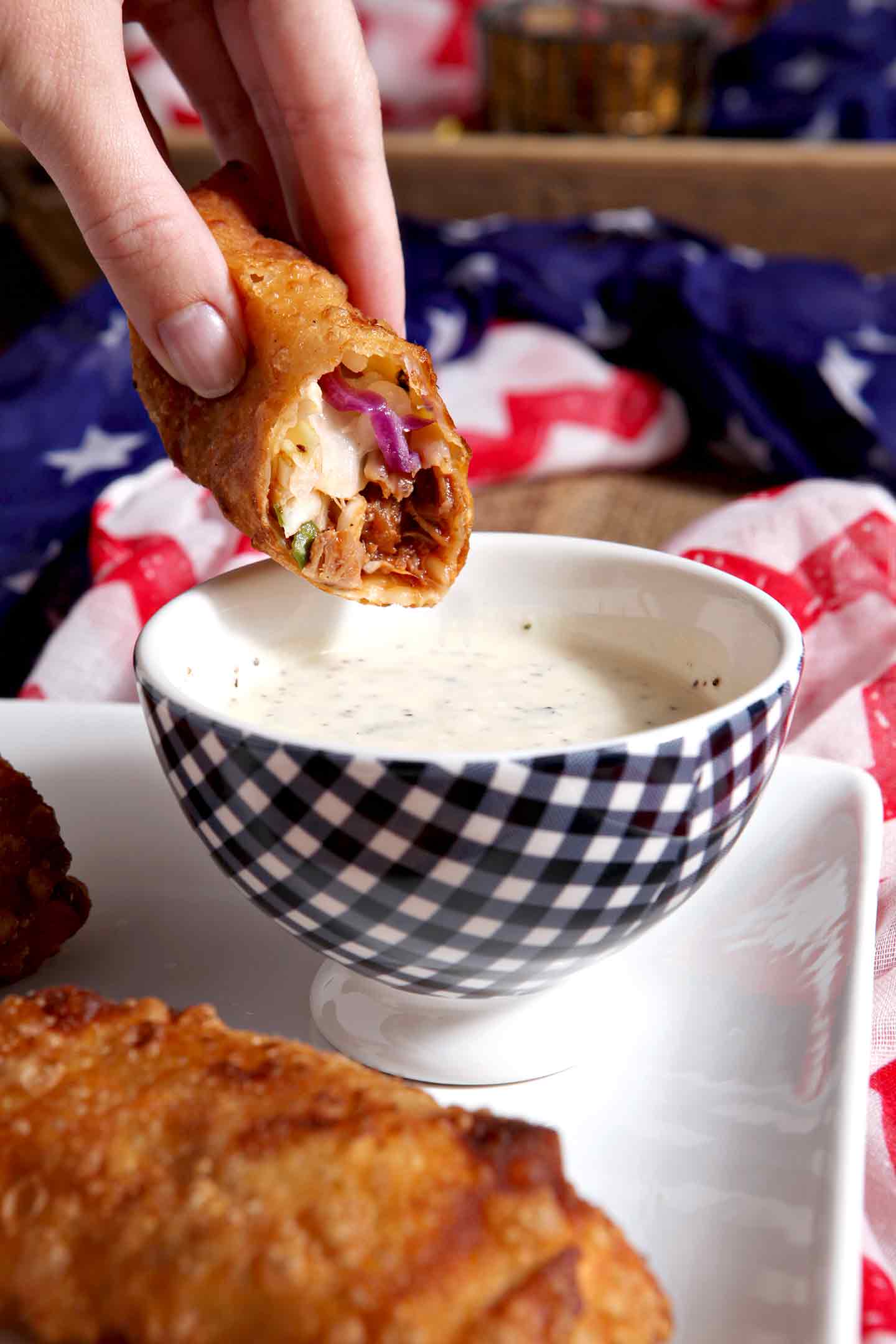 A Southern classic combined with an Asian favorite makes this delightful mash-up. Make Homemade Pulled Pork (in a tangy barbecue sauce!) in the slow cooker. Once the pulled pork has been made, toss together creamy coleslaw, made with yogurt instead of mayo. When ready, the pulled pork and coleslaw are rolled into eggroll wrappers, fried and served with creamy coleslaw sauce. Pulled Pork Coleslaw Eggrolls are a tasty appetizer to enjoy during the summertime.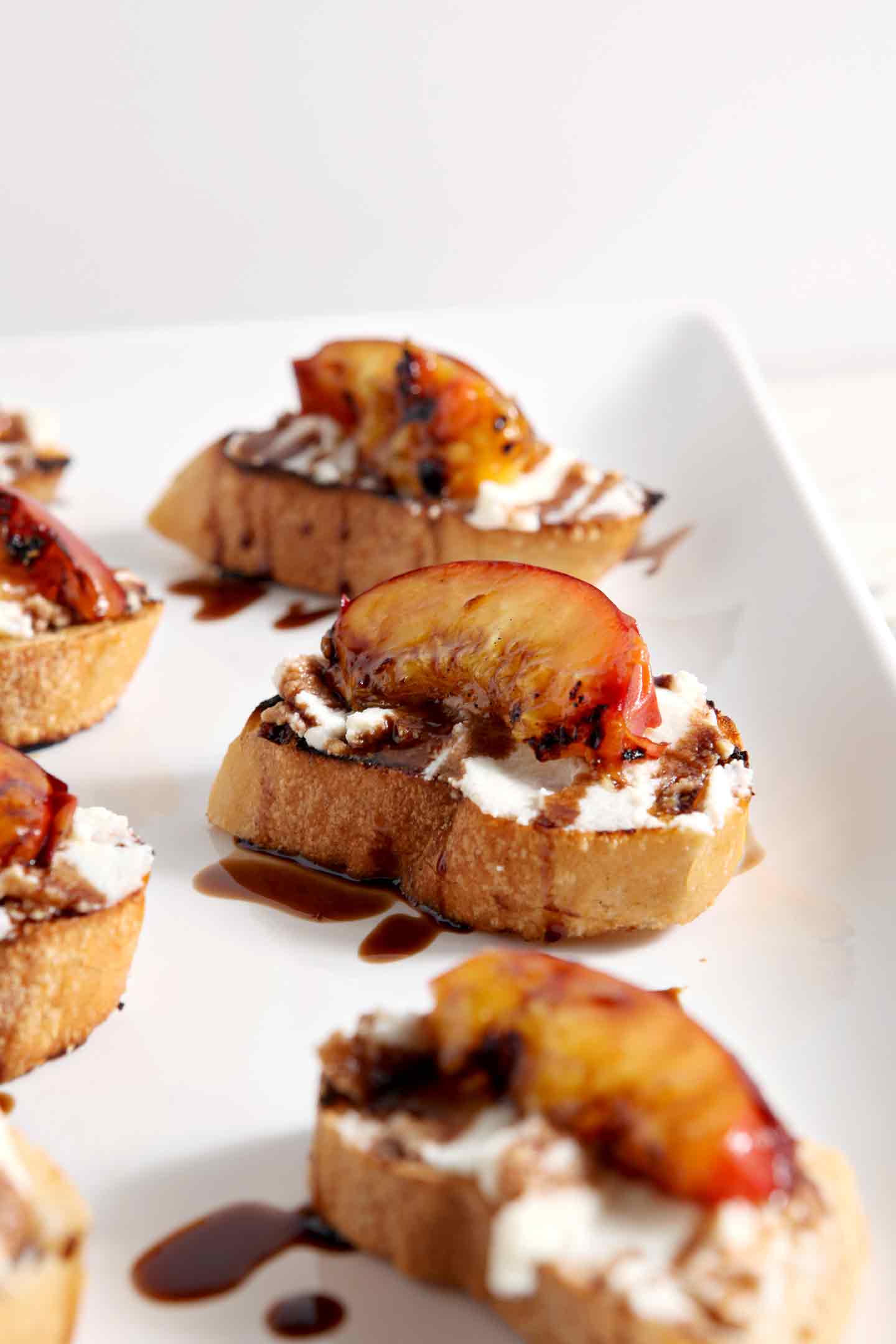 Grilled Peach Bruschetta is a perfect sweet appetizer or dessert for the summertime. Fire up the grill, slice and pit a few fresh peaches, brush the peaches with a little bit of olive oil, then grill until the sugars in the fruit caramelizes. Grill the bread, too. When both are done, smear the bread with fresh ricotta cheese, place the peach slices on top of the cheese, then drizzle with a balsamic vinegar reduction for the final touch. Perfect!

Caprese Skewers are the perfect easy appetizer to make for a crowd! Crusty ciabatta bread serves as the base. Grape tomatoes, small mozzarella balls and fresh basil are layered onto the bread, then skewered with a festive toothpick. To finish the dish, drizzle reduced balsamic vinegar on top, and enjoy! Red and green, these simple but delicious Caprese Skewers are sure to be a winner at parties this season… and any season!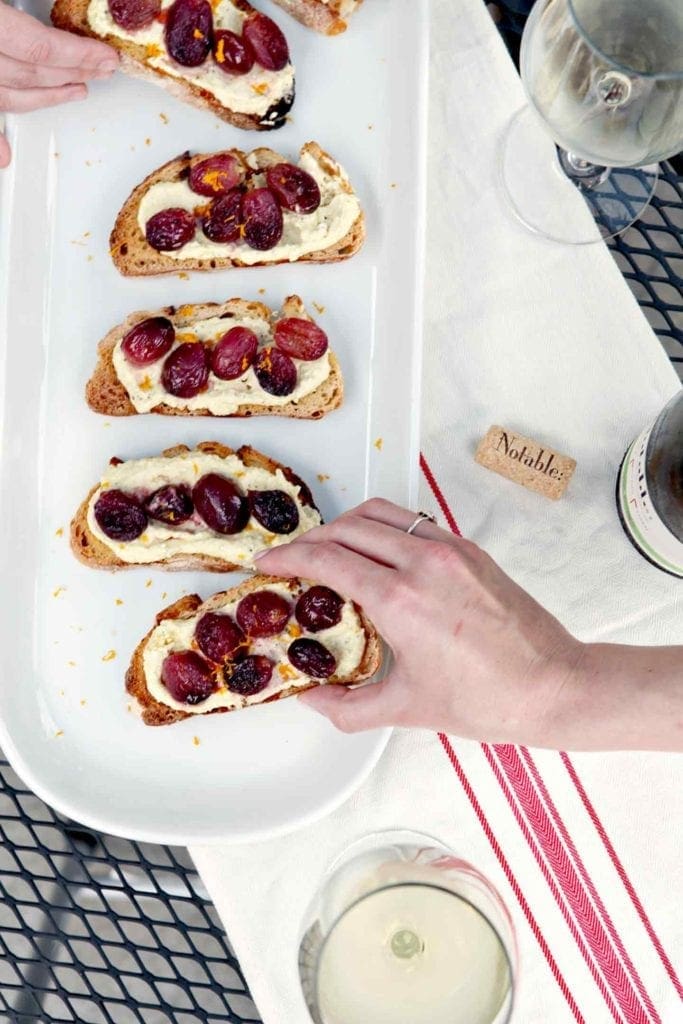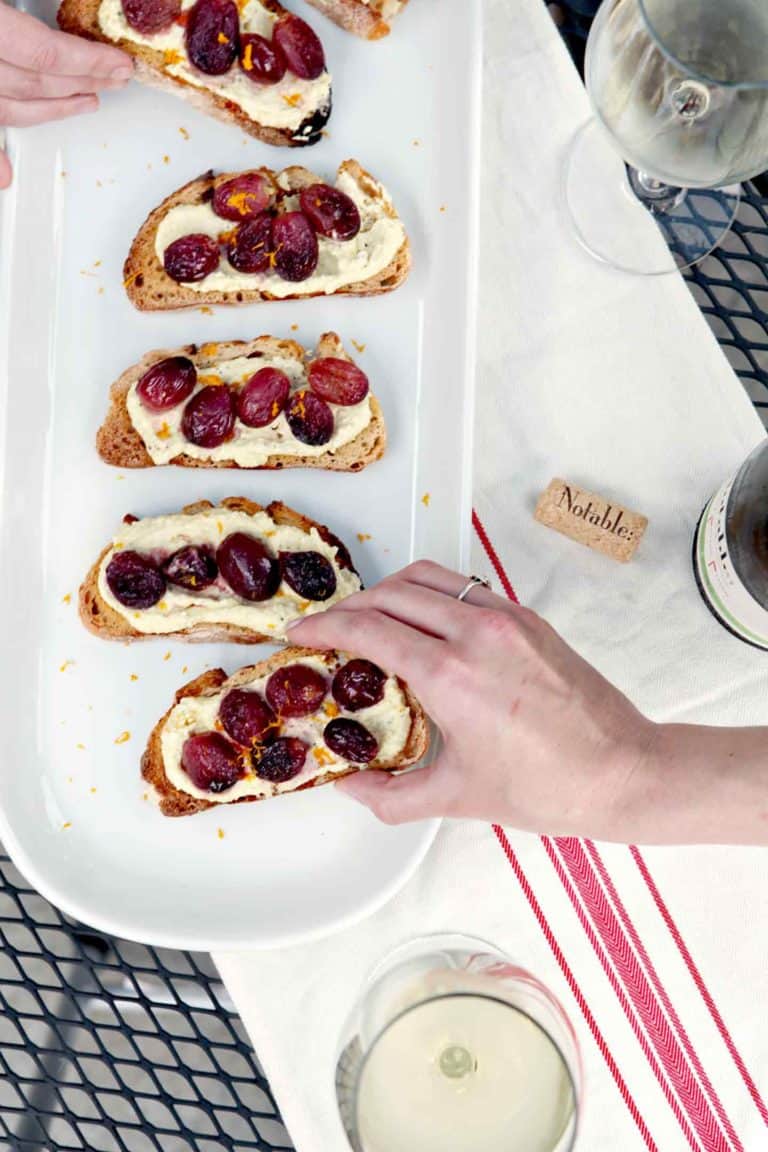 Host friends and family for a patio wine tasting party this season! Roasted Grape Bruschetta with Whipped Feta makes a delicious appetizer to pair with chardonnay. Simple to pull together and pack a ton of flavor, these finger foods lend themselves beautifully to crisp white wine. Sweet and savory, Roasted Grape Bruschetta with Whipped Feta are the perfect bites to serve at a wine tasting soirée!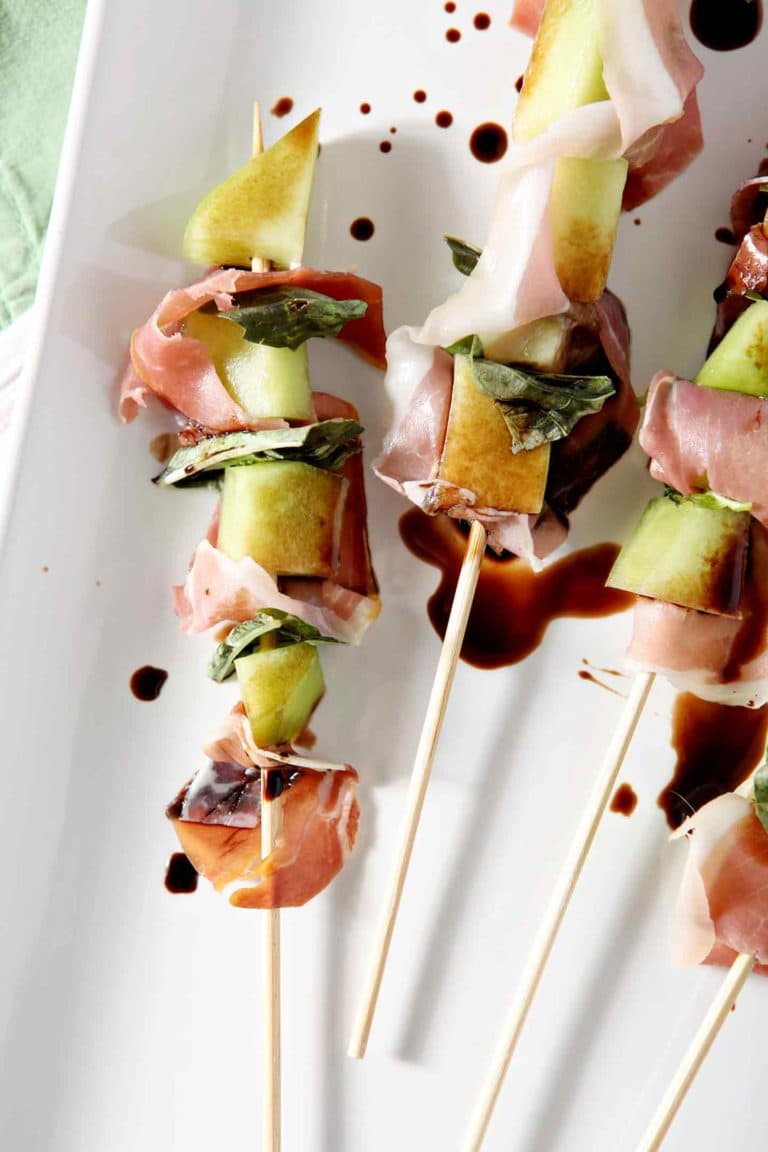 Galia Melon Jamón Skewers make a perfect summertime app! This dairy free, gluten free and paleo-friendly Whole30 appetizer is a delicious start for any get-together. This app balances the sweetness of the Galia melon with the saltiness of the jamón. Skewered together with fresh basil and drizzled with a balsamic reduction, these savory-sweet skewers are sure to become a seasonal favorite, whether or not you and your guests are doing a Whole30!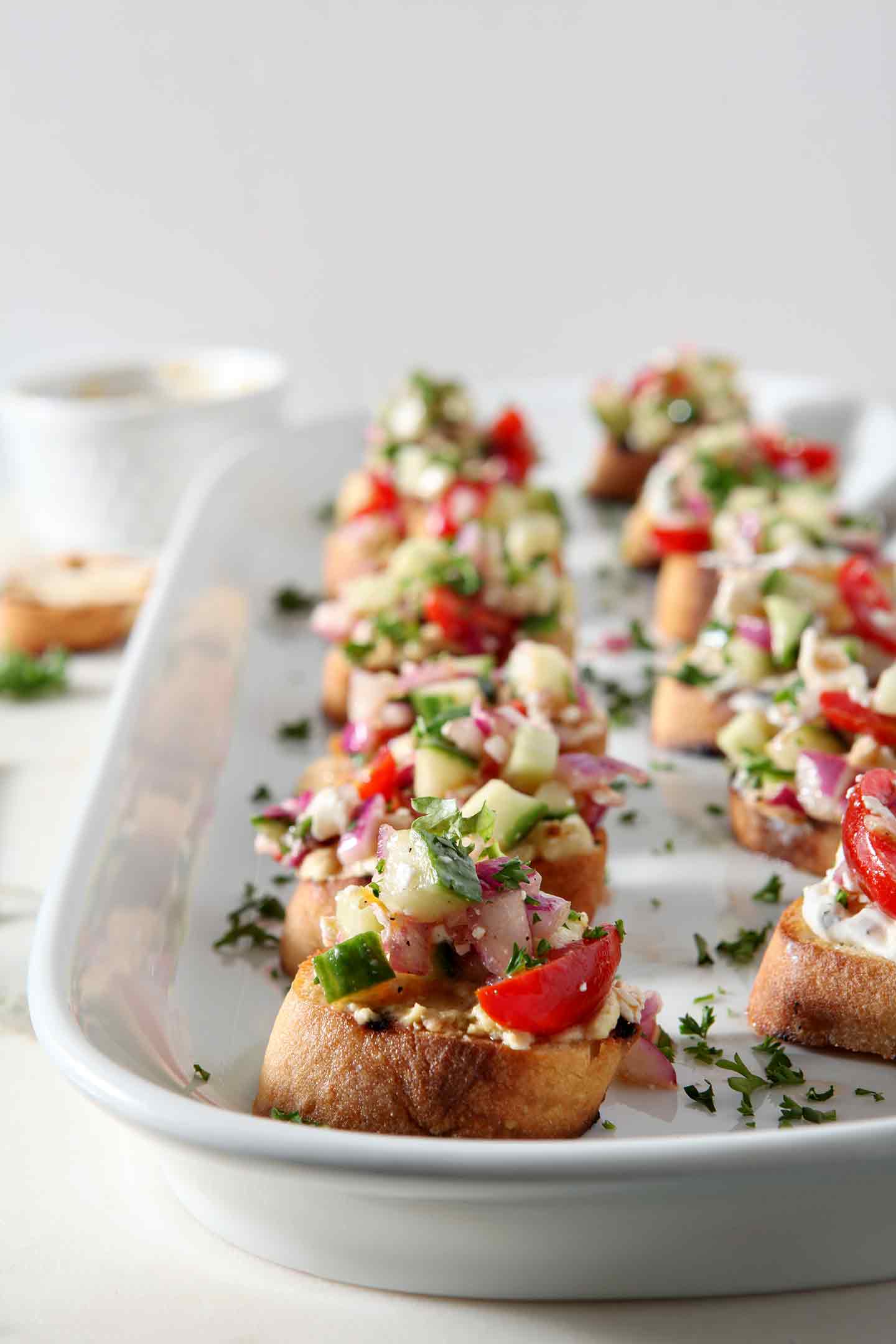 This vegetarian Greek Bruschetta is a tasty way to get a party started! Toss a tomato, cucumber, red onion and feta cheese salad in a homemade Greek vinaigrette. Slather garlicky, toasted baguette rounds with either hummus or tzatziki, then top with the veggie mixture. Colorful, flavorful and hard to stop eating once you start, Greek Bruschetta (which includes a dairy-free and vegan option!) is a delicious appetizer for any gathering!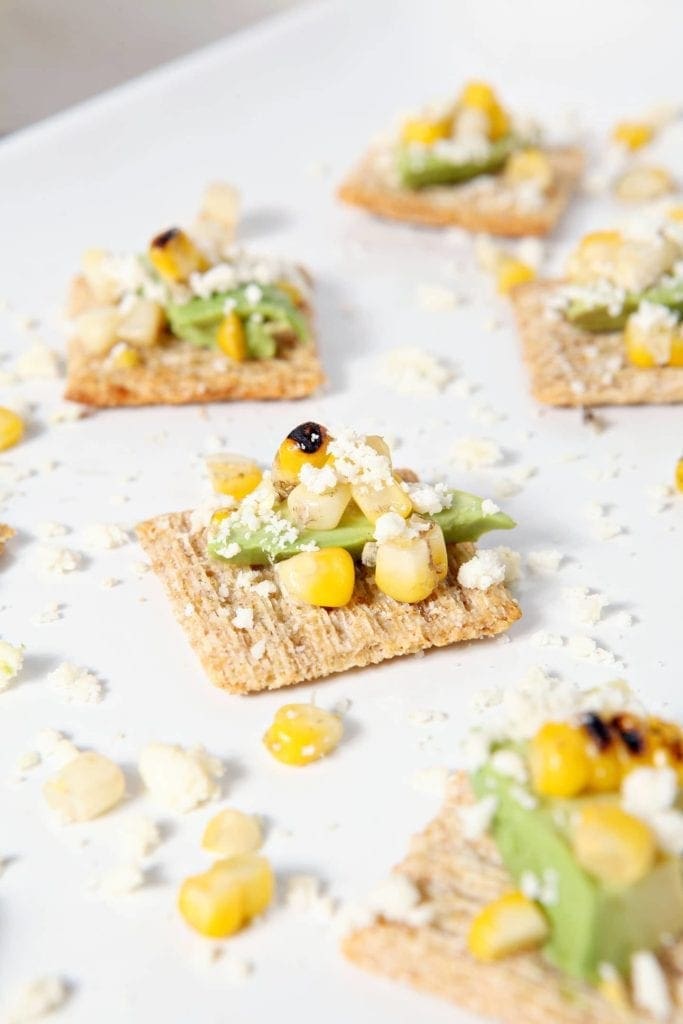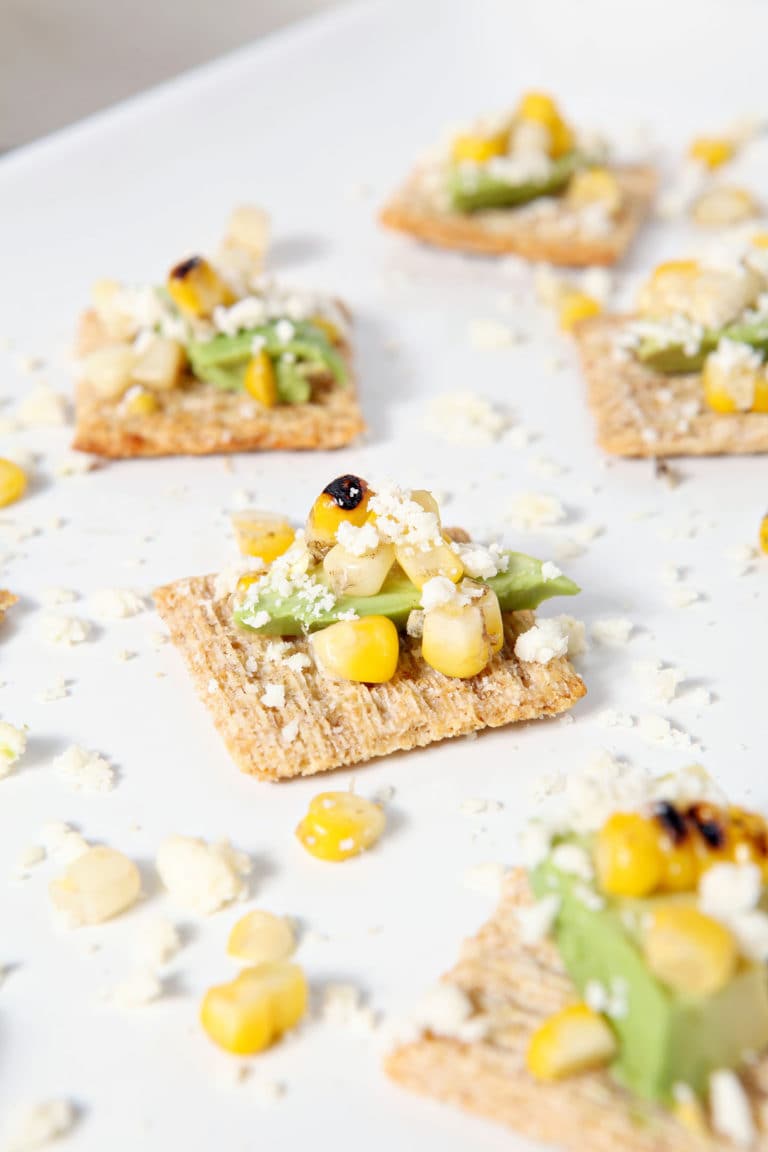 Cotija Corn Avocado TRISCUIT Crackers are the perfect summertime appetizer! Corn is boiled in its husk, then grilled for a lovely char. An avocado is sliced. Cotija cheese is crumbled. TRISCUIT Original Crackers are topped with an avocado slice, the corn kernels and the cotija before being devoured. This savory, slightly salty appetizer makes a tasty vegetarian starter for any crowd this season!
Easy Summery Meals
'Tis the season for all kinds of easy dinners. Whether they're slow cooker prepared or quickly thrown together, the theme of this section is SIMPLE, scrumptious and summery!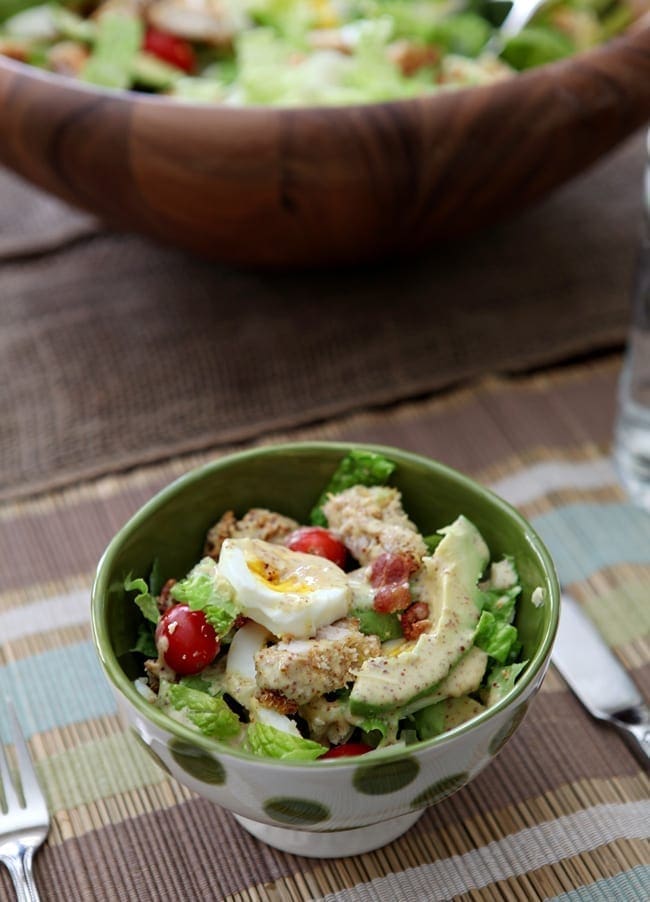 Get your homemade salad fix with this delectable Cobb Salad adaptation, calling for crunchy baked chicken, avocados and lots of vegetables!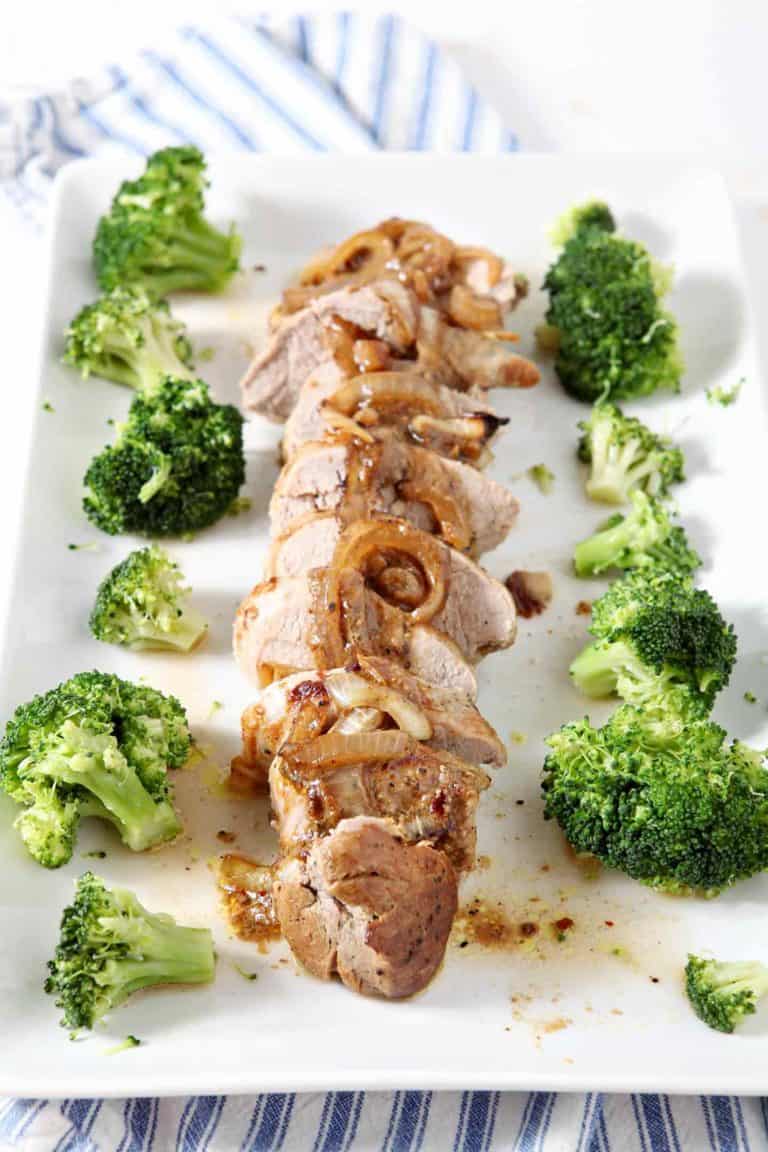 A family favorite, Leigh's Everything-but-the-Kitchen-Sink Pork Tenderloin bakes up to make a DELICIOUS meal any time of the year! This pork tenderloin first marinates in a mixture of olive oil, Worcestershire sauce, soy sauce, grainy mustard, hot sauce, apple cider vinegar and various spices to create a juicy and tender protein before baking. Leigh's Everything-but-the-Kitchen-Sink Pork Tenderloin is bound to become a household favorite!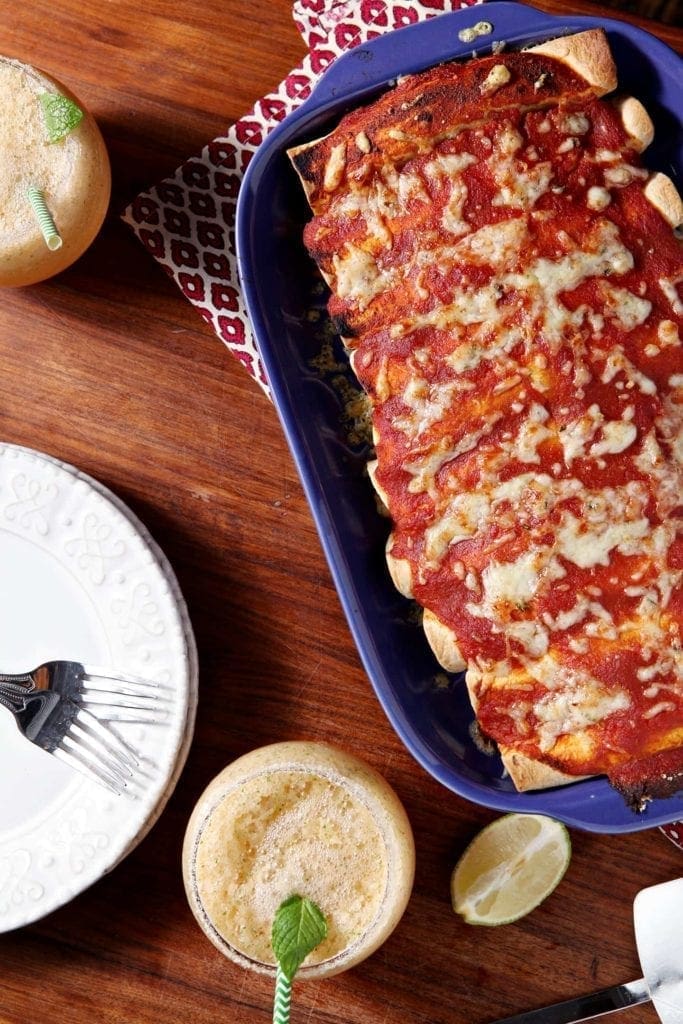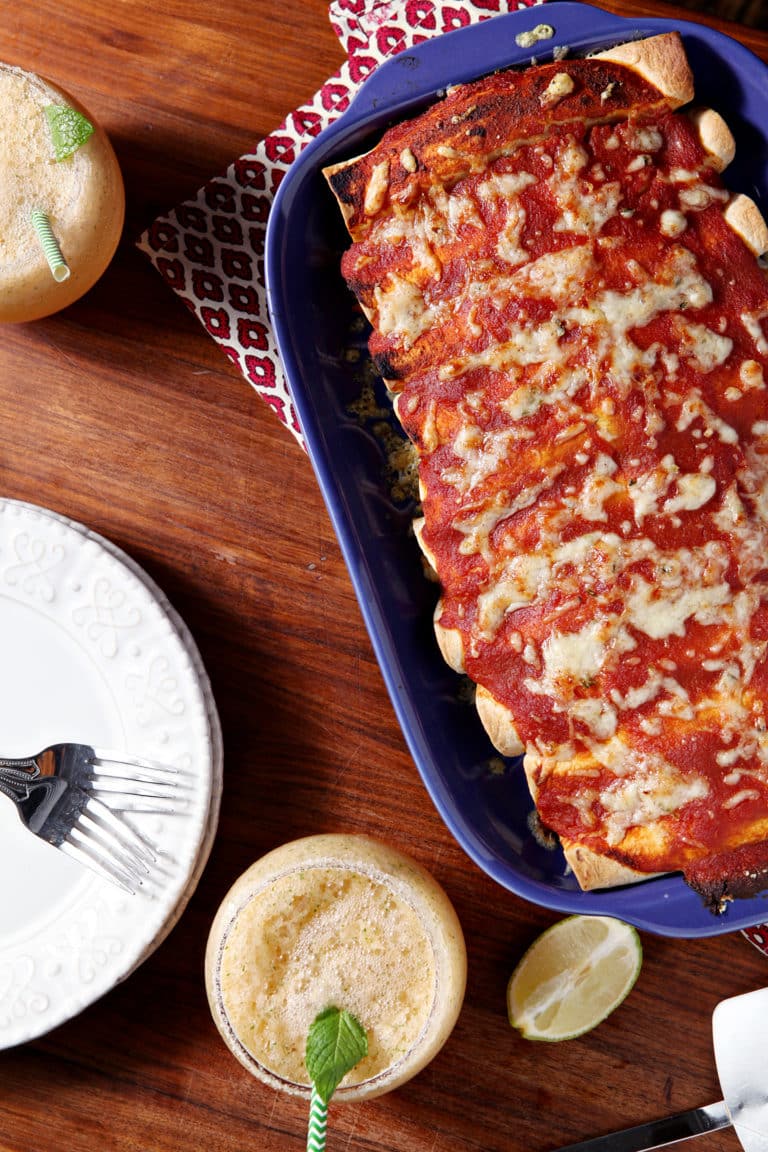 Pork Carnitas Enchiladas are a delicious entree for any type of get-together! Pork simmers in the slow cooker on low all day. Shred the meat once it is fall-apart tender. Combine it with onion and green chiles in a skillet, brown the ingredients slightly, then roll it up. The enchiladas are slathered in spicy enchilada sauce and baked until crisped on the edges.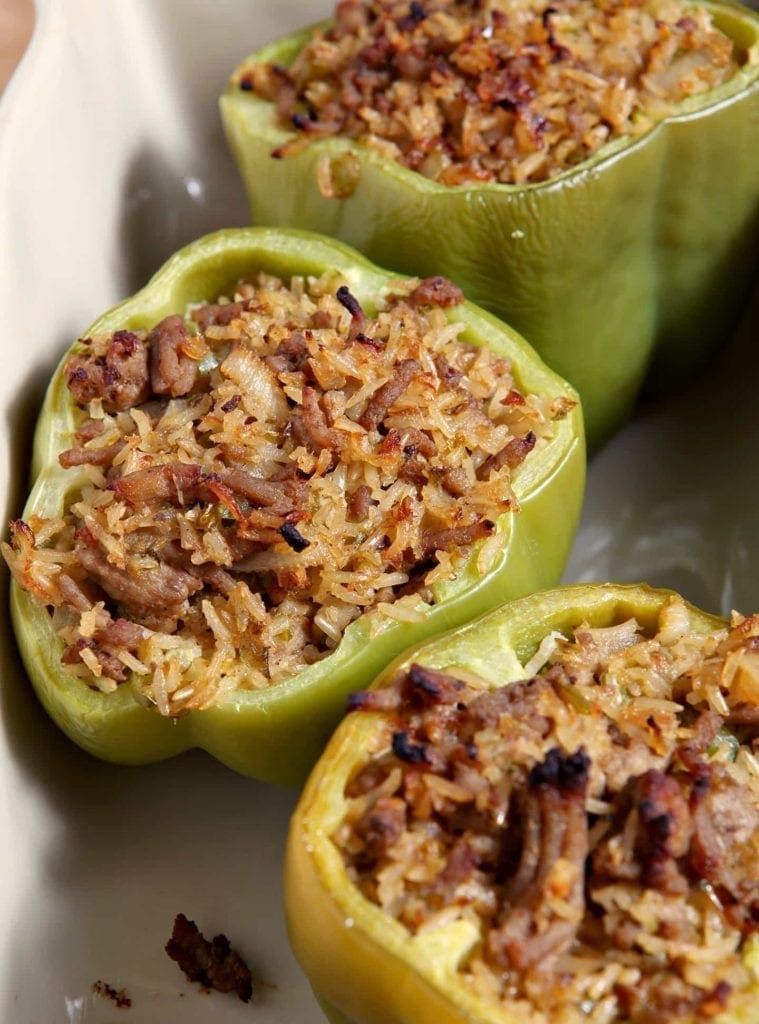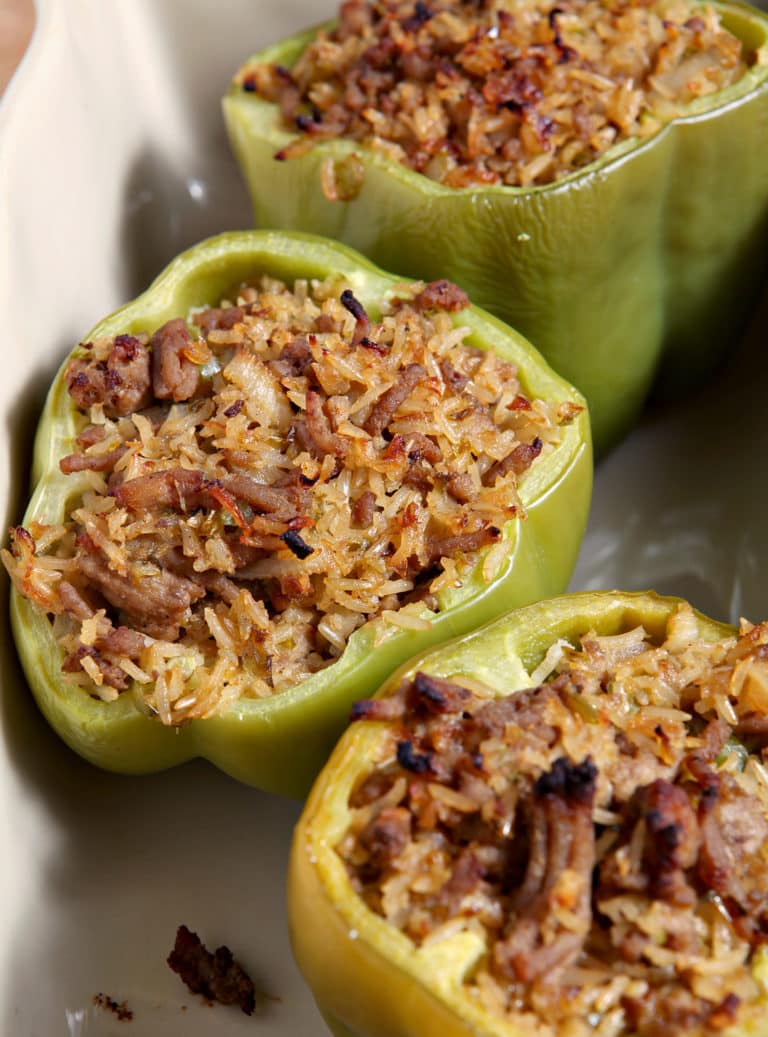 Take advantage of fresh produce this summer and make Jambalaya Stuffed Bell Peppers, a delicious dinner of rice, the holy trinity (of onion, celery and bell pepper) and ground turkey, baked inside a bell pepper!

Serve Shredded Applesauce Chicken Sliders with Brussels Sprouts Apple Slaw at your next tailgate! These sliders can be made in advance for an easy entertaining the day of. Chicken slow cooks with applesauce and other flavors before it's shredded. Reduce the cooking liquid to be used as a sauce, then shred Brussels sprouts and apples and toss in a yogurt-apple juice dressing. Serve the sliders on buns, and enjoy!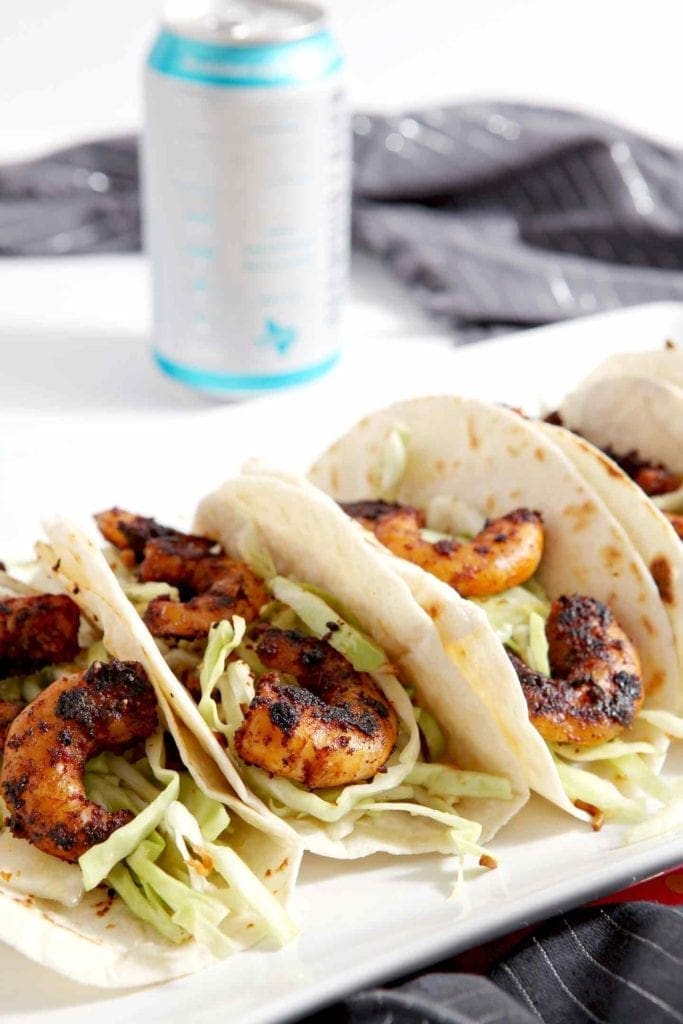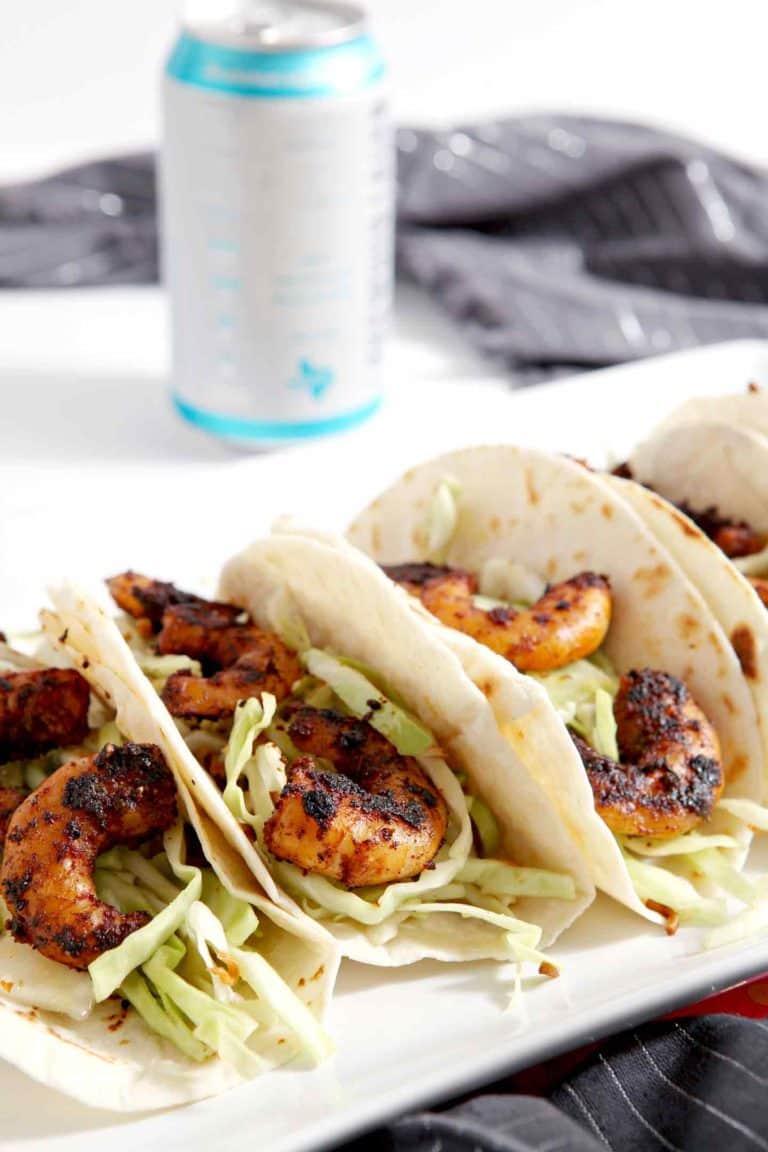 Blackened Shrimp Tacos with a crunchy coleslaw are the BEST entree for dinner, a casual gathering or even a football tailgate! Shrimp are liberally sprinkled with homemade blackening seasoning, then cooked. Flour (or corn!) tortillas are warmed on the grill. When the elements of the dish are ready, the shrimp are served atop a (made-at-home) Asian-inspired coleslaw that features green cabbage, toasted almonds, toasted Ramen noodles and a honey vinaigrette. These Blackened Shrimp Tacos go great with beer!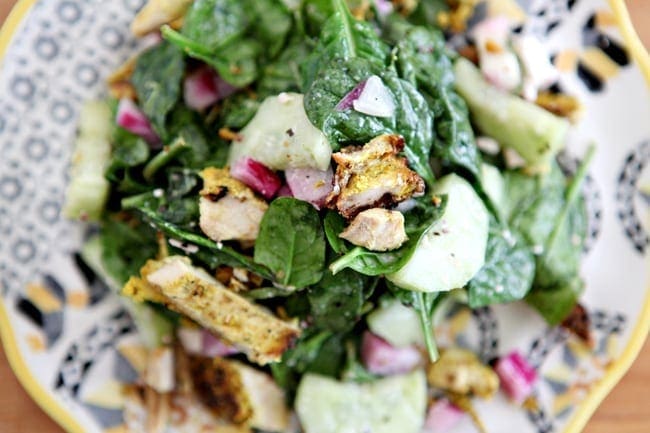 Jazz up your salad game with this Lebanese-inspired Chicken Shawarma Salad! Chicken shawarma tops a spinach salad with red onion, cucumbers, tomatoes and a homemade Greek dressing.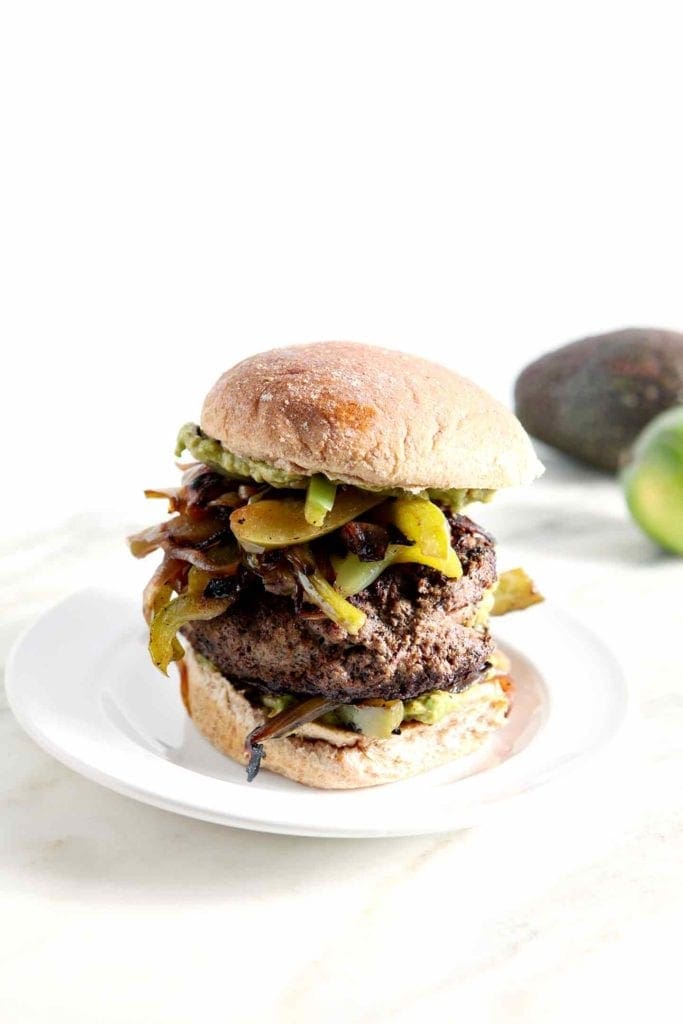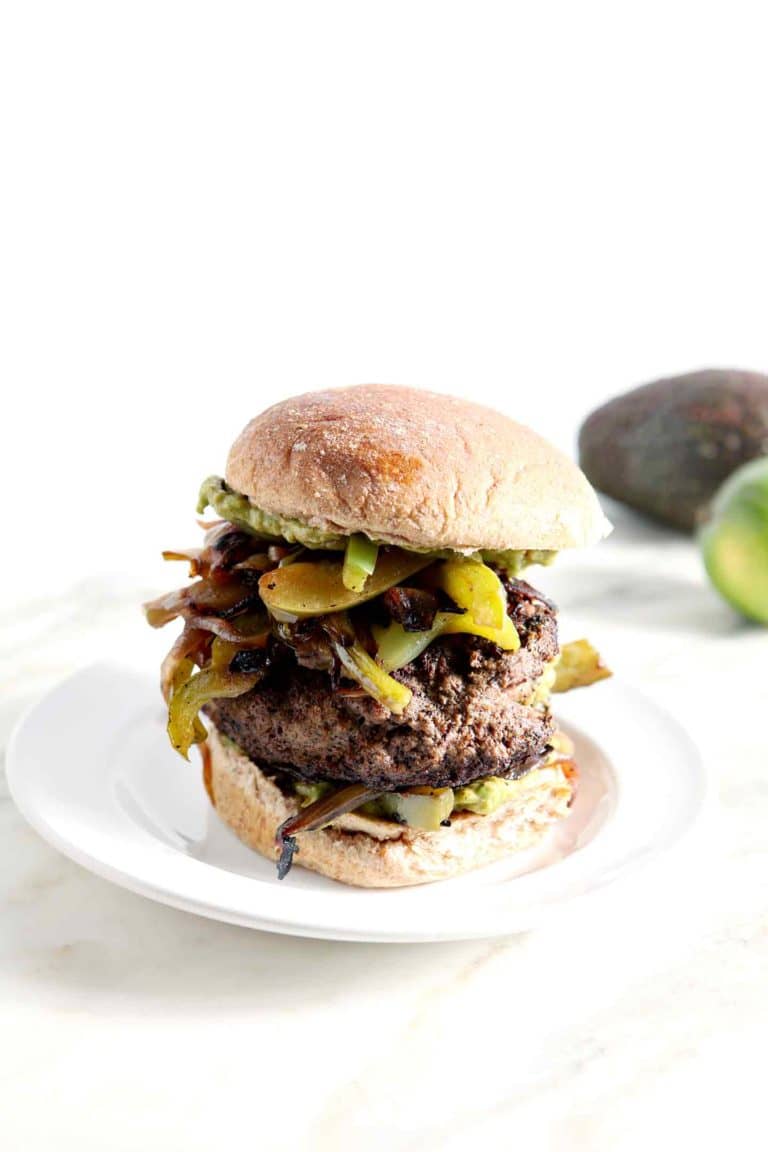 Guacamole-Stuffed Fajita Burgers make the PERFECT entree for summer parties! This burger combines guacamole goodness, beefy deliciousness and fajita veggies on a bun. First, make guacamole using avocados, taco seasoning and fresh lime juice. Instead of forming a normal patty, make two smaller ones. Dollop guacamole on one, then top with the other and seal tightly. Pan fry or grill and serve. These burgers are a guaranteed hit!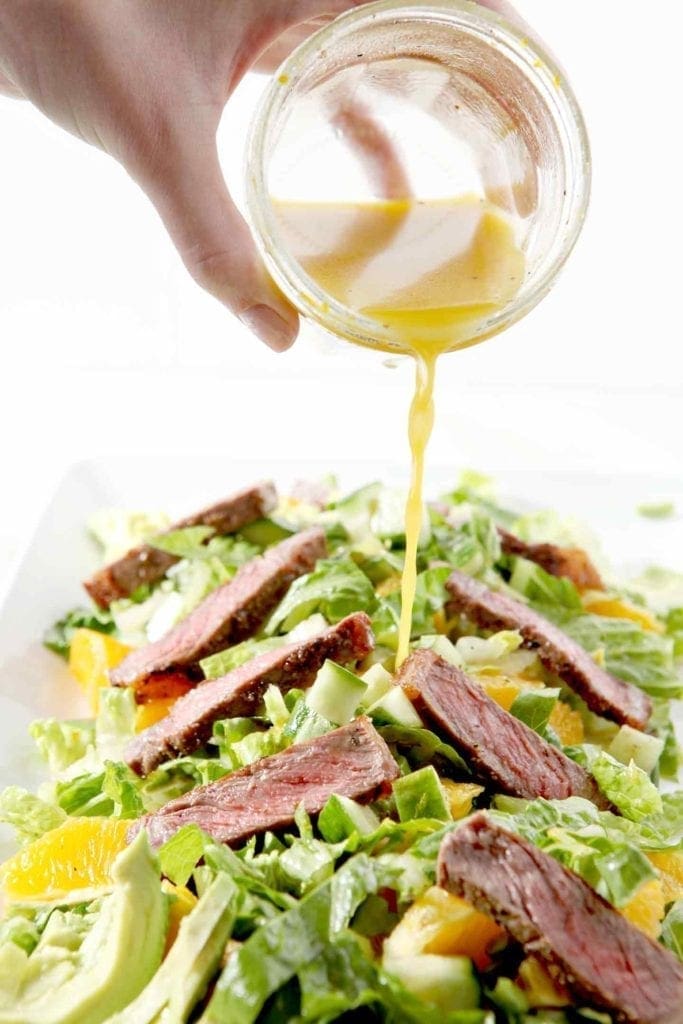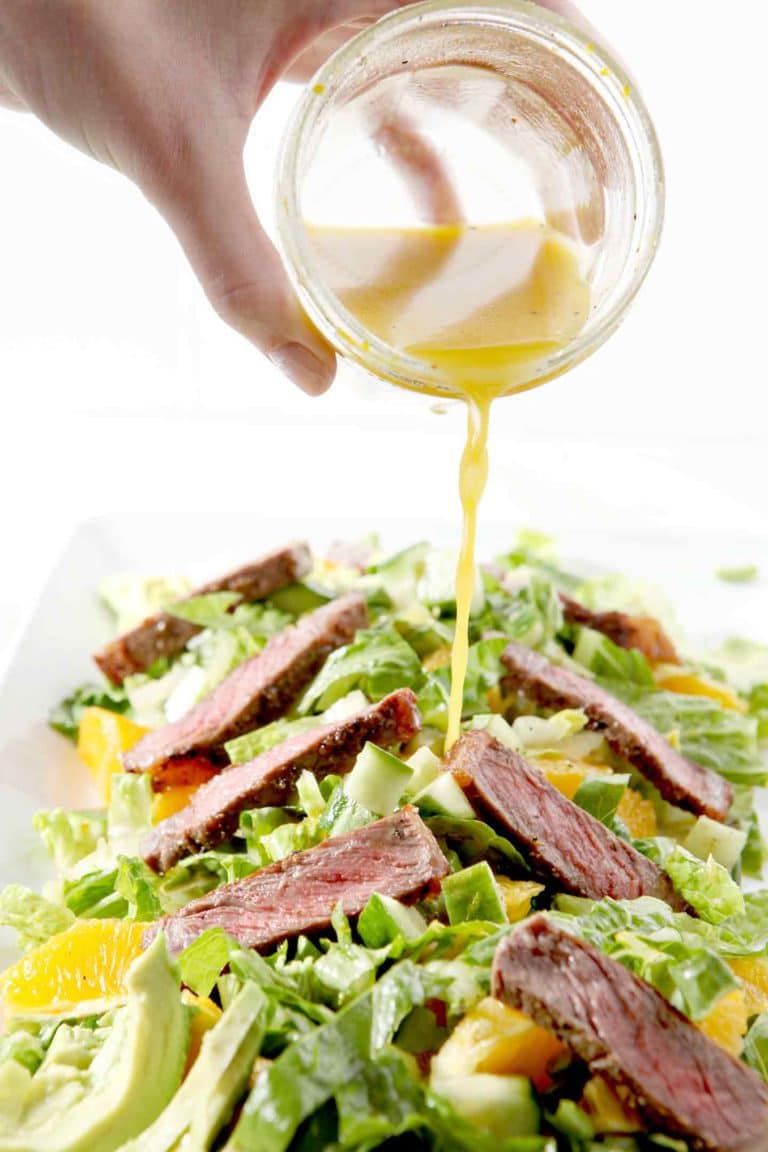 Looking for an entree or appetizer to wow the crowd this summer? Orange Steak Salad is the way to go! This Whole30-compliant, Paleo and Gluten Free recipe will impress guests and family alike. Perfectly cooked New York Strip Steak sits atop a bed of romaine lettuce, studded with navel oranges, English cucumbers and avocado. Finish with a drizzle of homemade Orange Vinaigrette, and this Orange Steak Salad makes the perfect summer meal!
Fruity Desserts
Nothing says summertime like a fruity dessert! Below are some of our all-time favorites… ones that we basically serve on repeat during these warm months. While some require baking, others are frozen treats that are oh-so-good. Do you prefer a cold or warm dessert in the summer?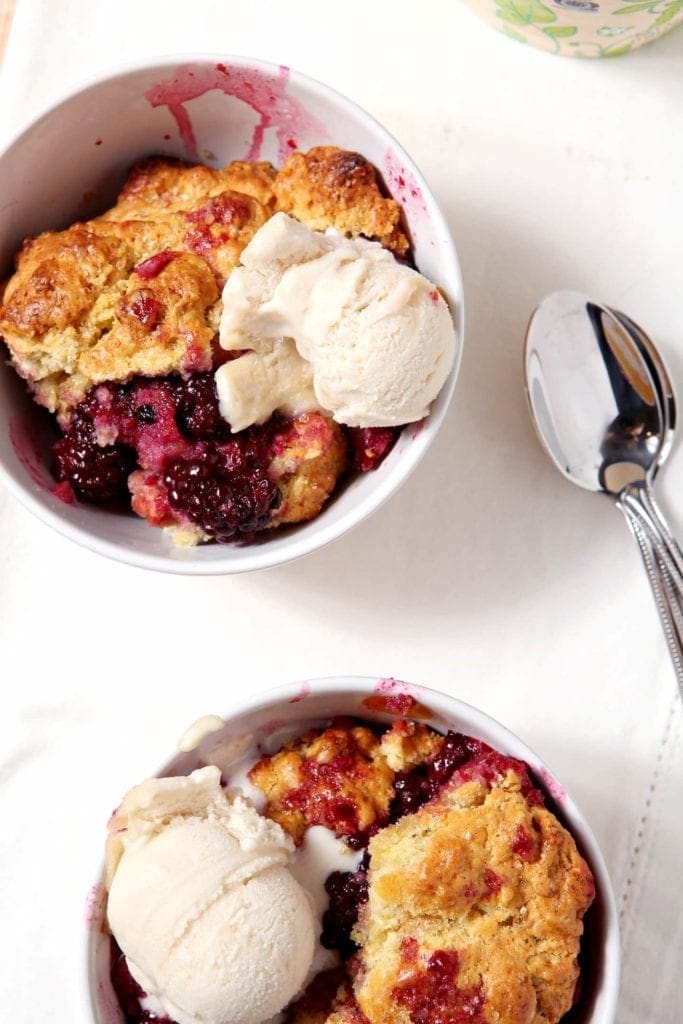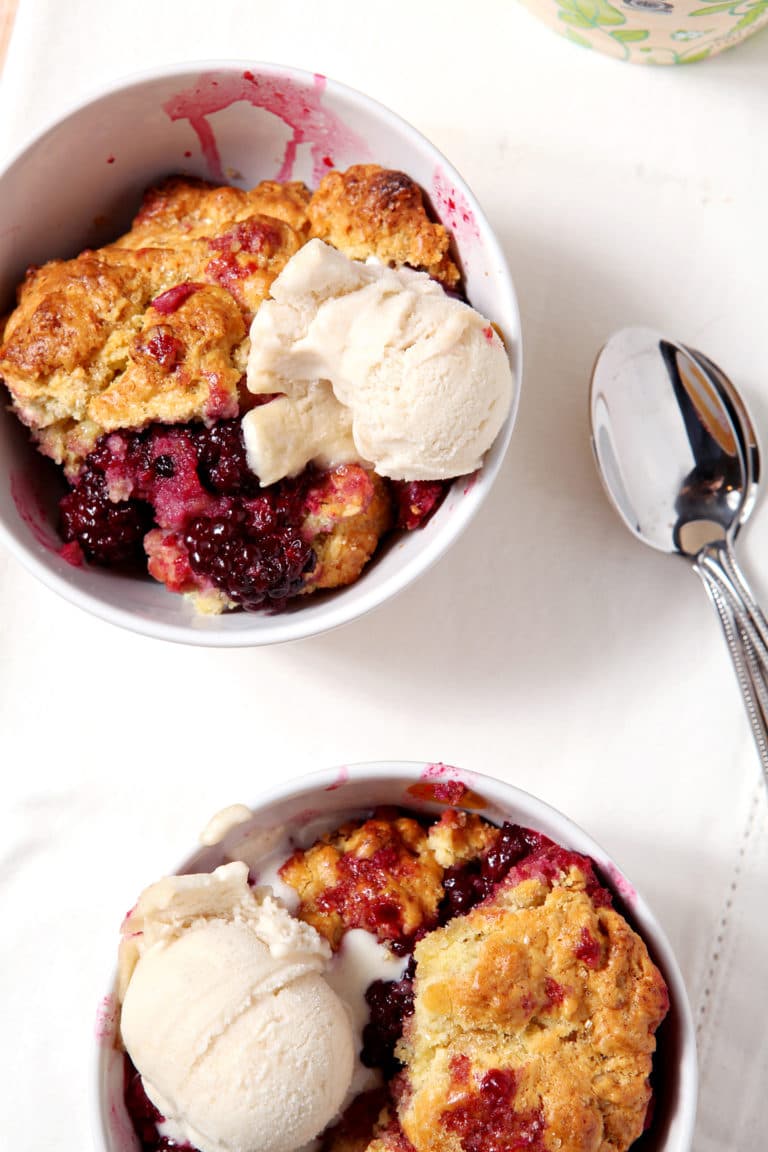 Dairy-Free Blackberry Cobbler is the ultimate summertime dessert. Toss blackberries in sugar and lemon zest, then roast beneath a cobbler topping. Serve with a scoop of your favorite (dairy-free) ice cream to top off this scrumptious treat.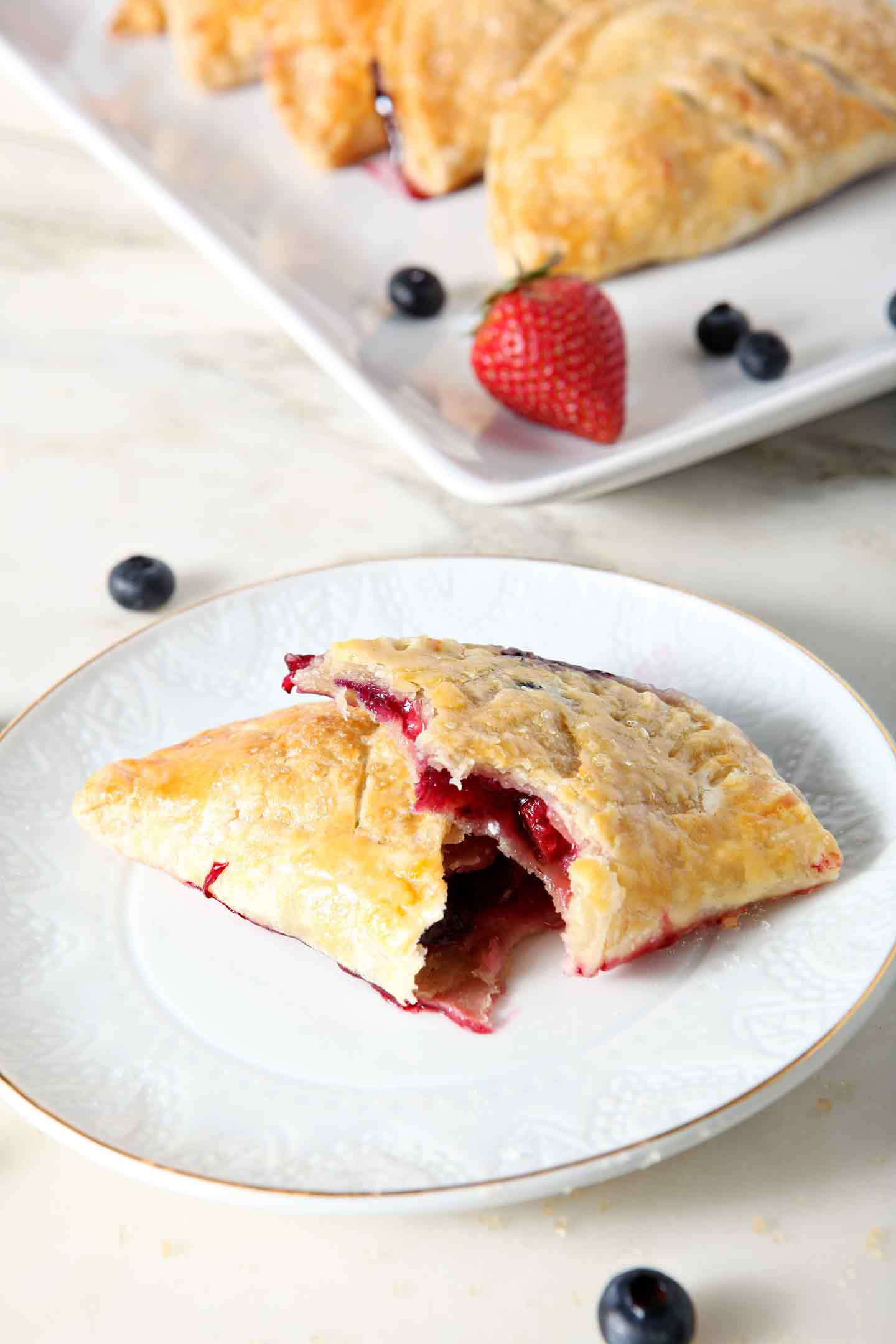 Strawberry and Blueberry Hand Pies make the PERFECT summer dessert. Bursting with fresh blueberries and strawberries, these naturally sweet, handheld pies sing of seasonal flavors. Not only do they taste of the season, but they're wrapped in a decadent buttery crust. Make Strawberry and Blueberry Hand Pies in advance for any summertime gathering!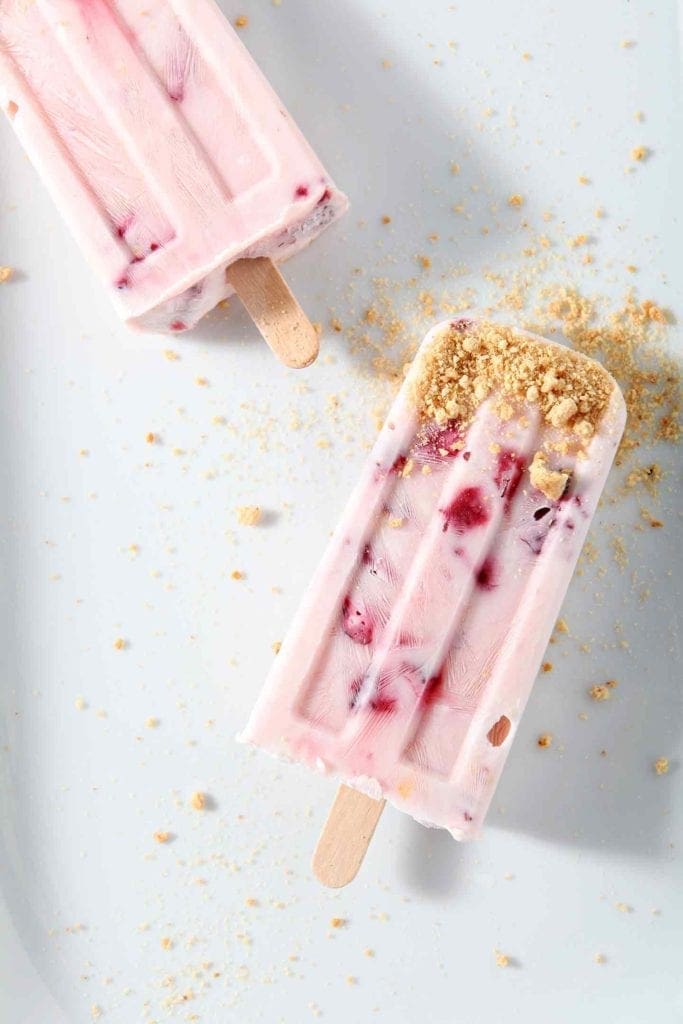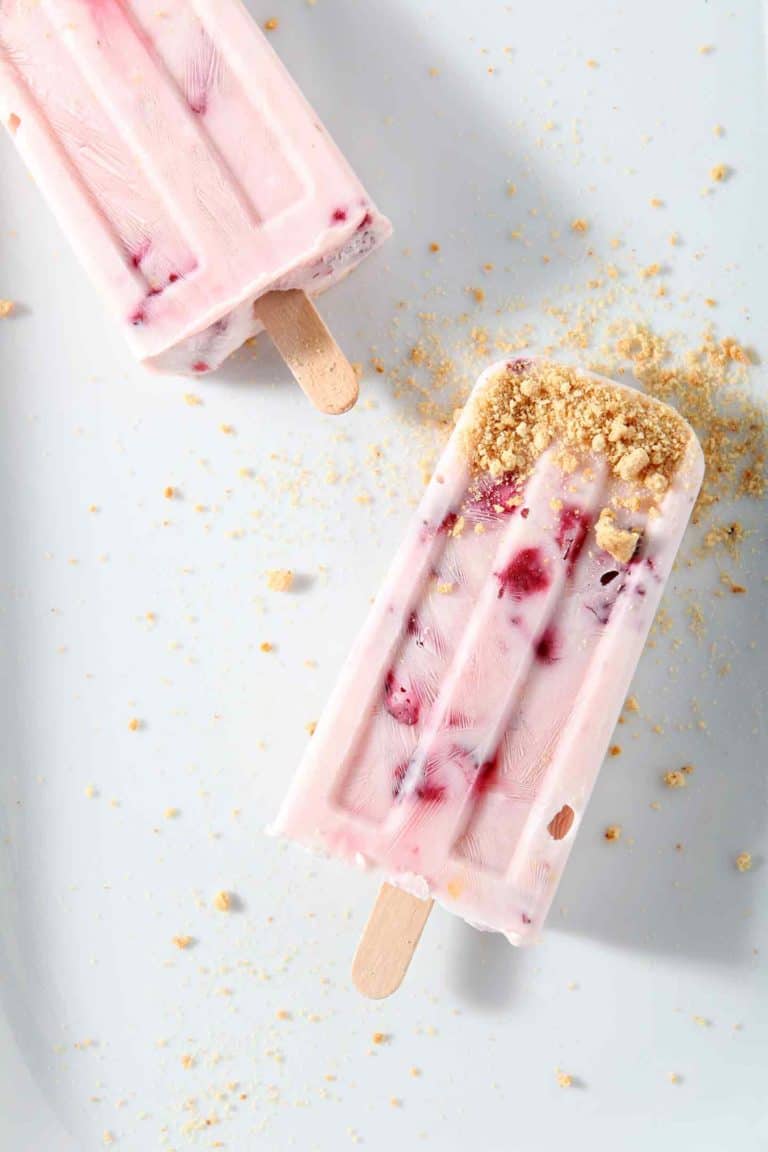 These tangy, naturally sweet Roasted Strawberry Cheesecake Popsicles make a refreshing sweet treat for a hot summer day. Roast strawberries in the oven with maple syrup, then toss with lemon zest, cream cheese, yogurt and maple syrup. When combined, pour into popsicle molds and freeze overnight. Once frozen, sprinkle with Graham cracker crumbs, and enjoy! These naturally sweetened Roasted Strawberry Cheesecake Pops are the perfect summer dessert!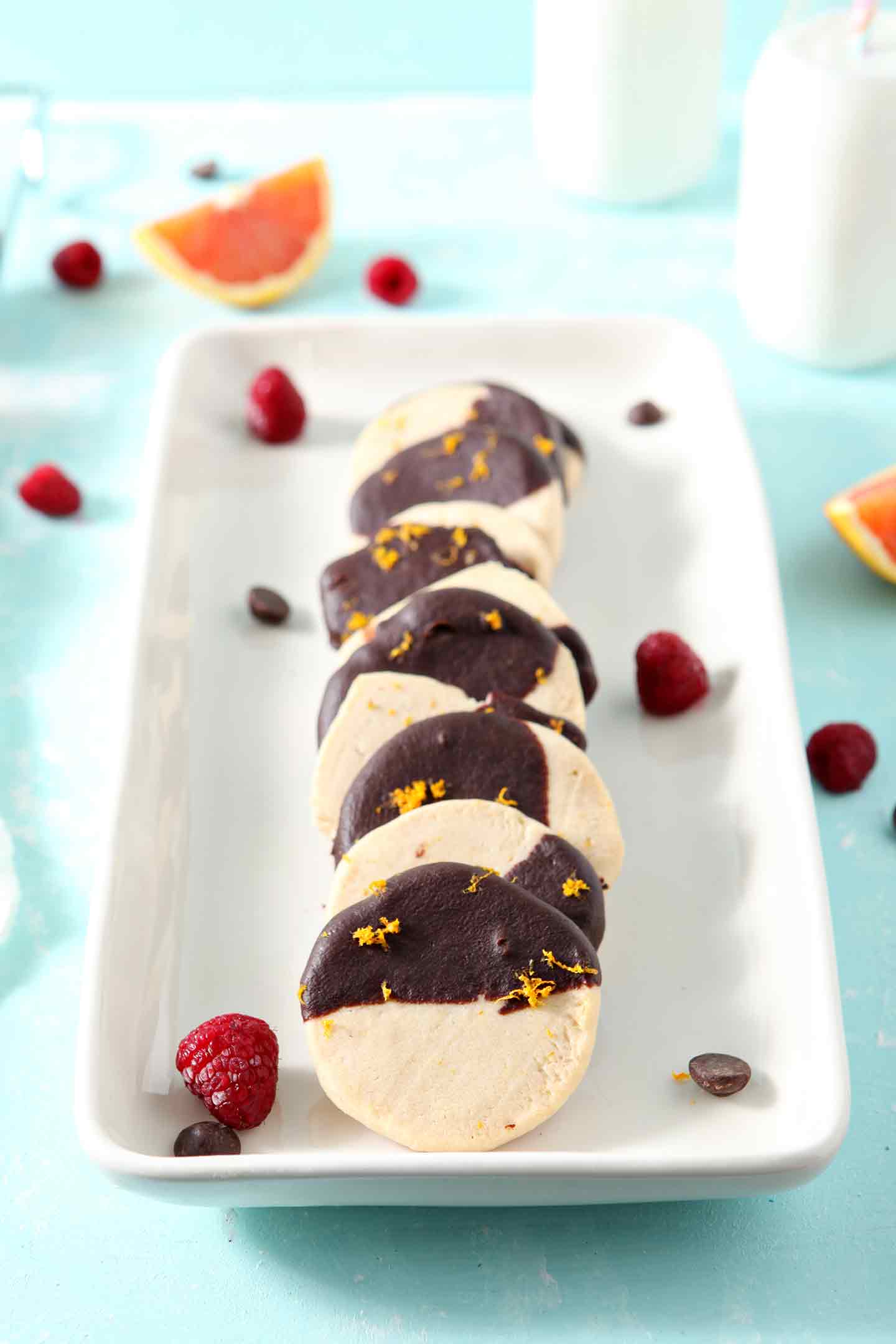 Orange Raspberry Shortbread Cookies are the perfect way to show someone you care! Homemade shortbread is sweetened with raspberry preserves and gets a little zing from orange zest. After baking, dip the cookies in chocolate ganache and sprinkle with orange zest. Orange Raspberry Shortbread Cookies make a lovely not-too-sweet dessert!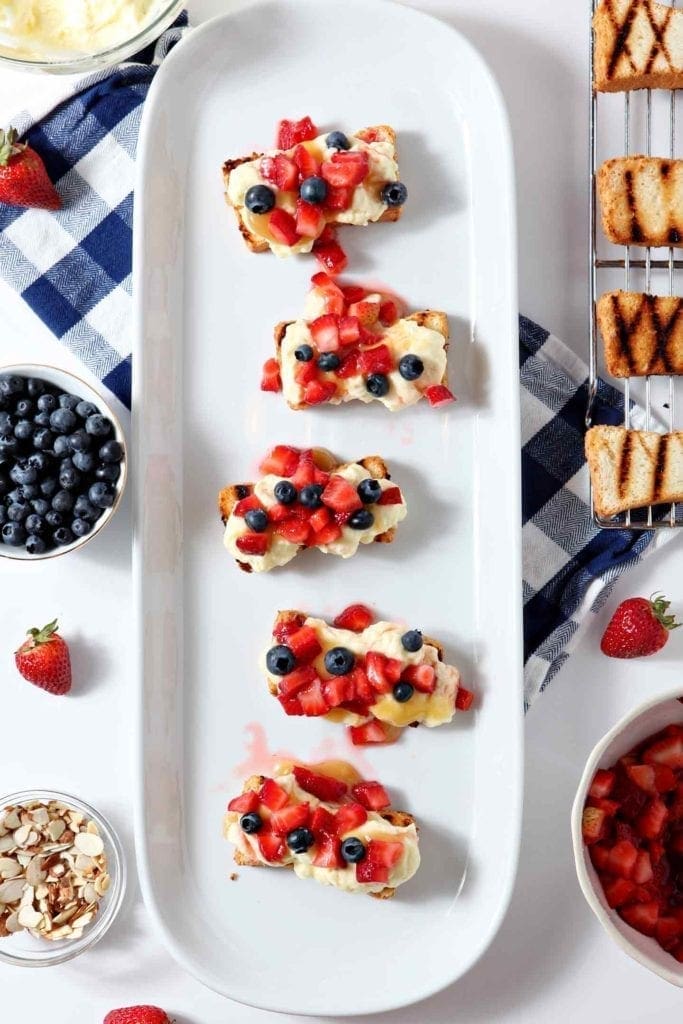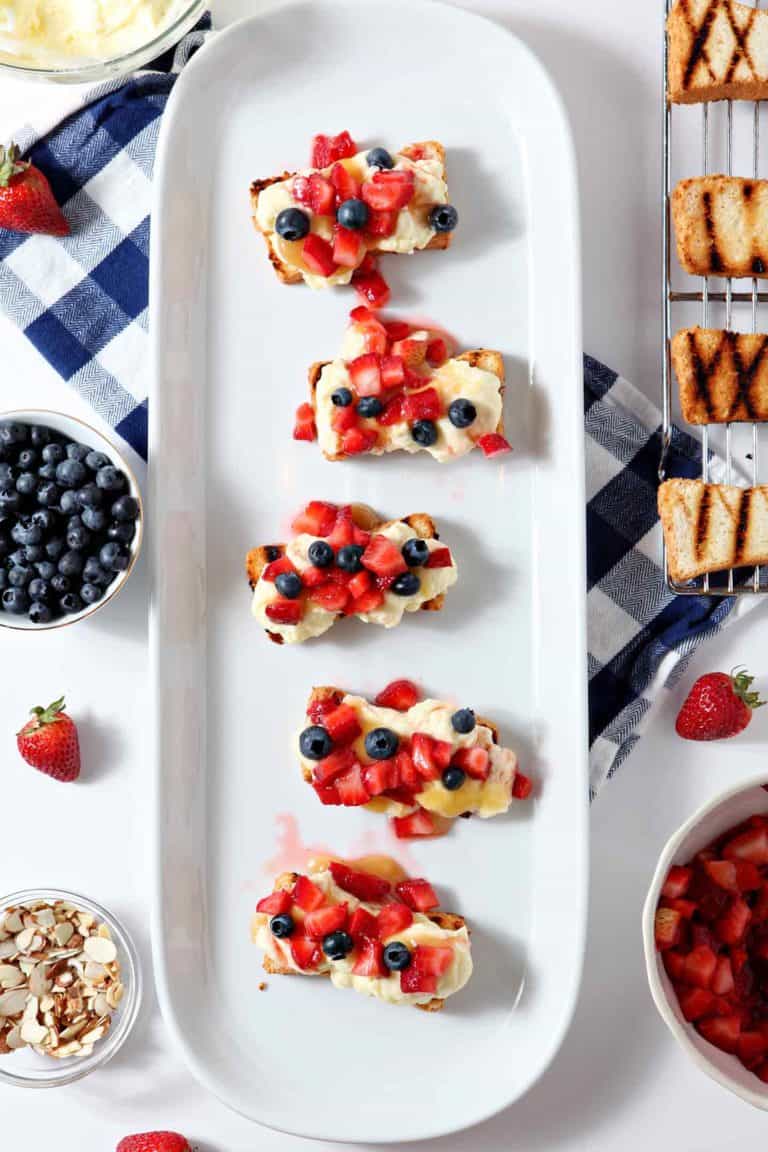 Celebrate the summertime with Patriotic Strawberry Bruschetta. This dessert bruschetta features a homemade almond pudding, lemon curd, macerated strawberries and blueberries, too! Red, white and blue, these Patriotic Strawberry Bruschetta are the perfect dessert to serve to a crowd, whether you're celebrating Memorial Day weekend, July 4th or even Labor Day. Festive, colorful and utterly delicious, this dessert bruschetta is sure to impress!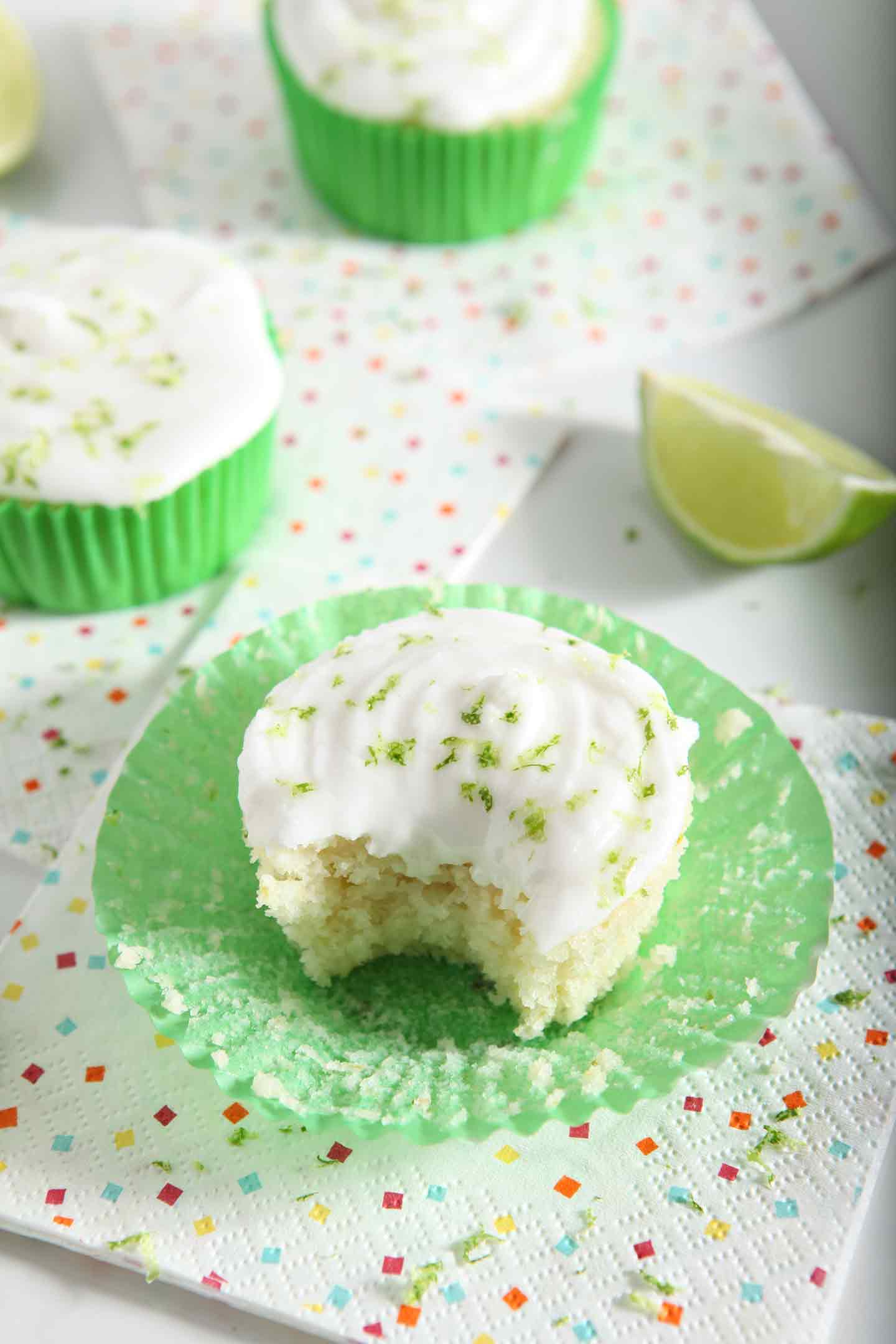 Margarita Cupcakes with Salted Tequila Frosting make the PERFECT dessert for any summertime gathering, taco Tuesday, ladies night and more! This recipe, which makes SIX cupcakes, tastes like its boozy namesake. Lime zest and lime juice add tartness to the batter. Once baked, decorate with salty-sweet tequila frosting for the finishing touch. Moist and flavorful, Margarita Cupcakes with Salted Tequila Icing are sure to be a winner at your next get-together!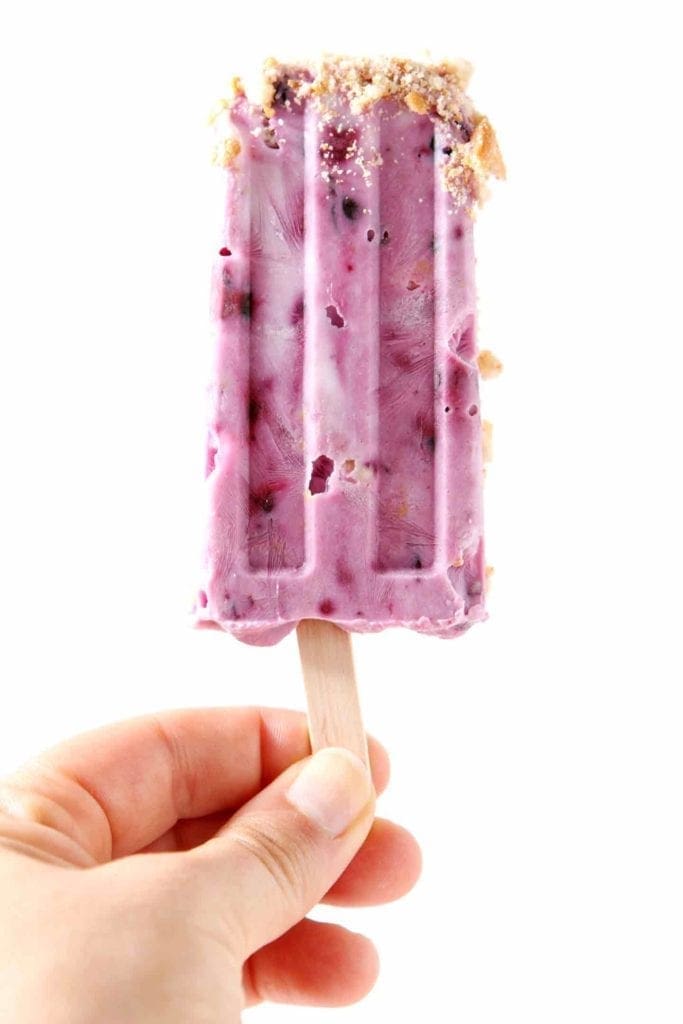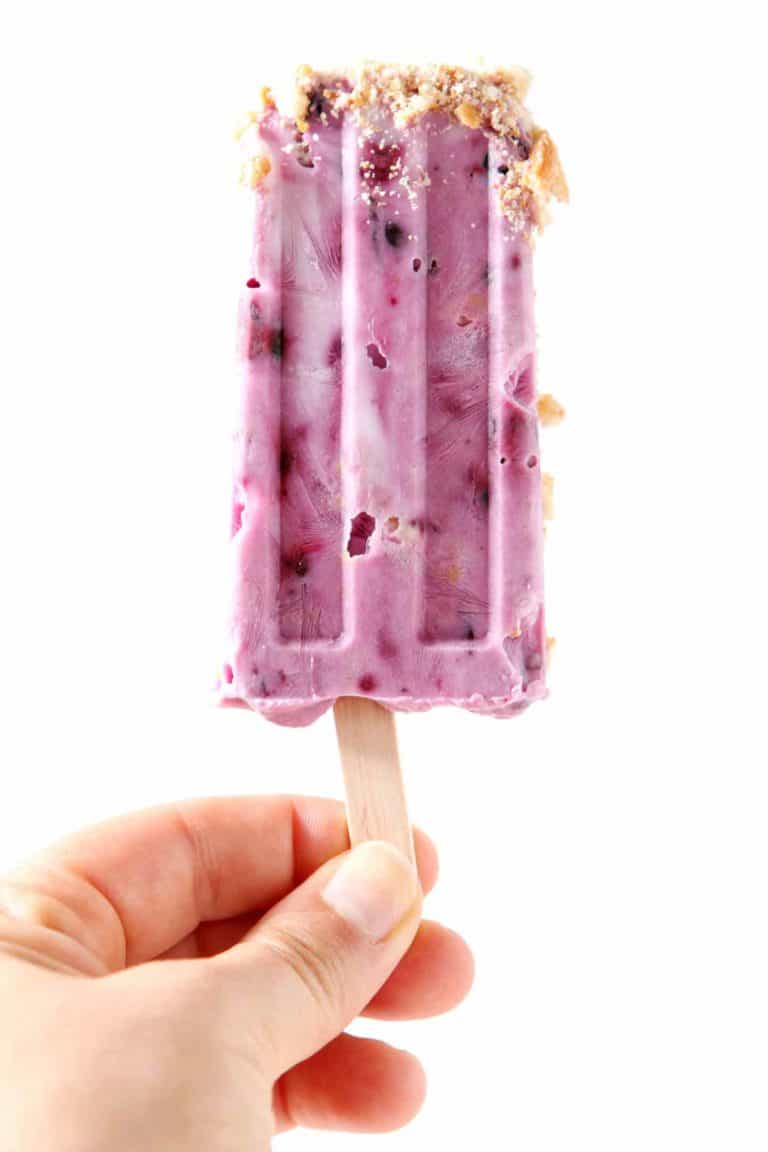 Step up your summertime dessert game by making Blueberry Cheesecake Popsicles! These creamy popsicles start with a base of Greek yogurt. Swirl the blueberry and vanilla yogurts together, then combine with juicy, roasted blueberries, vanilla wafer crumbles and lemon zest and juice. Freeze for 4-6 hours, then dip in additional wafer crumbles for the perfect summertime sweet! The whole family is going to love these popsicles!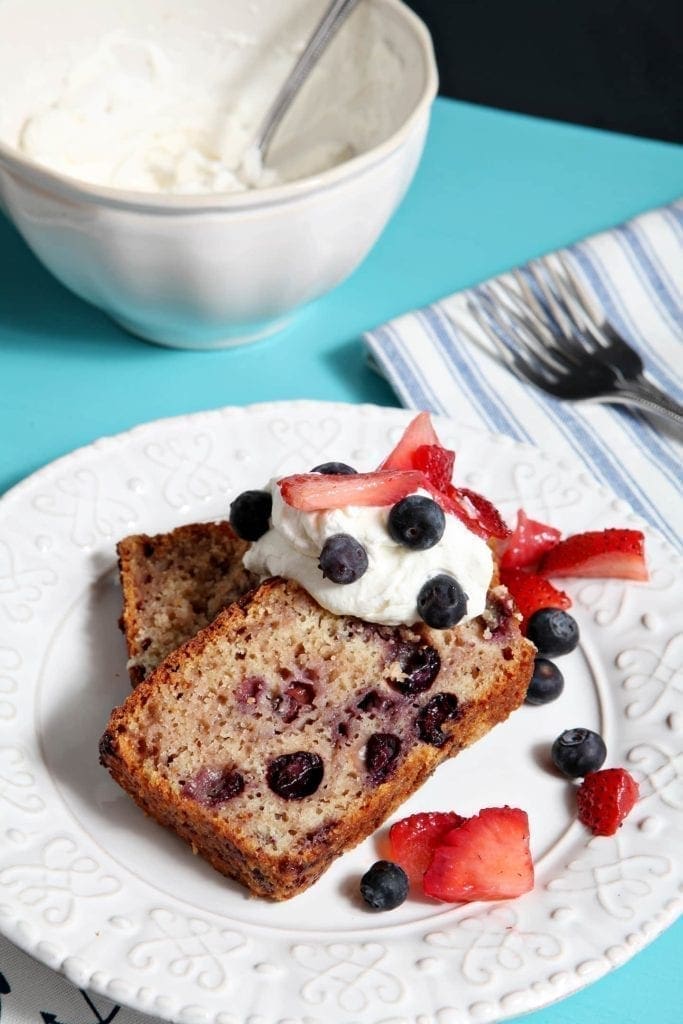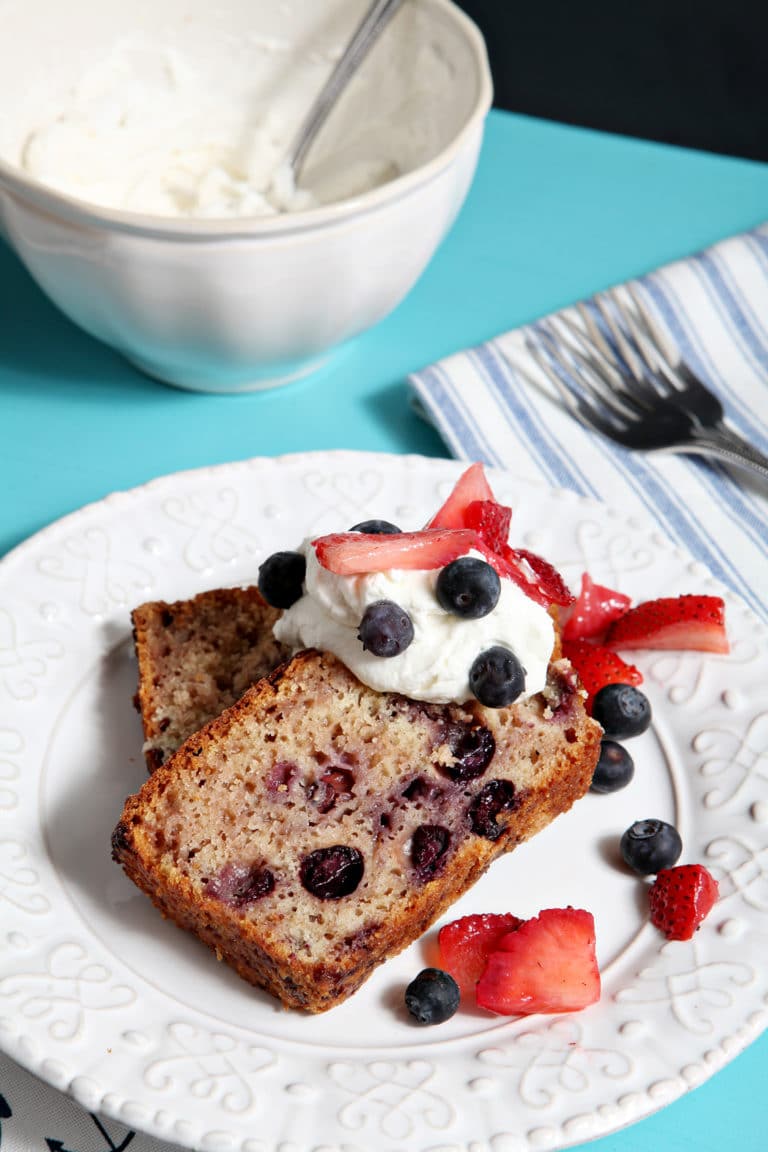 Finish your feast on the lighter side with Berry Pound Cake, full of blueberries and strawberry puree, then topped with homemade whipped cream. The perfect dessert for a warm summer's day.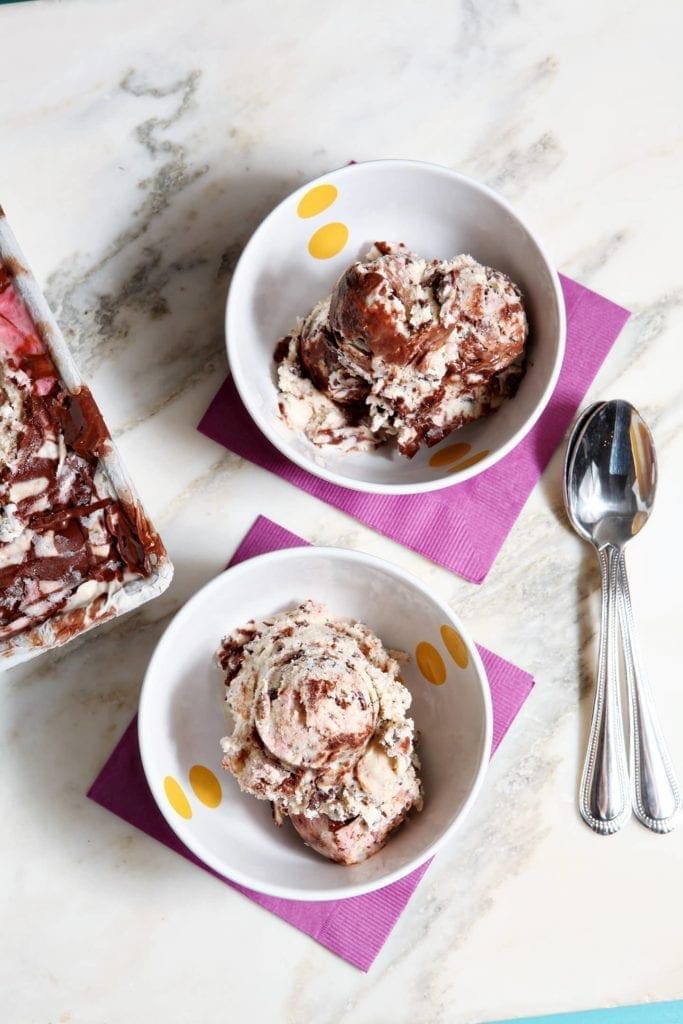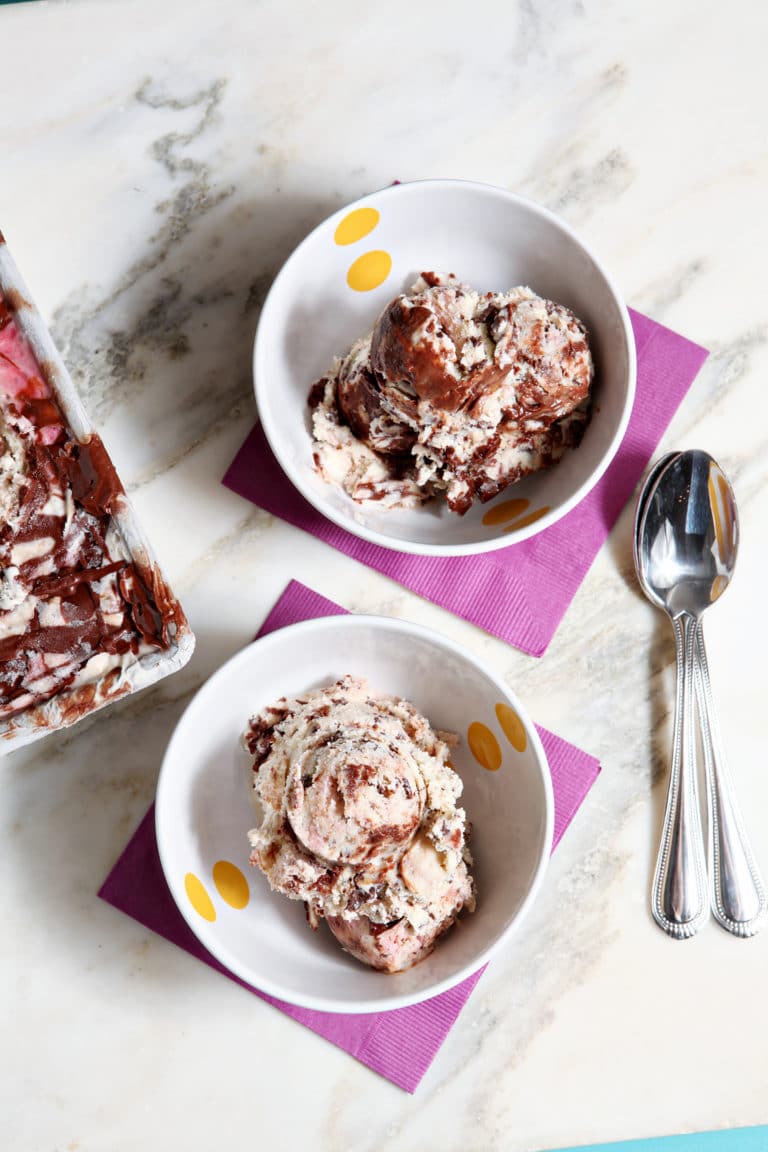 Dark chocolate, raspberry and bourbon, oh my! This Boozy Stracciatella and Raspberry Gelato is the perfect combination of decadent flavors and scoops up beautifully for a summer dessert. Not a bourbon fan? Skip it completely or add spiced rum for a different flavor!
Refreshing Sippers
I don't know about you, but I am always on the lookout for something refreshing to sip during the summertime. I've compiled a list of some of my August favorites for y'all below, featuring both booze and non-alcoholic options!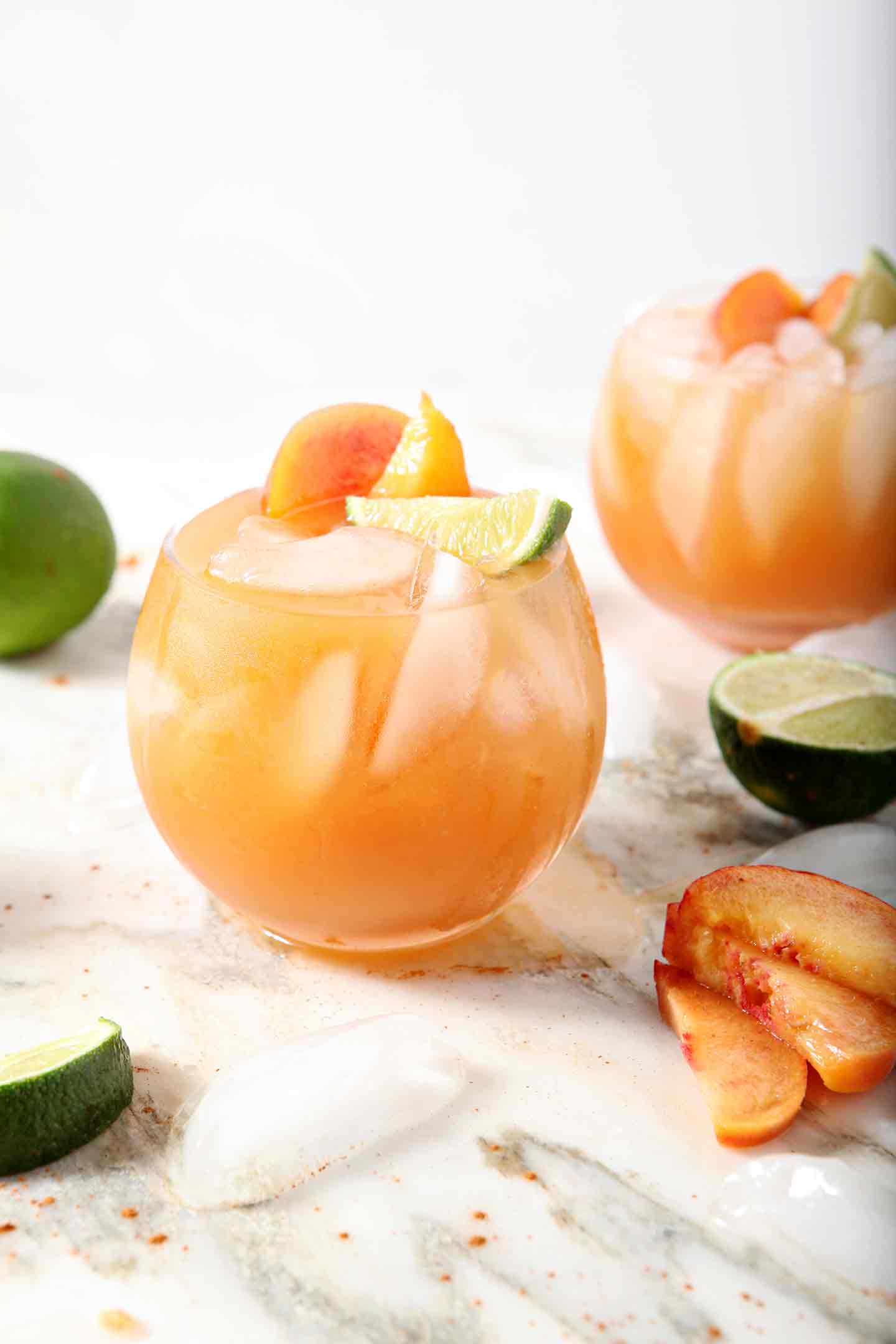 Celebrate summertime by mixing up a Peach Moscow Mule! Fresh peach puree serves as the base for this cocktail. Mix with ginger beer, vodka, a squeeze of lime and cinnamon simple syrup. Sweet, but not too sweet, this fun twist on a classic Moscow Mule tastes like a slice of peach pie on a hot day. Whether you're serving yourself or a crowd, these Peach Moscow Mules are satisfying, well-balanced and a unique sipper to serve at any gathering!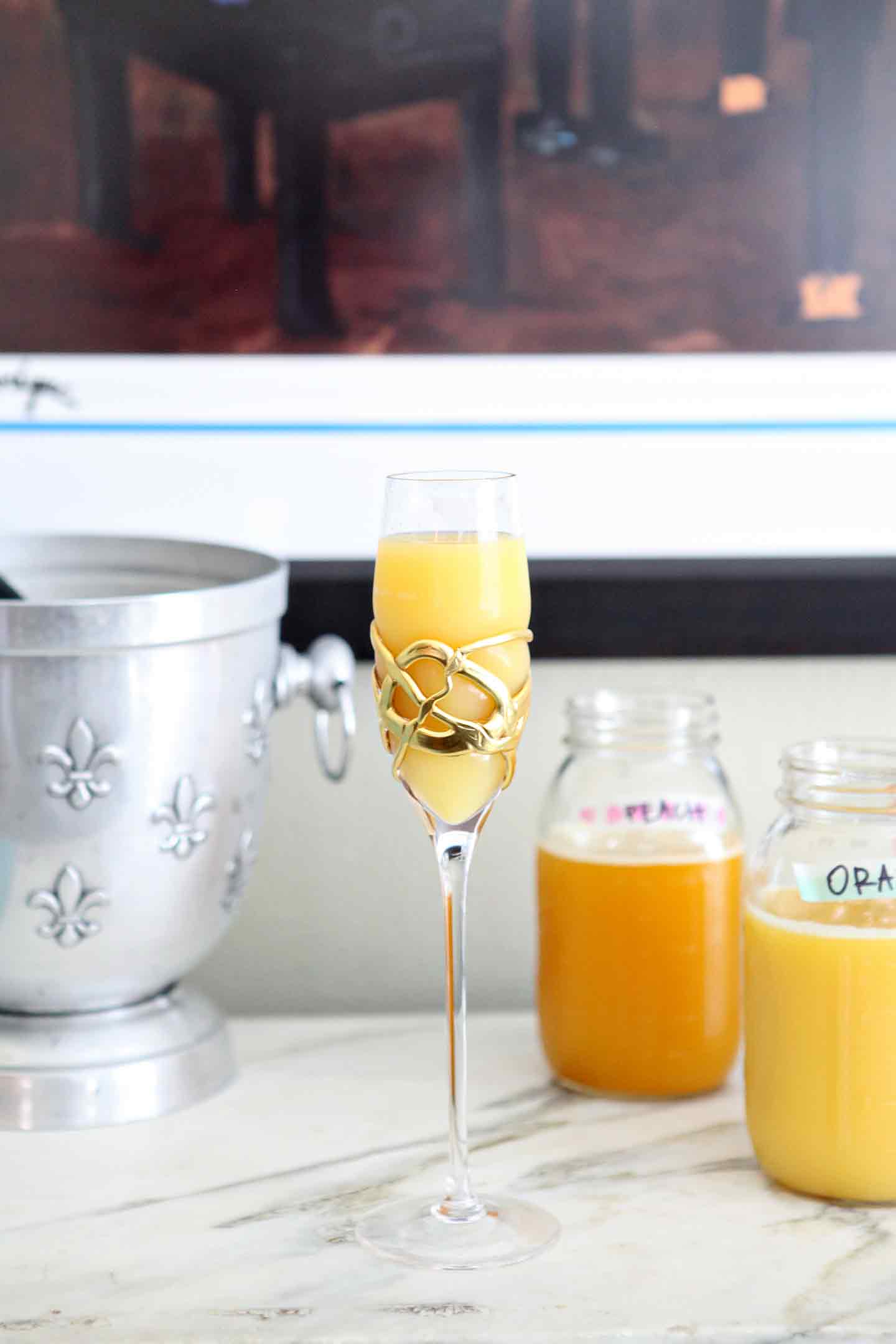 Brunch at home can be so much fun and so versatile! Add a little pizzazz to your next hosting gig by offering a Choose-Your-Own-Adventure Mimosa Bar. Offer several juices and fruits for guests to choose from so they can mix and match to create a mimosa straight out of their dreams. Easy to set up and even easier to enjoy, this Mimosa Bar is sure to become a mainstay at any at-home brunch you host!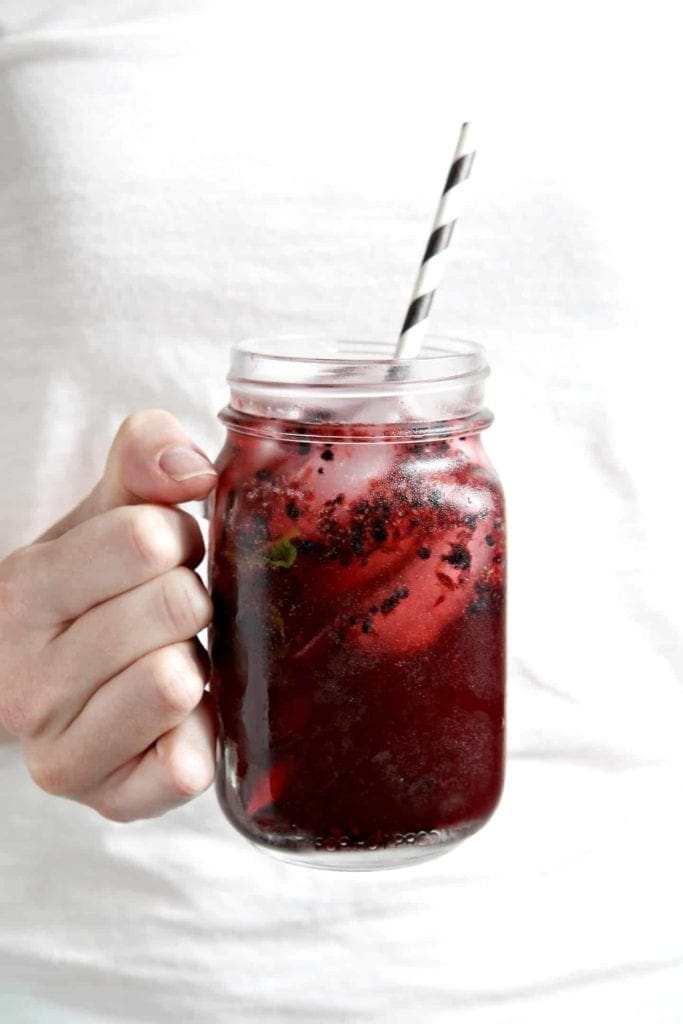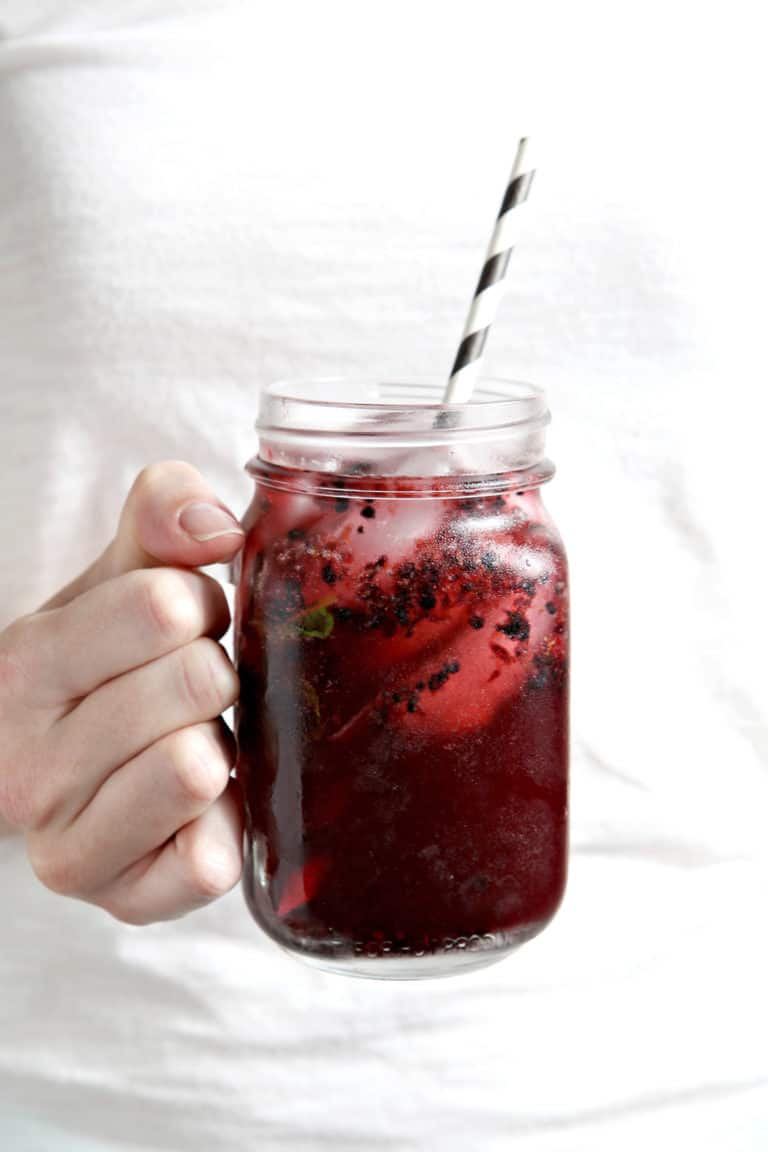 Cool down with a Blackberry Mint Spritzer! Made with simple, fresh ingredients, this will become a fast favorite. Muddle fresh blackberries with mint before pouring in simple syrup and topping with ginger ale. A favorite spring, summer and fall drink, this Blackberry Mint Spritzer is refreshing and flavorful!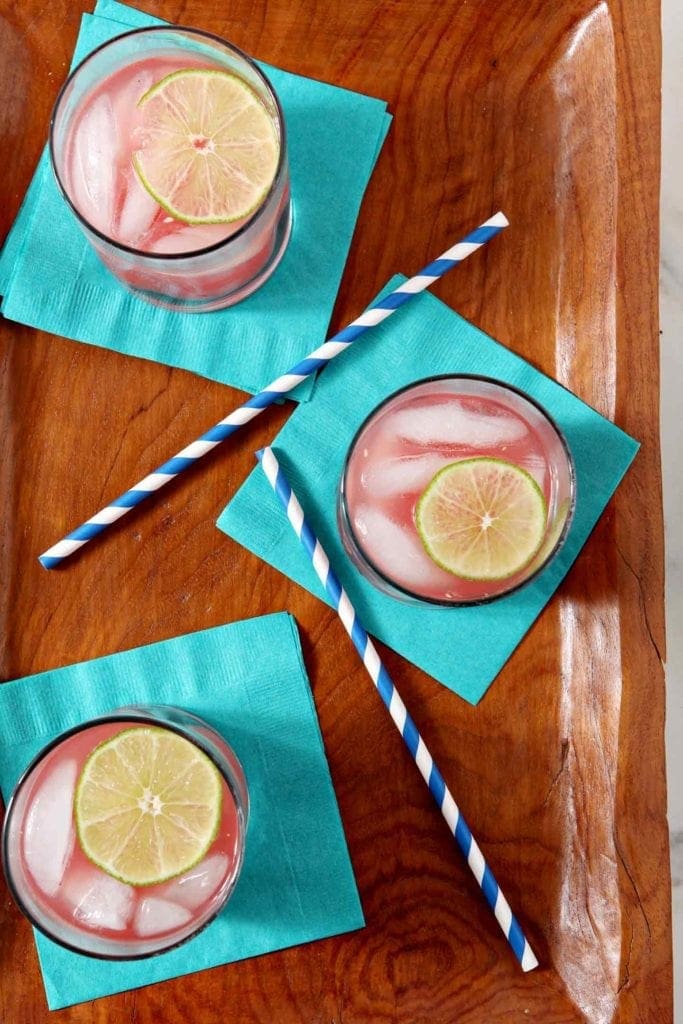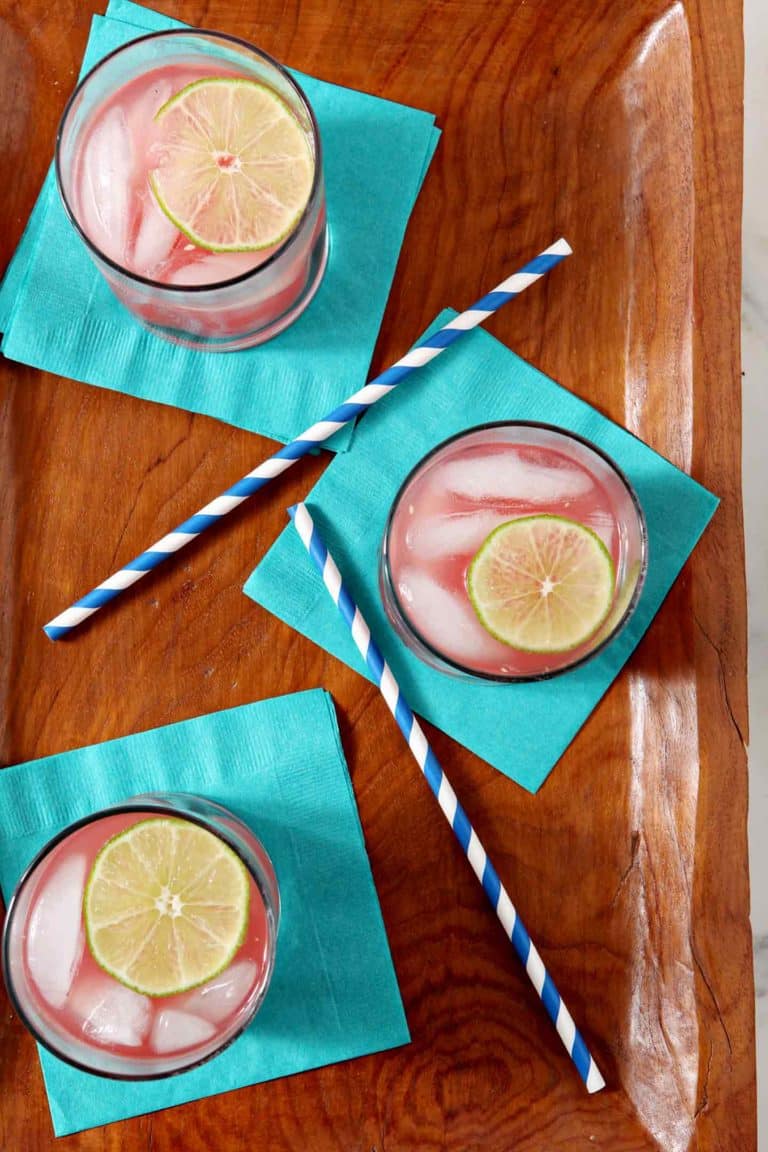 Spiked Watermelon Limeade is the pitcher drink of our dreams! This beautiful pink cocktail highlights just four ingredients for the ultimate summertime cocktail: watermelon, mint, lime and vodka. Puree watermelon chunks, then strain, and add to a pitcher with freshly squeezed lime juice and homemade mint simple syrup. Pour in vodka and chill, then serve to your besties! Refreshing and summery, this Spiked Watermelon Limeade makes a tasty sipper!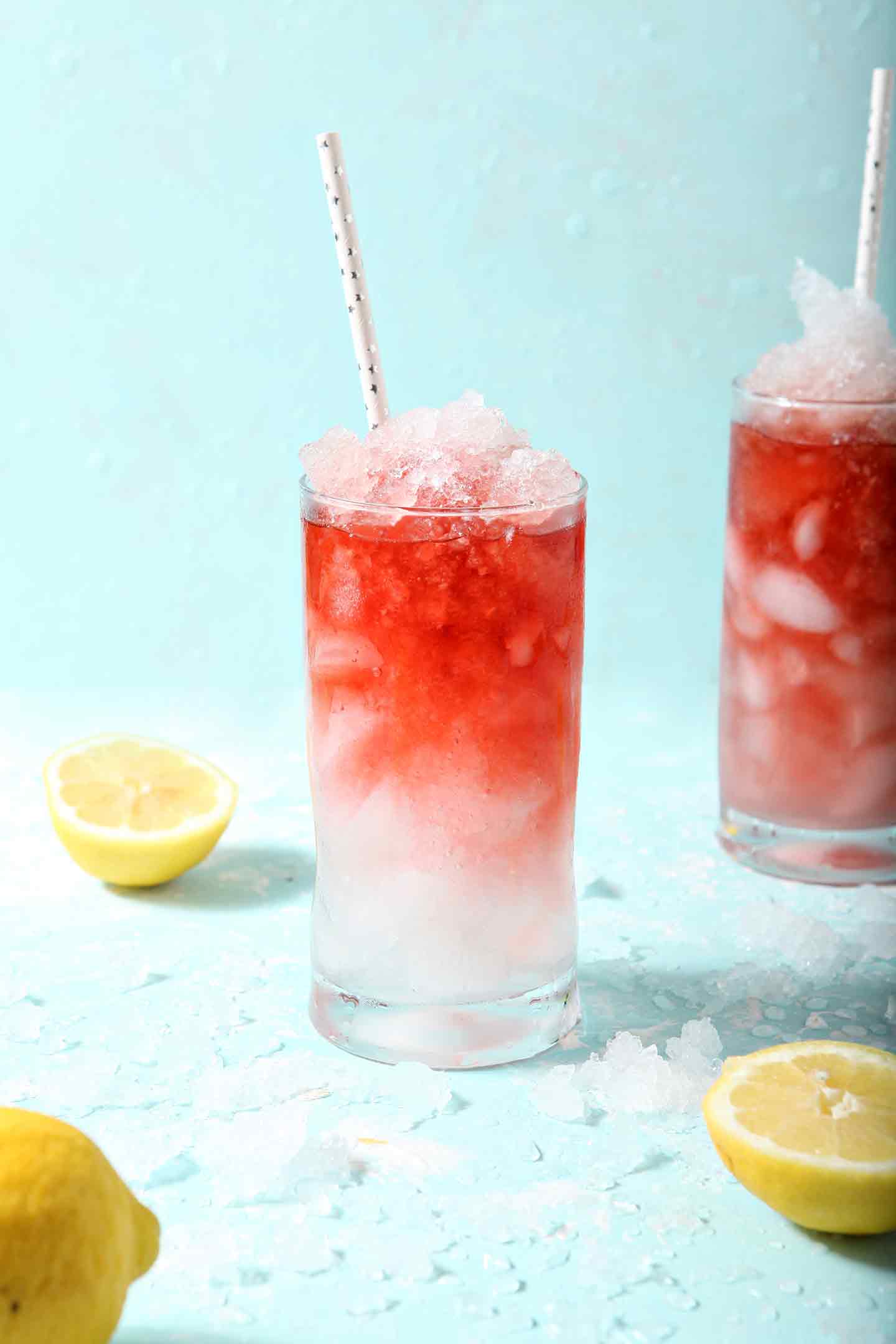 Named after the legendary golfer who invented it, the Arnold Palmer Iced Tea is a refreshing drink. A combination of homemade unsweetened tea and lightly sweetened lemonade, this mocktail sips easy on a hot day. The best part is that when you make the tea and lemonade at home, you can control the sweetness and find your favorite ratio of tea-to-lemonade! Drinking an Arnold Palmer Iced Tea is the perfect way to cool down on a summer's day.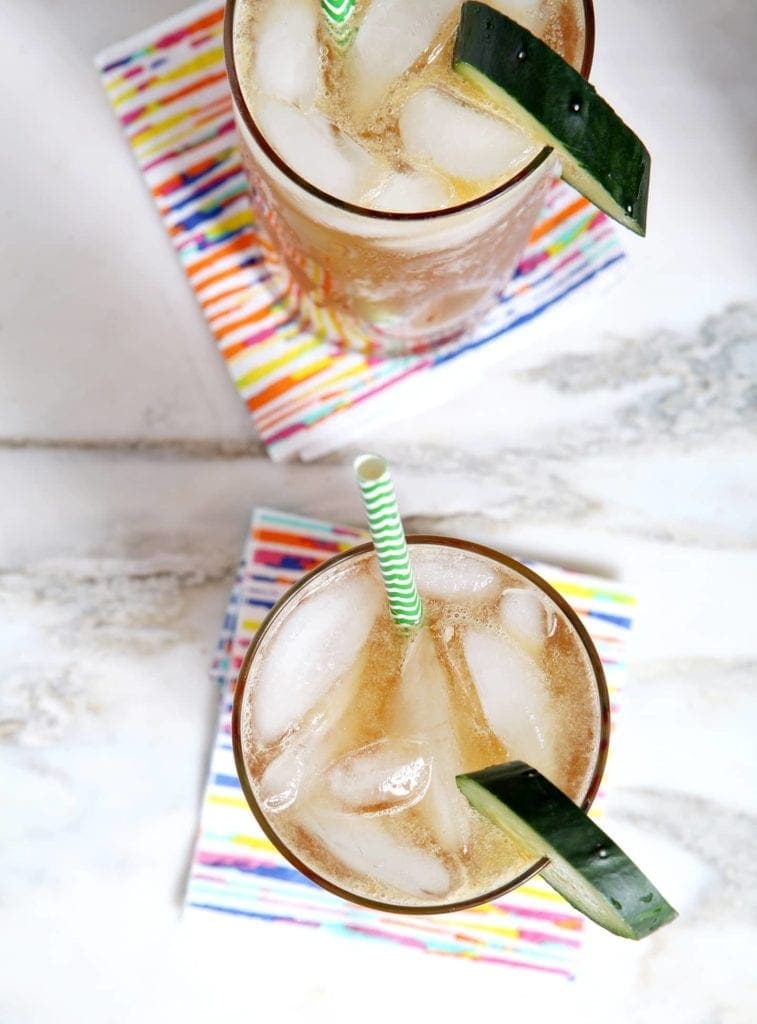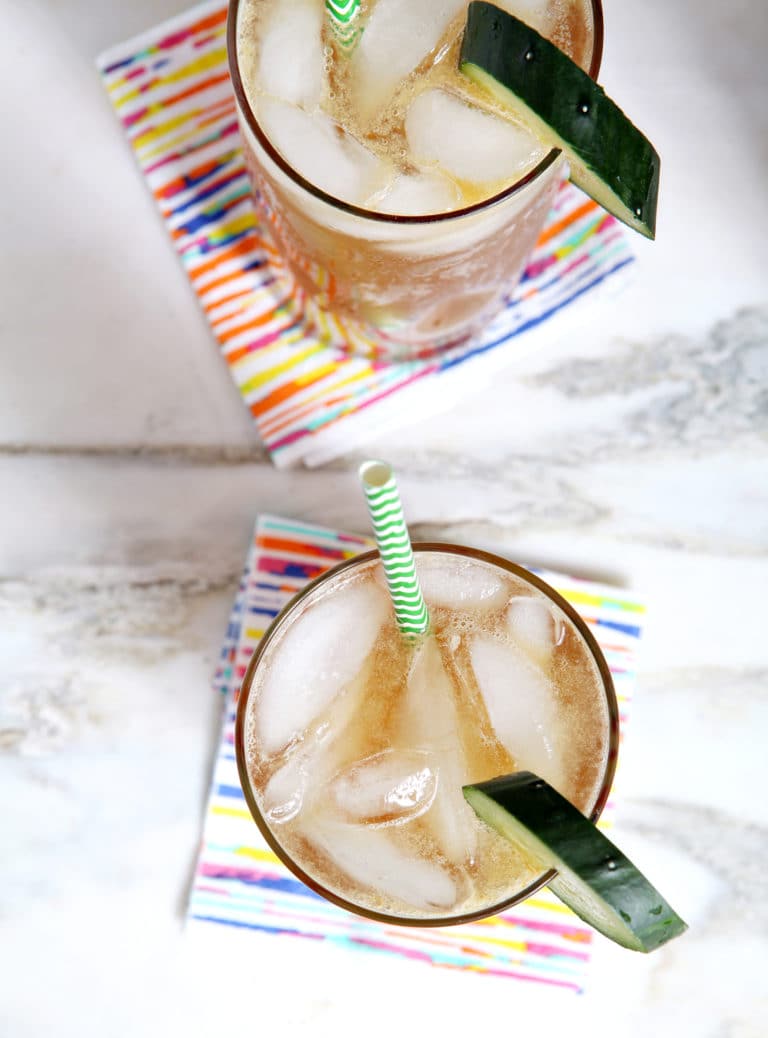 Tart and delicious, the Pimm's Cup is a classic New Orleans cocktail. Made famous in the Big Easy at The Napoleon House in the 1940's, this summer drink is refreshing and perfect for cooling off after a warm day.
…
What do YOU plan to make this month?
Is anything on this monthly meal plan calling your name?
Other monthly meal plans: January 2018 / February 2018 / March 2018 / April 2018 / May 2018 / June 2018 / July 2018 / September 2018 / October 2018 / November 2018 / December 2018