TRISCUIT Crackers Cucumber Bites
This post has been sponsored by NABISCO. All thoughts and opinions are my own.
TRISCUIT Crackers Cucumber Bites are the perfect summertime appetizer! Top Original TRISCUIT Crackers with cucumber rounds, crumbled feta cheese, a drizzle of olive oil and a sprinkling of cracked black pepper. Purchase your easy cucumber appetizer ingredients from Albertsons. Makes 9 servings.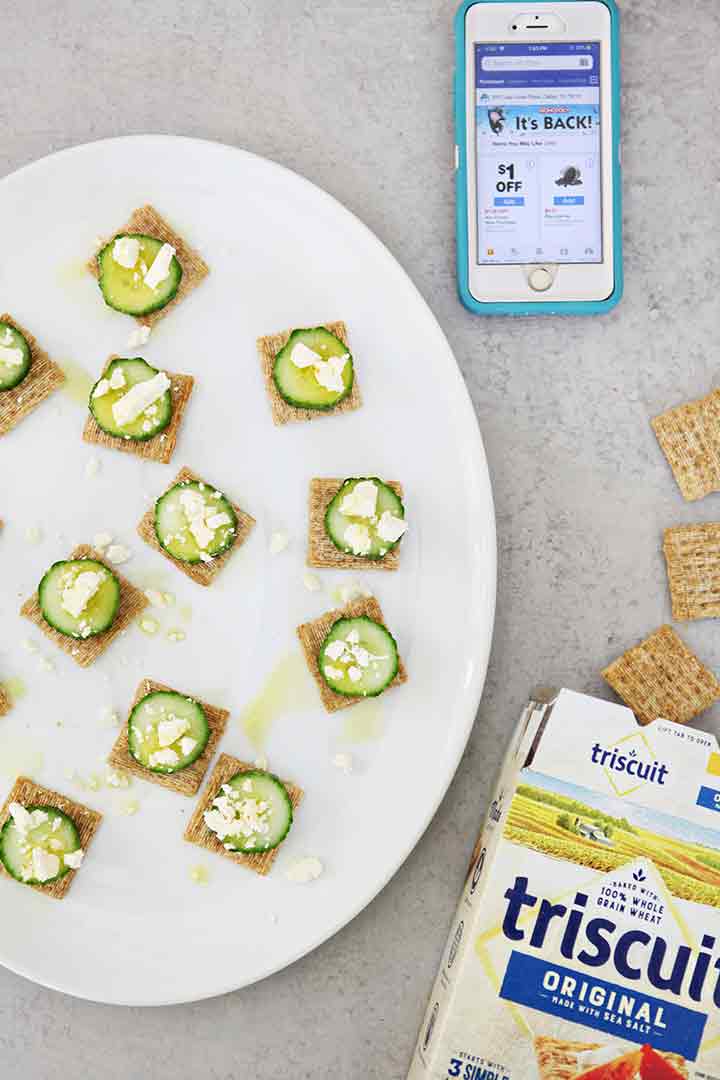 Warm weather entertaining season has arrived in Texas, and I am over the moon about it.
Why? We can finally spend some time outdoors with our friends, enjoying the nice weather and each other's company… and some good food, too. You know, before it gets too hot.
And whenever this season rolls around, I try to keep things as simple as possible.
Specifically, I love to use seasonal flavors and ingredients. I also love recipes that take little time to put together so I can enjoy the company of my family and friends.
Hence, these TRISCUIT Crackers Cucumber Bites.
More cucumber appetizers: Greek Bruschetta / Cucumber Finger Sandwiches / Cucumber and Feta Salad / Cucumber Bruschetta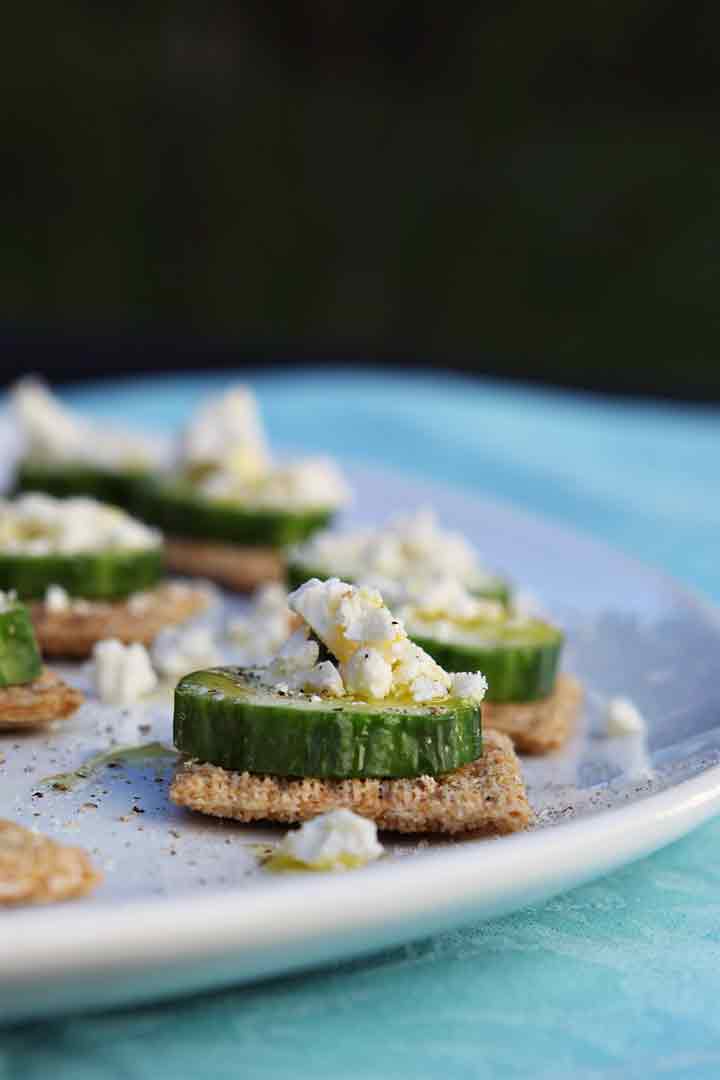 I love using TRISCUIT Crackers as the base for an appetizer because they're baked with simple, quality ingredients and they have an awesome texture and crunch.
Another reason I love them is that they're sturdier than most crackers, so you can add most toppings to them an hour in advance and not have to worry about a soggy appetizer.
This, to me, is key for making a no-fuss, super tasty, but also super simple appetizer for warm weather entertaining.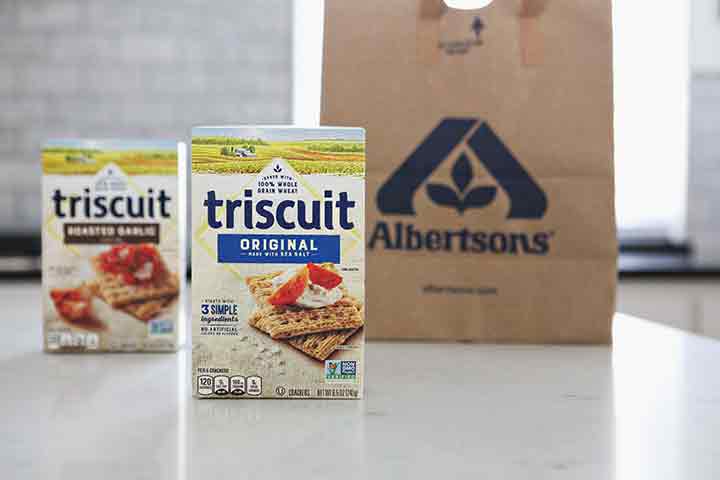 I picked up my TRISCUIT Crackers and the rest of the ingredients for this appetizer from my local Albertsons. (Have you downloaded their mobile app yet? It's got deals tailored just for you, as well as the weekly ad; a place where you can make your grocery list digitally, find rewards, and more!)
I found my TRISCUIT Crackers in the chips and cracker aisle, and the variety of TRISCUIT Crackers flavors they offered made me so happy.
While I used the Original TRISCUIT Crackers in this recipe, you could easily pick up a box of Cracked Pepper & Olive Oil TRISCUIT Crackers, the Roasted Garlic TRISCUIT Crackers, or even the TRISCUIT Crackers Minis, and they would all be scrumptious in my recipe! And you can find 'em all at your local Albertsons.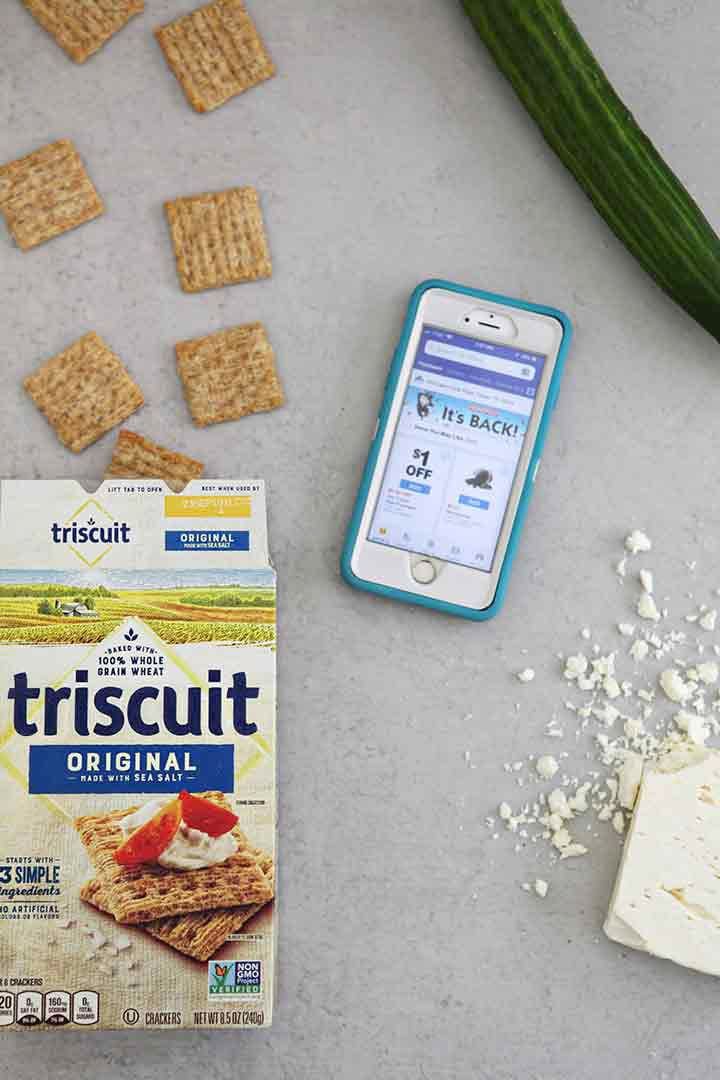 What you'll need to make TRISCUIT Crackers Cucumber Bites
TRISCUIT Crackers
A sharp knife
A good tasting olive oil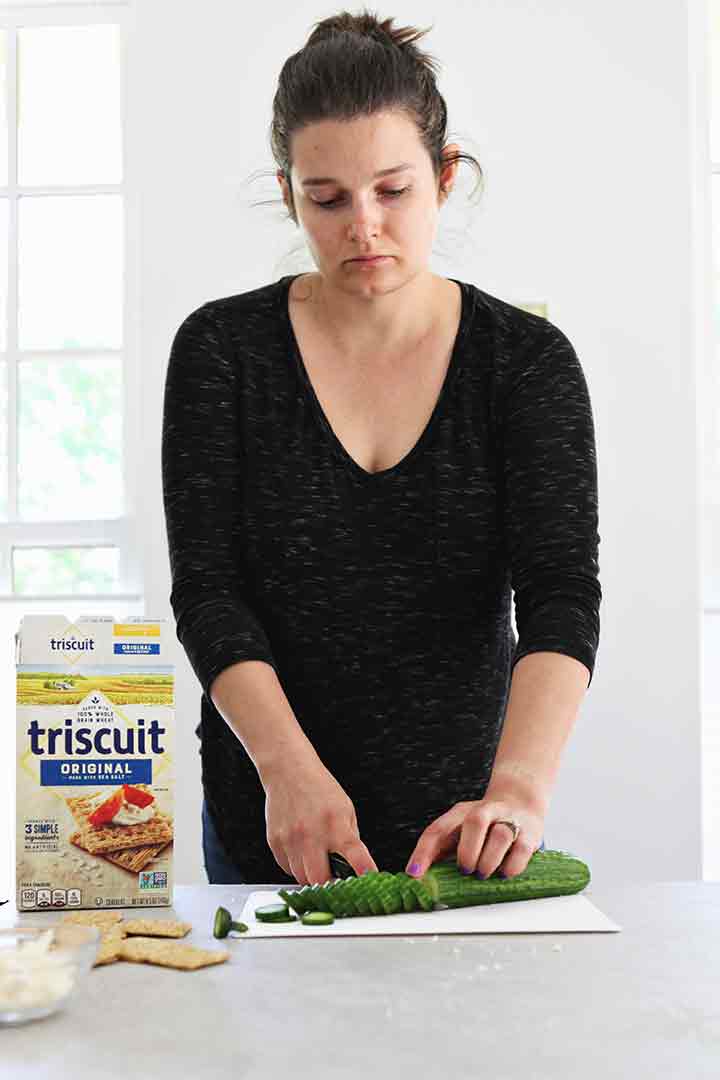 How to make Cucumber Bites
Choose your platter.
This sounds like a silly step but honestly, this is the aspect of this recipe that took me the most time.
The key is your platter should be large enough to fit several of these cucumber bites on it.
If you don't have anything large, that's OK! Use a few dinner plates and set out your appetizers on there so you're not spending extra time in the kitchen.
Make the cucumber bites.
Set out the TRISCUIT Crackers onto your chosen platter.
Slice a cucumber into about ½" rounds, and place the rounds on top of the crackers.
Sprinkle feta cheese on top of the cucumbers, and then drizzle with a high quality olive oil.
Finish the bites with a little freshly ground black pepper.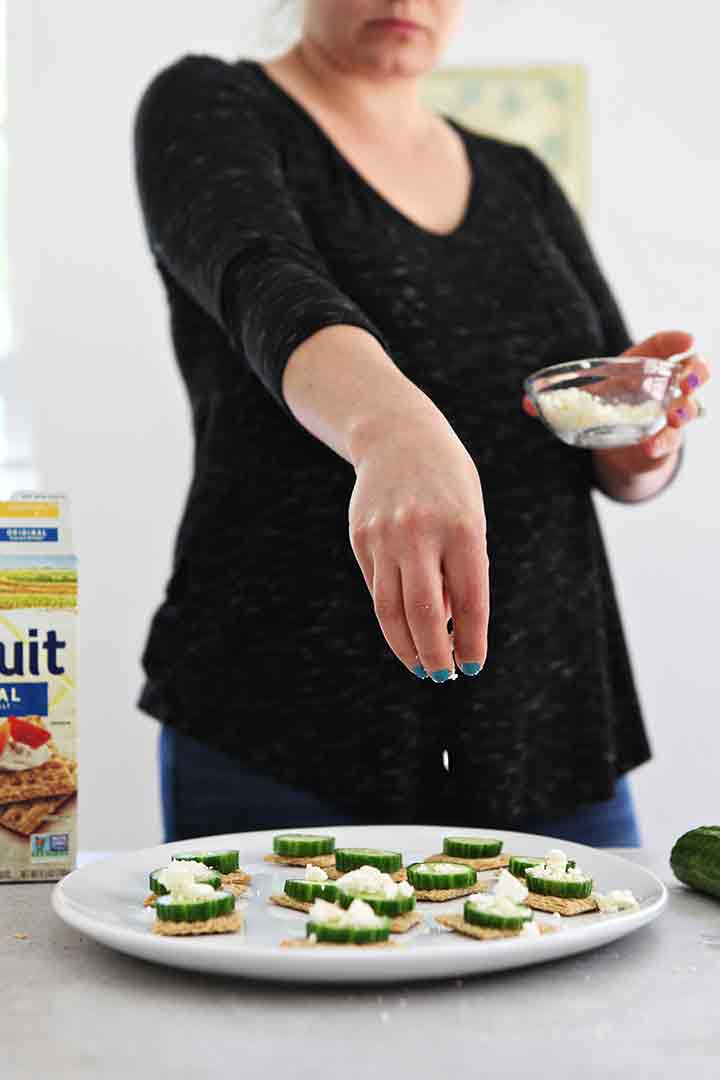 Serve this summertime appetizer.
Appetizers like these TRISCUIT Crackers Cucumber Bites are best enjoyed, in my humble opinion, outdoors.
We enjoyed ours in our backyard as we watched our older daughter play in the yard. And we paired it with a crisp, light wine because it felt right, but you could certainly serve yours with your favorite beverage, whether it's water, lemonade or beer.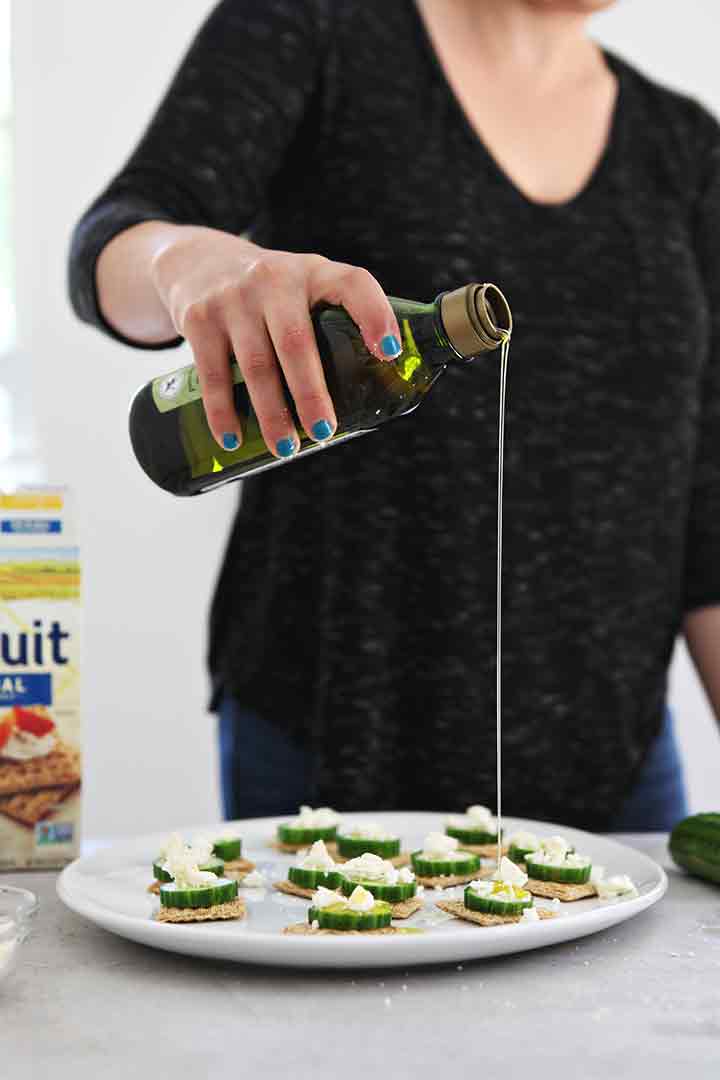 Erin's Easy Entertaining Tips for a Warm Weather Gathering
If you're hosting a crowd (as opposed to a few people), prepare a few platters of these TRISCUIT Crackers Cucumber Bites in advance so that you don't run out before you're serving your main dish. Pick up a few boxes to ensure you have enough to feed your guests.
If you have to prep this appetizer while your guests are in your house, that's OK! You can create an assembly line to make this app. Someone will place the TRISCUIT Crackers on your platter, then another person adds the cucumber rounds. Someone else sprinkles on the feta. At the end of the line, someone drizzles the entire platter with olive oil and cracks black pepper on top of it.
If you're serving your family, you can easily make a half batch. My family loves appetizers before dinner, but I never want us to turn an appetizer into our meal. Combat this by cutting this recipe in half so everyone has room for dinner after!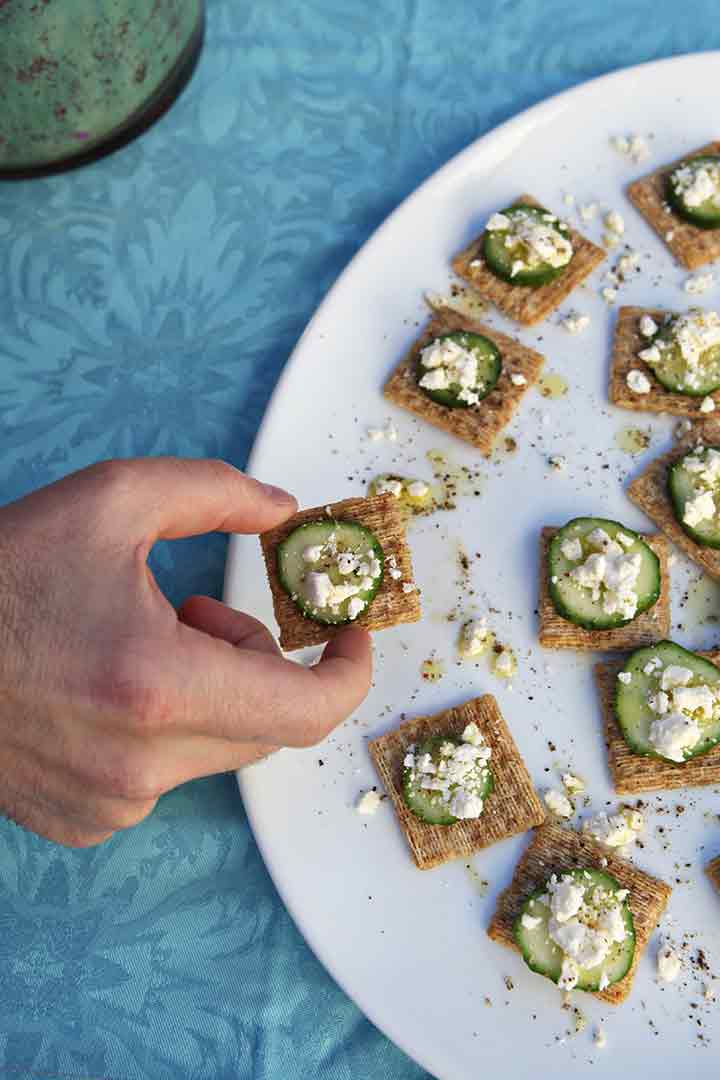 FAQs about TRISCUIT Cracker Cucumber Bites
Can I make this recipe hours or days in advance of my get-together?
I don't advise putting together this recipe hours or days in advance.
That said, you can prep the ingredients in advance. Here are some things you can do:
Purchase your TRISCUIT Crackers from your local Albertsons.
Chop that cucumber and store it in the fridge.
Crumble the feta (if you didn't purchase a pre-crumbled variety.)
Have everything ready to go so that an hour before guests arrive, you can easily put the appetizer together without stress.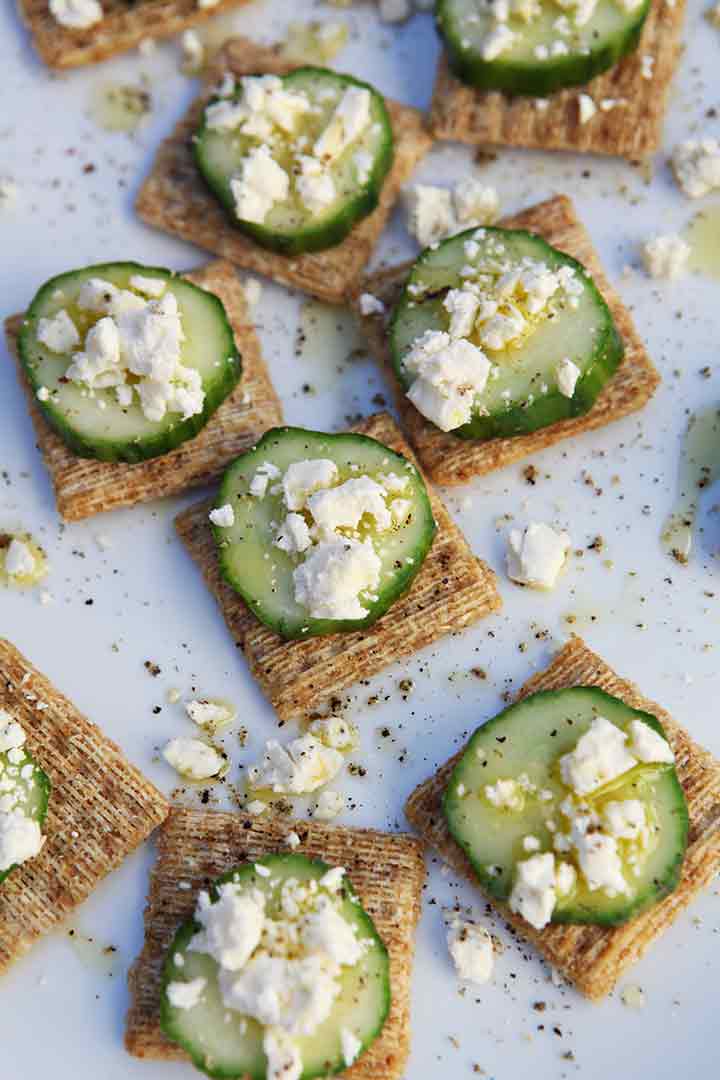 What can I pair with this appetizer for a summertime soiree?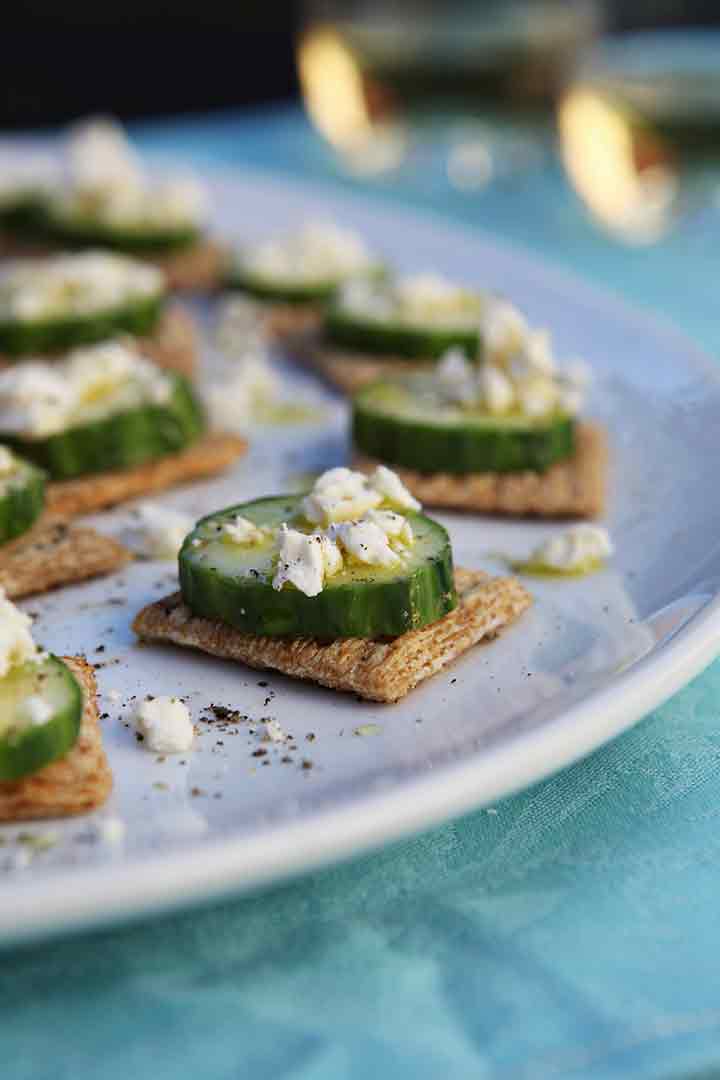 Quick tips for making this easy appetizer for a crowd
Chop the cucumbers in advance, and store in a ziptop baggie or a container in the refrigerator.
Purchase pre-crumbled feta cheese so you don't have to spend time doing that.
If you don't like feta cheese, use cotija cheese or mozzarella instead. The overall taste will be a little different, but it will still be delicious.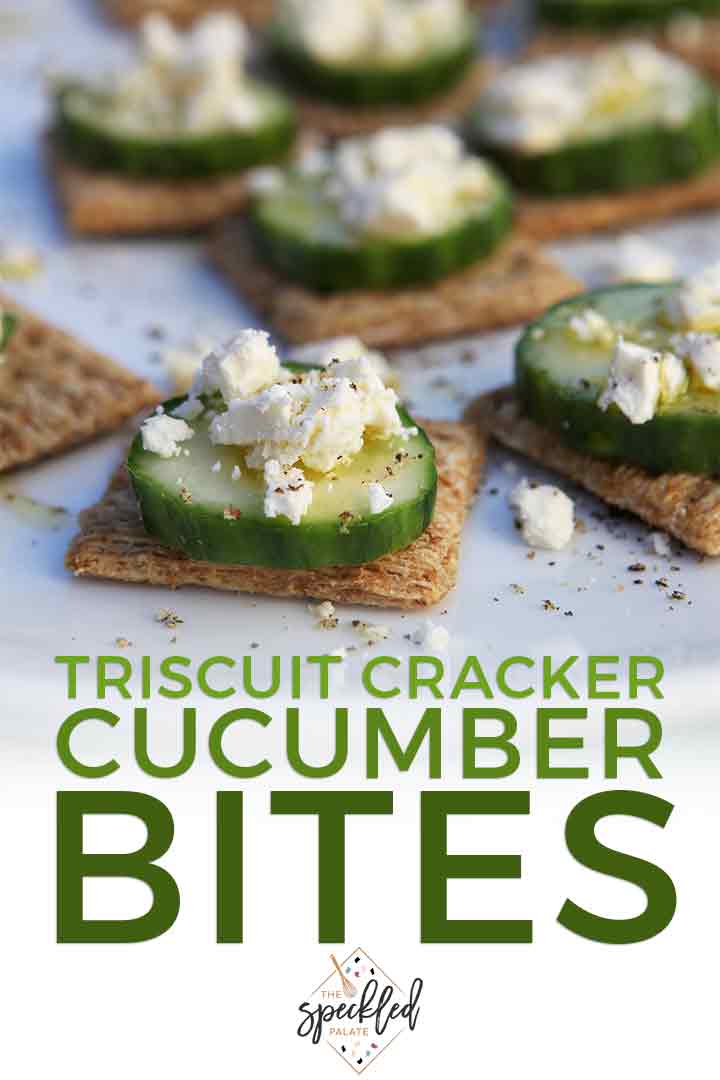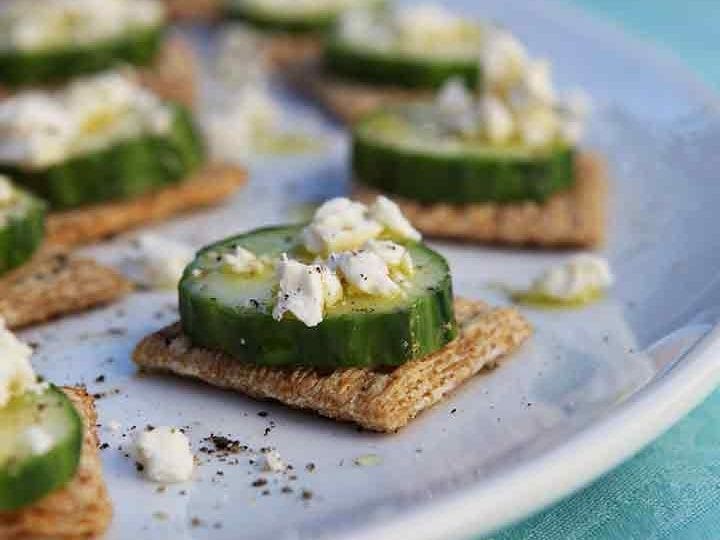 Yield:

9 servings
TRISCUIT Cracker Cucumber Bites
TRISCUIT Crackers Cucumber Bites are the perfect warm weather appetizer for entertaining! Made with just a few simple ingredients, this appetizer celebrates seasonal flavors. Top Original TRISCUIT Crackers with cucumber rounds, feta cheese, a drizzle of olive oil and a sprinkle of black pepper to make this easy cucumber recipe. Easily made in advance and in large batches, this summer finger food is perfect for a crowd and for outdoor entertaining.
Ingredients
1 box TRISCUIT Crackers, Original
1 English cucumber, sliced
½ cup feta cheese, crumbled
A drizzle of extra virgin olive oil
Freshly ground black pepper, to taste
Instructions
Arrange the TRISCUIT Crackers onto a platter, spacing them slightly apart so you can easily place the toppings on each individually.
Add a round of cucumber on top of each cracker.
Sprinkle feta cheese on top of the cucumbers.
Drizzle olive oil over the appetizers, and then crack black pepper on top.
Serve immediately, and enjoy.
Nutrition Information:
Yield:
9
Serving Size:
1
Amount Per Serving:
Calories:

39
Total Fat:

3g
Saturated Fat:

1g
Trans Fat:

0g
Unsaturated Fat:

2g
Cholesterol:

7mg
Sodium:

77mg
Carbohydrates:

1g
Fiber:

0g
Sugar:

1g
Protein:

1g