Monthly Meal Plan: 28 Recipes to Make in February 2018
Looking for recipes to make this February? Look no farther than this Monthly Meal Plan, which includes 28 recipes to make this month! Featuring an at-home Valentine's Day menu, Mardi Gras recipe inspiration, hearty breakfasts, easy dinners, football food and more, this monthly recipe list is sure to offer something for everyone!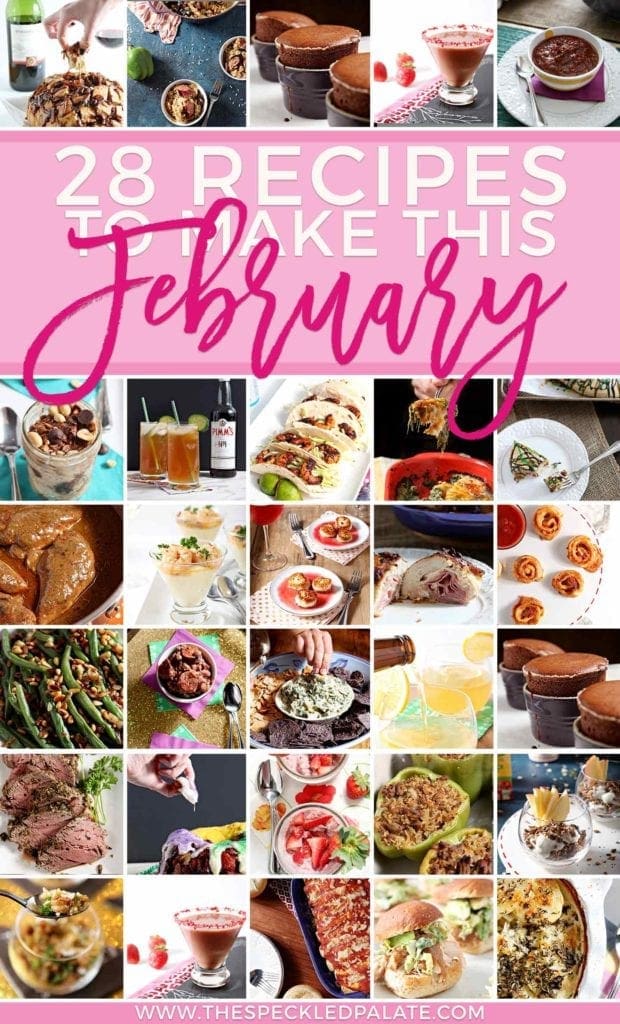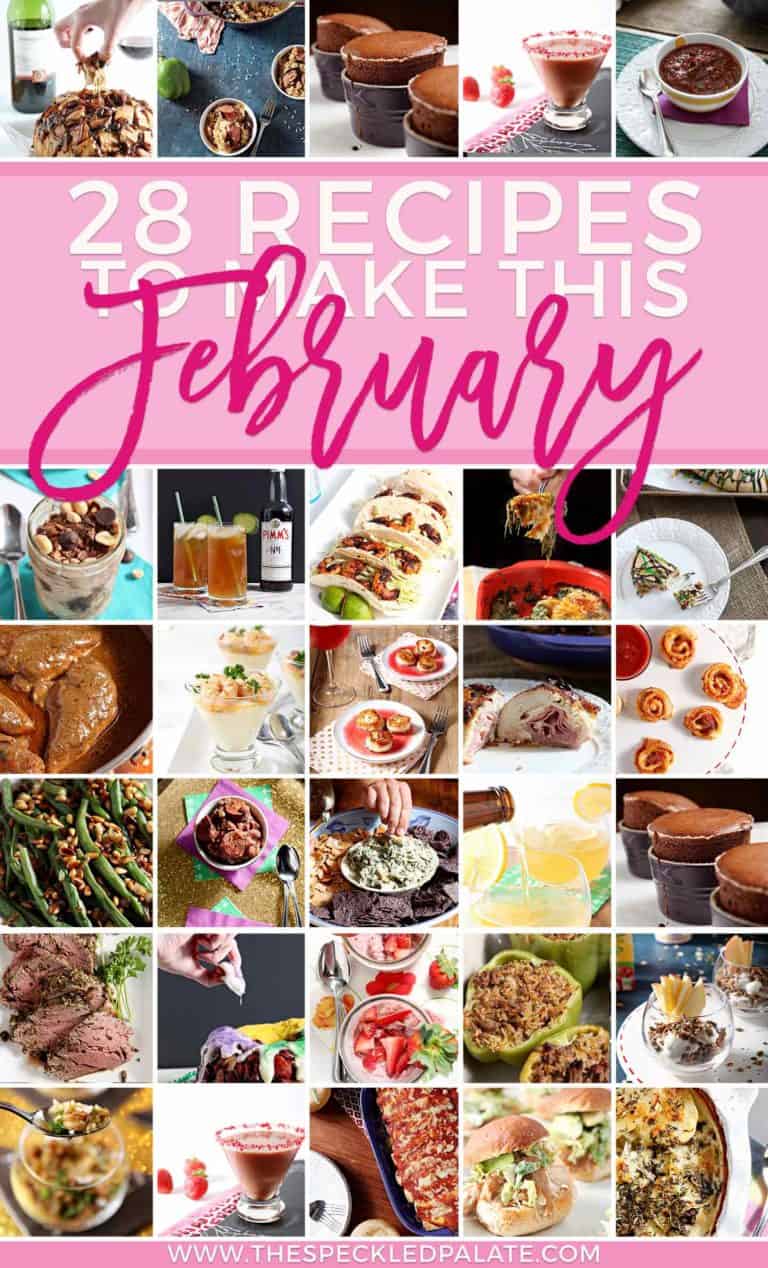 Happy February, y'all!
This short month is packed full of goodness, with three notable festivities to celebrate, and obviously a lot of good food.
I had a lot of fun putting together this month's meal plan. It features breakfasts, comfort food weeknight meals, good food to serve for a football party, Mardi Gras recipes and an at-home Valentine's Day menu! (You know, if you're like us and refuse to go out on Valentine's Day because you can make a wonderful dinner at home without the crowds, haha.)
Y'all ready to check monthly meal plan out? Scroll on down to learn what we'll be cooking this month and what you should, too!
Monthly Meal Plan: Healthy Breakfasts
Starting your day off on the right foot is SO important, and below, I'm sharing a few favorites that everyone in our family simply adores.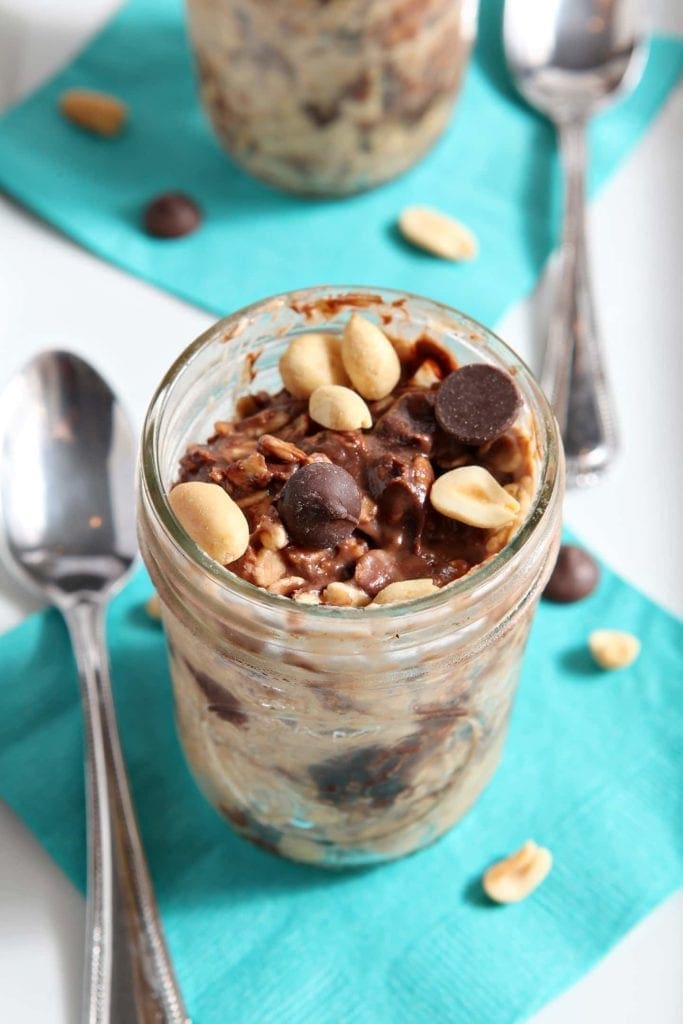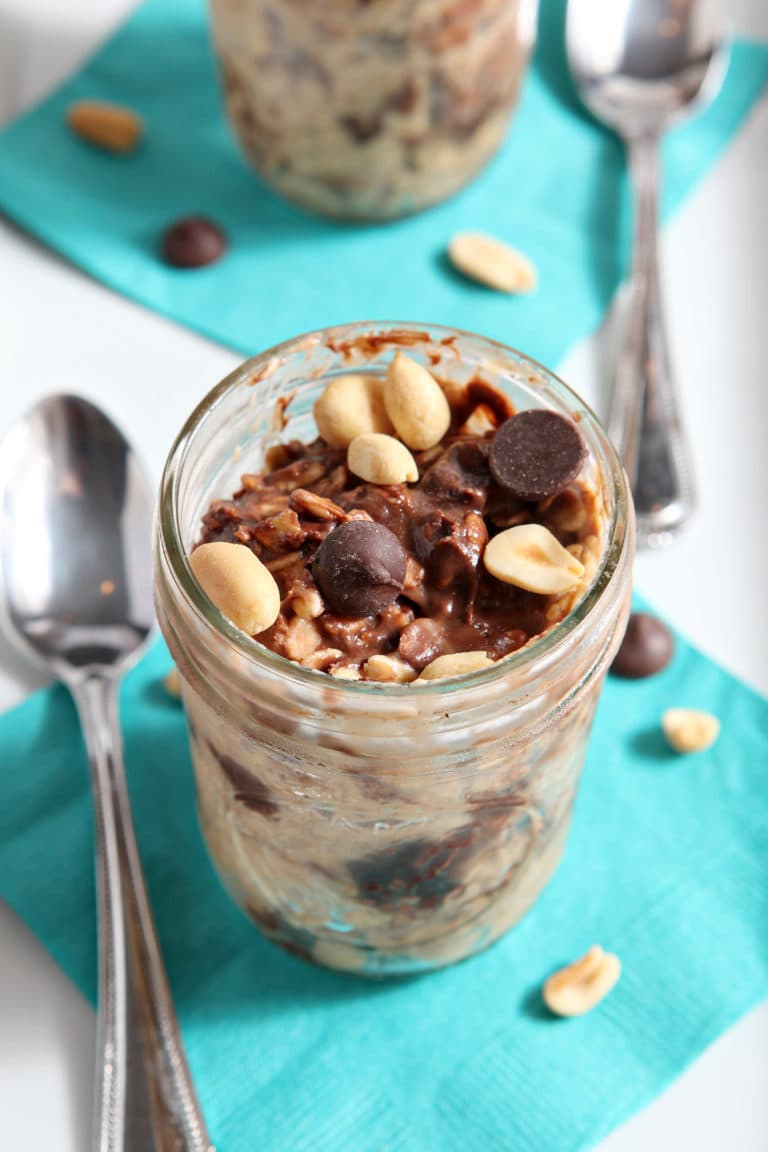 Vegan Peanut Butter Chocolate Chip Overnight Oats make a perfect high protein breakfast for runners and non-runners alike! Peanut butter, cashew milk, rolled oats, a little bit of maple syrup and dark chocolate chips marinate overnight in the refrigerator. This naturally sweetened, easy to make breakfast never looked so good!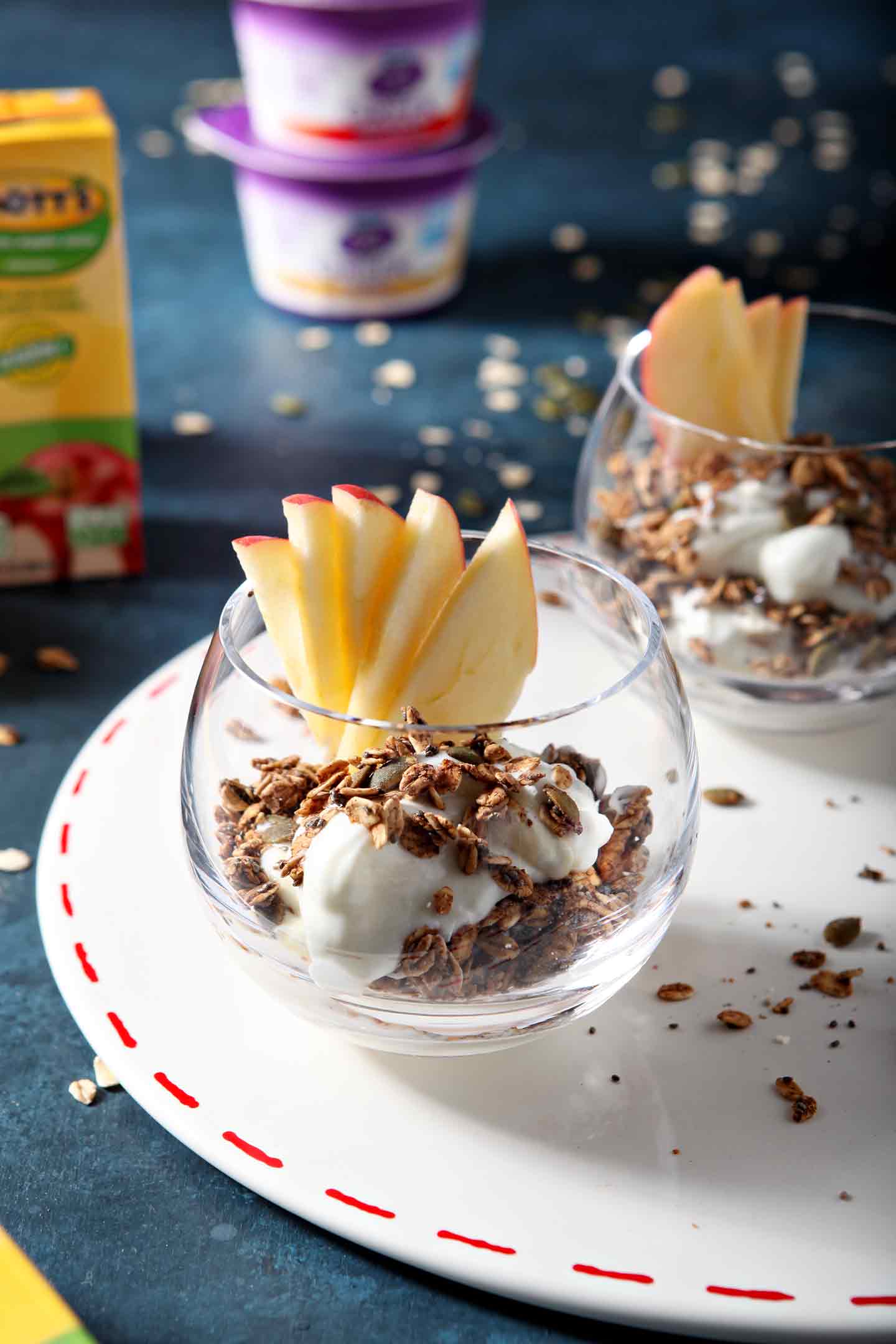 Apple Chai Spiced Yogurt Parfaits make the perfect fall breakfast. Vanilla Yogurt serves as the base for this breakfast and complements the homemade chai spiced granola, which can be made in advance. The morning of, layer the yogurt parfaits and top with apple slices and a drizzle of pure maple syrup! Apple Chai Spiced Yogurt Parfaits are a flavorful, filling breakfast for busy parents, professionals and even kids.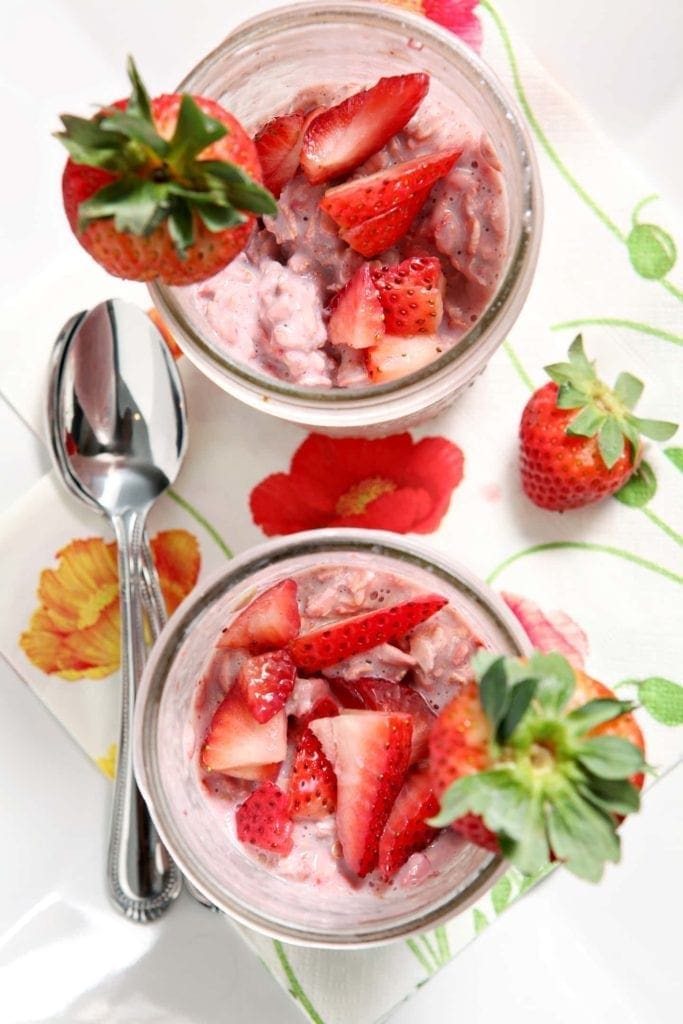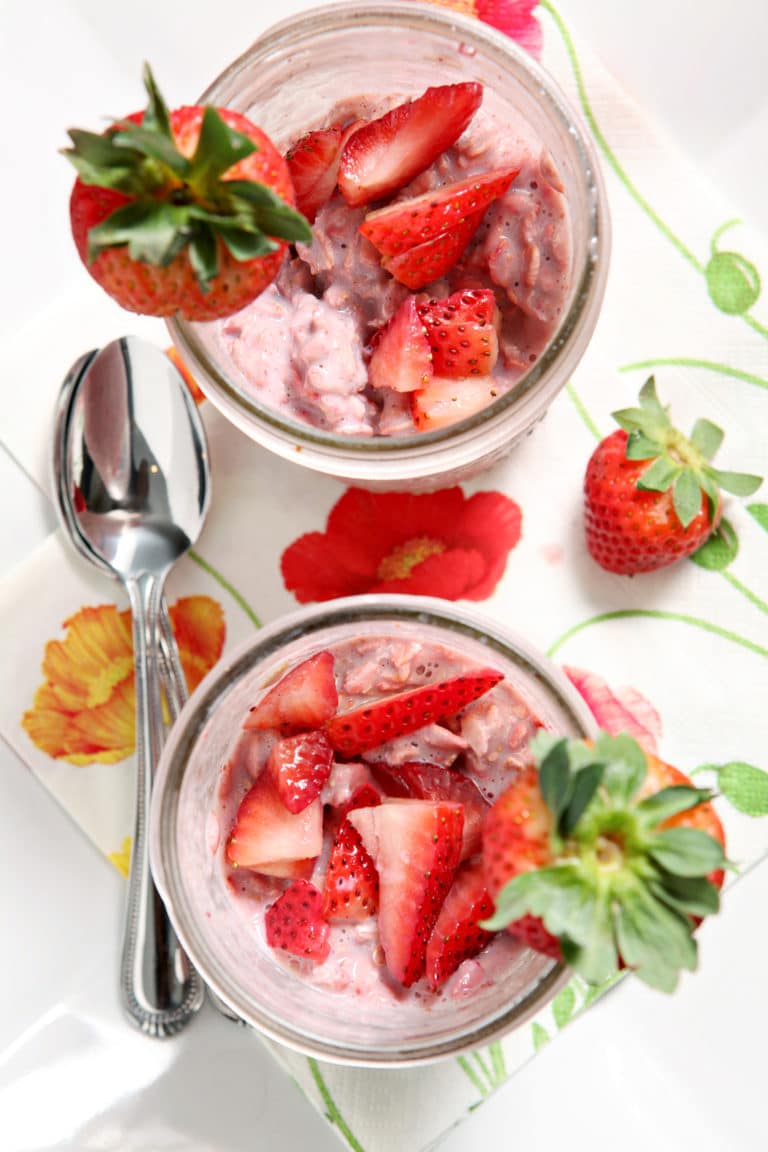 Prepare breakfast the night before by mixing up oats, strawberries and milk in a mason jar, then letting them hang out overnight to create these delicious Strawberry Overnight Oats. Top with fresh strawberries and enjoy cold the next morning!
Monthly Meal Plan: Comforting Weeknight Dinners
It's still cold outside. Wamp, wamp. But the best way to combat that, in my humble opinion, is comforting, delicious food. Below are some of the recipes we'll be whipping up for dinner this month.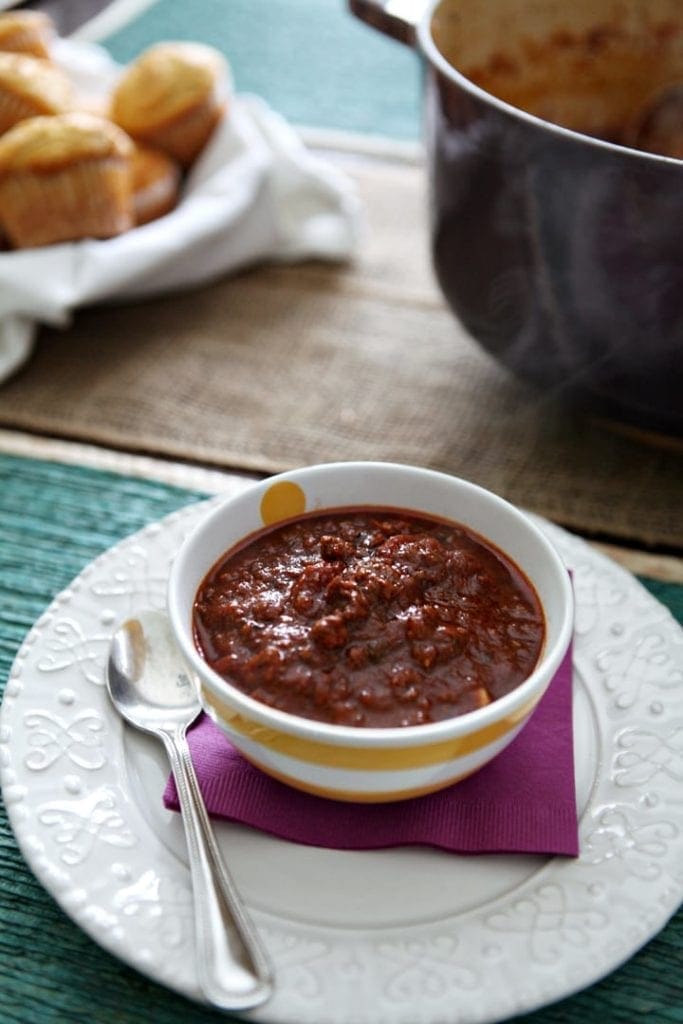 Slightly spicy and completely comforting Beef and Buffalo Chili has a new favorite in our household! This homemade chili, made with simple, flavorful ingredients, is perfect for a crowd or the family as a homey weeknight meal. Chipotle chile powder adds spice while two different kinds of meat elevate this chili recipe! Beef and Buffalo Chili is perfect for crisp fall and winter weather and serves as a bowl full of comfort during chilly months!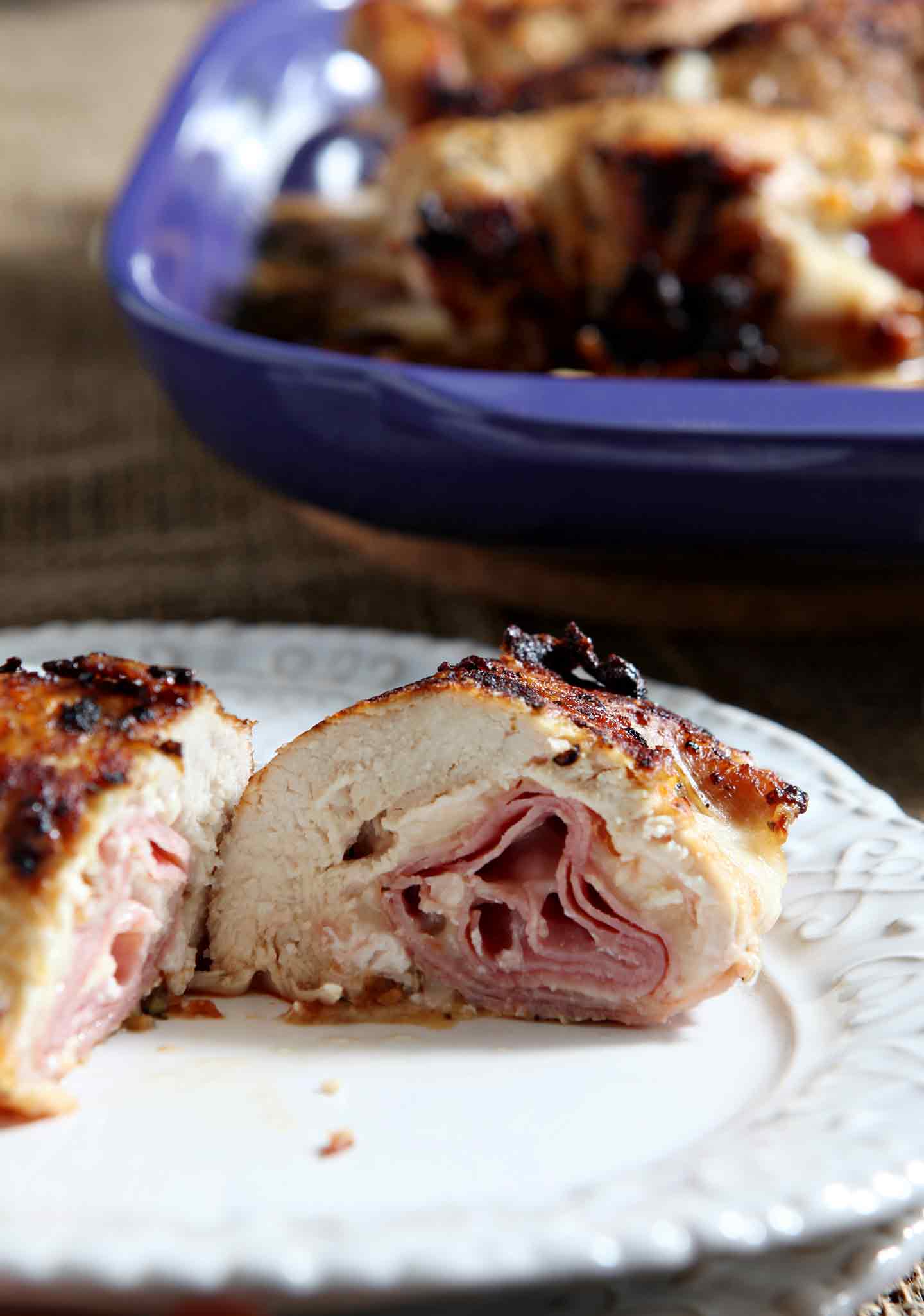 Looking for an easy weeknight meal? Make Chicken Cordon Bleu! It's easier than you think and can be ready in less than an hour. Pound the chicken breasts, then roll honey cured ham and Swiss cheese into them. Sear the chicken in a skillet until browned, then bake. Serve this family-friendly entree with a favorite veggie and watch as the whole family falls in love with this combination of flavors.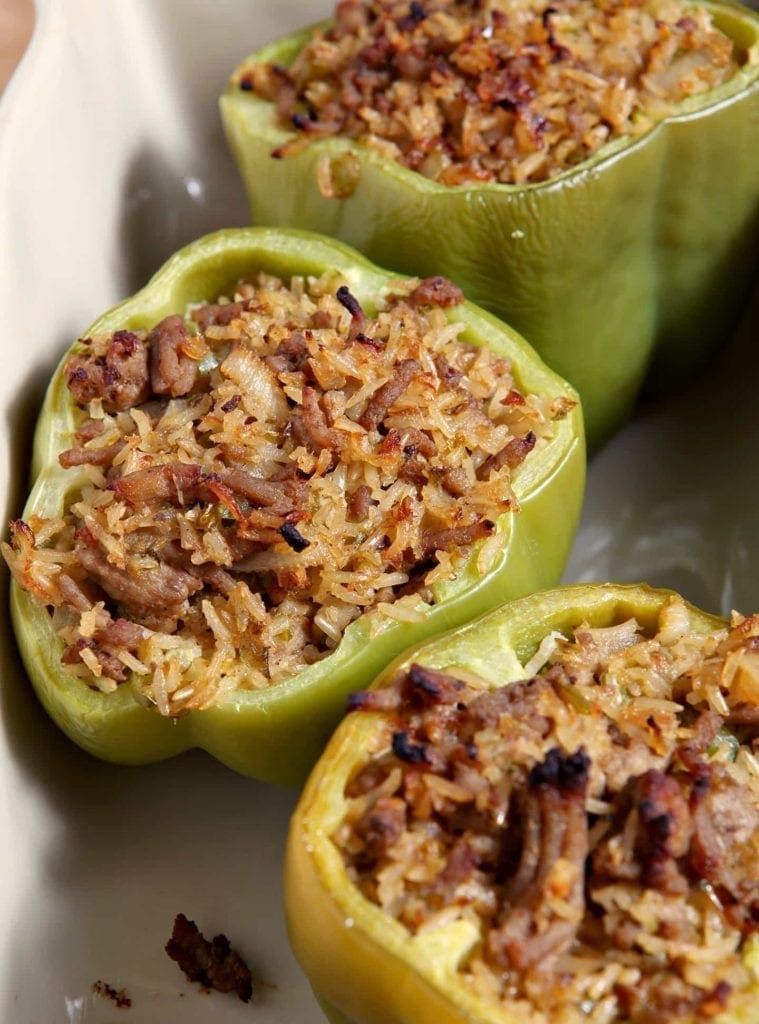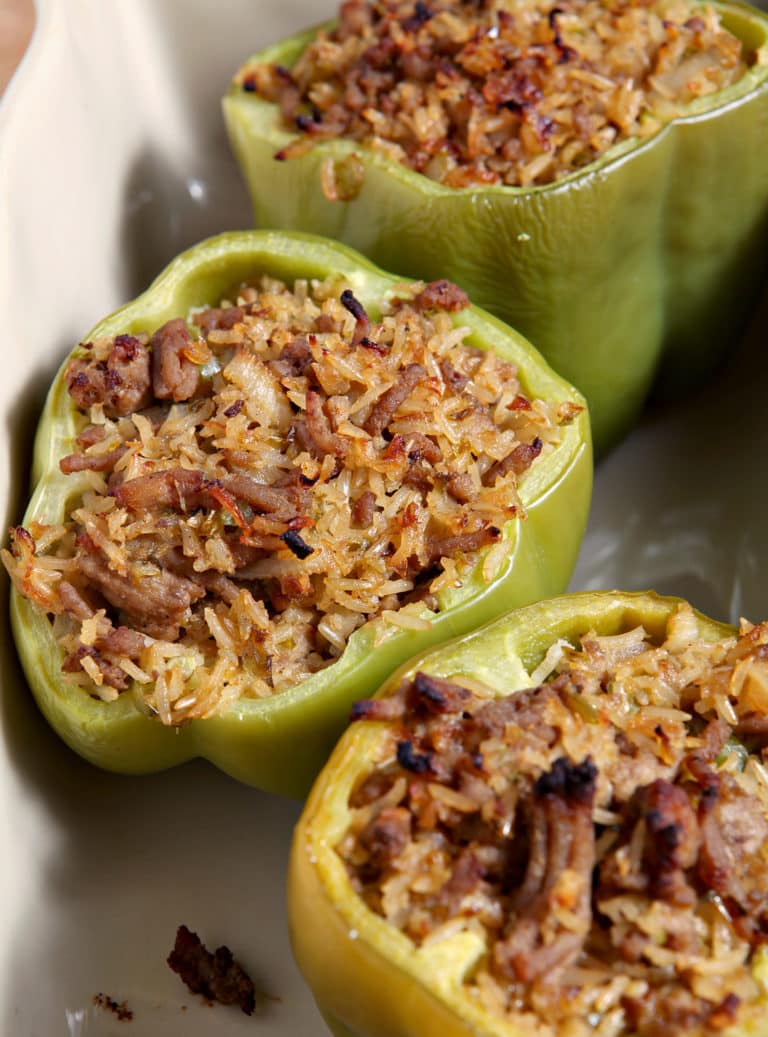 Take advantage of fresh produce and make Jambalaya Stuffed Bell Peppers, a delicious dinner of rice, the holy trinity (of onion, celery and bell pepper) and ground turkey, baked inside a bell pepper!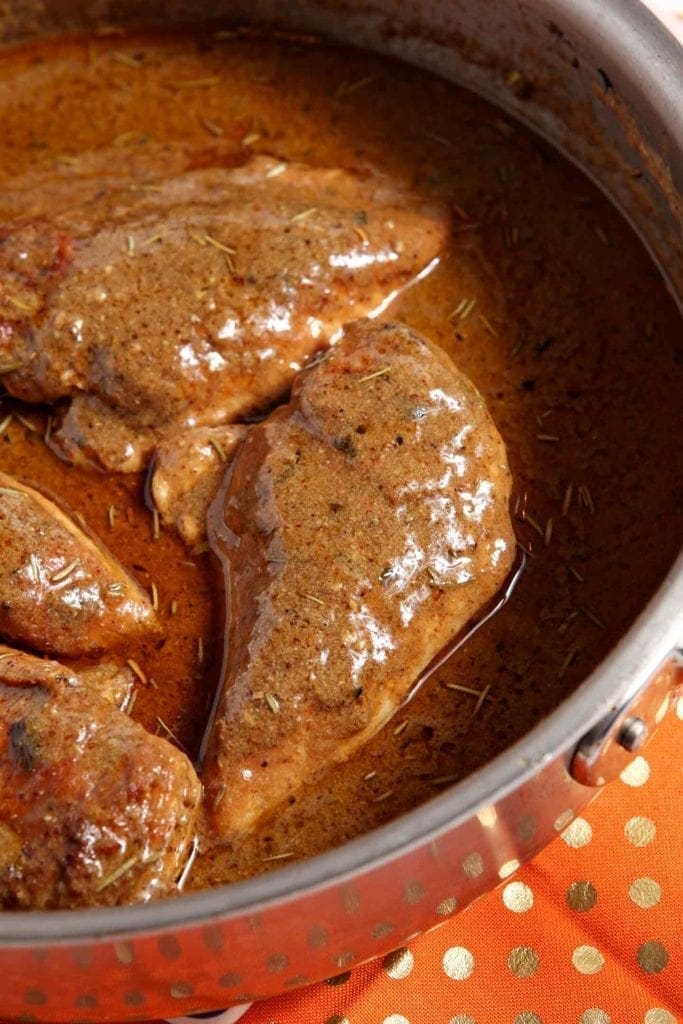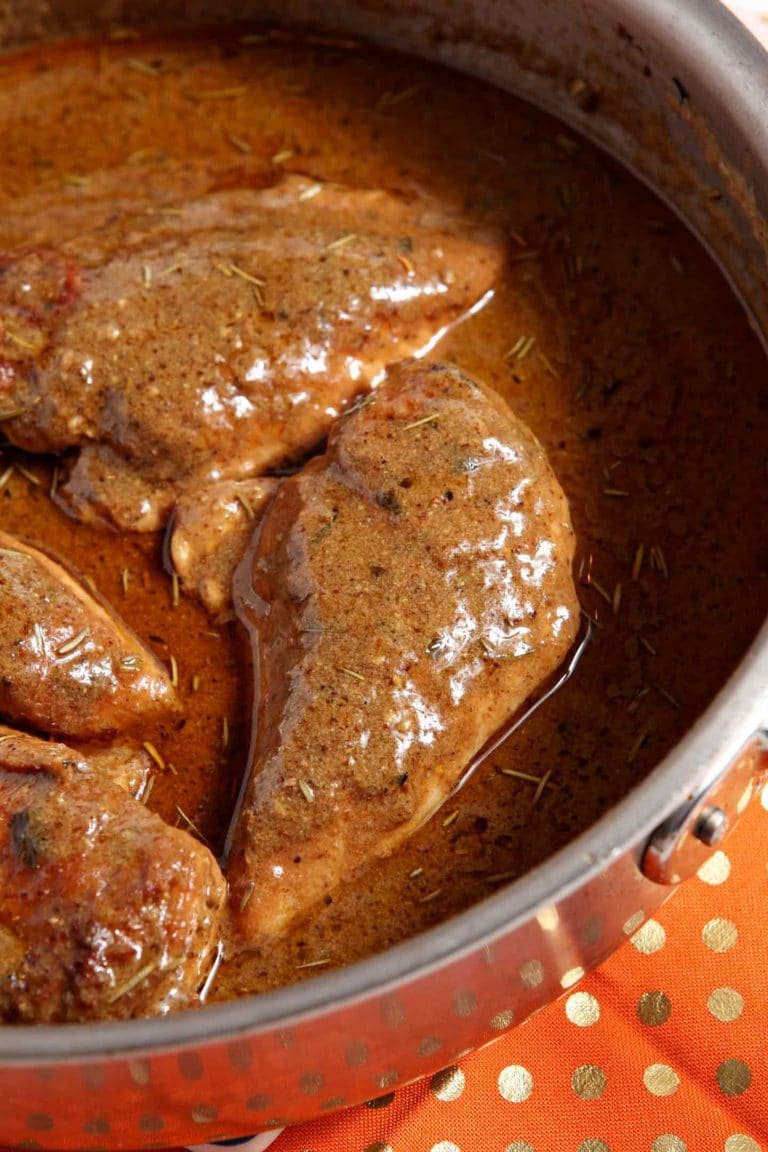 Mustard Chicken is an entree the whole family will love, and it can be on the table in less than 45 minutes. Chicken breasts are seasoned and seared, then a creamy mustard sauce is created using the pan drippings, chicken stock, milk, Dijon mustard and dried herbs. Pop the chicken back into the sauce and simmer until ready. Serve the chicken over rice and smother with the decadent mustard sauce. Enjoy with bread so you can sop up more sauce!

The classic Cajun comfort food, Shrimp and Grits, makes a flavorful meal that can serve the family, as well as party guests! Wild caught Gulf shrimp serve as the star of this South Louisiana recipe and cook with andouille sausage to spicy-sweet perfection. Serve atop creamy corn grits for the full comfort food effect. Perfect for tailgate or homegate parties, Mardi Gras celebrations and more, Shrimp and Grits is a delicious, comforting entree!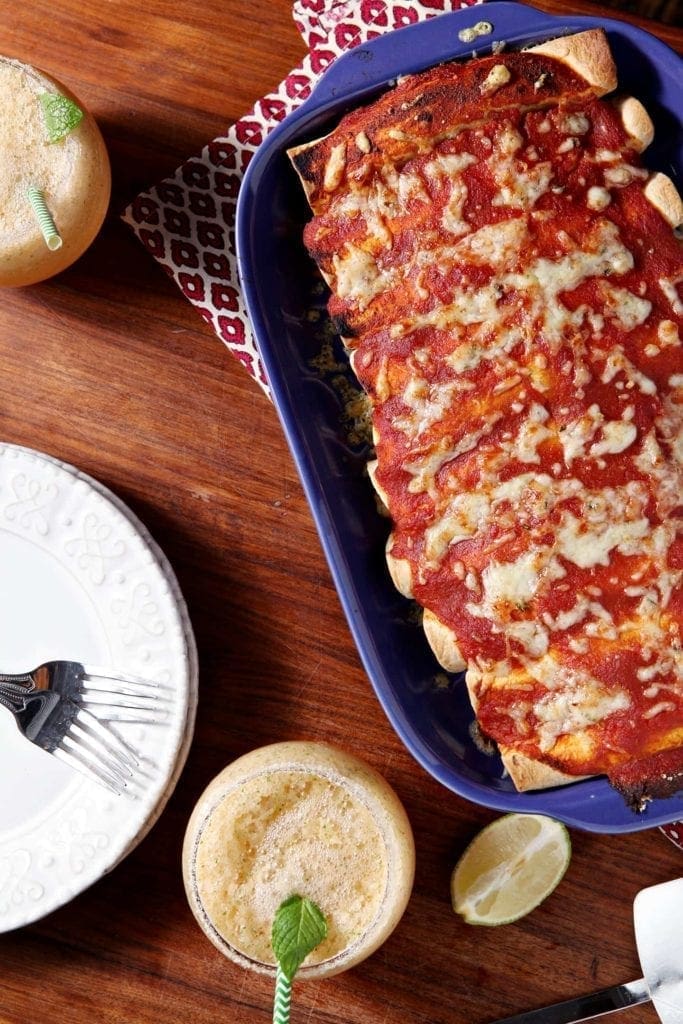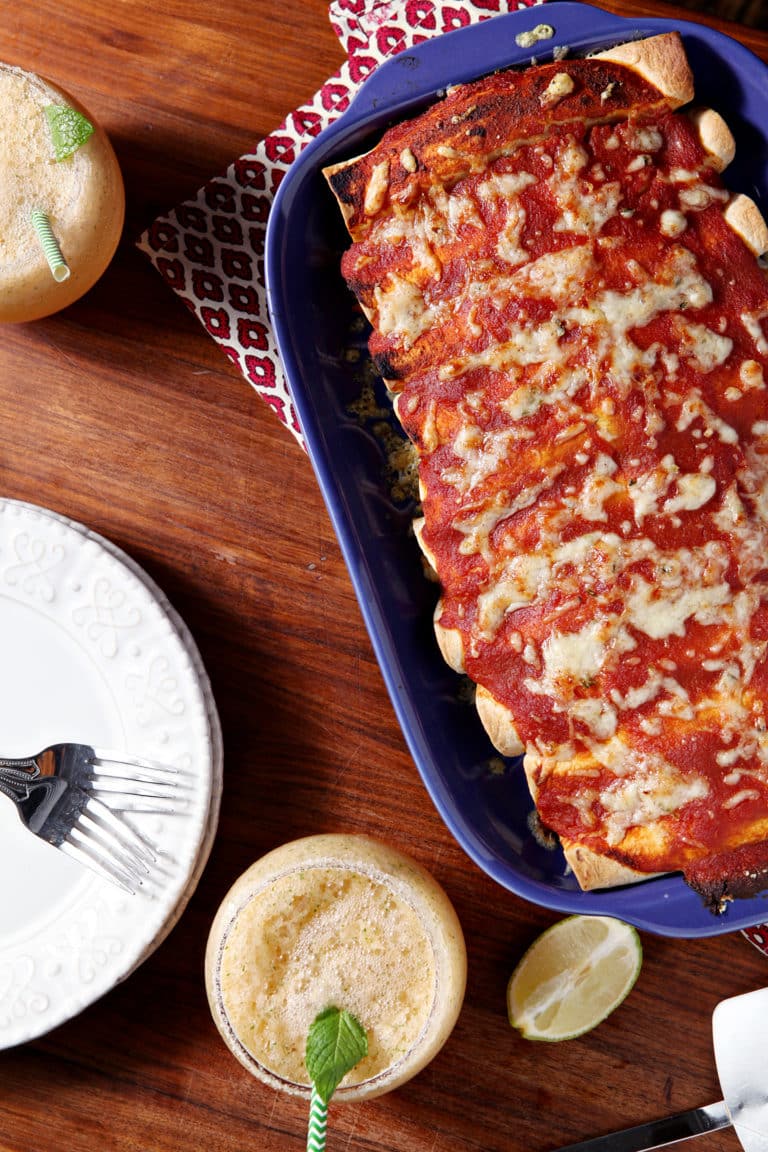 Pork Carnitas Enchiladas are a delicious entree for any get-together! Pork simmers in the slow cooker on low all day, then is sautéed with onion and green chiles. Once the filling is complete, roll it up in tortillas with some pepperjack cheese, slather them in spicy enchilada sauce and bake for this spectacular Mexican cuisine-inspired dish!
Monthly Meal Plan: Football Food
The Super Bowl is this weekend, and I don't know about y'all, but I plan on enjoying allllllllll the food at the party I attend. (Who doesn't?) Below are some of our favorite recipes for a crowd that pair perfectly with football!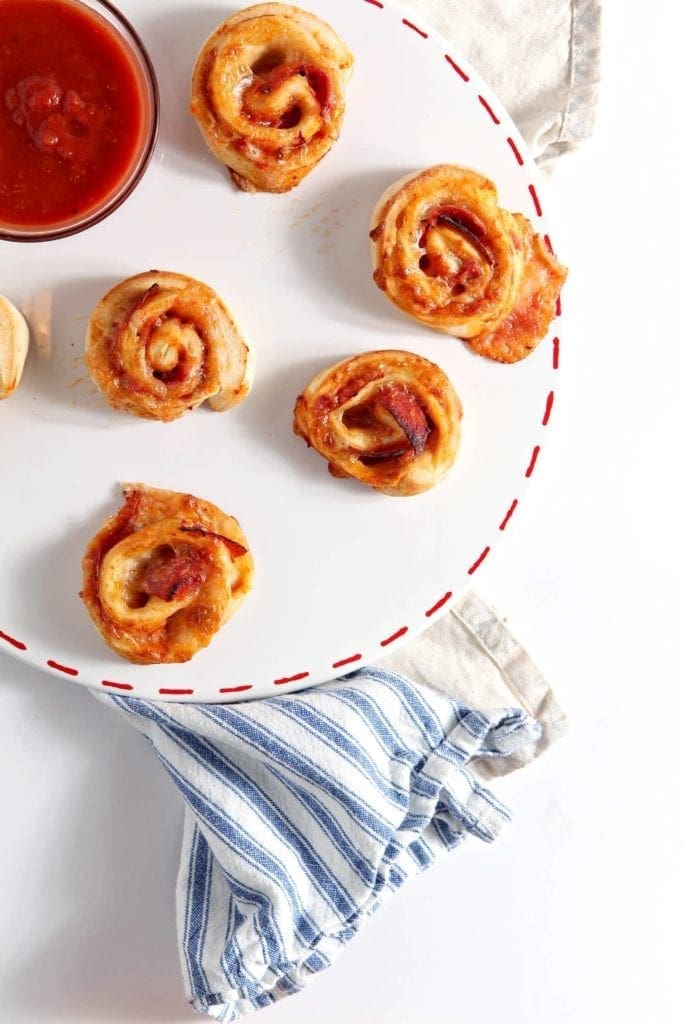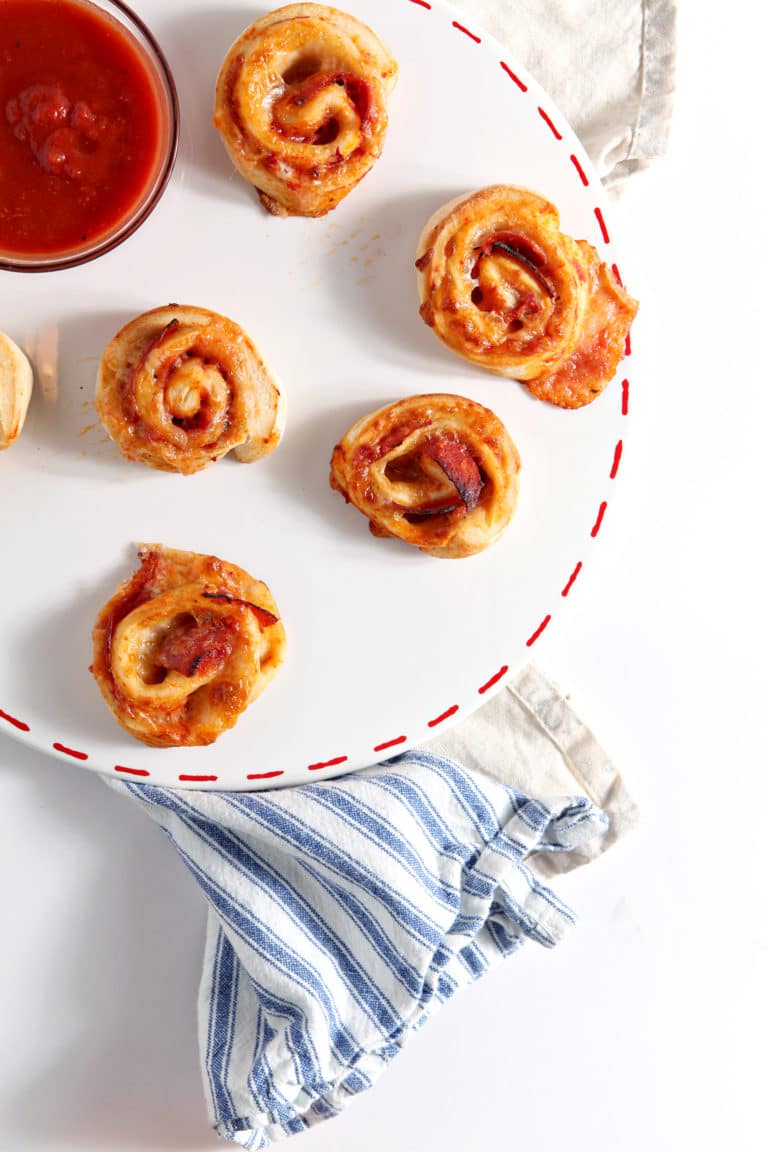 Serve up Pepperoni Pizza Rolls to feed a crowd! Store-bought pizza dough is rolled flat, then filled with tomato sauce, mozzarella cheese and pepperoni, then rolled into pinwheels and baked to make the ultimate gameday appetizer.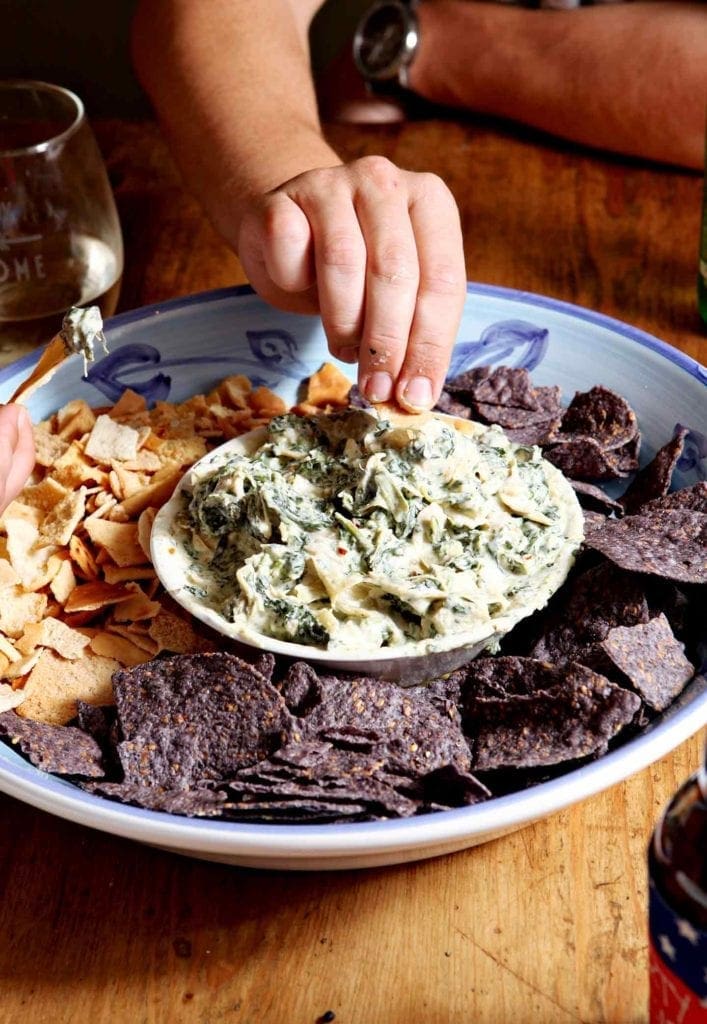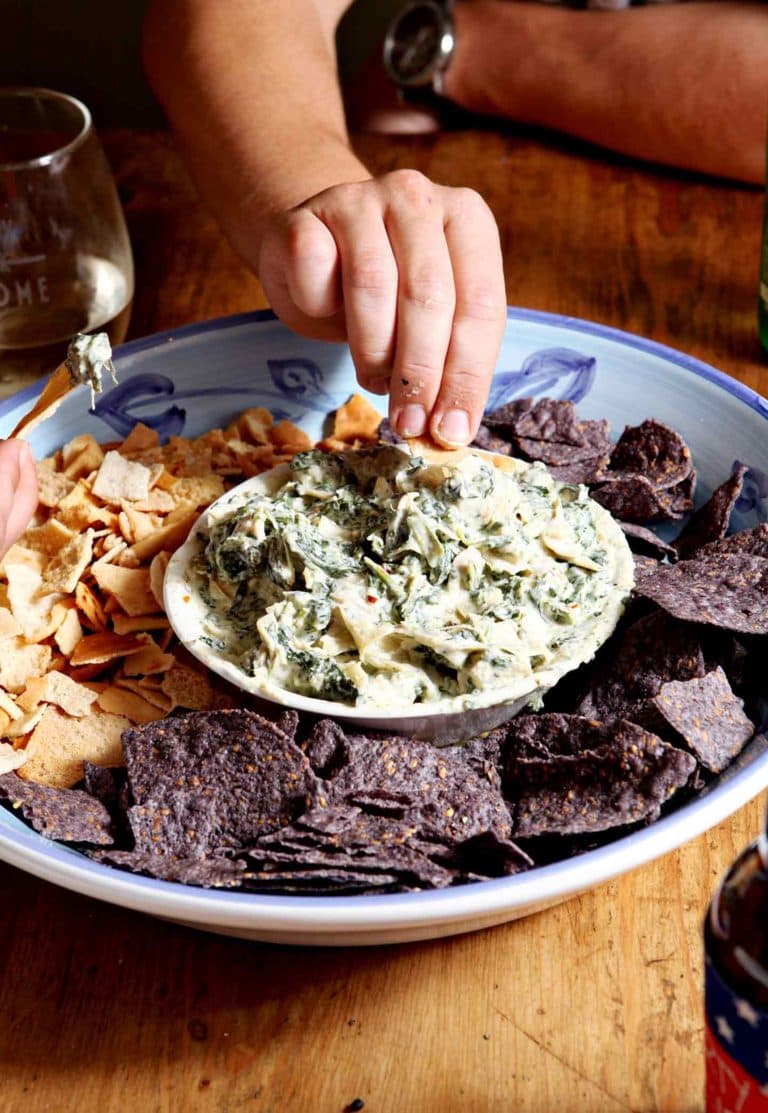 Shake up your usual go-to appetizers by bringing Shrimp Spinach Artichoke Dip to the get-together this year! Shrimp add flavor to this twist on a well-loved classic. Cook the shrimp in butter, then toss into a combination of artichoke hearts, chopped spinach, garlic, cream cheese and parmesan to create this gooey dip. Serve warm with tortilla or pita chips. Wow your party guests with flavorful, familiar-but-different Shrimp Spinach Artichoke Dip.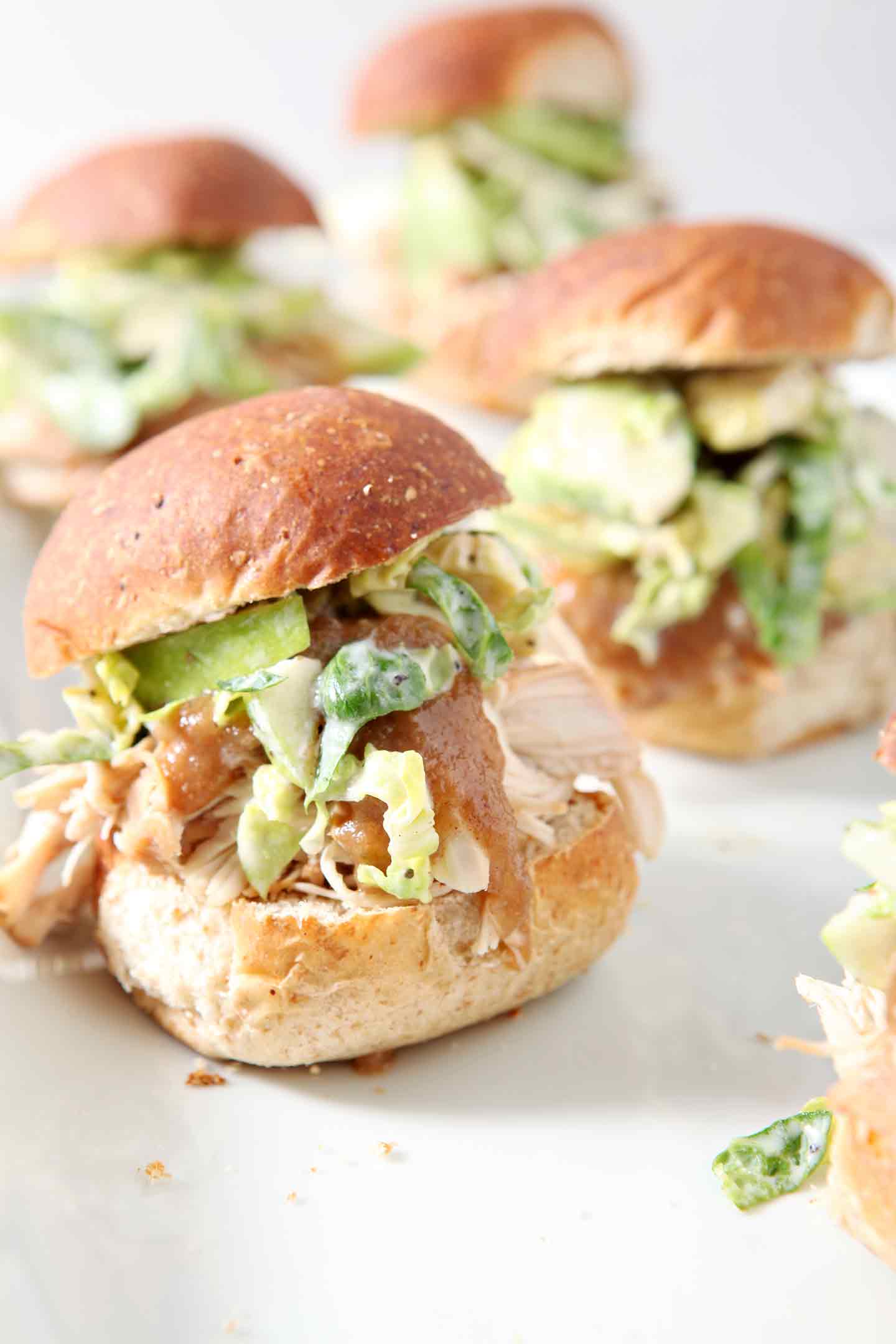 Serve Shredded Applesauce Chicken Sliders with Brussels Sprouts Apple Slaw at your next tailgate! These sliders can be made in advance for an easy entertaining the day of. Chicken slow cooks with applesauce and other fall flavors before it's shredded. Reduce the cooking liquid to be used as a sauce, then shred Brussels sprouts and apples and toss in a yogurt-apple juice dressing. Serve the sliders on buns, and enjoy! Gameday never tasted so good!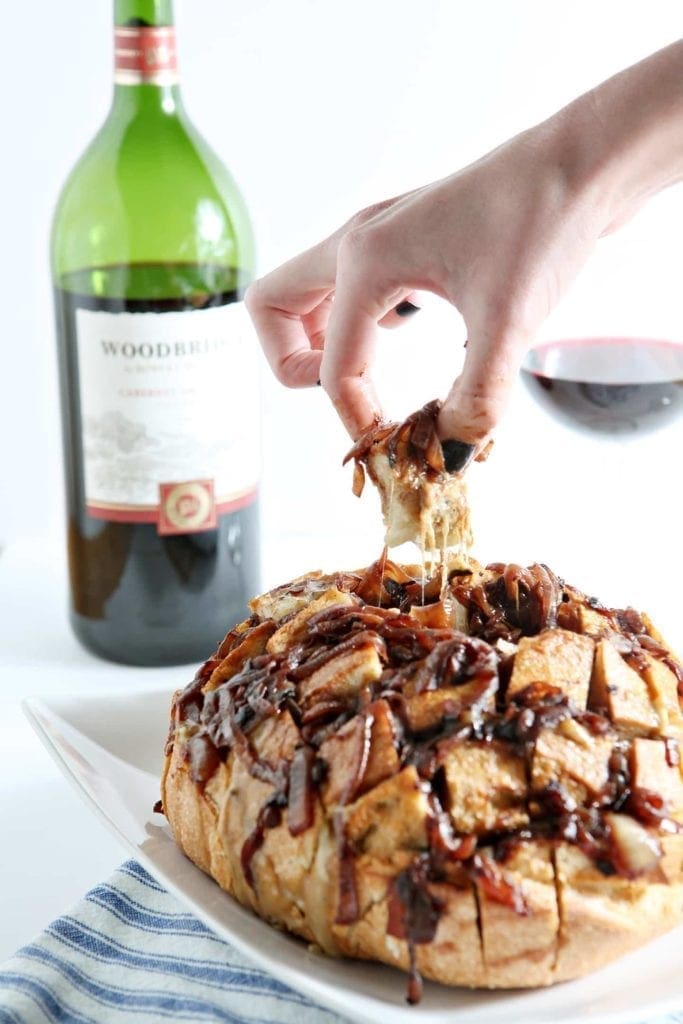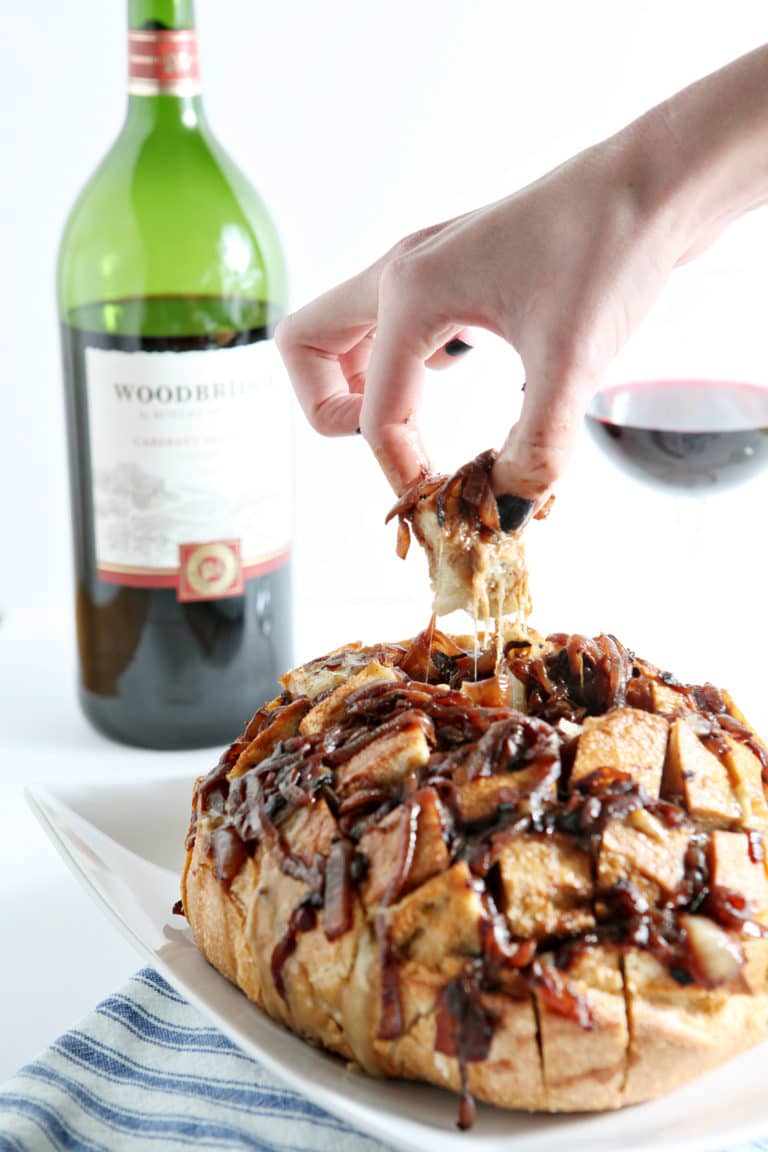 Looking for a tasty appetizer to feed a crowd? Cheesy French Onion Pull-Apart Bread is the way to go. A sourdough loaf is sliced, then filled with a gooey cheese mixture and topped with caramelized onions, which are finished with Woodbridge Wines Cabernet Sauvignon. The bread bakes for 20 minutes, then voila! Cheesy, gooey, delicious bread that tastes like French Onion Soup!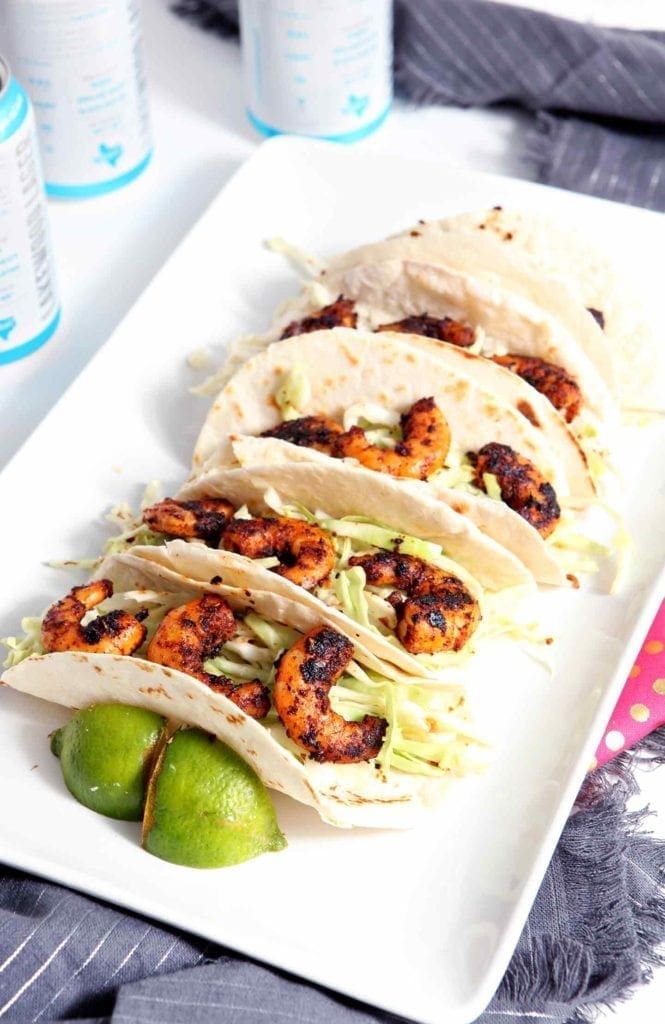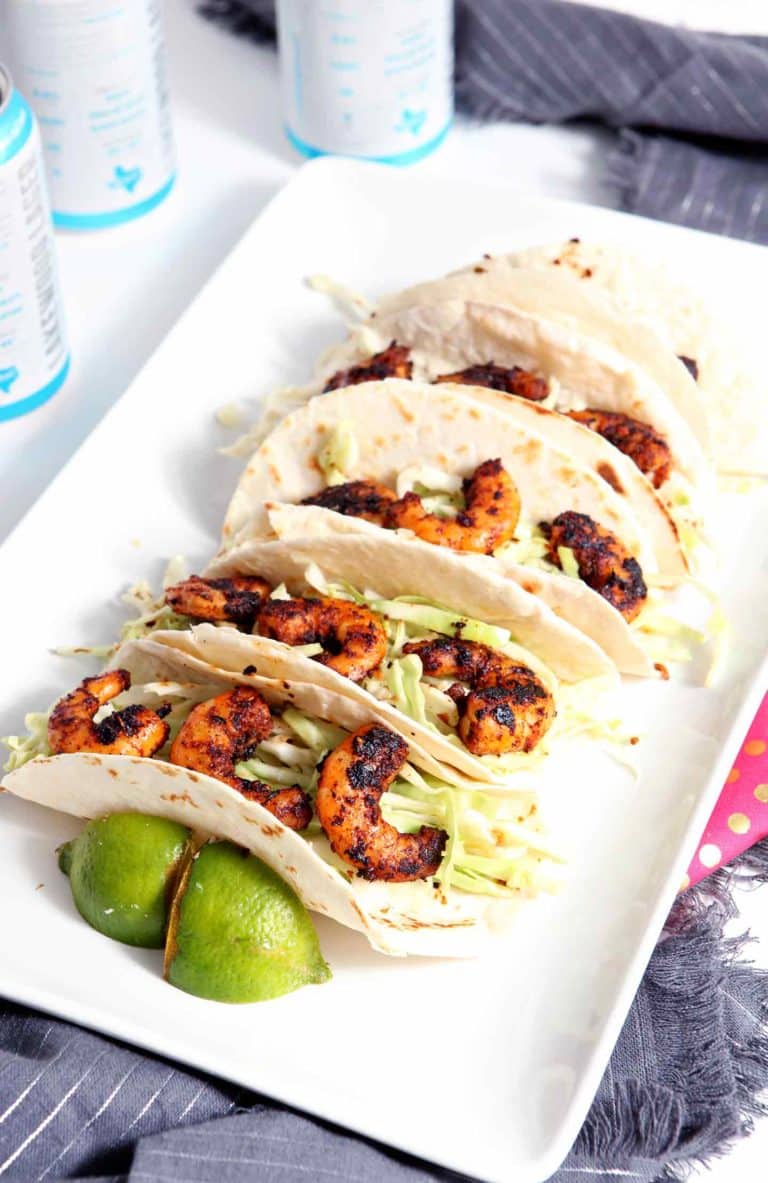 Blackened Shrimp Tacos with a crunchy coleslaw are the BEST entree to make at your football tailgate! Shrimp are liberally sprinkled with homemade blackening seasoning, then cooked. Flour (or corn!) tortillas are warmed on the grill. When the elements of the dish are ready, the shrimp are served atop a (made-at-home) Asian-inspired coleslaw that features green cabbage, toasted almonds, toasted Ramen noodles and a honey vinaigrette. These Blackened Shrimp Tacos go great with beer and are easily transported as you peruse your team's tailgate scene!

Mix up a batch of seasonal Meyer Lemon Shandies for your guests as you watch the Big Game! This twist on a classic Shandy celebrates winter citrus. First, make a tart Meyer Lemonade that will serve as the base for this cocktail. When the lemonade has chilled, pour in a fruity wheat beer. Garnish with a slice of Meyer lemon, and enjoy. These Shandies make a delightfully tart tailgating drink, as well as a simple sipper for any winter get-together.
Monthly Meal Plan: Mardi Gras Recipes
Mardi Gras is just around the corner, and with Fat Tuesday landing on February 13, we don't have a lot of time to enjoy our favorite Louisiana recipes. Below are some of our all-time favorites that I've shared on the blog.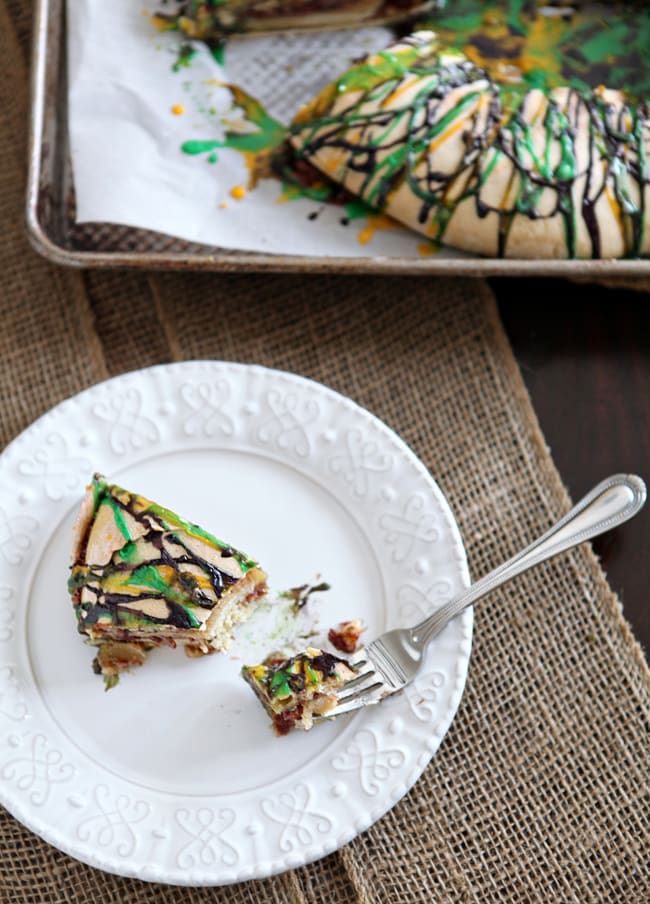 King Cake is a traditional Carnival cake that is well-loved in Southern Louisiana. Celebrate this Mardi Gras by whipping up Cream Cheese and Raspberry King Cake!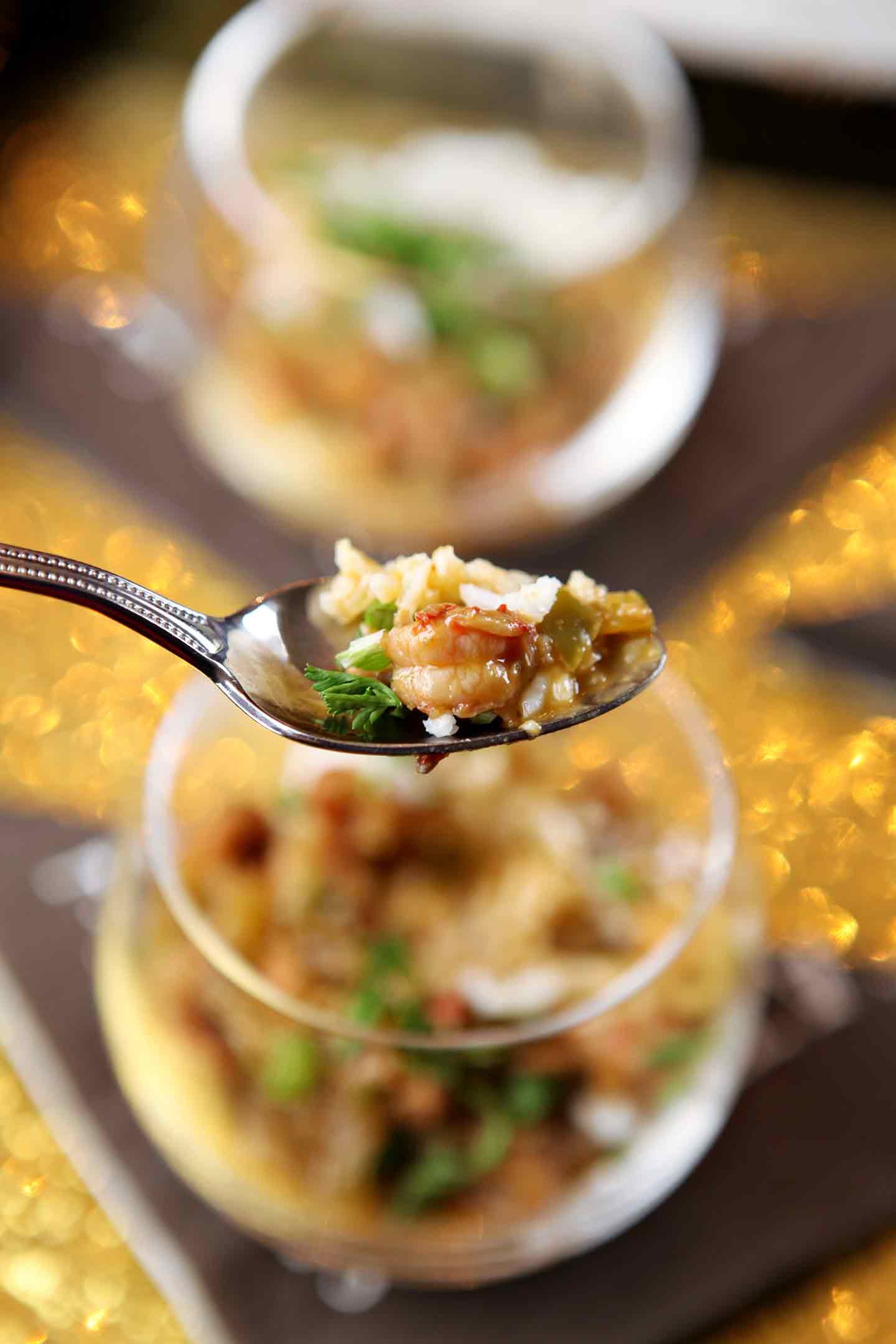 It feels like Carnival season, so we should make Crawfish Étouffée this weekend! This classic Louisiana entree makes a comforting meal for a chilly evening and easily doubles (or triples) to feed a crowd. Peeled crawfish tails cook low and slow with the Cajun trinity — onion, green bell pepper and celery — and other ingredients. Once the flavors meld, the dish is served over rice with green onions and parsley. What's not to love?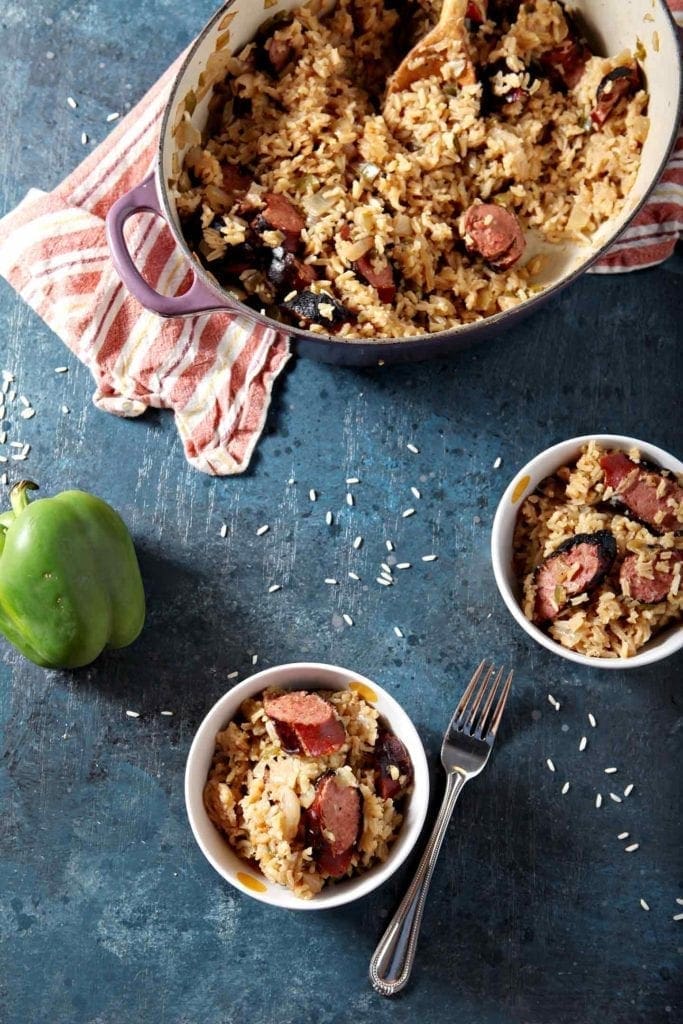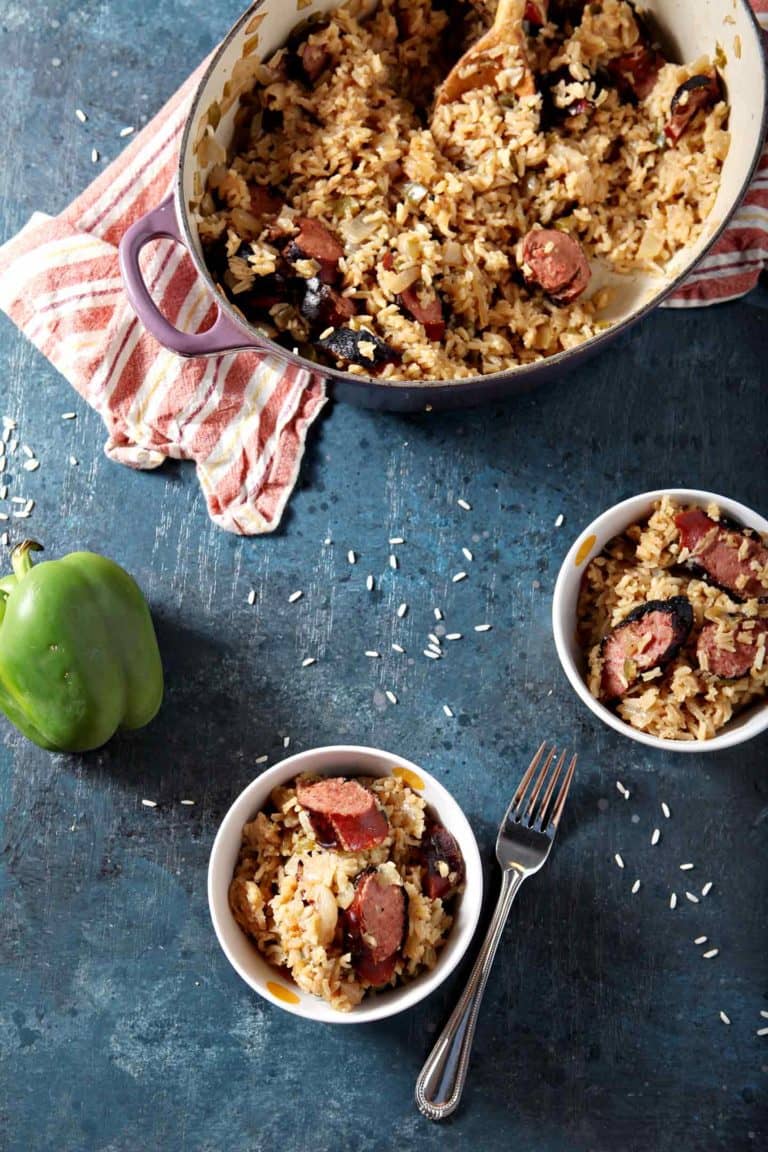 Lighten up gameday or weeknight meal with Turkey Sausage Jambalaya! This healthier twist on the classic is a one pot meal that's ready in an hour! Featuring Hardwood Smoked Turkey Sausage, onions, green bell pepper and garlic, this entrée cooks down with rice and makes a perfect meal. Flavorful with just a hint of spice, Turkey Sausage Jambalaya will be your family's new favorite meal and a wonderful recipe to provide at a tailgate!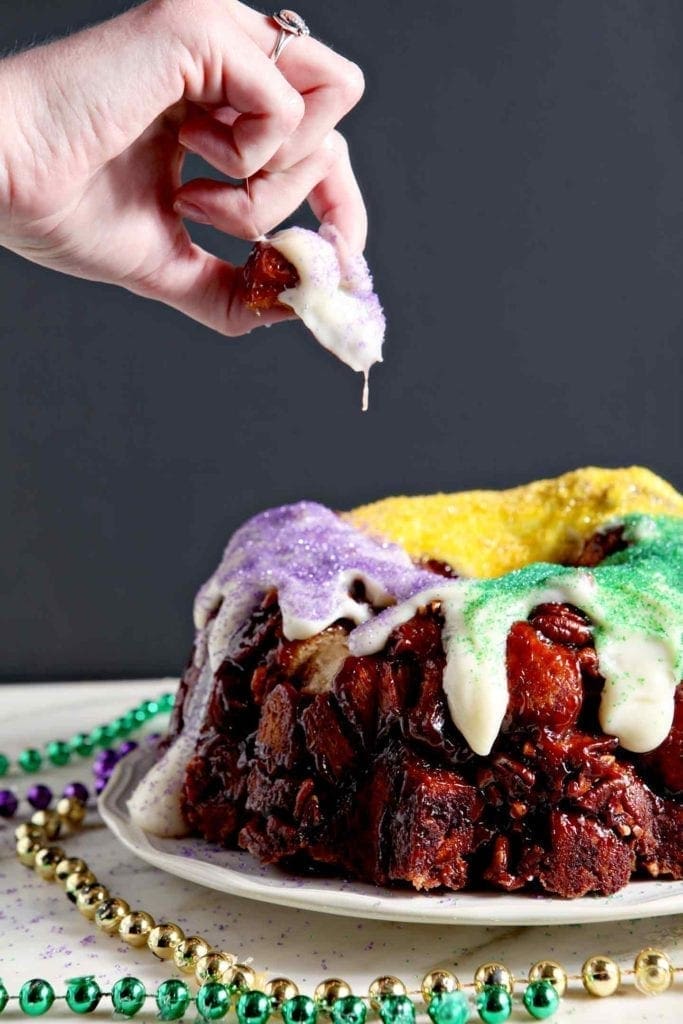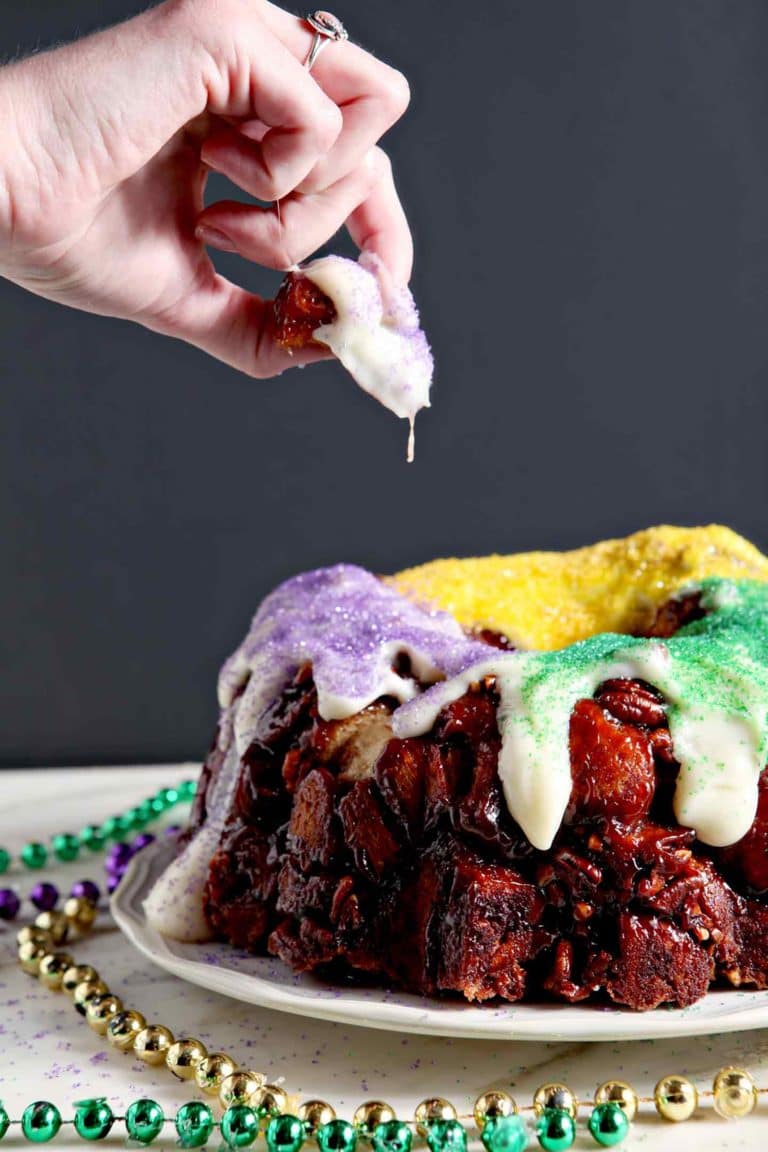 Celebrate Mardi Gras without spending hours in the kitchen with a Praline Pull-Apart King Cake! This quick king cake substitutes store-bought cinnamon rolls for homemade dough and pulls apart like monkey bread. Halve the cinnamon rolls, then toss in sugar, cinnamon and pecans. Bake in a bundt pan with a gooey praline sauce. Flip onto a platter and serve warm with a homemade cream cheese icing and colored sugar. Laissez les bons temps rouler!

Slow Cooker Red Beans and Rice makes a delicious dinner… and this recipe is SO simple! This well-loved Louisiana entree, which calls for dried red beans, Andouille sausage, green bell pepper, onion and spices, is the perfect meal year-round. This recipe, which is perfect for Mardi Gras festivities, football tailgates and while hosting a party, because it requires little hands-on time, cooks unassisted in the slow cooker and feeds a crowd.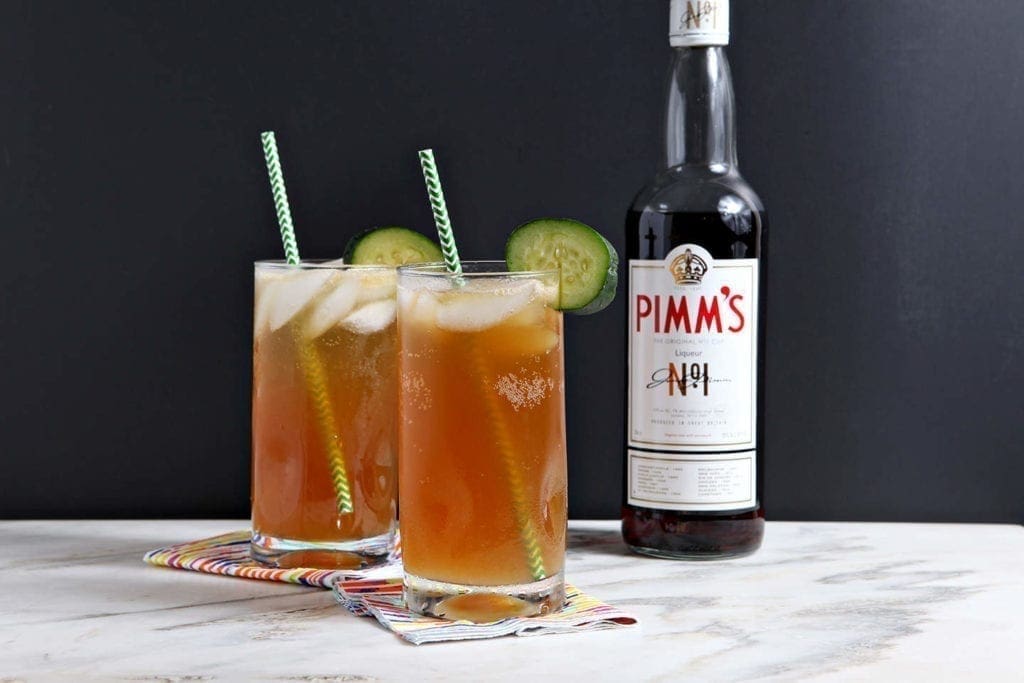 Tart and delicious, the Pimm's Cup is a classic New Orleans cocktail. Made famous in the Big Easy at The Napoleon House in the 1940's, this summer drink is refreshing and perfect for cooling off in the summer OR wintertime.
Monthly Meal Plan: At-Home Valentine's Dinner Recipes
Confession: We don't ever go out for Valentine's dinner on Valentine's Day and generally choose to stay in and cook ourselves something delicious that we can enjoy without being rushed or crowded. Below are some of our favorite recipes to make for an at-home date night…

Elevate your romantic, at-home date night by serving Seared Scallops with Raspberry Gastrique. This entree looks and sounds fancy, but is incredibly easy to make. The gastrique is a simple sweet-and-sour sauce, made in this recipe by reducing raspberry preserves, vinegar and sugar in a saucepan. Sear the scallops over high heat, and serve over the reduced tart-and-sweet raspberry sauce. Make this easy but fancy romantic dish for date night!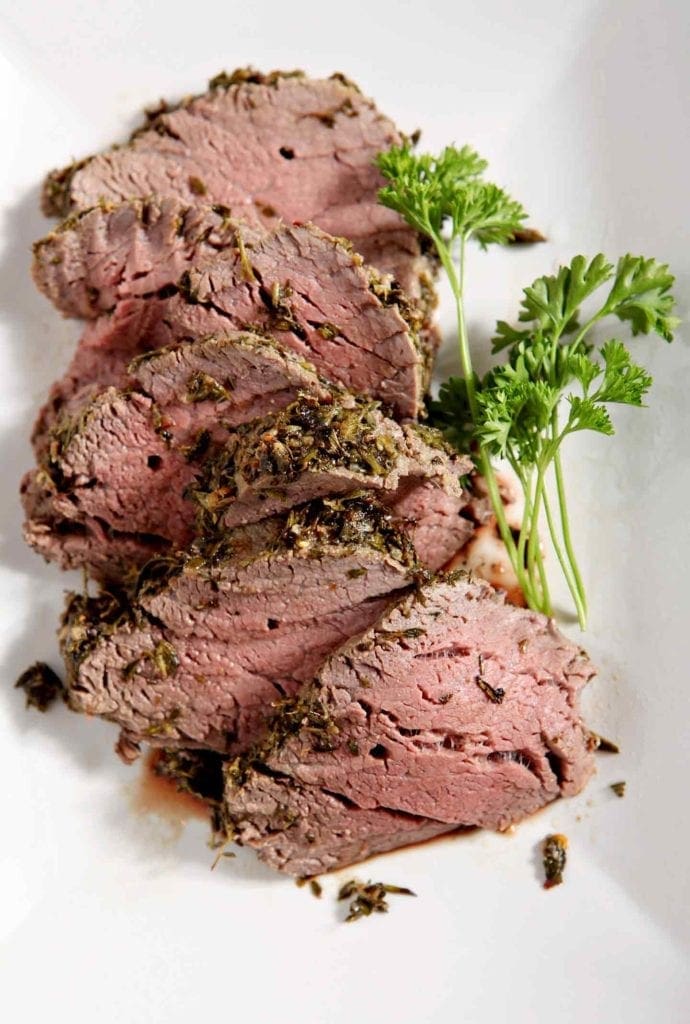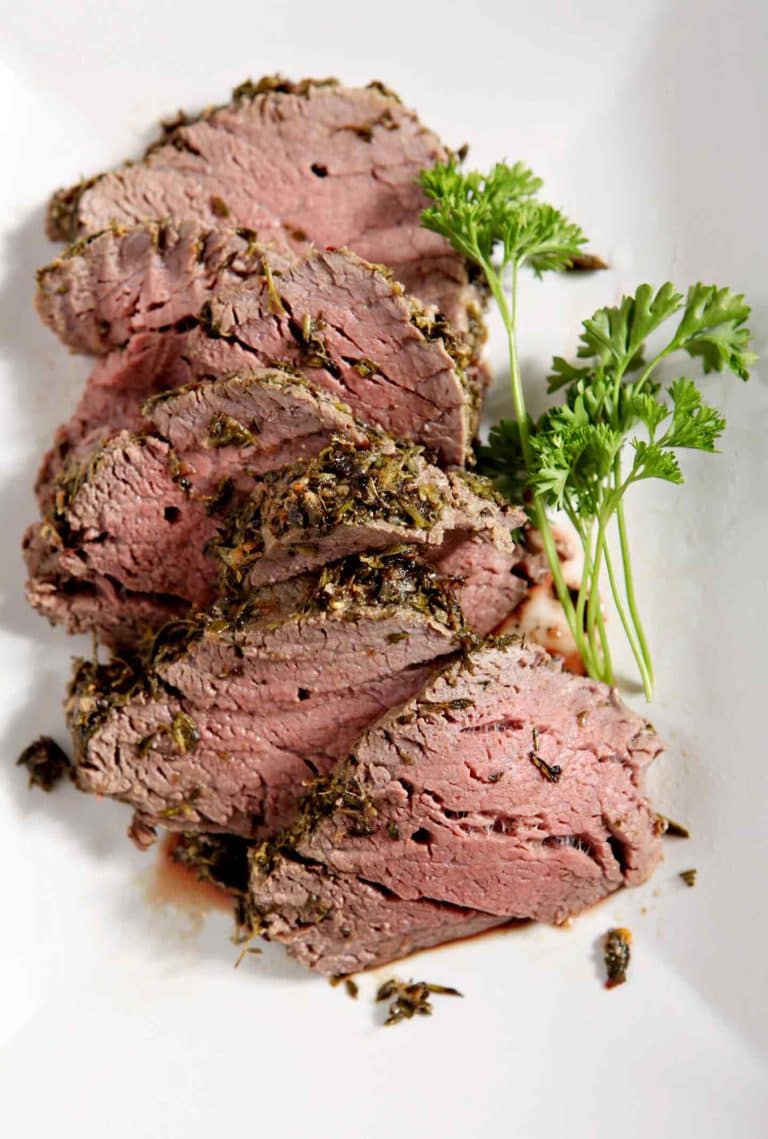 Mediterranean Herb Crusted Beef Tenderloin makes an elegant centerpiece for any holiday meal! Slather beef tenderloin in a mixture of fresh herbs, lemon juice, olive oil, garlic and spices, chill, then bake until medium rare. This tender cut of meat soaks up the flavors of the Mediterranean herbs as it cooks. Mediterranean Herb Crusted Beef Tenderloin makes a stunning centerpiece for Easter, Thanksgiving, Christmas, birthday dinners and more!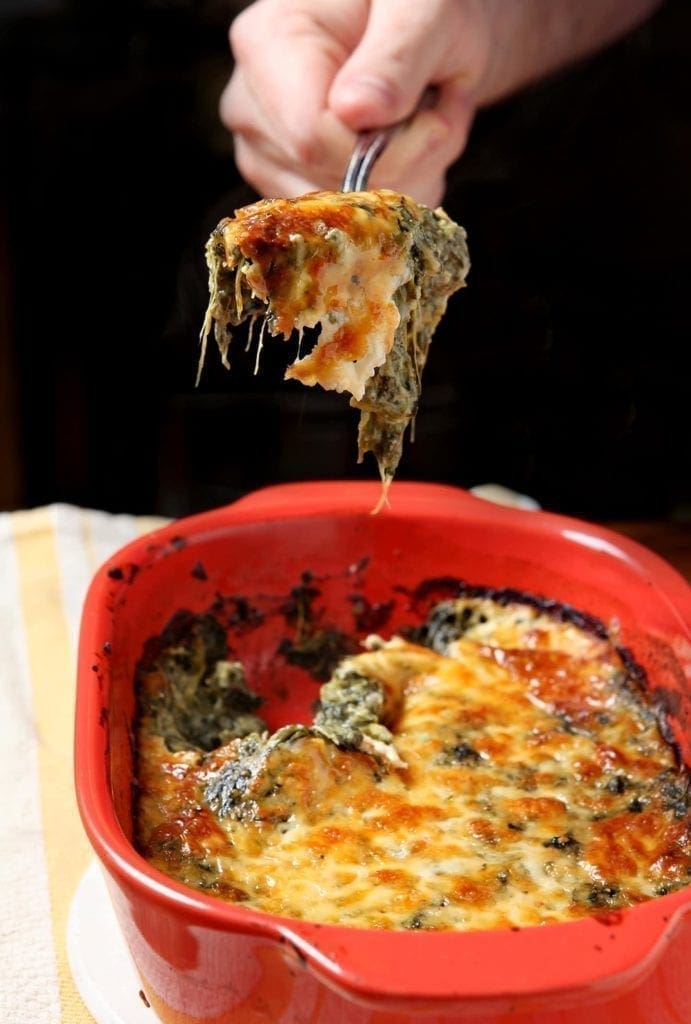 Spinach Madeline is a comforting side that is a spicy twist on traditional creamed spinach. Instead of just cream, the spinach is mixed with pepperjack cheese and spices, then baked to make this outstanding vegetarian side dish that pairs well with most meals!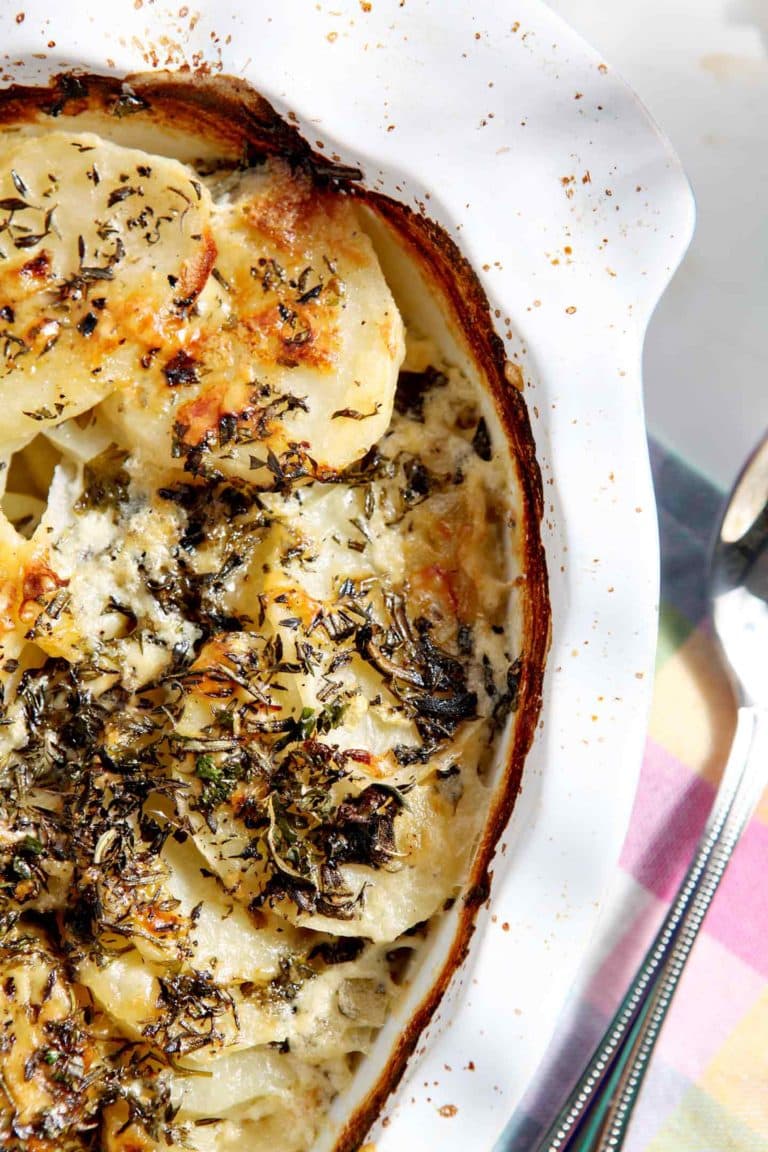 Mediterranean Scalloped Potatoes make a flavorful, cheesy side dish for a springtime get-together. Transform classic Scalloped Potatoes, made with cheddar, milk and butter, into a Mediterranean-spiced one using mountains of fresh parsley, thyme, oregano and rosemary. Layer the ingredients in a baking dish, then bake until bubbly and golden brown. The perfect Easter side dish, Mediterranean Scalloped Potatoes are best enjoyed with people you love!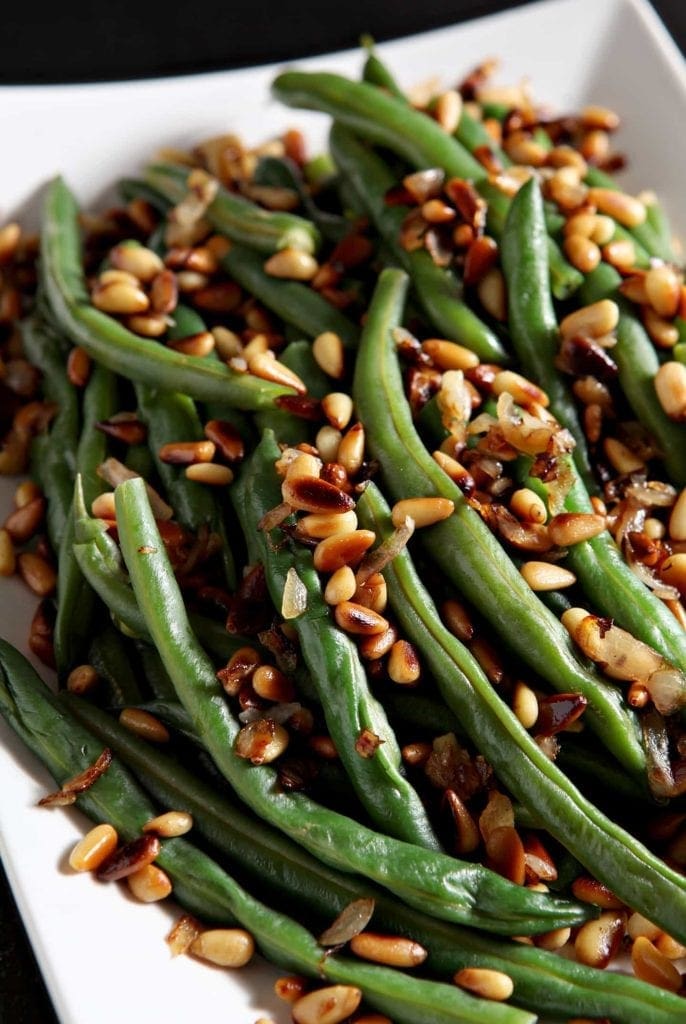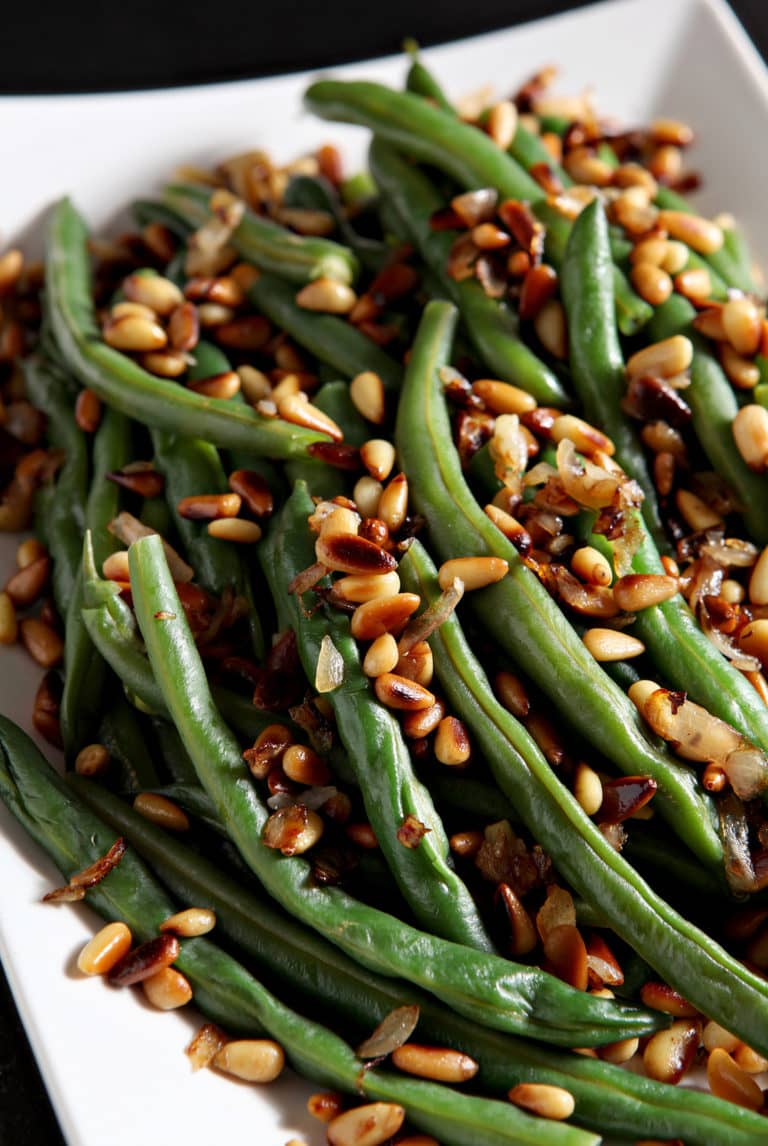 Toasted Pine Nut Green Beans make the BEST accompaniment for any weeknight meal! Steamed green beans are topped with toasted pine nuts and a diced shallot, then drizzled with olive oil. This vegan side dish is sure to be a winner at the dinner table.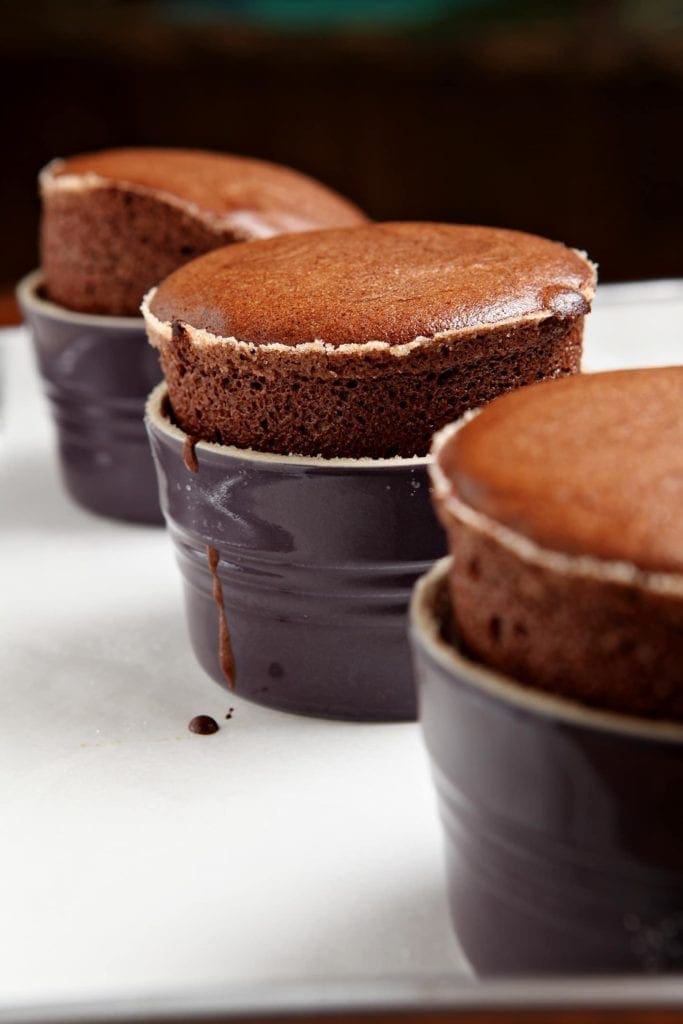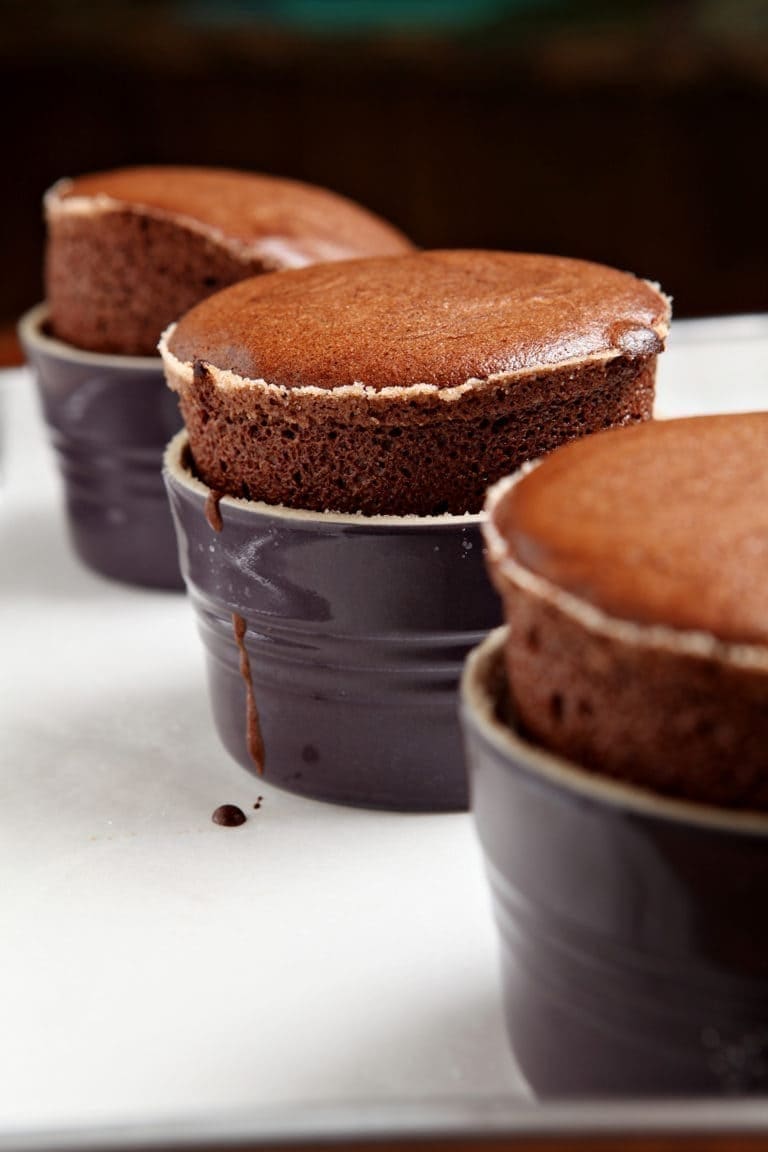 Valentine's Day is just around the corner! Let's celebrate with these gooey, decadent and delicious Dark Chocolate Soufflés, which come together quickly and bake up nicely. The perfect dessert if you're holding a stay-at-home Valentine's celebration this year!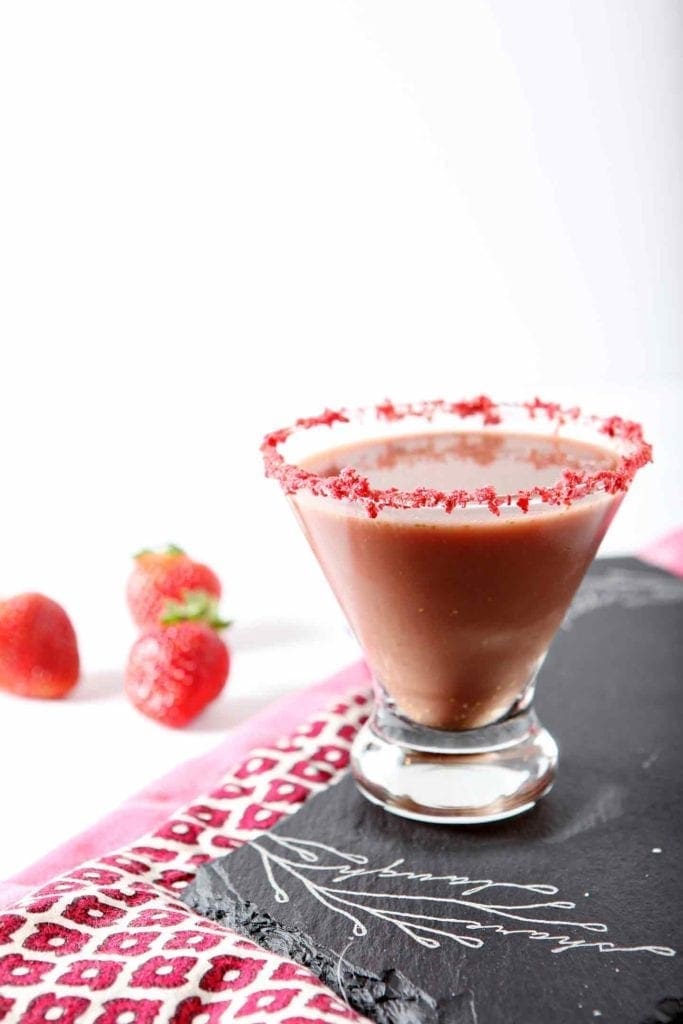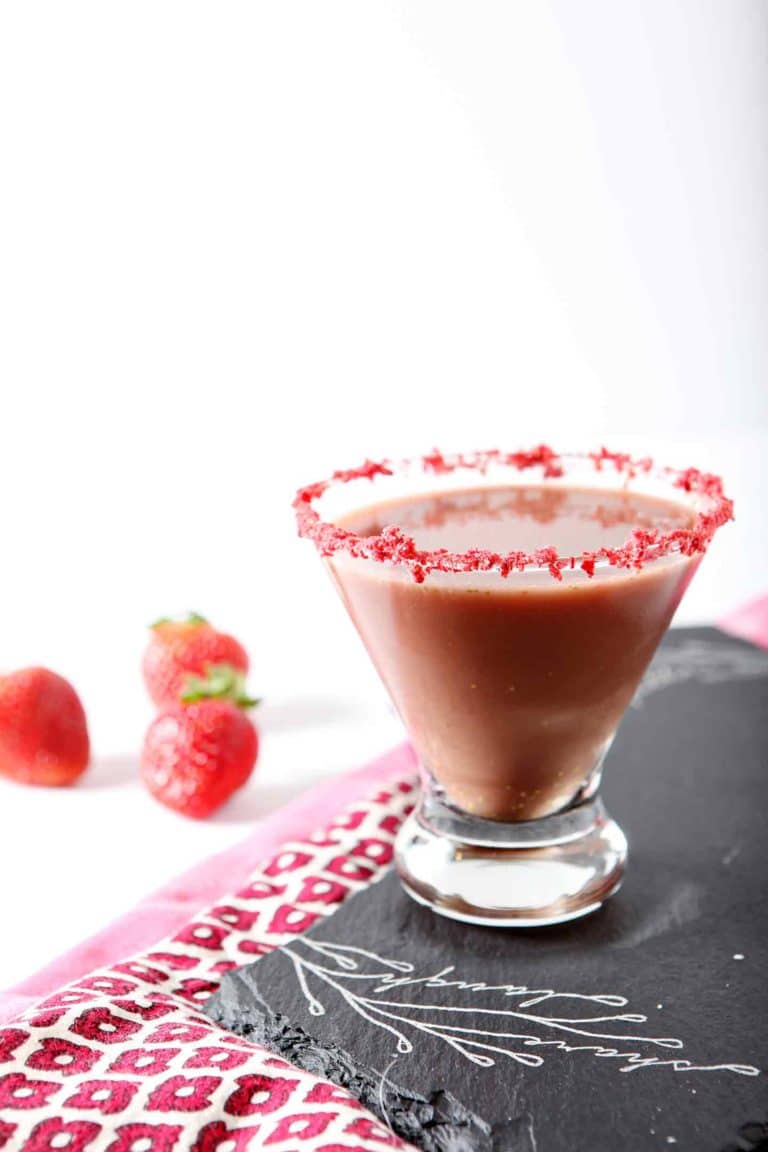 Grab your girls and mix up decadent Skinny Chocolate-Covered Strawberry Martinis! These dairy-free, sugar-free martinis are the perfect drink to serve at your next girls' night or for Valentine's Day! A combination of cashew milk, vodka, crème de cocoa, agave, strawberries and cocoa powder makes these cocktails to-die-for tasty. Naturally sweetened and dairy free, there's a lot to love about these Skinny Chocolate-Covered Strawberry Martinis.
…
What Are Some Of The Foods You Plan To Enjoy This Month?
Is there anything on this list that you would like to try?
Other monthly meal plans: January 2018 / March 2018 / April 2018 / May 2018 / June 2018 / July 2018 / August 2018 / September 2018 / October 2018 / November 2018 / December 2018