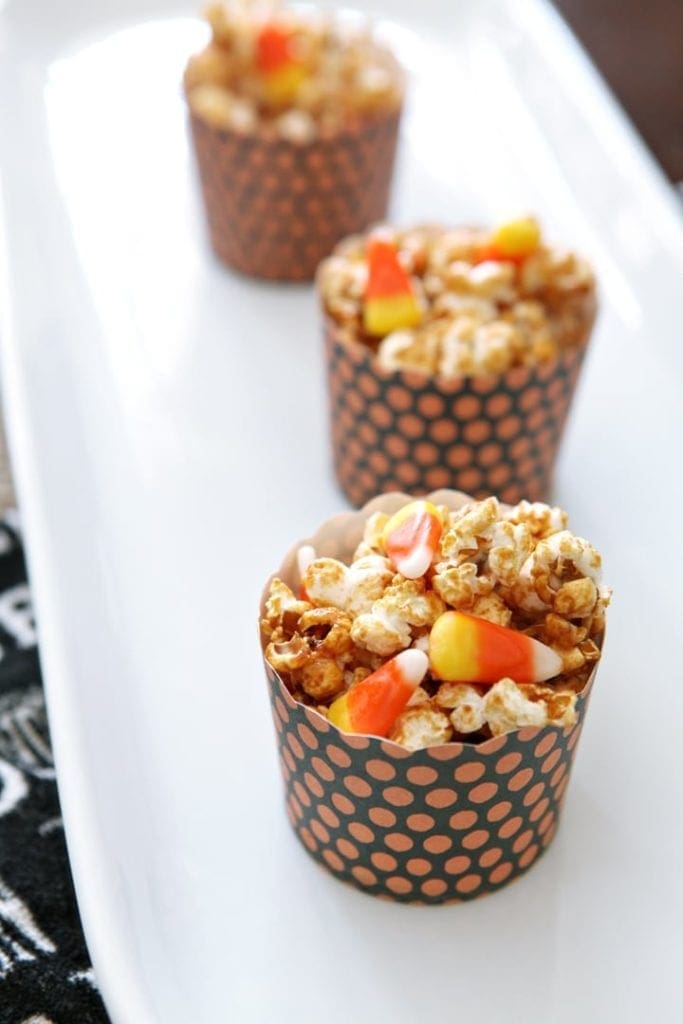 Two years ago, we moved into a house in a neighborhood teeming with children. (Y'all can see where this story is going, right?)
Two years ago, we learned what it was like to hand out Halloween candy to trick-or-treaters since in previous years, we didn't live in a spot with many children and/or chose to go trick-or-treating in another neighborhood with family.
It was surprisingly a lot of fun, and we'll be doing the same thing this year. In fact, I stocked up on all kinds of candy yesterday, so we should be prepared for the inevitable onslaught and hopefully not have too many candies as leftovers.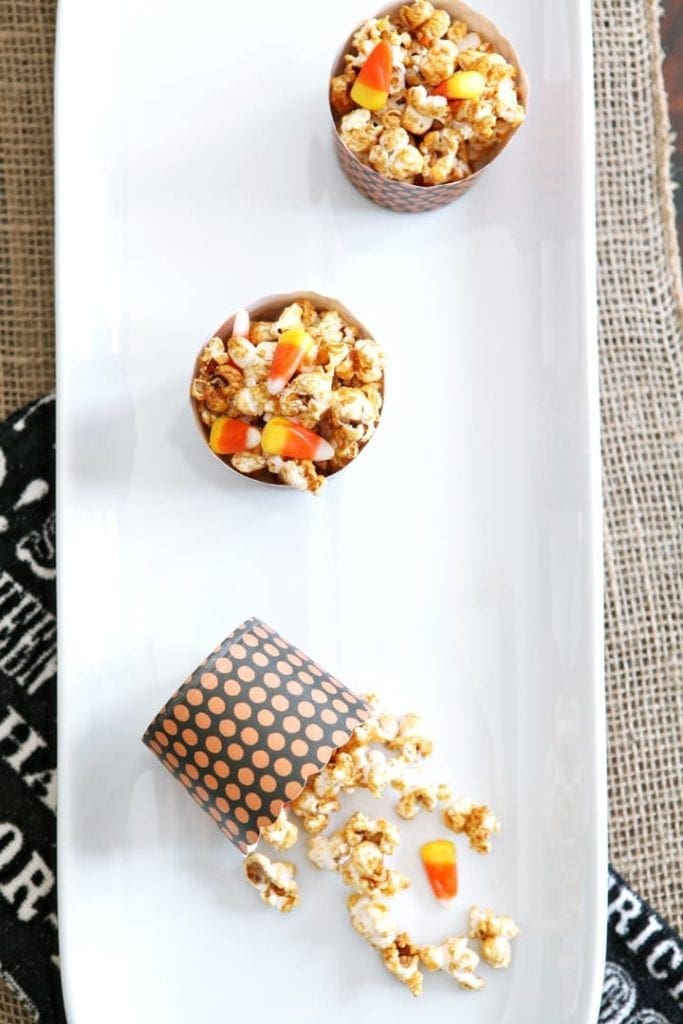 However, I don't want to inadvertently eat all the Halloween treats meant for trick-or-treaters, so I decided it was high time for me to figure out a sweet (and salty!) something to enjoy while handing out candy.
Because I know myself. And because I kind of become a Cookie Monster when it comes to huge bags of candy that are at my disposal 24/7. And because, well, sweet things are always wonderful snacks, no matter how un-nutritious they are.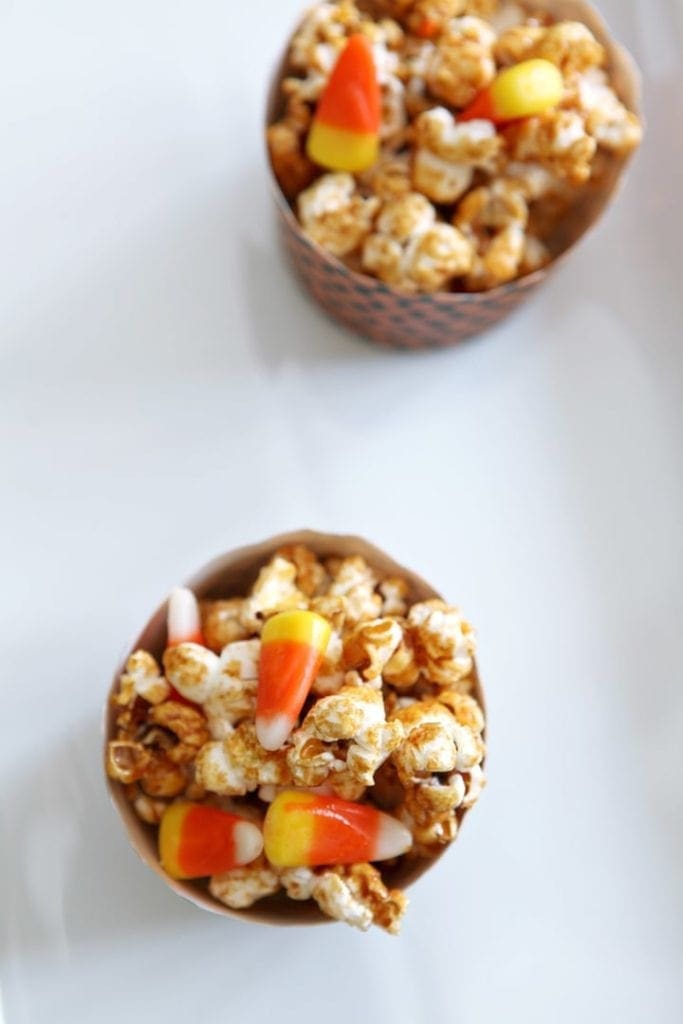 This Halloween Caramel Corn recipe combines my love for sweet-and-salty treats without being too over the top.
The one con? It's pretty sticky, and your fingers won't be the happiest (if you've got fussy fingers like I do)… but it's totally worth it. Especially if this is something that keeps you from gorging yourself on the trick-or-treat candy before any costumed children darken your doorstep Friday evening.
Here's how you can make it: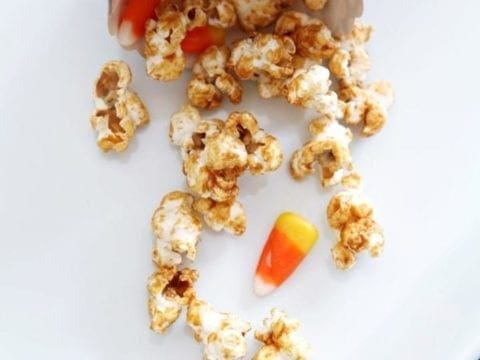 Yield:

4 servings
Halloween Caramel Corn
Looking for a sweet-and-salty treat to enjoy while handing out candy to trick-or-treaters this Halloween? Look no farther than this delectable Halloween Caramel Corn, which is made in a flash!
Ingredients
3 tablespoons popping corn
1 tablespoon coconut oil
A pinch of salt
3 tablespoons salted caramel, , warm
1/2 cup candy corn
Instructions
In a large Dutch oven, melt the coconut oil over medium-high heat.
Add the popping corn and salt, and cover the Dutch oven, moving constantly over the heat the kernels are popping. When the popping is consistent, turn off the heat and continue moving the pot until the popping has dissipated, then remove the pot from the stovetop.
While the popcorn is cooling, prepare your salted caramel (or reheat the caramel you have.)
Transfer the popcorn to a large glass bowl, and drizzle the salted caramel over it, tossing the popcorn until it is coated in the caramel. Sprinkle in the candy corn.
Enjoy warm and sticky!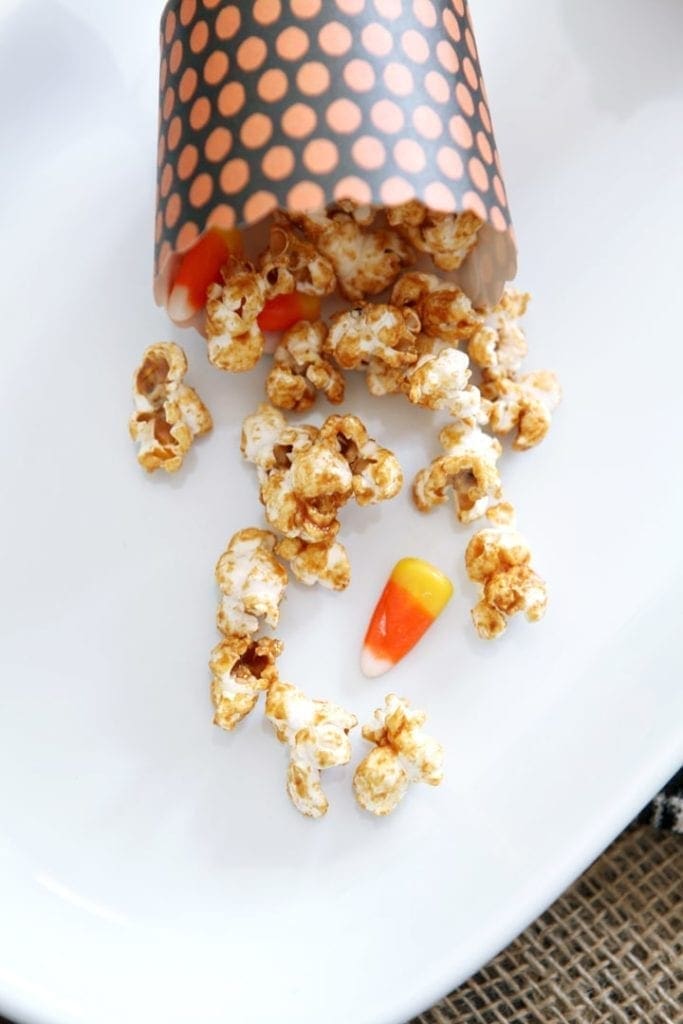 What kind of treats are you handing out Friday?
Are you like me, and have you prepared a sweet treat to keep yourself from eating the Halloween candy?