Gingerbread Coffee Creamer
Serve your favorite coffee with Homemade Gingerbread Coffee Creamer this holiday season! Steeped with gingerbread spices, fresh ginger root and molasses, this creamer embodies the best flavors of the season. Makes enough for 6-8 mugs of coffee.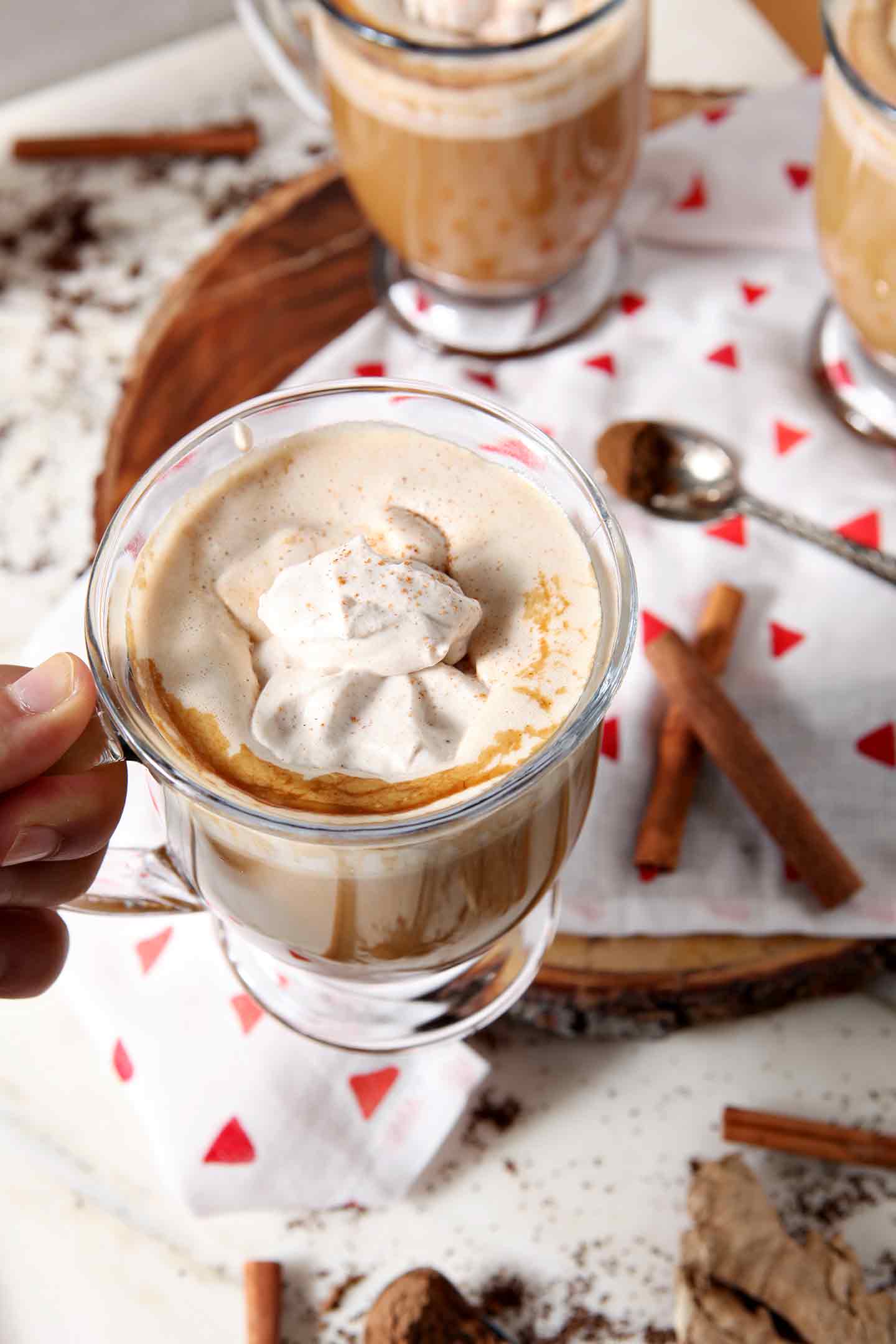 The most wonderful time of the year is upon us, friends!
I don't know about you, but I am thrilled for the cooler weather, the festive food and gathering the people I love the most in my home.
Honestly, does it get any better than this?
Whenever our families are in town—and we'll be seeing a lot of them this holiday season—I find myself rising early to brew coffee and spend time together before our daughters wake up.
It's a lovely unspoken tradition, and I'm really looking forward to doing it this year.
This year, I plan to add in homemade gingerbread coffee creamer to take our early morning conversations to a new level.
And if you add in the Spiced Whipped Cream, too? Oh, boy. Your day will be amazing, simply based off its strong start!
The combination results in a unique and flavorful homebrewed coffee, which is out-of-this-world delicious and the perfect way to start the morning.
Other recipes you can enjoy during lazy holiday mornings: Sweet Breakfast Crepes / Vegan Breakfast Apple Crisp / Croissant Breakfast Sandwich / Christmas Breakfast Casserole (with Vegetarian option)
Need holiday breakfast inspiration? Check out my Christmas recipe index, which has all kinds of ideas for you! Be sure to see my How to Host a Holiday Brunch guide, too.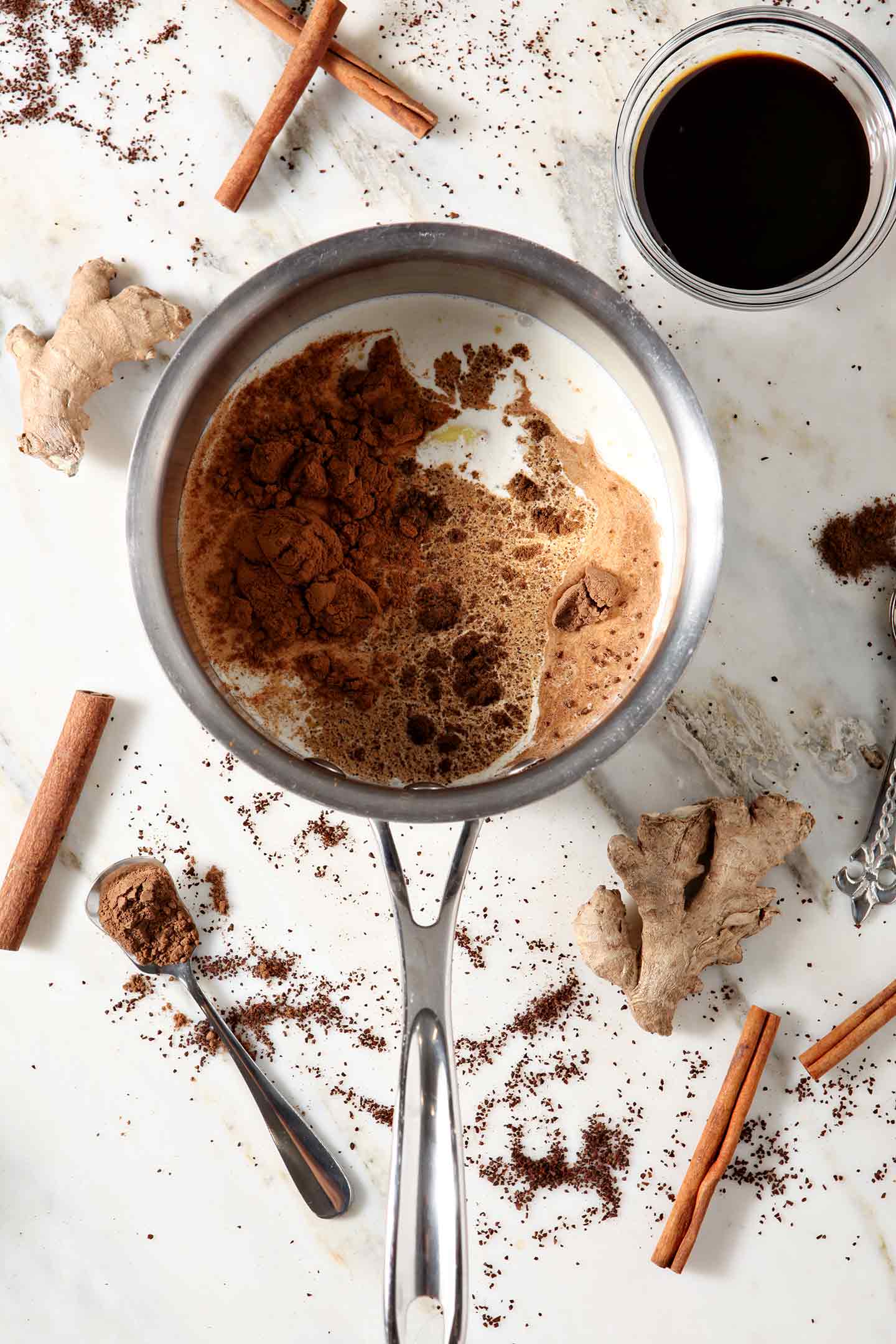 What products/tools do I need to make and enjoy this coffee creamer?
Disclaimer: The links below are affiliate links. If you click through and take action, I will receive a small commission. Please refer to my disclosure page for more information about the affiliate programs The Speckled Palate participates in.
A Saucepan
A liquid measuring cup (for the cream)
Measuring spoons (for the other ingredients)
A vegetable peeler or a spoon to peel the ginger root
A fine mesh strainer to strain the creamer
A mason jar to store the creamer in
A large bowl to make the whipped cream in
A hand mixer (or a stand mixer) to whip the whipped cream
A coffee pot + filter
Frother, optional, to whip the creamer into your coffee
Your favorite mug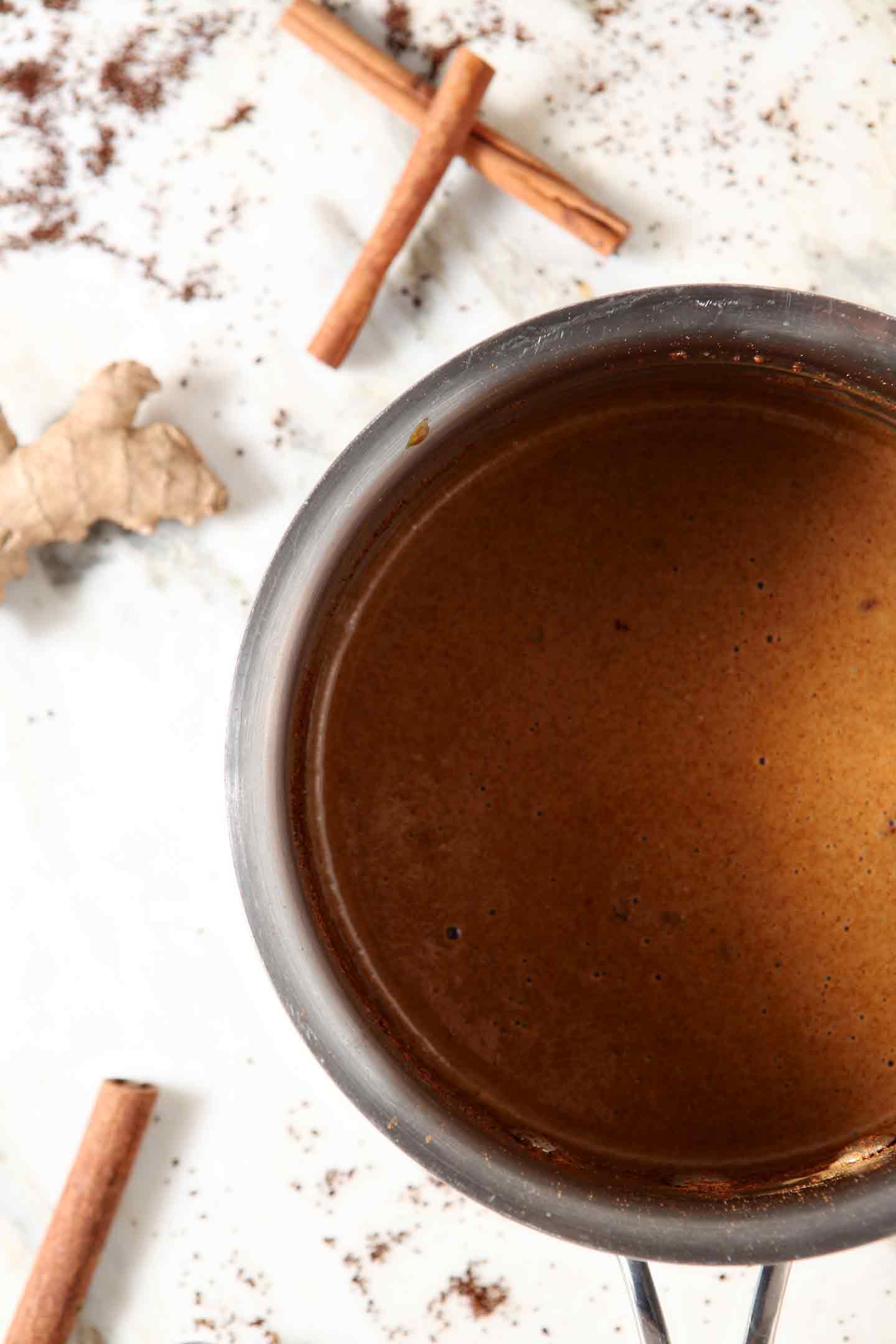 How to Make Homemade Gingerbread Coffee Creamer
Please note that this step needs to be done the night before you'd like to enjoy your gingerbread coffee creamer or that you need to wake up especially early the morning that you serve it to give the creamer time to steep and for the flavors to really sing.
Measure the half-and-half into a small saucepan. Warm over low heat. You'll do this because you don't want to scald the milk!
Pour in the molasses, ginger root, sugar, cinnamon, cloves and allspice, and stir as the ingredients juuuuuuust come to a simmer. This will take about 10 minutes, then you'll remove it from the heat.
Transfer the homemade coffee creamer to a heat-safe bowl, cover with plastic wrap, and let it hang out in the refrigerator for 2 hours. This is called steeping, and the process essentially makes it to where the flavors of the ginger, sugar, molasses and the spices infuse into the coffee creamer.
Strain the creamer with a fine mesh strainer. This step removes the ginger root, as well as any lumps.
Transfer the coffee creamer into a mason jar, and store for up to a week in the fridge.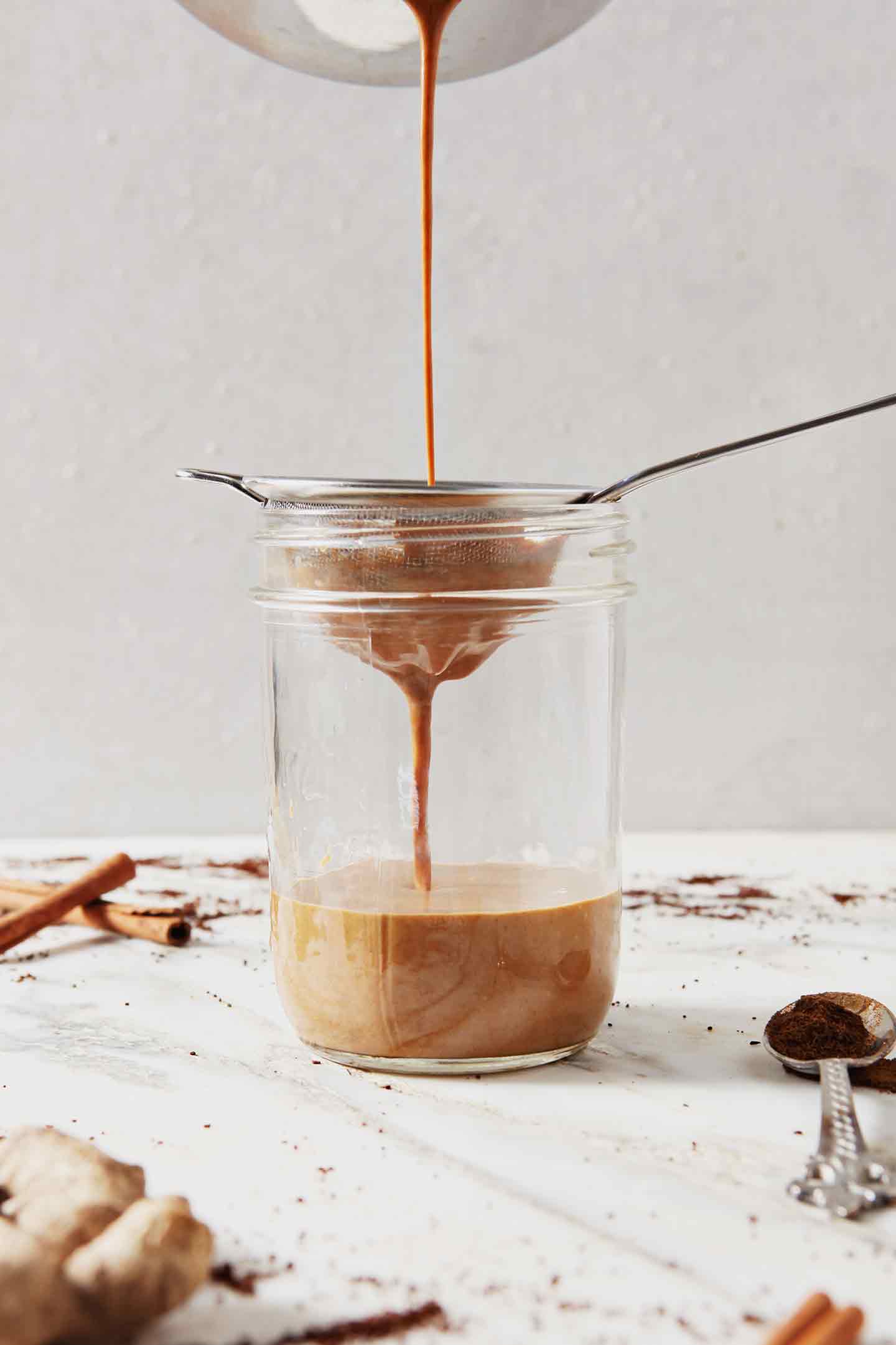 How to Make Spiced Whipped Cream
The morning that you're serving your holiday-spiced coffee, make the whipped cream while your coffee is brewing. I suggest brewing your favorite coffee the way you always brew it and letting the homemade gingerbread coffee creamer and this spiced, sweetened whipped cream steal the show. 😉
While your coffee brews, measure the heavy whipping cream into a large glass bowl. We want some space in the bowl because as we whip the cream, it will expand, and you want space for this to happen… you also want extra space in the bowl so that the cream doesn't splatter all over you or your countertops.
Add powdered sugar and spices to the heavy whipping cream.
Whip the heavy cream mixture using a hand mixer or a stand mixer. Start off slowly, and increase the speed as foam begins to form.
When the whipped cream is soft, stop whipping it, and either cover the bowl to store in the fridge until you're about to serve the coffee or serve it immediately.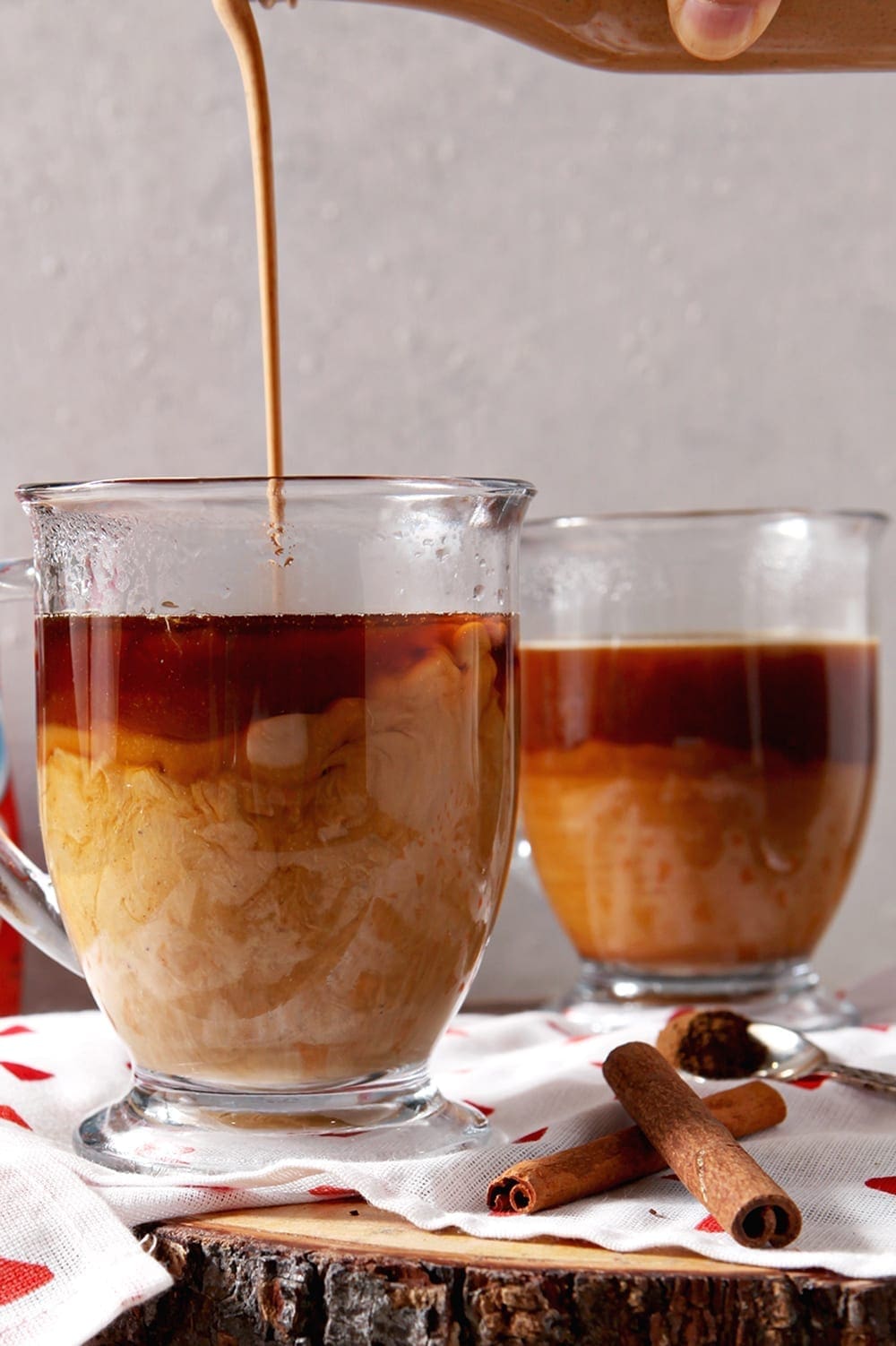 Make a Mug of Holiday Coffee
In your favorite mug, pour in your coffee.
Pour in your Gingerbread Coffee Creamer next, and stir until combined. Feel free to use more or less than the recipe below suggests, as everyone's tastebuds are a little different.
Dollop the whipped cream on top of the coffee.
Enjoy immediately!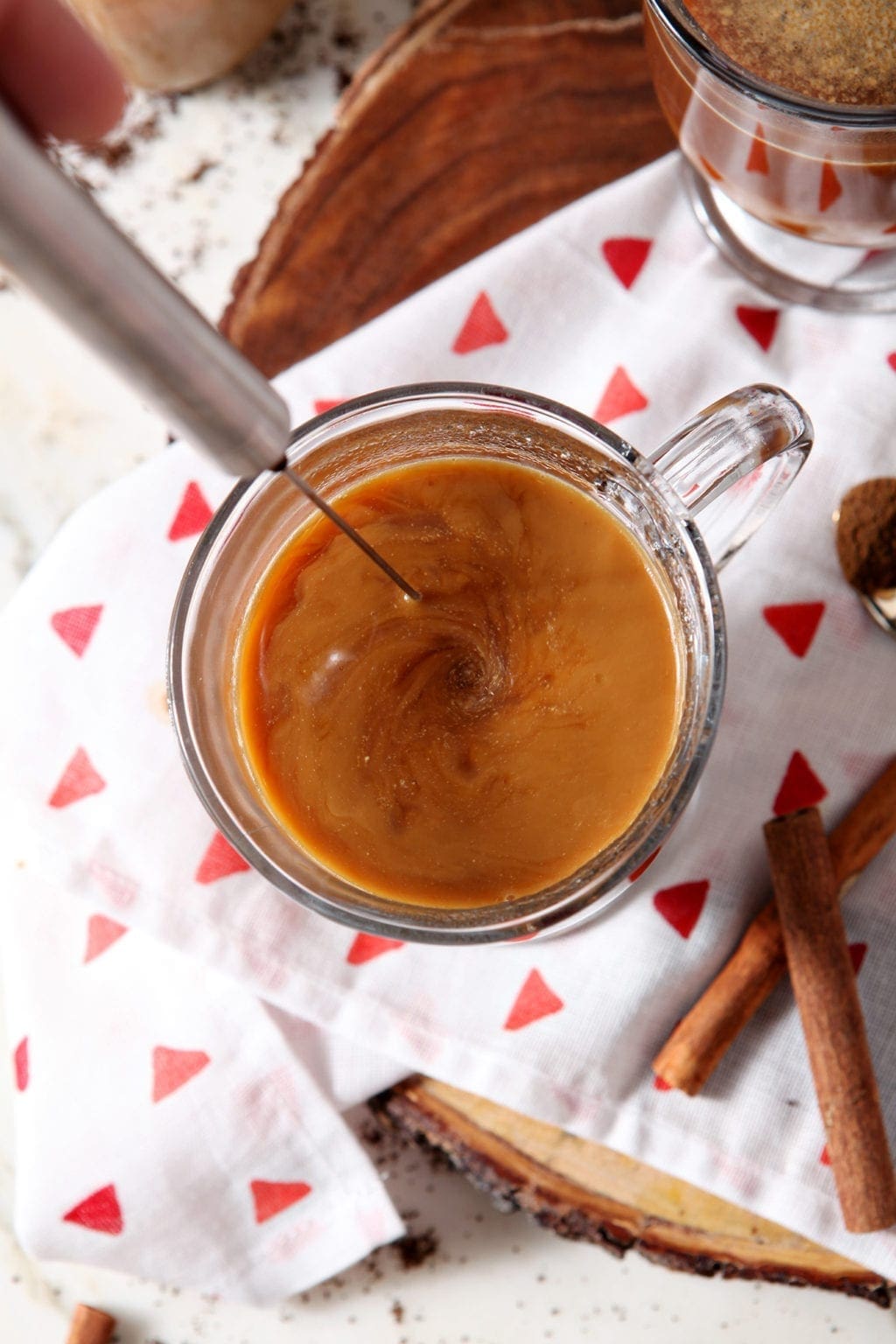 Erin's Easy Entertaining Tips and Tricks
If you're hosting a holiday brunch or having family over for the holidays, making a special homemade coffee creamer is a brilliant way to go! It's an easy recipe to put together, and quite honestly, it's a nice treat for your guests!
Here are a few more things you can do to make your life easier:
Make the coffee creamer in advance. Since it can sit in the fridge for up to a week, put it together and let it steep before guests arrive. It'll be a nice treat for them to find in the fridge (or for you to present to them) one morning.
Not a morning person? Make the whipped cream in advance, too. Just be sure to cover it with plastic wrap so that it doesn't soak up any weird flavors from the fridge.
Double the recipe if you're hosting a crowd or know this stuff will go fast!
Create a coffee bar. If you're hosting brunch, turn where your coffee maker lives into a "bar" that includes the coffee pot, the creamer and homemade whipped cream, as well as mugs, spoons/stirrers, sweeteners and anything else your guests might like to have for their coffee.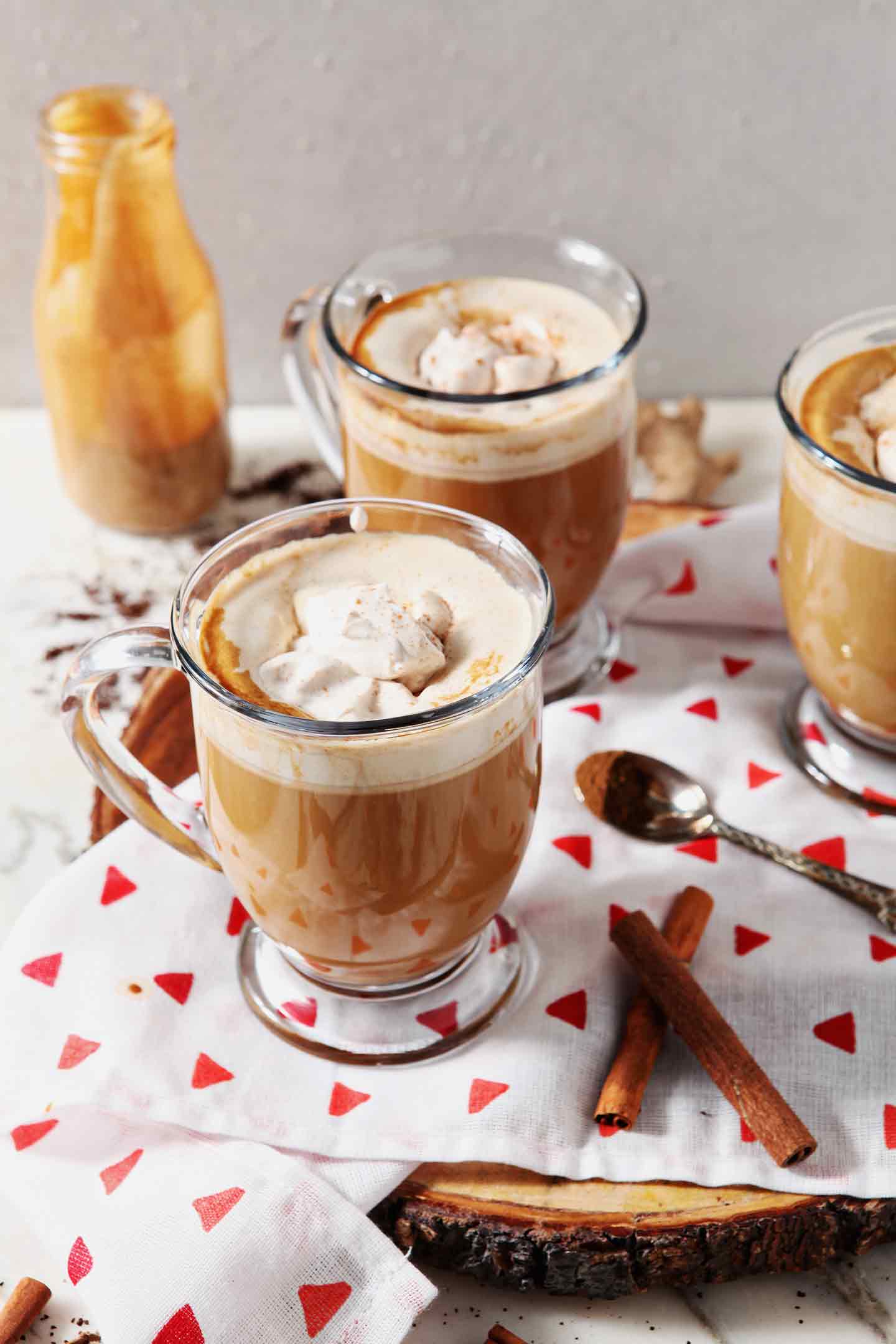 Frequently Asked Questions
Can I make the creamer the morning of?
Unless you want to wake up super early and drink your first cup (or multiple cups—who am I to judge?) sans creamer while it infuses, you certainly can.
If you want the Gingerbread Creamer in your first mug, I suggest making it the night before.
I don't like gingerbread. Will I like this coffee?
I can't speak to your tastebuds, but I will confess that I'm not the biggest gingerbread fan, either. (While I've shared a few gingerbread recipes over the years, I am super selective about my gingerbread flavors.)
That said, I think you should give this a try.
Do you like the ingredients separately? Then you might like them together!
One substitution I can suggest: If you're not a fan of molasses, substitute it with maple syrup. That would be delicious and offer a little less potent gingerbread-y flavors.
I tried this holiday coffee with the gingerbread creamer and found it bitter. What did I do wrong?
Chances are, you didn't do anything wrong! This just means your tastebuds are different than mine.
However, if you found this combination too bitter and still have some left and want to try to make it work, I suggest adding more creamer or adding a sprinkle of sugar. I've also read that a pinch of salt will combat bitterness in a coffee drink, too.
Another option is making the coffee a little less strong, so you'll use less grounds when you brew it.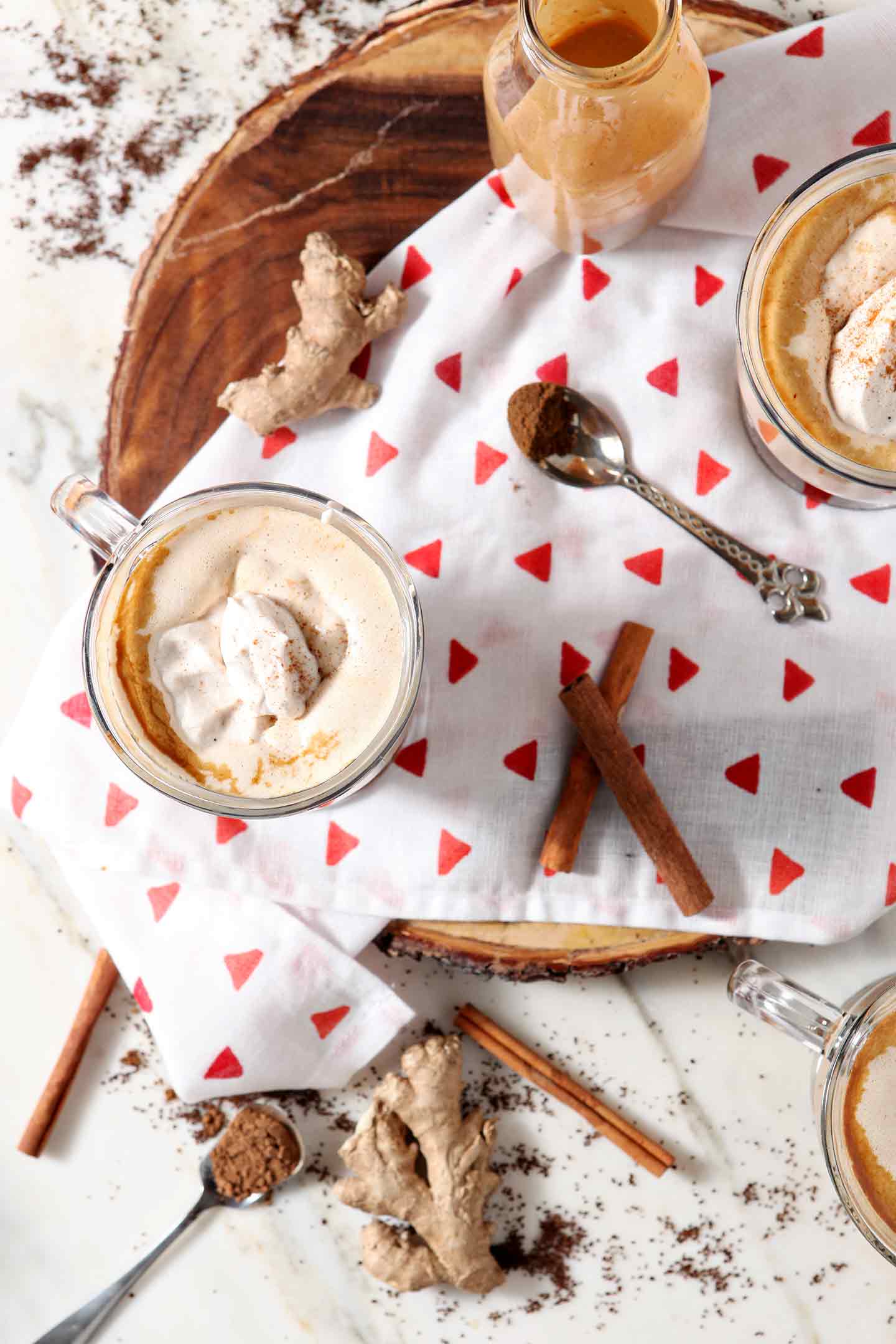 What can I serve alongside this holiday-flavored coffee?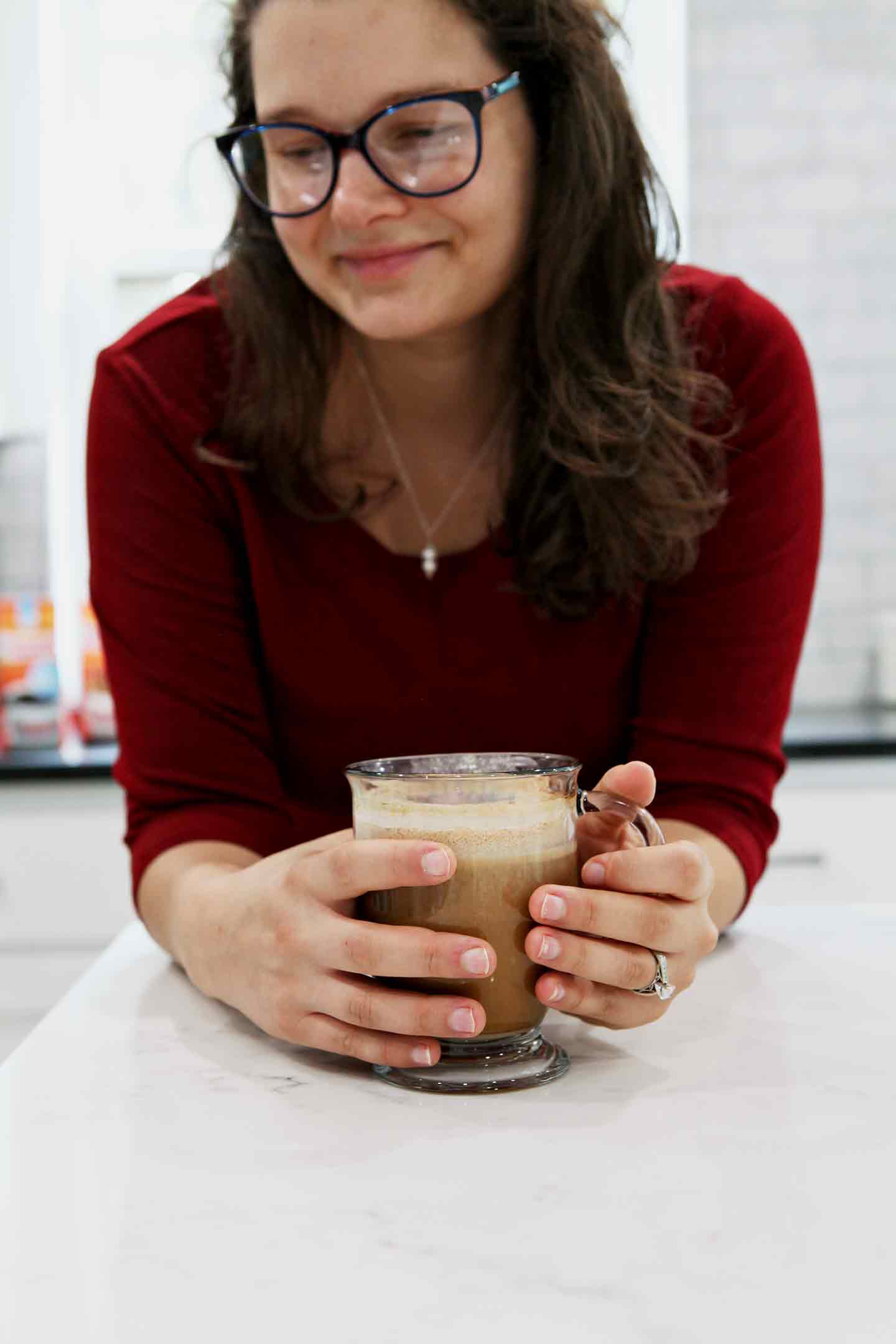 Now who wants to make some of this coffee deliciousness?
I certainly do now and highly suggest making it for guests this season.
Scroll on down to learn how easy it is to make a Gingerbread Coffee Creamer to add to your holiday celebrations.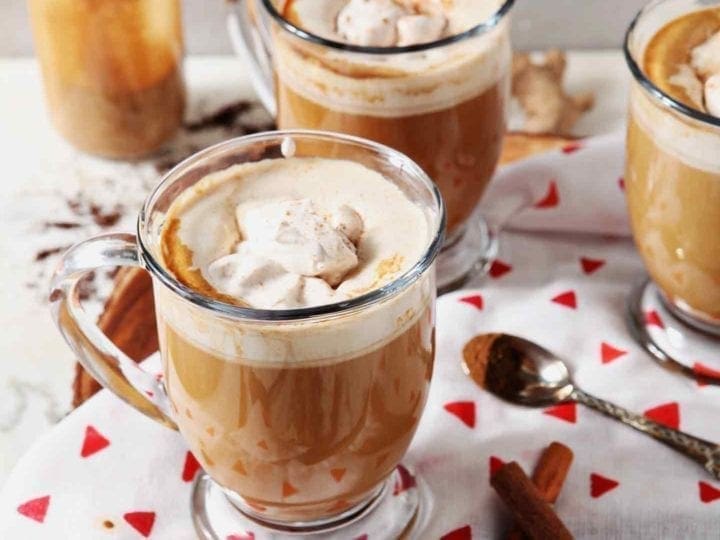 Yield:

6-8 servings
Gingerbread Coffee Creamer
Total Time:
2 hours
15 minutes
Serve your favorite coffee with Homemade Gingerbread Creamer this holiday season! This homemade holiday spiced creamer should be made the night before and steeped with its gingerbread spices, fresh ginger root and molasses. After the creamer hangs out in the fridge overnight, brew your coffee and swirl in your creamer. Top with a Spiced Whipped Cream, and anyone's morning will be made!
Ingredients
Gingerbread Creamer
1 cup half-and-half
2 tablespoons unsulphured molasses
1" ginger root
1 tablespoon granulated sugar
1 teaspoon ground cinnamon
¼ teaspoon ground cloves
¼ teaspoon ground allspice
Spiced Whipped Cream
½ cup heavy whipping cream
1 tablespoon powdered sugar
½ teaspoon ground cinnamon
¼ teaspoon ground ginger
Pinch of ground cloves
Pinch of ground allspice
Individual Cup of Coffee
1 cup brewed coffee
3 tablespoons Gingerbread Creamer, recipe above
1 dollop Spiced Whipped Cream, recipe above
Instructions
The night before, Make the Gingerbread Creamer
In a small saucepan, measure out the half-and-half. Warm over low heat.
Add the molasses, ginger root, sugar, cinnamon, cloves and allspice.
Continue warming until the mixture just barely simmers, about 10 minutes, before removing from the heat.
Cover or transfer to a heat-safe bowl. Steep in the refrigerator for 2 hours.
Use a fine mesh strainer to remove the ginger and lumps from the creamer.
Refrigerate for up to a week or until time to enjoy.
The morning of, Make the Whipped Cream
While the coffee is brewing, measure out the heavy whipping cream into a large glass bowl.
Measure out the powdered sugar and spices.
Using a hand mixer or a stand mixer, whip the heavy cream until it forms a soft whipped cream.
Store in the refrigerator (if making in advance) or immediately use on coffee.
Make a cup of Holiday Coffee
In a glass mug, measure out the coffee.
Add in the Gingerbread Creamer. (Add more or less, depending on your tastebuds.) Stir in until combined.
Dollop whipped cream on top of the coffee.
Enjoy immediately!
Recommended Products
As an Amazon Associate and member of other affiliate programs, I earn from qualifying purchases.
Nutrition Information:
Yield:
6
Serving Size:
1
Amount Per Serving:
Calories:

209
Total Fat:

14g
Saturated Fat:

9g
Trans Fat:

0g
Unsaturated Fat:

5g
Cholesterol:

41mg
Sodium:

81mg
Carbohydrates:

20g
Fiber:

1g
Sugar:

15g
Protein:

3g
Nutrition facts are an estimate and not guaranteed to be accurate.