How to make Roux for Gumbo
Can't find a jar of dark roux at the grocery store and want to make gumbo? If you've got flour and fat, you can make your own! Learn how to make a roux for gumbo here with all my best tips and tricks.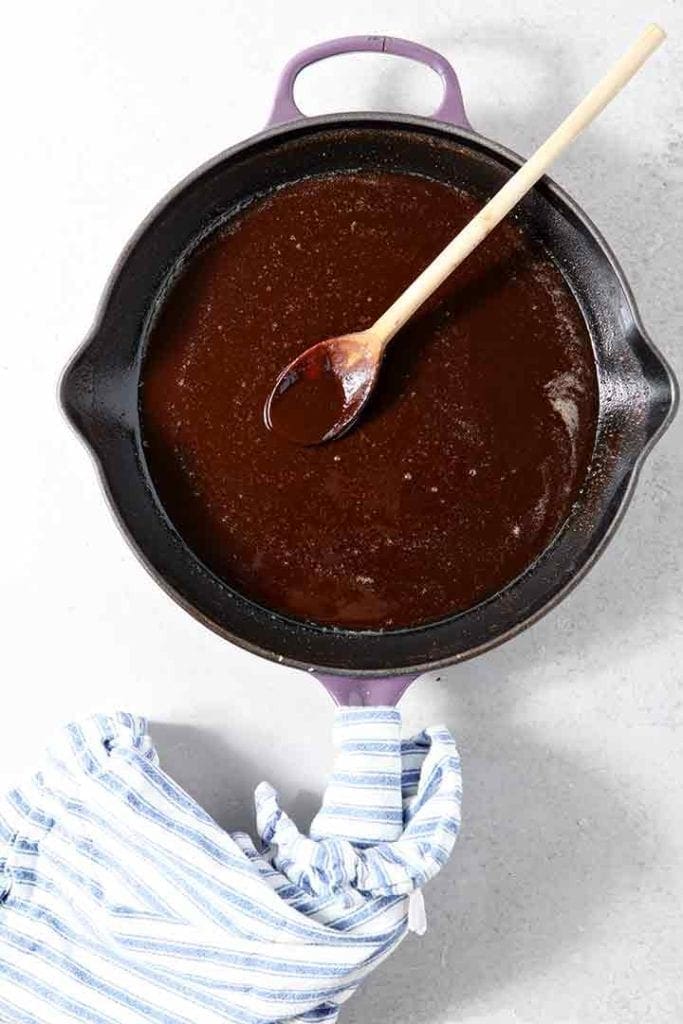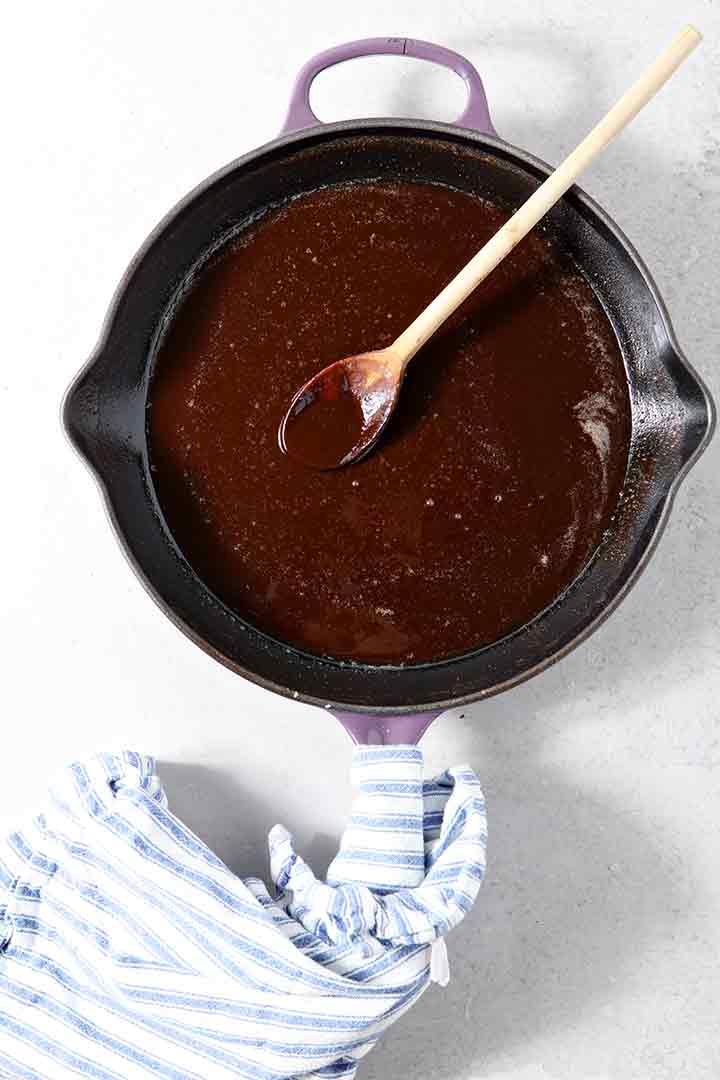 This post contains affiliate links.
It's gumbo season!
And chances are, if you live outside of South Louisiana, you might have a hard time finding jarred dark brown roux (AKA chocolate roux) in the grocery store.
It's an essential ingredient to make gumbo, and gumbo is NOT gumbo without it.
The good news is that you can make your own!
The bad news is it's a labor of love and time consuming… but it is something any home cook can make.
The first time I made a gumbo roux, it took me two hours. Now, I can make one in 30-45 minutes… and I've got all my tips and tricks here to help you make your own!
What is a roux?
A roux is mixture of flour and fat that is used as a thickening agent for a variety of dishes, including soups and sauces.
The word comes from the French phrase beurre roux, meaning "browned butter." It is pronounced "roo."
A roux serves as the base for various sauces and soups. It also provides a ton of flavor if it has been cooked as long as a dark brown roux, like the one in this recipe.
Here are the different rouxes and some uses for them:
A blonde roux is a lighter colored roux. It cooks for the least amount of time, just until the flour has just turned a golden brown. (This takes a few minutes.) We like to use a blonde roux to thicken the sauce for dishes like Spinach Madeline and Green Chile Macaroni and Cheese.
A brown roux is cooked for longer than a golden blonde roux, but doesn't cook for nearly as long as a dark brown roux. It's provides both toasty flavor as well as thickening. I like to use one of these in my Turkey Gravy recipe.
A dark brown roux, also known as a chocolate roux, provides a ton of flavor to a traditional Cajun gumbo or a Creole gumbo. Not only does it thicken the gumbo, but it provides a lovely nuttiness to the dish. This cooks the longest of the three and is a labor of love, but SO worth it.
What causes a roux to change color?
The part of the roux that changes color is the flour. When you cook a roux, you're cooking the flour.
Some people like to make a dry roux, toasting the flour until a darker brown color, and then mixing it with the fat of their choice. (America's Test Kitchen shares their recipe and tutorial here.)
I like to make it all in the same skillet and brown the flour in the fat. This, obviously, is a personal preference, and this is how my recipe is written.
Depending on the type of roux you want to make and your comfort level with browning it, this could take a bit of time stirring your roux on the stovetop.
Remember: a good roux for gumbo is dark brown. It's the most time-consuming roux to make, but it provides a ton of flavor and texture to the gumbo to make the effort worthwhile.
Recipes that use dark roux: Seafood Gumbo | Chicken and Sausage Gumbo | Instant Pot Gumbo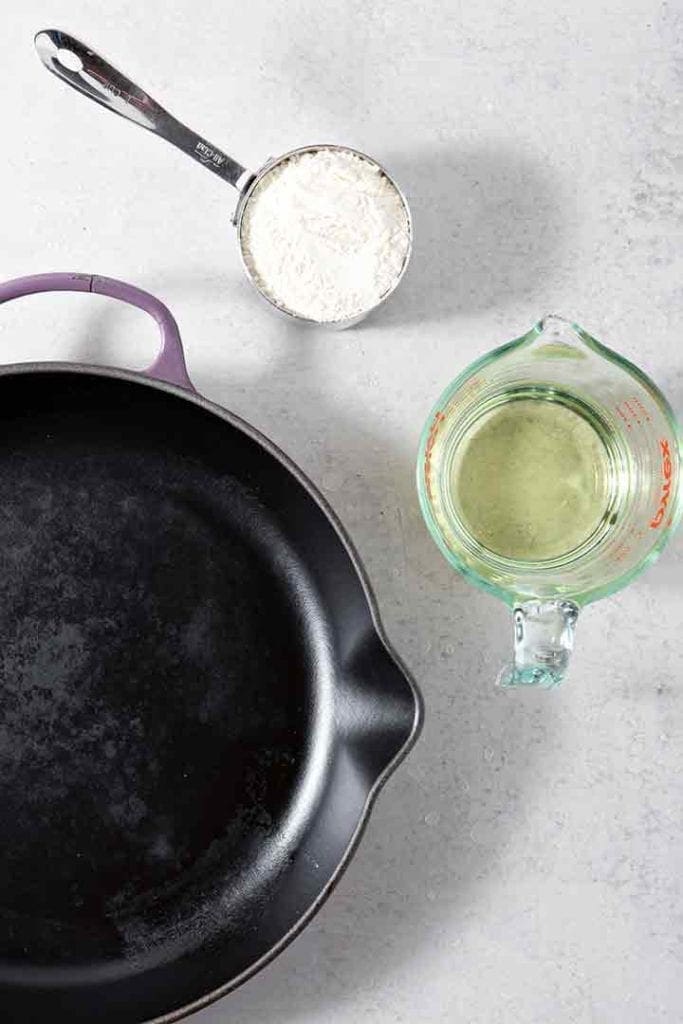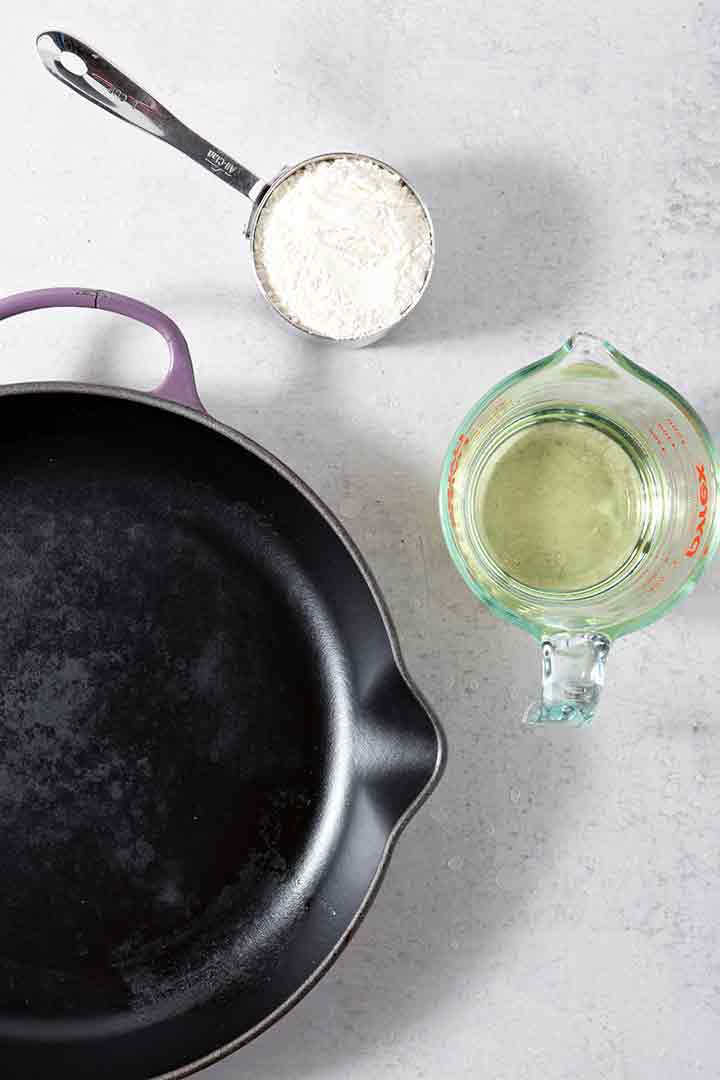 What you need to make this recipe:
The Speckled Palate participates in affiliate programs. As an Amazon Associate, I earn a commission from qualifying purchases. Please refer to my disclosure page for more information about these affiliate programs.
Skillet (I like to use a lighter bottomed skillet so I can see the progress of my roux, though you could use your favorite cast iron skillet) or Dutch oven (if making this right before making your gumbo)
Wooden spoon
Let's talk ingredients!
In addition to the tools above, you're going to need some ingredients to make this recipe, too! Chances are, you might already have some of them in your fridge or pantry. Scroll down to the recipe card for the full measurements and instructions.
Here's what you need:
All-purpose flour: This is the base for our roux, and there is no substitute. While I've seen gluten-free roux recipes, I've never made one myself and do not suggest using a different type of flour to make this specific recipe.
Neutral fat: For this roux recipe, we typically use an unflavored oil. However, you can use unsalted butter or animal fat if you prefer.
The ratio for roux is 1-1. So you'll use equal parts flour and fat by volume.
I do not recommend adding kosher salt, Cajun seasoning, Creole seasoning or any other flavorings to your roux. This will serve as the base of your gumbo recipe, which you can then doctor with the seasonings you prefer.
Types of fat to use in a roux:
This is dependent on the recipe you're adding the roux to. We like to use a neutral oil, like vegetable oil or canola oil, to make our gumbo dairy free.
However, there are lots of options:
Unsalted butter
Unflavored oil (vegetable oil or canola oil)
Duck fat
Lard
I do not recommend using olive oil, coconut oil or peanut oil as a part of this gumbo roux recipe, as they all have stronger flavors that we do not want to introduce to the gumbo.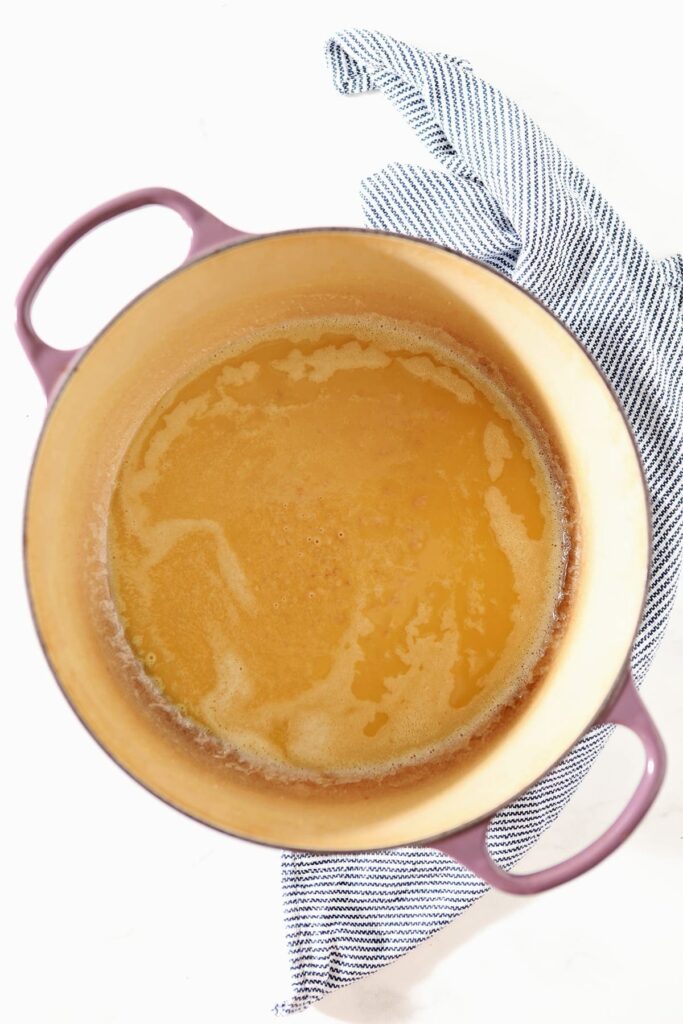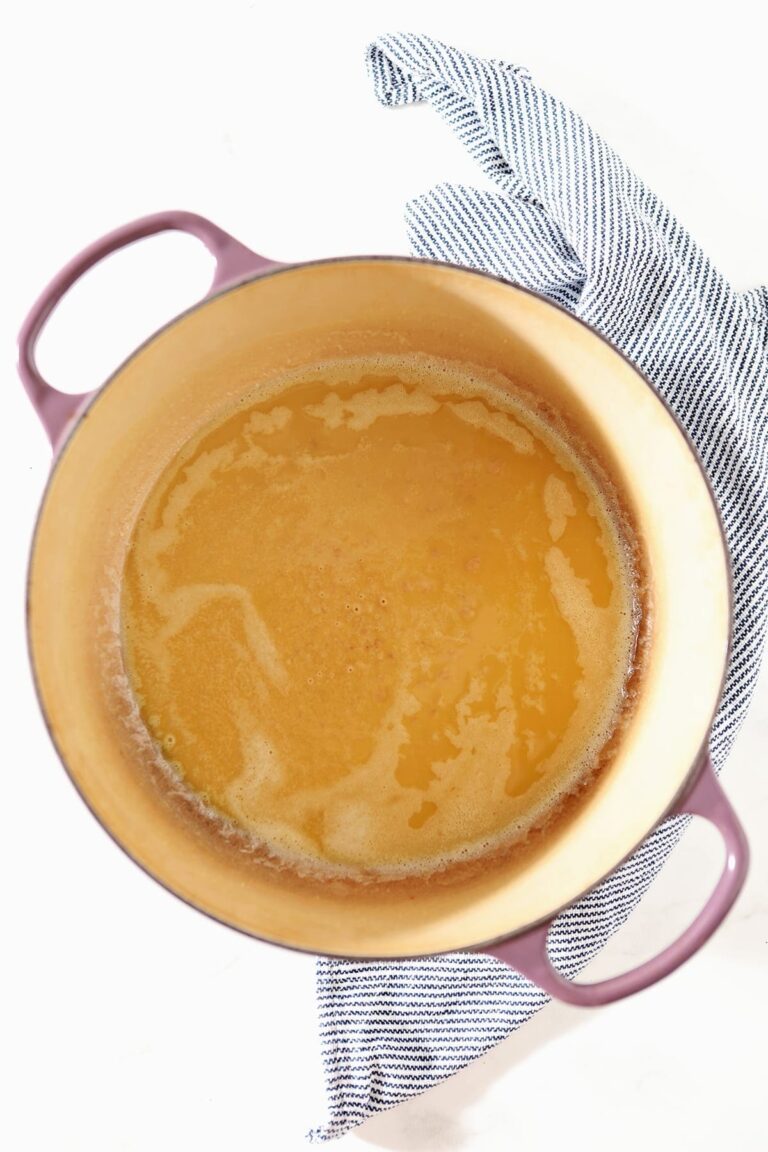 How to make roux for gumbo
Over medium heat, warm the oil, and then add the flour. Do not do this over high heat.
In a few minutes, the mixture will be a golden color. This is called a blonde roux. We do not use a blonde roux for gumbo. 😉
Stir, stir, stir, stir, and let the roux continue to cook. The flour will emanate a wonderful scent as it cooks.
As the roux deepens in color, it will go from blonde to a caramel color to a milk chocolate brown.
Keep on stirring. I cannot stress this enough—a solid gumbo starts with a dark brown roux, and it needs to be cooked almost to the point where you're concerned the flour is going to burn.
If you're concerned about accidentally burning the roux—because you will need to start over if this happens—then you can turn down the heat and proceed with caution, continuing to stir to prevent the flour from sticking to the pan and burning.
When I reach the chocolate brown stage, I turn down the burner to medium-low and continue cooking.
Some people stop cooking their dark roux for gumbo at this stage because they're scared to burn it—and I get that!—but your gumbo will taste better and have the bolder, bigger, nuttier flavors of a true darker roux if you continue cooking it until it's a deep dark chocolate brown.
When it gets to be a deep brown color and smells wonderfully nutty, you're done!
If at any time you see black flecks in the roux, the whole thing turns black or it smells burnt, you're going to need to start over because a burned roux cannot be salvaged.
Some say the roux will end up the texture of peanut butter, though I've always found homemade roux to be a little thinner than that. (However, it will thicken if you refrigerate it.) Store-bought roux tends to be thicker and has plenty of extra oil on top.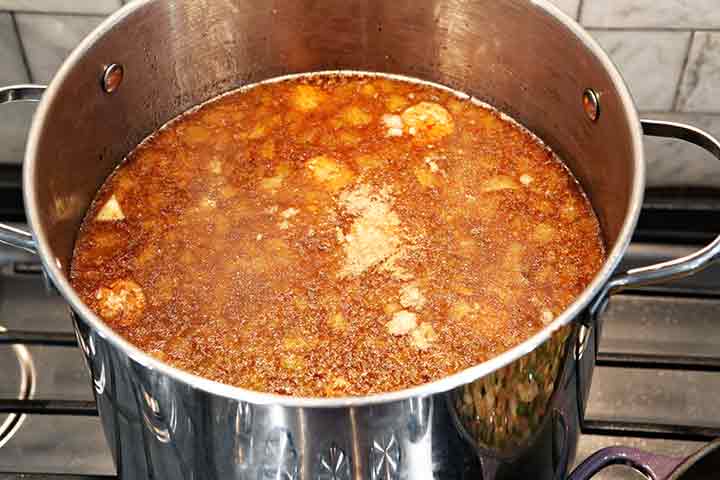 How to use dark roux:
There are lots of uses for a dark roux and lots of ways to use it in a gumbo!
In our family, we all have different philosophies as to how to incorporate the roux.
Here are some ways we do it:
Add your chopped holy trinity (onion, green bell pepper and celery) to the pot with the hot roux to cook down before adding liquid (like water, chicken broth or seafood stock.)
Cook half of the veggies down in a pot before adding in half of the roux to cook for a few minutes. Pour in the cooking liquid and add the rest of the roux to dissolve and thicken.
Stir the roux directly into a pot of boiling water to thicken as the base of a gumbo.
How to store:
You can make the roux in advance and keep it in the fridge for several weeks without issue! Just be sure that it's cool before you transfer it to an airtight container.
We like to store ours in a mason jar, but you could easily use another food storage container.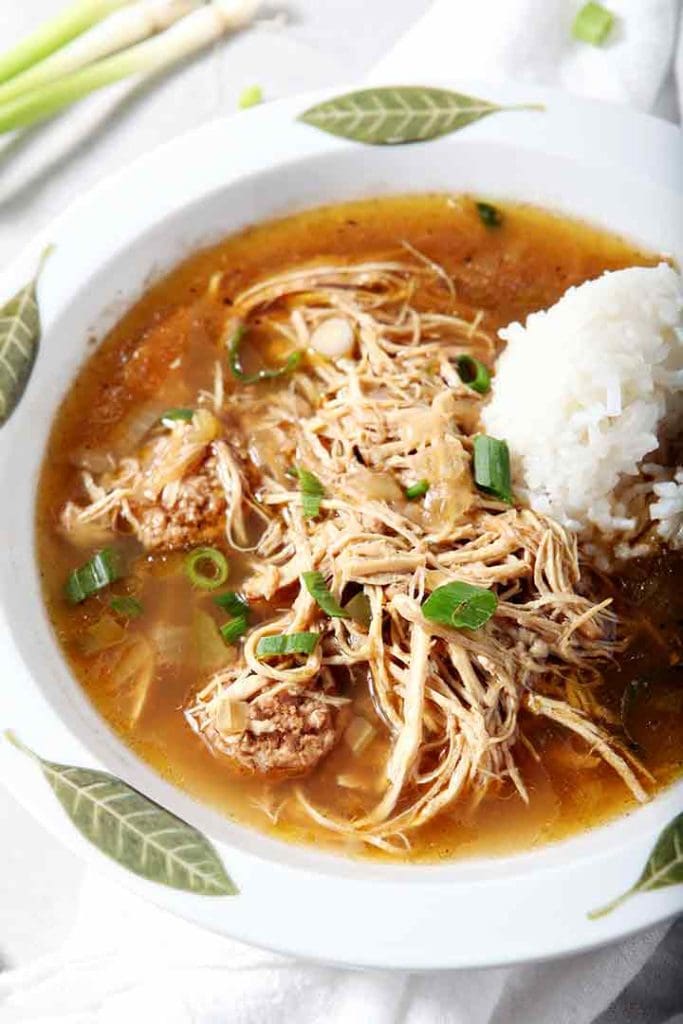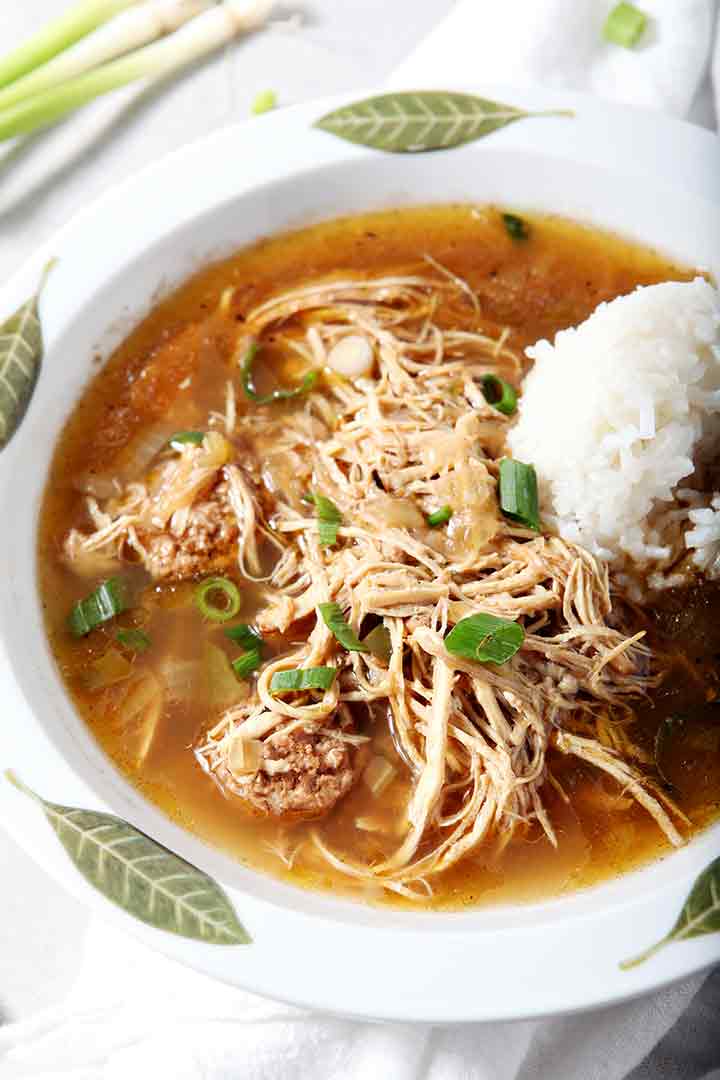 Frequently Asked Questions
How much roux do I use for gumbo?
Honestly, that depends on you and your personal taste and how roux-y you like your gumbo. Our family tends to use about 2 cups of roux per gallon of liquid.
What is gumbo roux made of?
This gumbo roux is made with all-purpose flour and oil, though you could use the same amount of animal fat.
Is gumbo roux better with butter or oil?
This is a personal preference thing. We like to use oil because it's neutral, though butter is obviously delicious and makes a richer roux.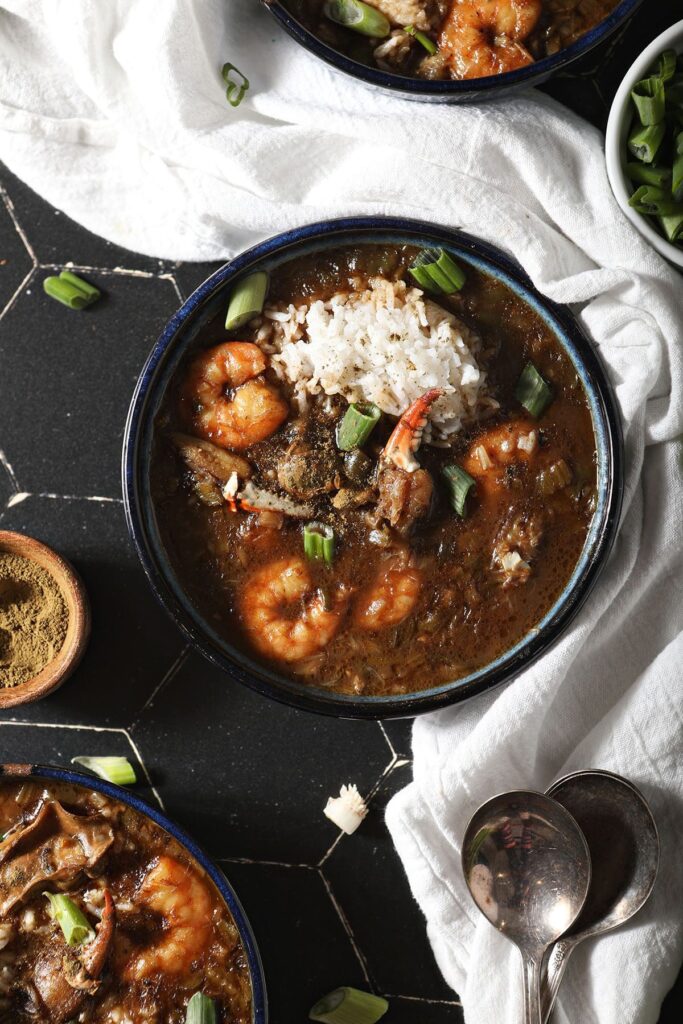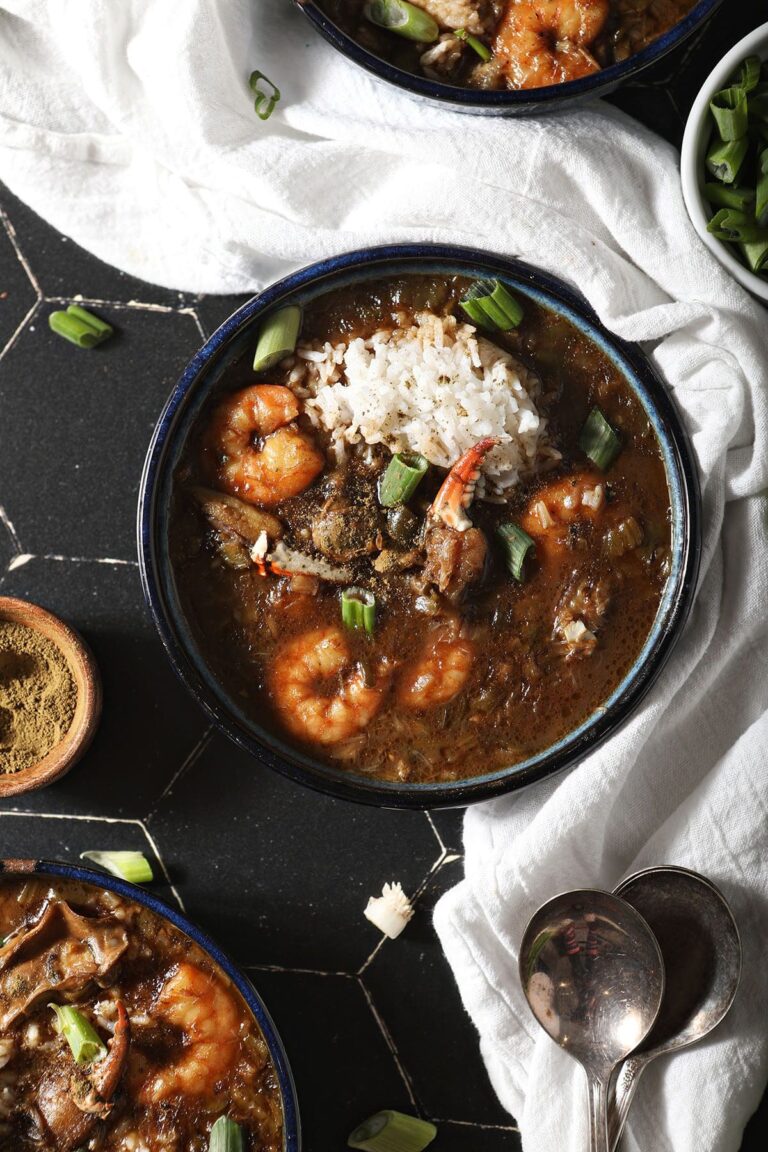 Quick tips and tricks to making the best gumbo roux
Don't walk away. This is one of those dishes that will burn if you do. You need to be stirring the roux constantly as it cooks.
Be patient. Browning the roux takes time, but it pays off. If you try to do it too fast, you could burn the flour, and then you will need to start over.
Turn down the burner when you reach the chocolate brown stage and keep cooking the roux slowly until it's a dark chocolate color. Many people are hesitant to cook past the milk chocolate stage because they're afraid to burn their roux—and I totally get that!—but to have the best tasting gumbo, your roux needs to be a deep chocolate brown.
Make a large batch. Since it takes a lot of time to make a dark roux, make extra to store for later. It will keep in the fridge for months, so doubling the recipe won't be an issue if you have the space.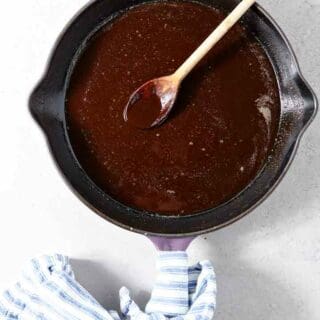 How to Make Dark Roux for Gumbo
Can't find a jar of dark roux at the grocery store and want to make gumbo? If you've got flour and fat, you can make your own! Learn how to make a roux for gumbo here with all my best tips and tricks.
Ingredients
2

cups

unflavored oil or animal fat

2

cups

all-purpose flour

240g
Instructions
Heat a skillet or Dutch oven over medium heat.

Pour in the oil. When warm, add the flour.

Cook the roux over medium heat until it has darkened to a deep brown color, constantly stirring to ensure the flour does not burn. (There should be no black flecks in the roux. If there are burned bits, you will need to start over because the scorched taste of a burned roux cannot be fixed.)

You may turn down the burner when your roux is a milk chocolate color and continue cooking it until the roux reaches a dark chocolate color. Many people stop cooking their gumbo roux at a milk chocolate color. To get the big, bold, nutty flavor of a true dark roux, you need to keep cooking it until it's a deep dark chocolate brown. There should not be black flecks in it.

When it's ready, the roux will be a dark chocolate color. It will smell nutty and toasted. The cooking of the roux will take between 30-45 minutes total, depending on your stovetop.

Remove from the heat, and let cool slightly before adding to a gumbo or storing in the refrigerator for later.
Notes
How to store: Store the roux in an airtight container in the fridge for weeks. This should not go bad.
Nutrition
Serving:
1
serving
Calories:
152
kcal
Carbohydrates:
6
g
Protein:
1
g
Fat:
14
g
Saturated Fat:
1
g
Polyunsaturated Fat:
13
g